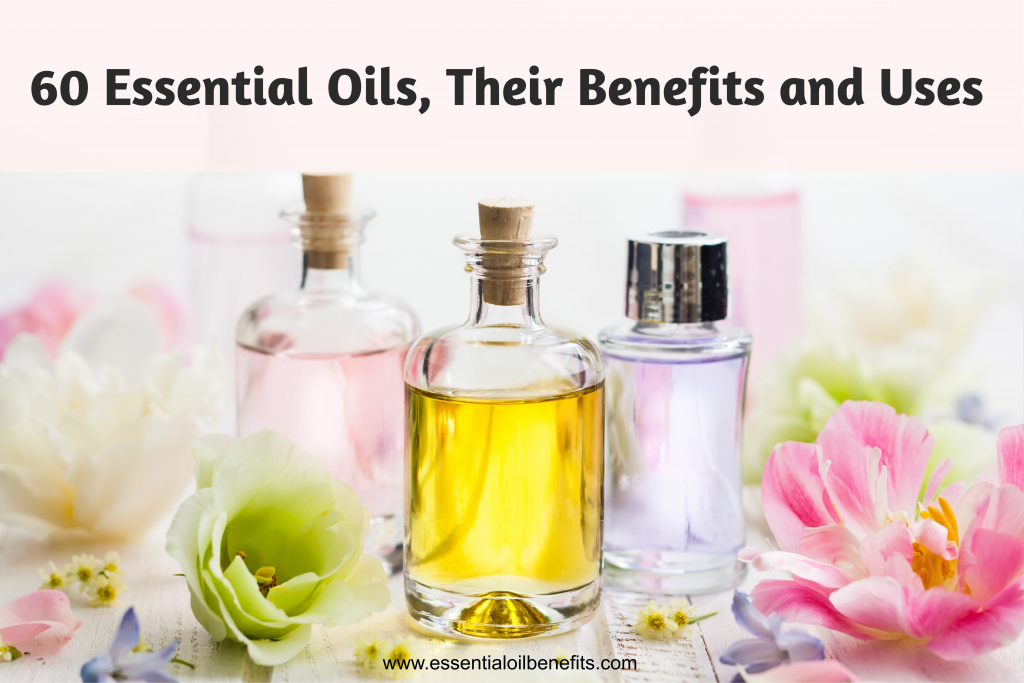 Whether you already have some experience with essential oils or are just venturing into the aromatic world of these extracts, you are bound to be bewildered by the sheer number of options available. And to say, there are many folks out there who claim that the scope of aromatherapy is limited.
In reality, not only does each essential oil offer a myriad of health benefits but also you get numerous choices with these oils, whether you want to magnify or add to the health benefits of a particular extract. Another common misconception about essential oils is that they are only good as preventative measures.
The truth is that depending on the health issue you are battling, these extracts can be every bit as potent in treating an ailment as their chemical counterparts. That said, using the right oil for a specific health concern is of paramount importance.
Essential Oils And Their Contrasting And Complimentary Health Benefits!
Like modern-day drugs, these natural extracts can lead to a variety of physiological effects, some that are in direct contrast of each other. For instance, cinnamon essential oil is a vasodilator hence a hypotensive agent. As opposed to this effect, cypress acts as a vasoconstrictor hence it can also be used as a hypertensive agent.
Similarly, some oils will clean the skin of excess sebum hence they work well for acne, case in point tea tree oil. As opposed to this, sandalwood hydrates the skin and works towards balancing the natural secretions of the skin.
A few beneficial properties are universal in the aromatic world. For instance, most oils are powerful antioxidants, some more than others. Also, these extracts are extremely potent antimicrobial and anti-inflammatory agents.
But, it is very important to pick the essential oil based on the ailment that you are trying to prevent or treat, and the list ahead will help you to do just that! You will find in-depth descriptions of the health benefits that you can expect from not 10, not 20, but 60 of the most popular essential oils.
Also, you can get a downloadable chart/guide that will help you to pick just the right oil/oils for the job within seconds. Continue reading to know how best to use essential oils in natural health care, skin care and home care.
Anise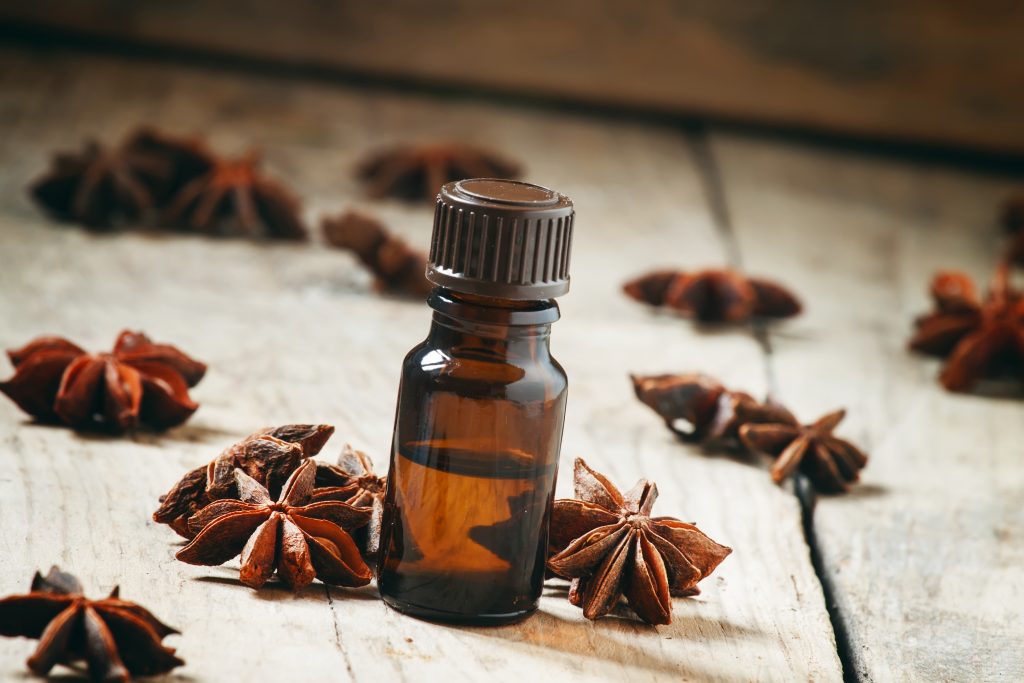 The unmistakable licorice-like aroma and its ability to ward off mild to moderate depression in people patients with irritable bowel syndrome has long made this oil and the tiny seeds its derived from a favorite for digestive cakes and candies. Furthermore, the oil is often used in expectorants because it also supports respiratory health and is a potent antimicrobial agent.
Because the extract boasts of pain relieving properties and can exert significant sedative effects, it is often used to deal with chronic pain of the joints and conditions that impede sleep. The calming agent also restores hormonal balance in women and is known to support dermal health.
Basil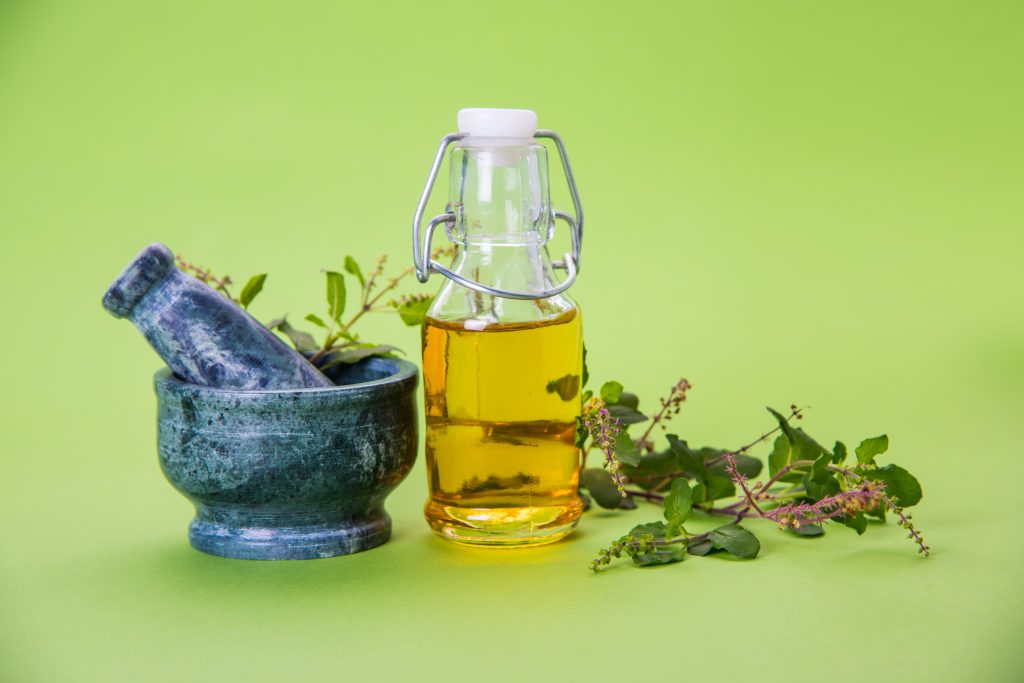 The linalool in this oil gives it a characteristic herbaceous yet sweet aroma and its insect repellant properties. The stimulating extract is an effective expectorant and antibacterial agent that helps against all types of pulmonary infections.
The eugenol in basil oil also makes it a powerful aid against muscle and rheumatic pain. Moreover, the refreshing oil boasts of potent anti-inflammatory properties that tone down the secretion of pro-inflammatory enzymes that cause itching and redness.
Bergamot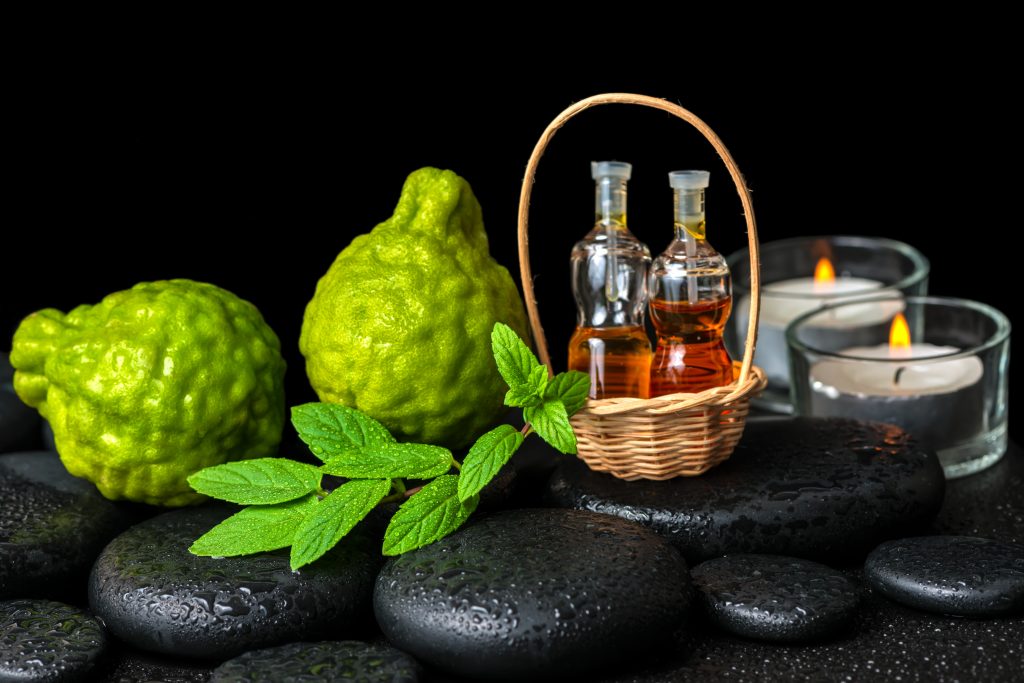 At once refreshing and calming, the aroma of bergamot oil is considered the sweetest of all citrus oils, with just the right amount of fruity nuances. The uplifting fragrance acts within minutes on the central nervous system and soothes frayed nerves and calms the frantic mind.
The oil is also effective against respiratory problems, thanks to its antibacterial and antiviral properties. A natural skin cleanser and astringent, bergamot oil helps to clear the complexion and is effective against all dermal problems brought on by critters, including acne and shingles. Only use bergaptene-free oil for topical application.
Birch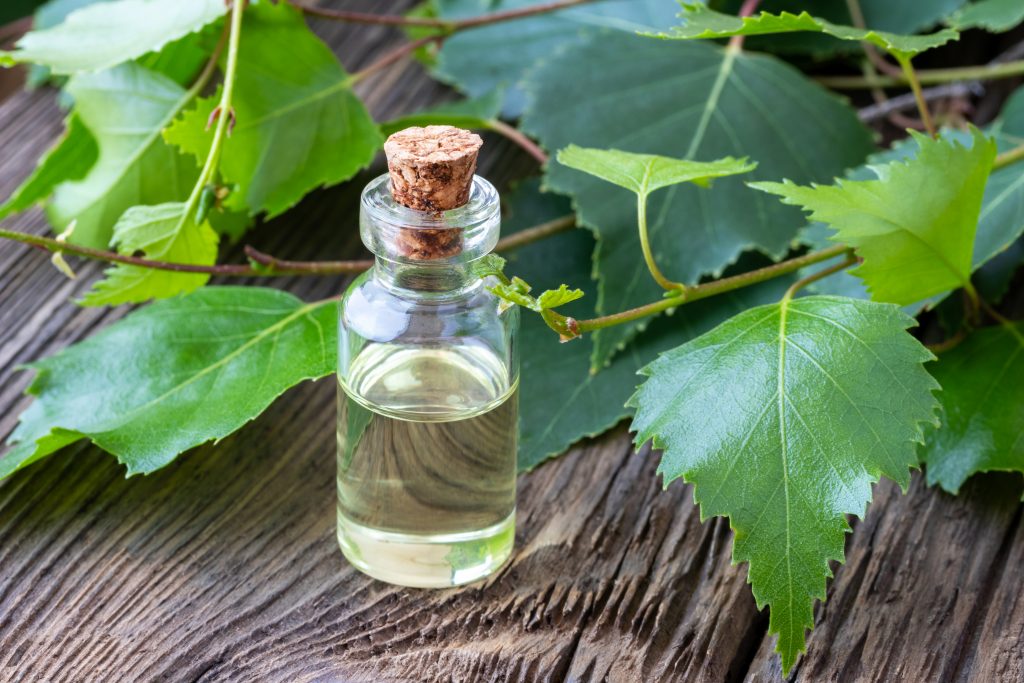 The minty-medicinal wintergreen-like scent comes courtesy of methyl salicylate, which is the active ingredient in both oils. This is also the compound that gives birch oil its substantial pain relieving properties. The bioactive is also a potent germ-killer that is exceptionally effective against bacterial and fungal infections like eczema and psoriasis.
An extraordinary stimulant, birch oil at once impacts the circulatory, central nervous and respiratory systems. So, it is often used to alleviate joint pain and inflammation. Because the extract is both a stimulatory agent and a natural diuretic, it also helps to improve the health of the kidneys and detoxifies the body.
Black pepper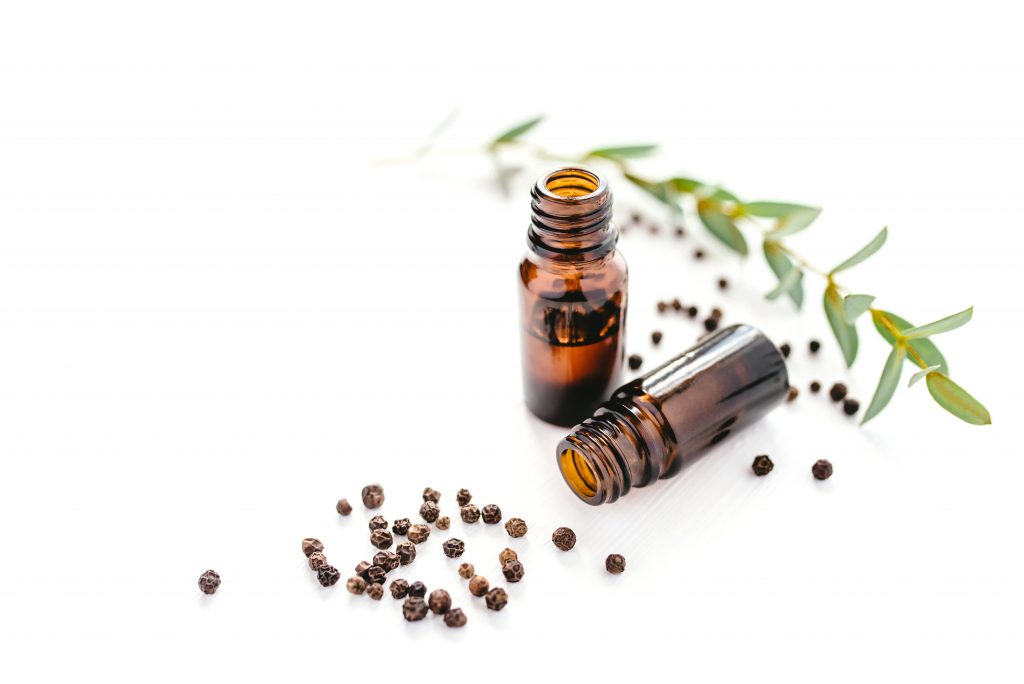 The crisp, peppery, spicy aroma of this essential oil can tackle sluggishness of both the body and the brain. The warming oil enhances circulatory health by increasing blood flow to the treated area and by promoting rapid removal of accumulated fluids and toxins.
Rich in antioxidants, black pepper oil is a potent anti-inflammatory agent that influences the body's ability to feel and transmit pain impulses. The warming effect of this oil makes for a wonderful addition to blends meant for joint and muscle pain. Its ability to soothe wounds, inflammation and also work on the lungs and helps in alleviating chest congestion.
Camphor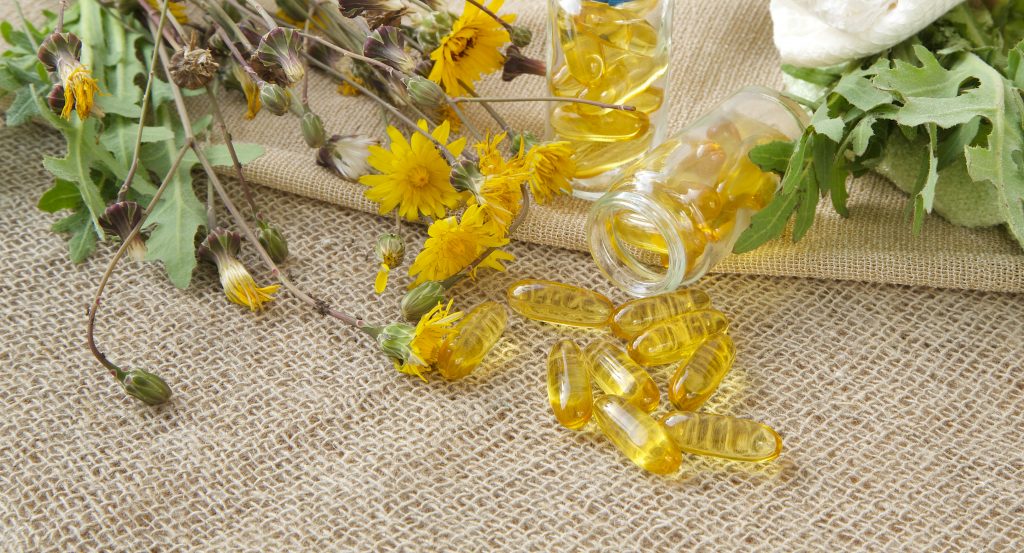 While its aroma is strikingly similar to that of eucalyptus, this essential oil does not cut through the drowsiness. Instead, it does the exact opposite, inducing a deep sense of calm and an overwhelming desire to hit the sacks.
Many experts suggest that due to its analgesic properties, the ability of this oil to alleviate pain is second to none. But, what is truly extraordinary is its power to reach the deepest recesses of the human mind and brain. Add to this the anti-inflammatory and antibacterial properties of this oil, and it is easy to understand why it often gets used in pain balms as well as congestion-relief blends. Did you know that it is one of the main active ingredients in L'orpur pain relief blend.
Carrot seed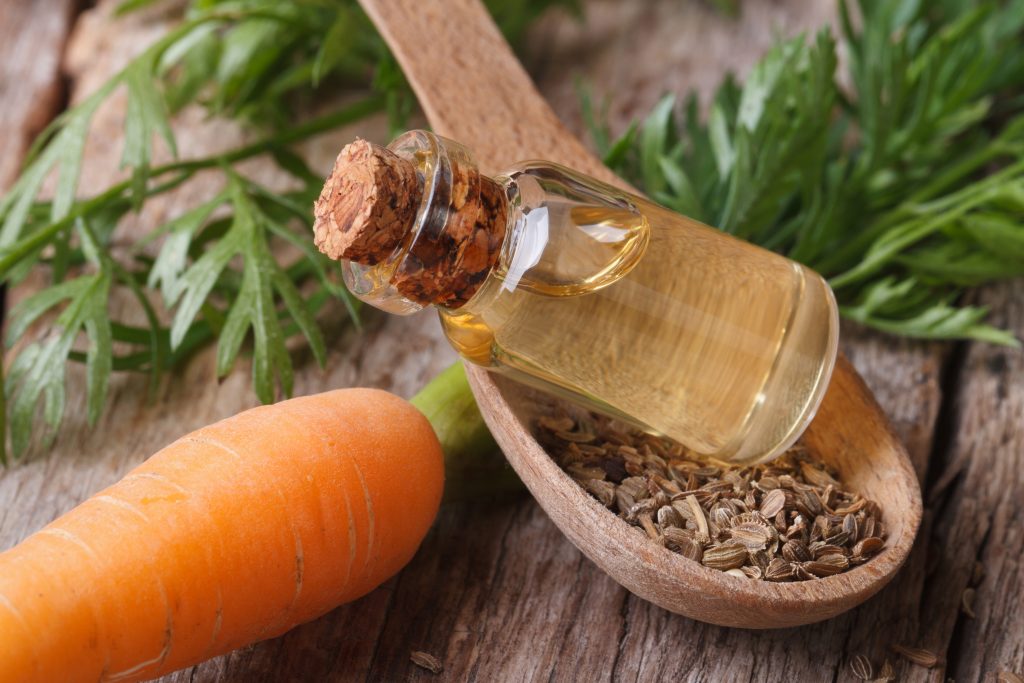 An extraordinary antimicrobial and antioxidant, carrot seed oil often figures in the ingredients list of anti-aging products, and for good reasons. The oil is a terrific skin stimulant and tonic that not only increases cellular turnover but also tightens the skin, preventing skin sag and the appearance of wrinkles.
A potent detox agent, carrot seed oil also helps to regularize the menstrual cycle and is extremely effective against ailments that are caused/worsened by the accumulation or uric acid such as gout, arthritis, rheumatism and others.
Cedarwood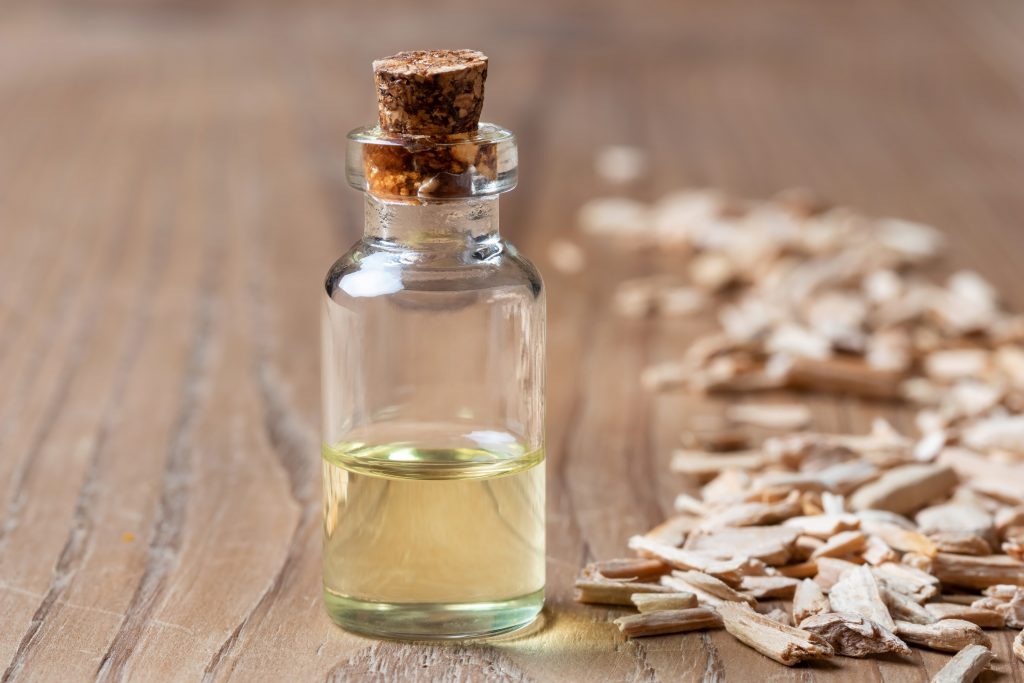 The woody and earthy aroma of this oil has the same soothing effect on the mind that the potent bioactives in it have on the skin. A strong astringent and tonic, the oil modulates sebum secretion and kills acne causing bacteria, promoting clear and blemish-free skin.
Since it promotes rapid skin healing, it is also very effective against a range of inflammatory skin conditions, including intense dermal dryness, psoriasis, eczema and others. The notable sedative effects of the oil and its inherent anti-inflammatory properties also make it effective against arthritis and other ailments that cause joint and muscle pain. The antiseptic oil also yields remarkable results when used against respiratory infection and congestion.
Cinnamon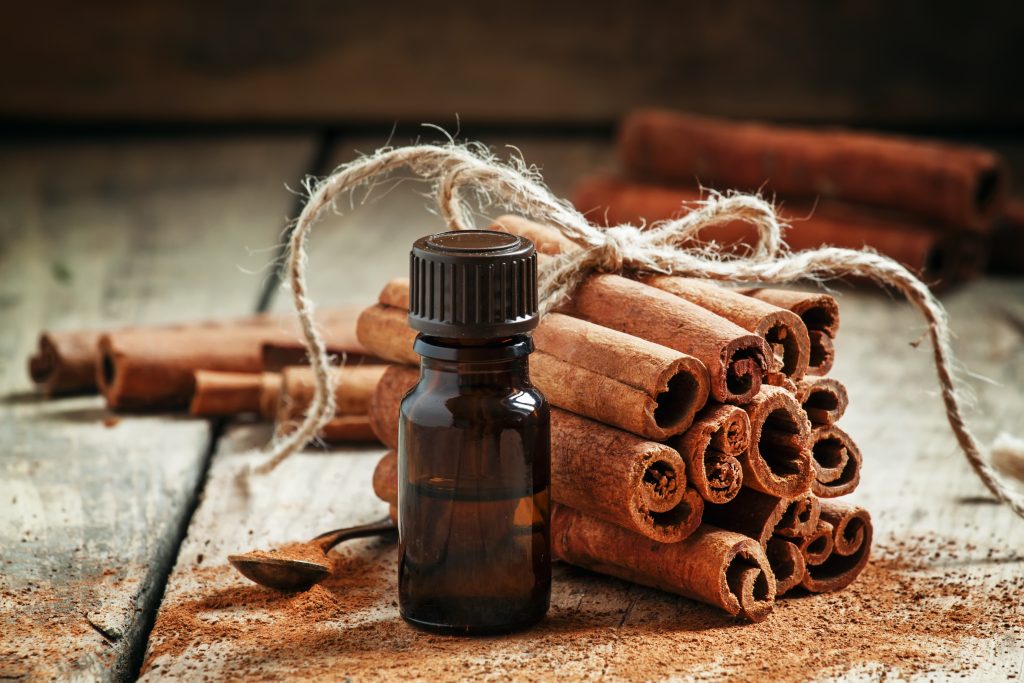 The woodsy, sweet and spicy aroma of cinnamon bark oil is a powerful mood supporting agent that will transport you to happy and festive times and boost energy levels. The richest source of cinnamaldehyde and eugenol, the oil boasts of significant antimicrobial properties that can be used to maintain oral health and to treat fungal, bacterial and viral infections.
The intense warming effect of this oil also helps to alleviate muscle and joint pain while its tonic properties serve to improve blood circulation and lymphatic drainage.
Citronella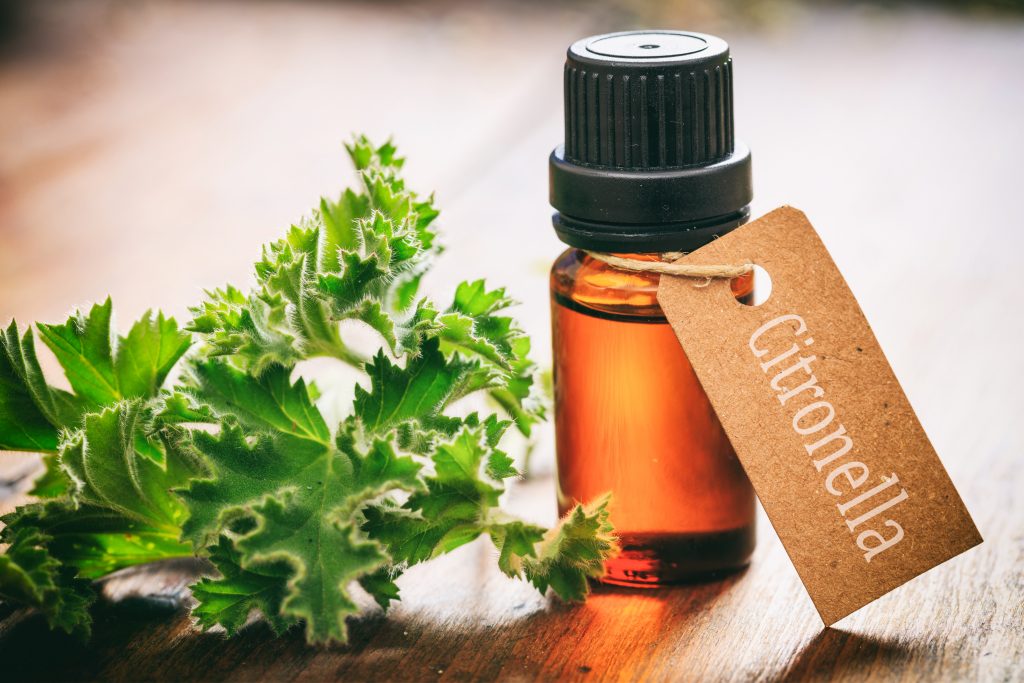 This oil is often used in home cleaning products, not only for its fresh green and citrusy aroma but also for its exceptional ability to send germs and critters packing. The pleasing scent creates an inviting and appealing environment inside the home and cuts through negative emotions and depression.
Derived from a fragrant grass, citronella oil has exceptional anti-inflammatory properties. Add to this its ability to reduce spasms, and it is easy to understand its frequent use in pain-relief sprays and ointments. In fact, the anti-spasmodic properties of this oil can also be used to treat menstrual cramps and cough.
Clary Sage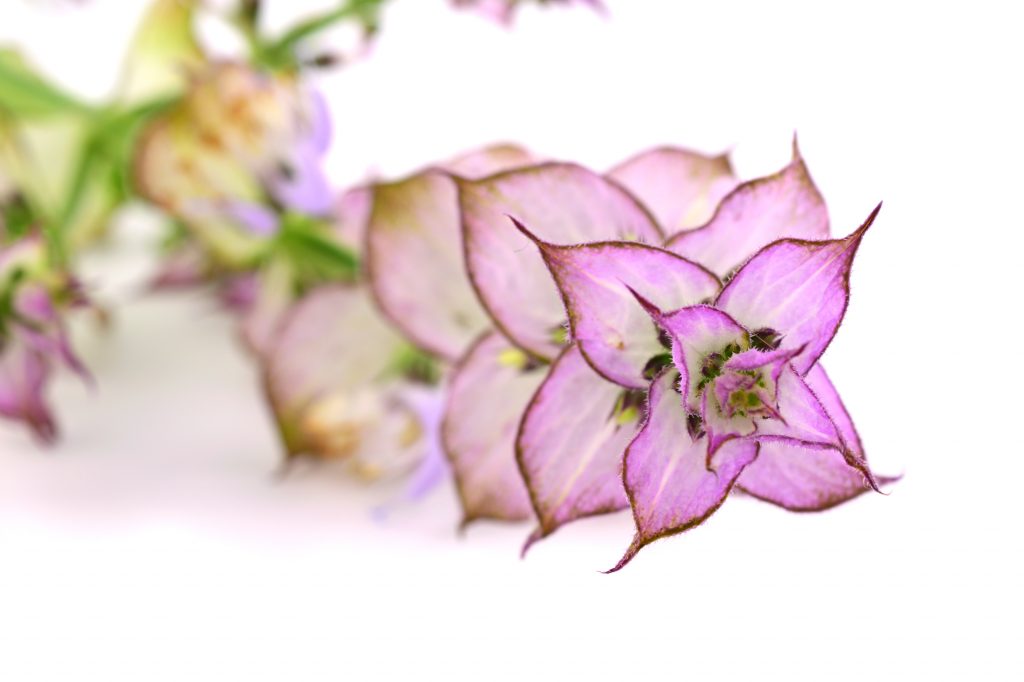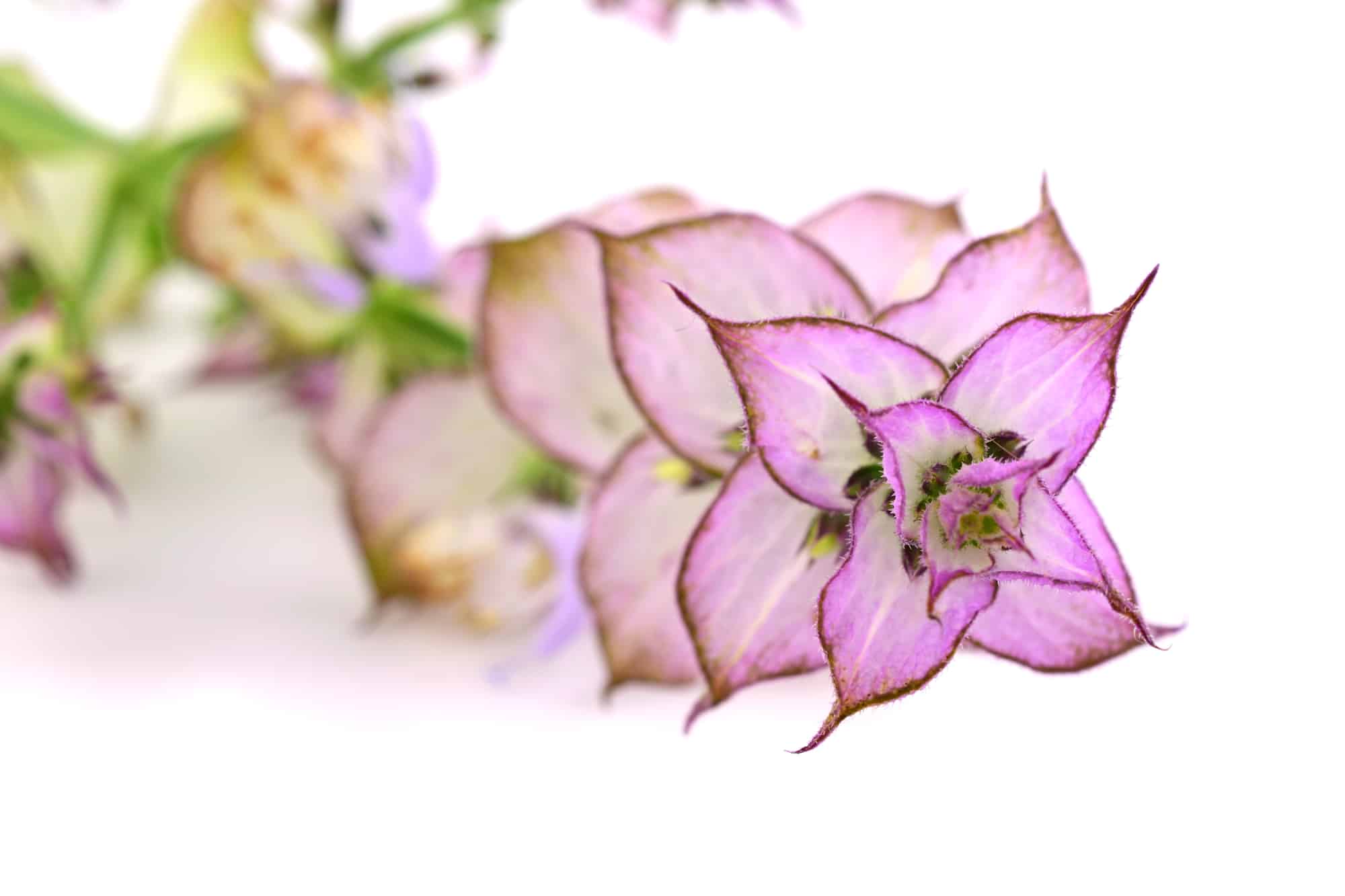 One of the most sought after natural ingredients for feminine issues, clary sage essential oil yields remarkable results when used against menstrual irregularities and PMS. Because it regulates hormone levels, it also works against other issues caused by hormonal imbalance like acne, loss of libido, mood swings and depression.
A potent aphrodisiac, this oil can get the passion back in the bedroom. And if stress, nervousness and anxiety are responsible for the lack of desire, it can also rein in these factors.
Although the warming effect of this oil is mild as compared to some other extracts, its anti-inflammatory and anti-spasmodic properties make it effective against muscle cramps and fatigue as well as abdominal pain. Plus, the oil offers support to the digestive system. The anti-inflammatory and astringent effects of clary sage work wonders against dermal dryness and skin aging.
Clove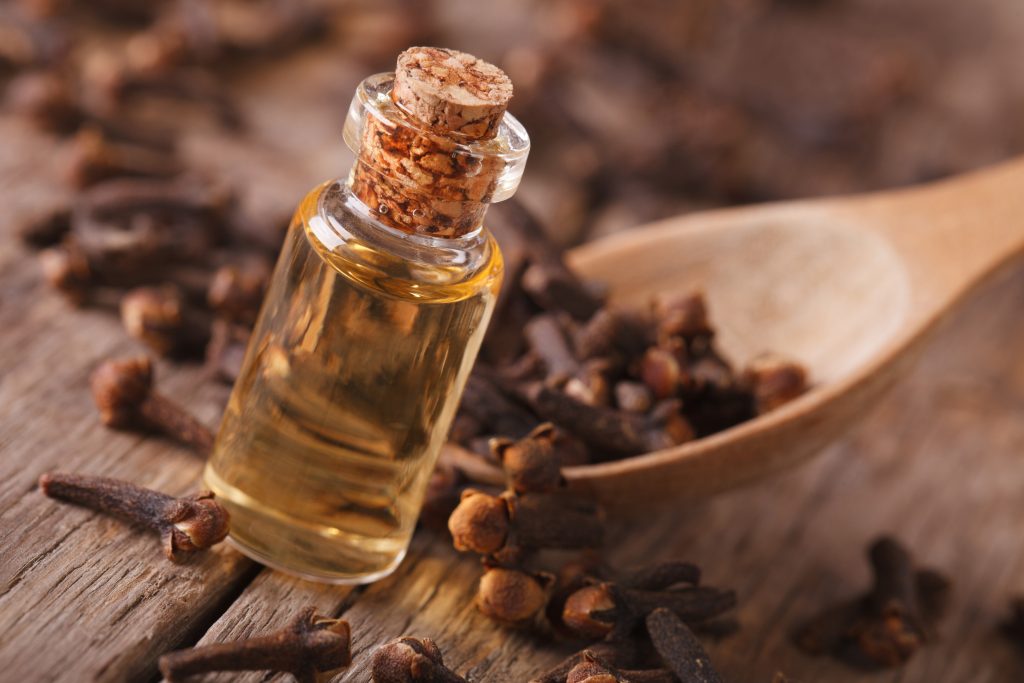 The oil boasts of the highest ORAC rating, which means no other natural ingredient has the antioxidant power of this extract. Distilled from clove buds, the oil creates intense warmth and a potent stimulating effect that jolts the circulatory and lymphatic systems back into action.
The extract happens to be an extremely effective antimicrobial / germ killer capable. Moreover, it can neutralize even the throbbing and intense pain caused by irritated nerves, which explains its frequent use for tooth pain and in dental care products. The stimulating effects of clove oil can also be used to clear mental and emotional clutter and boost sexual desire.
Chamomile, German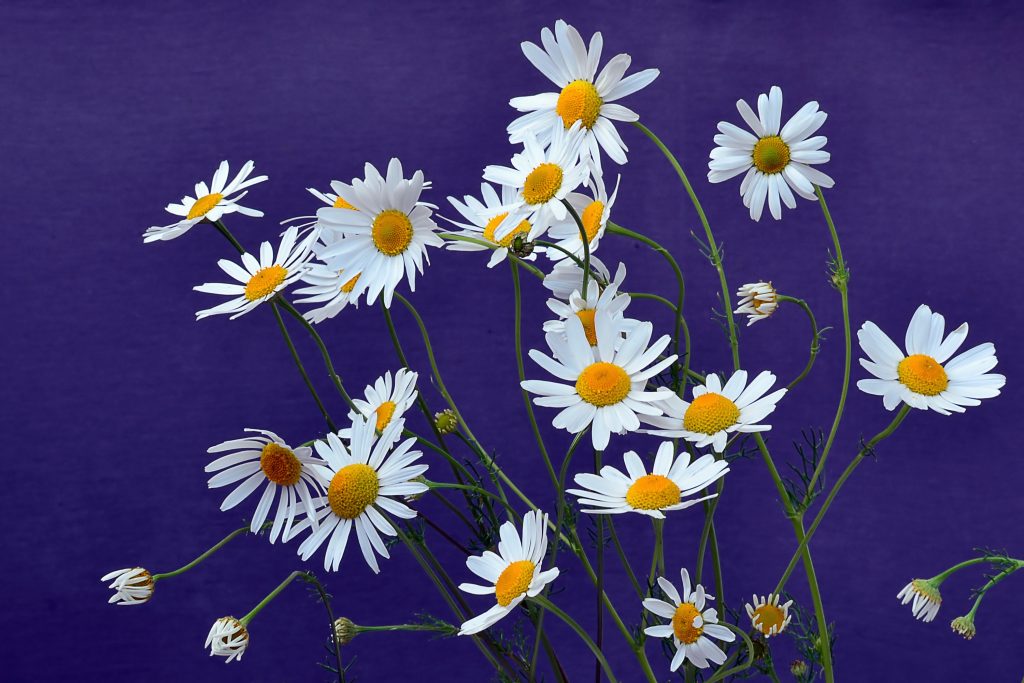 The striking blue color of the oil is a testament to its high content of chamazulene, an extremely powerful anti-inflammatory, antioxidant and anticancer compound. Chamazulene can help against almost all dermal issues, including premature skin aging, acne, redness and inflammation of the skin, insect bites, minor wounds, boils and sores.
But, the deeply soothing effects of this oil go well beyond the skin to reach fatigue and stress ravaged parts of the body and the brain. So, German Chamomile oil is often used in formulations meant to deal with chronic pain and the stress it causes.
Chamomile, Roman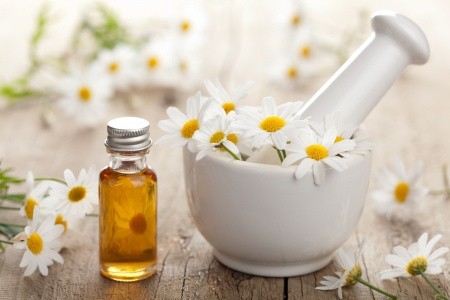 The fruity-herbaceous aroma of this pale blue-yellow oil is so bright, fresh and crisp that it manages to easily push out the negativity and depression from your system. Simply put, what German chamomile does for the body, Roman chamomile does for the mind!
It is a surprisingly powerful relaxant that is exceptionally effective against insomnia, stress and anxiety. Because the oil also helps to relax the muscles and the nerves, it can just as well be used in blends meant to treat muscle strain and pain. Although Roman chamomile oil is one of the gentlest plant extracts, it is green, mean germ killing machine. So, it can be used to disinfect and treat wounds as well as conditions that cause open and oozing lesions.
Coriander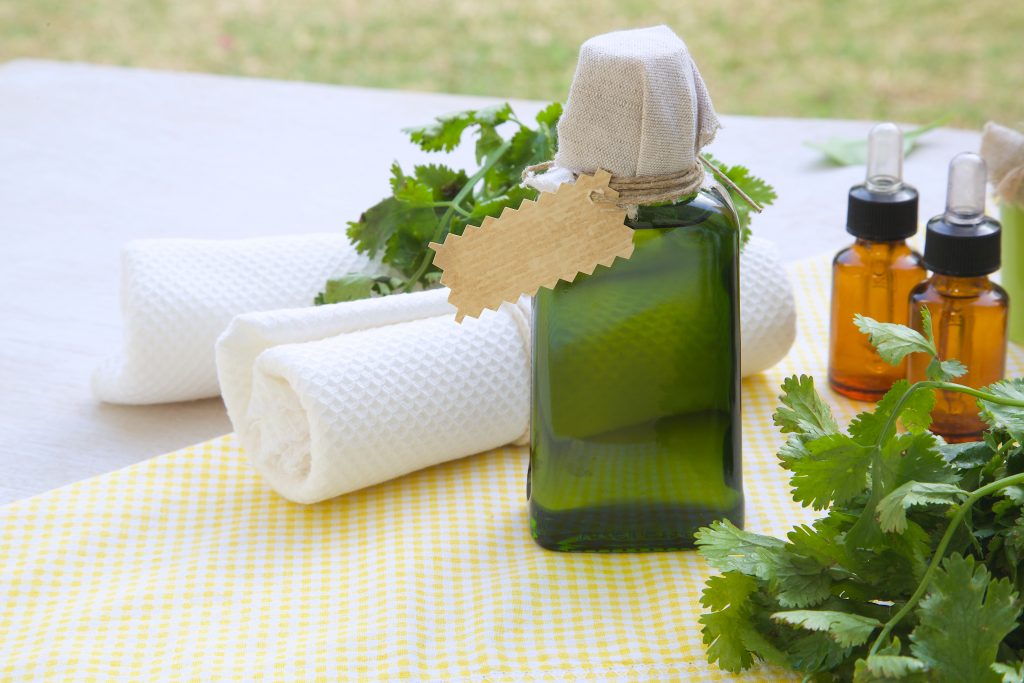 Nothing helps to eliminate tummy troubles like coriander essential oil. Steam distilled from the tiny brown seeds and the leaves of the coriander plant, the oil has long been used as an aperitif and digestive support. A strongly stimulating, invigorating oil with antifungal properties, this extract can jump start the digestive process, helping to calm digestive problems such as flatulence, stomach pain, indigestion and others.
The Ancient Egyptians were known to tap into the aphrodisiac properties of this oil to enhance sexual drive and even treat erectile dysfunction. The unique thing about coriander oil is that it is at once stimulating and calming. On one hand, the sweet and spicy aroma of this oil helps to boost cognitive function while on the other it helps to calm the after effects of shock and trauma.
Cypress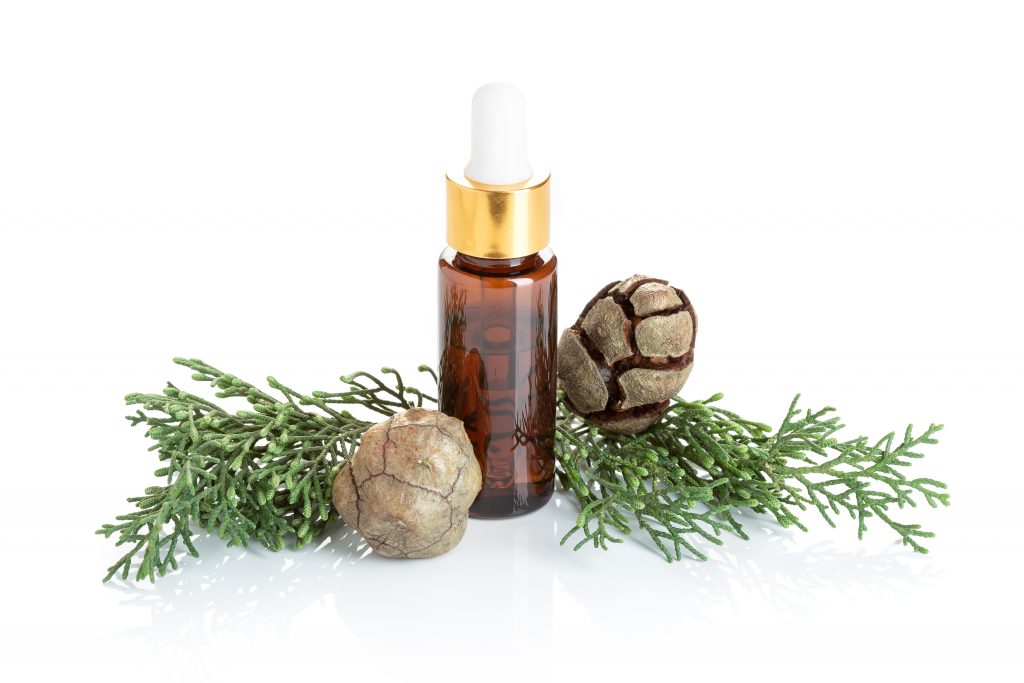 This is the oil to turn to when faced with a cardiovascular or circulatory issue. From fluid retention to swelling of the extremities and from varicose veins to muscle cramps, cypress essential oil can help immensely in treating all these ailments.
Its ability to flush out trapped toxins and increase circulation brings inflammation and chronic pain in control. A powerful astringent, cypress oil can also do wonders for the aging skin as it helps to tone and tighten the dermal layers and prevents sagging. Because the extract has antiseptic properties and helps to speed up wound healing, it can also be used for minor bruises, rashes and wounds.
Eucalyptus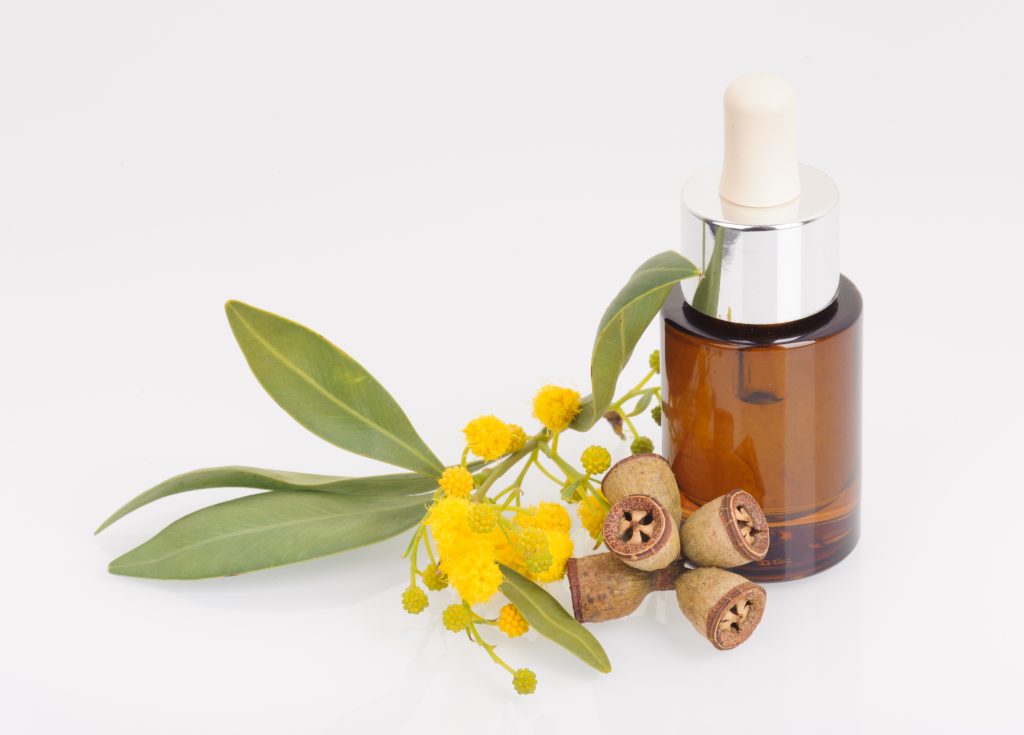 A powerful pain reliever and decongestant, eucalyptus oil has been used for hundreds of years to treat muscle and joint pain as well as respiratory issues. If its use in just about every other congestion and pain relief product is any indication, the oil has continued its undisputed reign as one of the most powerful natural ingredients to remove phlegm buildup and muscle spasms.
The analgesic properties of this extract are second to none. Plus, its stimulating and warming effects boost circulation and lymphatic drainage. Eucalyptus essential oil is a powerful antimicrobial agent which also creates room for its use against cough, sore throat, sinusitis and other respiratory issues.
Fennel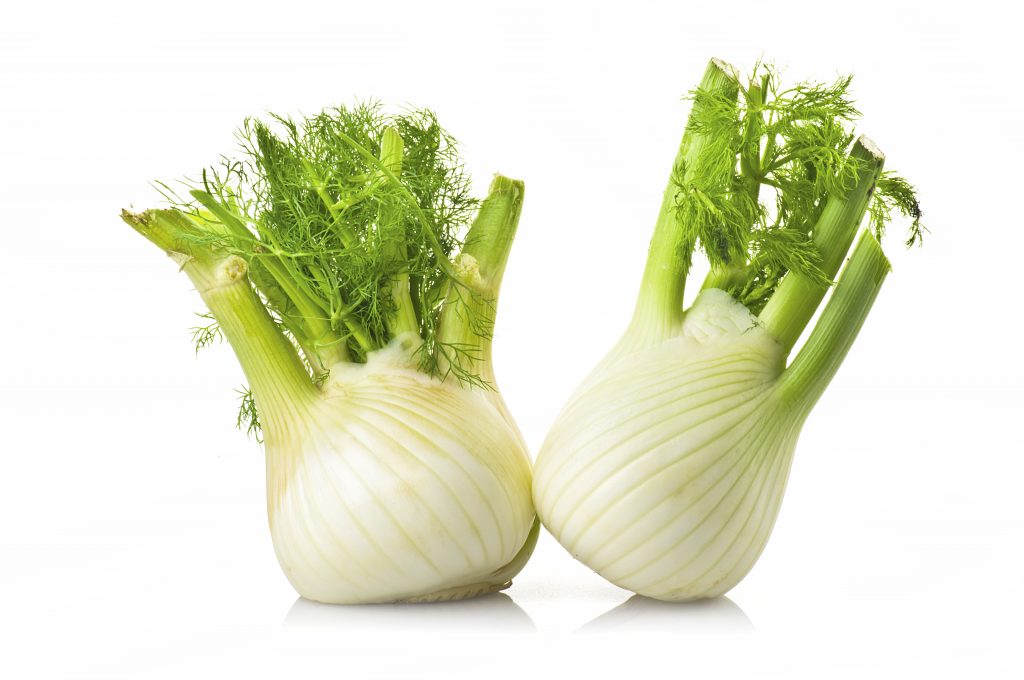 The sweet, spicy and licorice-like peppery aroma of this oil is well known for its ability to alleviate mental haze and sluggishness and enhance focus and clarity. Long used as a digestive aid, fennel essential oil offers notable results against constipation, gastric upset, flatulence, dyspepsia, nausea and other gastrointestinal problems.
Fennel is a powerful healing agent that speeds wound closure and promotes faster regeneration of dermal cells. So, it can also be used to erase fine lines, wrinkles and dullness that result from skin aging. Above all, this extract is a superlative hormone balancing agent that provides astonishing results against most problems of the feminine reproductive system.
Frankincense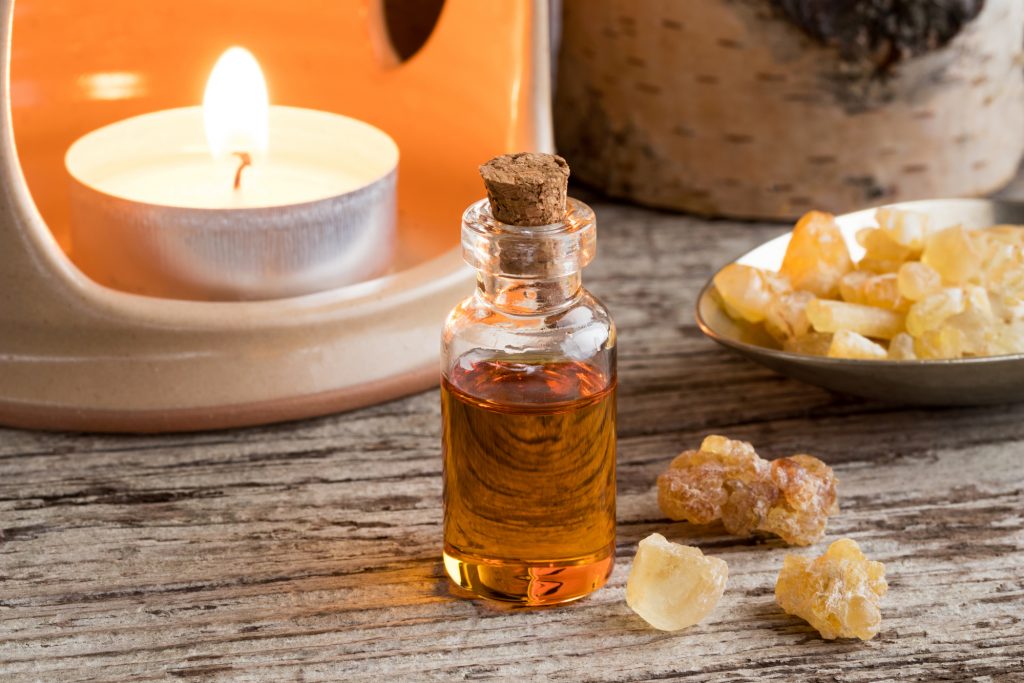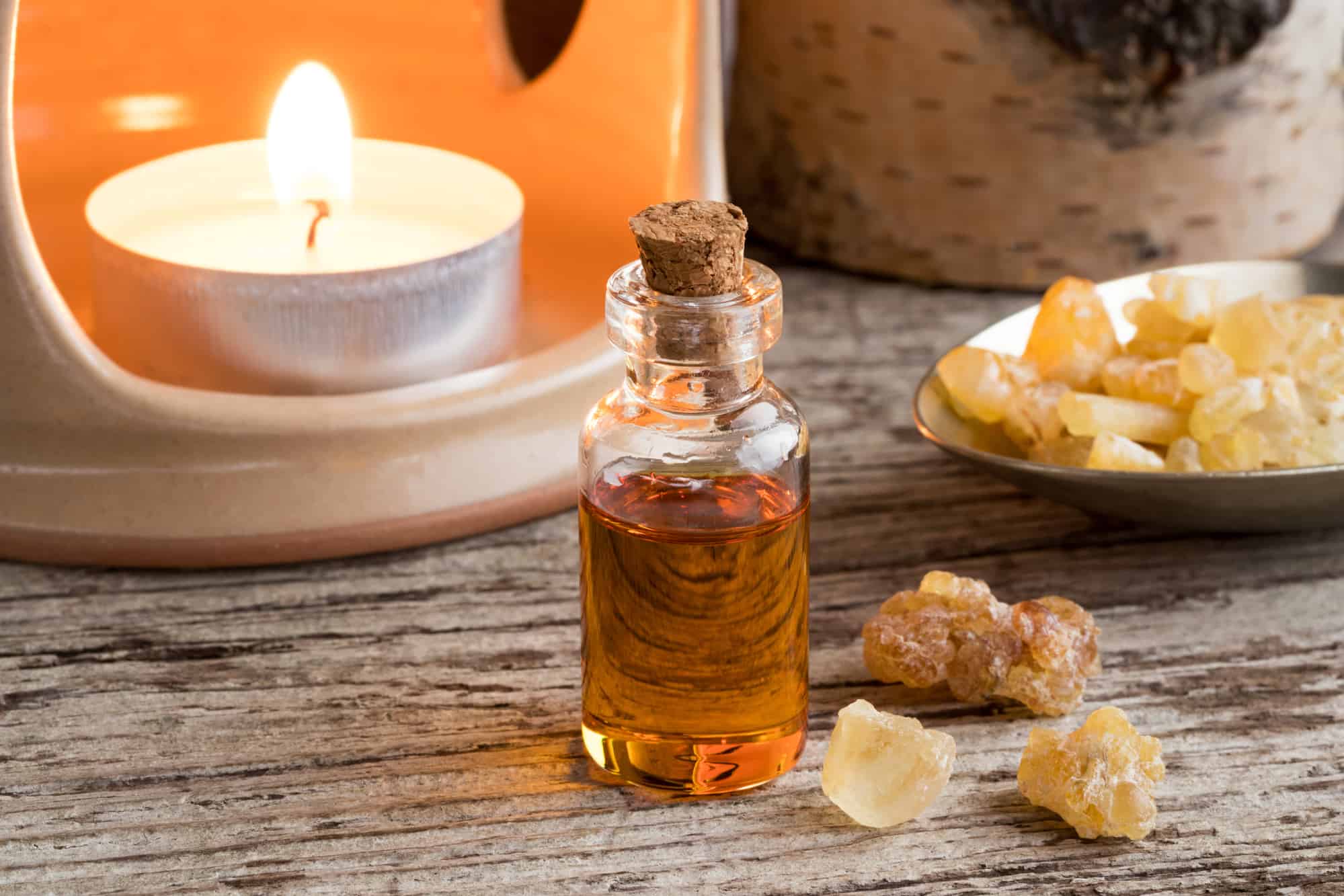 It was used in biblical times and continues to be a sought after natural ingredient to this day, which should give you a gist of its extraordinary therapeutic benefits. The grounding and calming oil has exceptional anti-inflammatory powers, which can be used to treat skin problems, muscle pains, wounds, asthma, headaches and more.
Often used as an aid to meditation, the oil can infuse your entire being with a deep sense of relaxation. The immune boosting and antiseptic properties of this extract coupled with its ability to melt mucus plugs can be used to treat all types of respiratory infections and congestion.
Galbanum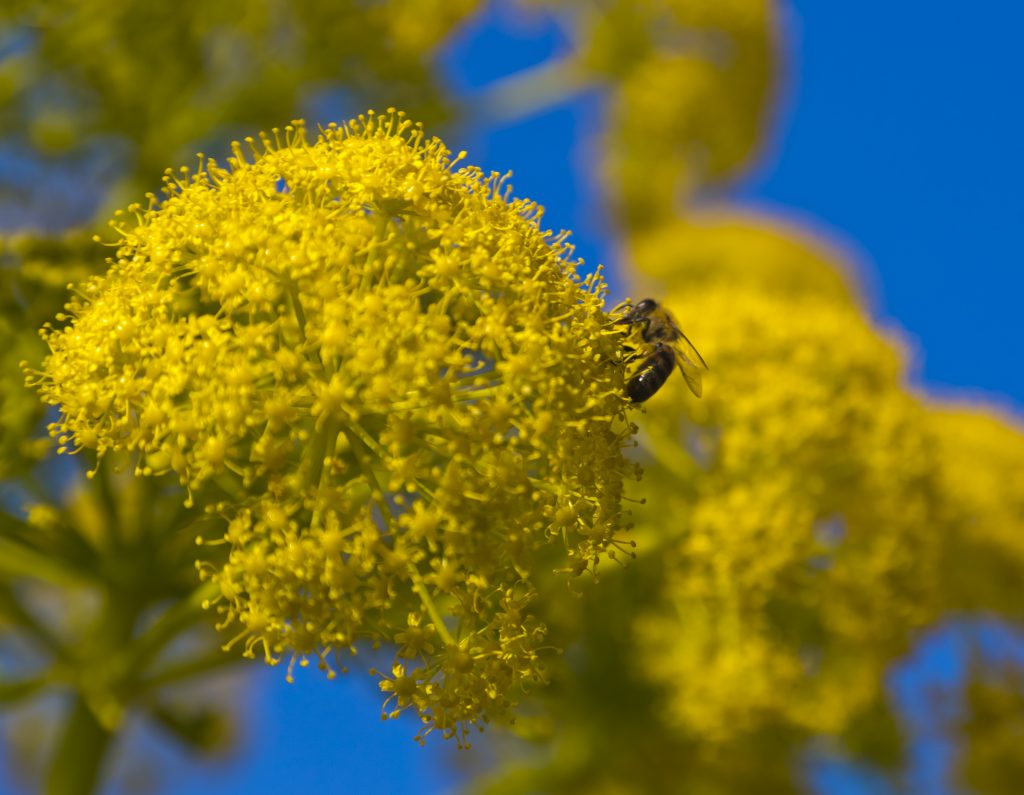 Hippocrates and Pliny could not stop raving about the potent scent and therapeutic benefits of this oil, going so far as to call it "magical". Well, it may not be able to conjure up a shiny new car but as far as health concerns go, this extract is capable of handling quite a few of those.
For starters, it helps to keep the noggin cool and calm and rids the mind of stress and anxiety. The extract also frees the lungs from the wrath of invading critters and mucus, so it helps you to breathe easy. Since it just as effective against pain and offers soothing warmth on application, it is frequently used to treat painful health issues, including muscle sprains, degenerative joint disorders, nerve pain and others.
Galbanum oil helps to boost circulation and aids in the faster removal of toxins from the inflamed area, which leads to rapid healing and pain relief. The astringent and rejuvenative properties of the extract can also be put to use in skin care, particularly against scars.
Geranium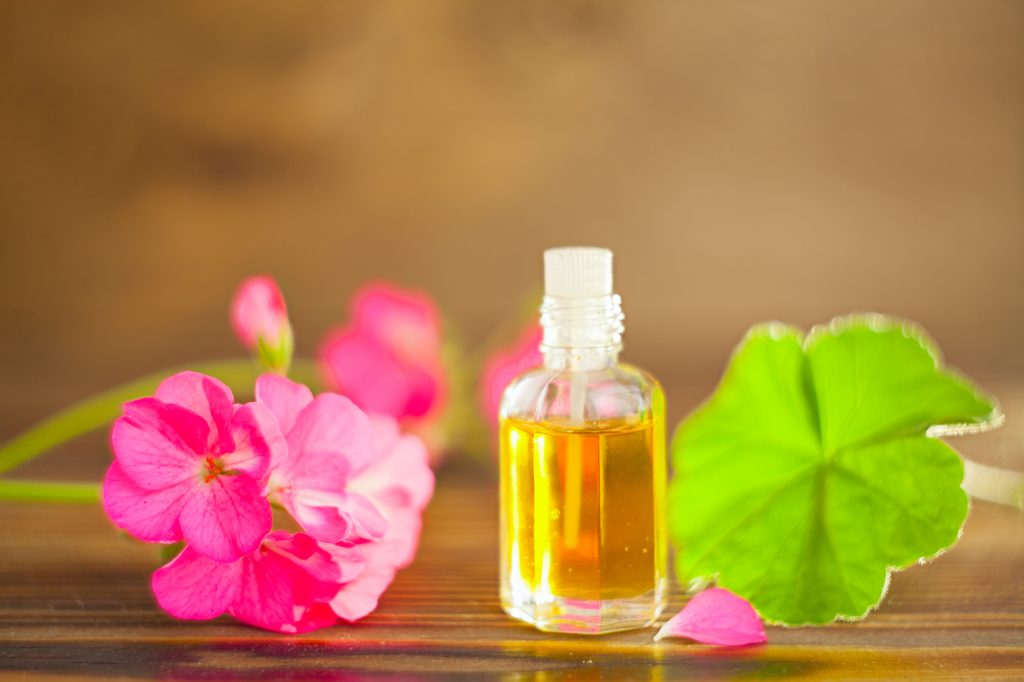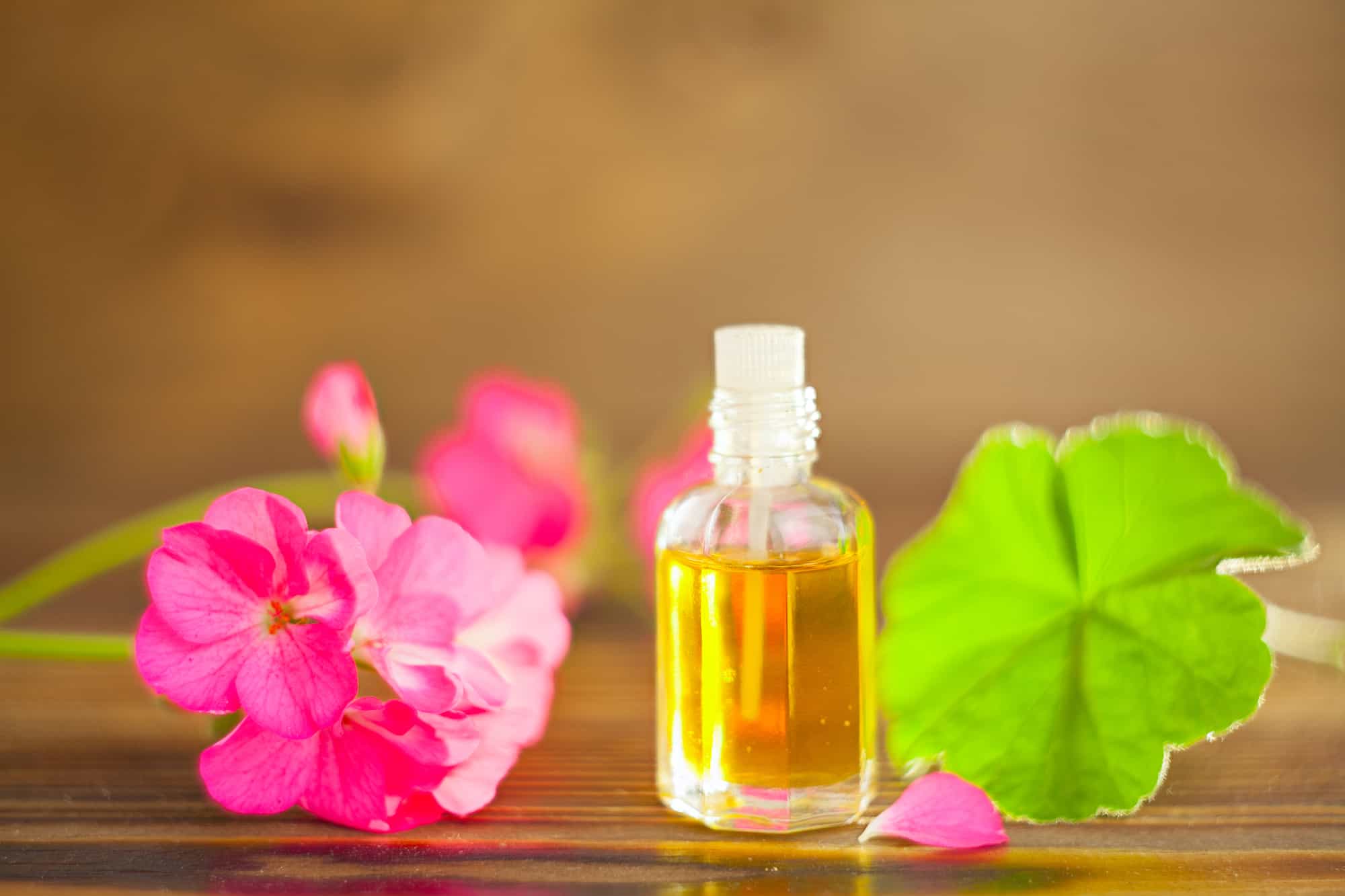 The sweet smelling oil has earned itself a spot on just about every skin healing essential oils list. But this oil can do more than just deal with wrinkles and complexion dullness. Geranium oil has fantabulous anti-inflammatory properties that can be put to use against almost all pro-inflammatory conditions, including those that lead to muscle and joint pain.
Similarly, its astringent effects can be employed to tone the muscles not just on the face but all over the body. The analgesic and antimicrobial properties of this extract can help in the better handling of wounds and oozing sores.
But the most distinctive benefit of this oil is its power over all that ails the mind. From stress to depression and from restlessness to anxiety during labor, panic attacks and even insomnia, the delicate floral aroma can pull you away from all that darkness within you to a brighter and more hope-filled space.
Ginger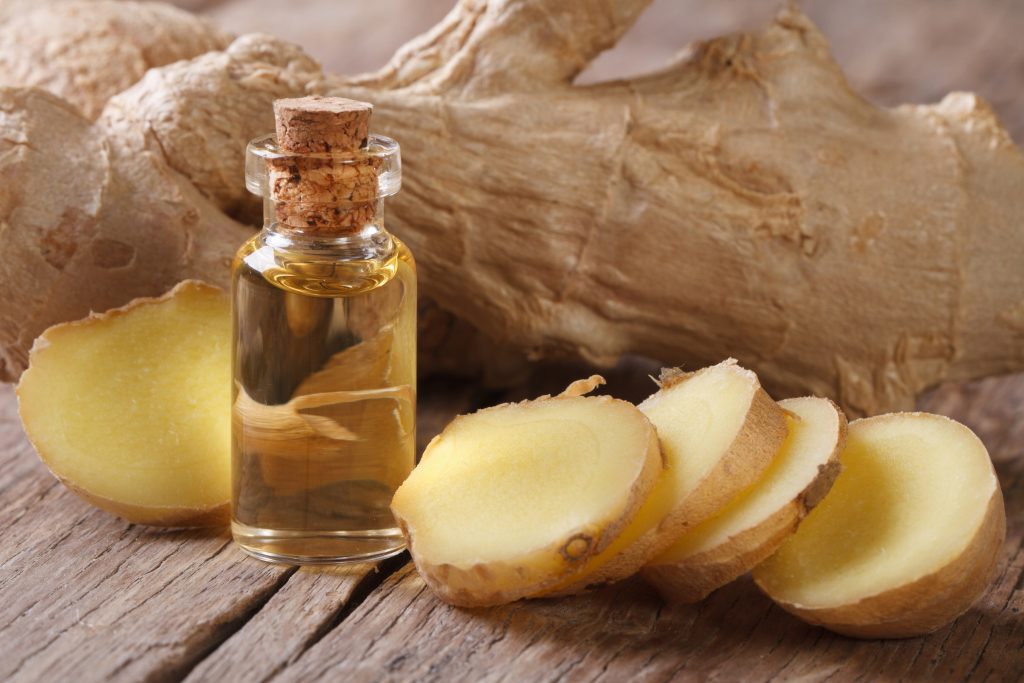 The digestive and stimulating properties of this humble root also get distilled into the essential oil derived from it. This makes, ginger oil the perfect addition to any blend meant to address gastric problems and discomfort.
The anti-inflammatory effect of the oil helps to soothe muscle spasms and works as a counter-irritant that interferes with the transmission of the pain impulse to the brain. So, it is remarkably effective when used against muscular, skeletal pain and rheumatoid arthritis.
Because the oil is a circulatory and lymphatic tonic, it helps in treating fluid retention and toxin accumulation. As far as the expectorant properties of this extract are concerned, they are nothing short of miraculous. In fact, this oil can bring even the most unruly and chronic coughing bouts to heel.
Grapefruit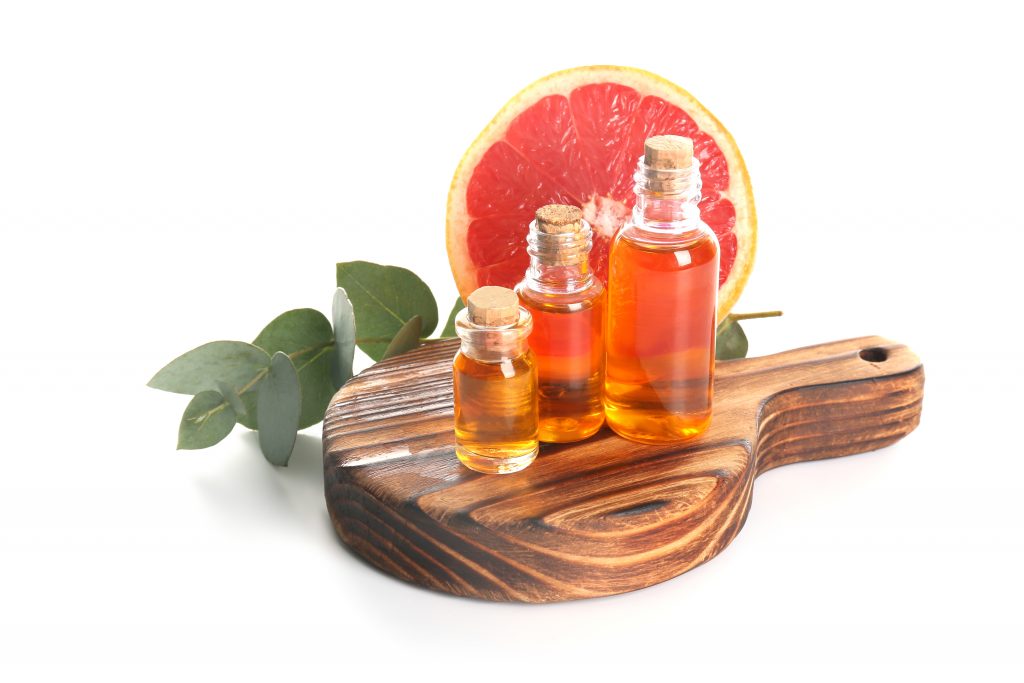 You get the very same, tangy, invigorating aroma from this oil as you do from the juicy fruit that it comes from. Like other citrus extracts, grapefruit essential oil displays strong astringent and antimicrobial properties, which can be used against acne, skin aging as well as infectious skin diseases.
Although the aroma of this oil is undoubtedly uplifting and has a motivating quality, it does not offer these benefits at the cost of mental peace and tranquility. Quite the opposite, the at once sweet, fruity and fresh aroma of grapefruit oil is particularly potent against depression, anxiety as well as insomnia. The oil also helps to deal with fluid retention and is very effective against food cravings (when mixed in with patchouli oil), nausea and gastric upset.
Helichrysum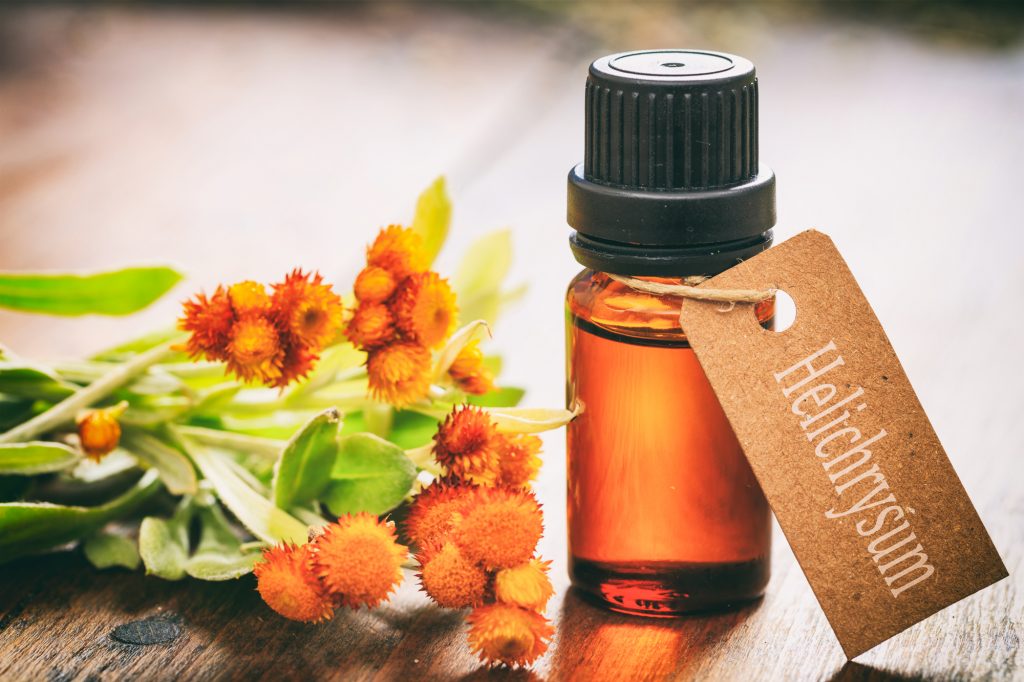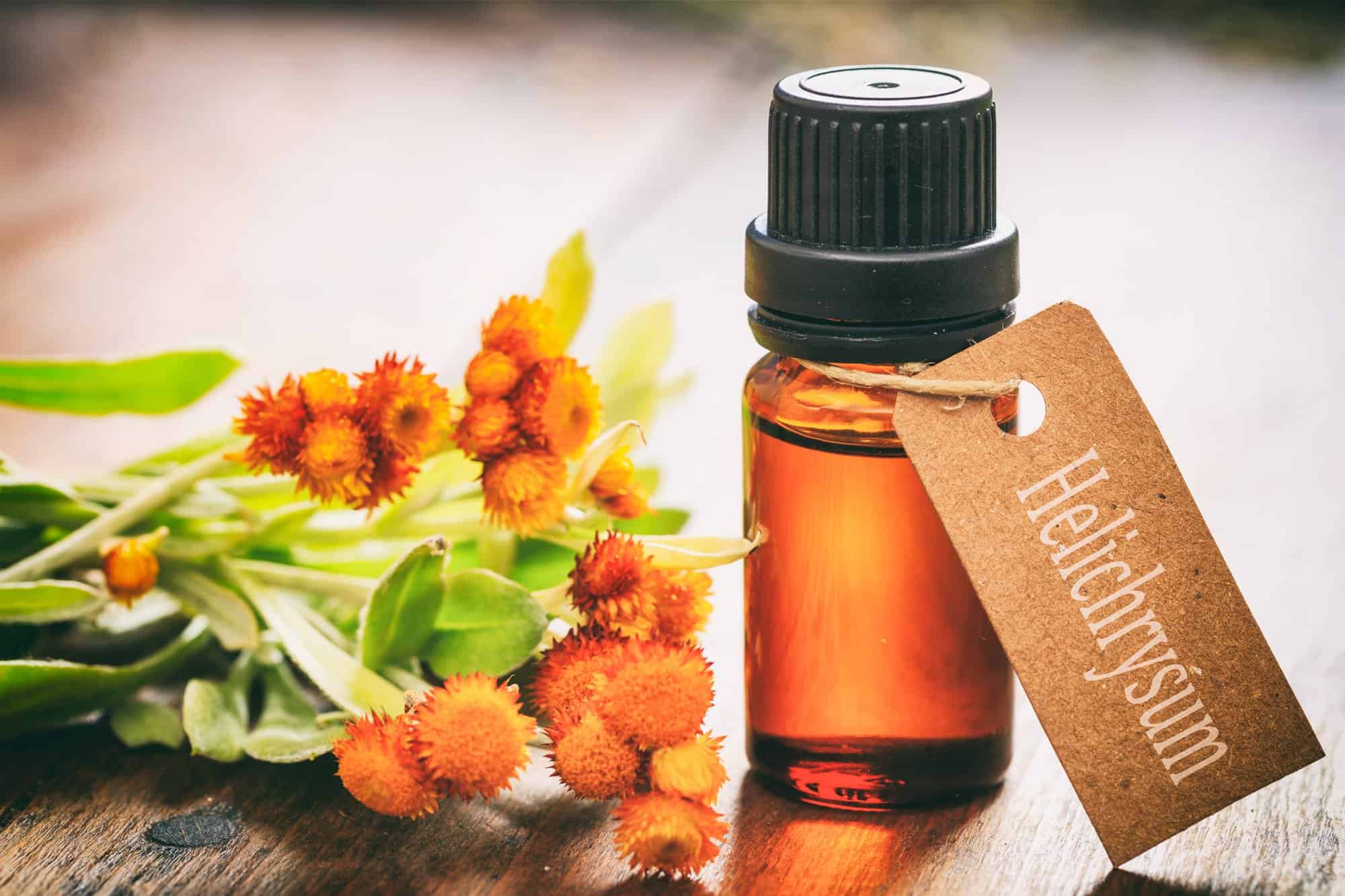 One of the nicknames for this oil is "everlasting", and boy does it live up to it, and I am not talking about the longevity of the flowers or the oil here. This is one of those rare substances (natural or manmade) that offer lasting relief from inflammation.
In fact, its extraordinary ability to curb inflammation has prompted its use in several high-end skin care products. The anti-inflammatory properties of the extract also get support from its ability to ease muscle contractions and spasms. Together, these benefits can be used to fight off painful muscular and joint conditions.
Because the oil is both an expectorant and an antiseptic agent, when used to treat nasal congestion, it not only clears the air passage but also eliminates the infection causing the mucus buildup. When diffused, helichrysum essential oil offers remarkable results against negative emotions and agitation.
Hyssop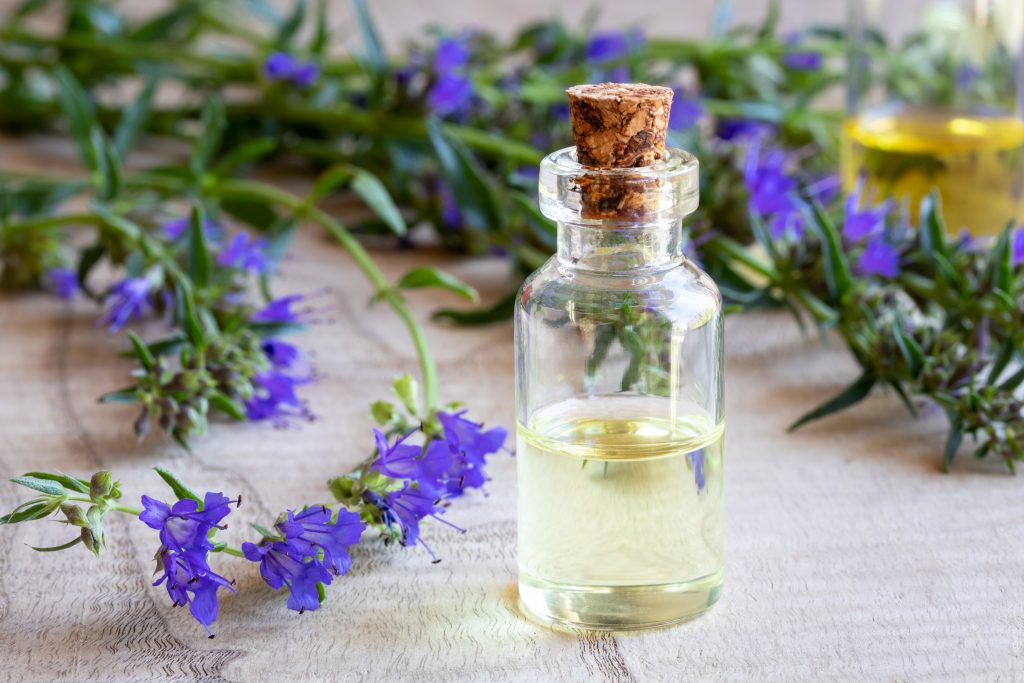 This is the oil to use when your body and brain refuse to keep up with your personal or professional obligations. Used as a spirit cleanser in ancient times, the oil is still a fabulous tool against physical and mental fatigue, lethargy, lack of focus and drive. And these effects are not limited just to the mind, hyssop oil is a potent antioxidant and stimulant that impacts the digestive and the circulatory systems as well.
Because it helps in the faster removal of accumulated fluids and toxins, it also exhibits pain relieving properties that work on sore muscles and irritated nerves. Hyssop oil has a long standing history of use as a respiratory tonic.
Jasmine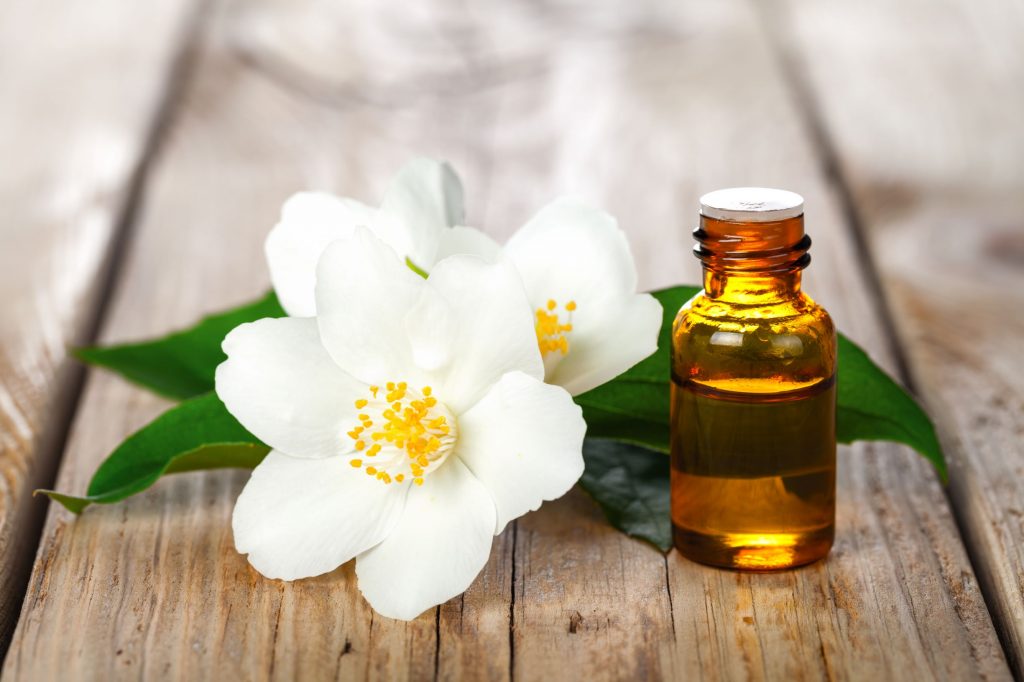 The hypnotic aroma of this oil has long been valued for its aphrodisiac properties. But, few know that the lingering sweetness of the scent not only drives the desire for intimacy but can also chase away all thoughts of self-doubt, sadness, grief and depression.
A unique sedative, jasmine oil gently beckons sleep without compromising cognitive faculties. In fact, it relaxes and stimulates at the same time, which explains its notable effect against lack of libido. The impact of jasmine oil on the mood is both significant and instantaneous. It is known to restore positivity and self-love and acceptance like no other oil out there.
When used topically, jasmine essential oil is quite the restorative agent that can soothe and heal age ravaged skin. It is also one of the most effective natural remedies for feminine problems including menstrual irregularities, PMS, perimenopausal symptoms, postpartum depression, labor pains and others.
The soothing effects of Jasmine also extend to the muscles, as they stop painful contractions and spasms. The extract also has expectorant and antiseptic properties, which make it a good choice for blends meant to combat respiratory ailments.
Juniper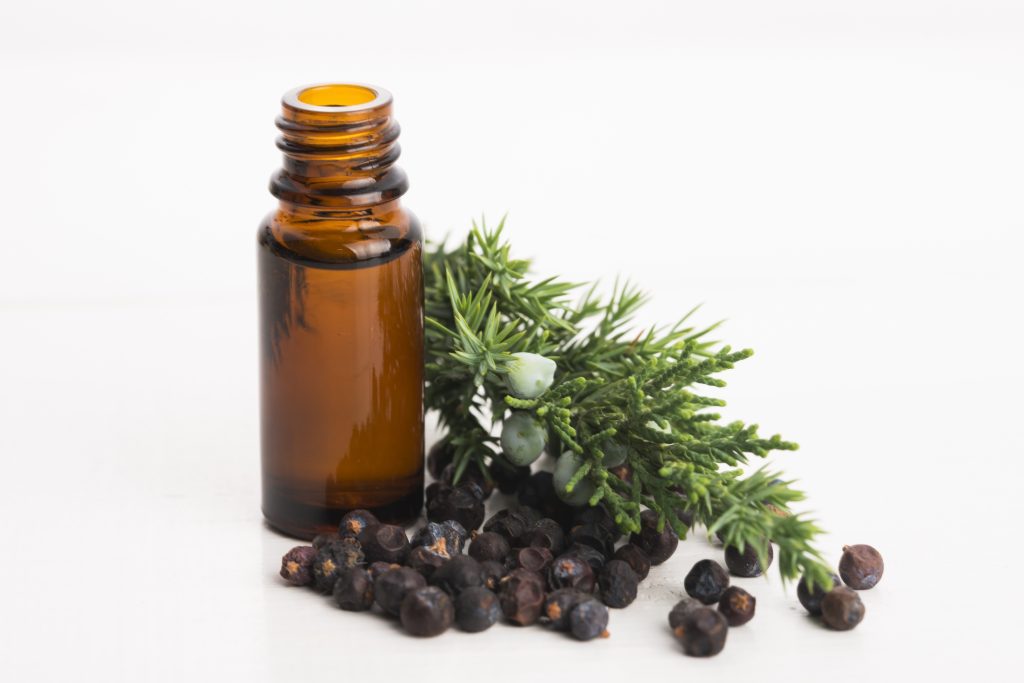 An immensely powerful natural cleanser and detox agent, juniper berry oil owes most of its therapeutic properties to its ability to speed up the removal of toxins and metabolic waste from the body and the treated area.
An extraordinarily potent circulatory stimulant, juniper oil helps to boost cellular health and integrity, which, in turn, has a slowing effect on tissue degeneration. In addition, the extract has astringent properties that help to tone and tighten dermal and muscle layers, so they can offer better support to the skeletal system.
Together these health benefits go a long way in treating and even preventing the deterioration of degenerative joint ailments like rheumatism and arthritis. Needless to say, these properties also help immensely when used for skin care.
Lavender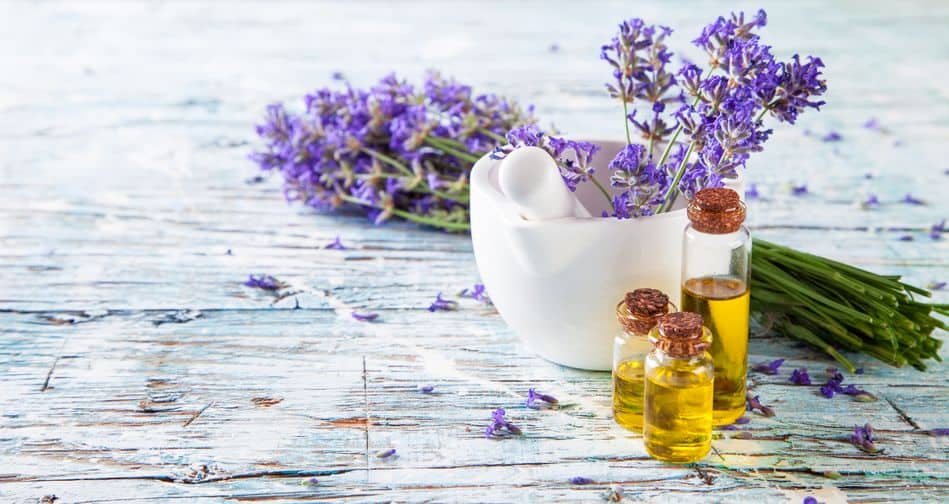 For the longest of time, this oil has featured in the list of must-have natural healthcare ingredients and has been called "the medicine cabinet in a bottle". For starters, the fresh, herbaceous aroma of the extract is known to lower cortisol levels and agitation.
In fact, this oil is so soothing and relaxing, not to mention gentle, that even irritated babies and tots respond to its calming effect. So, if you have been struggling with sleepless nights, lavender oil will help you to find your way back to dreamland.
That said, the oil is just as effective on emotional and mental states that get people worked up; think stress, anxiety, grief, anger and restlessness. A clinically studied and endorsed anti-inflammatory agent, lavender essential oil also offers relief from pain, swelling and redness, be they the result of a wound, an inflammatory skin condition or a hyper-immune response.
The extract also has germ killing properties along with the ability to soothe muscle spasms, and these simply add to the myriad of therapeutic benefits that you can get from it. Ever heard of organic bulgarian lavender essential oil?
Lemon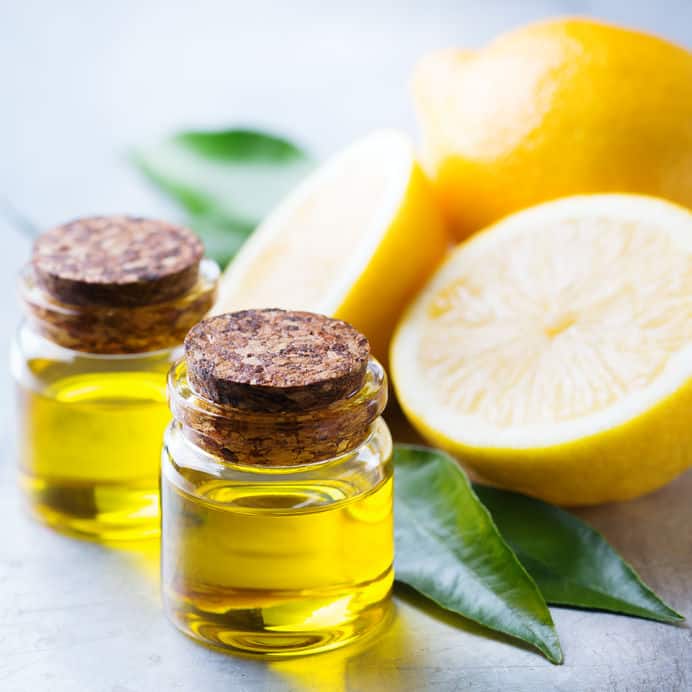 The zesty, bright, hard-to-miss, citrusy aroma and the tonic effects of this oil can wake you right up, both physically and mentally. In fact, this is the oil to use when you want to put the bounce back in your steps.
But here is the best bit – this oil can energize and motivate without impeding sleep. Actually, since it has the ability to clear your head of all negativity, it offers exceptional results against sleep disorders, including insomnia.
The astringent oil is one of the richest sources of limonene, a bioactive that is a potent anti-inflammatory and antioxidant agent, which help lower cholesterol. Its astringent effects coupled with the ability of limonene to wipe away scars and hyperpigmentation, lend it much value in skin care. Plus, you get antiseptic and antibacterial effects from this extract, which means that it can also be used to treat acne and minor wounds.
Lemongrass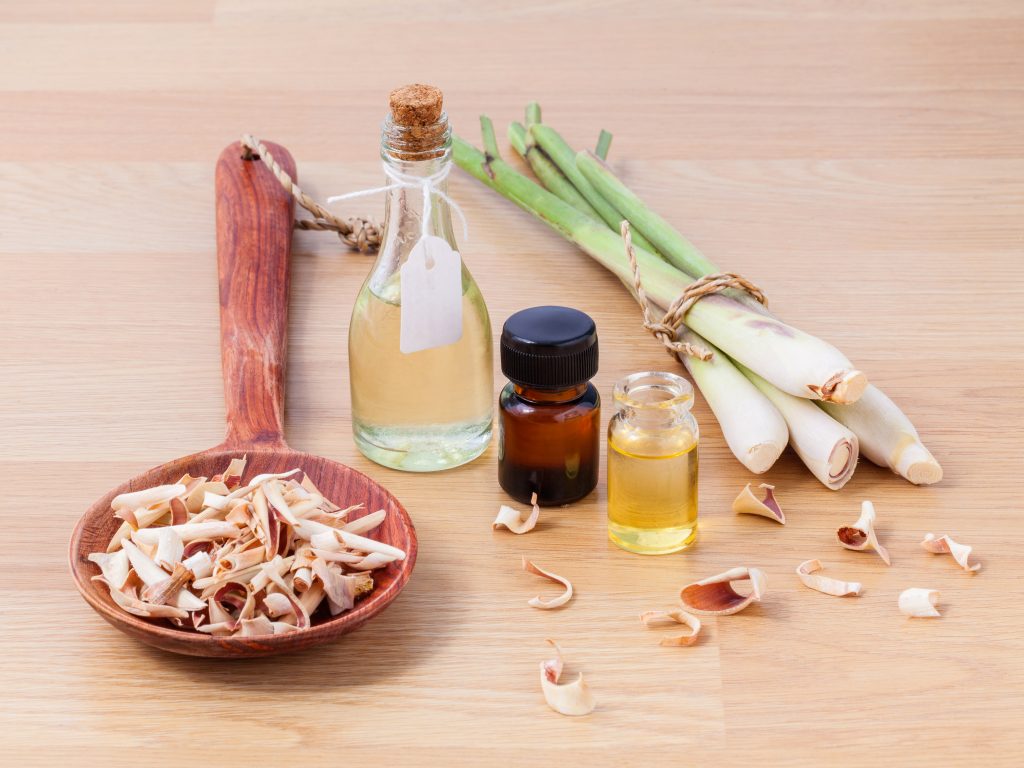 The sweet-lemony fragrance comes courtesy of neral and geranial, together known as citral, which is a killer antimicrobial agent. Unfortunately, all that firepower also brings along the risk of skin sensitivity. So, limit the topical use of this oil to less than 1%. That said, if used as prescribed, this oil can give you the pore-less skin that Thai women often flaunt.
Lemongrass oil is an anti-inflammatory, an astringent, a tonic, an antiseptic and a detox agent. Plus, boy can it kill germs! Put these properties together and you get a solution for overly oily, acne prone, dull and clogged skin. The floral nuances of the scent are attributed to geranyl acetate and geraniol, which offer anti-inflammatory effects as well pain relief, when used topically.
Lime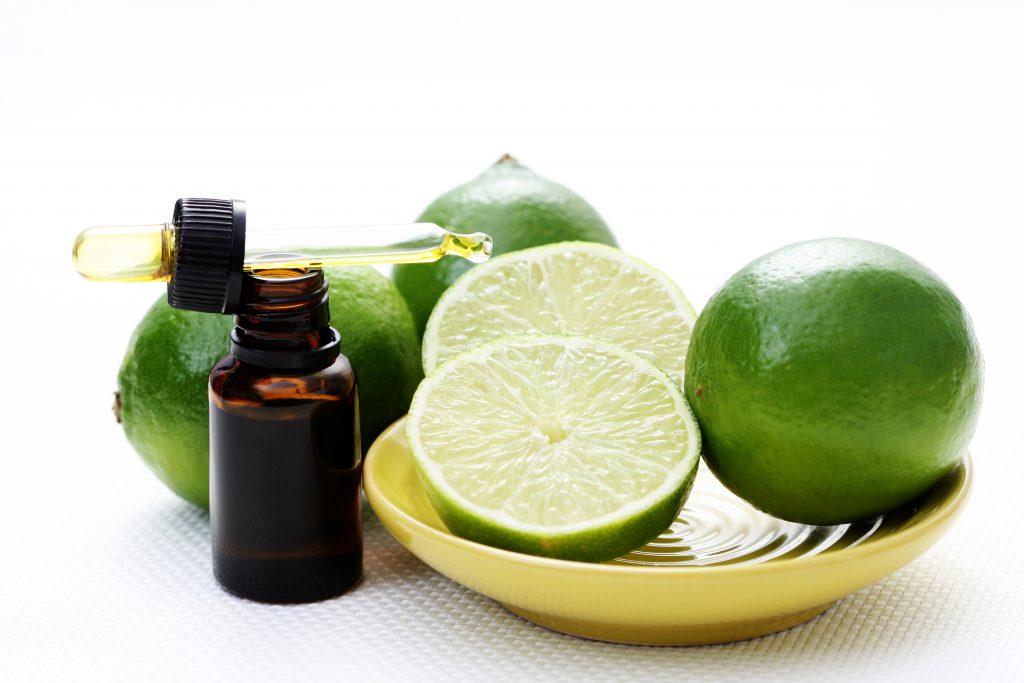 When you need the sweet to shoo away the sadness and the sour to kick out the sleepiness, this is the oil that will come to your rescue. The aromatic influence of this oil is profound to say the least. In fact, you can't but be happy when you are surrounded by this cheery scent.
That said, the effects of the oil go far beyond the olfactory sense. One of its most notable properties is its anticancer activity.
Lime oil offers all the benefits of lemon and lemongrass, albeit in a gentler, more patient way. It offers the same potent antibacterial and astringent effects as the other extracts, but it's gentle on the skin.
Plus, the fact that it is a powerful scavenger of free radicals adds credence to its use in skincare blends. The oil is also a noteworthy bronchodilator and anti-inflammatory agent; properties that can be used to treat respiratory ailments.
Mandarin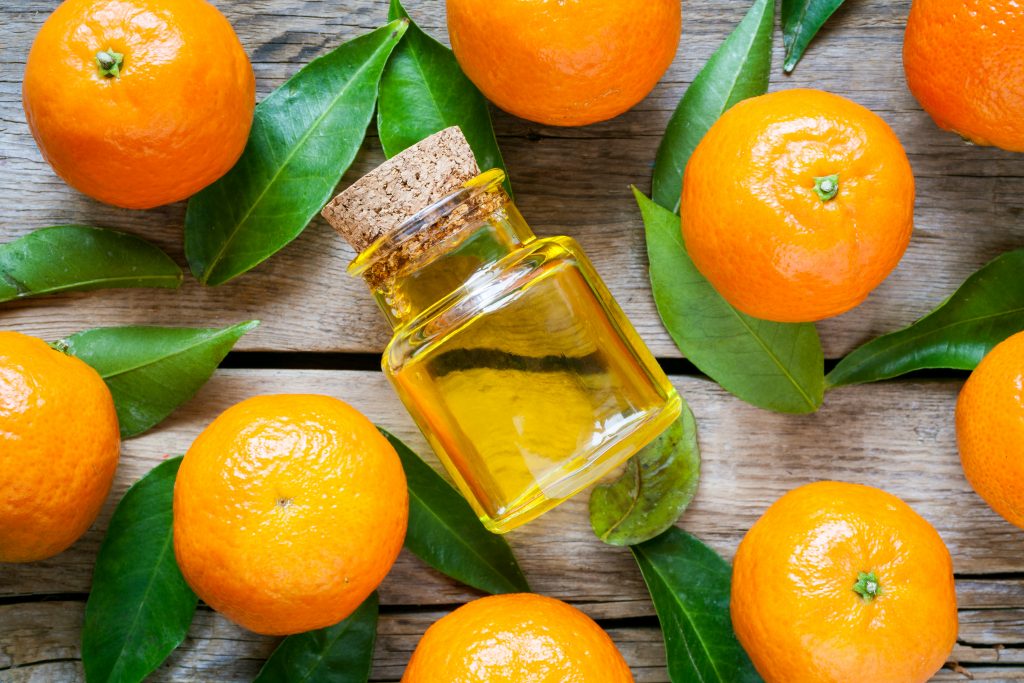 Like other citrus extracts, mandarin oil offers an energizing and invigorating scent that can lift away the blues and troubling emotions. The mildest of all citrus oils, mandarin oil provides spectacular skincare benefits. From erasing complexion dullness and scars to tackling dermal infections and signs of premature skin aging, this oil does it all.
It's just as effective against muscle and joint pain. In fact, the terpenes in mandarin oil are potent pain relievers that can rival the performance of most OTC painkillers. Because the extract stops muscle spasms and offers support to the digestive system, it can also be used to treat gastric discomfort. A circulatory stimulant that surprisingly also helps to relax the mind and the body, mandarin essential oil can also be used as a sleep aid.
Marjoram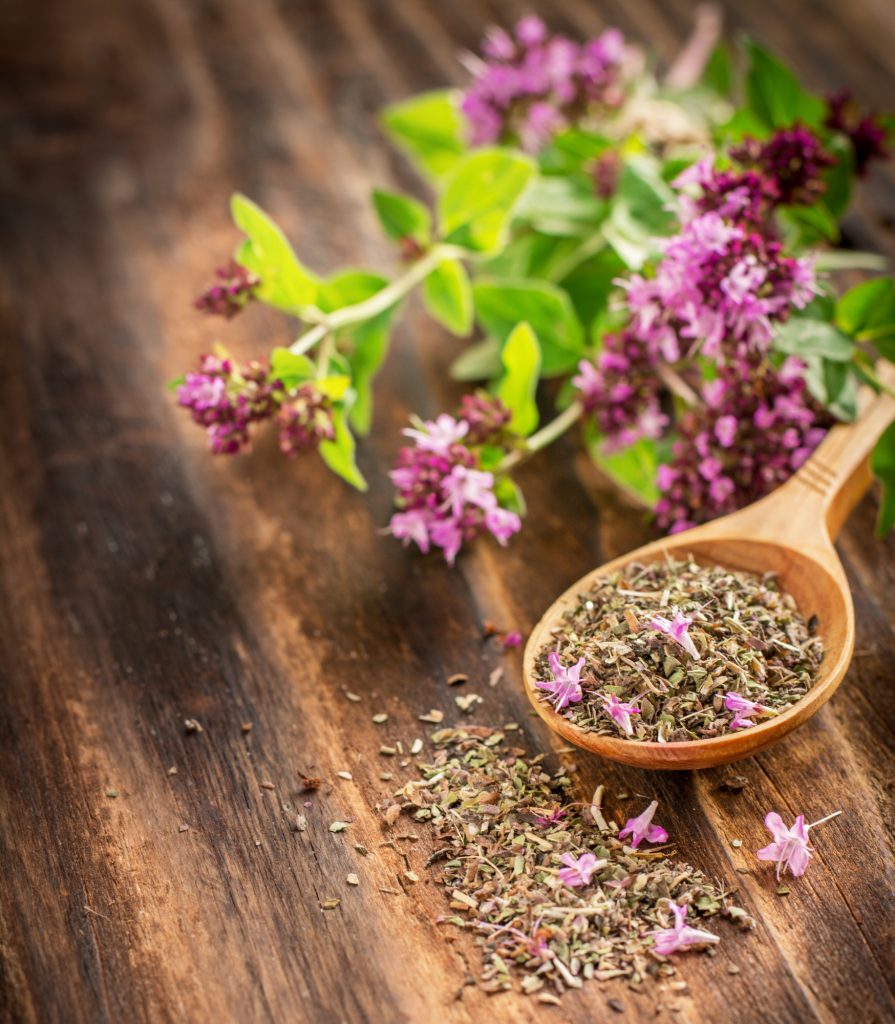 The soothing warmth offered by this oil has an all pervasive quality about it. The healing starts at the skin and finds its way to the internal organs, the hormones and even the brain. So for starters, marjoram essential oil is great for the skin and can be used against skin sagging, fine lines and acne.
It also does wonders when you want quick relief from muscle fatigue and pain. Because the oil is just as good at eliminating germs, it can also be used for all types of infectious ailments, including those of the skin and the respiratory tract. But the most profound benefit of this extract is the balancing act it pulls on hormone levels.
Melissa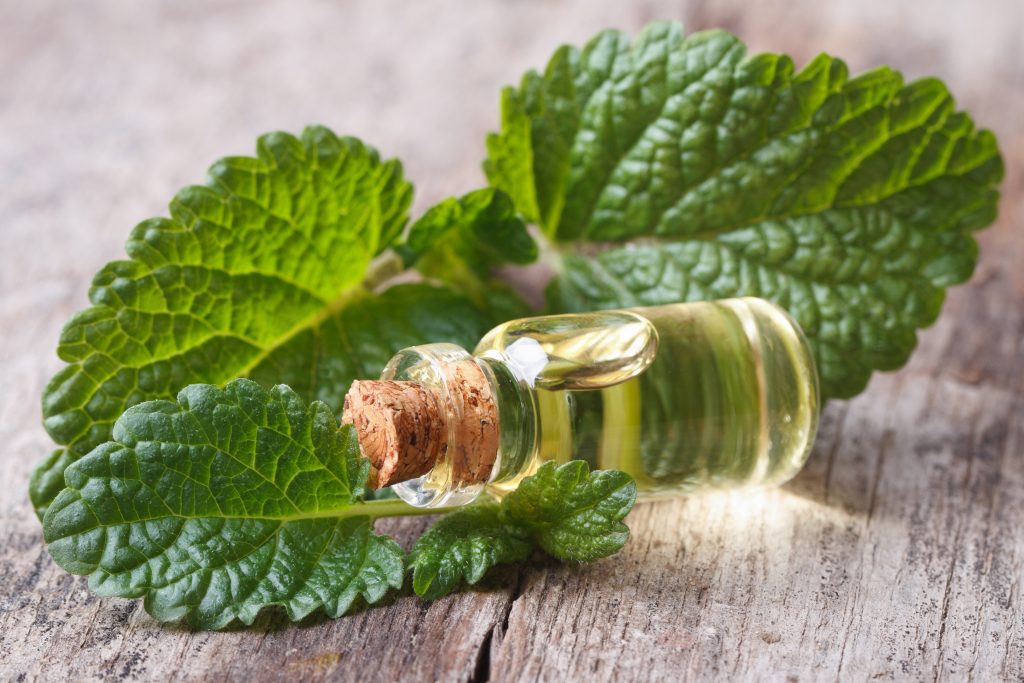 This essential oil takes multi-tasking to a whole new level. The distinctly lemony yet delicate aroma calms emotional turbulence and agitation and pushes stress and anxiety right out of the system. As the body and the mind go into a relaxed, soothed state, the oils gets to work killing critters and tackling the ailments they cause.
The combination of citronellal, citral and caryophyllene give this oil an astounding ability to tackle infectious microorganisms. Lemon balm oil being an antioxidant is proven to be effective against several viral skin infections, including cold sores. This coupled with its anti-inflammatory effects make it a worthy addition to wound healing and skincare blends.
Melissa oil also helps to keep the ticker healthy by controlling high blood pressure, erratic heart rates and cholesterol levels. Plus, it is known to help with high blood sugar levels.
Myrrh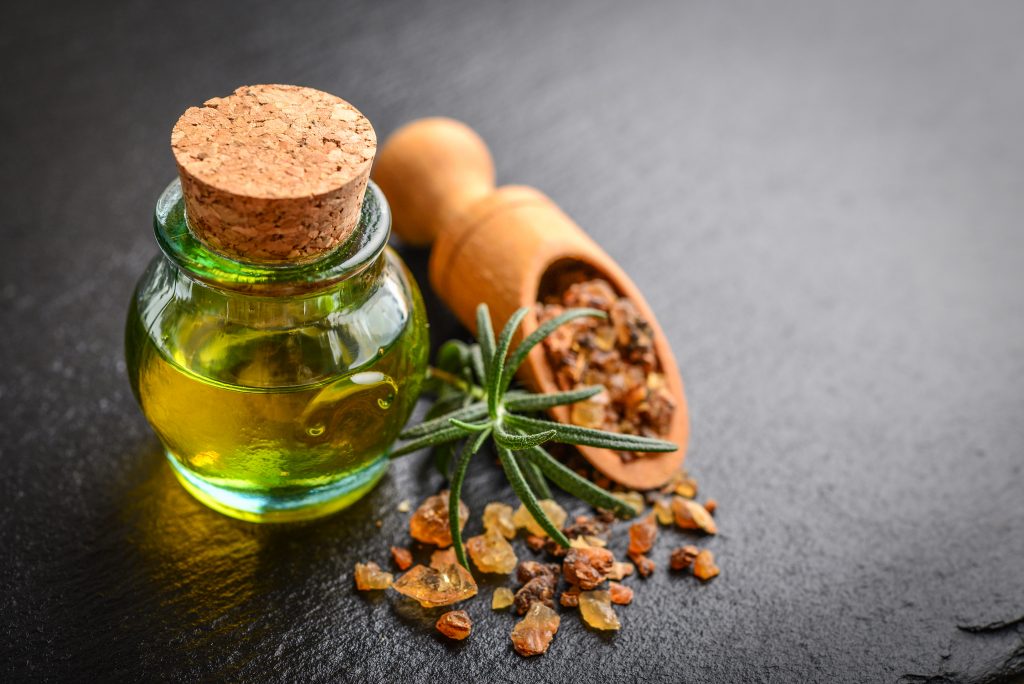 A trusted antioxidant, antiseptic, anesthetic, favored by the Egyptians and Babylonians, this is the oil to use when you want to keep the ravages of age away from your face. Because the oil also keeps inflammation in check, it work as both prevention and treatment for premature skin aging as well as pro-inflammatory ailments.
In fact, since most infectious diseases do eventually lead to inflammation and this extract can be used to control both germs and inflammation, it sure does have a lot of applications in health care. A revitalizing agent that promotes emotional well-being, this oil is just as good for the head as it is for the rest of the body.
Neroli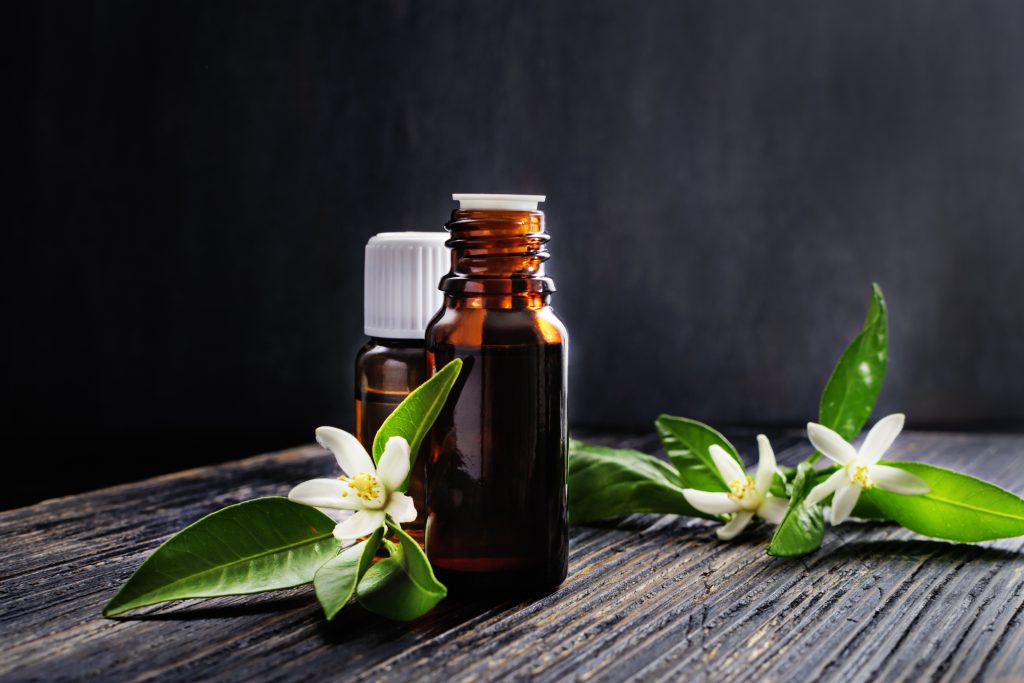 The exotic and alluring fragrance of this oil makes it the top choice not just for high-end perfume oils but also aphrodisiac blends. There is a disarming quality about the aroma that immediately removes the mind and brain away from negative thoughts and depressing emotions.
So deeply profound are the mental effects of this oil that they have several positive physical ramifications as well. For instance, by the quelling the negativity and the stress that it gives rise to, the oil helps to keep the ticker in good shape. In fact, the calming effects of this oil actually venture into the anti-convulsive territory. So, the extract is known to be effective against epileptic seizures.
As far as skin care goes, the ability of this oil to neutralize free radicals and rejuvenate the skin goes a long way in both preventing and treating signs of skin aging. And along with all of that, it is also extremely good for feminine hormone related issues. Is that a complete package or what?
Niaouli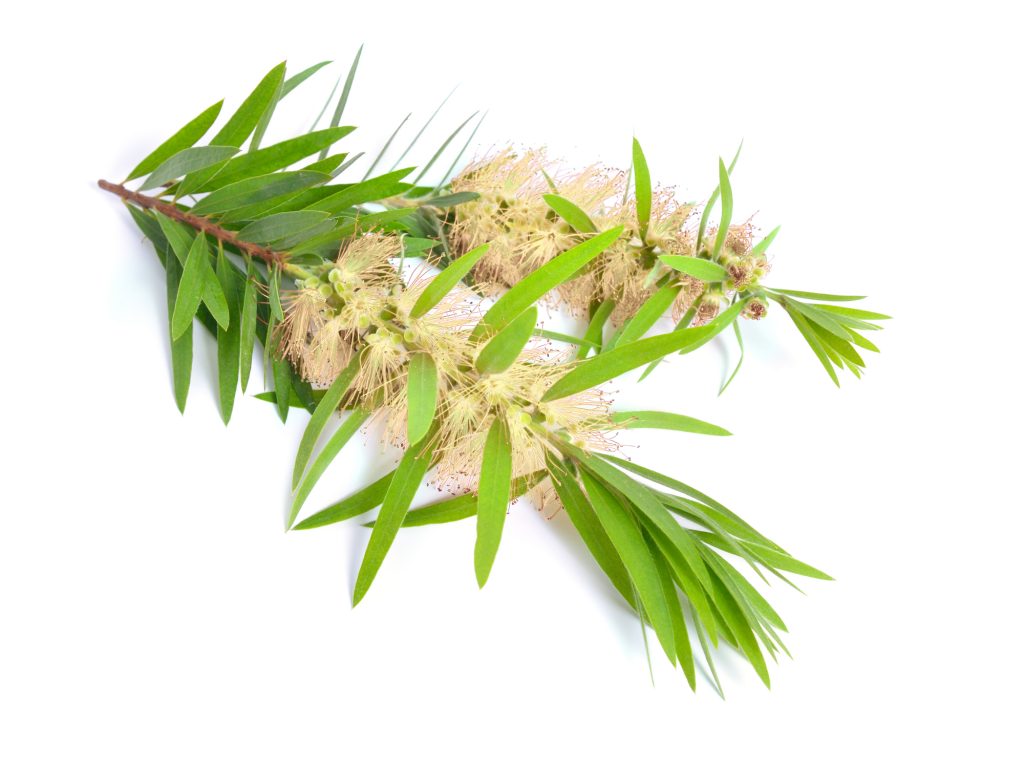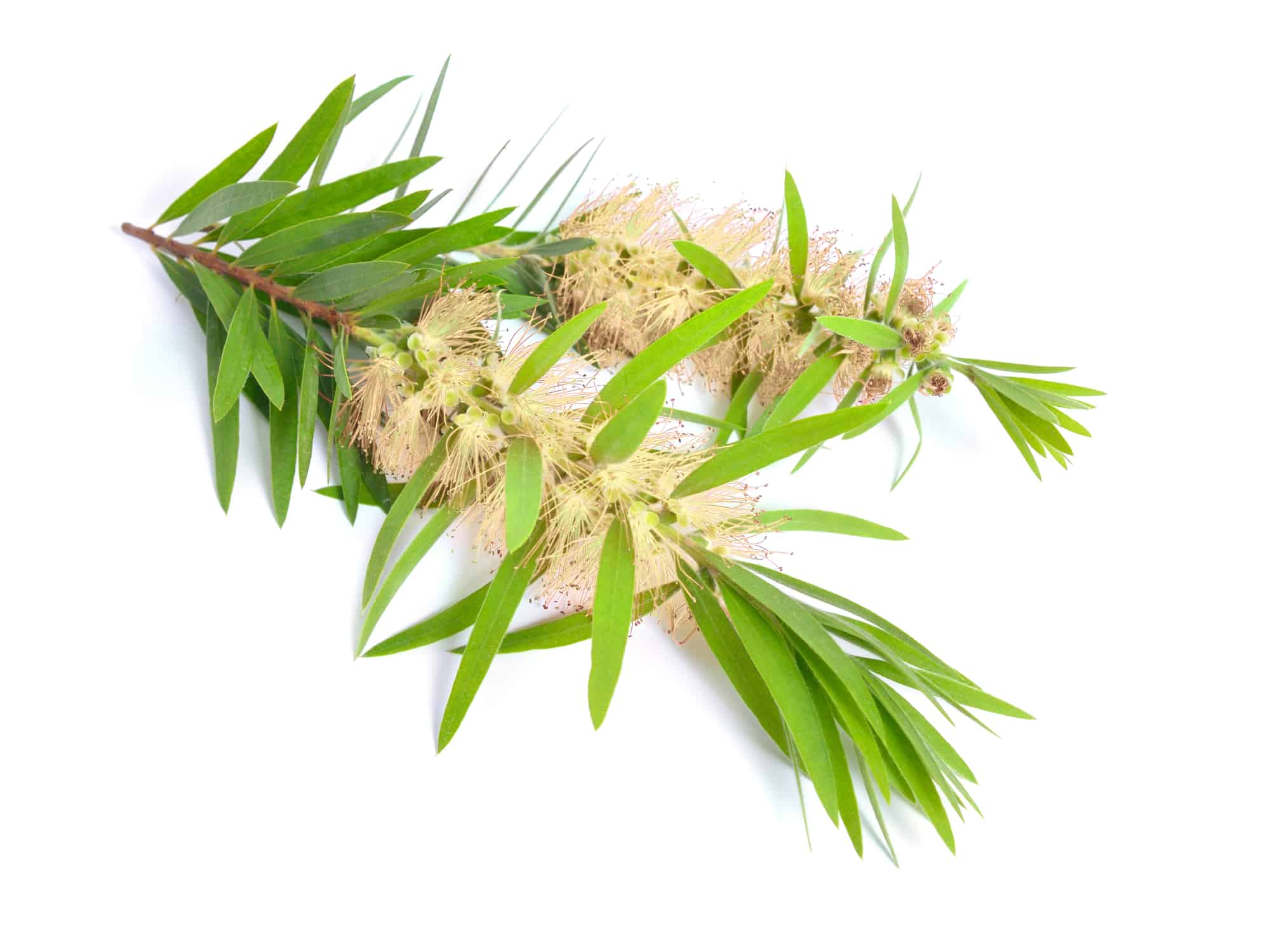 Think of this one as a mild-mannered cousin of tea tree oil. Although the aroma of niaouli oil lacks the freshness and crispness of tea tree oil, the camphorous touch is unmistakable thanks to 1, 8 cineole. This bioactive makes it effective against a range of infectious and inflammatory conditions.
So, niaouli has you covered against most respiratory ailments as well as skin infections. Of course, its ability to control inflammation also gives it the upper hand against muscle and joint pain caused by exertion or a degenerative ailment. Because the oil is a circulatory stimulant, it not only plays a role in improving overall health but also gives a boost to the immune system.
Orange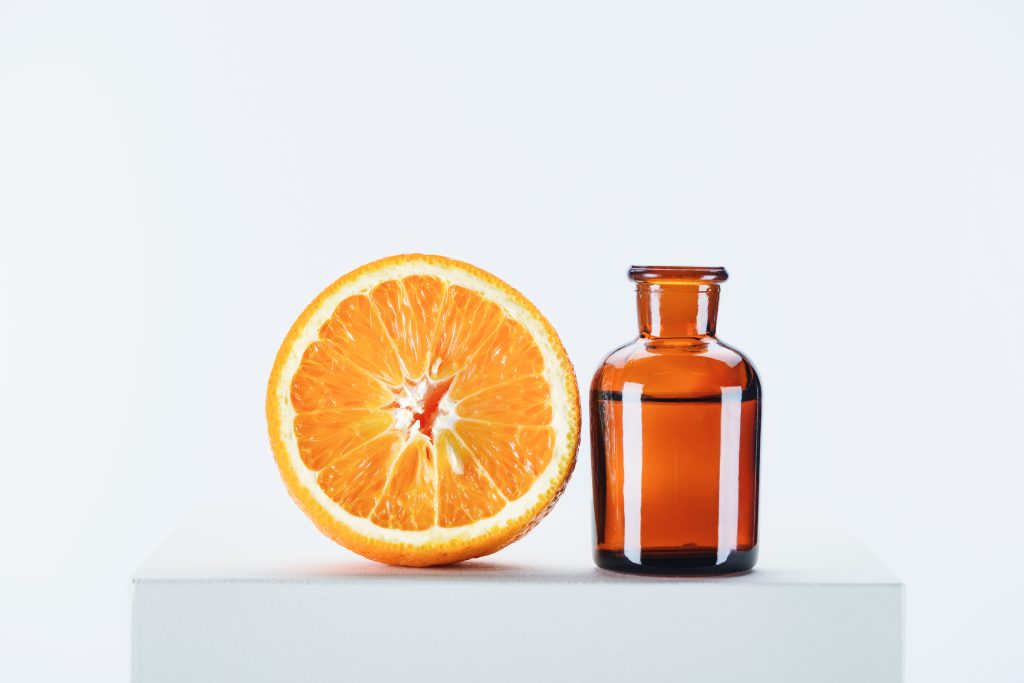 I truly believe that it would be hard to find folks who do not/would not enjoy the amazing mixture of tangy, sour, sweet and fruity aromas that is orange essential oil. While the oil does not have the bright orange hue of the fruit, it sure will leave you feeling bright and sunny.
Although the extract is all energy and enthusiasm, it does not invigorate through restlessness. On the contrary, it helps to channelize your physical and mental energies. Even its sedative effect is more relaxing than tranquilizing, which makes it an effective aphrodisiac and anxiolytic agent. Not to add that it has been proven to control anxiety in women during labor.
Like other citrus oils, this extract too is fantastic for the skin. Whether you are at war with your wayward sebum-producing glands or want to do something about your lack luster complexion, this oil can get it all done.
And if orange candy has ever stopped you from bringing up the contents of your stomach, orange oil will prove just as effective. In fact, the mere whiff of this oil can stop nausea in its tracks, whether the need to barf is attributed to indigestion or morning sickness.
Oregano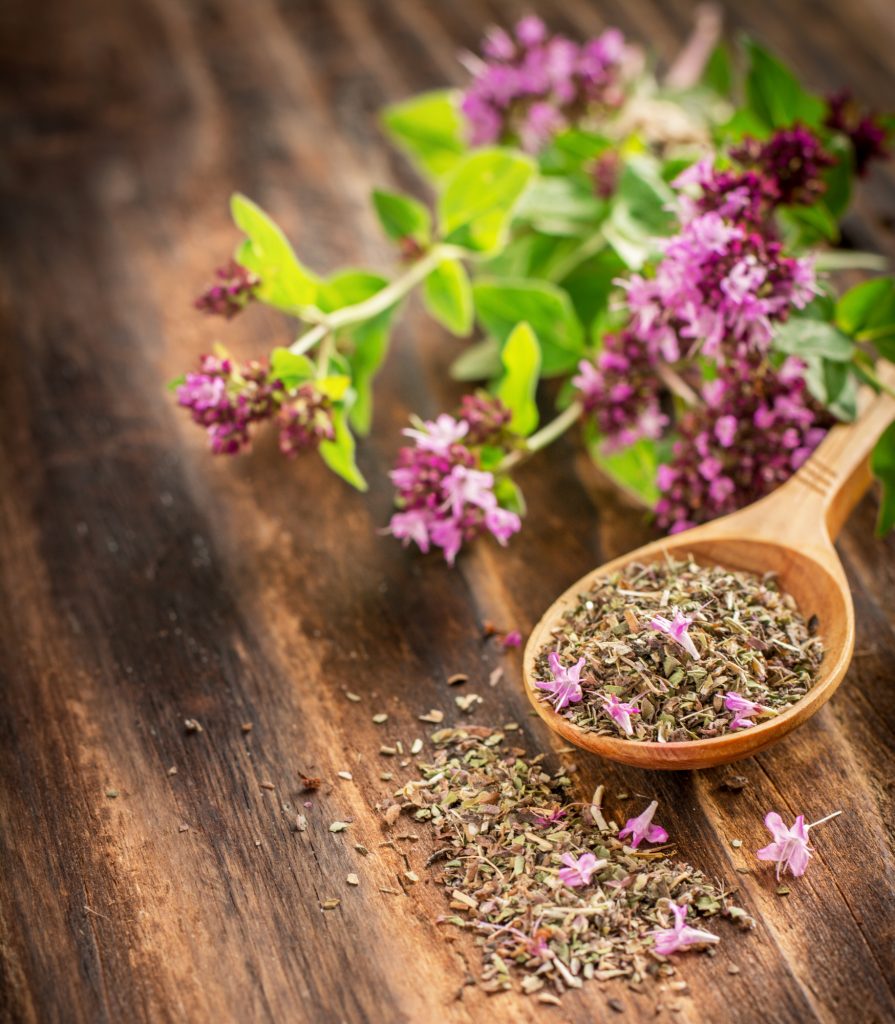 Another warming oil derived from a common herb, the antimicrobial properties of oregano essential oil are at par with those of rosemary and thyme. However, it is not an immune-stimulating agent, although it does support immune functions.
This difference makes it an apt choice for anybody who is suffering from autoimmune disorders. A strong analgesic compound, the oil can be used against almost all painful muscular and joint conditions, particularly those that are rooted in auto-immune disorders such as gout, lupus, hypothyroidism and rheumatic ailments.
The germicidal properties of the extract can be put to use against viruses, bacteria and fungus as well as external parasites. In fact, it is often found to be as effective against bacterial infections as OTC antibiotics, with the difference being that this oil kills critters without encouraging the growth of antibiotic resistant strains.
A circulatory stimulant that helps with smooth muscle spasms, the herb extract can be used to treat muscular swelling and inflammation, particularly the kind that results from cardiovascular and renal issues and diabetes.
Palma Rosa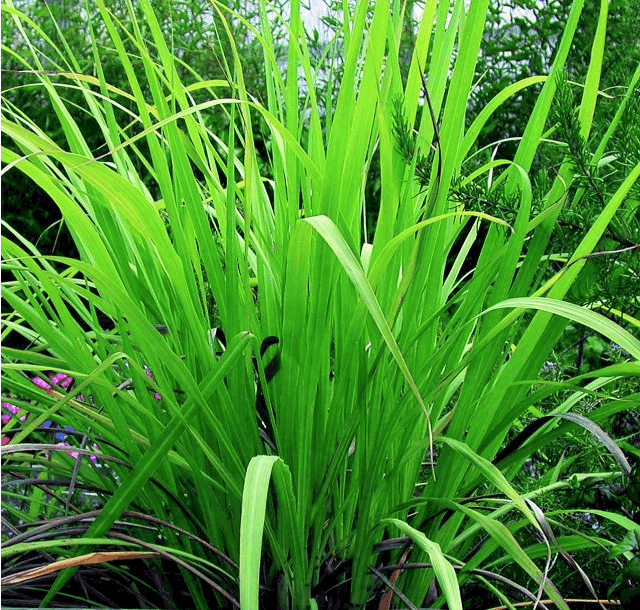 (image sourced from wikipedia)
Although a powerhouse of therapeutic benefits, including its anti-bacterial activity, this oil seldom gets the attention it deserves. Priced for the combination of geraniol and geranyl acetate in it, the ability of this oil to control inflammation is simply hard to miss. The combined anti-inflammatory powers of these compounds are enough to bring down swelling, pain, autoimmune inflammatory responses, inflammation caused by oxidative stress and other inflammatory ailments.
As you can imagine, this alone gives palma rosa oil a wide spectrum of uses. Then, there is the ability of this extract to combat disease causing germs. Because it is also one of the few intensely hydrating oils that support cellular health, we are talking about a complete skincare solution here. Palma rosa can also be used for digestive issues and emotional agitation.
Parsley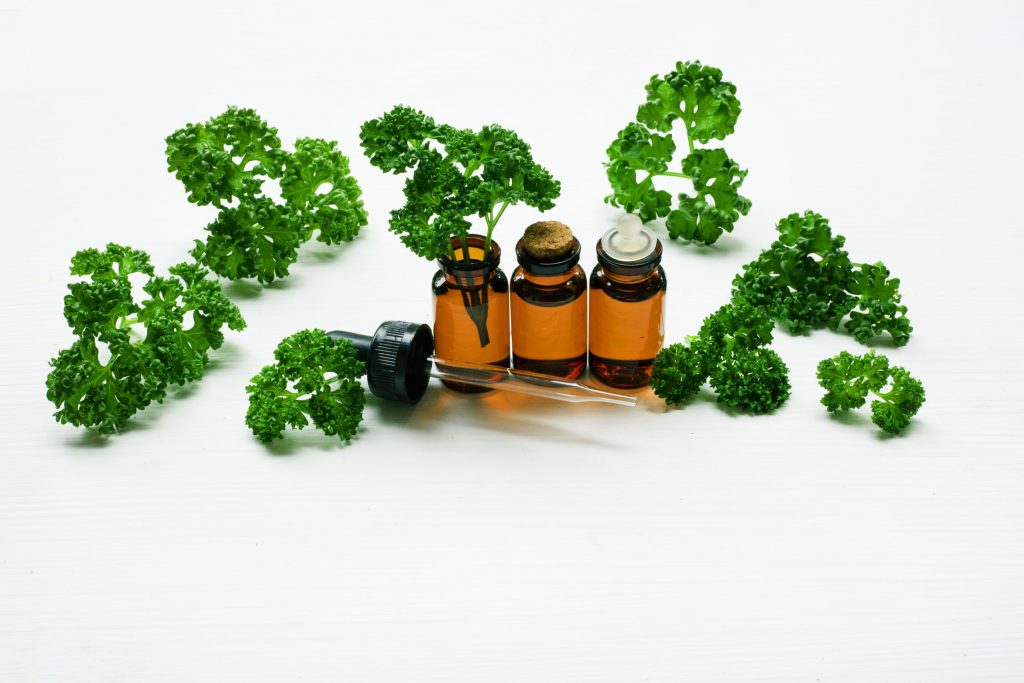 The ability of parsley essential oil to combat all types of gastric concerns is quite well known, but did you know it is just as adept at handling mental upsets? If sleep tends to elude you, this is the oil that can come to your rescue.
An anti-oxidant and circulatory stimulant like no other, parsley oil helps to purify the blood and promotes better circulation throughout the body. It also regulates the lymphatic system and encourages the faster removal of uric acid and accumulated metabolic waste from the body.
Its ability to improve cellular oxygenation and to speed up the removal of toxins also gives it an edge over inflammatory and degenerative joint disorders like rheumatism and arthritis. Parsley oil is one of the few ingredients known to man that can restore balance in the body and this property works on hormonal as well as menstrual issues.
Patchouli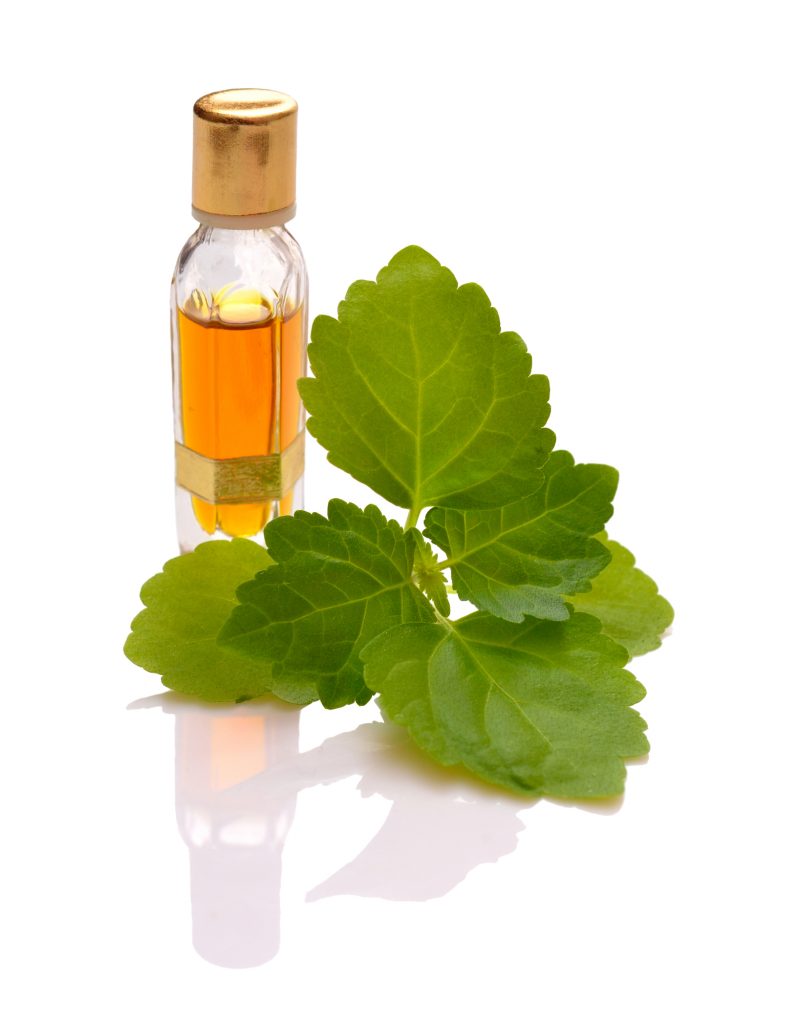 This earthy oil is valued for its ability to instill a sense of calmness and grounding and soothe emotional upheavals. Because it shoos away anxiety and the pangs of inconfidence and low self-esteem, it helps to improve performance in both the bedroom and the boardroom.
Due to its anti-bacterial activity, this harmonizing oil also has extraordinary skin balancing properties and can be used on all skin types. Its effects are particularly profound on dry, prematurely aged and mature skin. The anti-inflammatory and antiseptic nature of the oil can also be relied on to speed up wound healing.
Peppermint

The cooling, soothing effects of this oil are simply unparalleled and the reason for its immense popularity. An extremely effective counter-irritant, peppermint essential oil stops the pain signals from reaching the brain all together. So, it can be used on all that aches and irritates the human body; from headaches to neuralgia and from joint pain to itching and smarting.
And if peppermint oil's status as pain-killer extraordinaire is not enough to impress, it also helps with all types of digestive issues, including the dreaded abdominal cramps and nausea. The famous aroma of the oil has the same stimulating and invigorating effect on the mind as it does on the body. You can also rely on this oil to do away with mucus plugs in the bronchial and lung system and kill the germs that cause the congestion. Now, that is what I call an all-in-one treatment!
Petitgrain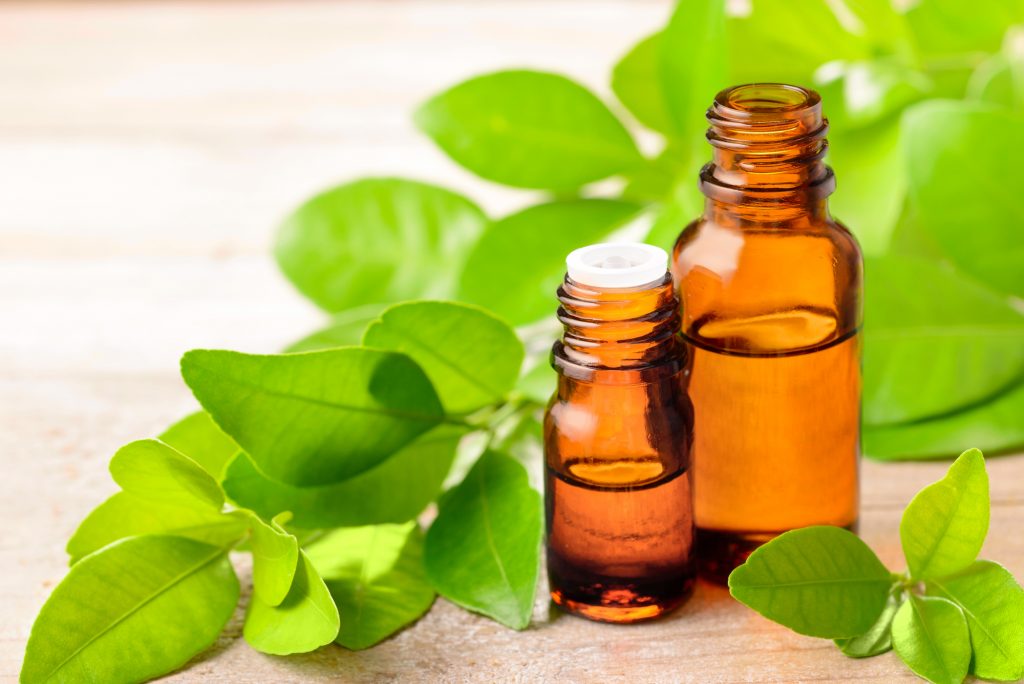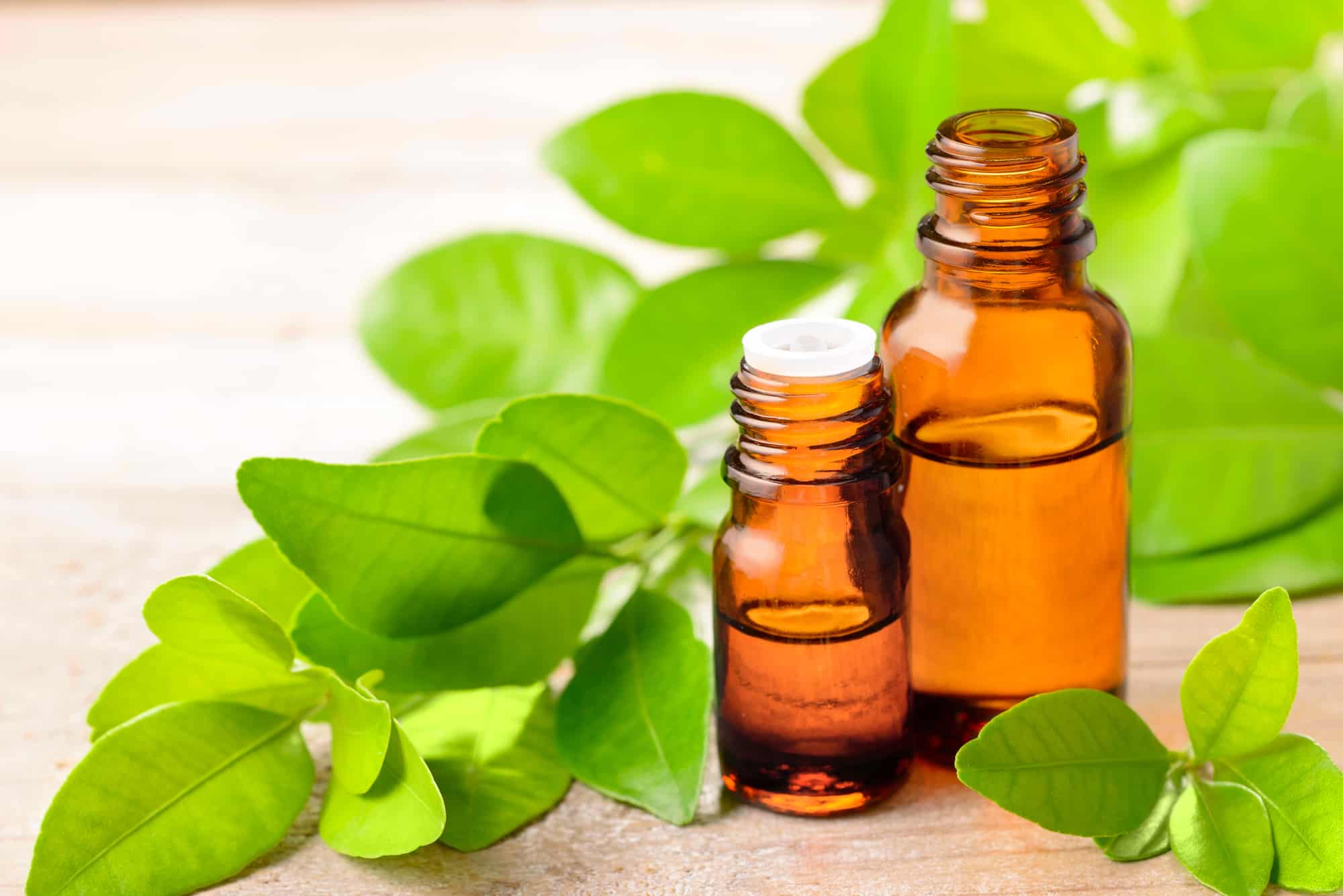 A cognitive stimulant and nerve tonic, this oil not only helps with emotional issues but also cognitive problems that result from chronic stress, nervousness and anxiety. Petitgrain essential oil has the same healing effects on the body as well.
It helps to calm painful muscle spasms and relieves muscle fatigue and stress. Because it prevents painful muscle contractions, it is useful against menstrual pain. The extract is also known to help against erratic/rapid heart rate.
Ravensara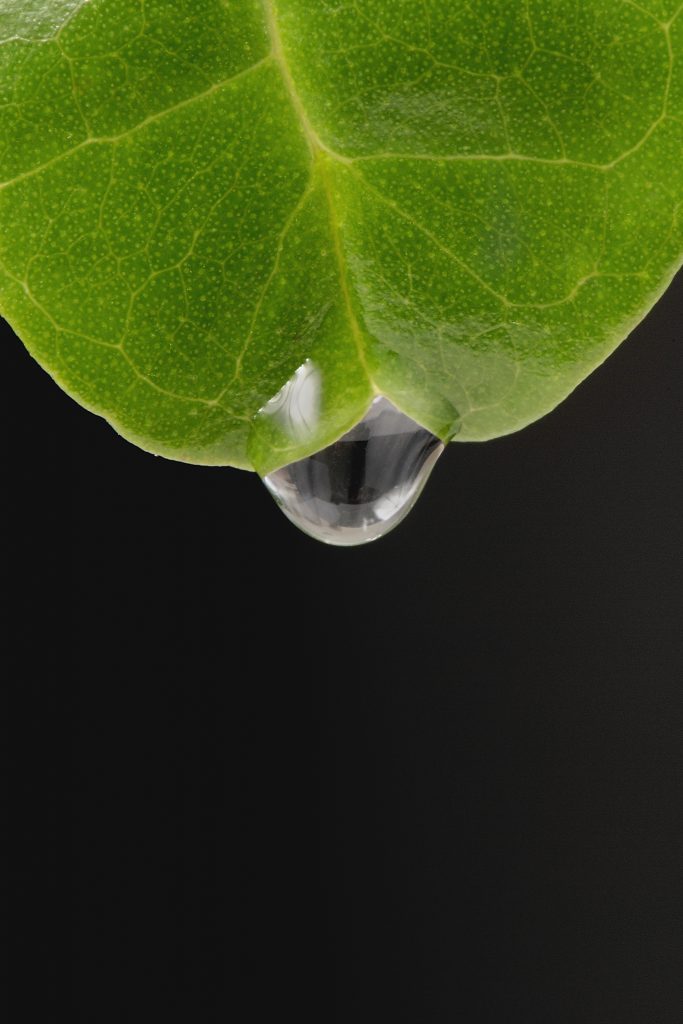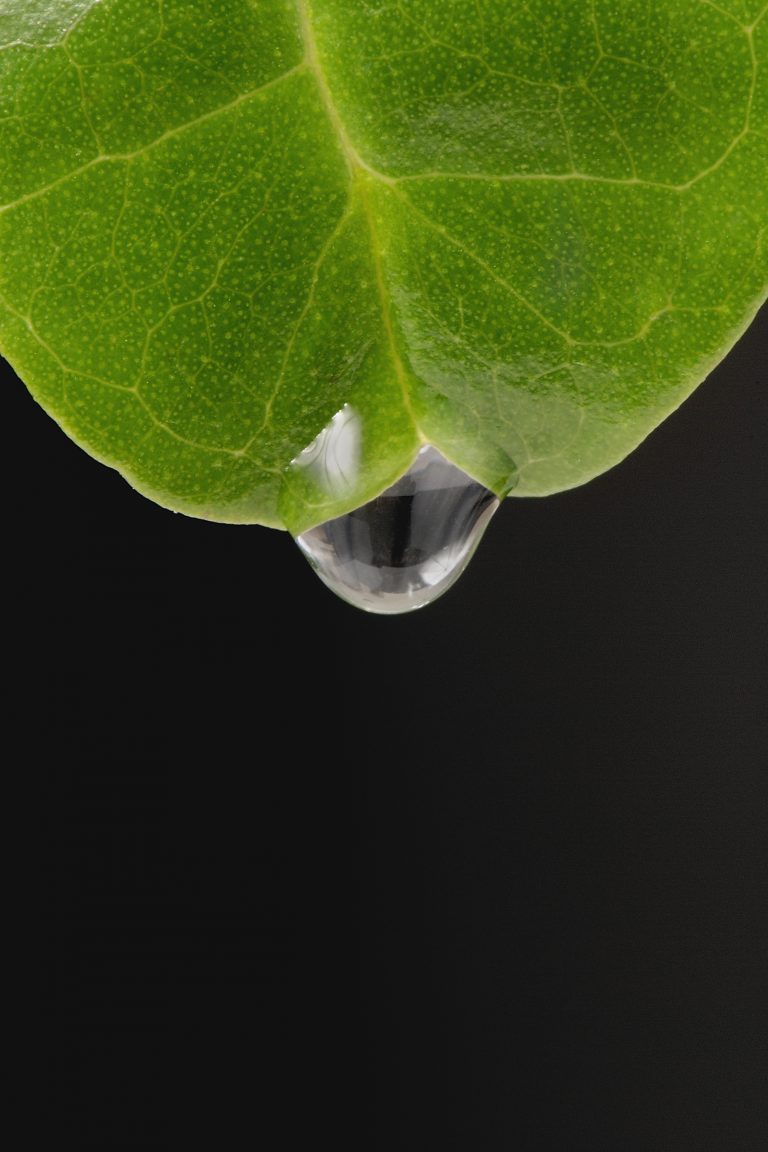 Call this oil an ally of the body's natural immune system if you will. Being an anti-inflammatory agent, it brings in enough fire power to shoot down the most infectious of critters. To add to this, the extract is a strong mucolytic agent that can melt the most obstinate of mucus plugs in the respiratory system.
It also alleviates the pain that goes with chronic respiratory illnesses like asthma, bronchitis and other forms of COPD. The antiviral effects of this oil can be used to combat highly infectious conditions like herpes, shingles and other viral infections. When used in aromatherapy, the oil takes on a stimulating role and enhances libido and kicks out depression, sadness and despair.
Rose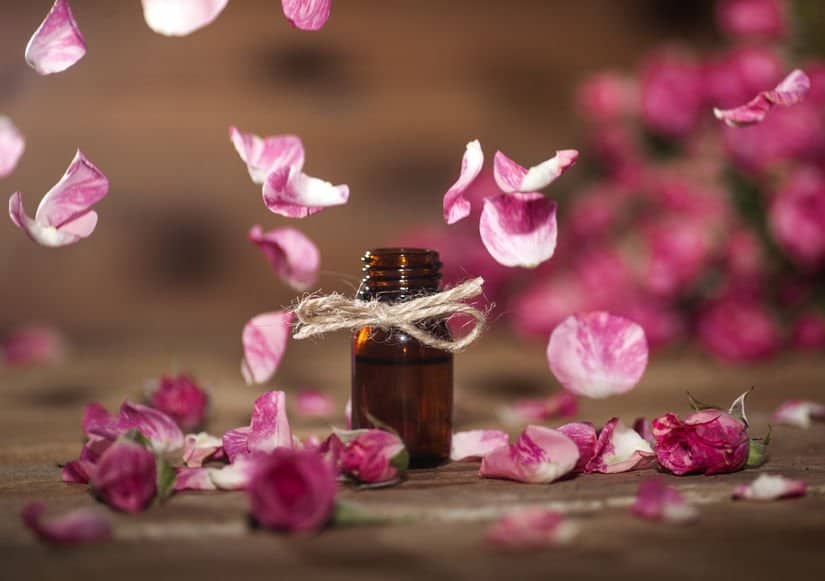 One of the most expensive essential oils, this floral extract has a stellar history of use in skincare that dates back several hundred years. In fact, so potent is its ability to reverse premature skin aging that all it takes is a whiff of its enticing aroma to put collagen synthesis in fourth gear.
The hypnotic and alluring scent of this oil can just as easily put your sex life in fourth gear. Long used as an aphrodisiac, this oil can do away with frigidity and confidence and intimacy issues that create trouble in the bedroom. It also helps to enhance sexual performance and rekindles the desire for intimacy.
Of course, its ability to stimulate the noggin is not just restricted to the pleasure centers of the brain. Rose oil also works its magic on various emotional hotspots and helps to get rid of negativity and depression. Because the oil also has germ killing abilities, it can be used for more than just cosmetic purposes.
Rosemary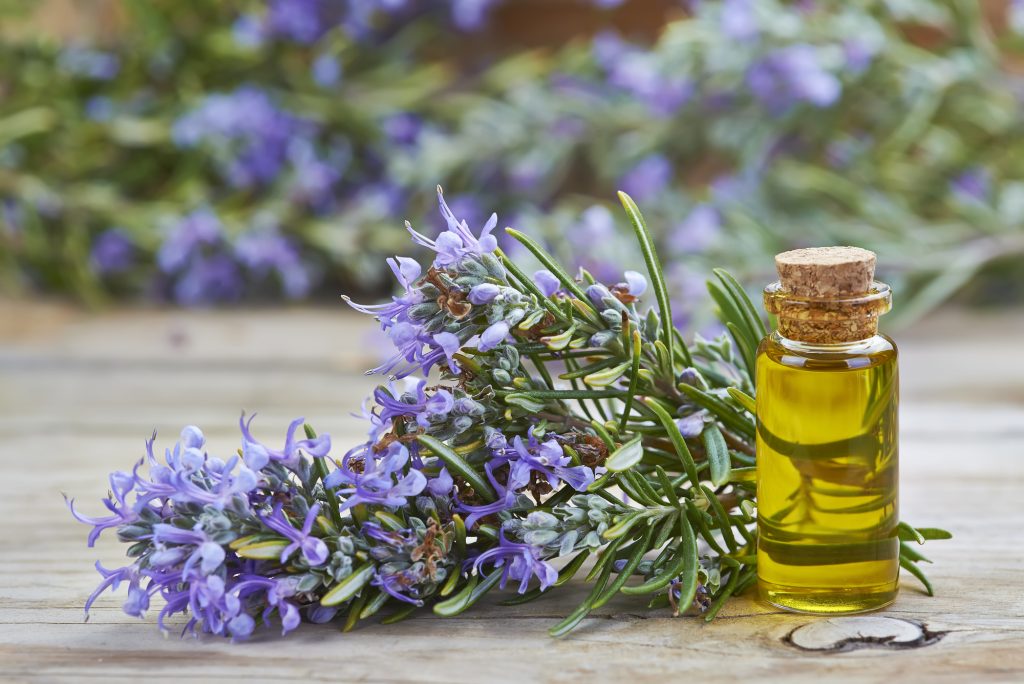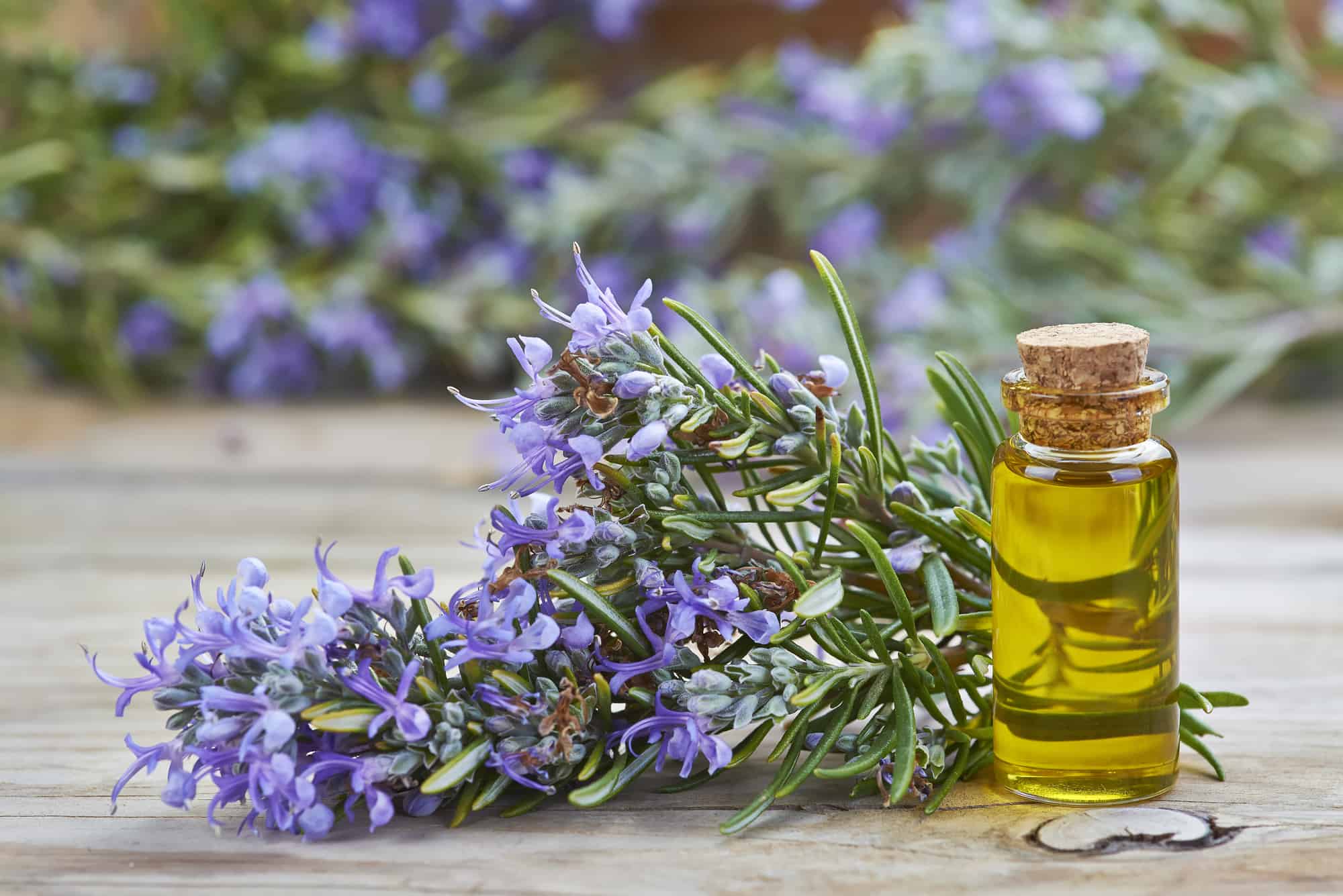 As far as antimicrobial properties, go this is one of the most powerful germ-killers in nature. In fact, it often gives popular antibiotics a run for their money because it has been clinically proven to destroy even antibiotic resistant bacterial strains.
Plus, its ability to boost cognitive functions are as good as the most expensive nootropics in the market. It not only enhances memory retention and recall but also improves focus and deals with Alzheimer's head-on. The stimulant nature of this oil offers similar results when used against toxin and phlegm buildup in the body. Add to this the fact that the oil is a pulmonary decongestant and it's easy to understand its use in respiratory support blends.
Rosemary oil also has robust pain-relieving properties. This, along with its ability to promote the rapid removal of toxins from the body, works wonders on rheumatic conditions and other muscle and joint issues. The oil has also been used for centuries to treat all hair related problems.
Sage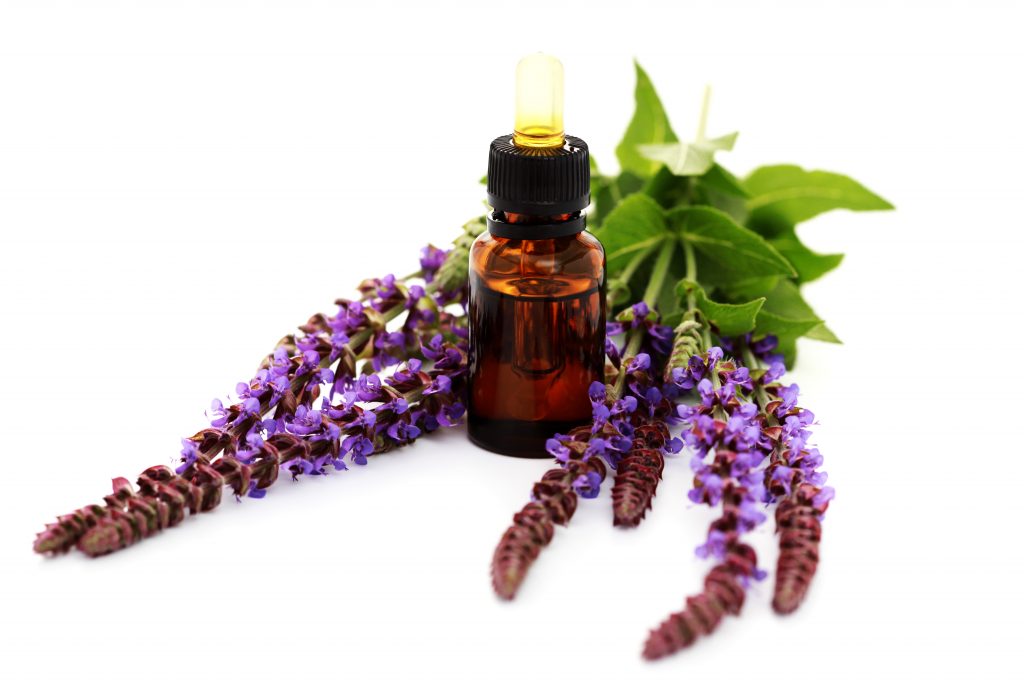 Not to be confused with clary sage essential oil, this extract is derived from the much-loved "holiday herb", as I like to call it. But, it's got a lot more to offer than just its festive aroma. Of course, this too finds use when you are feeling down and out and need to clear your head and get yourself back in control.
The oil's ability to improve cognitive performance is not just limited to memory enhancement but also extends to clarity of thoughts and increased focus. Sage oil also boasts of powerful germ busting abilities that cover all types of infectious pathogens.
Because it helps to clear the air pathways in the lungs, it helps against all types of respiratory ailments. Furthermore, the antioxidant properties of the extract help it to rein in inflammation and lower wound healing time. This property also finds application in skincare and muscular and skeletal pain control.
Sandalwood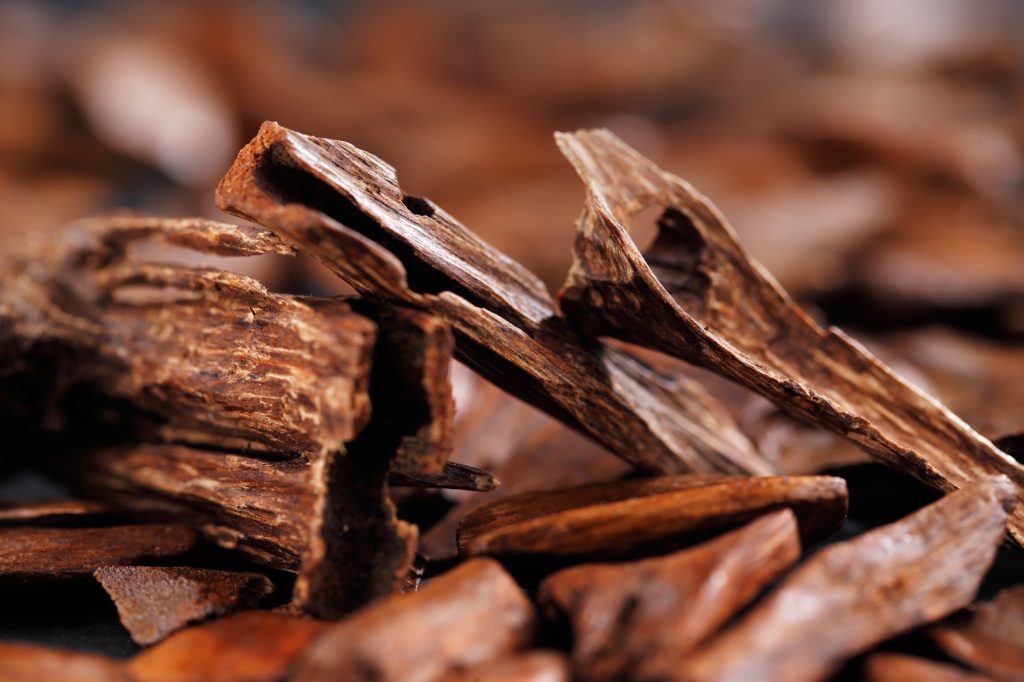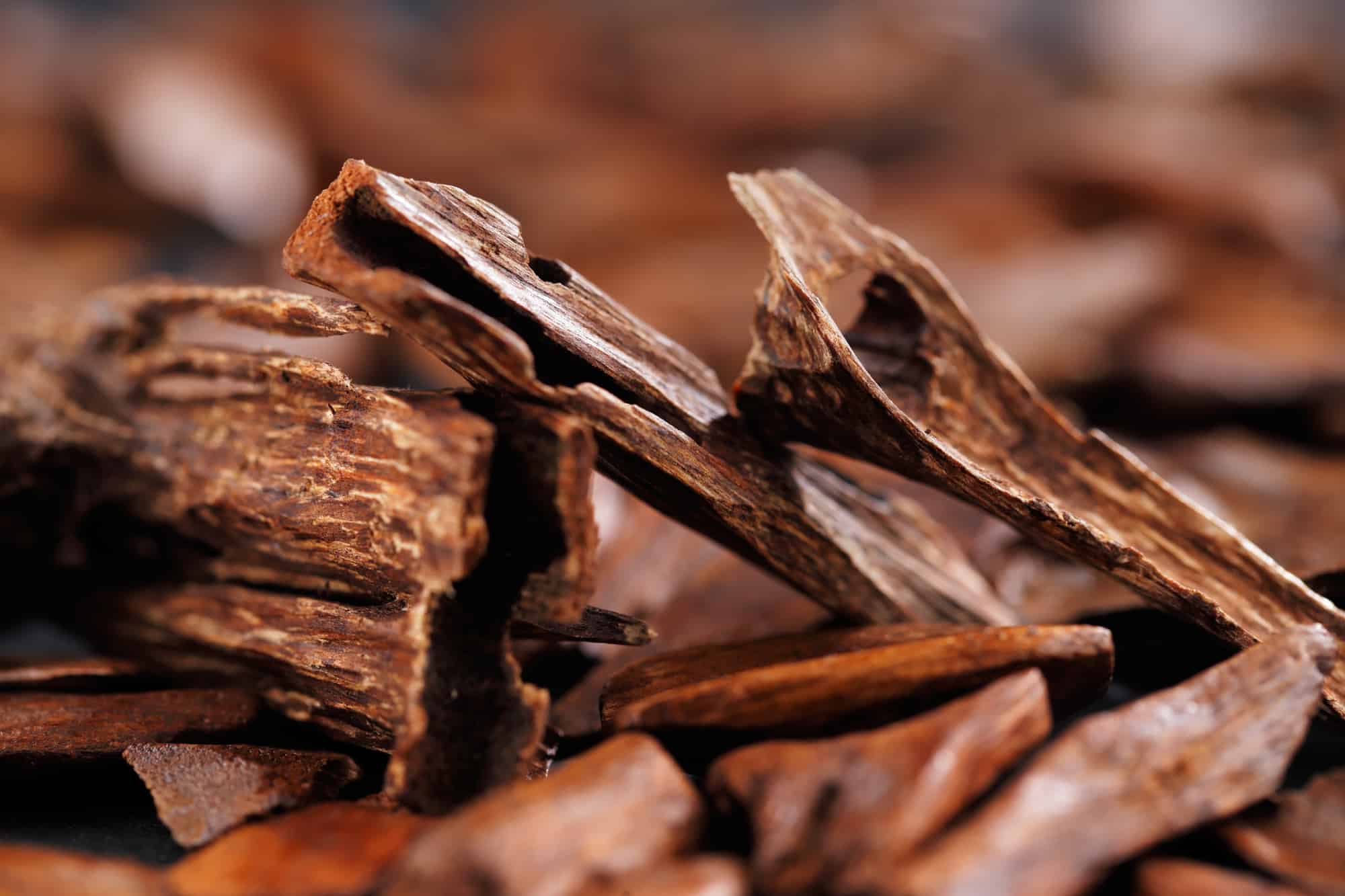 I like to think of this as my "BBB" oil – That's Beauty, Brain, Body! Truly, this oil can take care of most issues with all three. Its use in skincare is well documented in research and Ayurveda texts and dates back thousands of years. A gentle astringent that tightens and tones the skin without drying it out, the oil also fights off free radicals.
Plus, it has immense anti-inflammatory potential that can help to undo the damage caused by sun exposure and oxidative stress. This property can also be put to use when handling other anti-inflammatory ailments such as degenerative and auto-immune joint disorders.
When used in aromatherapy, the woody, sweet and earthy aroma of the oil clears confusion and enhances mental clarity and focus. It also helps to kick out stress, nervousness and anxiety. This is one of the few oils that offer stimulating and relaxing effects at once. So, it also doubles up as a potent aphrodisiac and sleeping aid.
Spearmint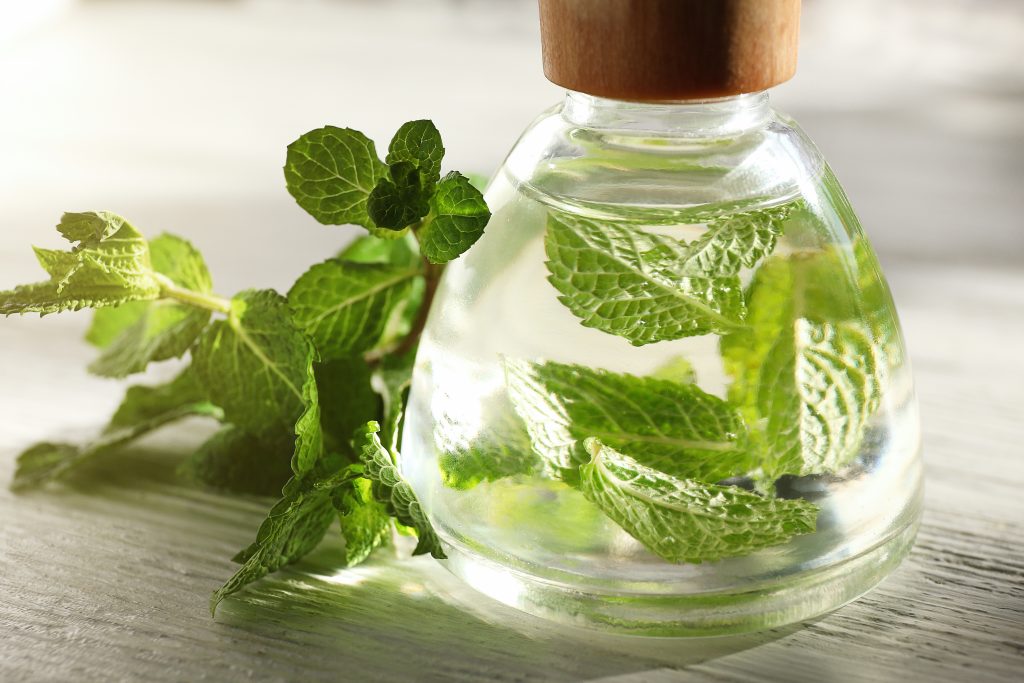 Call this the mild-mannered cousin of peppermint if you will, and mild does have its own benefits in this case. For starters, because spearmint essential oil has lower menthol content, it can be used safely even around children and pets. But in terms of therapeutic benefits, this extract offers just as much as peppermint.
It's just as effective on all types of digestive problems as well as inflammatory conditions, including skin infections and afflictions that cause itching, swelling and redness. Because spearmint oil cleans the air passages in the lungs as efficiently as peppermint oil, it can also be used to treat mucus buildup caused by chronic lung problems and chest infections.
The fresh, sweet and herbaceous aroma of the oil, which is attributed to carvone, helps to alleviate fatigue and stress and improves cognitive functions. Above all, spearmint oil helps to increase the secretion of estrogen in the body and aids in balancing the levels of estrogen and progesterone, thus helping with problems such as menstrual pain, PCOS and others.
Spikenard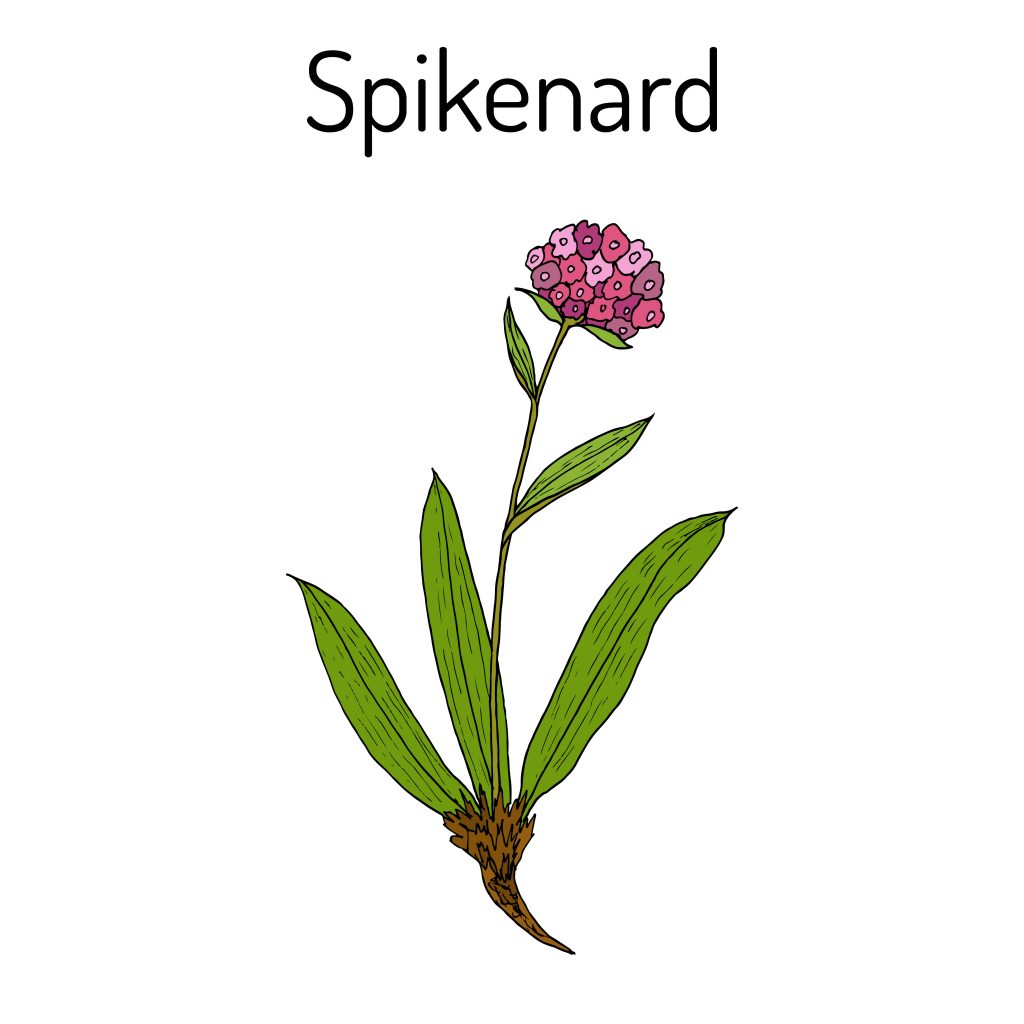 Known as Jatamansi in Ayurveda, the herb and the oil derived from it have been used for their cognitive benefits and their ability to tone down the effects of stress. From the same family as the famed valerian, spikenard essential oil also boasts of similar sedative effects that can help against insomnia and sleep apnea.
Given its soothing effect on the nerves, the oil is effective against mental instability, emotional distress, agitation, stress and anxiety. In fact, the calming effect of this oil can also be used to relax the heart and is often prescribed in Ayurveda for palpitations and irregular heart rate.
When used topically, it helps to tackle stomach upsets and supports digestive health. Since the oil does a grand job of controlling inflammation and infection causing germs, it can also be used to combat premature skin aging and dermal infections.
Spruce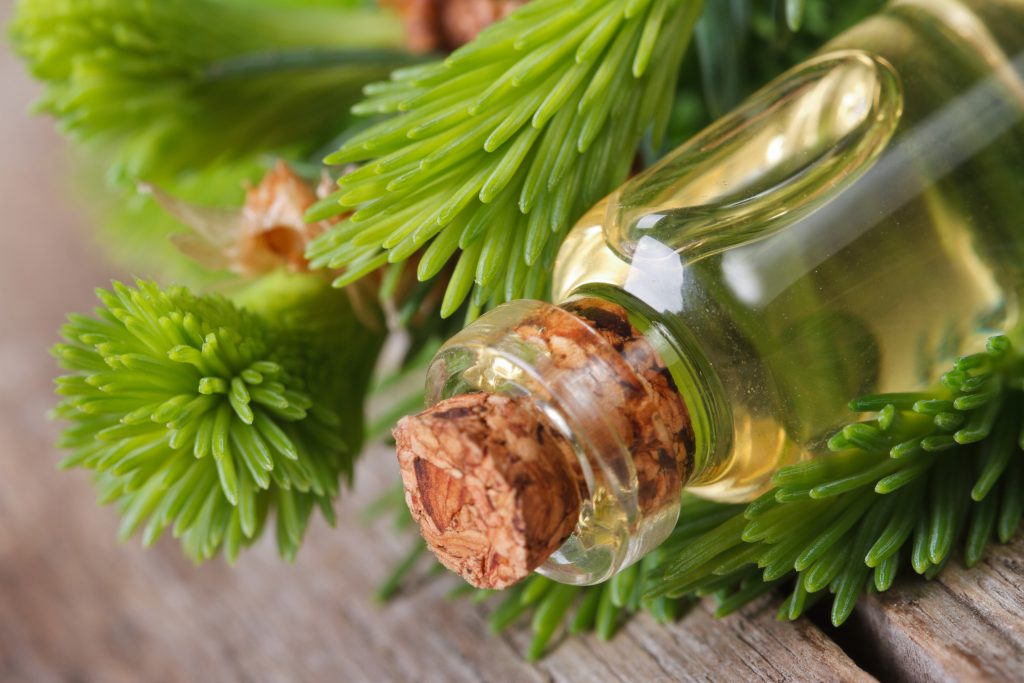 Well known as the "ancient healer", spruce essential oil has a long history of use as a cure for infectious ailments, thanks to its incredible germ killing potential. Whether the infection is restricted to one organ/part of the body or on its way to assuming systemic scale, once this oil is brought into the treatment matrix, those critters won't even have the time to seek cover.
As far as the aroma of this extract goes, its woody freshness will immediately remind you of a tranquil walk in the woods, and that is the secret of its calming powers. The Lakota Indians were known to use this oil to calm stress and anxiety before an impending war. Even if you have no intentions of taking on a fight, the soothing effect of this oil can help you to get through the day to day strifes of life.
When used on sore joints and overworked muscles, it can help to relieve joint tightness, body aches and improve mobility and prevent painful muscle contractions. However, the most distinctive therapeutic effect of this oil is its ability to bring about hormonal equilibrium. Spruce oil impacts the entire endocrine system, which means it can balance pituitary, adrenal as well as thyroid hormones.
Tangerine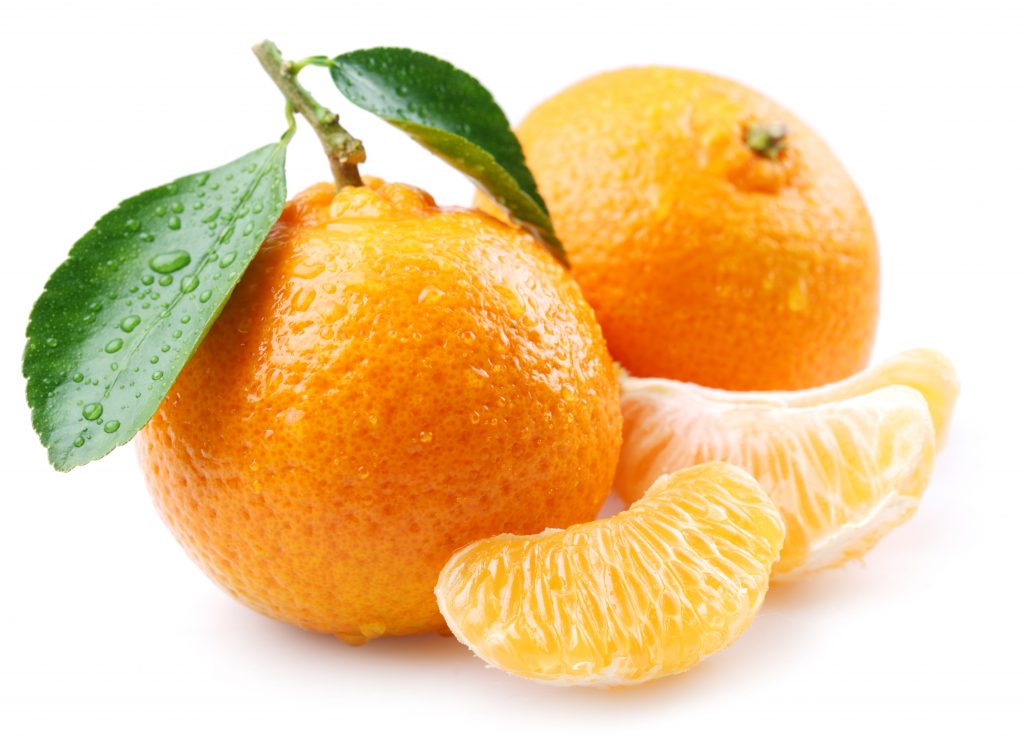 This cleansing and purifying oil is known to enhance creativity and clear the mind of negativity. A gentle oil that infuses the environment with all the freshness and hope of spring, this extract can also be used on children and offers several of the benefits provided by other citrus oils.
A potent antioxidant, tangerine oil is a godsend for sensitive and fatigued skin that is grappling with premature aging. Because tangerine oil helps to clear toxins from the body and prevents muscle spasms, it's frequently used to treat muscle wear and pain. Since it supports faster and more efficient lymphatic drainage, it can also be used to combat cellulite and stretch marks.
The sweet citrusy aroma of the oil offers lightning fast results when used against stress and its detrimental impact on the body. Like other citrus oils, tangerine essential oil is a digestive aid that can treat all that ails the tummy.
Tea tree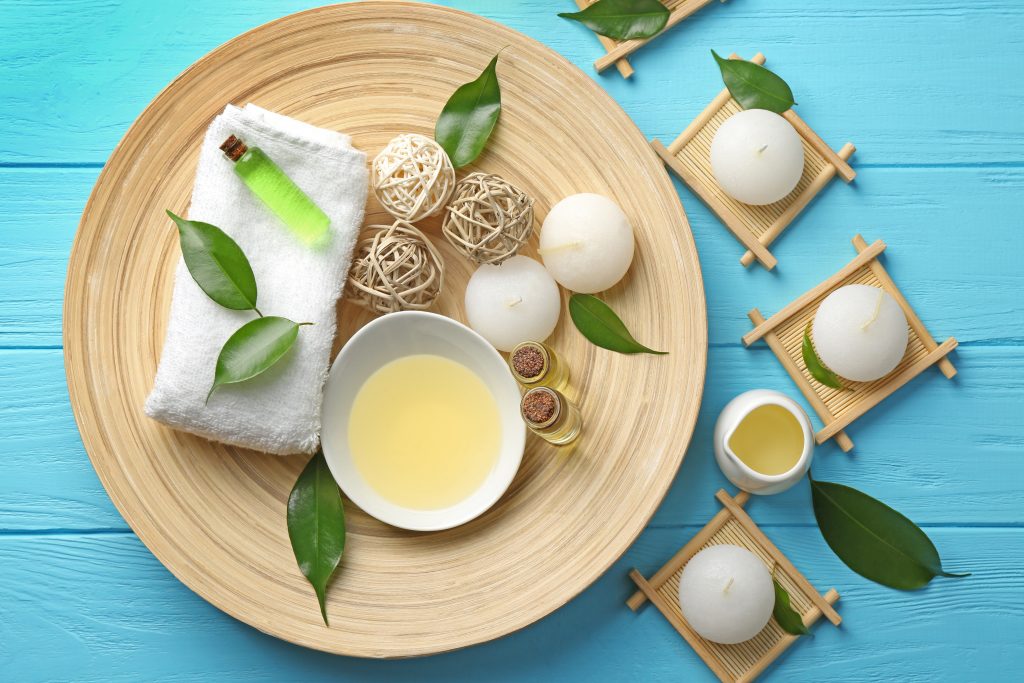 Possibly one of the most popular essential oils in the world today, the germ-fighting powers of this camphorous smelling extract have received a nod even from the nays. As strong as, if not stronger than, salicylic acid at eliminating acne causing bacteria, tea tree oil also helps to control hyper secretion of sebum and pore dilation that are the root causes of acne and cystic acne.
The oil not only kills germs, thus preventing infections, but also handles the inflammation brought on by immune attack on the critters. In fact, its anti-inflammatory powers also encompass the ability to stave off free radical damage.
An efficient bronchodilator, tea tree oil clears mucus blocks and controls coughing by influencing lung spasms. Actually, it has noteworthy antispasmodic properties, which can also be put to use against muscle contractions.
Thyme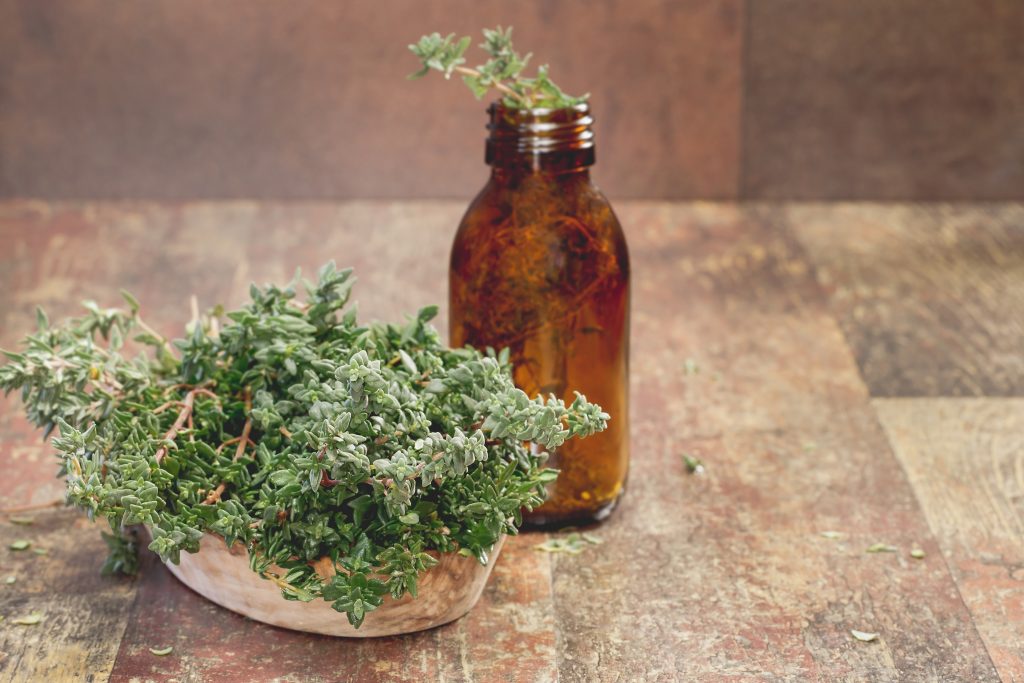 An immune stimulant like no other and an antimicrobial agent of immense merit, thyme oil delivers a double whammy to even the most obstinate critters by improving immune functions and offering outside help in killing the germs.
The warming effect of the oil improves circulatory health and promotes the faster purging of toxins from the body. Put these properties together and you get the perfect treatment for all cold weather ailments, be it a runny nose or a bad cough. Plus the soothing, healing warmth also helps with muscle and joint pain brought on by inflammatory conditions.
The fresh, herbaceous aroma of the oil is quite the energizer that can fight fatigue and lack of focus and perseverance. Thyme oil is also known to balance hormones and support the digestive system.
Vanilla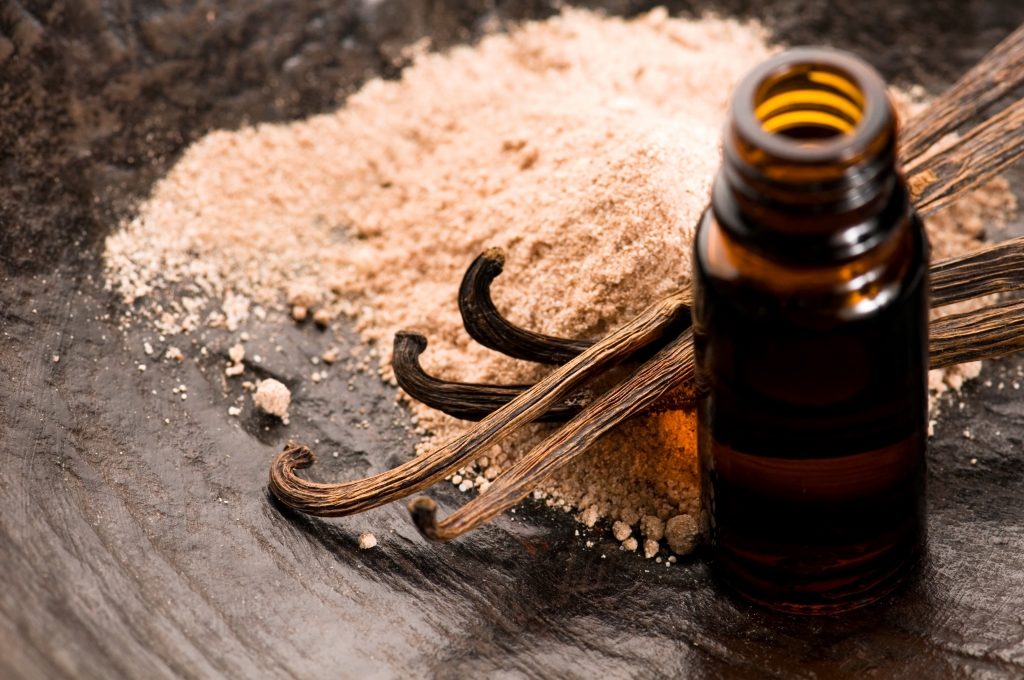 Although not an essential oil but a solvent extracted absolute that is derived from cured vanilla beans, this viscous and highly fragrant oil does hold immense potential for therapeutic benefits.
The pleasing scent has a remarkable ability to bring down stress levels and rid the mind of negativities. In fact, it is one of the most effective aromas for treating the physical ramifications of stress. A gentle sedative that works even on those who just can't seem to bring themselves to relax, this oil doubles up as a potent aphrodisiac because it draws the mind away from all the stressors of the day.
Since it relaxes the brain, the gentle cascade of calmness can be felt all over the body, particularly on the ticker and the circulatory system. Moreover, the oil can fight off oxidative stress as well as inflammation, it can also be used against auto-immune conditions that lead to tissue degeneration.
Vetiver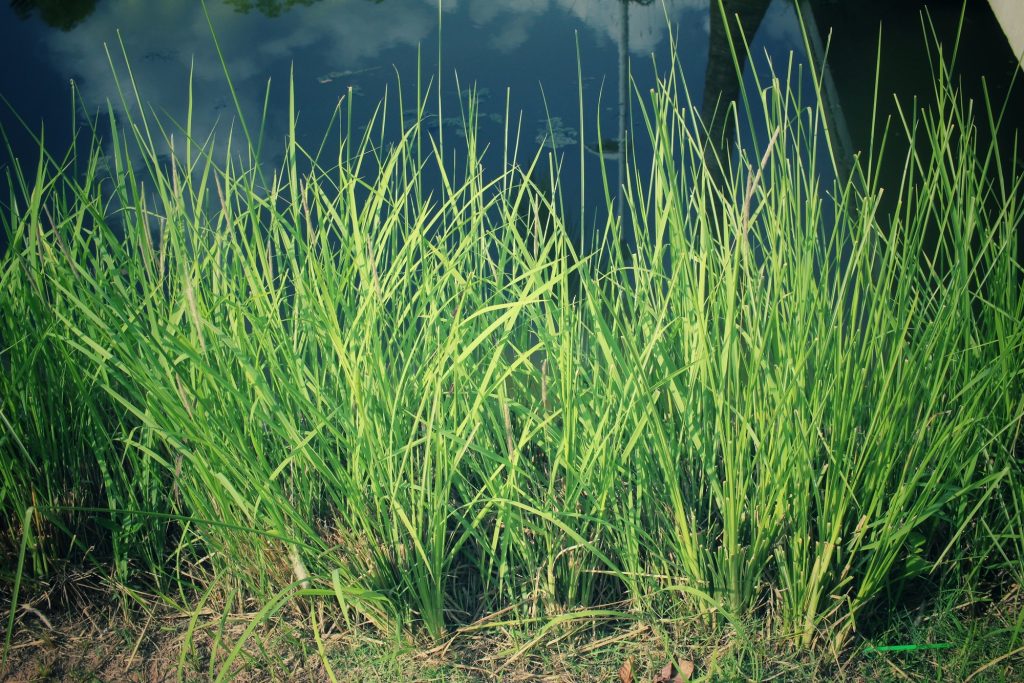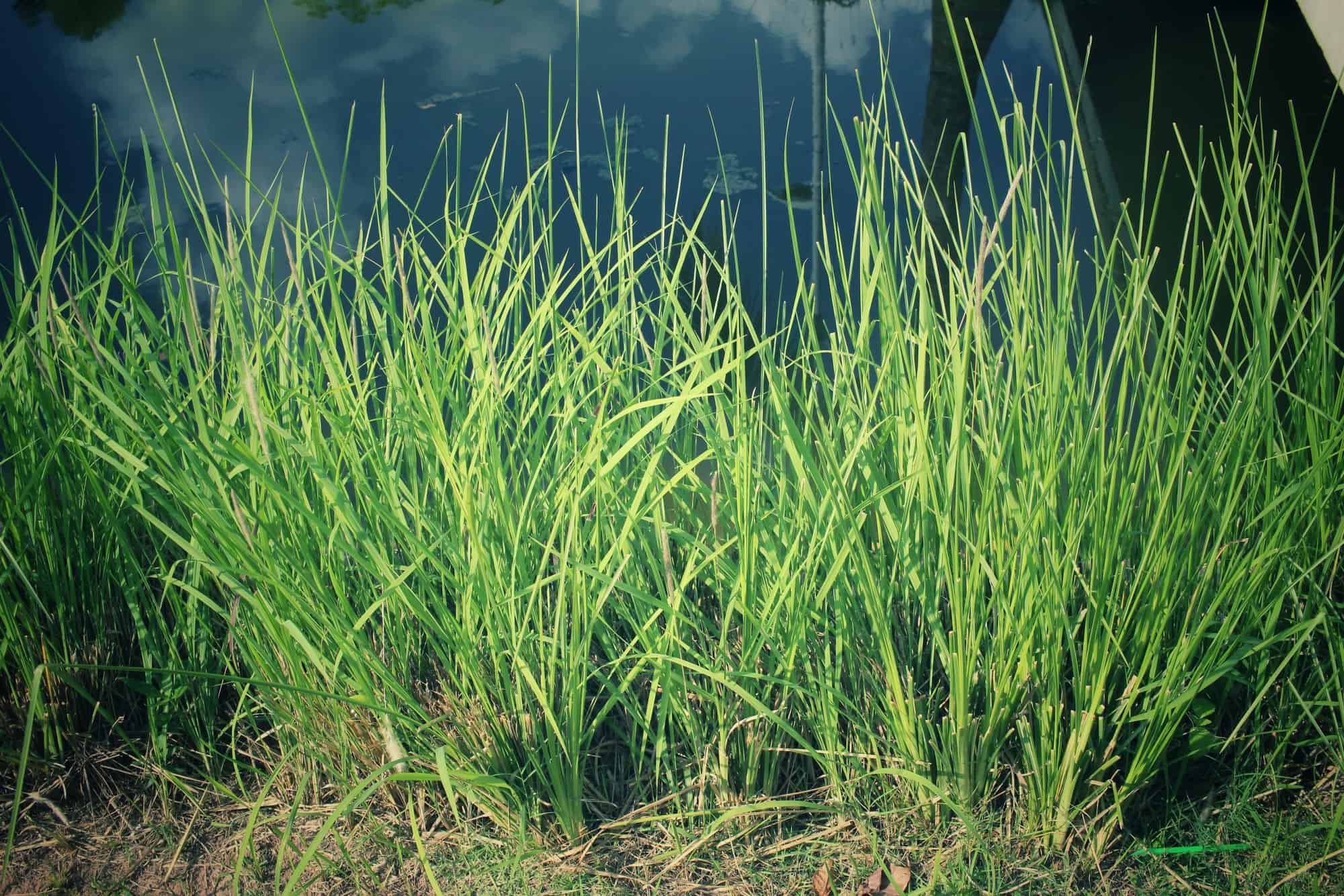 There are many essential oils that boast of calming and relaxing properties, but vetiver essential oil is in a class of its own when it comes to soothing a stressed out noggin and a body reeling under the effects of emotional turmoil.
The earthy, rich, green aroma of vetiver oil not just works as a sedative but also functions as a nervine tonic that balances and strengthens the nervous system. When used topically, this extract can handle all ailments and issues linked to inflammation and oxidative damage. So, it can often be found in cosmetic products meant for mature, aging and dry skin types as well as blends formulated to deal with muscle and joint pain.
A superlative aphrodisiac, it helps to stimulate and strengthen the reproductive system of both sexes. Vetiver oil is one of the few natural substances that can be used to treat ADD/ADHD and compulsive behavioral patterns.
Wintergreen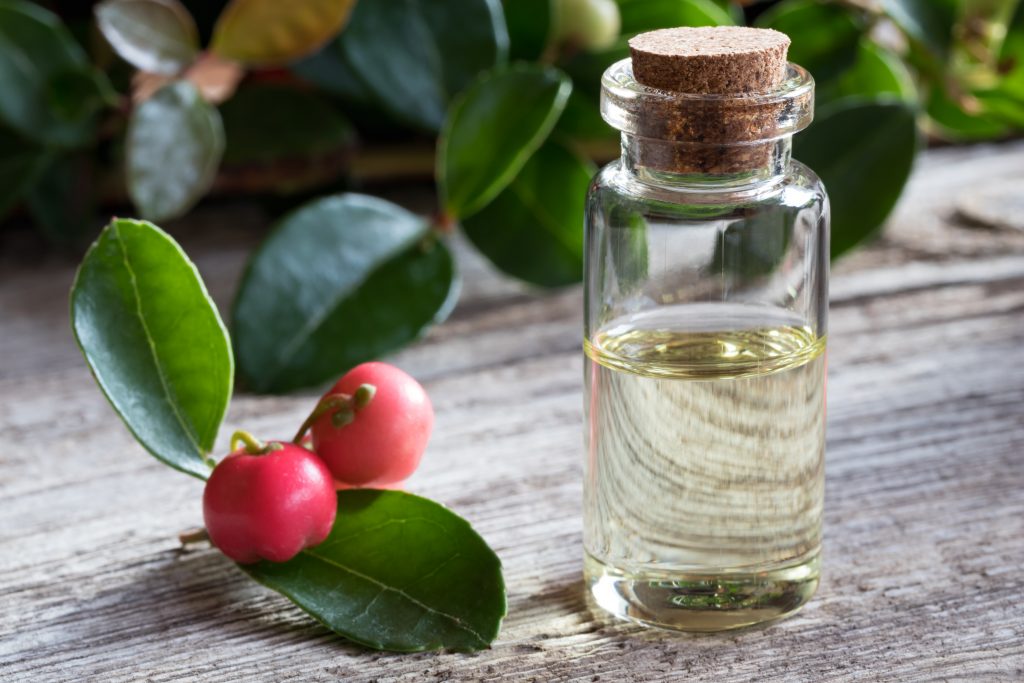 The extract that ushered in the age of aromatherapy and essential oils in the West, just about every second person in the world has used this oil at least once in his/her life. Yes, all those pain balms, sprays and liniments get their distinctive aroma from this oil.
Its ability to tackle pain and inflammation comes from its very high content of methyl salicylate, a natural version of aspirin. An extraordinary counter-irritant, this extract can slow down and even stop pain impulses from travelling to the brain.
If that is not enough, its impact on the sensory receptors also helps to boost circulation. The astringent oil is also a potent cough reliever that can be used to relieve all types of respiratory congestion.
Yarrow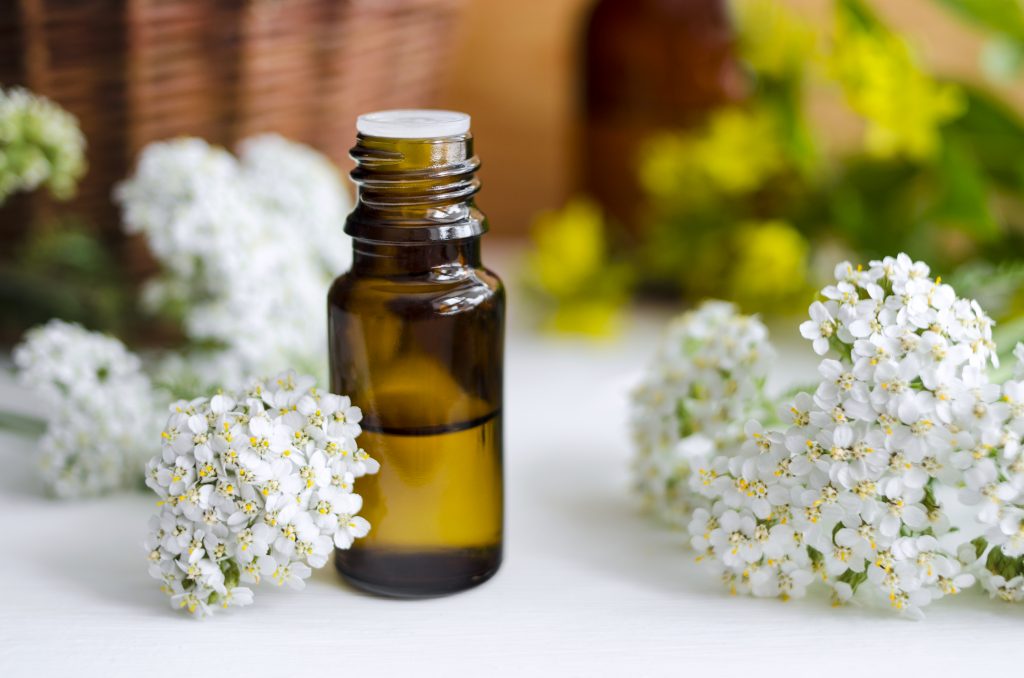 The oil is almost a deep, ink blue and the aroma is woody and herbaceous, at once sharp and sweet. The color is a result of its chamazulene content; this is the very same anti-inflammatory agent found in blue tansy and German chamomile oils.
So, it goes without saying that inflammation, whatever may be its cause, stands no chance in front of this extract. The flavonoids and sesquiterpenes in the oil, which give this oil its unique aroma, are remarkably effective against inflammatory skin and joint conditions.
Because the oil reduces smooth muscle spasms, it can also be used to treat abdominal cramps and muscle contractions. Moreover, the relaxing properties of the extract work well when used in the treatment of hypertension and asthma.
Ylang Ylang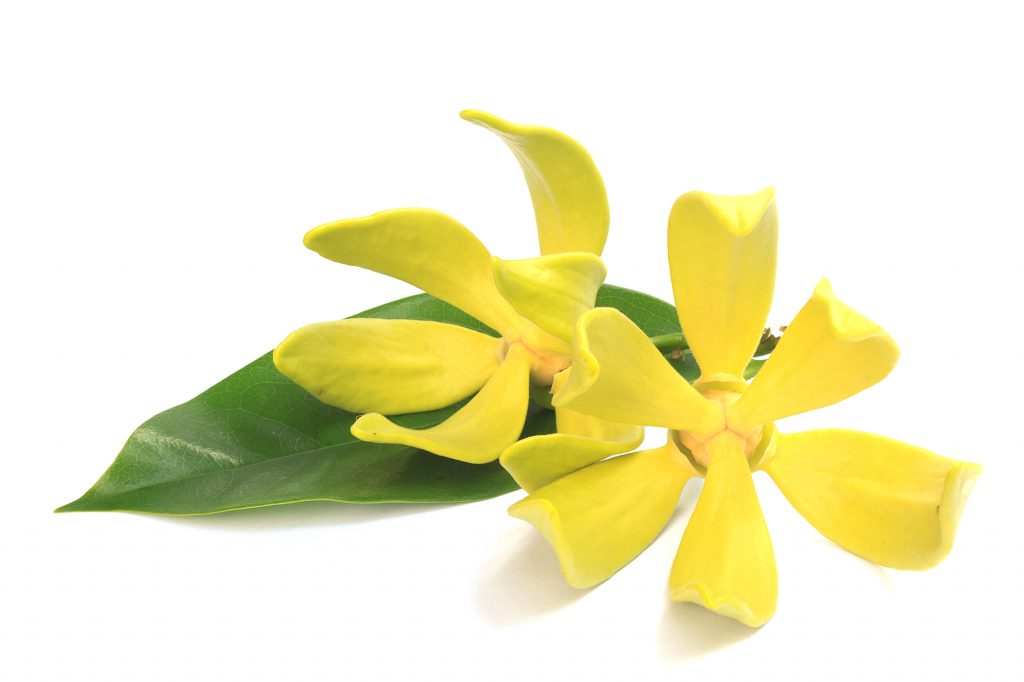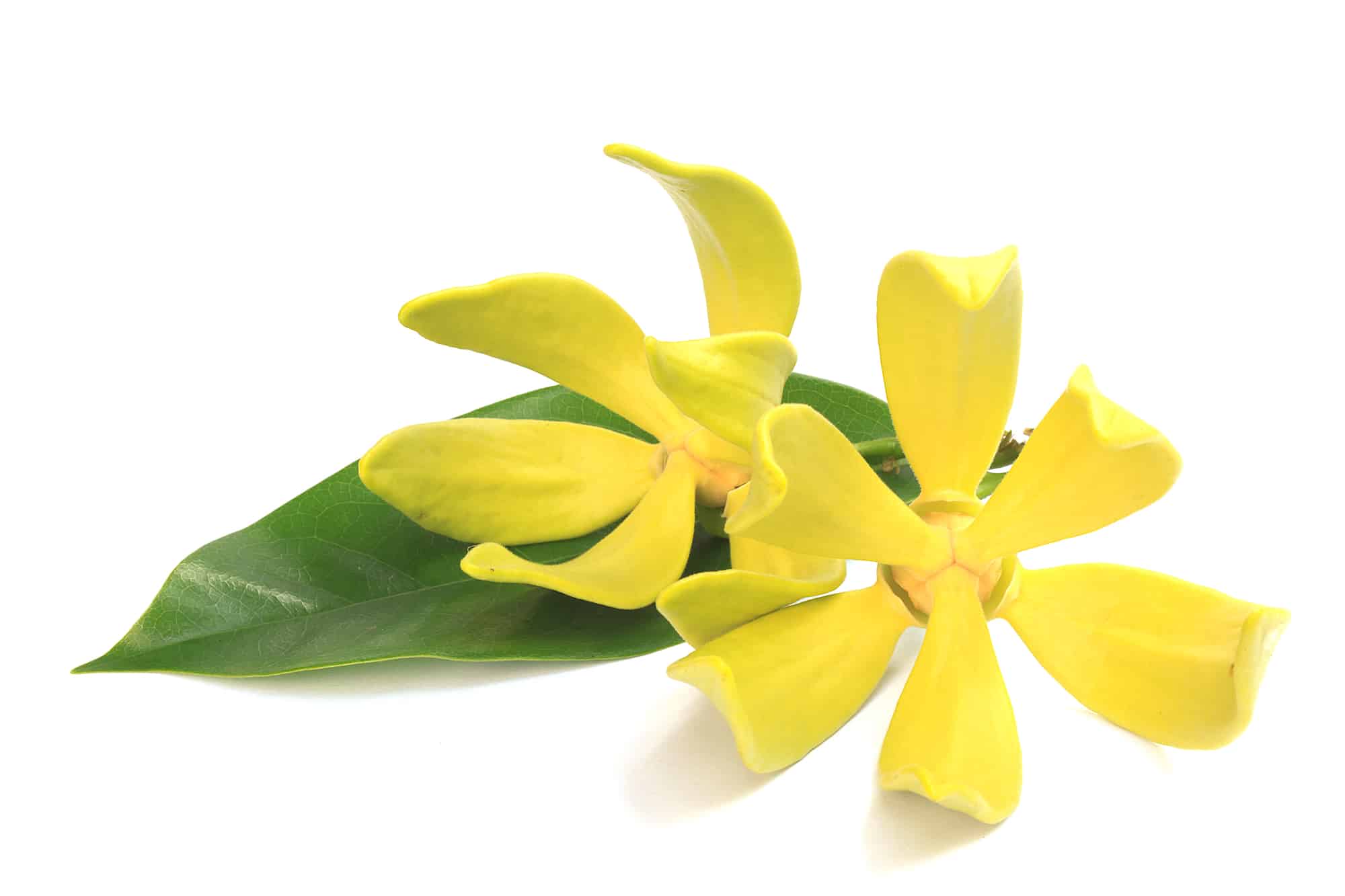 With a rich, enticing and hypnotic aroma, it's no wonder that this oil has long been used as an aphrodisiac. Whether it is frigidity or the lack of confidence that is marring your bedroom life, this oil is sure to help. But the sexual health and reproductive system benefits of this oil are not just attributed to its aroma.
Topical and aromatherapy use of this oil helps to balance hormones, which plays a pivotal role in rekindling sexual desire. Add to this its effect as a vasodilator and it's easy to understand how it stokes the embers of passion.
The extract is also an excellent skin rejuvenative agent that can get rid of blemishes and do away with signs of premature skin aging. Its antiseptic properties also create a potential for its use in treating sores, boils and minor wounds. The simultaneously relaxing and energizing scent of ylang ylang oil also proves beneficial for the cardiovascular system as it helps to lower blood pressure.