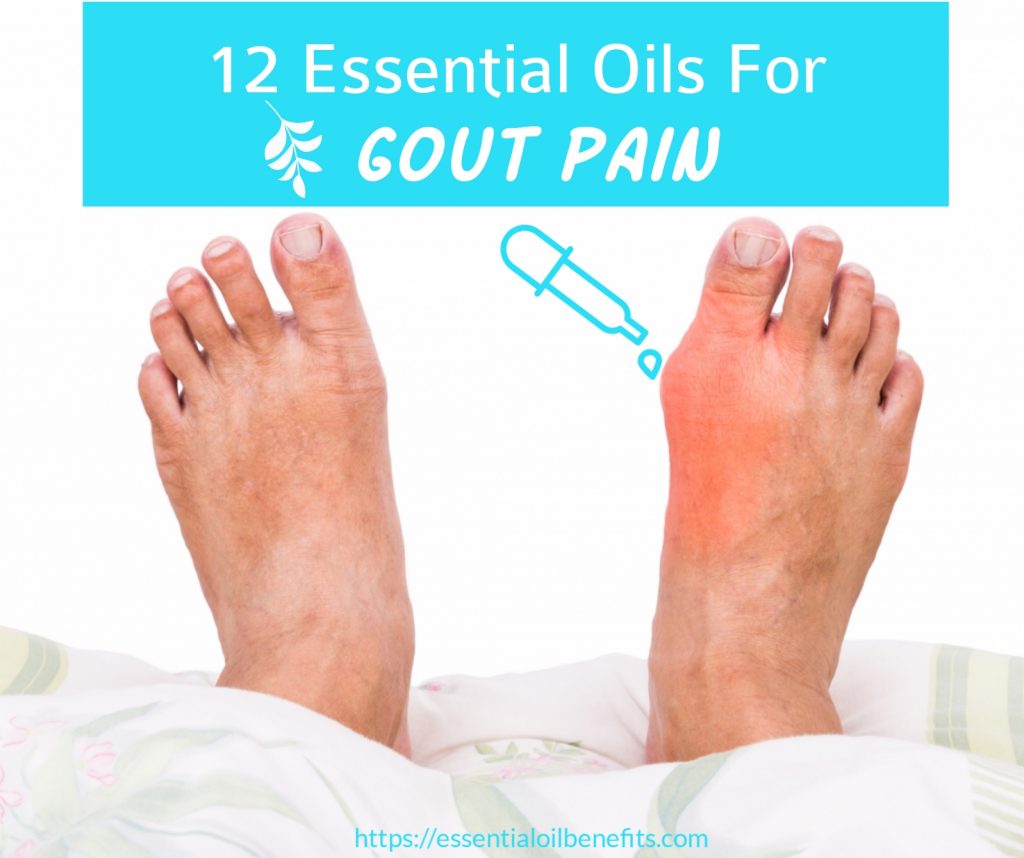 Gout is a type of arthritis where small particles of sodium urate are deposited in and around the joints. The most common symptom of gout pain is intense pain in the joints accompanied by redness and inflammation. While gout generally affects the joint of the big toe, it can influence any joint of the body. Signs of gout develop very quickly, can go from bad to worse in just 6 to 24 hours, and last for 3 to 10 days. Anybody with gout can expect to have more episodes of pain in the future.
Facts About Gout Pain
The two images below show 13 facts about gout pain.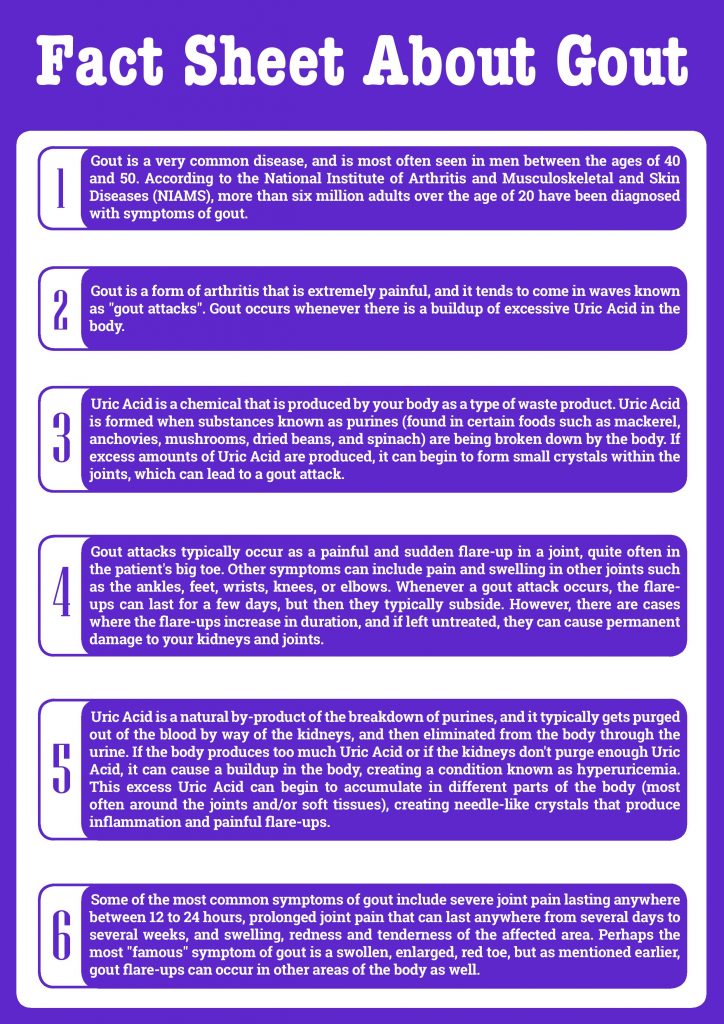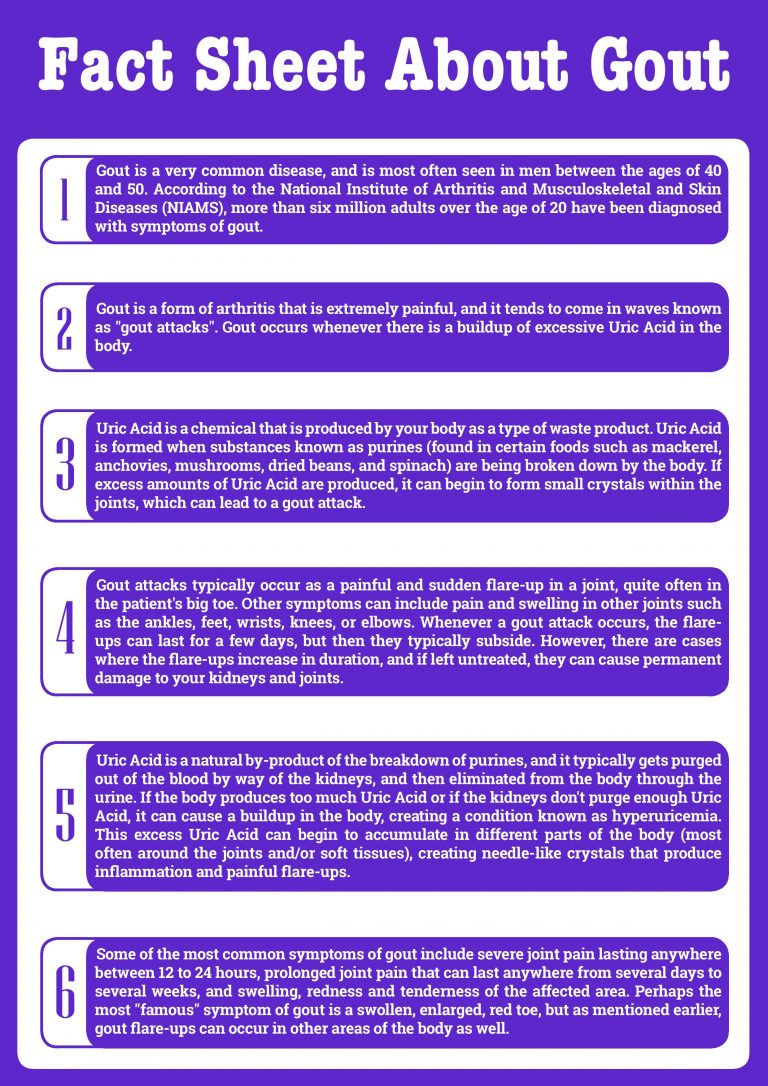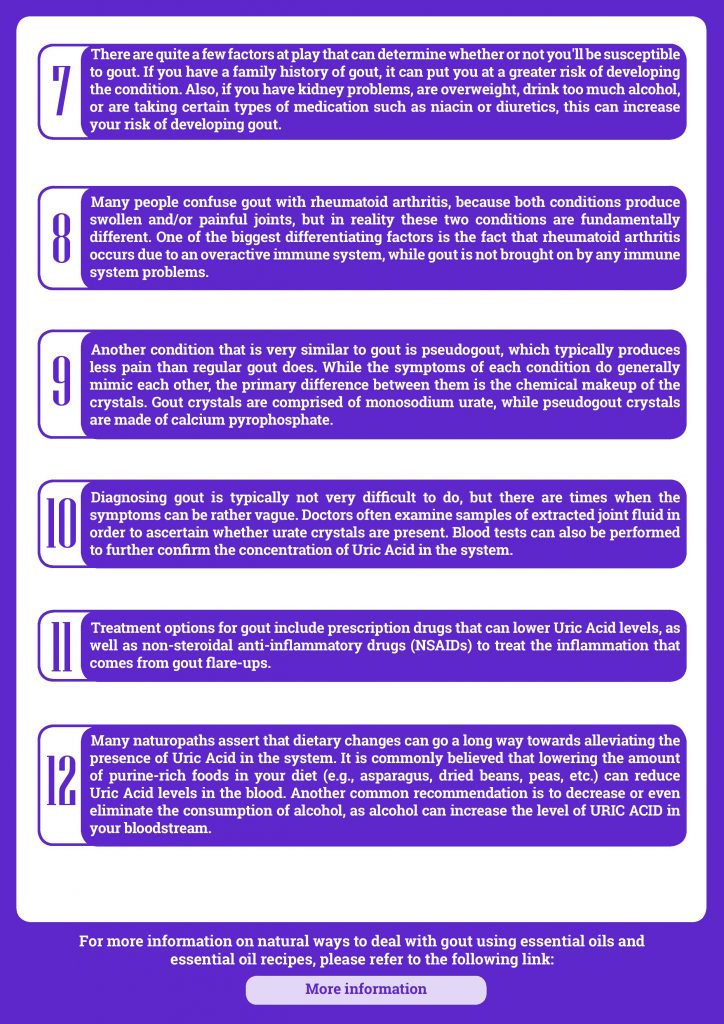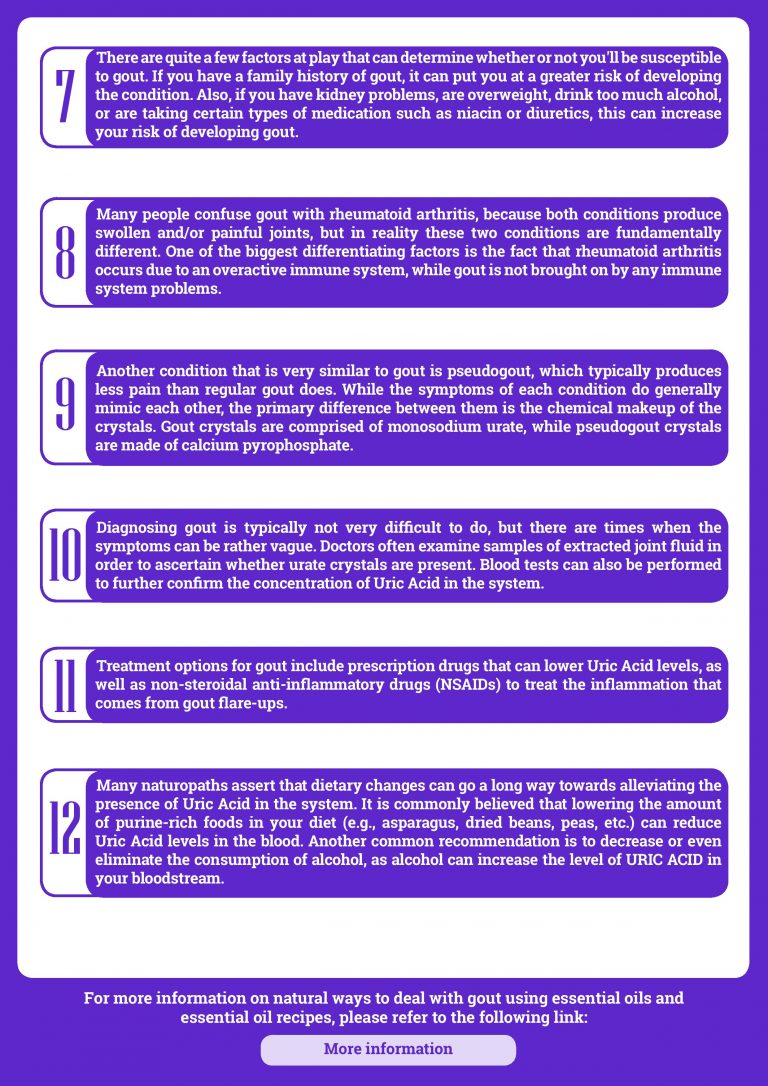 What Triggers Gout Pain?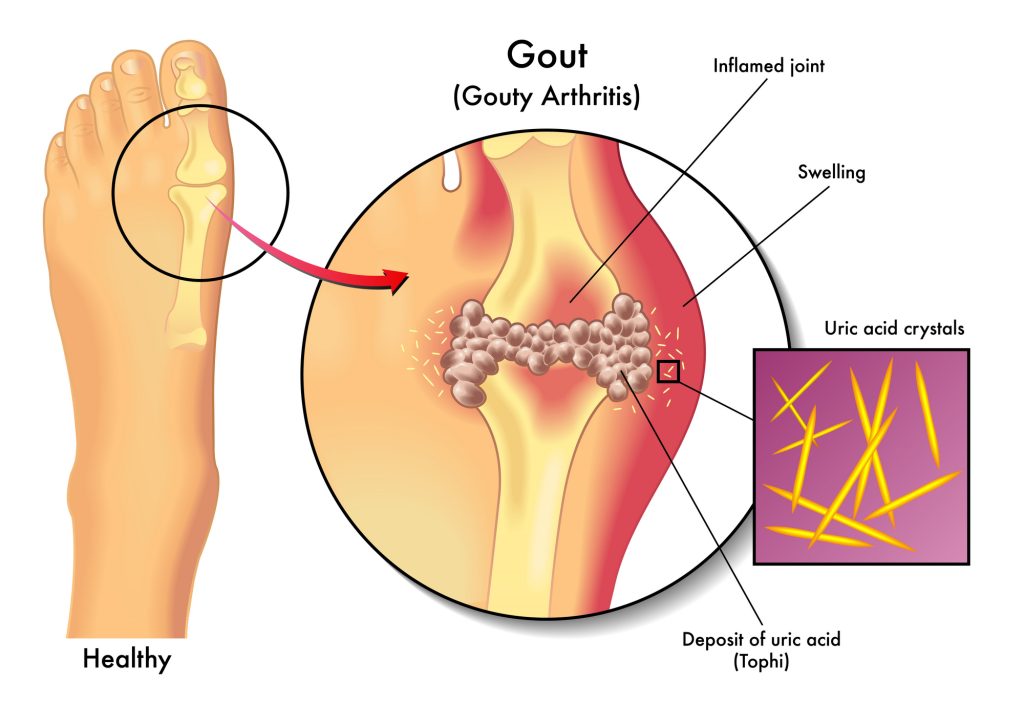 Gout is caused due to the accumulation of uric acid in the blood. Uric acid is a waste product that is produced by the body everyday and is meant to be excreted by the kidneys. If your body is producing uric acid in large quantities or you excrete too little uric acid through your kidneys, it starts to accumulate and trigger the formation of sodium urate crystals in and around the joints. These hard needle-shaped particles build up slowly over many years and you will never know their formation in your body unless diagnosed by the doctor.
Why Use Essential Oils For Quick Relief In Gout Pain?
Essential oils have been used since ages for joint conditions such as gout pain, due to their ability to relieve painful points and remove the uric acid particles that are stuck within them. The essential oils of angelica root, basil, carrot seed, coriander, rosemary, juniper berry, hyssop, grapefruit and cypress can best be used for this purpose.
The most popular way of using the above oils for best relief in gout is through massage. Simply dilute the essential oil of your choice with a good carrier oil such as castor oil and massage the blend over the areas affected. Follow this procedure for at least 15 minutes and repeat every few hours. Having said that, here are some of the best essential oils I recommend for relief in gout pain. You do not need to use all of them. Just choose a few of your favorites and whisk yourself up a therapeutic mix.
What Essential Oils Are Good For Gout – Top 12 Essential Oils For Gout Pain Relief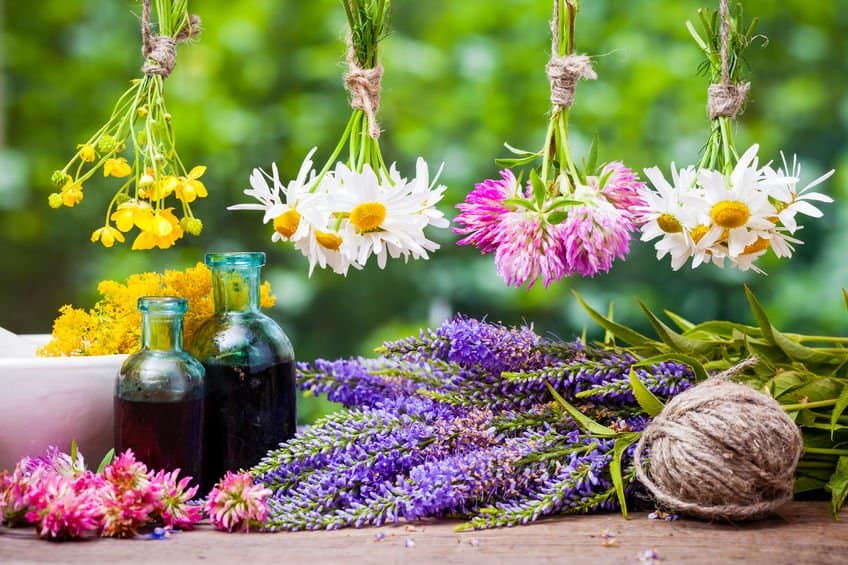 1. Wintergreen Essential Oil
Wintergreen has a pleasing, woodsy fragrance with a strong aroma of mint and a tint of sweetness. Your body will soak this oil easily, offering you immediate relief from pain and discomfort. The immediate response of this essential oil can be attributed to its cortisone-like impact, which renders a warm sensation and promotes good blood circulation.  Good blood circulation clears out the stagnant uric acid particles.
2. Birch Essential Oil
Just like wintergreen, birch essential oil carries anti-inflammatory compounds that help in reducing joint pain. In addition to that, the cleansing effect of birch essential oil helps in the removal of uric acid particles. However, make sure that you are using birch bud oil and not sweet or black birch. Sweet birch and black birch must only be used on the advice of a trained aromatherapy professional.
3. Basil Essential Oil
Basil is known for its ability to reduce uric acid content in the blood, making it one of the best home remedies for treating gout pain. It is also a fantastic addition to any massage mix or bath oil that you are using for gout pain.
4. Roman / German Chamomile Essential Oil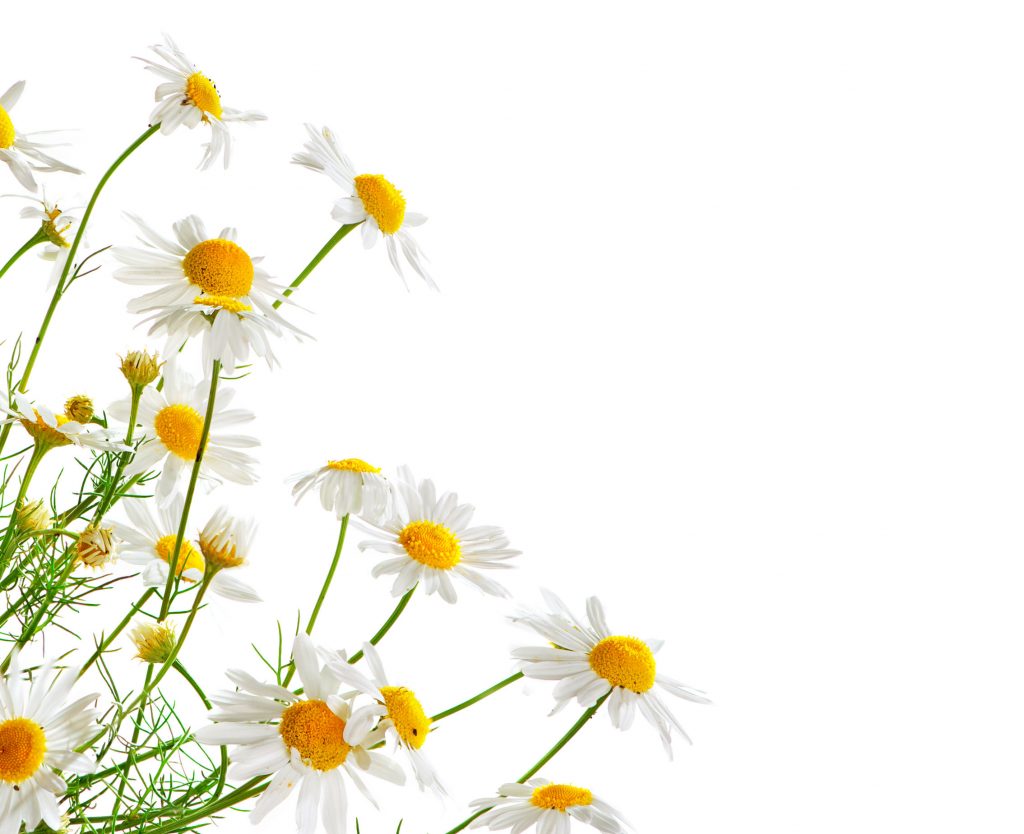 Chamomile essential oil is used for various skin conditions. It reduces pain by numbing the nerves and helps you get rid of the inflammation, which is the major cause of the trouble in gout pain. Being mild and safe, I have found this essential oil to be highly popular in a wide range of aromatherapy applications.
5. Frankincense Essential Oil
Frankincense essential oil is drawn from a small tree belonging to North Africa. While this oil is popular for its skin toning, tightening and cleansing effects, it is also a popular remedy for skin disorders like boils, marks, cysts and wrinkles. Using Frankincense will make you feel better right away and tones your skin helping it to return to its original form after the gout pain has faded away.
6. Clove Essential Oil
Clove oil is a natural skin rejuvenator. It promotes better function of the immune system and provides the skin with the energy it needs to carry out the self-correction processes. The diuretic affects of this oil help to remove the stuck uric acid particles from the blood.
7. Fennel Essential Oil
Fennel is a well-known perennial herb that is in demand for its usefulness in cooking and medicinal value. Being an efficient cleansing and restorative agent, it can easily minimize wrinkles. Its toning ability helps you to clear out the contaminants and restore the functionality of organs responsible for keeping the skin healthy.
8. Eucalyptus Essential Oil
While being an essential oil that can calm down your irritated skin, eucalyptus oil acts as a potent curative, making it one of the best essential oils for achy and tender joints.
9. Rosemary Essential Oil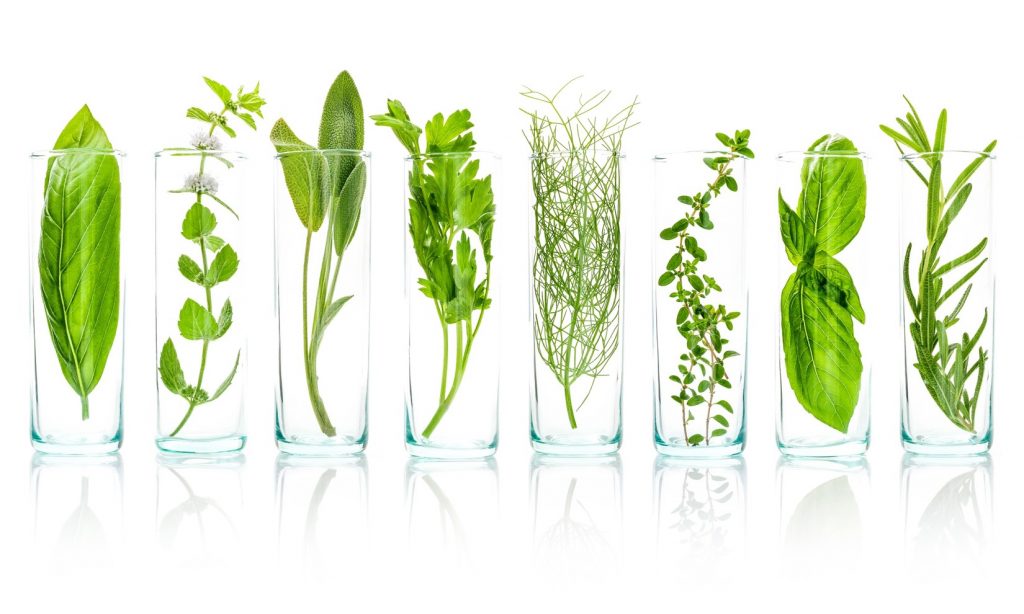 Due to its strong astringent qualities, I find Rosemary to be one of the most useful essential oils for the treatment of conditions like gout. It helps to improve blood circulation and relieves pain by anesthetizing the nerves. This makes it a great alternative treatment for dealing with conditions like rheumatism, arthritis, stiff muscles and gout pain.
10. Peppermint essential oil
Peppermint is rejuvenating, restorative, low-cost and an extensively used essential oil across the globe. It is a great pain reliever rendering a kind of icy-hot sensation.
11. Marjoram essential oil
Marjoram essential oil is both rejuvenating and stimulating for the skin. It promotes better blood circulation and helps to get rid of uric acid deposits. This reduces muscular pains and other discomforts that gout pain patients suffer from.
12. Tea Tree Oil
Tea tree oil is a must have at any house as it gets used for something almost every day. Its broad spectrum of antifungal and antimicrobial properties makes it ideal for the treatment of conditions like gout. When applied topically, it desensitizes the inflamed endings of the nerve, thus relieving the pain associated with gout. Do not apply tea tree oil directly on the skin without doing a patch test.
How To Make Essential Oil or Natural Remedies For Immediate Relief From Gout Pain – Olivia's 7 Essential Oil Recipes for Gout Relief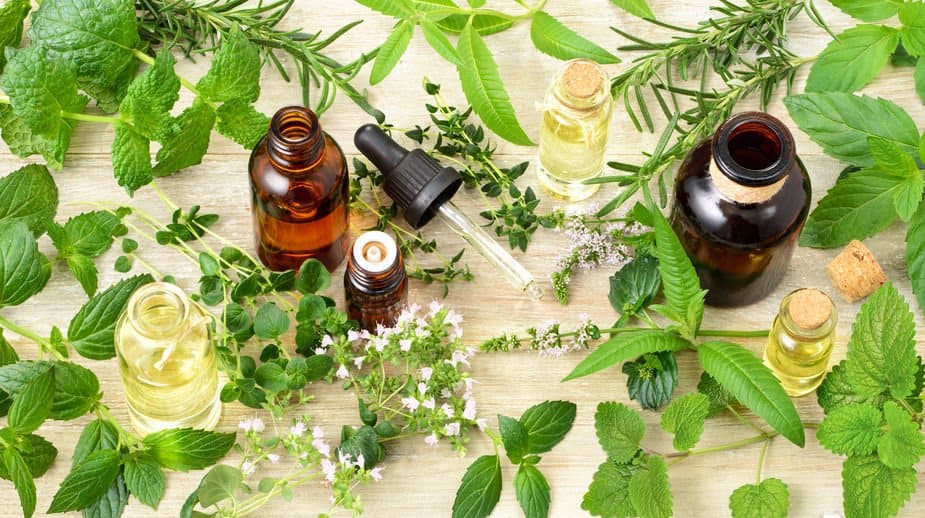 For treating gout pain, all you need is a fine mix of above-mentioned essential oils. All of these essential oils work to reduce the swelling and irritation and calm down the afflicted area. Here are some of the essential oil remedies I have personally tried and tested for their effectiveness in relieving the gout pain:
1. Hot Towel Compress
For fast and immediate relief I suggest using a hot towel compress over the affected area(s).
Instructions:
Soak your irritated skin in cold water. This gets the blood moving slowly.
Pat the skin dry
Add 3-6 drops each of your chosen essential oils in a tsp of carrier oil and then carefully massage the blend over the affected areas.
Put a soaked hot towel on top of where you have used the essential oils.
Keep the towel over the aching locations for a minimum of 2 minutes.
Repeat 2-3 times daily or as required.
2. Calming massage blend for gout pain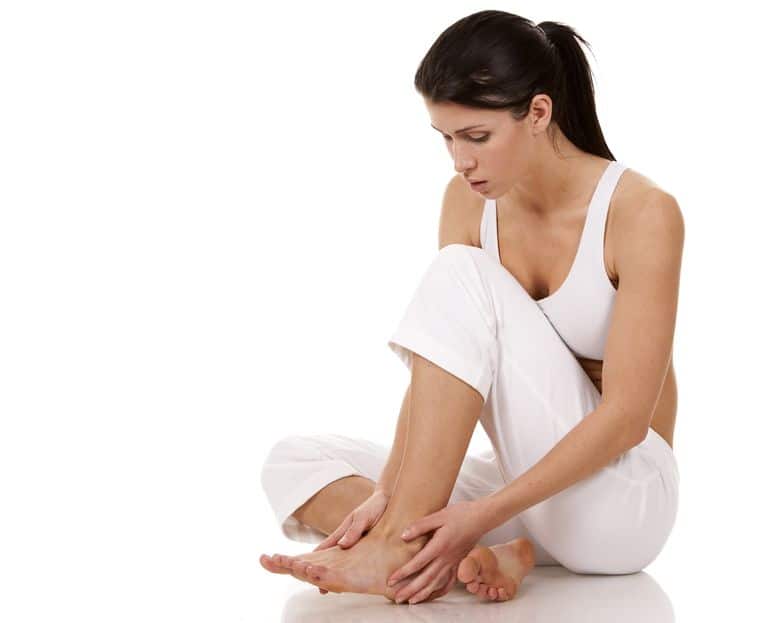 Massage is another excellent way of using essential oils for sustainable relief in gout pain. Here are some good recipes for massage blends that you can use for quick relief:
Mix 1 – Frankincense, Peppermint and Chamomile Blend

Preparation:
In a 1/6 oz (5 ml) glass dropper bottle, add:
Shake well to mix.
In a non-reactive bowl, add 4 tsp (15 ml) grapeseed, fractioned coconut oil or sweet almond essential oil. Add to this mix the blend prepared before (frankincense/peppermint/chamomile). Mix well and massage impacted locations very gently at least 3 times a day.
Mix 2 – Marjoram, Lavender and Rosemary Blend

Ingredients:
8 drops marjoram
10 drops

lavender

2 oz carrier oil (macadamia, jojoba, sweet almond, sesame, grapeseed, argan or coconut)
8 drops rosemary
Instructions:
Add all the ingredients in the above-mentioned quantities in a bowl and shake well to mix. Rub this blend over the painful locations very gently two times in a day.
Mix 3 – Tea Tree Oil Blend
Add 10 drops of tea tree oil to 2 tablespoons of carrier oil. Massage the afflicted locations making round movements 2-3 times a day.
Mix 4 – Footbath / soak for gout pain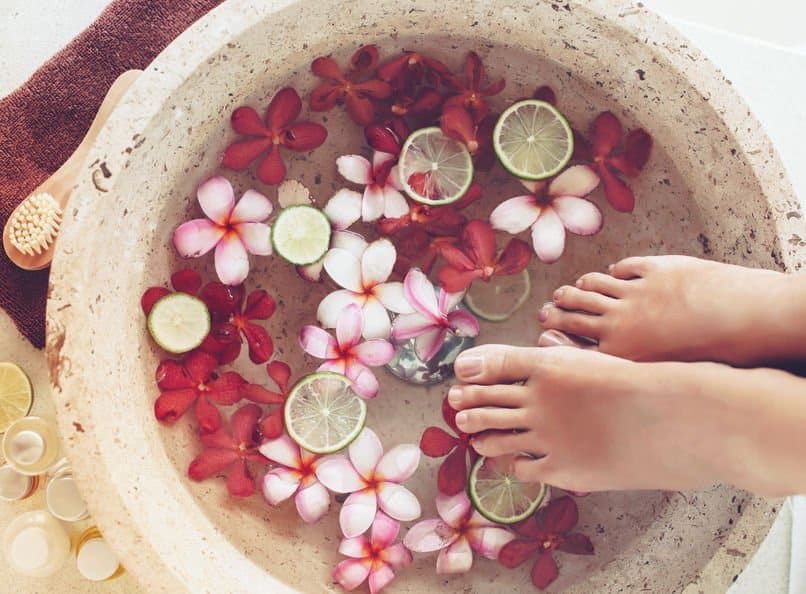 Instructions
Blend 2 tsp (8 ml) milk and 12 drops of either

peppermint

, wintergreen or clove essential oil.
Fill 2 basins with water. One cool and one warm.
Add the essential oil blend to each of the basin in equal proportions. Soak your feet in the warm water basin for 10 minutes, and then move them to cool water soaking them again for the same period of 10 minutes. Gently massage any drifting oil droplets onto the afflicted locations. If necessary, repeat the procedure.
Mix 5 – Basic cold and hot compress for gout pain
Hot compress wrap:
Much like the hot towel compress, you can use this hot compress to reduce stiffness and discomfort. Follow this procedure one or two times daily. Here are the ingredients to use:
3 drops of black pepper, marjoram or rosemary essential oil
1 hot compression wrap
Cold Compress Wrap:
Use cold compress wrap one or two times daily, to reduce swelling and pain. Here are the ingredients to use:
3 drops of sage essential oil
1 cold compression wrap
2 drops of essential oil of chamomile
Mix 6 – Basic purifying epsom salt bath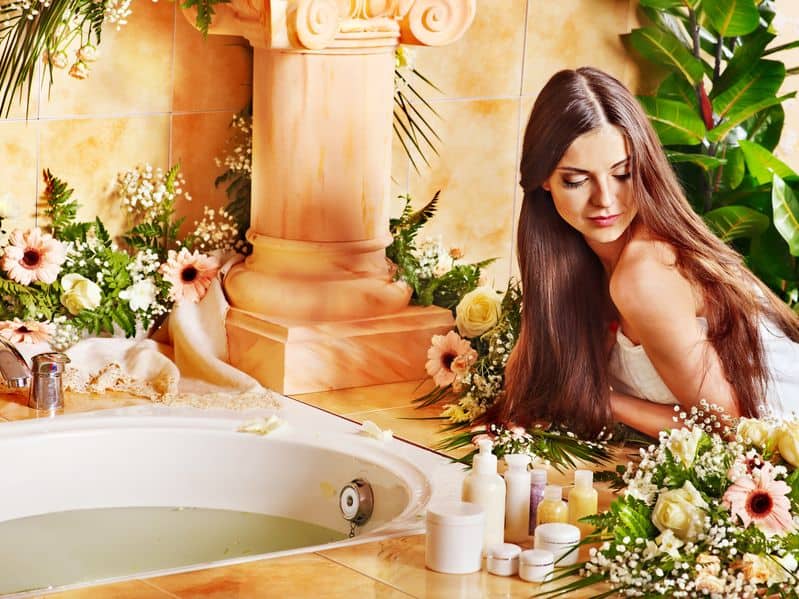 Ingredients:
3 drops of juniper essential oil
3 drops of clove essential oil
2-3 handfuls of epsom salt
3 drops of carrot seed or celery seed essential oil.
Instructions:
Add these ingredients to your bath water prior to getting in it. Repeat daily for 2 weeks or more, if required. Do not hesitate in trying different essential oil blends. However, do not use more than 10 drops of essential oil in a day.
My Recommended Product for Gout Pain
Before I dive into the essential oils recipes, let me introduce my revolutionary L'orpur pain relief blend which is fast-acting, effective and yet very gentle on the skin. It will take care of all your discomfort, inflammation and pain in the most natural way. Click here to read my story on the pain relief blend.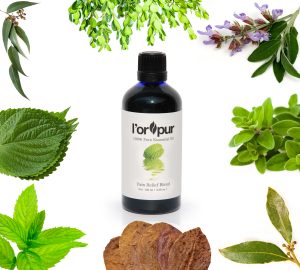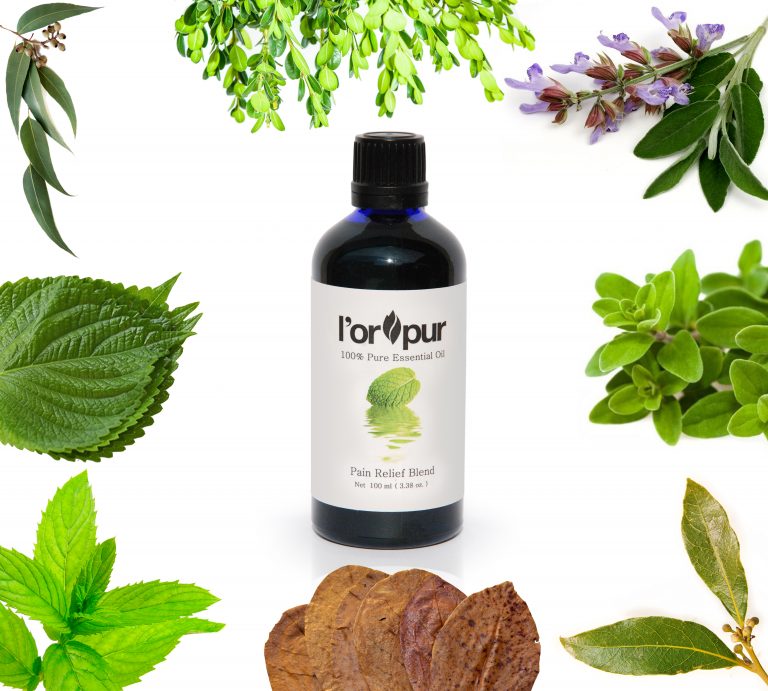 Precautions When Using Essential Oils For Gout
I would recommend that you take advice of your doctor prior to commencement of any essential oil for gout treatment. Pregnant ladies and individuals dealing with conditions like epilepsy and hypertension must avoid the use of rosemary essential oil. The rest of the essential oils I have mentioned in this article are generally safe to use, are non-sensitizing and non-irritating for people suffering from gout pain. As always, please do a skin test patch before any topical application.
Few Useful Tips To Help With Gout
In addition to the application of essential oils, a diet enriched with natural proteins and vitamins and limiting the use of alcohol can significantly help in avoiding swelling of the joints, which is a common symptom of gout pain.
You could also consume lemon essential oil with water daily to keep gout pain attacks at bay, however please consult your doctor before ingesting any essential oils. In addition, food supplements that fulfill your body's nutritional requirements can help you handle gout pain more effectively.
Important Note About Carrier Oils
In order to make the most of these essential oils, you will need a carrier oil that can quickly spread out the oil on the affected location and prevent any harsh skin reactions from happening. Grapeseed oil, coconut oil, jojoba oil, olive oil and sweet almond oil are some of the most popular carrier oils that can be used. One of my favorites is fractioned coconut oil, which is comparatively cheaper, comes without smell and lasts for a longer time.
The Final Word
Ever since I have started using essential oils, they have never let me down. Just use the single essential oils or follow the above recipes for quick and effective pain relief from gout. You can also give my own L'orpur blend a try – why not read the various testimonials before you make the plunge.
(Visited 76,405 times, 1 visits today)