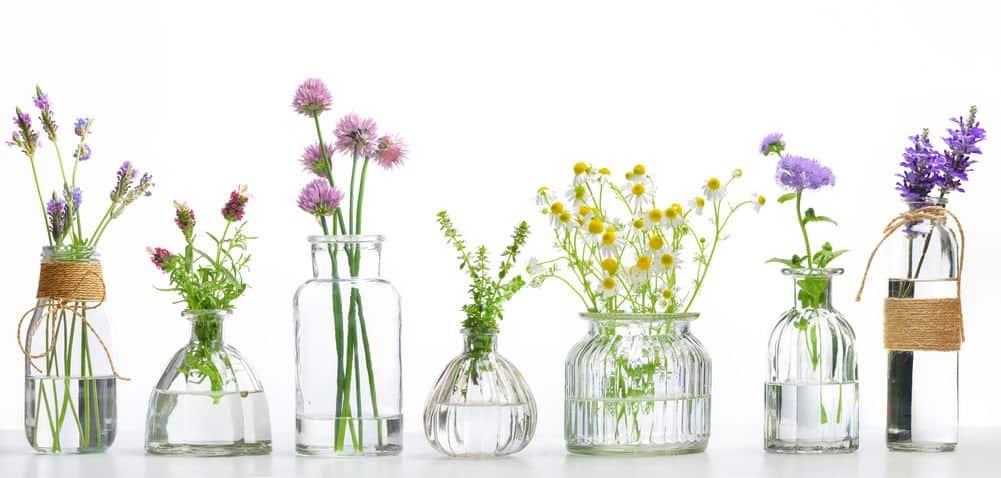 Glowing skin is a sign of good health and vitality. While you may be doing everything right for your body and nutrition, scarring and adult acne may keep your inner beauty hidden from view. There are steps you can take to care for your skin to reduce acne and eliminate scarring so that you can be radiant inside and out.
Scars And Acne: Why They Happen
Scarring
Why do scars show up wherever your skin gets cut or broken? When your skin receives an injury to the deepest layers, your body sets to work right away repairing itself. Once a scab forms over the wound, layer upon layer of brand new collagen fibers are created to heal your abrasion. These new fibers form a scar with a texture and appearance that differs from the surrounding skin, making it stand out.
Acne: From Adolescence To Adulthood
Teenagers often sport these sensitive red spots because their hormone production is in overdrive. When androgen hormones send growth signals to the developing adolescent body, sebum production increases significantly. Sebum is an oil, produced by skin glands, that clogs pores and traps bacteria in the skin. These bacteria cause mild to severe acne. Acne is not picky about where it shows up, and breakouts can happen anywhere on the body.
Unfortunately, some of us never outgrow the discomfort or embarrassment of acne, even as adults. Adult acne is caused by the same overproduction of sebum, stimulated by a variety of possible factors. Hormonal birth control, menopause, pregnancy, stress, changing hormone levels, and many genetic conditions can all trigger sebum production, and increase the likelihood of outbreaks of adult acne.
7 Best Essential Oils For Acne Scars: The Key To Beautiful Skin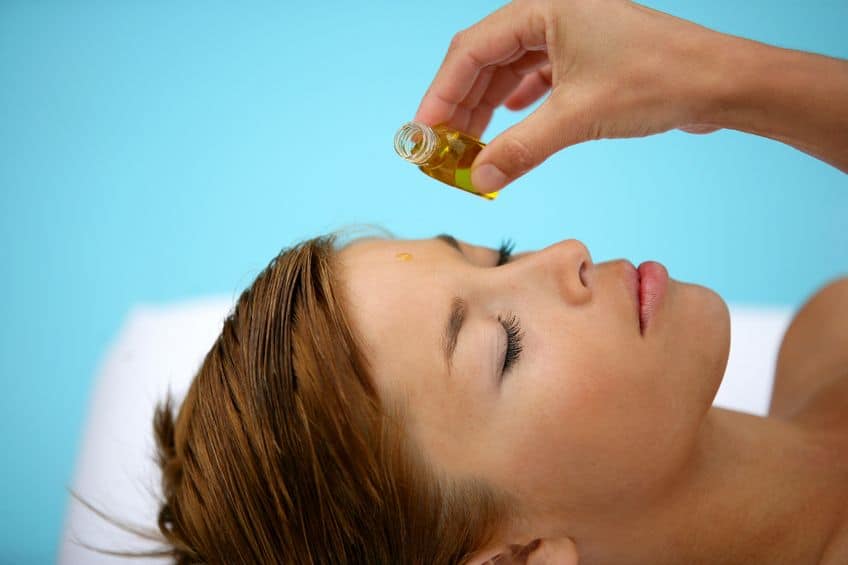 Scars can fade, and acne can heal with the right care from you. Treat your skin using these seven essential oils, and give your inner beauty a place to shine.
1. Clary Sage Essential Oil
While clary sage oil and regular sage oil are both effective as skin treatments, clary sage is the superior option as regular sage can cause unwanted or adverse skin reactions. Clary sage oil is ideal for treating acne prone skin because it contains elements that mimic hormones very closely. These properties help regulate sebum production, while the moderately high concentration of alcohol compounds have antimicrobial properties, cleansing your pores of the bacteria that cause breakouts.
Keep in mind that clary sage oil, as well as most other essential oils on this list, are only safe for topical use when diluted in a carrier oil. If used at full potency many essential oils will aggravate existing conditions or cause discomfort and irritation to your delicate skin.
Warning: Clary sage oil should not be used during pregnancy as it can cause strong uterine contractions.
2. Lavender Essential Oil
Lavender essential oil is the multi-tasking powerhouse of natural healing. For acne prone skin, antiseptic and anti-inflammatory properties of lavender oil soothe open sores while cleansing acne causing bacteria from pores and the skin's surface.
Lavender oil can be diluted with a carrier oil, witch hazel, or other essential oils to great effect. However, it is one of the safest essential oils and a drop or two can be applied directly to the skin to cleanse and relieve minor injuries and burns.
3. Carrot Seed Essential Oil
Something of an unsung hero, carrot seed oil is a potent skin rejuvenator, and its near-miraculous effect on scarring is rapidly gaining acclaim.
Because of its cytophylactic properties, carrot seed oil stimulates regeneration of skin cells, diminishing the appearance of long standing scars. You may also experience the additional benefits of tightened more youthful looking skin with continued carrot seed oil use.
Dilute carrot seed essential oil in a carrier oil before application.
Warning: Carrot seed oil has not been tested for use on pregnant women, so use with caution.
*Cytophylactic means that the essential oil stimulates the generation of new cells to aid in preserving the skin's health.
4. Mandarin Essential Oil
European, Indian, and Eastern societies have used mandarin oil for various purposes as early as the 12th century A.D. It is highly antiseptic and cytophylactic; mandarin essential oil is an effective treatment for both acne and scar reduction.
Mandarin essential oil's antiseptic properties eliminate acne causing bacteria from pores in the skin, clearing up severe outbreaks with continued use. That combined with the blood stimulating and skin cell regenerating components of mandarin oil, prevent current abrasions from scarring and help old scars fade away.
As with most essential oils, mandarin essential oil will require dilution before topical use.
Caution: Mandarin essential oil may cause a cytotoxic effect, so avoid direct sunlight immediately after use.
5. Roman Chamomile Essential Oil
Also called English chamomile, this essential oil should not be confused with the closely related German chamomile. Roman chamomile oil is hailed for its antiseptic and analgesic properties, making it ideal for use by acne sufferers.
When used on the skin, roman chamomile oil has an antibacterial effect, killing acne-causing bacteria on the surface and cleansing pores as well. It also relieves soreness common in acne sufferers with a cooling, soothing effect.
Dilute roman chamomile oil in a carrier oil before applying to skin.
6. Patchouli Essential Oil
For centuries East Asian cultures have held patchouli oil in high esteem for its skin rejuvenating properties. King Tutankhamun of Ancient Egypt valued it so much his tomb held ten gallons of patchouli oil.
Patchouli oil's potent combination of anti-inflammatory, astringent, antiseptic and cytophylactic compounds take scar causing abrasions and existing scars head on. Because it is highly antimicrobial, applying patchouli oil to cuts or other wounds disinfects and prevents the development of visible scars. It also stimulates blood circulation where applied and promotes skin cell regeneration, causing pre-existing scars to fade rapidly.
This essential oil is singular in that it improves with time, maturing in scent and quality while being stored. Patchouli oil requires dilution before use.
7. Neroli Essential Oil
Neroli is one of the pricier options for treatment of acne or scars. Nonetheless, it is highly effective, which is one reason so many are willing to pay a little bit more.
At least 1000 pounds of orange blossom flowers are distilled into each pound of Neroli oil. This process results in an oil that is not only effective in treating many skin maladies but is also deliciously fragrant.
Highly regenerative, neroli oil promotes new skin cells growth, replacing scar tissue with healthy cells. It is also touted as an anti-aging tonic, maintaining elasticity, healing broken capillaries, and reducing the appearance of wrinkles.
Neroli essential oil is also antibacterial and antimicrobial, purifying pores and the surface of the skin. It is a proven treatment of occasional or chronic acne breakouts.
Neroli oil is gentle enough to use in small doses of a drop or two without diluting but is equally as effective and significantly milder when diluted before application.
The Best 2 Carrier Oils For Acne And Scars: The Foundation Of Good Skincare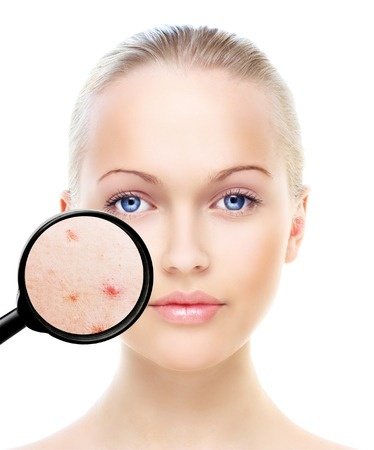 It is always recommended to dilute an essential oil in a carrier oil before applying to your skin. Doing this increases efficacy and eliminates the potential for undesired painful reactions some essential oils cause when used at full potency. Some of the best oils for dilution are as follows:
1. Rosehip Seed Oil
This oil is the ideal choice as a carrier if your desire is scar reduction. Rosehip seed oil has been tested and proven to regenerate skin and restore natural tone and color to scarred skin.
2. Calendula Oil
This oil is well known for its many benefits in skin care and healing. Calendula oil amplifies the effects of any essential oils that have antimicrobial or antibiotic properties. It is also highly anti-inflammatory and soothes inflamed skin tissue, making this an ideal carrier oil for natural acne treatment.
Before I expand on the essential oil recipes for scars, let me introduce a simple, all-natural, yet extremely effective product against scars, H-Scars. I have used this product on one of my children and the 2 big scars he had faded away within 5 weeks of daily use.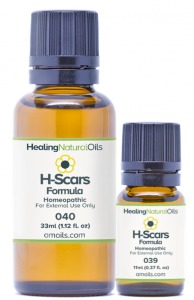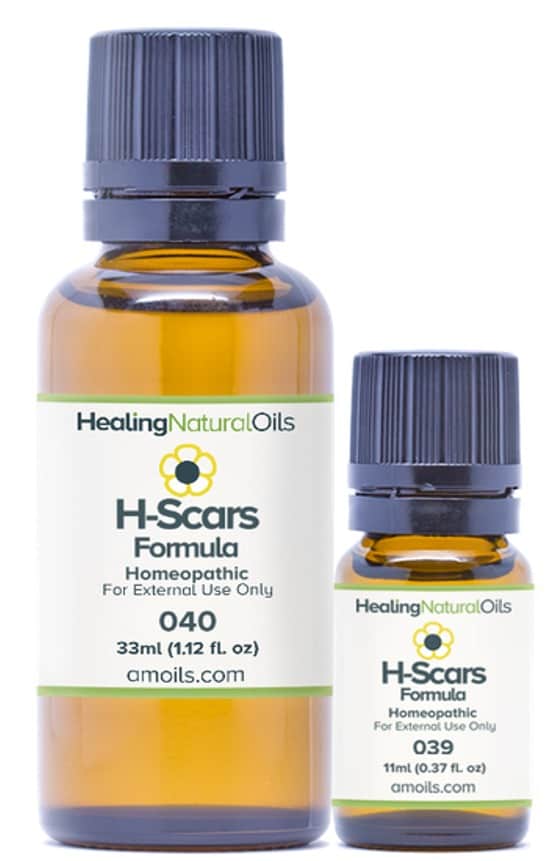 Best Combinations For Treating Acne And Scars
Most essential oils work better when combined with others for complementary effects. Feel free to try a few yourself, and see which ones work best for you.
3 Recipes for Scar Reduction
Recipe 1 – Everyday Scar Reducing Moisturizer
Ingredients:
5 tsp coconut oil
1 tsp rosehip seed oil
1-2 drops neroli oil
1-2 drops lavender oil
Mix all ingredients thoroughly. Apply liberally twice daily to moisturize and reduce the appearance of scars.
Recipe 2 – On The Go Scar Treatment
This quick mix is best for those will little time to spare!
Ingredients:
1 tsp rosehip seed oil
1-3 drops of your favorite scar reducing essential oil (pick one from the above list of 7)
Combine the two oils and rub gently into scars twice a day.
Recipe 3 – Advanced Scar Treatment Tonic
Ingredients:
1/8 tsp vitamin E oil
8 tsp rosehip seed oil
25 drops lavender oil
20 drops patchouli oil
15 drops carrot seed oil
Pour or drop ingredients into a 2-ounce glass bottle and shake to combine. Massage a small amount of this tonic onto scars twice daily. For best results continue daily use for three to six months, but be prepared to see fading in as little as 4-6 weeks.
Now, before I get to the essential oil recipes for acne, let me introduce the other highly effective product against acne H-Acne.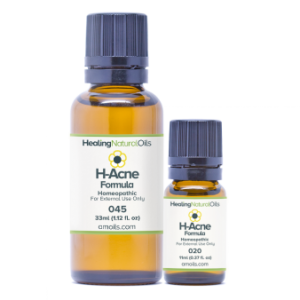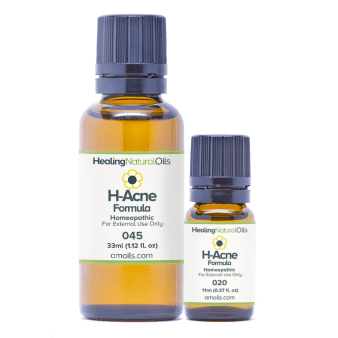 A 3-Step Skincare Regimen for Treating Acne
With consistent use, this daily skincare regimen will clear up outbreaks and prevent future acne from becoming inflamed.
Step 1. Daily Cleansing Wash
Ingredients:
1 cup lavender hydrosol
2 tsp vegetable glycerin
2 tsp aloe vera gel
6 drops

tea tree oil

3 drops roman chamomile oil
3 drops lemongrass oil
5 drops grapefruit seed extract (natural preservative)
Add all ingredients to an 8-ounce glass bottle. Shake to mix well and allow to cure overnight.
To Use: Rinse face with warm water, and massage cleansing wash into skin. Rinse thoroughly. Pat to dry. Follow with Acne Clearing Toner (below).
Step 2. Acne Clearing Toner
Ingredients:
1 cup rose water
7 drops

lavender oil

3 drops patchouli oil
2 drop geranium oil
1 drop roman chamomile oil
1 drop neroli oil
Add ingredients to an 8-ounce glass bottle and shake to combine thoroughly.
To Use: Dab a small amount onto a clean cotton ball and gently massage into skin. Follow with Skin Soothing Moisturizing Lotion (below).
Step 3. Skin Soothing Moisturizing Lotion
Ingredients:
1 cup

jojoba oil

2 tsp emulsifying wax
1 tsp stearic acid
1 tsp Vitamin E
1 cup witch hazel
2 tsp aloe vera gel
10 drops grapefruit seed extract (natural preservative)
10 drops tea tree oil
10 drops

peppermint oil

10 drops lemongrass oil
2 drops jasmine
Place jojoba oil, wax, and acid in a heat-safe glass measuring cup. Place in a pot of water and warm over low heat stirring ingredients until wax is melted. Remove from heat and add Vitamin E.
Combine witch hazel and aloe vera gel together in a separate heat-safe glass measuring cup. Warm slowly in microwave, 5 seconds at a time, until lukewarm. Do not skip this step or overheat the ingredients.
Combine contents in both cups, stirring with a whisk to mix completely. Add essential oils and grapefruit seed extract, stirring to combine. Store in a dark glass or plastic bottle, allowing to cool down before capping. Shake bottle occasionally to prevent separation. Keep in a cool, dark place.
To Use: Massage into cleansed toned skin until completely absorbed.
Follow this regimen each morning and evening, and let the results speak for themselves.
You can enjoy an extra 25 recipes for acne right here.
Prevent And Treat Naturally: 4 Home Remedies For Acne And Scarring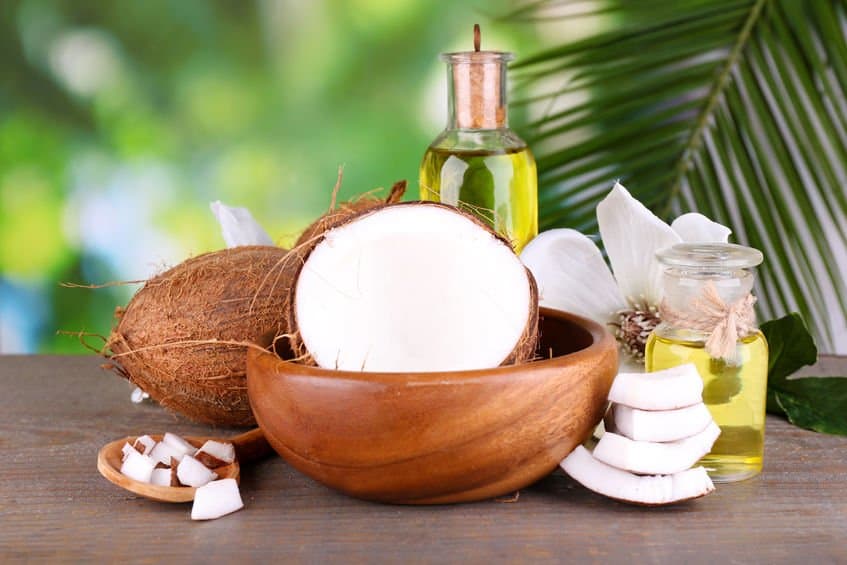 Consider these natural alternatives when treating scars or acne. Effective and gentle, these natural remedies will restore your skin to its radiant best.
1. Aloe Vera
Aloe vera gel is an emollient that encourages healing in damaged skin and works to reduce scars from previous injuries. With continued use, your skin will become softer and more supple as well.
Aloe vera gel is available at most retailers, or straight from the leaves of the aloe vera plant. Massage the gel into any damaged skin or scar tissue twice daily, and leave it on for 30 minutes. Wash with a clean damp cloth, or rinse well with water.
2. Coconut Oil and Vitamin E
Coconut and Vitamin E Oil work extremely well together in improving the appearance of scar tissue. Just combine 2-3 capsules of vitamin E oil into 1 ounce (30ml) coconut oil and rub over skin as your would a daily moisturizer. Do not rinse away, as the oils are absorbed into your skin they will reduce any scarring that may be present. For more on coconut oil, click here.
3. Oatmeal Cucumber Mask
This mask will soothe your acne prone skin in a pinch, offering relief during the worst breakouts. Mash a small cucumber in a food processor. Add a cup of oatmeal and continue to process until a paste forms. Mix equal parts oatmeal-cucumber paste with yogurt and apply to face. Allow mask to remain on skin for 30 minutes before rinsing or wiping away.
4. Apple Cider Vinegar
It seems that the uses for apple cider vinegar are endless. This natural wonder works like a charm to cleanse and clear up pesky and painful acne breakouts. It is antibacterial as well as astringent, so bacteria causing acne is washed away, and oil is kept under control. After rinsing your face with water and patting dry, combine 1 part ACV to 3 parts water and use a clean cotton ball to apply to affected skin. Let sit for at least ten minutes. This treatment can be repeated up to three times daily, just be sure to wash thoroughly and moisturize each time.
The Final Word
You can have radiant skin without prescription medication, or skin care regimes containing artificial ingredients. Essential oils are beneficial for all skin, and with regular use, you will see a marked improvement in the appearance of scarring and painful acne. Just give your skin consistent care, and a little help from the natural remedies above; soon you will look and feel beautiful inside and out!