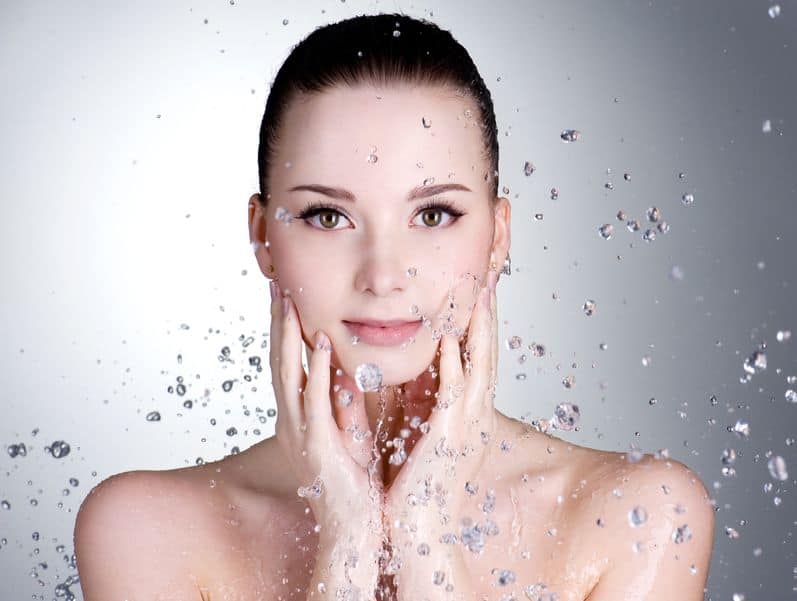 When I say that I used to have acne, I do not mean minor breakouts happening here and there. I mean cystic, severely painful and pus packed acne that leaves you with huge pores and embarrassing scarring.
I do not have the best skin and have come to terms with the fact that my acne and scarring can only be managed not eliminated, due to their severity. However, if you have acne or any other related skin condition, the great thing is that not only you can drastically improve your situation but eliminate acne altogether with the use of Essential Oils.
The first step is to put your diet in order. Acne and other skin conditions are a representation of what is happening internally in the body, so it's necessary to make sure that what you are eating is getting you enough nutrition, you have stabilized blood sugar and you don't have overgrowth of bacteria in your gut.
As far as external skin care is concerned, Essential Oils are my favorite as they have always helped me minimize my acne and keep my skin fresh and healthy. If you are after an all-natural, safe, gentle and quick cure for acne related conditions, you can try H-Acne or H-Scars for the best results.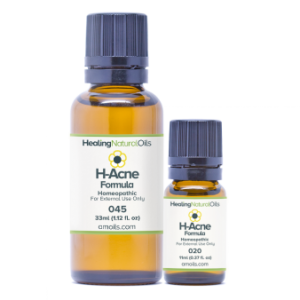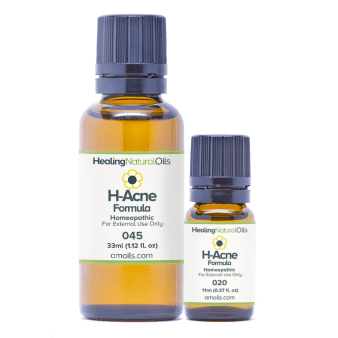 However, if you prefer your own concoctions, read on as I have presented 3 of my favorite recipes as well as a 9-step process to clean oily and bacteria laden skin.
9 Best Essential Oils for Beautiful Skin
With that said, here are few of the most popular Essential Oils that you can use to keep your skin fresh, healthy and free from acne:
1. Carrot Seed Essential Oil
Carrot Seed Essential Oil has an invigorating effect on the skin. Not only can this Oil keep the skin smooth and pores healthy, but also it assists the body in skin cell regeneration. That is why, it will improve the tone of aging skin and help to fade the scarring.
2. Frankincense Essential Oil
Frankincense has anti-inflammatory and antibacterial properties, making it appropriate for skin that is prone to acne. In addition, Frankincense is an all-natural toner that reduces the size of skin pores and keeps the skin fresh and bacteria free.
3. Geranium Essential Oil
Geranium Essential Oil assists in regulating the production of oil in the skin and reducing pimples. It can also help keep the skin firm, eliminating the fine lines and wrinkles. In addition, it promotes the blood circulation in areas where it is applied, making it useful for healing bruises, broken capillaries, burns, dermatitis, eczema, cuts and ringworm.
4. Lemon Essential Oil
Lemon Oil is a wonderful natural astringent and anti-bacterial agent. Consequently, it is very beneficial for those with greasy and acne-prone skin. It may also help tone your skin and minimize the appearance of pores.
5. Myrrh Essential Oil
Myrrh Oil is considerably beneficial for the older skin. It offers strong anti-inflammatory properties that help improve the firmness and elasticity of the skin, while reducing the appearance of wrinkles and fine lines. Myrrh will also help heal eczema, chapped skin, sun-damage and acne breakouts.
6. Neroli Essential Oil
Neroli is fantastic for sensitive, oily, and aging skin. It will help to strengthen the sagging skin and smooth the fine lines. This rejuvenating Oil features a natural chemical substance called citral, which helps in regenerating skin cells.
7. Patchouli Essential Oil
Patchouli Essential Oil is highly beneficial for aging and acne prone skin. It can stimulate new cell growth and smoothes the fine lines and wrinkles. Since this Oil also features antiseptic, antifungal, and antibacterial qualities, it is also beneficial in skin conditions like Eczema, Psoriasis, Dermatitis, and Acne.
8. Tea Tree Essential Oil
Tea Tree Oil is amongst the more famous Essential skin Oils that are known for their anti-beneficial effects on acne prone skin. The antibacterial components of this oil can help fend off acne-causing bacteria. Tea Tree Oil also regulates skin oil production, thus reducing the likelihood of acne breakouts. This baby could fix it all!
9. Ylang Ylang Essential Oil
Ylang Ylang is known for its rich and floral fragrance. While this Oil is known for regulating the skin oil production, it is also helpful in smoothing wrinkles and improving the skin's flexibility.

Which Essential Oils Are Good For Acne Treatment?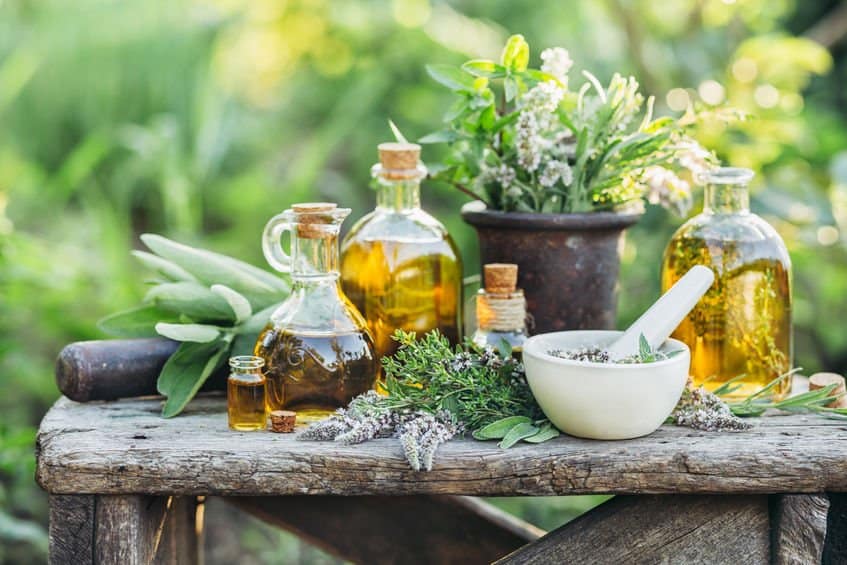 In the event the commonly used Essential Oils are not able to get you the desired results, you can use some of the below mentioned Essential Oils as they specifically target conditions like Acne:
Jojoba Oil
Jojoba Oil is perfect for treating acne on oily skin. The wax like chemical present in this Essential Oil is almost similar to the oil produced by the skin. Now, as we know that like dissolves like, using Jojoba Oil can easily dissolve whiteheads and blackheads and help in unclogging the pores without triggering any type of discomfort.
Rose Hip Oil
Rose Hip Oil is a superb moisturizer for dried-out skin. This Oil contains considerable amounts of ascorbic acid, which the skin can absorb and utilize. The Oil is also a great emollient for the dry skin. It will help open skin pores allowing them to drain, without causing any irritation.
Coriander Oil
Coriander Oil removes staph infections of the skin. Staphylococcus Aureus can be responsible for a specific kind of infection that starts small but gets bigger and redder with time.
Peperina Oil
Peperina Oil really helps to make the skin less responsive to soreness. It cuts down on swelling of pimples, as well as decreases the sensitivity of the skin towards chemicals and cleansers. This Oil can make sensitive skin calm, thus readying it for further treatments.

The L'orpur Problem Skin Relief Natural Cream is designed to treat and prevent recurrence of difficult skin conditions including acne. It has unmatched anti-bacterial and healing properties and provides long-lasting relief for blackheads, pus-filled pimples, red / tender bumps and irritated skin.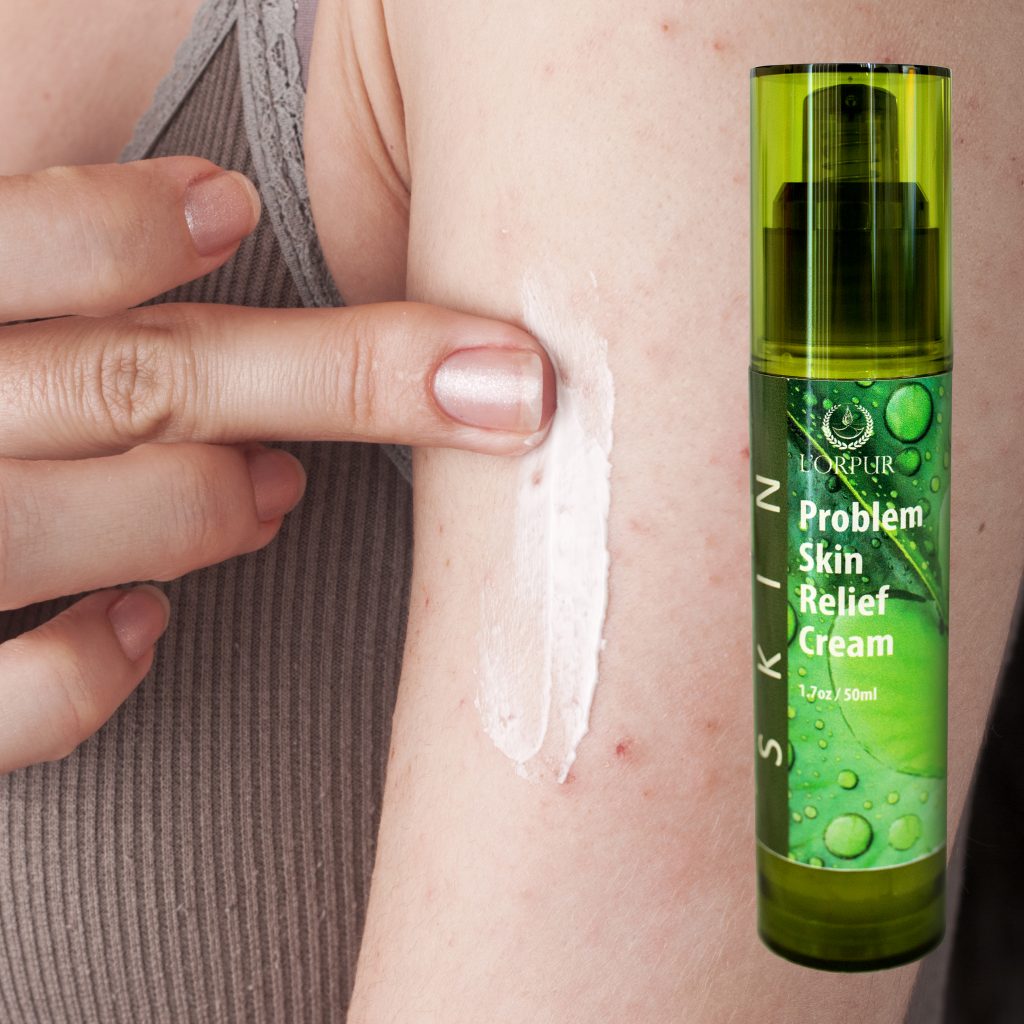 How To Use Essential Oils For Cleansing The Bacteria-Laden And Oily Skin?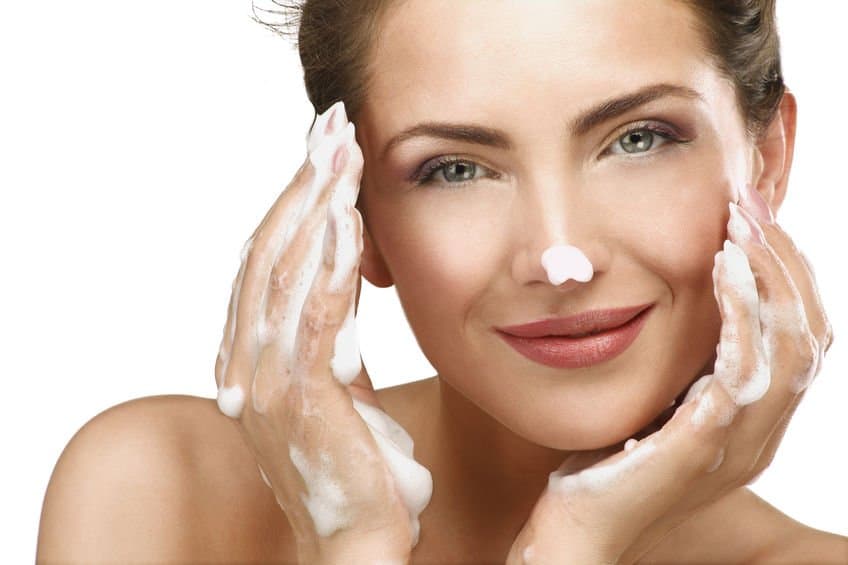 Here is a 9 step process to clean your skin of all the bacteria-laden oil present on it:
Step 1: Obtain your favorite blend of Oils, a washcloth and a soft towel.
Step 2: Wet your face with warm water.
Step 3: Pour about 1/2 tsp of Essential Oil blend on your palm and rub both your hands together.
Step 4: Massage the Oil gently, using your fingers, on the impacted areas making small circles for about thirty seconds to two minutes allowing the Oil to penetrate deep. Focus on areas that have blocked skin pores.
Step 5: Wet a hand towel with slightly warm water, wring out, and fold to retain the heat in.
Step 6: Wet the washcloth with super-hot water (less than what will burn your face!), wring and cover your face with it.
Step 7: Seal the washcloth with the towel prepared earlier to prevent the washcloth from cooling immediately. This is important.
Step 8: Leave on until both the towel and the washcloth have cooled down to the room temperature and then wipe your skin with the washcloth.
Step 9: Repeat this process 1-2 times.
VOILA! You have cleansed your skin of all the bacteria-laden oil present on it. There has to be a thin layer of oil still present on the skin to safeguard it from further infections.
My Top 3 Recipes To Use For Best Relief In Conditions Like Acne: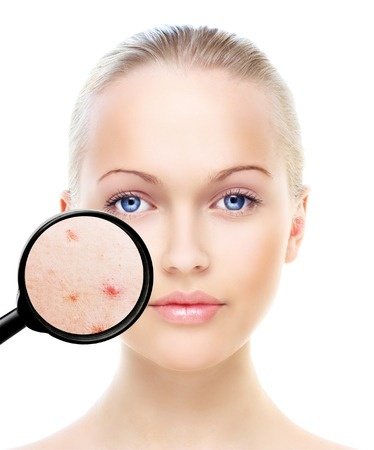 Recipe 1: Face treatment Essential Oil for acne and related conditions
An effective face treatment Essential Oil can easily be produced by using carrier Oils like Jojoba Oil, and adding the following Oils:
The concentration of Essential Oils mentioned above must not exceed 2 %. Massage the blend gently on your skin at least two times in a day. Some skins might not respond well to this Oil, however, some individuals have had excellent outcomes.
Recipe 2: A Sweet Treat
Add Sweet Almond, Hazelnut and Avocado Essential Oils in the ratio of 1:1:2 respectively.
Apply the blend on impacted areas for significant relief.
Recipe 3: No more "pizza" face (for acne susceptible skin)
Add Borage, Grape Seed, Hazelnut and Hempseed Essential Oils in the ratio of 1:2:1:1 respectively and apply the blend on impacted areas. You can also try out adding therapeutic-grade Essential skin Oils like Tea Tree, Rosemary, Geranium and Lavender.
Remember: not all Essential Oils are equal! There is still no regulation applying to the manufacturing of Essential Oils, making it easier for the cons to dupe people into buying Oils that are mostly fillers and contain nasty ingredients. Therefore, stick to the pure therapeutic grade essential oils, which you will find by clicking on the various links within this article.
I am having incredible results with the use of Essential Oils and my skin is getting better with each passing day. My acne scarring and sunspots have faded and I feel fresh and rejuvenated. My recommendation for you is: play with these Essential Oils until you are your most beautiful self!