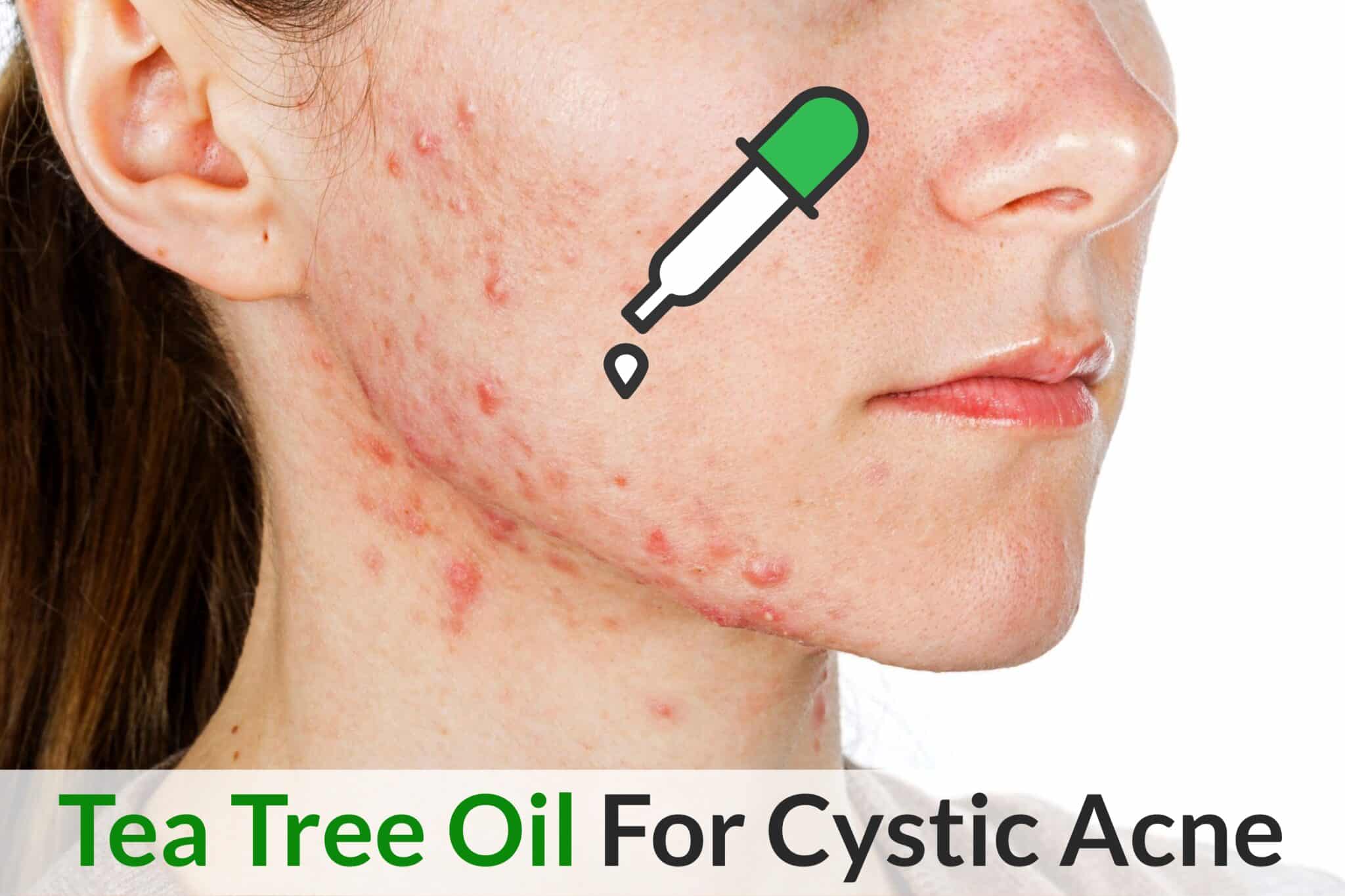 Acne is the most common skin condition in the US affecting around 50 Million Americans yearly.
All of us struggle with acne at some point in our life and those of us with acne often deal with much more than physical symptoms. The emotional and mental stresses of acne can last a lifetime.
Acne at its harshest is what is described as cystic acne and is known to trigger unpleasant swelling of the skin. Finding an effective and lasting treatment option as early on as possible is an important step in dealing with acne.
Those dealing with cystic acne, especially those that have tried several forms of treatments with little to no success, are increasingly counting on natural remedies to clear up their acne.
Due to their antioxidant, anti-inflammatory and antibacterial properties, essential oils like bergamot, sweet orange as well as tea tree are proven to alleviate and improve acne vulgaris.
Before we dive in, let's start with the basics…
Why did I get acne all of a sudden?
Our outer skin is acidic in nature. This acidity is principally a result of sebum, which is your primary defense mechanism against infection.
When you have an infected pore, your skin responds to this infection by producing more sebum to combat the bacteria. This ultimately results in a pimple.
Nearly all soaps and cleaning products currently available are alkaline. Using them regularly compromises the natural acidity of the epidermis causing it to generate more oil, which in turn makes the skin more susceptible to infections.
In this post, I will show you everything you need to know about using tea tree oil for acne including 6 quick & easy DIY recipes.
Why Tea Tree Oil?
Tea tree oil is extracted through steam distillation of twigs and leaves of the Melaleuca tree, which is a native tree from Australia.
It is a popular choice for treating acne because of its anti-inflammatory and antimicrobial properties. It can also calm redness, swelling, inflammation and may even help to prevent and reduce acne scars, leaving you with smooth, clear skin.
The reputation as a cure-all given to this oil is not an exaggeration. Even Meghan Markle carries a bottle of tea tree everywhere she goes as it's a cure for various skin issues!
Based on a study conducted in 2016 by the Australasian College of Dermatologists, the use of tea tree oil significantly improved acne. Keeping that in mind, here are some of the tried and tested ways you can use it for maximum possible relief in cystic acne.
6 DIY Tea Tree Oil Cystic Acne Recipes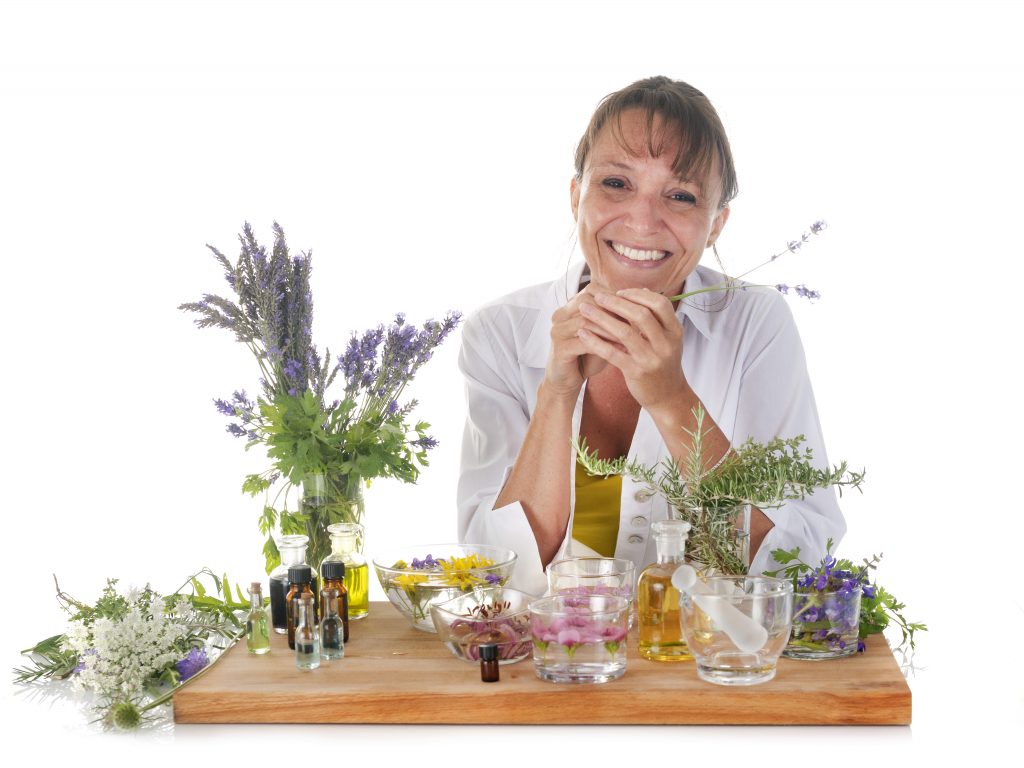 The following DIY tea tree oil recipes for cystic acne are easy to make at home:
1. Direct application
Tea tree oil can be used straight on the acne. Just a drop or two of tea tree oil can permeate the skin to decontaminate pores, unclog the sebaceous glands and dry out blackheads, whiteheads, pimples and other skin disorders. To apply, simply take 2-3 drops of tea tree oil over a tissue and carefully swab the oil onto any cysts you have.
2. Spot treatment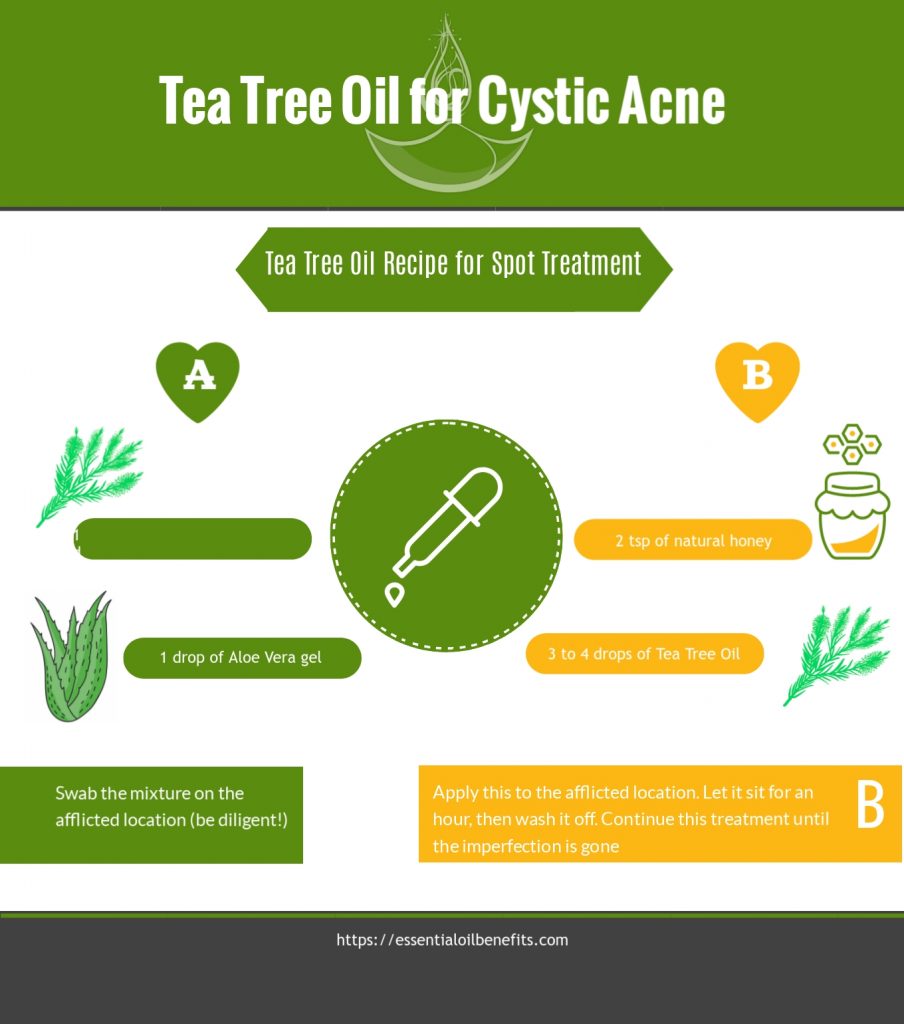 Spot treatments are among the best and fastest ways to cure cystic acne. Here are two of the best spot treatment recipes for cystic acne:
A) Mix equivalent parts tea tree oil and aloe vera gel; swab it on the afflicted location (be diligent!). The oil gives your skin an anti-bacterial punch, while the aloe makes sure that there is no scarring.
B) Mix 2 tsp of natural honey in 3-4 drops of tea tree oil and apply this to the afflicted location. Let it sit for an hour, then wash it off. Continue this treatment until the imperfection is gone.
3. Homemade facemask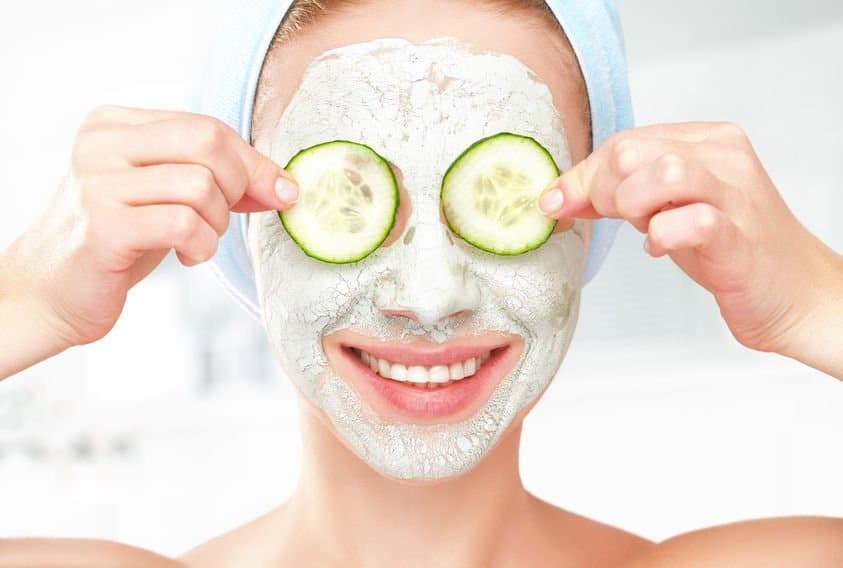 You can add tea tree oil to either homemade facemasks / your favorite natural facemask product to dry out the cystic acne and eliminate bacteria. Here are some of the best recipes for homemade facemasks:
A) Mix 3 drops of tea tree oil, 1 tsp of jojoba, and 1/2 of a carefully sliced tomato into a smooth paste. Use this paste on your face, wait 10 minutes, then wash it off.
B) Mix 4 drops of tea tree oil with 3 tbsp of green clay powder, which can easily be found at any health shop. Add sufficient water to make the clay into a paste. Leave the mask in position for at least 15 minutes, up until the clay is dried out. (Note: Using too much clay can dry out the skin).
C) Mix 1/4 cup plain yogurt and 5 drops of tea tree oil and put this mix on your face. Let it sit for 15 to 20 minutes, then wash with lukewarm water and pat your face dry.
D) Mix 1 tsp of sweet almond oil with 3 drops of tea tree oil. Thereafter, stir in half of a sliced tomato. Mash all the ingredients together to form a puree. Apply this rejuvenating facemask straight to the clean skin and leave on for 10 minutes, prior to rinsing with lukewarm water and patting dry.
If you want to learn more about making your own facemasks, CLICK HERE…
4. Homemade face scrub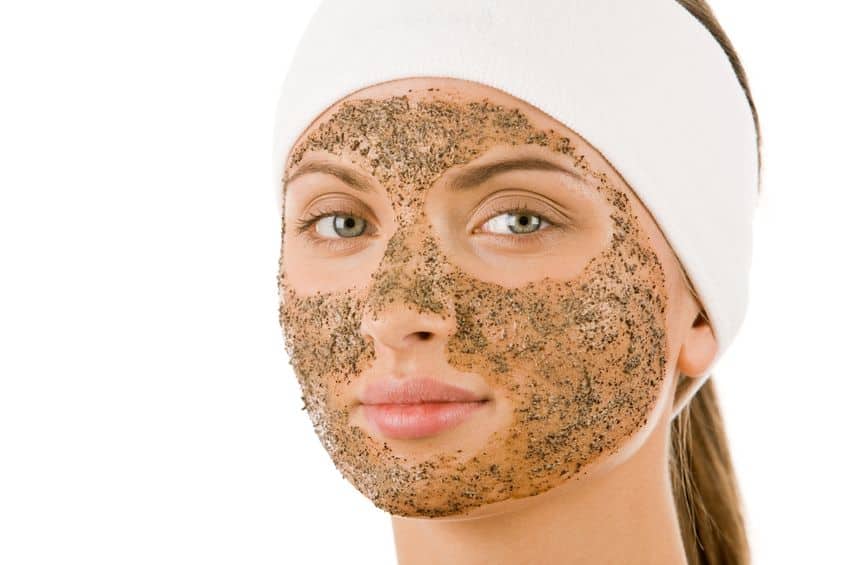 For an efficient anti-acne facial scrub, try blending tea tree oil with some of the natural ingredients taken from your kitchen.
In a little bowl, add 1 tablespoon of honey, 1/4 cup of sesame or coconut oil, 1/2 cup of sugar and 15 drops of tea tree oil. Carefully massage onto wet face, making circles, for 3-4 minutes. This is one of the recipes I can personally recommend as I used it previously to cure my persistent cystic acne.
This scrub might be a little rough for individuals with highly sensitive skin. As both honey and tea tree oil are natural elements, you can consider making enough quantity of this scrub to last you a week. Store it in a dark glass container away from sunlight for future use.
5. Add to your favorite cleanser or moisturizer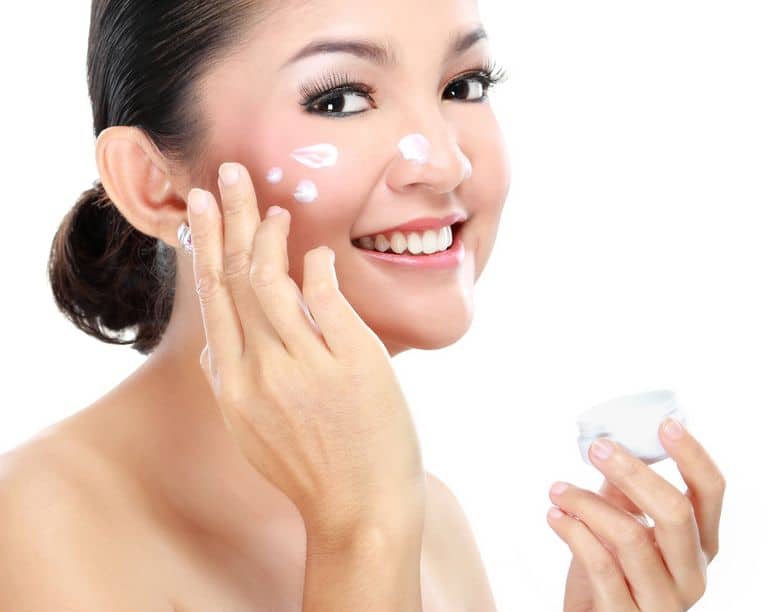 Few drops of tea tree oil added to your regular moisturizer or cleanser can do wonders when it comes to battling persistent cystic acne. Add 3-4 drops to your moisturizer or facial cleanser and use it on your face regularly. Make sure that the blend doesn't get into your eyes.
6. Add to your bath
Add a couple of drops of tea tree oil to your bath to help eliminate cystic acne on your back, chest and other body parts. While clearing the acne, tea tree oil will certainly add a great fragrance to your bath. After so many years of use, I never miss an opportunity to add tea tree oil to my bath water. It is extremely refreshing and rejuvenating.
Natural Recommended Product For Acne and Related Condition
You probably realized that acne is one of the problems that cannot be solved with just money. Many over-the-counter products found in supermarkets and even prescribed drugs can dry and irritate the skin, causing new skin conditions that you did not have before.
We have the developed the perfect product for acne and other related skin conditions, which is gentle on skin, is fast-acting, safe for use on all types of acne breakouts and skin types. More importantly, it is all-natural and contains citrus extracts and essential oils.
Why not give it a try to see the results!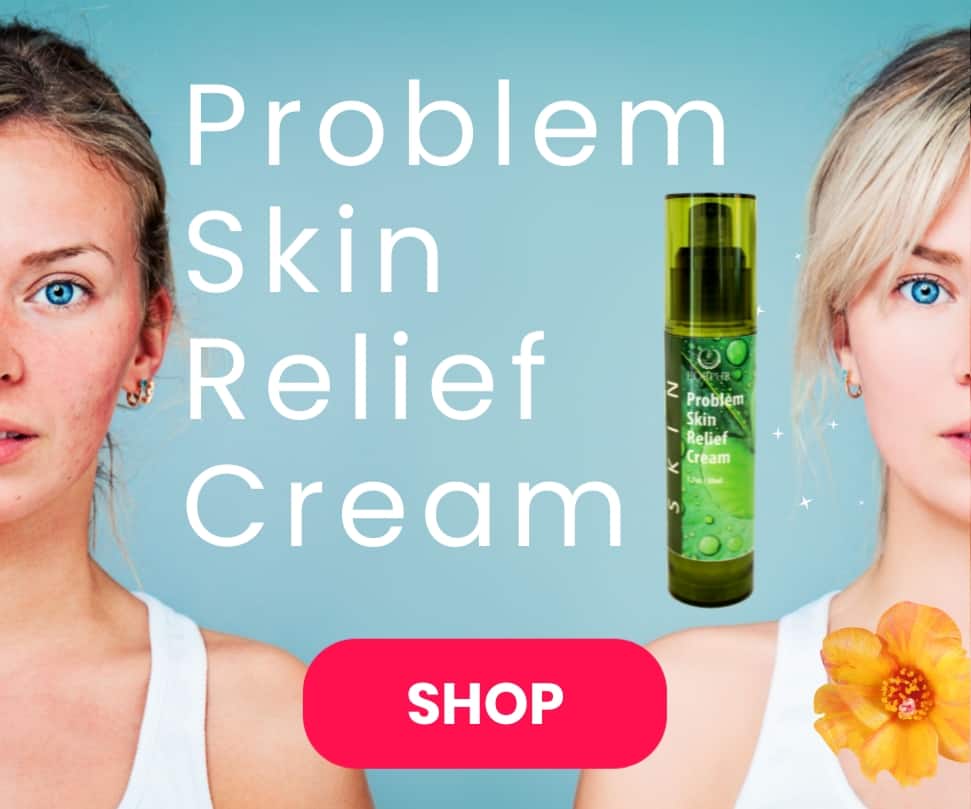 The Final Word
Whether you are afflicted by painful cystic acne or perhaps a minor acne outbreak, those annoying little bumps can ruin your self-esteem and make your life tougher to deal with.
Many businesses looking to benefit from your insecurities push you to get expensive creams and potions that rarely work the way they should. Fortunately, there are natural treatments available to assist you.
While tea tree oil can help you get rid of the bacteria that causes cystic acne, it is not a tested medical treatment. However, using it as an alternative to extreme chemicals such as benzoyl peroxide will definitely lower your risk of skin inflammation.
Tea tree oil based acne remedies are efficient, natural and have less negative effects than their non-natural equivalents. It may not help everyone; however, works for majority of people that try it. Due to its low threat of side effects, tea tree oil is a pragmatic solution for those dealing with problems like cystic acne.