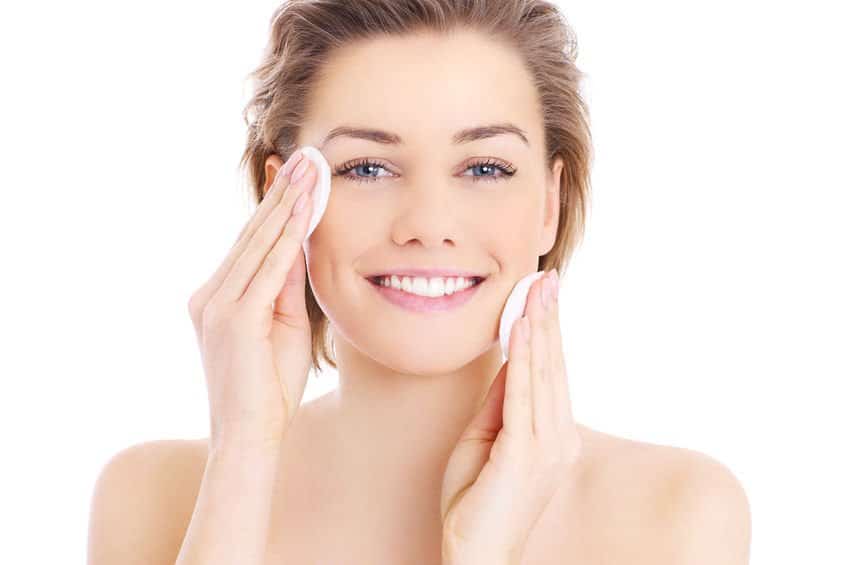 Cleansing is a crucial step in skincare. So, a cleanser is often the first product that you will use when tending to your skin at the start and at the end of the day. Since a cleanser is integral to any skincare regimen regardless of the skin type you have, it is no wonder that most store shelves boast of hundreds of varieties of this product.
In fact, it can be a tad confusing to get through this medley of formulations without a clear understanding of what a cleanser is supposed to do and how it benefits the skin. If you have not yet found a product that delivers the promised results or want more from a cleansing formula, continue reading to learn about this all-important skincare offering.
So, What Exactly Is A Cleanser?
Well, for most this would be a silly question, right? After all if the name says "cleanser", it must be used for cleaning, what else? Although the cleaning argument is spot on it does qualify as an over-simplification.
A cleanser is not just meant to rid your skin of grime and dirt but also excess sebum without drying the dermal layers. It is also supposed to pull out the toxins trapped inside the pores and cells, neutralize oxidants that are lingering on the skin surface and kill harmful (notice, not all) bacteria.
But, Doesn't The Skin Have A Self-Cleansing Mechanism In Place?
Within reason, the skin does clean itself but it needs outside help when you expose it to external damaging factors such as harsh weather conditions, pollution, dirt, dust, microorganisms, oxidants and others. But, even if you live in a hyperbaric chamber or an air bubble, your skin would still need cleansing to deal with cellular debris and metabolic waste. If you intend to venture out or live in a normal home, rest assured your skin will be exposed to multiple damaging elements and hence you will need a cleanser.
Why Should The Cleanser Be The Very First Product You Use On The Skin?
In the morning, your cleanser helps to rid the skin of the toxins that seep to the surface with sebum and sweat. It reduces the stickiness and oiliness, which in turn makes it easier to slough off dead cellular matter from the surface. Cleansing makes the skin more receptive of other products.
In the evening, your cleanser tackles the accumulation of stale makeup, dirt, grime, pollutants and sebum that stick to the skin as you go about your day. It also relaxes stressed skin and prepares it for the absorption of nutrients that will be supplied by other skincare products.
The 3 Different Types Of Cleansers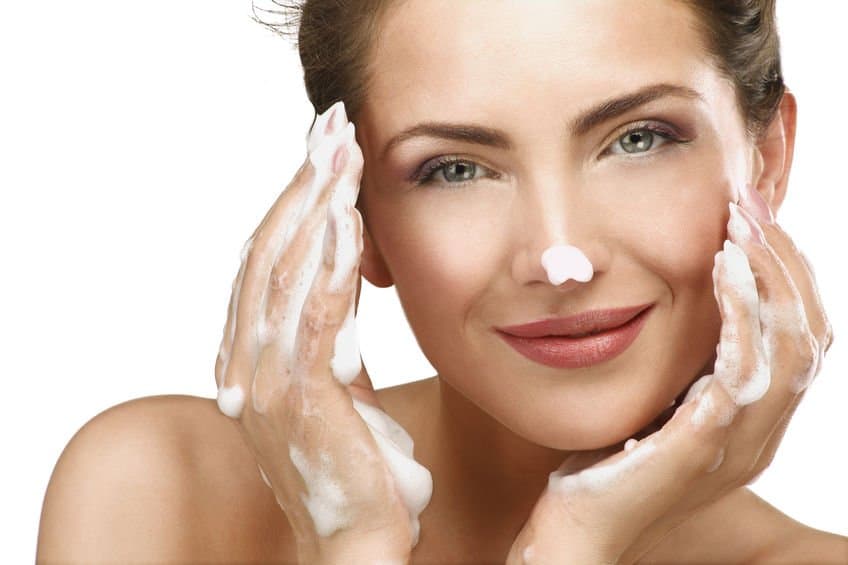 1. Rinse free cleansers
Cleansing milk/lotion: As the name suggests, this formulation has a lotion like consistency and is applied as such. Cleansing milk or lotion has to be massaged all over the skin and then wiped off with damp cotton wool. The idea is that the fluid component of the emulsion helps to remove dirt and pollutants that are water soluble, while the oil in the formula dissolves grime and sebum.
The advantage of using cleansing milk is that it works as a cleanser and a makeup remover and is exceptionally useful when you are using waterproof makeup. It is gentle on the skin and particularly well suited for those with dry skin. The creamy consistency of this product cleanses the skin while moisturizing it. Cleansing lotions keep the top layer of the skin intact, which is a huge plus.
Micellar water: This is among the latest breed of cleansing products. A water based formulation with oil molecules suspended in it, the product is both gentle and effective. These products are exceptionally well suited for sensitive and problematic skin as they do not dry out the dermal layers nor do they supply too much moisture.
Cleansing waters have long been a rage in Europe but have only recently hit American and Australian shores. The biggest advantage of using this type of cleanser is that it triples up as a toner and hydrating mist along with being a cleanser.
To use, you only have to apply it with cotton wool or spray it all over the face and wipe it off gently with some cotton ball. The science behind the product is that the micellars trap the dirt and toxins while the water helps to remove dust and makes it easier to clean the surface of the skin.
Cleansing oil: The idea of using oil for cleansing the skin may seem radical but it is a tried and tested technique that has survived in the skincare industry. These products look like regular oil and have to be used as you would any moisturizer. You simply massage your skin with it and then wipe off the dirt and toxin mixed residue with damp or dry cotton wool/cloth.
Cleansing oils work very well on dry and mature skin as they not only remove the accumulation of grime and sebum but also help to fortify the protective barrier of the skin. Moreover, these products help to moisturize the dermal layers and regulate the secretion of sebum.
2. Foaming cleansers
Gel based cleansers: These are the old boys on the block, but they still work just as hard and well. The idea is simple, the foam generated is used to gently lift the dirt, makeup and oil from the surface of the skin. Because they contain some amount of soap/detergent, they are not suitable for those with dry to very dry skin but offer excellent results when used on very oily and acne prone skin.
Most gel based cleansers available these days boasts of a refreshing and cooling formula that contains herbal extracts and nutrients that help to clarify the skin and make it healthy. Using a gel based cleanser is both easy and convenient; all you have to do is rub the gel with a few drops of water in the palms of your hand till you get a foam. This should be applied on the skin and rinsed off.
Gentle cleansers: Call this an innovation based on an old technique. Like gel based cleansers, these formulations also contain some amount of detergent but generally these products contain natural soap and a lot of plant based ingredients that soothe inflammation and prevent allergic reactions.
These cleansers are particularly made to tend to the requirements of those with dry, sensitive and ageing skin. Gentle cleansers help to remove all unwanted substances while keeping the lipid barrier and the acid mantle of the skin intact. They are to be used just like regular gel based cleansers.
Exfoliating Cleanser: These products are simply foaming cleaners with exfoliating ingredients in them. The exfoliating element can be natural or man-made such as the notorious exfoliating beads. Regardless of the exfoliant used, these cleansers are formulated to scrub off dead cellular matter from the surface of the skin.
These formulations clarify the skin, giving it a more radiant look and help to prevent blackhead and blemishes. Moreover, exfoliating cleansers enhance cellular regeneration rates, which helps to tighten the skin. These cleansers are time-savers as they help to eliminate one step from the skincare regimen.
3. Rinse required, non-foaming cleansers
Cleansing mask: This is again a new age formulation that works in a multitude of ways. The product is pasty and is supposed to be applied like any other face mask. The formulation is typically clay based and includes active ingredients such as charcoal and botanicals which help to draw out impurities and the grime trapped deep inside the pores.
In terms of time, you will spend no less than 15-20 minutes working with this product. You will have to apply it all over your face and let it stay on your skin for a while then wash it off. However, the advantage is that cleansing masks work as cleaning agents, toners, firming masks and antioxidant preparations. Talk about greater value for both money and time!
How To Use A Cleanser?
Step 1:
With a foaming cleanser, take a dime sized dollop of the formulation and add a few drops of water to it to activate the product. Rub the mixture in between your palms till you see it foaming, then spread it all over your face and neck, including the area around the eyes.
Step 2:
Massage the gel/foam all over your skin, using circular and upward strokes. Pay special attention to problem prone and oily areas like the T-zone.
Step 3:
Wash the cleanser off your skin using tepid or regular water. Make sure you get all the soap off.
Step 4:
Pat your skin dry with a soft, clean towel and go to the next step of your skin are routine.
Note: Even if you are using a foaming cleanser meant for oily and acne prone skin, do not expect a squeaky clean feel. In fact, if that is how your skin feels after cleansing, the product is simply too harsh for your face.
Step 1:
If you are using cleansing milk or lotions or cleansing oils, take a generous amount in between your palms and apply all over your face and neck till your skin feels slick.
Step 2:
Massage the formulation on your face for 2-3 minutes using upward strokes.
Step 3:
Wipe the oil off with damp cotton wool, preferably soaked in warm water or warm tea and squeezed dry. You can also use a warm wash cloth instead of cotton wool.
Step 4:
For deep cleansing, keep the warm wash cloth (soaked in warm water or warmed by keeping in the microwave for a few seconds) on your skin for about 30 seconds and then wipe the oily grime off of your face.
Note: Use fresh cotton wool or the other side of the wash cloth after the first swipe all over the face. Don't rub the dirt back on your skin.
Micellar water or cleansing water should be taken on a cotton pad, a few drops should suffice. Wipe your skin off gently using the soaked pad and that is all there is to it. Similarly, cleansing masks have to be applied and kept on till they reach a semi-dry state, then rinse your skin off.
How Often Should You Use A Cleanser?
Although cleansing is vital for skin health, you can overdo it. In fact, over cleansing is often the root cause of dermal dryness. Here is a thumb rule, if you have oily and acne prone skin, cleanse twice a day and after workout.
If you have normal or combination skin, you can use a mix of products such as a foaming cleanser in the evening and cleansing milk or micellar water in the morning, when you are not really dealing with pollutants and dirt.
For those with sensitive skin, cleansing should be limited to once a day. Along the same lines, if you have mature/ageing or dry skin, oil based cleansers can be used twice a day but foam or water based cleansers should be used just once a day.
What Is The Impact Of Cleansing Done Right?
Cleansing helps you to get more from your skincare routine. It helps to unclog the pores and pulls out toxins from within the dermal layers and cells. It also fortifies the skin's protective barrier making it resilient to oxidative stress.
Well cleansed skin will be healthy and glowing. It will feel supple and soft and will have improved elasticity. Cleansers also help to reduce the frequency of acne bouts and make the skin look brighter and clearer. If you are use the right cleanser, you will get all of these without tautness or dryness.
Recommended Natural Cleansing Lotion
The all-natural L'orpur "Gentle Cleansing Lotion" Cleanser contains organic oils (seabuckthorn oil, etc.) and herbal extracts specifically developed for all skin types including sensitive skin. Click here to read more information about L'orpur Cleansing Lotion.