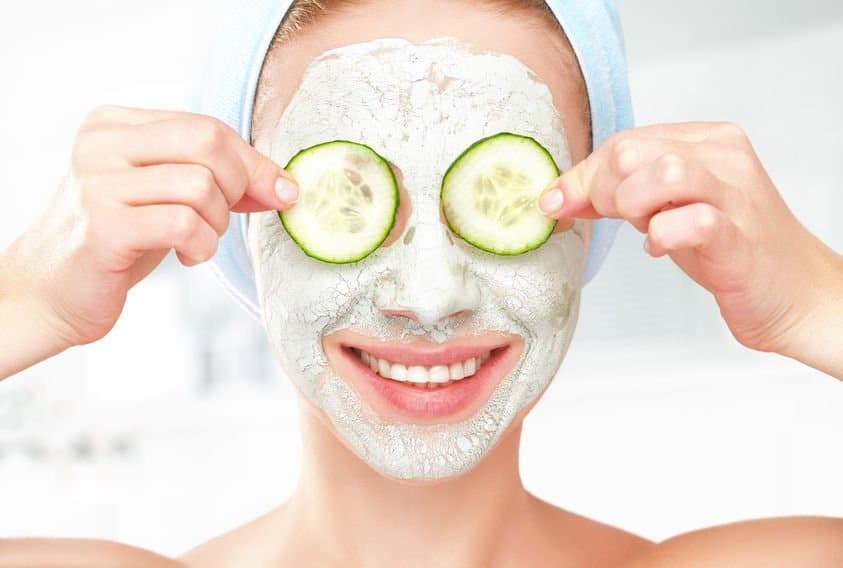 Few skincare products have enjoyed the loyal commercial and retail following as face masks have and that too while evolving constantly. From high street salons to humble homes, masks are the in-thing when it comes to skincare. In fact, the sheer popularity of these products is often enough to silence any doubts about them and propel buyers into reaching for these formulations.
But, the problem starts when you browse through the range of offerings in this category. I promise, I am not exaggerating when I say there are literally hundreds of masks out there for every skin type and problem.
In fact, so vast is the range of face masks that most people are left utterly bewildered and end up picking a product just because it is currently in trend, without pausing to ponder over its effects. If you have used a face mask before but were not pleased with the results or are in the market for one, read this before fishing out your credit card to make your purchase.
What Are Face Masks And What Are They Meant To Do?
I like to think of face masks as my SOS (Save Our Skin) treatments. They are a tried and tested technique and one that even the professionals swear by. If I were to discuss the science involved, I'd say, "You are basically soaking your skin in healing and soothing nutrients found in various natural ingredients".
In terms of what face masks can accomplish – well, the sky is the limit! Take your pick, from anti-aging to soothing and from cleansing to hydrating, face masks can do it all and more. Use the right product in the right way and at the right time and a face mask will draw out impurities from your skin cells and pores, tighten your skin, clear blemishes, hydrate the dermal layers and leave you with a dewy soft and glowing complexion. Now, that is what I like to call my very own skincare genie.
Above all, who among us does not crave some me-time? With a face mask, you get to spend 20 minutes doing absolutely nothing. It is your very own spa treatment done at home and at a fraction of the cost of a professional facial.
The 6 Different Types Of Face Masks?
As far as classification goes, face masks can be categorized on the basis of what they do as well as what they are made of.
1. Cleansing clays
These pasty preparations usually combine natural clays and muds and botanical ingredients. As a result, your skin gets essential vitamins, minerals, antioxidant compounds and a lot more. The best part is that while the mud/clay dries, it pulls out toxins, dirt and sebum trapped inside the skin cells. So, the nutrient and mineral buffet is opened up for the healthy dermal cells and not the gunk on the surface of the skin.
2. Exfoliating peels
These products are formulated to remove dead cells from the skin and to achieve this, makers use glue-like (notice not glue) substances that dry on the skin and can literally be peeled off as if you were moulting. Another way used is the inclusion of fruit/natural acids (alpha or beta hydroxy) which dissolve the cellular debris. While peel off masks help to clean the pores and remove blackheads, chemical peels aid in boosting cellular regeneration.
3. Hydrating fruits and veggies
Fruits and veggies are just as good for your skin as they are for the rest of the body. So, you will often find extracts of natural produce used in face masks. Like clay/mud packs, these masks have to be washed off a couple of minutes after application.
4. Moisturizing sheets
These are gifts from South Korea to the rest of the world. A mask in the literal sense of the term, you end up covering your face with a cloth mask that is soaked in a mixture of various active ingredients. Unlike other face masks, you don't have to wash these preparations off. Instead, you simply remove the fabric mask from your face and rub, what remains of the mixture, on your skin.
5. Deep cleansing magnets
You actually get to clean these masks with a magnet! Do they actually clean better than the old world clay masks? Well, the jury is still out on that, but how neat is it to roll up a magnet or tool the makers of the product provide in a piece of fabric and then watch the dried mixture on your face stick to it like magic?
6. Super nourishing overnights
These formulations again don't have to be washed off after a few minutes like traditional masks. Usually oil based, they soothe and repair the skin as you sleep.
These are just a few of the face masks available in the market today. There are many more like thermal masks, gel masks, oil masks and others.
Picking A Face Mask For Your Skin Type!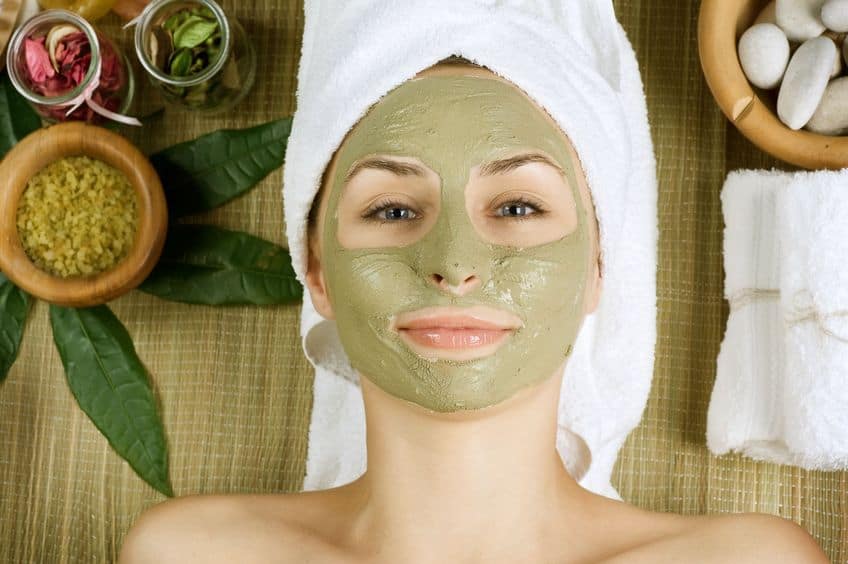 Normal and combination skin
Peel off masks and sheet masks work well on both normal and combination skin as they help to treat blackheads and whiteheads, regulate sebum secretion, cleanse and hydrate the skin and generally leave you with a more radiant complexion.
Dry skin
Soothing and moisturizing sheet masks as well as overnight masks work well for dry skin as they plump up the dermal cells with hydration and then leave a protective layer of lipids on the skin.
Oily skin
Clay masks, peel off masks and hydrating fruit and veggie masks help to tackle the problem of excess sebum without the need for physical scrubbing.
Acne prone skin
For those with a persistent pimple problem, cleansing and hydrating masks that contain fruit extracts, antioxidants or activated charcoal work exceptionally well.
Sensitive skin
Soothing gel masks that include aloe gel, rose petal powder, algae extract and herbal powders provide a cooling and healing touch.
Mature skin
Masks that contain fruit acids and enzymes or retinoids can work wonders on mature skin as they improve cellular regeneration rates. Sheet masks and overnight masks are particularly beneficial for aging skin.
The 2 all-natural L'orpur Face Masks "Hydrating Boost Face Mask" and "Nutrient-Rich Fruit Face Mask" contain Collagen, organic oils (seabuckthorn oil, etc.) and herbal extracts specifically developed for All Skin Types and All Skin Types/Sensitive skin respectively.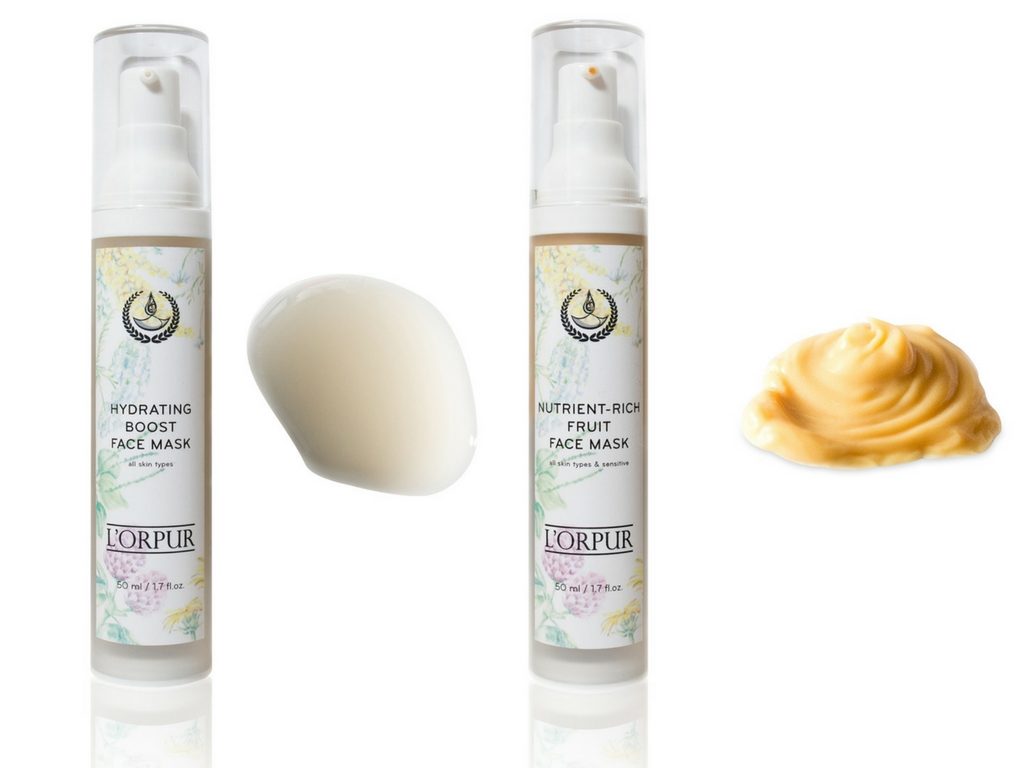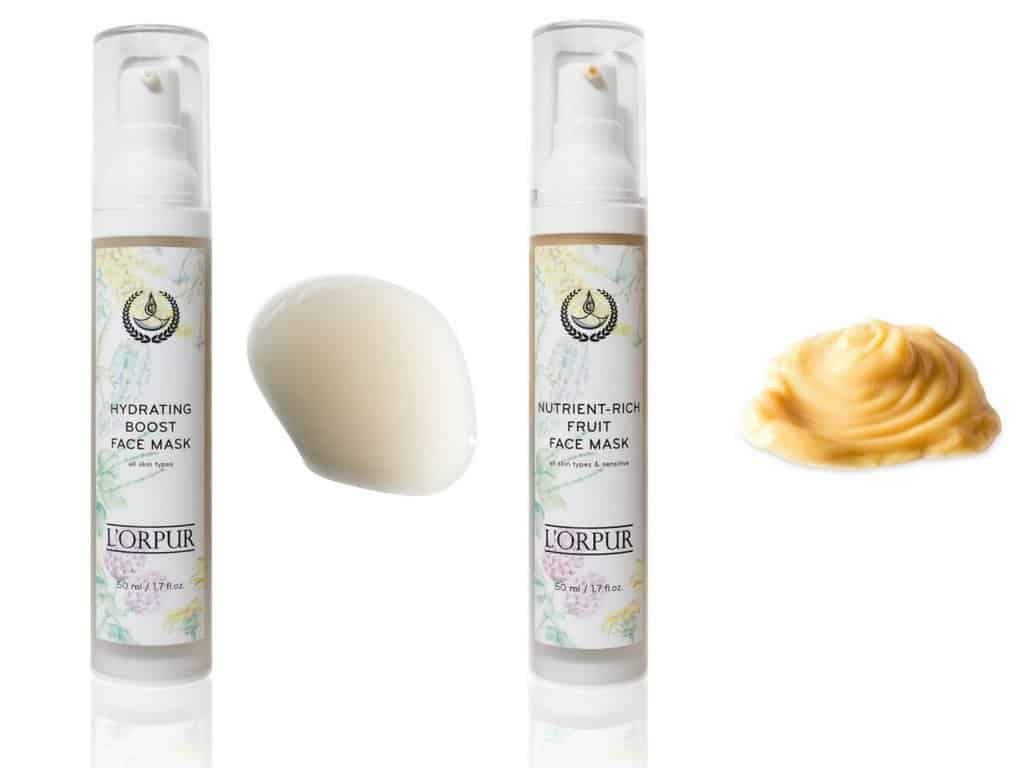 Do You Really Need Dozens Of Different Types Of Face Masks?
You can certainly make do with one product. But, mask bingeing is a thing, so don't say I did not tell you about this. In case you are wondering what is a multi-mask treatment aka mask bingeing; well it is just a form of skin treatment in which you get to use 3 face masks one after the other.
No! You are not going to layer them one on top of the other. You wash off each and go for the next. The one thing about masks is that they offer visible result in a matter of 15-20 minutes. So, when your skin is screaming for urgent attention and you have more than one dermal problem to deal with, mask bingeing may be the solution you need.
The idea is to make a list of all your skin concerns and then pick 3 of the most pressing problems you have. Then, you choose 3 face masks that can be used to combat these issues and apply them on your skin one after the other. For instance:
If you have combination skin: Go for a cleansing, brightening and moisturizing masks.
If you have normal skin: Pick an exfoliating, an antioxidant and a moisturizing mask
If you have oily skin: Use a charcoal based deep cleansing mask along with an anti-blemish or anti-pimple preparation and an oil balancing clay plus fruit mask.
If you have dry skin: Tackle the dead cells with a peel off/exfoliating mask and then follow with a glow enhancing and a moisturizing mask.
If you have sensitive skin: Pick soothing, antioxidant and nourishing masks
If you have mature skin: Combine a fruit acid or enzyme mask with an antioxidant and vitamin mask and end the treatment with a moisturizing overnight or sheet mask.
How To Use Face Masks?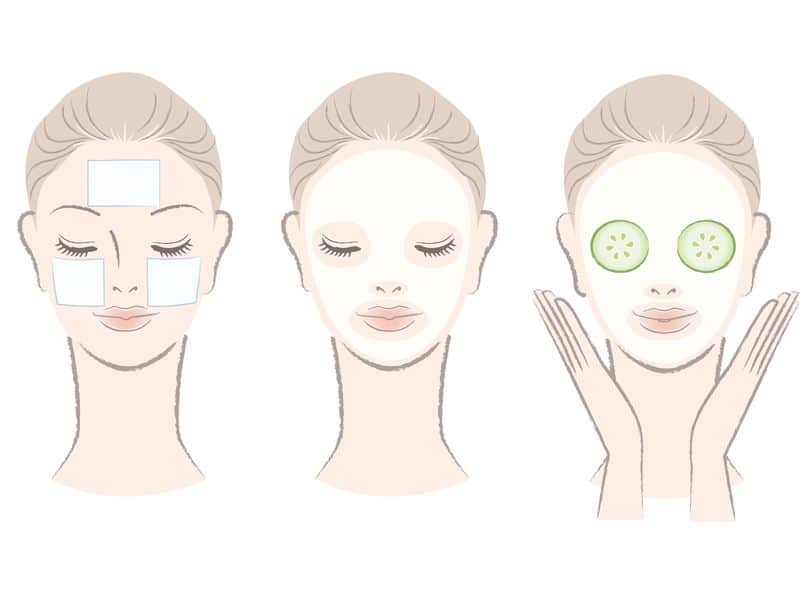 Step 1:
Always use your face mask on clean skin. If you are not using an acidic peel or a peel off mask, also exfoliate beforehand.
Step 2:
Pat your skin dry and apply the mask in a medium thick or thick layer as instructed.
Step 3:
Keep the mask on for precisely the amount of time recommended by the manufacturer. While the mask is on your face, regardless of the type of product used, do not move your facial muscles.
Step 4:
Wash the mask off or remove as instructed. Do not forget to wash off remaining peel off and other types of masks from your face. In other words, your face should be clean after the mask treatment just as it was before it. If using a sheet mask, throw away the cloth mask and massage what remains of the formulation into your skin.
Step 5:
Unless an acidic product has been used, it is essential to apply a toner after the mask treatment.
Step 6:
Also, you will need to moisturize your skin after the mask treatment.
Tips For Buying, Using And Storing Face Masks!
Masks, particularly paste-like formulations offered in jars, are best stored under refrigeration.
When using clay/mud masks, do not let these dry on your face completely. Instead, keep these products on your skin for the instructed amount of time and then wash them off, whether they are completely dry or not.
Peel off masks can be taken off in bits and pieces. Really, there is no compulsion to take the rubbery mask off your face all at once and scratch your skin when trying to accomplish this impossible feat.
Keep face masks away from the hairline, the eyebrows and the area around the eyes.
If there is any change in the color, texture or the smell of the product, it has likely gone bad.
Face masks can be used one to three times a week.
Acidic/fruit enzyme or acid peel face masks can cause some amount of redness. Also, given the inclusion of extremely potent and strong ingredients in these formulations, it is quintessential that you stick to the recommended application time.
Do not use acidic masks right before heading out in the sun. In fact, refrain from sun exposure for at least 12 hours after such treatments.
Anything I did not cover or you have any question, simply hit me with an email and I'll personally reply.