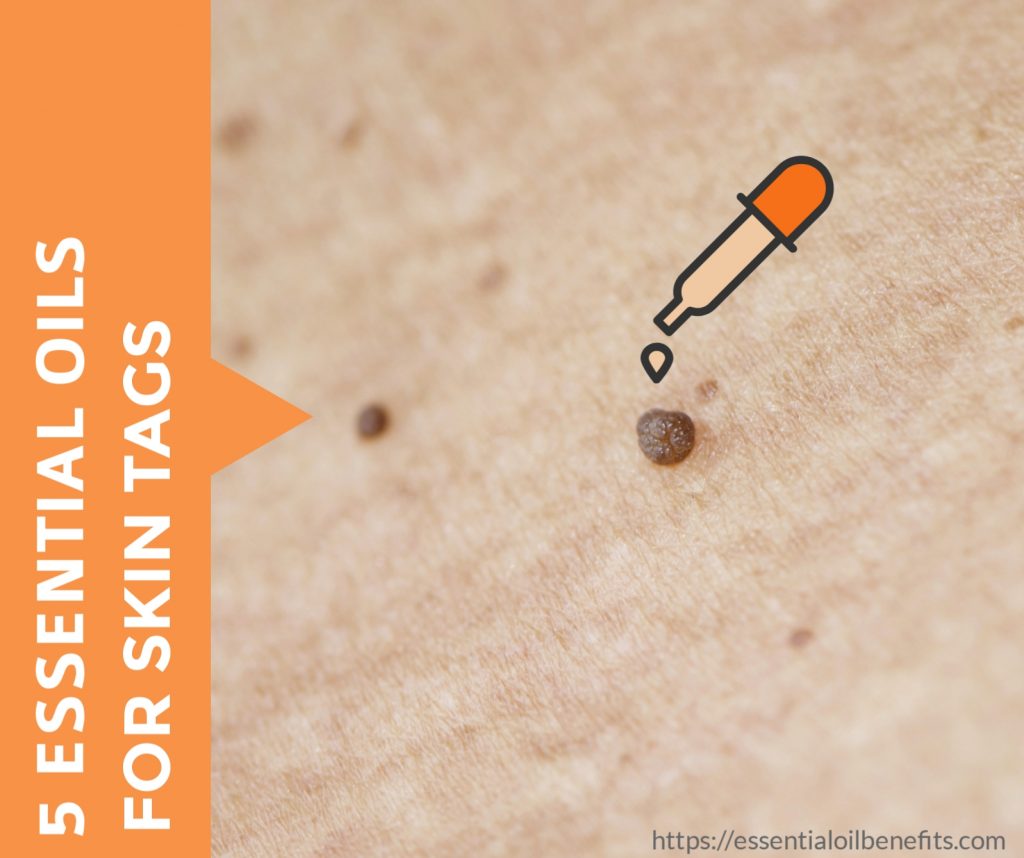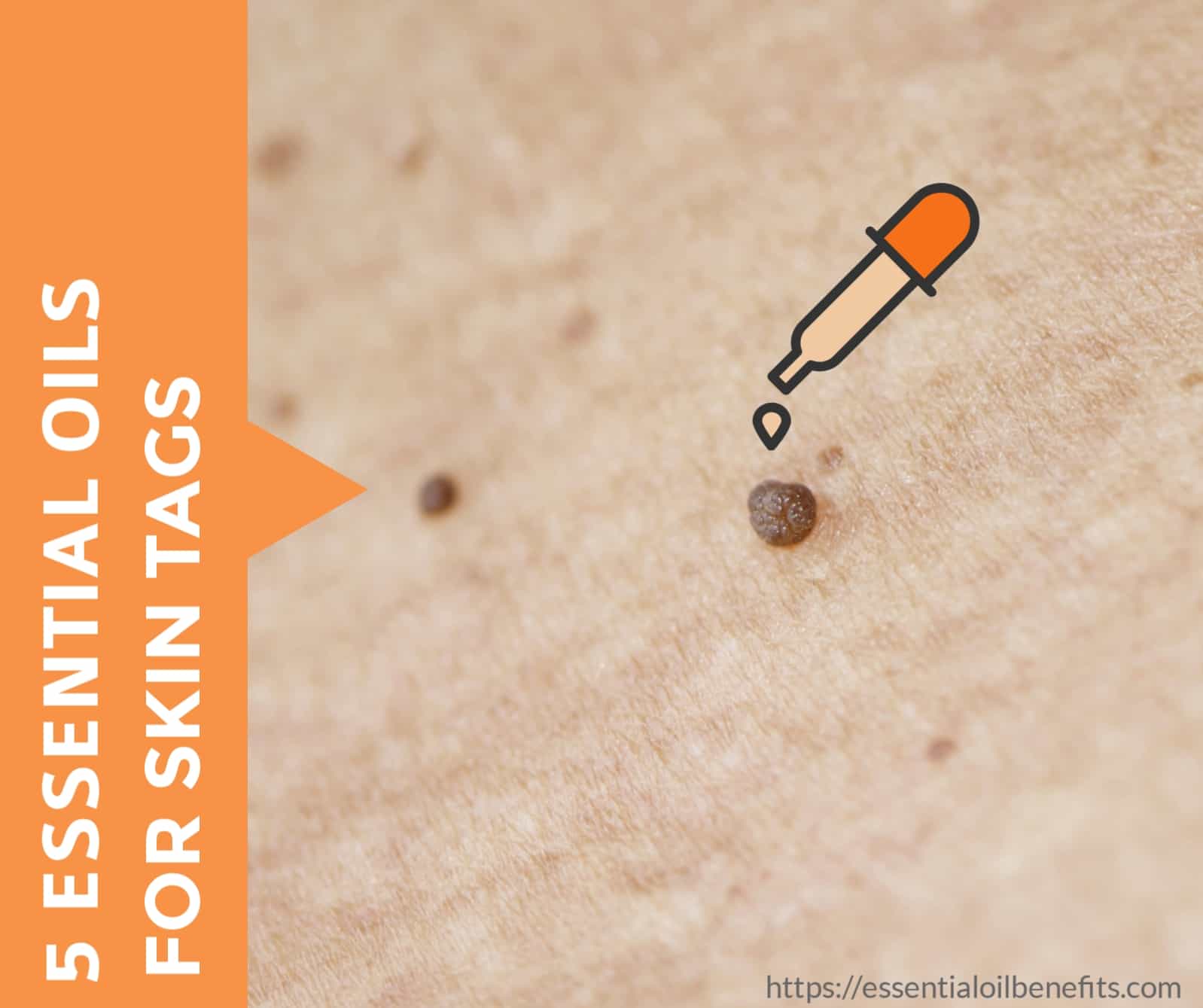 Skin tag, also referred to as a skin papilloma, polyp fibro and fibroid mollusk, is a small piece of skin suspended from a root attached to the main skin. Skin tags can appear anywhere on the body surface, but generally they are found in areas where one part of skin is likely to rub against the other, such as eyelids, armpits, neck, under the groin and chest.
What Causes Skin Tags?
Skin tags are benign tumors of the skin that are often asymptomatic. In most cases, they are the groups of blood vessels trapped in thicker pieces of skin due to one part of skin rubbing against the other.
Role Of Essential Oils In Getting Rid Of Conditions Like Skin Tags
When it comes to skin tags removal, essential oils are a healthier alternative to chemical laden OTC drugs. The small molecules of essential oils can easily permeate through your skin and reach the circulatory system. This unique ability allows them to bring about real change in the body and skin. Different oils do different things for your skin but the best outcome is obtained by using blends of essential oils that complement each other to fulfill the requirements of the skin of an individual.
Having said that, here are some of the best essential oils you can use to remove skin tags easily and comfortably.
Facts About Skin Tags
The two images below show 17 facts about skin tags.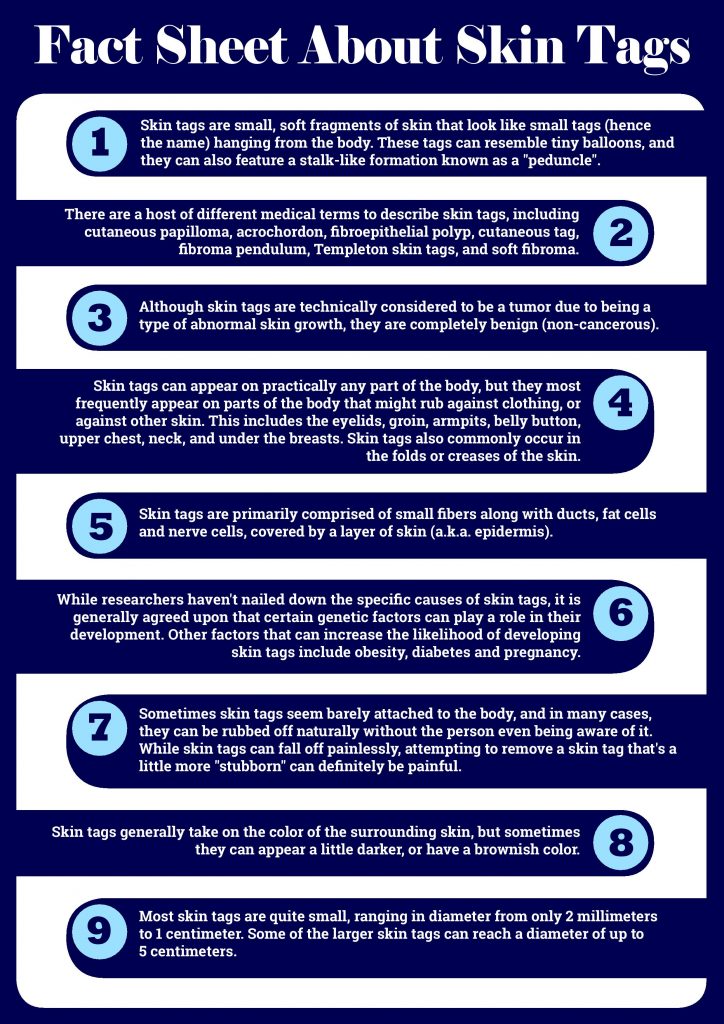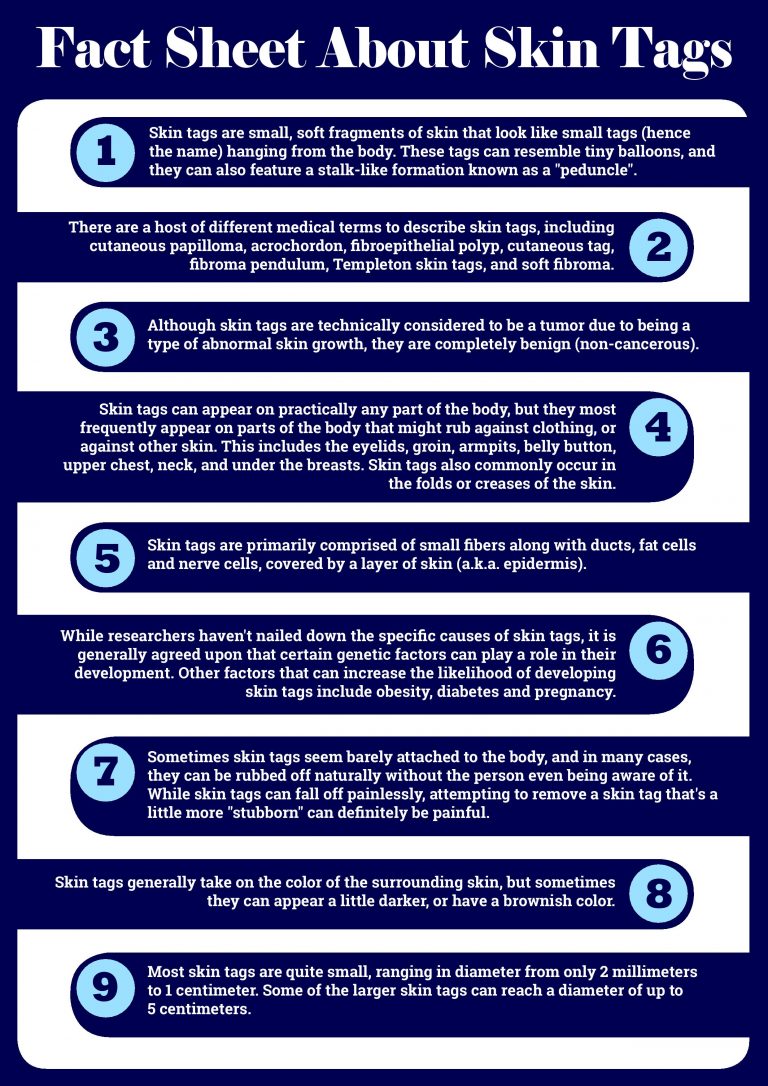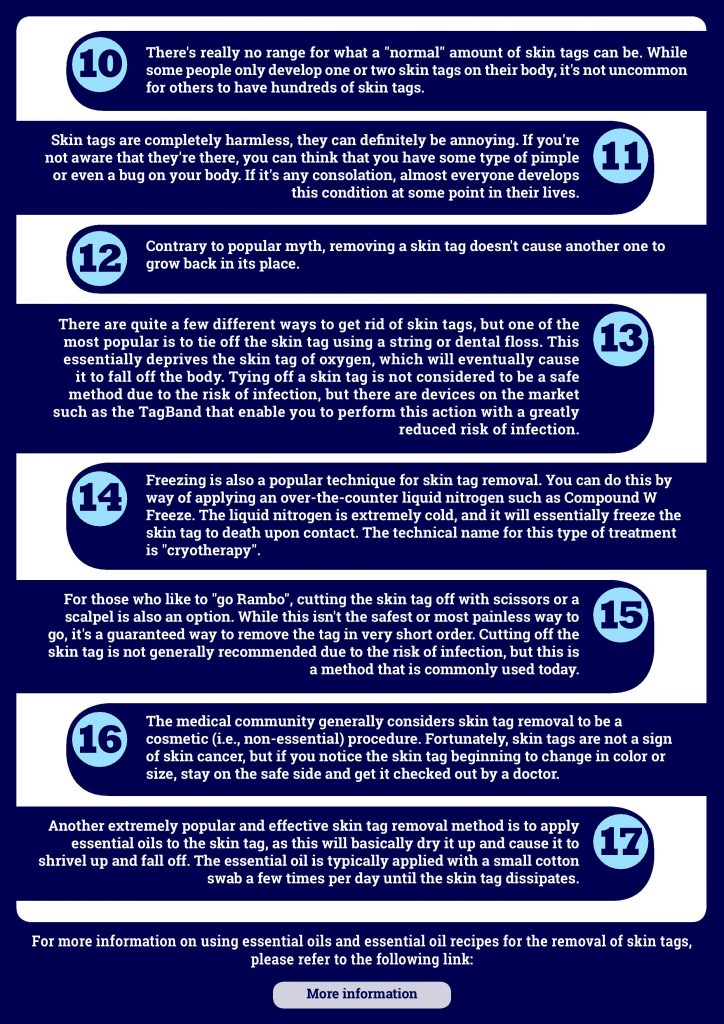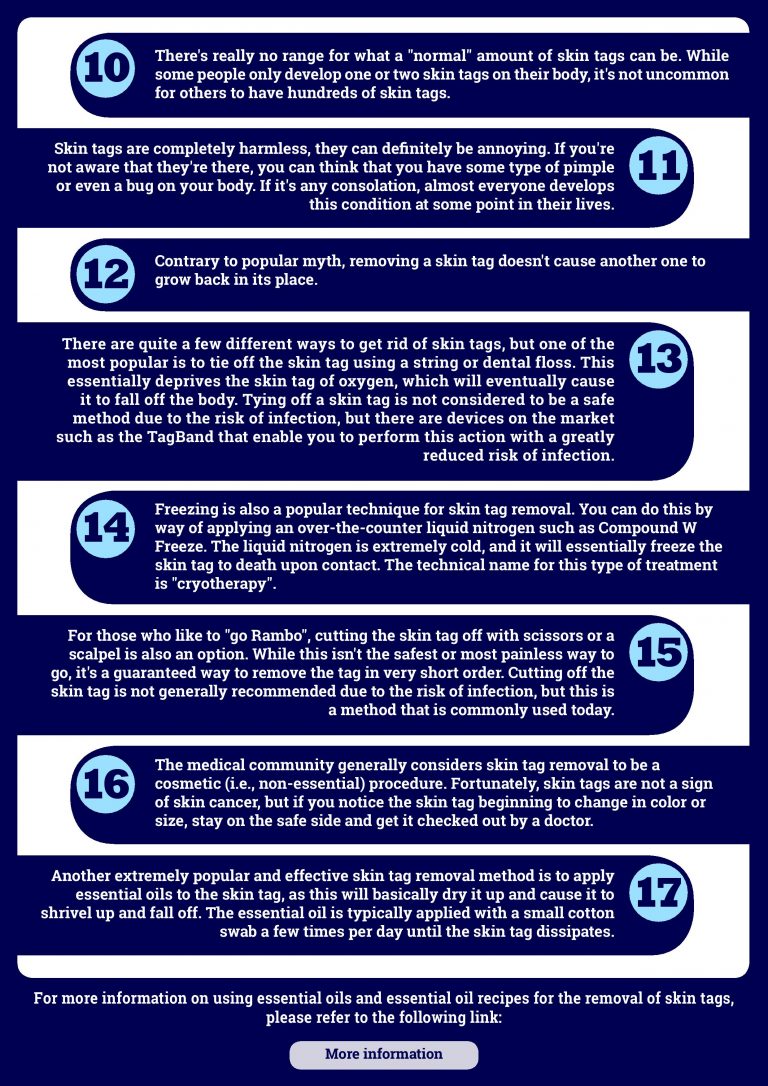 5 Best Essential Oils for Skin Tags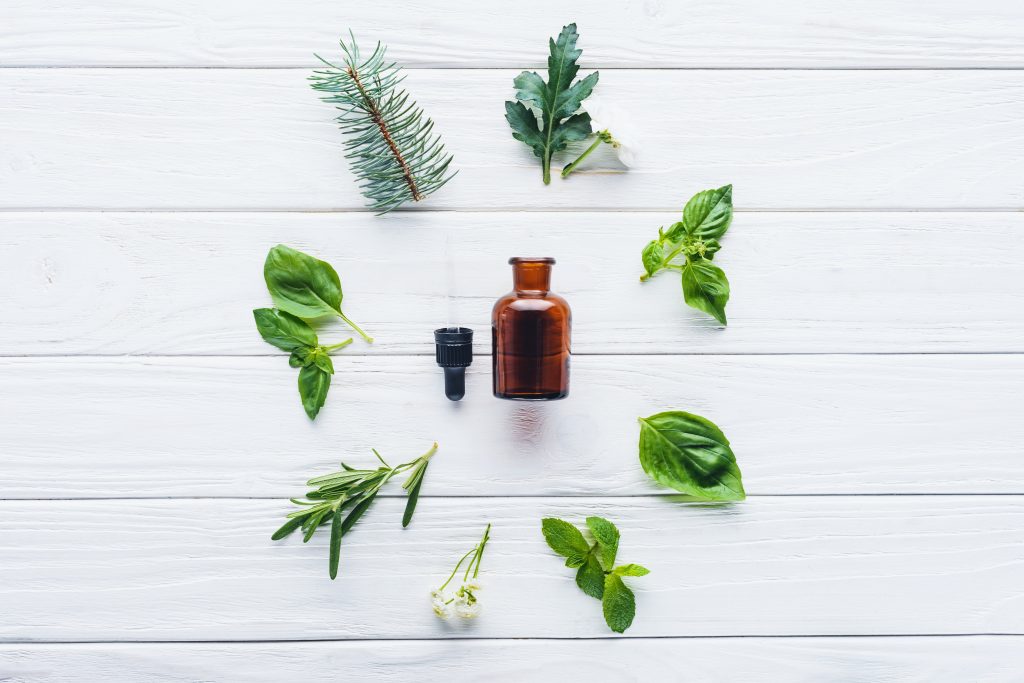 1. Oregano Oil
Oregano essential oil has strong antibacterial properties due to the presence of phenolic acid in it. Phenolic acid is a potent anti-inflammatory, antibacterial, antioxidant, anti-spasmodic, antimelanomic and anti-septic. Oregano can heal your skin within 2-4 weeks. However, in many cases, it takes about two months for the skin tags to be removed, depending on how your skin tags react to the oil. Here is a simple oregano oil recipe I often use to help my skin get rid of the skin tags:
Ingredients
Coconut oil 5-7 drops
Oregano oil 3-4 drops
Directions
Mix the oregano oil with carrier oil, which is coconut oil in this case. Apply the blend on your skin tags at least three times a day. You can see the color of skin tags changing on a daily basis. Initially they will turn dark purple and gradually they will turn dark red just before dropping off from your skin.
Few precautions to keep in mind when using the essential oil of Oregano:
Do not apply undiluted oregano oil or you will get red mark on your skin around the skin tag.
Do not try to use this remedy for skin tags on the eyelid. The eyes are very sensitive organs. Visit your doctor to get rid of any skin problem there.
2. Tea Tree Oil
The essential oil of tea tree offers the simplest and painless remedy for skin tags. Your skin tags are living skin tissues that have moisture inside. In the absence of this moisture, they will dry out and fall. The use of tea tree oil dries out the water content in the tags, which ultimately makes the skin dead causing them to fall. Here is how to use tea tree oil for easy removal of skin tags:
Ingredients
Directions
Clean your skin tag
Soak a cotton ball in clean water.
Remove the cotton ball and drain out the excess water. Do not over squeeze.
Pour the tea tree oil drops over the cotton ball that is wet. Thereafter, rub this cotton ball over the skin tag and gently massage the area. Do this three times per day.
Few precautions to keep in mind when using tea tree oil for skin tag removal:
Although we are using wet cotton ball that would dilute the tea tree oil to some extent, the dilution may not be sufficient for a hypersensitive skin. Consider diluting the tea tree oil with an equal amount of water before applying to skin tags.
Do not ingest tea tree oil. It may be toxic and may cause diarrhea, drowsiness and vomiting. Consult your doctor immediately if you accidentally ingest the oil.
3. Castor Oil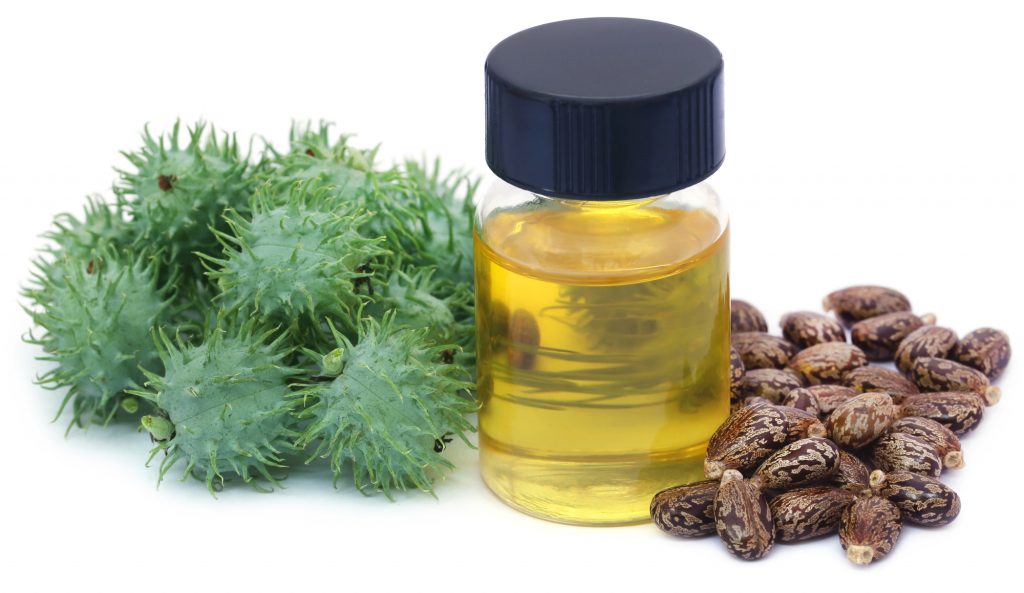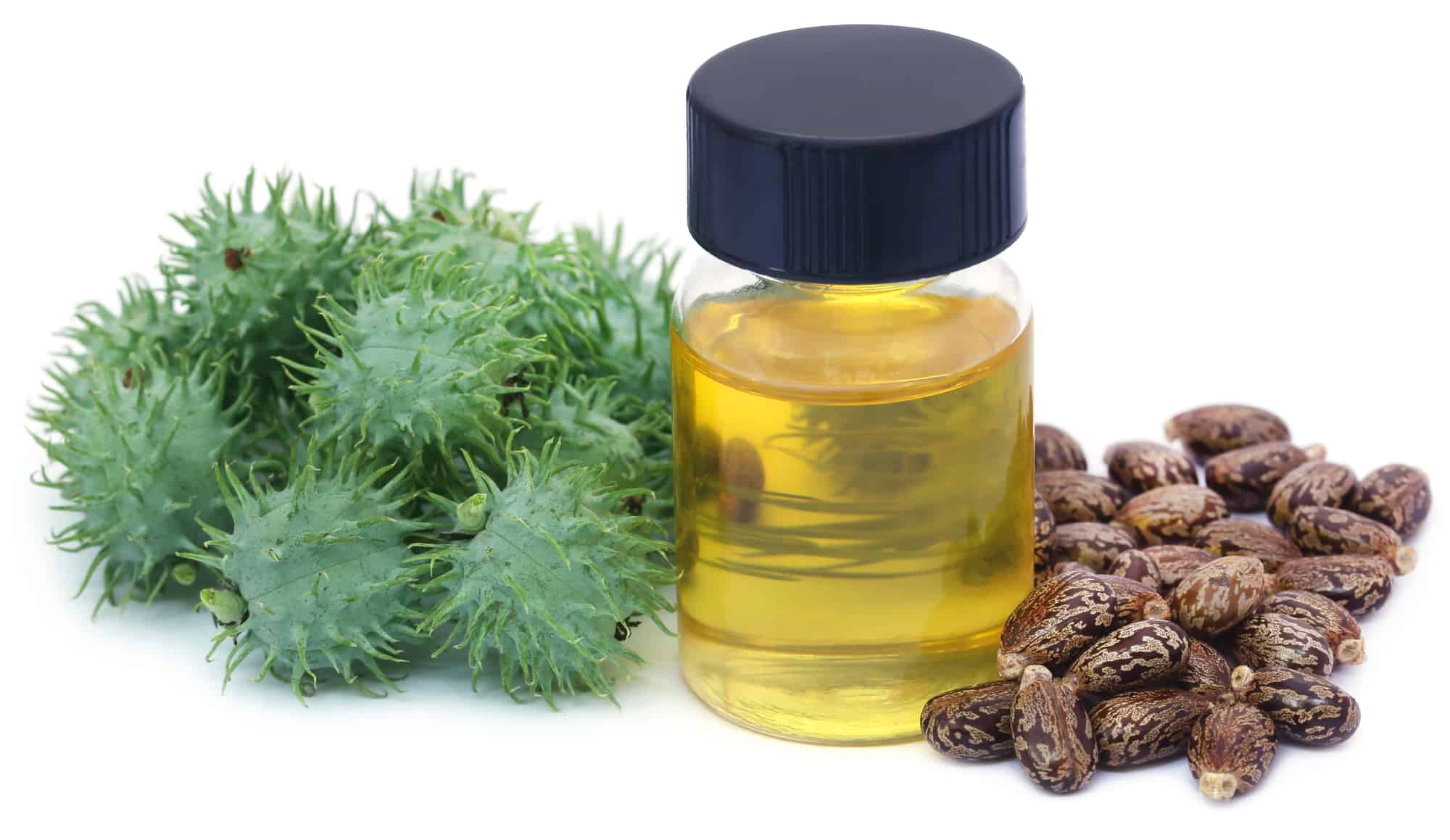 Castor oil had been the favorite of my grandmother. She always knew how castor oil is beneficial to health! The best thing about castor oil is that you do not have to take it internally. You can apply this oil from outside on your skin tags. You can use castor oil alone or combine it with other ingredients for quick results. Here are few of the ways you can use castor oil for sustainable results.
Method 1 – Just rub it
This is the easiest way. Not less than 5 times a day, just rub castor oil on your skin tags.
Method 2 – Baking soda paste
Mix castor oil with baking soda to make a thick paste. Now apply this paste on your skin tags and wrap it with a bandage. Follow the same process every night before going to bed. In the morning, have a bath with warm water to clean yourself properly. Follow the same process for about 10 days so that the skin tags fall off your skin.
Mix castor oil with a few drops of extract of Lomatium plant and apply it on your skin tags. Do this 2-3 times a day. Mixed with Lomatium, castor oil will work faster and you will get rid of these marks sooner than expected.
4. Frankincense Essential Oil
The essential oil of Frankincense can help you get rid of skin tags quickly. With its anti-infective, anti-inflammatory and antiseptic properties, this oil is a well-known tonic for the skin. Make sure to mix frankincense with a base oil such as olive or sweet almond oil. In addition, this oil will cause a slight burning sensation on the skin. So, be prepared for it. Apply this oil directly using a Q-tip on a daily basis until you have your skin tags removed.
Here are few things to keep in mind when using Frankincense for skin tag removal:
Make sure that what you are buying is therapeutic grade essential oil, and not the one that is low in quality. Buy it online or get it from a health store.
Some people believe that undiluted Frankincense is too harsh for the skin while I feel it goes well with my skin. If you think undiluted frankincense is too powerful for you, dilute it with castor oil.
5. Rose Hip Seed Oil
Rosehip is another fantastic oil you can use for skin tags removal. Because it is rich in essential fatty acid and vitamin C – both are healing and nourishing for the skin, this oil is often used for general skin care.
You can use the Rosehip seed oil by mixing 1 tablespoon of rose hip oil with a teaspoon of essential oil of sage, and applying one or two drops of the blend over the skin tags several times a day until the skin tag falls.
6 Best Essential Oil Recipes For Skin Tags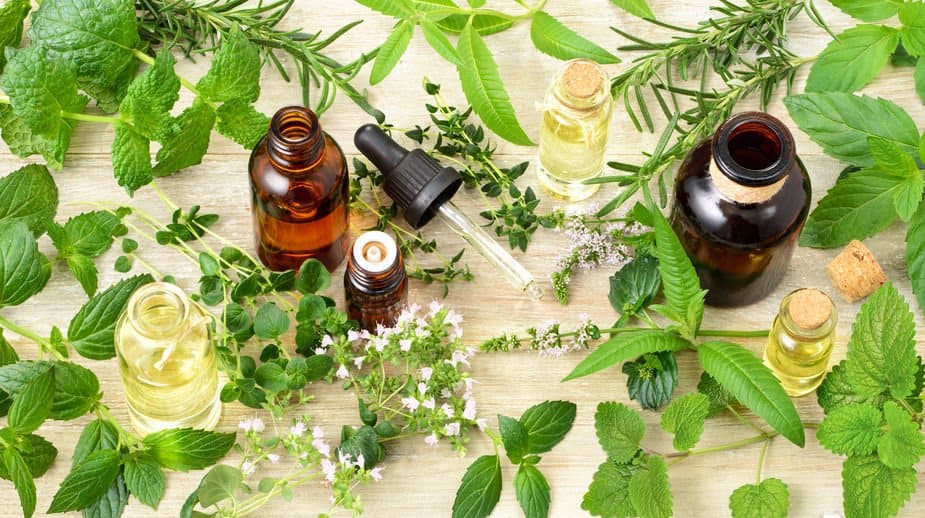 Recipe 1: CocoGano Skin Tag Blend
Ingredients
7 drops Oregano essential oil
2 tsp Fractionated Coconut oil
Method
Combine your Oregano essential oil with the coconut and mix them thoroughly. Oregano has been proven to contain incredibly potent medical properties due to the presence of phenolic acid which displays strong antioxidant, antibacterial, anti-spasmodic, antiseptic and antimelanomic properties that all contribute to the healing of skin within weeks.
Applying the CocoGano blend on your skin tags at least thrice a day should help clear them right up. You'll notice the color of the skin tags darkening on a daily basis and turning red right before dropping off from your skin. A few precautions to observe when using this recipe include not using undiluted Oregano on your skin since this can cause red marks.
Recipe 2: Handy Tea Tree Tag-Off
Ingredients
5 drops Tea Tree essential oil
Cotton ball
Distilled water
Method
If you're looking for a clean, simple and painless way of clearing your skin of tags, Tea Tree essential oil might be of help. Remember that skin tags are mostly living tissue with moisture inside. So instead of trying to attach the tag, why not just dry it from the inside out? Tea Tree oil works by drying out the tag which in turn makes the tissue dead and ultimately, the tag falls off all on its own.
Here's how to use your tea tree oil. Start by cleaning out the skin tag as well as the area around it. Soak a generously sized cotton ball in clean water and then squeeze it a bit to drain the excess water. Add in the Tea Tree oil drop by drop over your now wet cotton ball and rub it over the skin tag. Do this three times a day and the tag should come off in two to three weeks. And be sure to dilute the Tea Tree EO in some almond oil (3-4 drops in 1 tsp) if you have sensitive skin.
Recipe 3: Frankincense Frankenstein Skin Tonic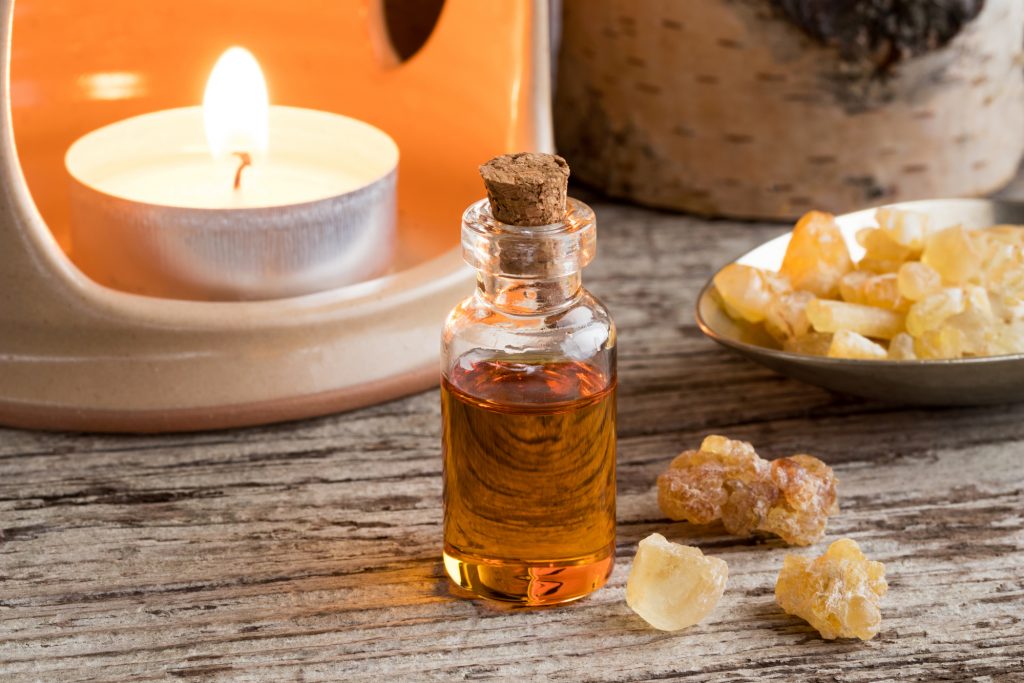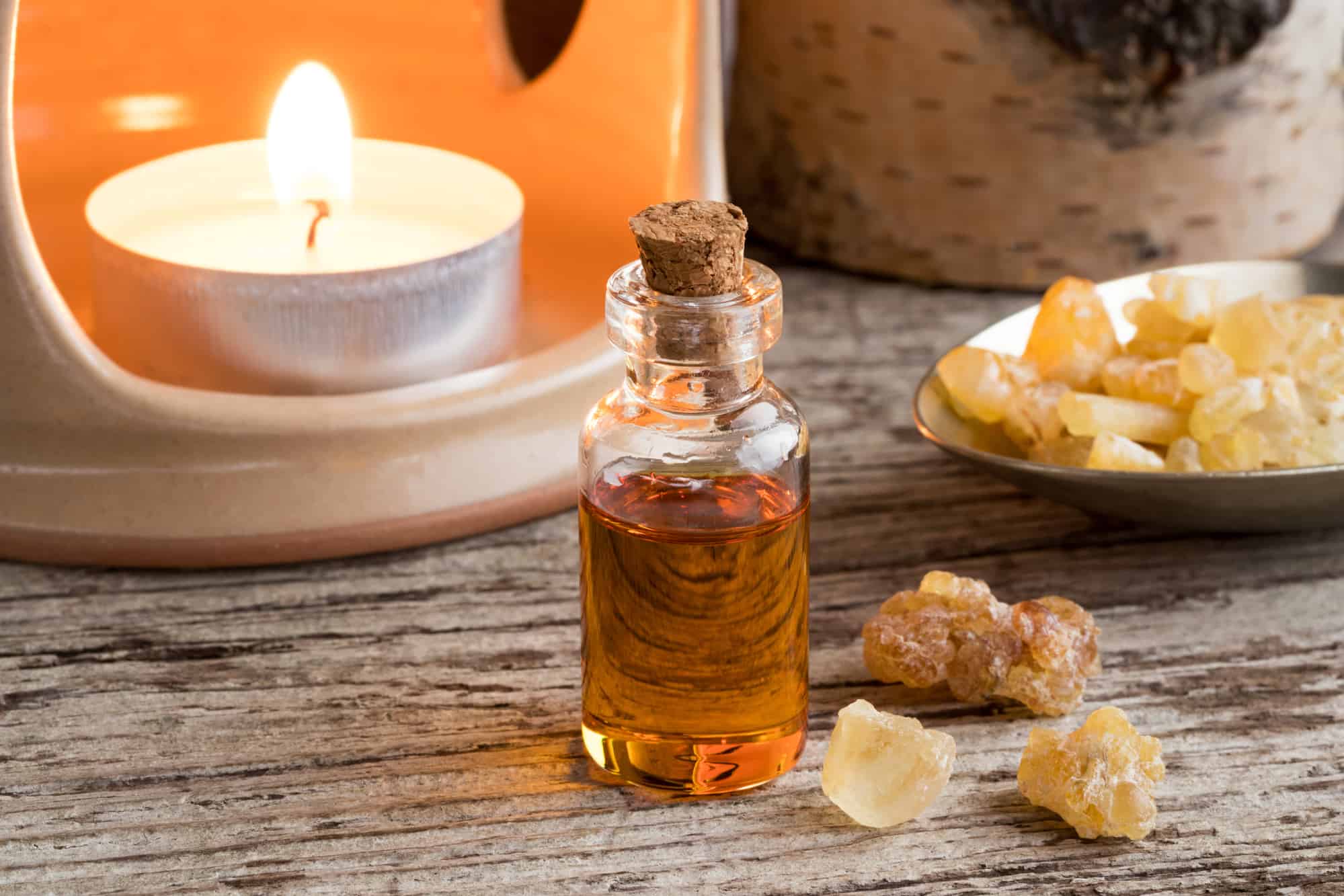 Ingredients
4 drops Frankincense Essential Oil
Teaspoon of Sweet Almond Oil
Q-tip
Method
Packed with anti-inflammatory, antiseptic, and antifungal properties, Frankincense EO has been used as a skin tonic for centuries. That's why it comes highly recommended for clearing skin tags in most areas of your body.
To enjoy the benefits of this magical tonic, combine the sweet almond carrier oil with your Frankincense EO and stir it up with your Q-tip. Once thoroughly soaked, apply the tonic directly on the skin tags every night on a daily basis until the skin tag dries up. Be warned – Frankincense tends to cause a slight burning sensation, so be prepared for a little discomfort.
Recipe 4: Sesame Surprise for Severe Skin Tags
Ingredients
10 drops Basil EO
5 drops Oregano EO
30ml (1 ounce) Sesame EO
Warm water
Cotton ball
Method
Mix the essential oils with the carrier oil in a nonreactive bowl and stir up the mixture. Depending on how much dilution you're going for (or how sensitive your skin is) soak the cotton ball in warm water and squeeze out as much or as little water as you want. Next, soak the now wet and warm cotton ball in the mixture of oils and let it suck all the oils up nicely.
Now, apply the cotton ball directly on the skin tags and keep it in position for an entire half hour. You can cut it up and divide it if you have more than one skin tag. Likewise, this blend is safe to use on your face, eyelids and other sensitive areas. Just be sure to rinse the area out with warm water as soon as the 30 minutes are up.
Recipe 5: Rose Hip and Sage Soothing Lotion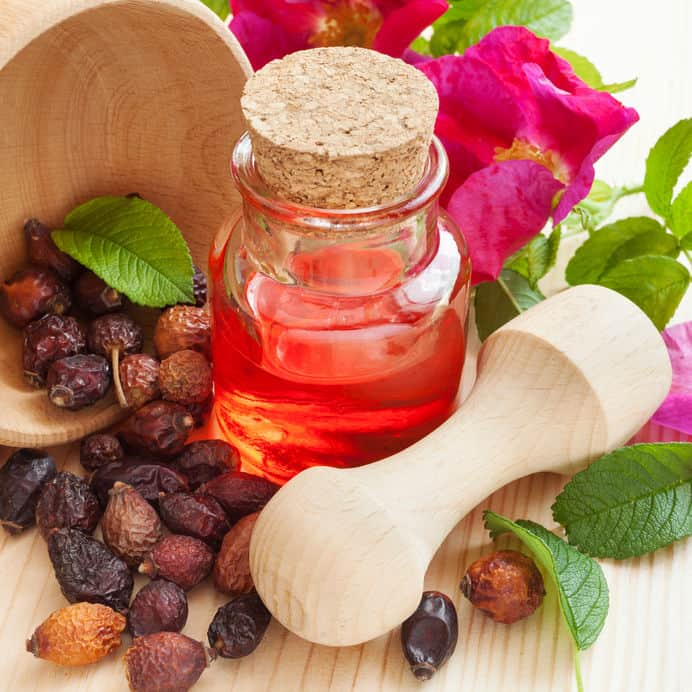 Ingredients
12 drops Rosehip essential oil
6 drops Sage essential oil
30 ml unscented face and body lotion
Method
Here's another excellent blend that you can use to both soothe your skin and clear it of skin tags. Rosehip essential oil is extremely rich in Vitamin C and essential fatty acids which are all healing and nourishing for the human skin. The sage also helps speed up the healing process while creating a pleasant, tantalizing scent.
To make use of this blend, pour a small amount of lotion in your arms and add the essential oils drop by drop. Smear and mix them with your palms and proceed to apply the cream focusing on the areas of your skin with tags and other imperfections. Apply the lotion a few times a day and repeat until the skin tags start drying up and falling off.
Recipe 6: Well-Rounded Essential Oil Tag-Away Body Cream
Ingredients
15 drops Lavender essential oil
10 drops Bergamot EO
5 drops Mandarin EO
30 ml extra virgin olive oil
2 tsp Beeswax pellets
¼ tsp Borax
Method
Here's a cream that will not only help clear all areas of your body from stubborn tags, but regular use could also help prevent and pre-empt future instances of skin tags. While Bergamot and Lavender contain antiseptic, antimicrobial, healing, soothing and anti-aging properties that effectively combat tag causing bacteria and viruses, Mandarin has been known to possess unrivaled refinement and rejuvenating properties that work wonders to heal your skin and protect it against scarring after removal of tags.
To make use of this magical cream, mix all your essential oils in a heatproof, non reactive bowl and add in the virgin olive oil and the beeswax. Melt the mixture in a microwave or double boiler (optional – you can add some shea butter if you wish). In a separate container, melt the borax in a bit of hot water. Add the 2 mixtures together making sure you mix thoroughly. You should now have a creamy consistency. You can use the cream on your entire body to clear skin tags and avoid new cases altogether.
Recommended Product for Skin Tags
For a quick, safe, no pain and no scarring option for Skin Tags, I always use H-Skin Tags Formula from AMOILS. You can read more here!

Essential Oils You Can Use To Prevent The Re-occurrence Of Skin Tags
1. Bergamot
Bergamot is suitable for all skin types. Especially good for oily and acne-prone skin, Bergamot is rich in antimicrobial agents and acts as an antiseptic. It effectively prohibits the infection and maintains healthy skin, combating viruses and bacteria that induce skin disorders, especially when used daily. It is really an excellent selection for conditions like skin tags as it keeps on working on the scars left behind by the skin tags until there are no marks on the epidermis.
2. Lavender
Lavender is healing, soothing, anti-aging and one of the most popular oils used for the skin. Its therapeutic property rejuvenates, stimulates, softens and soothes the skin. The anti-inflammatory, antibacterial and antiseptic properties of this oil make it ideal for conditions like skin tags. It is readily absorbed through the skin that helps to produce quick results. It is good for scars along with other marks on the epidermis and stimulates the creation of new cells. When used along with other essential oils, lavender reinforces their effect.
3. Mandarin
Mandarin is known to refine and rejuvenate the skin cells. It is one of my favorite essential oils. I use it on both my patients and myself. The cytophylactic nature of Mandarin stimulates the production of new cells and makes it excellent at cellular healing, rejuvenating your skin and protecting it against scarring and other kinds of skin blemishes like skin tags. It additionally promotes good blood circulation and cleanses the body by removing toxins and waste.
4. Neem
Anti-aging, healing and restorative Neem is among the best oils to combat the effects of ageing. Neem has abnormally high levels of carotenoids and antioxidants (similar to carotene), which fight toxins and protect the skin against environmental damage. Neem oil is particularly abundant in Vitamin E and essential fatty acids that work to rejuvenate skin cells and restore elasticity. In addition, it is a strong antiseptic and anti-inflammatory that clears skin issues like acne, eczema and skin tags, and later heals the scars that are likely to be left behind.
5. Neroli
Neroli is especially good for sensitive skin due to its sedative properties. It helps retain moisture and has a smoothing effect on the skin. It stimulates blood circulation, is a powerful antioxidant and it has anti-microbial effects. Neroli also makes the skin more elastic and stimulates growth of new cells.
6. Patchouli
Patchouli is known for its healing and anti-ageing properties. It is also the oil you should choose for issues like skin tags, sunburn, acne and eczema. It regulates the sebum production, making it good for conditions like acne and dandruff. In addition, patchouli is cytophylactic, which means that it stimulates the production of new cells, making it suitable for smoothing wrinkles and fine lines.
7. Ylang Ylang
Pronounced as "ee-Lang ee-Lang", this oil softens and smoothes all kinds of skin. It is most known for its ability to regulate the sebum production, making it ideal for oily skin. It is also the best bet for inflamed and irritated skin due to its soothing effects.

5 Home Remedies For Skin Tags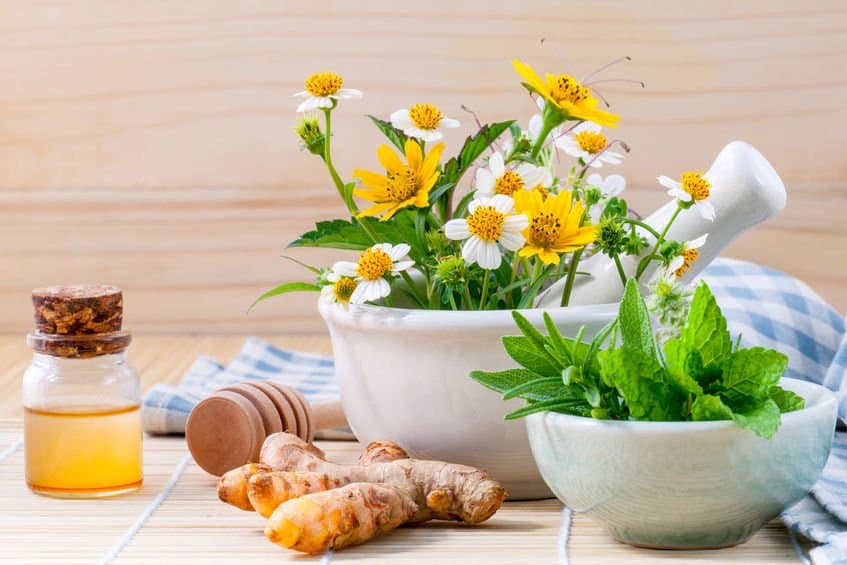 Next to warts, skin tags might just be the second most common occurrence. Technically known as cutaneous papilloma, these small, fleshy bumps could be anywhere between the size of a grain of rice to a pea and usually occur on the face, eyelids, neck, arms, lower part of the breasts and armpits.
For most people, the benign growths tend to be more annoying than problematic. Likewise, most doctors advise you to leave the skin tags alone and not try to pull them out physically. So unless you have some natural oils which will help make the process as easy and as painless as possible, it's best to let your doctor do all the procedures. But that's never stopped people from trying DIY treatments. I've compiled some of the most infamous home remedies for skin tags from all around the world that you could try.
a) Tag Tying
One of the most common treatments for removing tags at home includes tying the base with a thin thread or dental floss. Scientific studies actually show that constricting the blood flow to the tag helps kill the tissue and detach it altogether. However, almost everyone who has tried tag tying can attest to how painful and bloody the process is. Also, the forceful removal of tags by trying them off leaves black spots and permanent scarring around the area.
b) Apple Cider Vinegar
Packed with incredible antibacterial and anti-inflammatory properties, there's very little that this versatile fermented vinegar can't do. When it comes to the skin, cider vinegar seems to work wonders for a throng of skin conditions. To use this remedy, start by washing the tag as well as the area around it thoroughly. Next, soak a cotton ball in apple cider vinegar until it's thoroughly saturated. Position the cotton ball on the skin tags and hold for a few minutes. You can smoosh it around some to increase the absorption rate. Repeat three times a day until the tag falls off, and word of caution; be ready for some serious itching.
c) Fingernail Polish
Although there are only a handful of home remedies for skin tags, clear fingernail polish ranks right there among the highest. The properties in polish drain can dry the tag until it detaches from your skin. However, the polish could have adverse effects on the area around the tag and could also be harmful when used near the eyes, nostrils, lips or for anal tags.
d) Baking Soda and Castor Oil
Research has proven that application of caustic salves on the skin could help detach tags. By combining castor oil and baking soda, you can create a balm that not only dries the tissue, but also allows the tag to detach in a matter of two weeks. But given the amount of ingredients, labor and precision required to form the perfectly thick caustic salve paste, this method tends to be ineffective for many.
e) Duct Tape
Here's another whacky, desperate measure that seems to help a certain percentage of people with their skin tags. Turns out that you can dry out your skin tags by covering them up with some duct tape. Simply cut out a small square (or squares) of duct tape and place them right on top of your skin tags. Ideally, you should leave the tape on until the tag dries off and detaches completely, but you can replace the tape every day. The method supposedly works within two weeks, but you can expect dead, thick skin debris left behind that you have to file down with a pumice stone. What's more, the area around the tag may also suffer an unintended attack from the tape adhesive.
The Final Word
Removing skin tags with the use of essential oils is going to be easy and pain free. However, some of you may need to be patient and wait for four to six weeks before the skin tag is completely removed.
While there are many products claiming to be able to remove skin tags, not all of them are legitimate and effective. Believe me, the market out there is full of junk. The use of essential oils is an all-natural way of removing skin tags. In most cases, the person will start noticing the effects after a couple of week's application.