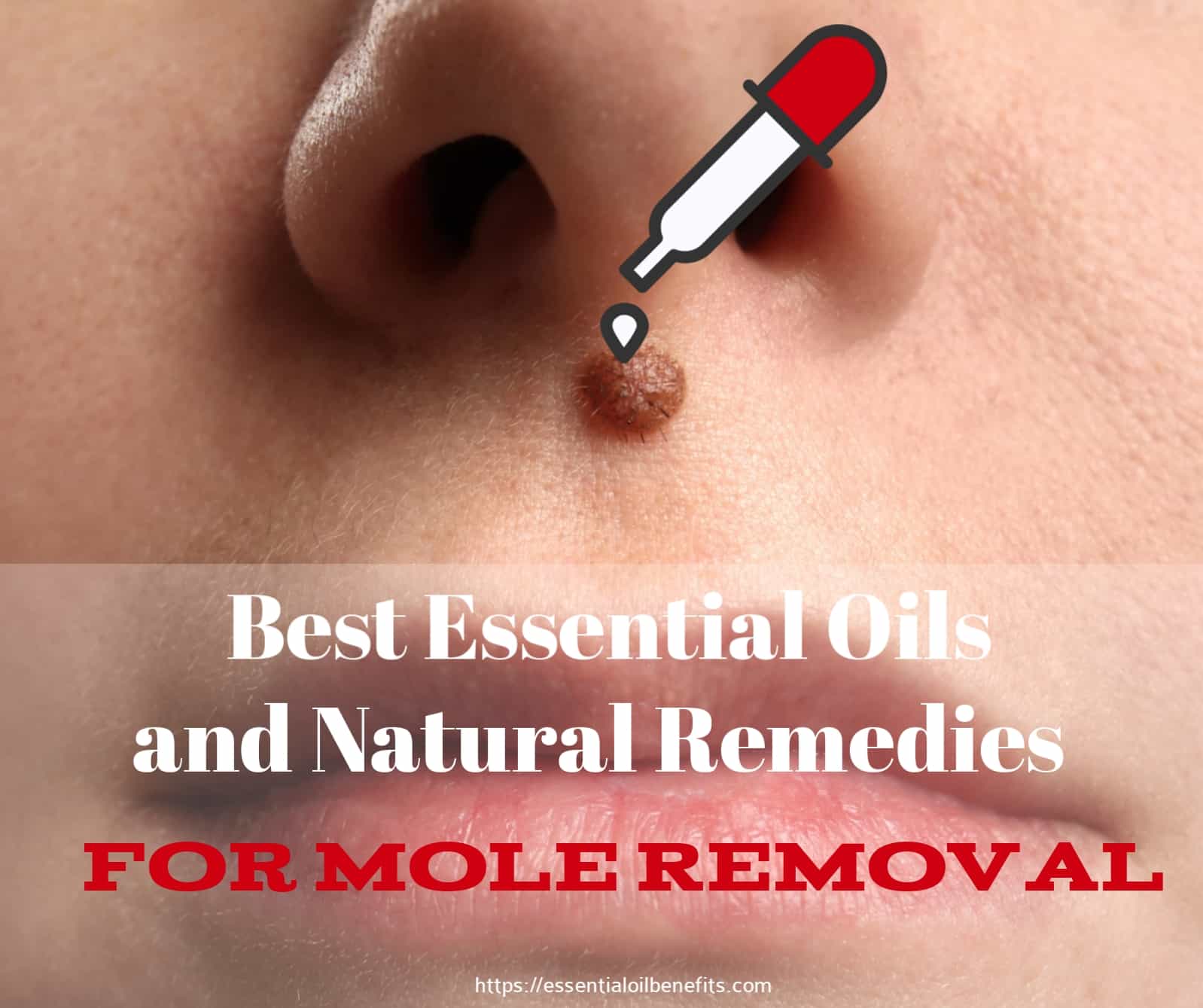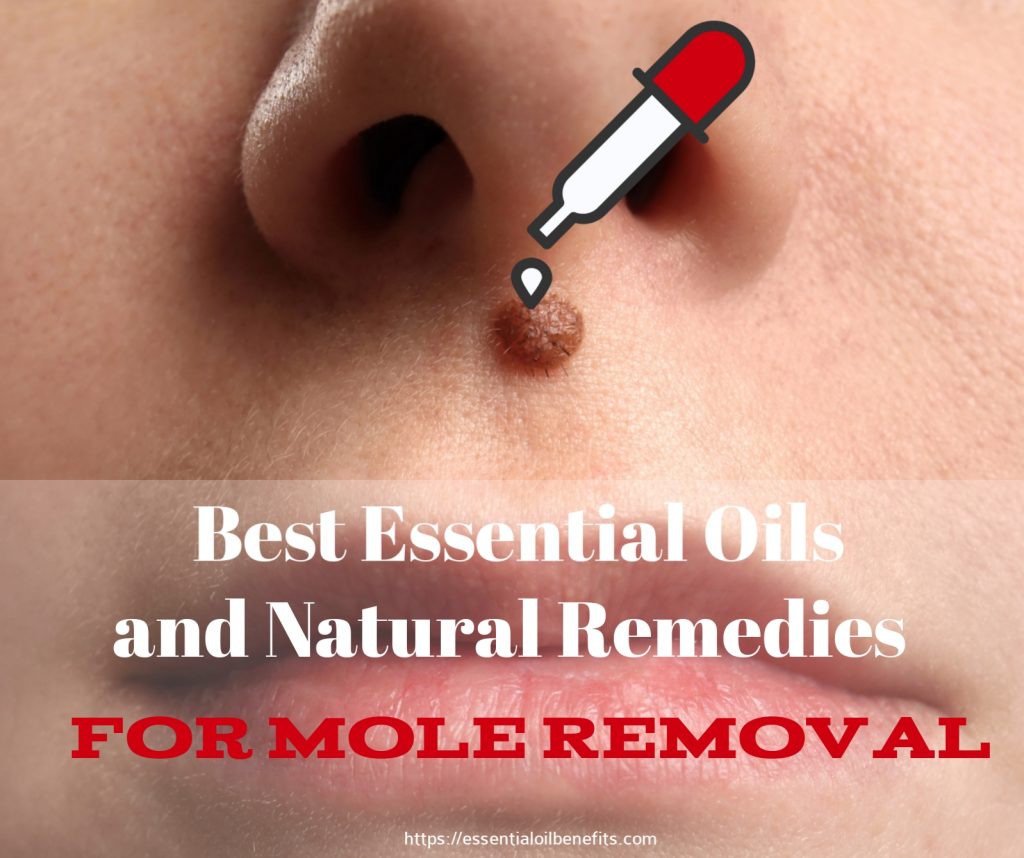 While most of the moles are harmless and pose no health threat, they could be a problem from an aesthetic point of view. Moles are generally small-pigmented spots made up of melanocyte cells that appear on the surface of the skin. Melanocyte cells are the cells that are responsible for the pigmentation of the skin. They are usually brown in color, however some might be dark brown or skin colored. They could be rough or smooth, raised or flat and few may have hair growing on them.
When And Why Do Moles Develop?
Some of the moles may be present from birth, while most of them appear during the first 30 years of an individual's life. Individuals with darker complexion have fewer moles in comparison to those who have lighter complexion.
Whether you will have moles or not also depends on your family history, which means you are likely to develop moles or a certain kind of mole if they are common in your family. Where you were brought up is also a factor that decides whether moles will appear on your body. For example, if you have had more exposure to the sun, then you have good chance of having several small moles. In most cases, many of the moles disappear on their own without you noticing them.
The reason behind the appearance of some of the moles may also be hormonal. Here are few of the periods of life where the likelihood of the appearance of moles is higher:
During older age – they might start appearing after the age of 50 years
During teenage years – you might have large number of moles
During pregnancy – your moles could be slightly darker
Facts About Moles
The two images below show 13 facts about moles.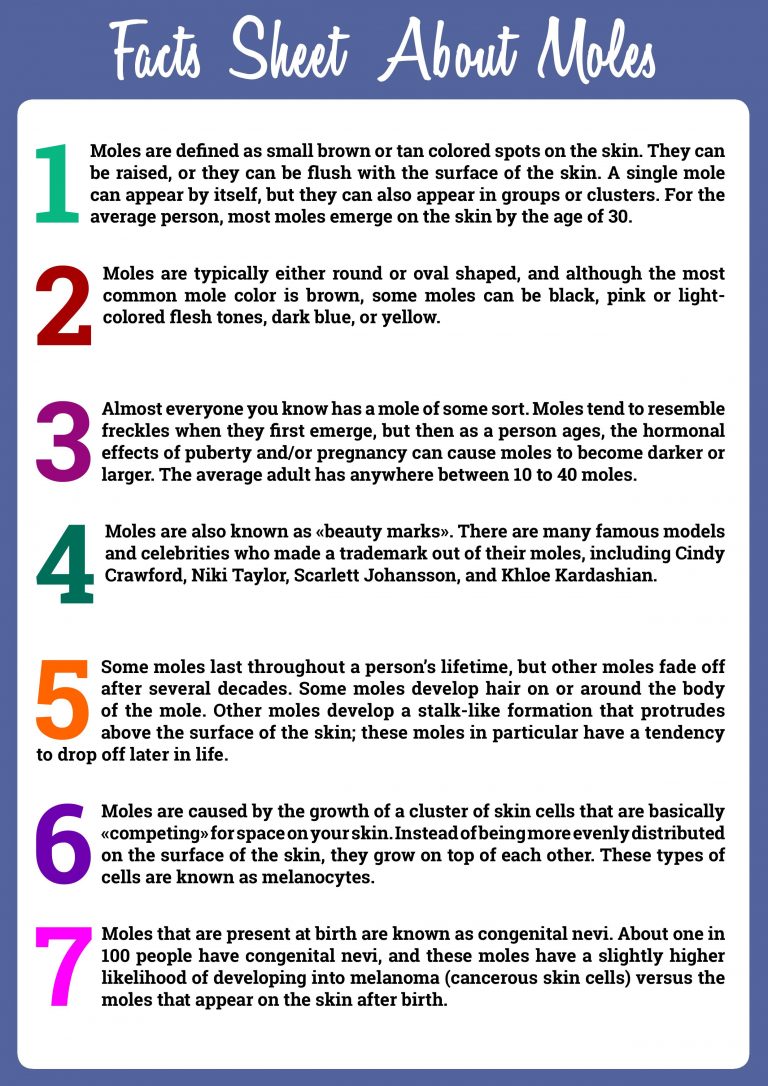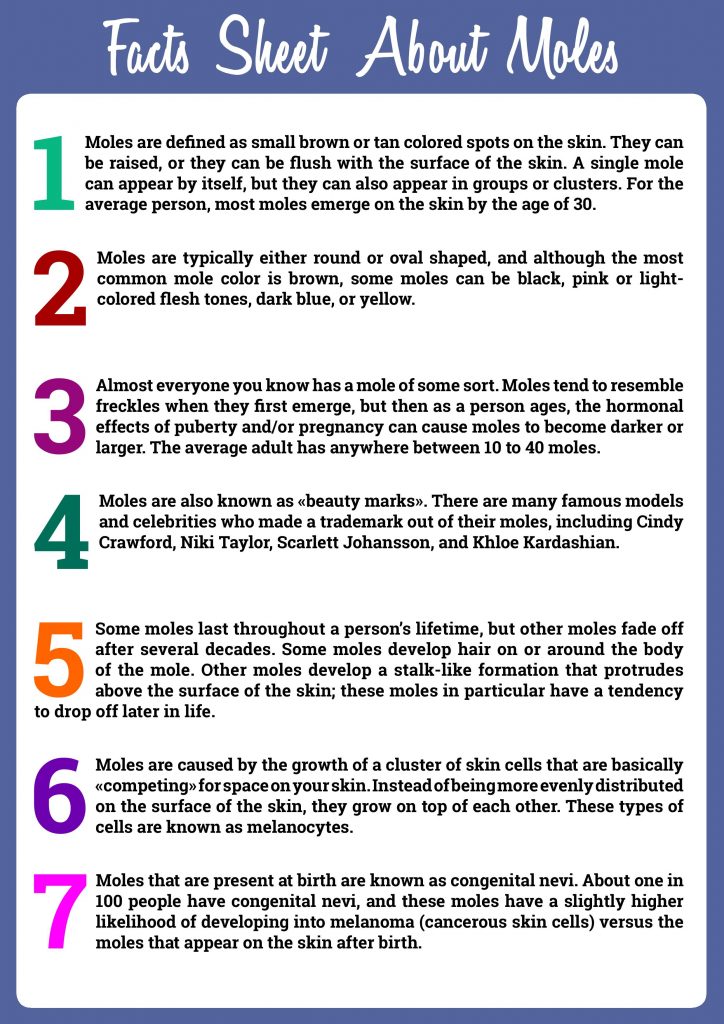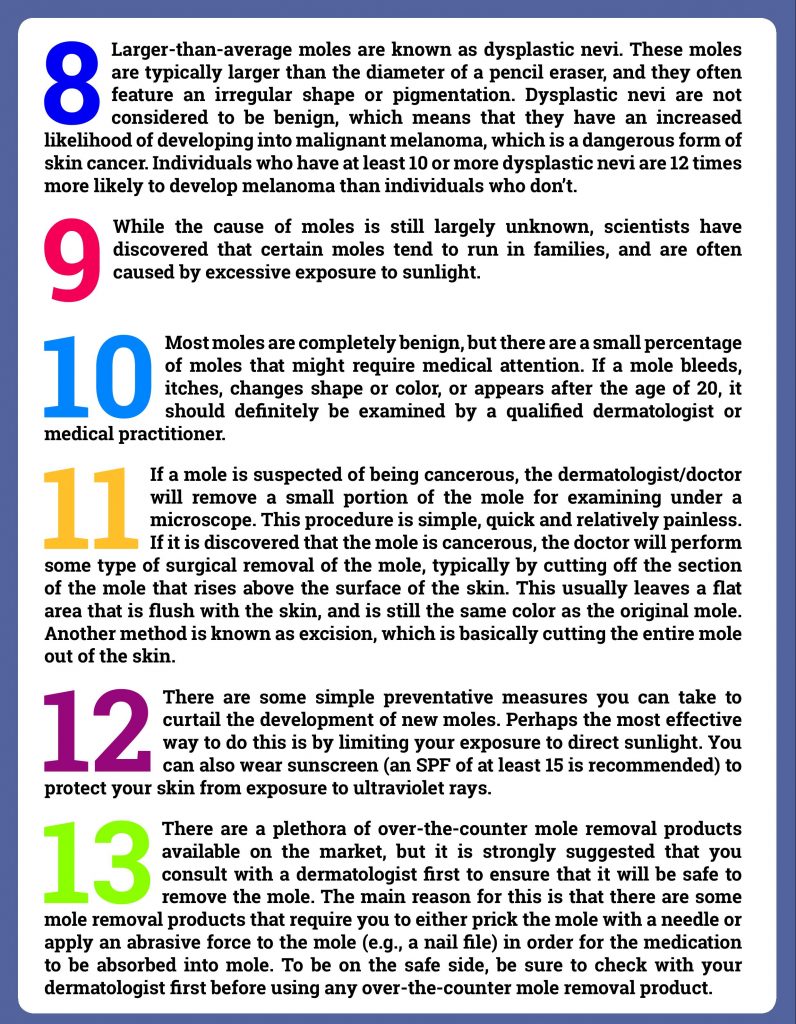 What Role Do Essential Oils Play In Helping You Get Rid Of Moles?
When it comes to removing a mole naturally, essential oils will certainly be your best bet.
Instead of explaining the benefits of each essential oil to get rid of moles, then continue with the recipes, I have changed the format of this article. I list each essential oil together with the best application method to remove the moles.
Best Essential Oils and Recipes To Remove Moles
1. Frankincense essential oil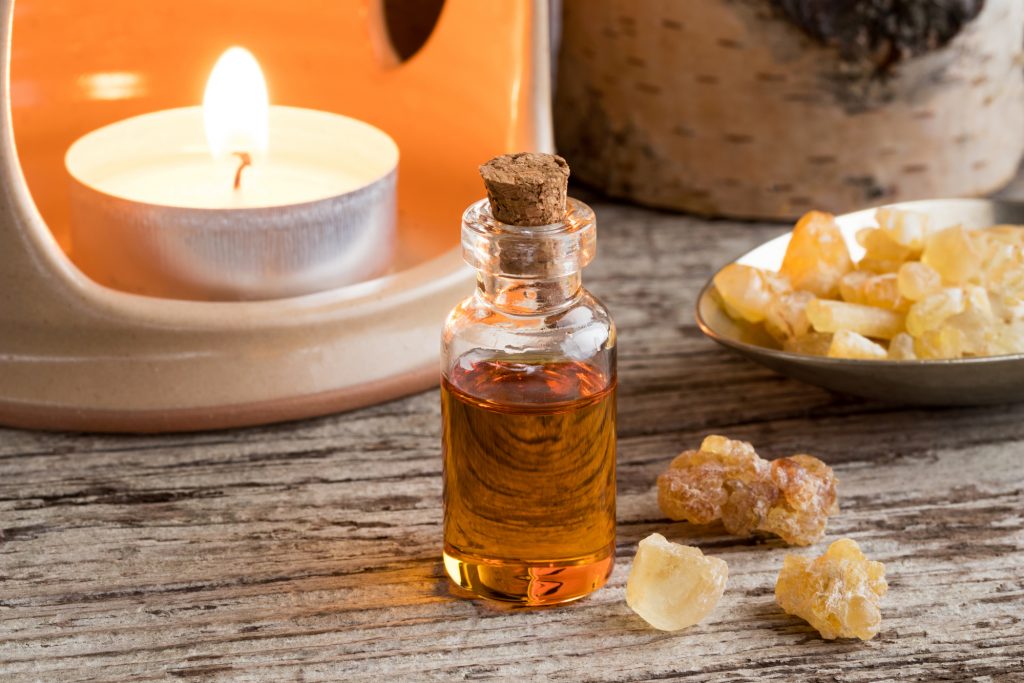 Egyptians first used the essential oil of Frankincense for stomach disorders, skincare and kohl. This holy oil of the Middle East has sesquiterpenes as one of its ingredient that helps in controlling emotions. It helps different hormonal glands in performing their proper function and provides strength to the immune system of the body by increasing leukocyte activity in the blood.
This same ability of strengthening the immune system makes this oil excellent for removing moles and also warts from the body. In addition, Frankincense contains Monoterpenes and Phenols that make your cells work perfectly by correcting them at a DNA level. Moles are often the result of inaccurate accumulation of cells.
Here are some of the essential oil recipes using Frankincense I have personally tried and tested for their ability to remove moles.
Recipe 1 – Essential oil bath
Prepare an essential oil bath with the following ingredients:
How to use:
Add this blend to your hot bath on a daily basis. Based on my personal experience I can say that following this routine fades away the moles permanently within a period of 6-8 weeks.
Recipe 2 – Direct application
Apply Frankincense straight to the mole 1 or 2 times in a day for a period of fourteen days. Following this procedure, your mole will gradually become darker in color and then ultimately fall off. Constant application of Frankincense for a few days after the mole has disappeared will help in avoiding the scarring.
Recipe 3
Ingredients:
How to use:
Blend both oils in a glass bottle.
Apply a little quantity of the diluted Frankincense on your mole.
Repeat two-three times in a day for a period of one month or until you get rid of your moles.
Moles are generally harder to deal with than skin warts, so always purchase high quality Frankincense for best results.
2. Oregano Essential Oil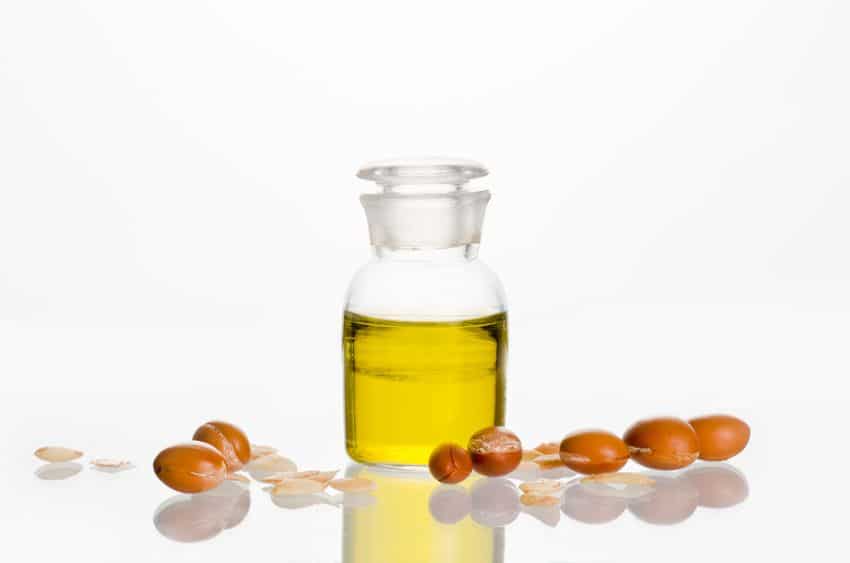 Just like Frankincense, Oregano is rich in monoterpenes, sesquiterpenes and phenols. In addition, it contains other components like thymol, myrcene, beta caryophyllene, para-cymene, gamma-terpinene, carvacrol etc.
This oil is not only an antiseptic, antiparasitic, antiviral, anti-inflammatory, antifungal and antibacterial but also a potent immune system stimulant, which makes it one of the most effective remedies for moles. Oregano may be harsh on the skin and therefore must be diluted before being applied to the skin. Here are some of the best Oregano essential oil recipes for quick removal of moles:
Recipe 1
One of the options to use Oregano essential oil is to apply two drops of it over the mole once or twice per day. The mole will turn darker in color and will fall off within few days. Once it falls off, use a drop of Lavender and Frankincense over the new skin as this helps in avoiding skin scarring.
Recipe 2
Drop a little amount of Oregano essential oil on a q-tip cotton swab or on a small pad; a band-aid is also a good option.
Put the cotton pad on the skin and allow it to stay in position for at least 10-15 minutes.
Put a drop of

Lavender oil

around the outer part of the mole, to calm down any burning sensation; however, this burning sensation is very common and does not last for more than a few minutes. You can also avoid this burning sensation by adding one drop of fractionated coconut oil to Oregano before using it.
Continue this treatment as much as two times a day, but if it causes prolonged itching, swelling, redness or dry skin then stop the use immediately.
Keep unused portions of the blend in a dark and cool place.
Recipe 3
Oregano is a strong essential oil. Therefore, it is recommended that you dilute it with carrier oil like Almond Oil. Use one tsp. of Oregano oil with 8 tsp. of Almond oil then shake it vigorously before applying this over the mole once a day.
With this remedy, you can expect your mole to disappear in a week's time. If you notice any skin irritation, then stop the treatment immediately. A light cleanser can easily remove the oil from your skin whenever needed.
Recipe 4
Band-aid therapy using Lavender and Oregano:
Use a drop of Lavender over the skin surrounding the mole to avoid any burning from Oregano Oil.
Put one drop of Oregano essential oil onto a q-tip cotton swab.
Dab the q-tip around the mole for approximately half a minute and then cover it with band-aid.
Repeat this procedure daily until the mole has disappeared. You can follow this process two times a day for faster results.
Few points to be noted when using Oregano for skin mole removal
Oregano oil is "hot" oil, so it will burn your skin if you do not weaken it with fractionated coconut oil. Use a q-tip for the application of this oil onto the mole.
If this oil is causing prolonged itching, swelling, redness or dry skin, then stop using it immediately.
It could take as much as four weeks for few moles to disappear.
3. Castor Essential Oil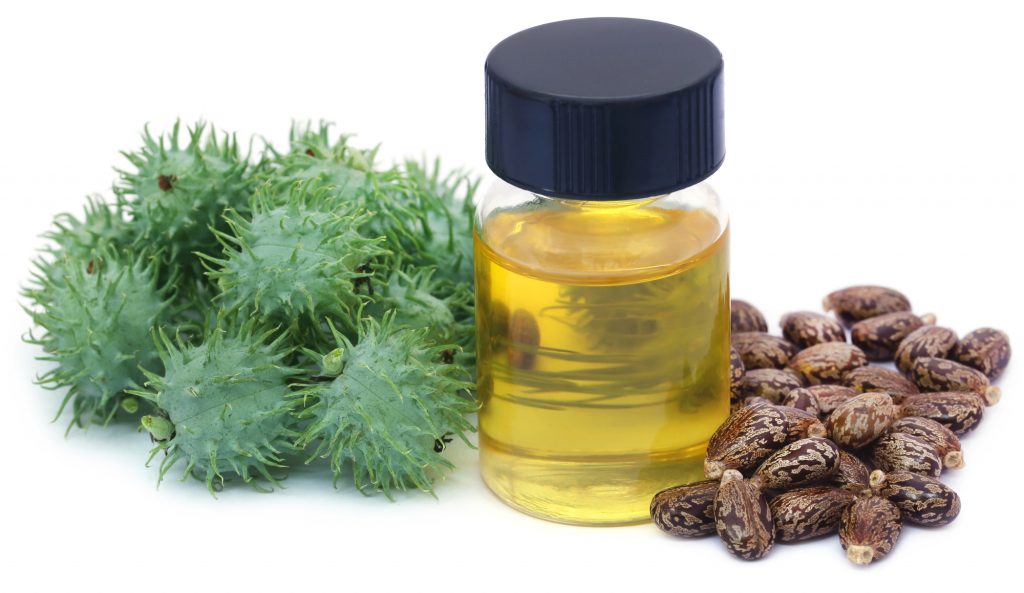 Based on the opinion of several experts around the world, Castor Oil can be a dependable home remedy for skin blemishes like moles. Before moving to bed at night, apply Castor oil everyday with some baking soda mixed to prepare a thick paste. After 3 days, you should see your mole beginning to disappear. It could take a week or so for mole to disappear completely, based on its size and color. In the meantime, if you find minor skin irritations then use this blend every alternate day. While the results will come a little slow, this remedy offers highly sustainable results.
How to use Castor oil and baking soda blend for moles?
Ingredients
Few drops of Castor oil
A pinch of Baking Soda
Directions for use
Moisturize the baking soda by adding few drops of Castor oil to it.
Apply this paste on your mole.
Keep it overnight.
Repeat daily for a couple of days until your moles fall off.
4. Flaxseed Essential Oil
Flaxseed or linseed is well known for its healing effect, which is mainly because of the essential fatty acids or EFAs present in it. These fatty acids protect the cells by allowing only the healthy substances to pass through the cell membranes. For the same reason, Flaxseed essential oil is known to have exceptional skin healing ability. It could even cure rosacea, psoriasis, and eczema. When using this oil for moles, within a few days of use you can see the edges of the mole loosening up before it falls from your skin.
Here is a recipe using flaxseed essential oil that I recommend my friends to use
Ingredients
Flaxseed oil – enough to make a paste
Honey – 1 tsp
Flaxseed powder – 1 tbsp
(Adjust these components based on your requirement; all you need is to prepare a paste)
Directions
Mix flax, honey and ground flaxseed oil to prepare a paste.
Apply this on your moles thrice a day until you get rid of them.
Recommended Essential Oil Product for Natural Mole Removal
And before going further, here is a proven essential oil formula from AMOILS that works beautifully to remove moles anywhere on your body, including facial moles without any scarring. It can remove moles in as quickly as 1 week of application. Click here to check my review on Amoils H-Mole blend.

Natural Remedies for Mole Removal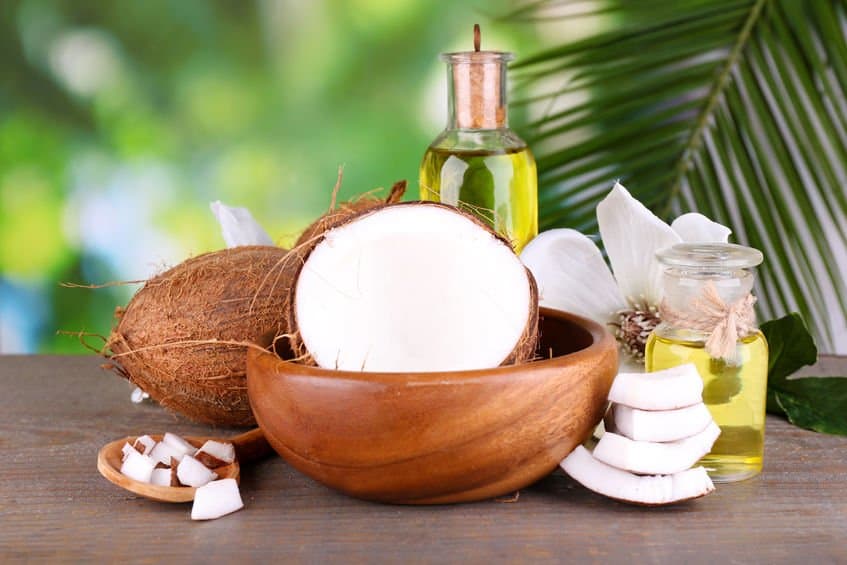 1. Coconut Oil
While most of us know that coconut oil is excellent for the hair, not many of us are aware of its skin cleansing properties. Apply a small quantity of this oil once daily on your moles and you will see positive results in due course.
2. Apple Cider Oil (ACV)
Mix a small quantity of ACV with petroleum jelly and then apply this mix on the mole. Use a bandage to cover the spot. Repeat this procedure three times a day for two weeks for faster results.
Ingredient

Bandage
Cotton ball
Petroleum jelly
Apple cider vinegar
Instruction
Apply a little amount of petroleum jelly around the mole to protect it from the acidic effect of vinegar. Now, pour a few drops of apple cider vinegar on the cotton ball and place it in a manner that the vinegar touches the skin of the mole. Secure it with a bandage and leave it in position for a couple of hours. Follow this process three times a week. After 7 days of use, you can expect the mole to begin drying up. Do not rub at this stage. Let it fall naturally.
3. Garlic Oil
Crush a garlic clove and prepare a paste from it. Then, combine it with petroleum jelly or coconut oil. Put it on your moles and leave it in position for 3-4 hours. The same process needs to be repeated daily for at least a week for lasting results.
4. Extra Virgin Olive Oil
Olive Oil will certainly be useful in lightening your moles. Mix a few drops of it with Frankincense oil and apply this mix 2-3 times a day on your moles.
5. Almond oil
Almond Oil is one of the few important assets in the world of aromatherapy. Just blend a few drops of Almond oil with honey and put this mix on your moles. Applying this mix twice on a daily basis will give you good results.
While it is true that essential oils are always useful for the removal of moles, do not try removing moles that are cancerous. Inspect your moles for anomalies such as change in diameter, color and the symmetry of the border. In the event any such irregularity is seen, get your mole checked by a doctor to rule out the possibility of it being malignant.
(Visited 106,541 times, 56 visits today)