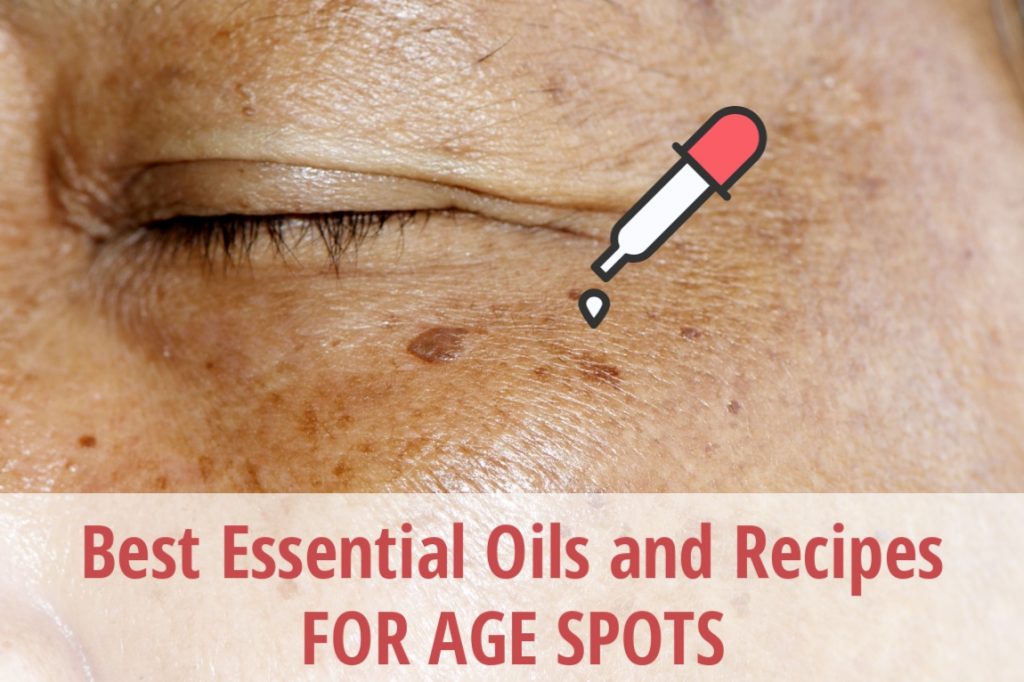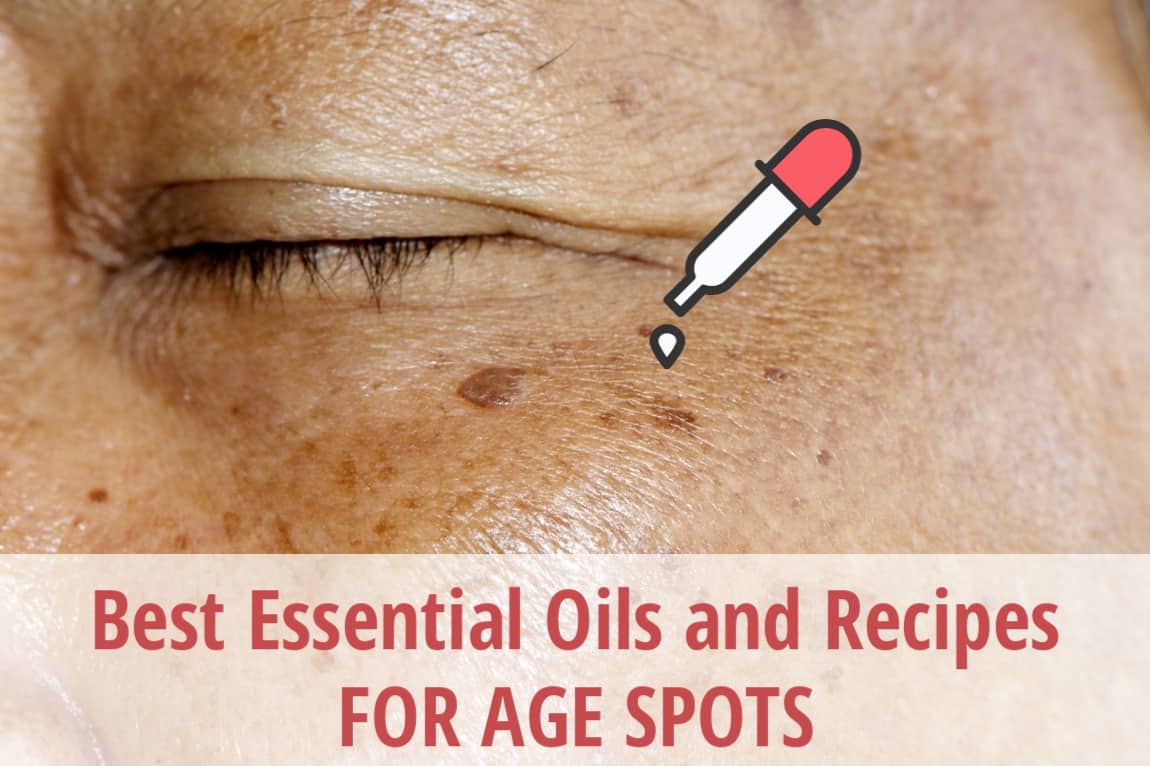 What Are Age Spots?
The unsightly tan, grey, reddish brown, brown or black spots and patches on the age weathered face are known by various names, each signifying the apparent cause for the blemish, but only one of these terms is accurate.
Age spots, liver spots and solar lentigines all refer to the same skin condition that involves the appearance of dark spots on the face, hands, arms, shoulders and sometimes on the feet.
Although an eye sore, the blemishes are quite harmless and don't cause pain or any other discomfort such as itching or flakiness. The spots can appear in clusters and can vary in size, but the texture of skin is the same as that on the non-pigmented areas of the face. Usually, these spots are flat but in rare cases, there may be some amount of protrusion.
Age spots, on their own, cannot be linked with any other illness. Although, these spots are more common in individuals above the age of 40, they can affect any individual of any age group. While these spots may look like cancerous growths, they are harmless and do not require any treatment if you are ready to embrace the change they cause to your look.
What Causes Age Spots?
They are called age and liver spots, but they have nothing to do with skin aging or liver disorders. So, solar lentigines is a more appropriate term because damage due to UV rays is what leads to these unsightly blemishes.
Long after you get out of the sun, the impact of the UV rays continues to haunt your skin in the form of free radicals. The damage is significant and can go right down to the cellular level and cause the cells to malfunction. So, it is not only the elastin and collagen tissue that gets impacted from sun exposure but also the melanocytes.
Over time, the damage builds, and some of these cells start spewing out more pigment than required and that is what leads to age spots. Of course, age related skin damage can exacerbate the problem and make it harder to erase these dark spots.
Facts About Age Spots
The two images below show 16 facts about age spots.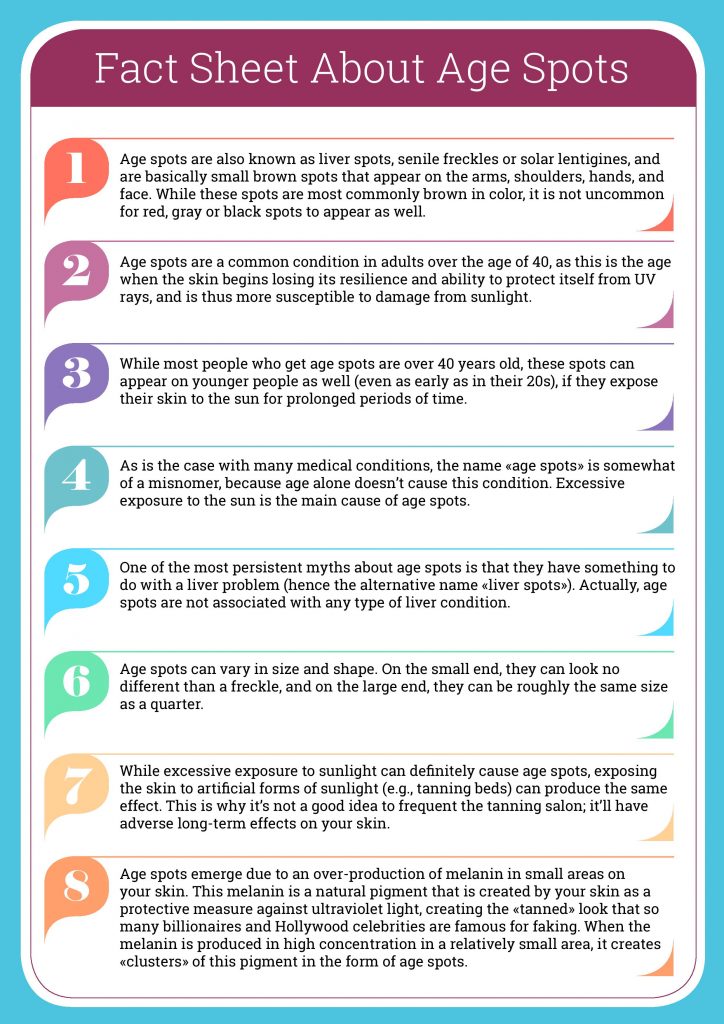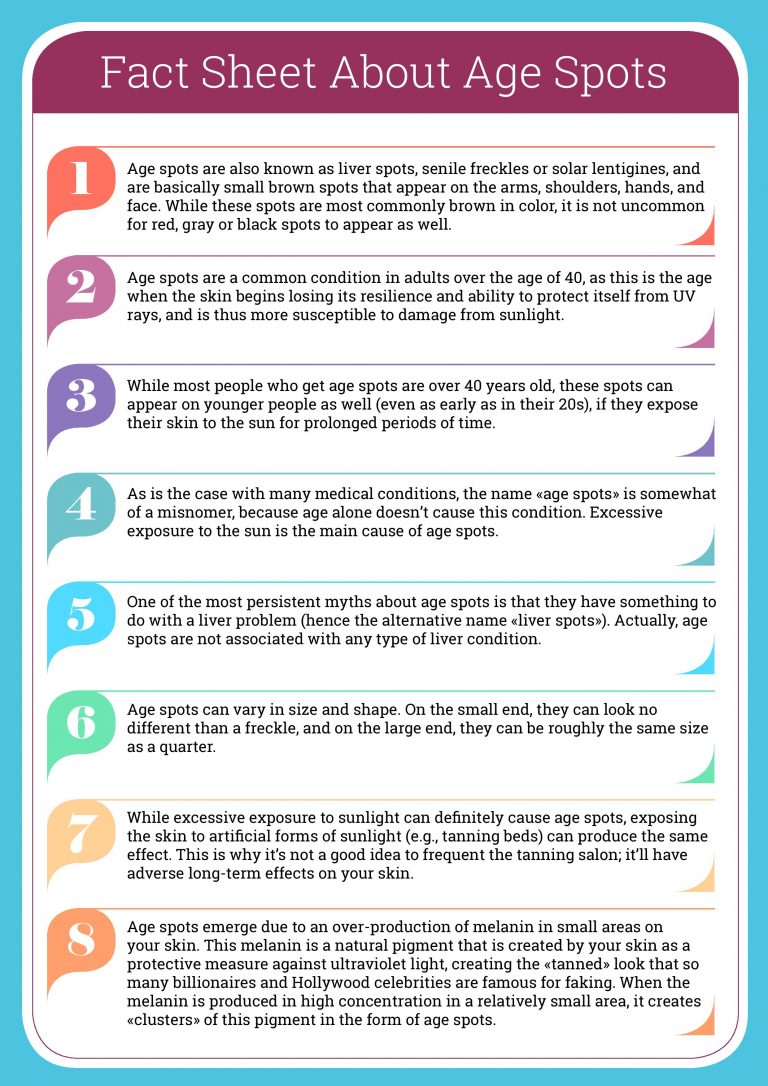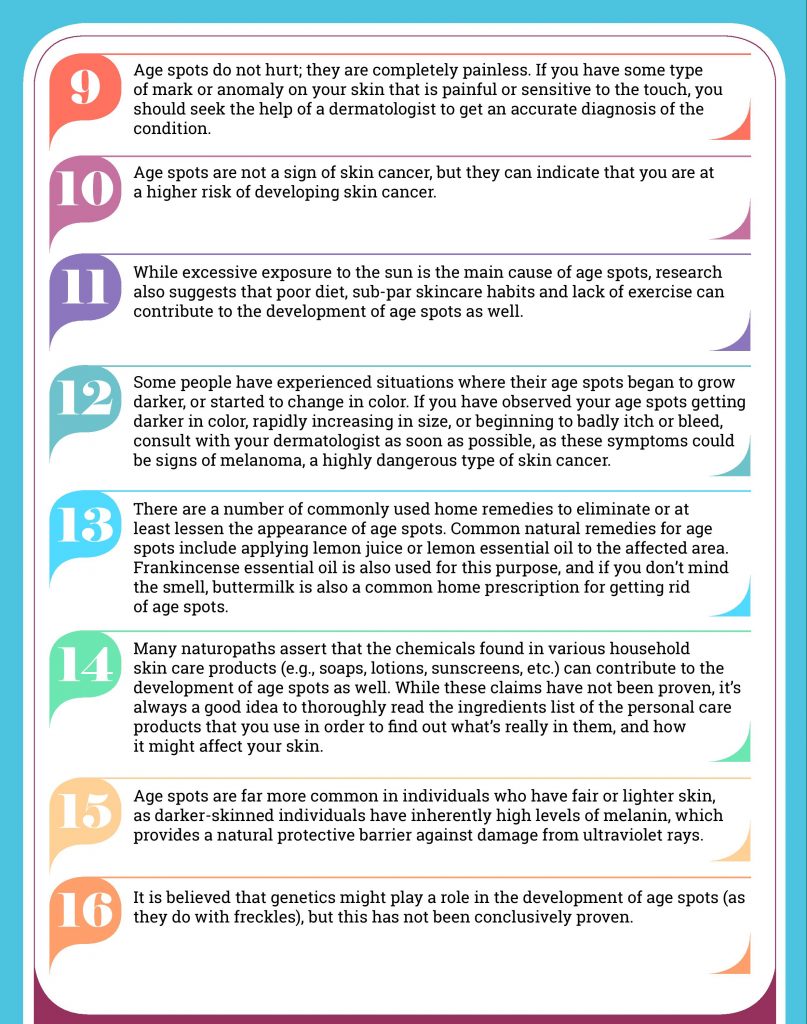 Why Use Essential Oils For Age Spots?
Modern medicine offers several treatment modalities to deal with age spots. Unfortunately, all of them are fraught with side effects. And since the condition is otherwise harmless, there is simply no justification to incur the risk.
In contrast, essential oils may not offer the lightning fast or even striking results as laser therapy, but make no mistake, sustained use of these natural ingredients will get you results that are just as good and without the side effects. On the plus side, you will do your skin loads of good by opting for these soothing, healing and rejuvenating ingredients.
Moreover, essential oils take an inclusive approach to dealing with the blemishes that is not focused on just bleaching the affected skin. Yes, these potent substances will erase those spots, but they also undo the damage and the inflammation that are at the core of the condition.
Additionally, they offer protection from factors (sunlight and free radicals) that trigger the inflammatory process and cause the dermal damage that eventually lead to the malfunction of the melanocytes.
So, what you are getting with essential oils is a treatment modality that pretty much covers all bases. Apart from making the age spots less significant, these oils can also help you deal with skin hydration issues, wrinkles and other skin conditions that might bother you at some point in life.
Recommended Product For Age Spots
Here is a product that you can consistently rely upon to help you get rid of those nasty age spots. Check here to read my detailed review on Amoils H-Age Spots.

21 Best Essential Oils For Age Spots
Here are some of the best essential oils you can bank upon for age spots…

1. Frankincense
Frankincense is one of the best anti-infectious, antiseptic and anti-inflammatory oils whose healing effect goes deep down the skin. It relieves the nerves and protects the skin against microorganisms.
Other than that, Frankincense is believed to have anti-tumor and anti-cancerous properties making it one of the best oils to use for conditions like age spots, moles, warts and many other skin problems. I would rather call this oil a woman's best friend, as it is excellent at treating one of the most dreadful of all skin conditions – wrinkles.
How To Use Frankincense Essential Oil To Prevent And Treat Age Spots

As a soothing agent after sun exposure
Even if you have been judicious about the use of sunscreen, you will still have to deal with the detrimental effects of heat. So, give your skin some TLC after spending a day out in the sun. For this soothing formulation, you will need:
10 ml Sesame seed oil
4 drops Frankincense essential oil
Blend the oils together and store in a dark glass bottle. On the day you intend to head out in the sun, place the bottle in the refrigerator for use later. When you are back, roll the bottle in between your palms for a 10-15 seconds before opening it.
Use generously all over your face and neck. Allow the oils to work their magic for at least 2-3 hours or you can simply leave the blend on overnight. If your skin seems too oily for comfort, soak some cotton wool in rose water/chilled green tea, wring till it's just damp and wipe the excess lipids with it.
To get more from the skin lightening properties of other oils
There are scores of options available when you look for essential oils with skin lightening properties and even antioxidant effects. However, the very phytochemicals that help to erase those blemishes and neutralize free radicals are also often responsible for skin irritation.
There are two options to work your way around this conundrum. You can dilute the oils significantly; often to 0.5-1%, which can hose down their effectiveness or you can use an oil that will neutralize their skin irritating effect without impacting their ability to deal with the blemishes. Here is how you accomplish this with the help of frankincense oil.
10 ml Coconut cream
5 drops Frankincense essential oil
Use on areas that have been treated with the skin lightening blend. Apply 2-3 hours after using the skin lightening blend/product. This mixture works well regardless of the skin lightening method/formulation used. It is exceptionally effective when you have redness or skin irritation from the treatment.
2. Sandalwood
Sandalwood oil offers amazing therapeutic value for conditions like age spots due to its anti-aging, antiseptic, anti-oxidant, anti-inflammatory and anti-microbial properties. It has shown great promise in skin conditions such as psoriasis, acne and eczema and combats the damage caused by free radicals that happens as we age. It also acts as a skin regenerative, an astringent and a natural skin tonic.
3. Lavender
Lavender is one of the essential oils that I would recommend no person should go without – it not only smells amazing but also helps your body and mind relax. One of the reasons why I like this oil the most is its skin regenerating ability.
As such, this oil is helpful in treating skin conditions like scarring and sunspots. In addition, it helps in reducing allergic reactions and inflammation; it is amazingly soothing to aggravated burns, dried out skin and sunburns. Adding to the list of benefits, lavender essential oil has anti-microbial, anti-oxidant, anti-inflammatory and anti-fungal properties.
4. Helichrysum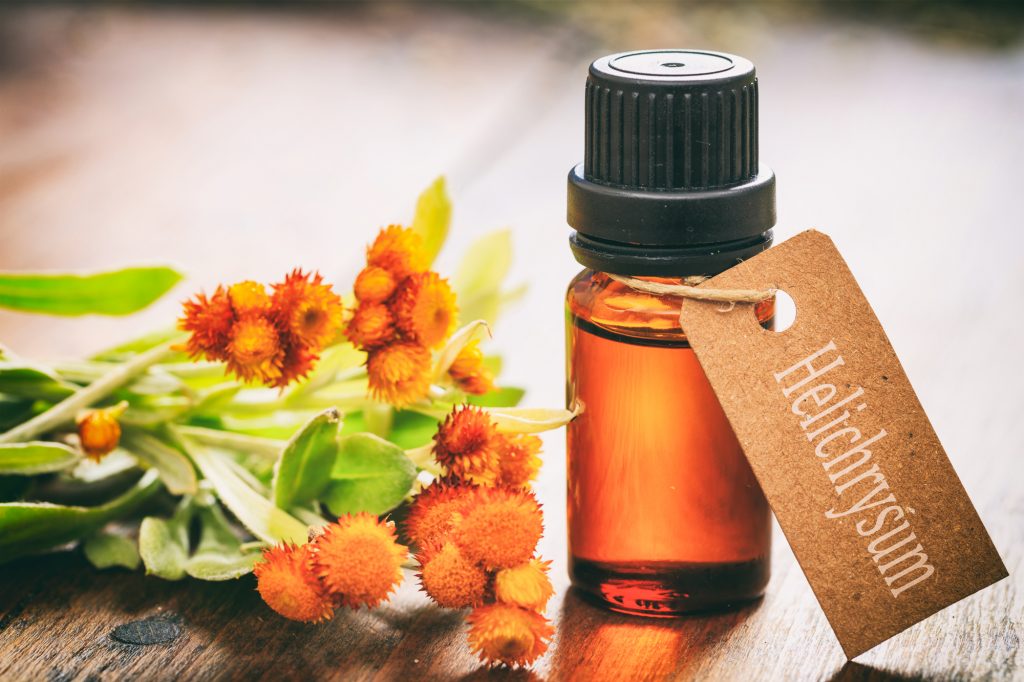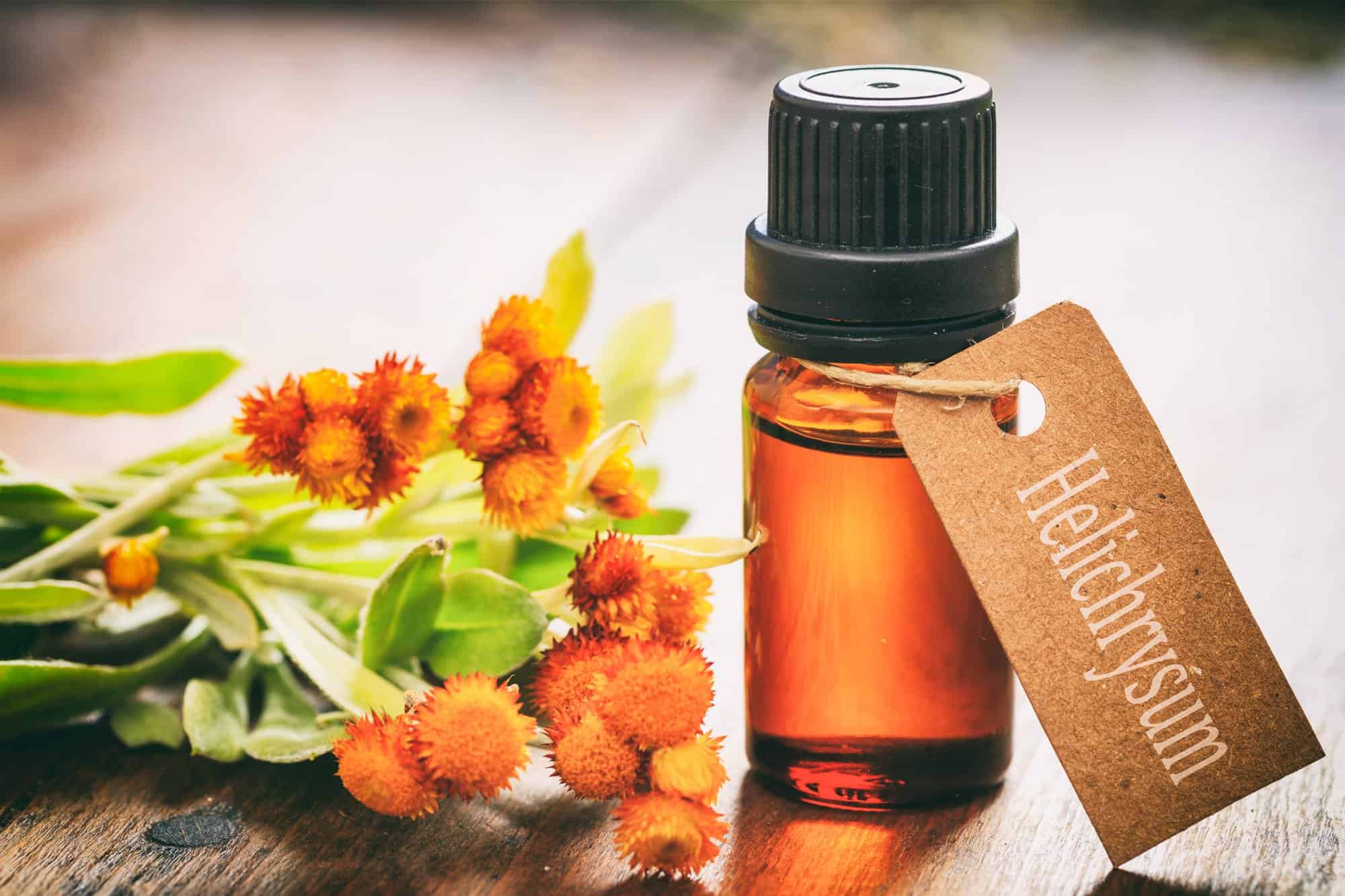 This amazing oil within the category of immortelle essential oil gives fantastic results when used for age spots, psoriasis and eczema due to its anti-microbial, anti-oxidant, and anti-inflammatory properties. In addition, it helps in pain relief and tissue regeneration. You can also use this oil as a sun radiation protector.
5. Carrot Seed Oil
While being restorative for the skin, carrot seed essential oil helps in the regeneration of skin cells. While being effective at smoothing dry skin, it also helps in lightening skin marks and enhancing the tone of aging skin.
6. Geranium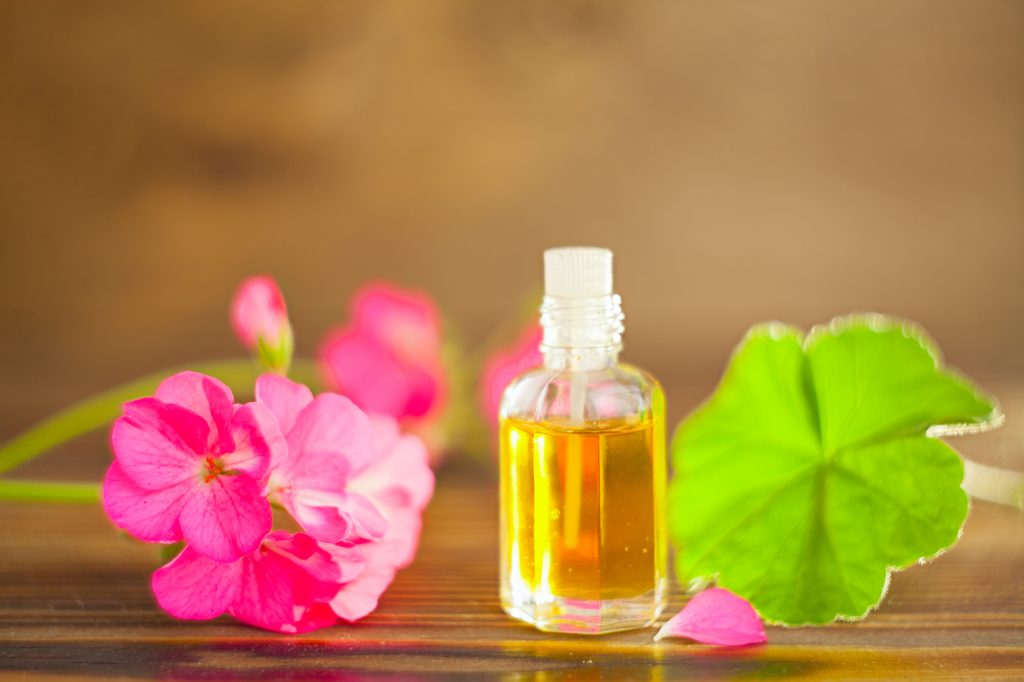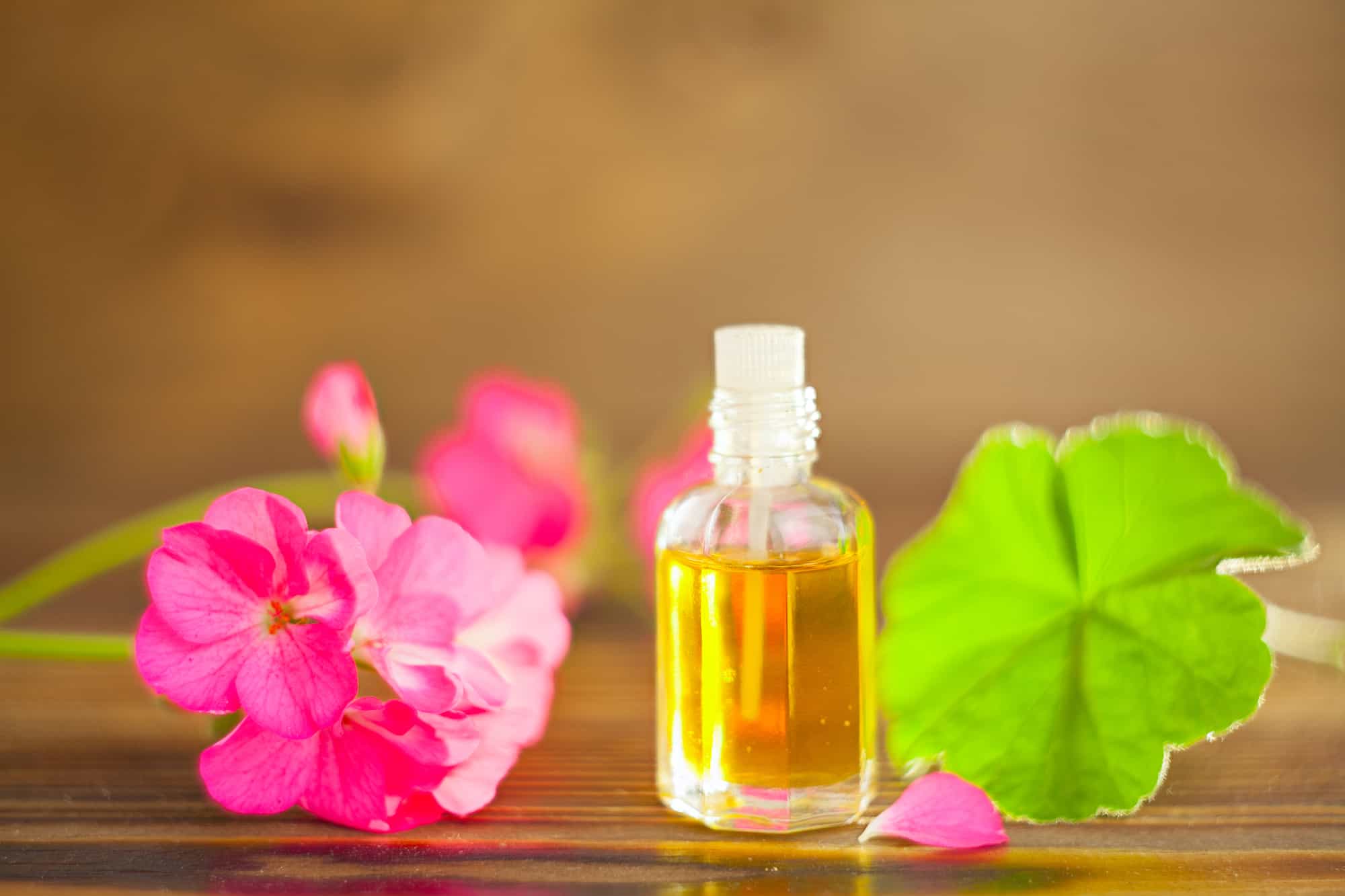 Geranium essential oil helps in normalizing the production of sebum in the skin and diminishes the age spots appearing on your face. It is also helpful in reducing wrinkles, tightening the skin and keeping the skin elastic.
Geranium has a host of other benefits for the skin including helping with dermatitis, cellulite, athlete's foot, ringworm, impetigo, shingles.
7. Myrrh
Myrrh essential oil is beneficial for aging skins because of its strong anti-inflammatory qualities that help in reducing age spots, fine lines and wrinkles and its ability to improve the skin elasticity, skin tone and skin firmness. This essential oil is also helpful in healing chapped skin, skin rashes, skin infections and other inflammatory conditions.
8. Neroli
Neroli essential oil is a fantastic essential oil to use for aging, sensitive and oily skin types. It helps fade away age spots, tones up sagging skin and reduces fine lines. This restorative oil has a natural ingredient called citral, which makes cell regeneration easy for your skin. Its antibacterial quality shrinks the large skin pores without drying the skin and stabilizes the production of sebum.
Neroli is also one of the best essential oils when it comes to dealing with symptoms of menopause.
9. Patchouli
Patchouli essential oil is perfect for aging skin. It helps smooth wrinkles / fine lines and encourages new cell growth. The antibacterial, antimicrobial and antifungal properties of this oil are beneficial in treating skin conditions like acne, psoriasis, dermatitis and eczema.
10. Rose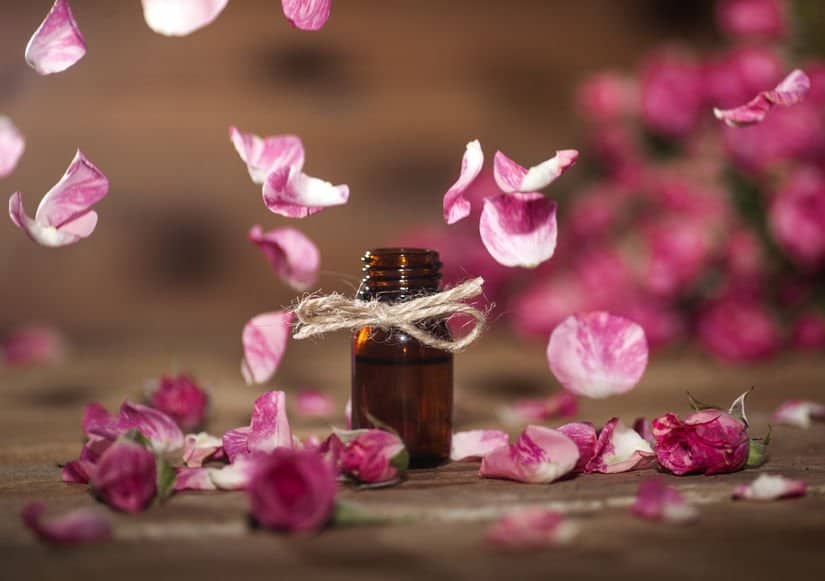 Rose essential oil is wonderful for aging and dry skin. Research has indicated that it contains many anti-inflammatory and antimicrobial compounds that speed up skin healing. As a result, the essential oil of rose cleanses the skin and tones its texture making it one of the best remedies for dermatitis and psoriasis.
Interestingly, when inhaled, rose restrains the water loss in the skin and reduces the concentration of the stress hormone called cortisol. Remember, stress has a deep impact on your skin!
Rose oil is also a well-known anti-depressant and reduces stress, anxiety and promotes a sense of well-being.
11. Tea Tree
The essential oil of tea tree is well known for its anti aging effects. The anti-inflammatory and antimicrobial properties of this oil help fight off skin aging issues like age spots. As tea tree helps to regulate the production of sebum in the skin, you can expect this oil to diminish your age spots significantly.
12. Ylang Ylang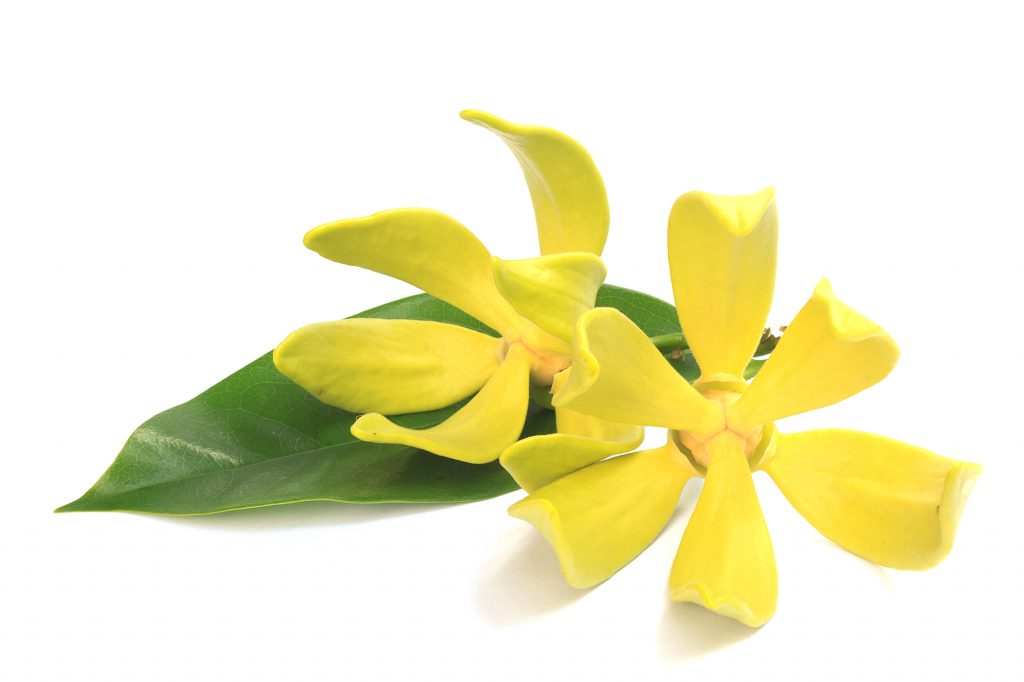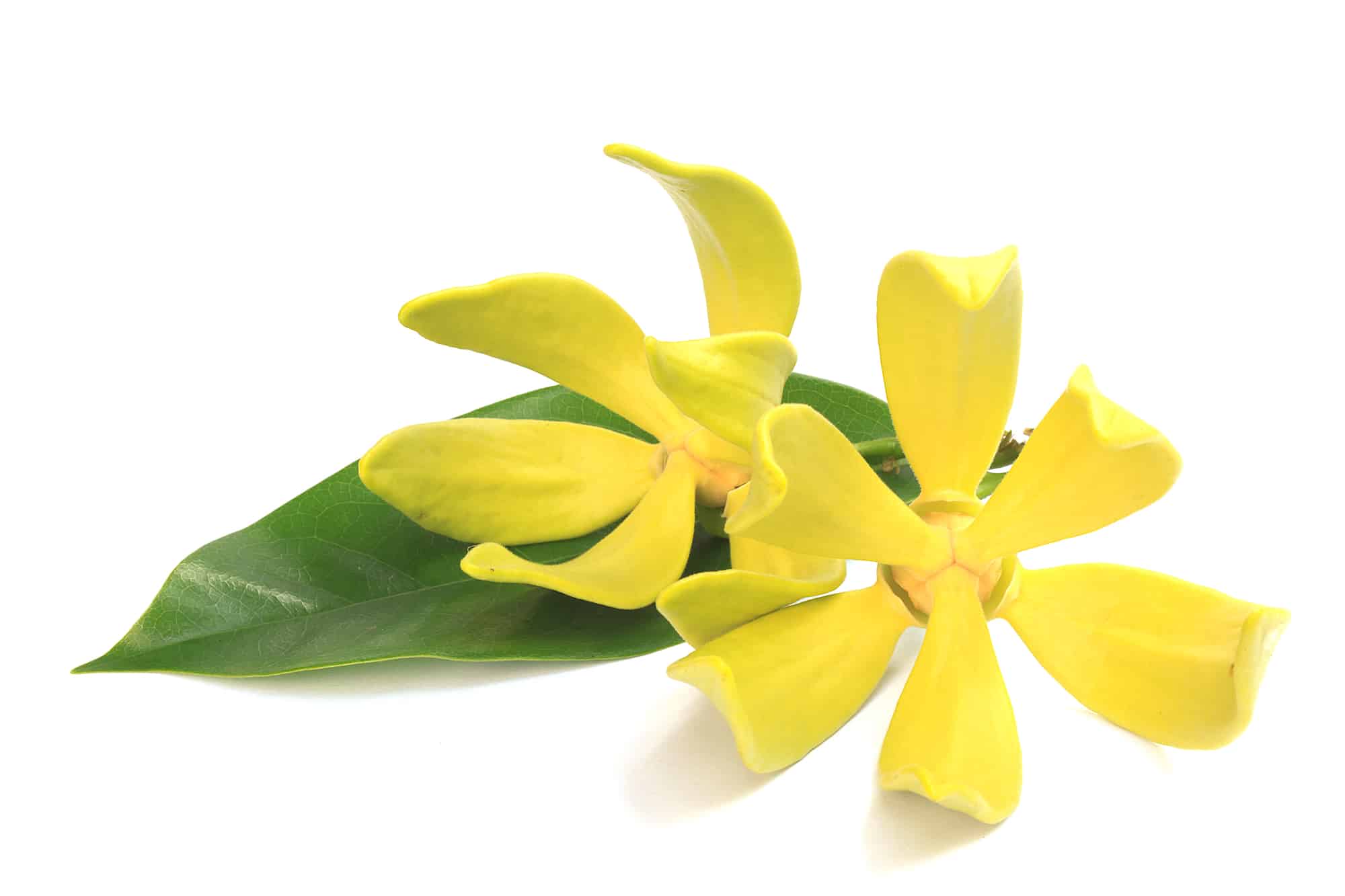 The floral fragrance of Ylang Ylang makes it one of my favorite essential oils for use in aromatherapy including for stress relief and relaxation.
It is helpful in regulating the production of oil in the skin, which ultimately allows you to avoid conditions like age spots. It may also help in skin cell regeneration, improving skin elasticity and smoothing fine lines.
13. Grapefruit
You may think of this as just another citrus oil and yes, the high volume of d-limonene in the extract is indeed one of the reasons for its inclusion in this list. The bioactive is a known skin brightening and anti-pigmentation agent.
But grapefruit essential oil also brings killer antioxidant properties to the table. Plus, it is a formidable anti-inflammatory agent. Since both inflammation and oxidative stress contribute greatly to the appearance of age spots as well as other signs of premature skin aging, this is one of the most effective oils for a face that has seen better days.
Grapefruit oil is best used underneath an SPF 30+ sunscreen. Because some people are allergic to this oil and even the fruit, I recommend that you do a patch test before using any blend that contain grapefruit oil. You can use the oil in combination with lemon essential oil or in lieu of it.
14. Coriander
This oil may come as a surprise to many because most people don't know about the extraordinary skin healing properties of this extract. Coriander has long been the herb of choice for treating all sorts of skin issues, such as hyperpigmentation, sun exposure related damage, including sun spots, skin sagging due to the breakdown of collagen and others.
Both the herb and the oil have a remarkably soothing and cooling effect on the skin. Moreover, the oil boasts of excellent antioxidant and anti-inflammatory properties. A skin whitening agent that has stood the test of time, this oil helps to prevent age spots and tackles those that already exist.
The monoterpenes in coriander oil aid in limiting the skin damage caused by environmental factors and offer an overall skin brightening effect. The oil is also known to offer superlative sun protective benefits. Use it in conjunction with your sunscreen to get the most from it. A blend of cooling coriander oil, warm cinnamon and lemon oil in sesame seed/safflower oil yields marvelous results against age spots.
15. Cypress
Due to its astringent properties, Cypress essential oil strengthens the skin, improves blood circulation and minimizes the signs of skin imperfections like age spots.
16. Lemon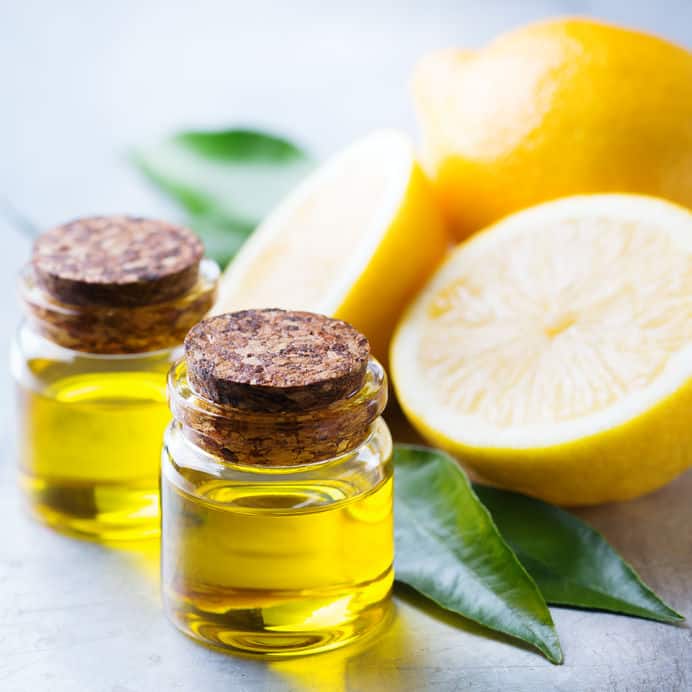 Lemon essential oil is a tried and tested remedy for age spots. The high limonene content of the oil explains its ability to deal with all types of hyperpigmentation. A potent astringent, detoxifier and antiseptic, lemon oil tightens and tones the skin and is exceptionally effective against complexion dullness. It not only helps to treat wrinkles, fine lines and other signs of age-related skin damage but also works as a preventative measure against premature skin aging.
How To Fade Age Spots Using Lemon Oil
The limonene in lemon oil is a tried and tested skin lightening agent. But, you have to use it cautiously because it can cause an allergic reaction if you have very sensitive skin or if you go overboard with usage.
As a spot treatment
This is a particularly strong blend with a dilution rate of 25%, which is unusually high but acceptable and safe because it is a spot treatment. You will need:
1 drop Lemon oil (steam distilled not expelled/cold pressed)
1 drop Frankincense/Roman Chamomile oil
4 drops Rosehip seed oil
You can change the quantity from drop to millilitre but stick to the prescribed ratio. Store in a dark glass bottle. To use, dip a Q-tip in the blend and immediately put the cap back on. Dab the blend on the dark spot/spots.
If you have exceptionally sensitive skin, protect the surrounding area by applying sesame seed oil on it and then treat the hyperpigmented area (which should not be covered by the sesame seed oil) with the blend. Use twice a day for a period of 7-10 days then take a break for 5-7 days. You should need no more than 2-3 rounds to get noticeable results.
For facial steaming
The phytochemicals in lemon oil also have the unique ability of increasing dermal penetrability of all other ingredients, whether natural or chemical. So, you can also use this oil to get more from your skin lightening blends/ products. Here is how you can use the oil for this purpose.
A medium sized salad bowl filled 2/3rd with hot water (cooled for 1-2 minutes after boiling)
5-6 drops lemon oil
Add the oil to the hot water and indulge your skin in a steaming session that will leave it more receptive to all other products and will also add to the skin lightening effects of any other formulation. You can opt for this treatment once, every 2 weeks.
17. Turmeric
The golden spice is used to this day to give Indian Brides their resplendent and radiant look on their big day. If a single application of this herb can get so much done, imagine the skin benefits from the sustained use of the herb in its most concentrated form.
The essential oil derived from the golden yellow root is not only an extraordinary anti-inflammatory agent but also a gentle yet effective skin brightener. Plus, it offers superlative antioxidant properties that help to deal with the free radicals that come from the inside and those that the environment sends your way.
18. Lemongrass
Rich in limonene, a bioactive compound that is known for its skin bleaching properties, this lemony oil is also a potent astringent and skin protective agent. The grassy herb and its oil are both known to have tyrosinase inhibitory properties that curb the hyper-production of melanin.
Moreover, lemongrass oil helps to strengthen the dermal cells and layers and it is an excellent antioxidant. If that is not enough, like most other essential oils, you also get significant anti-inflammatory benefits from this aromatic extract.
19. Clove
Yes, a very tiny amount can go a very long way when you are dealing with clove oil, which has the highest eugenol value of all essential oils. Simply put, it is one of the most powerful antioxidants in nature.
Moreover, this aromatic extract has impressive anti-tyrosinase properties, so it stops those cells from producing all that extra melanin. Plus, the pungent oil is one of the most potent skin whitening agents in nature, so it also erases existing hyper-pigmentation. How is that for a double whammy against age spots?
20. Cinnamon
This is another spice-oil that offers the dual benefits of skin whitening and protection from oxidative stress. Instead of cinnamon bark oil, opt for the aromatic extract derived from cinnamon leaves, which does not cause skin irritation.
Overall, cinnamon oil is exceptionally effective against all signs of skin aging. Also, since it improves circulation, it acts as a potent skin plumping and detox agent that helps in the faster purging of metabolic toxins that cause skin damage from the inside.
21. Vetiver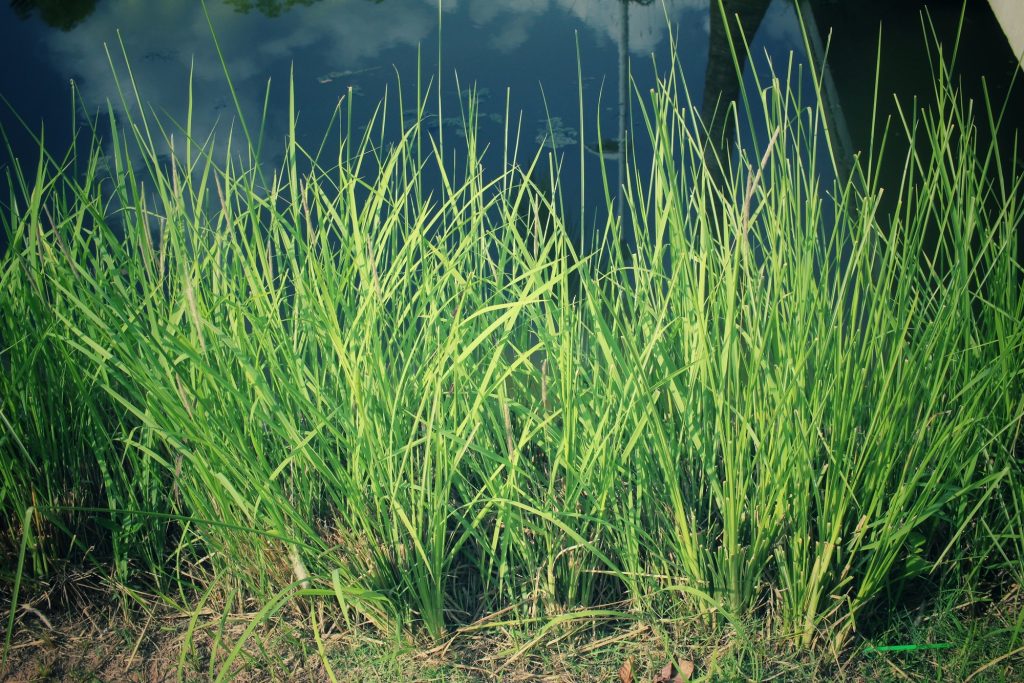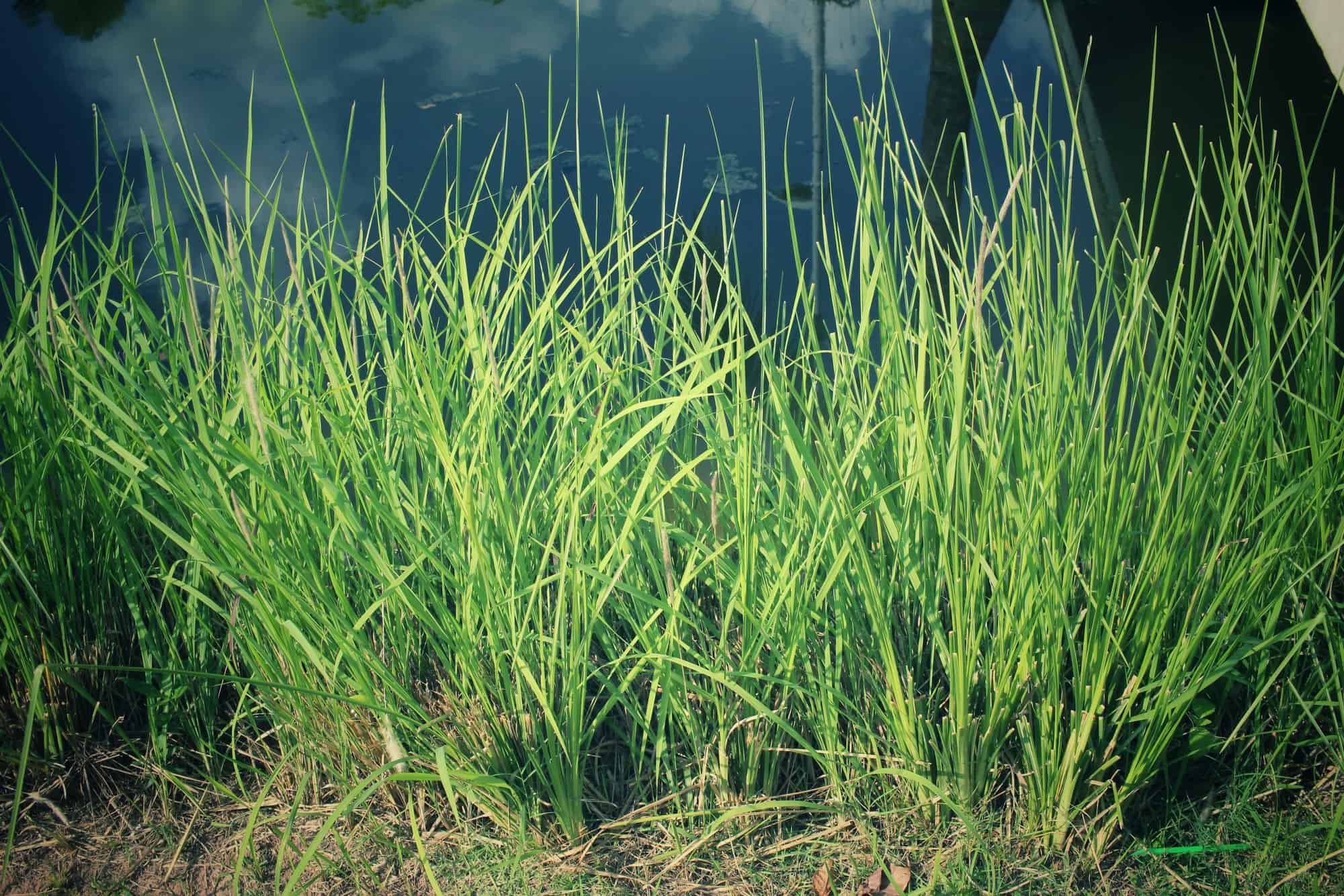 This earthy-sweet smelling oil has a calming effect on the mind and your skin and has been used for centuries in cosmetics and to beat all sun exposure and heat related ailments. Vetiver oil is a strong antioxidant and anti-inflammatory agent that brings about a significant reduction in melanin production as well as the activity of tyrosinase. Moreover, it also helps to maintain the levels of cellular glutathione, which is your body's natural antioxidant and skin lightening agent.
Best 8 Carrier Oils For Age Spots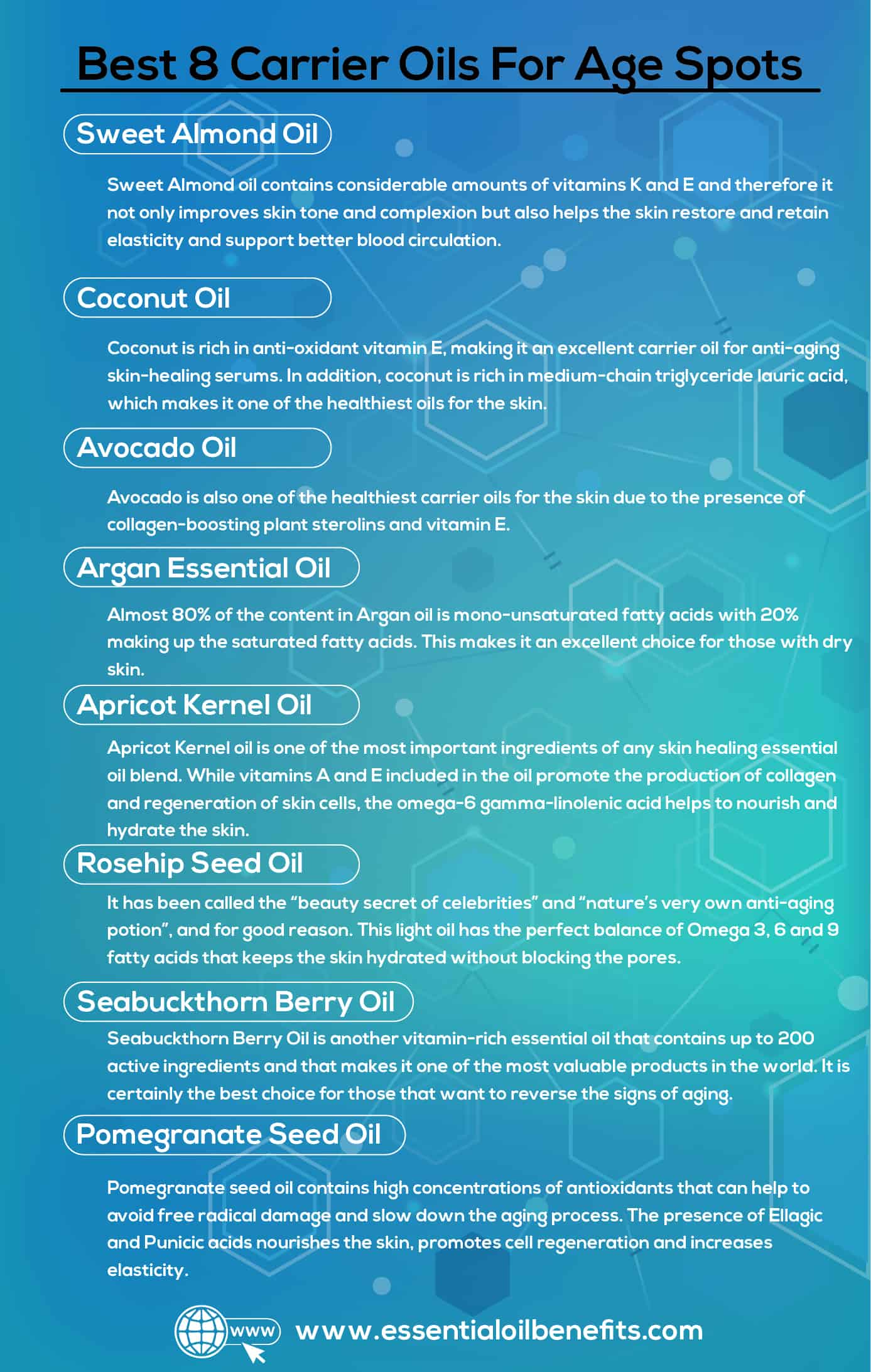 1. Sweet Almond Oil
Sweet Almond oil contains considerable amounts of vitamins K and E and therefore it not only improves skin tone and complexion but also helps the skin restore and retain elasticity and support better blood circulation. Its natural UV blocker quality makes it ideal for individuals who spend most of their time in the sun.
In addition, it offers an additional advantage of being odorless, making it the best option for those that don't like the fragrance of oils. This carrier oil is also light in composition similar to olive oil so it absorbs quite quickly into the skin.
2. Coconut Oil
Coconut is rich in anti-oxidant vitamin E, making it an excellent carrier oil for anti-aging skin-healing serums. In addition, coconut is rich in medium-chain triglyceride lauric acid, which makes it one of the healthiest oils for the skin. While helping to fade away age spots, coconut is also good at strengthening the skin against cellulite, eliminating keratosis pilaris and fading stretch marks. In addition, it is a natural sun blocker, so you can expect this oil to protect your skin against sun damage.
3. Avocado Oil
Avocado oil is a very thick oil and for that reason, most of us hesitate using it over areas such as the face. Just like coconut oil, avocado is also one of the healthiest carrier oils for the skin due to the presence of collagen-boosting plant sterolins and vitamin E. Fact: Did you know that vit B12 creams containing avocado oil is an excellent therapy against psoriasis.
Because avocado oil is very dense, I would recommend using it only with serums and that too at night. If you still find that to be too sticky, try using avocado in combination with another carrier such as grapeseed oil.
4. Argan Essential Oil
Almost 80% of the content in argan oil is mono-unsaturated fatty acids with 20% making up the saturated fatty acids. This makes it an excellent choice for those with dry skin. This oil can fade away fine lines and wrinkles and restore elasticity of the skin.
5. Apricot Kernel Oil
Apricot Kernel oil is one of the most important ingredients of any skin healing essential oil blend. While vitamins A and E included in the oil promote the production of collagen and regeneration of skin cells, the omega-6 gamma-linolenic acid helps to nourish and hydrate the skin. Apricot absorbs into the skin quite fast, making it good for healing and hydrating extremely dry skin.
6. Rosehip Seed Oil
It has been called the "beauty secret of celebrities" and "nature's very own anti-aging potion", and for good reason. This light oil has the perfect balance of Omega 3, 6 and 9 fatty acids that keeps the skin hydrated without blocking the pores.
Moreover, the oil is a rich source of flavonoids that exhibit remarkable abilities to beat down oxidative stress. But the biggest benefit of this oil comes in the form of its vitamin C content. Not only is this nutrient a powerful antioxidant but also essential for the synthesis of collagen and elastin in the skin.
The best part is that ascorbic acid (vitamin C in its natural form) is a potent skin whitening agent. Additionally, the phenolic acids, carotenoids and phytosterols in rosehip seed oil noteworthy antioxidant properties and the potential to do away with all signs of skin aging linked to photodamage. In other words, we are talking about spotless and ageless skin here that comes courtesy of a humble oil.
7. Seabuckthorn Berry Oil
Seabuckthorn Berry Oil is another vitamin-rich essential oil that contains up to 200 active ingredients and that makes it one of the most valuable products in the world. It is certainly the best choice for those that want to reverse the signs of aging. It will help to moisturize the dried-out skin, heal acne, and minimize the signs of other skin imperfections like eczema and hyperpigmentation.
8. Pomegranate Seed Oil
Pomegranate contains high concentrations of antioxidants that can help to avoid free radical damage and slow down the aging process. The presence of Ellagic and Punicic acids nourishes the skin, promotes cell regeneration and increases elasticity.
How To Use These Essential Oils – Popular Tried And Tested Recipes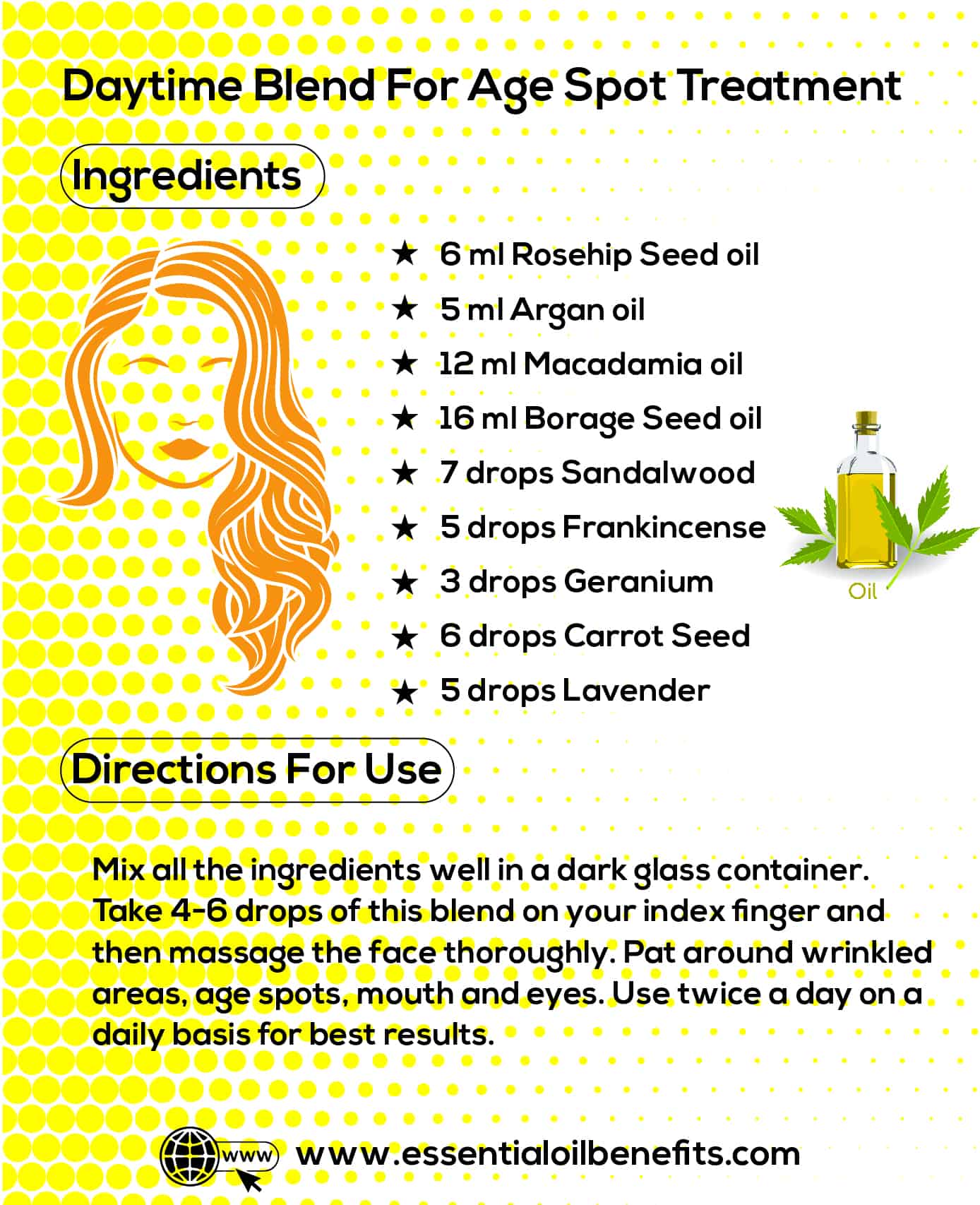 Recipe 1 – Daytime Blend For Age Spot Treatment
This harmonious blend of oils such as frankincense, carrot seed, rosehip seed, plus other anti-aging carrier and essential oils can do wonders for your skin. Here is how to prepare and use this blend:
Ingredients
6 ml Rosehip Seed oil
5 ml Argan oil
12 ml Macadamia oil
16 ml Borage Seed oil
7 drops Sandalwood
5 drops Frankincense
3 drops Geranium
6 drops Carrot Seed
5 drops

Lavender
Directions For Use
Mix all the ingredients well in a dark glass container. Take 4-6 drops of this blend on your index finger and then massage the face thoroughly. Pat around wrinkled areas, age spots, mouth and eyes. Use twice a day on a daily basis for best results. This blend is very effective at minimizing age spots and wrinkles.
Recipe 2 – Simple Blend for Age Spot
Take one drop each of myrrh, frankincense and grapefruit oil diluted in 1 tsp. of fractionated coconut oil on your palm and then apply the blend to the affected areas.
Recipe 3 – Anti-aging Age Spots Blend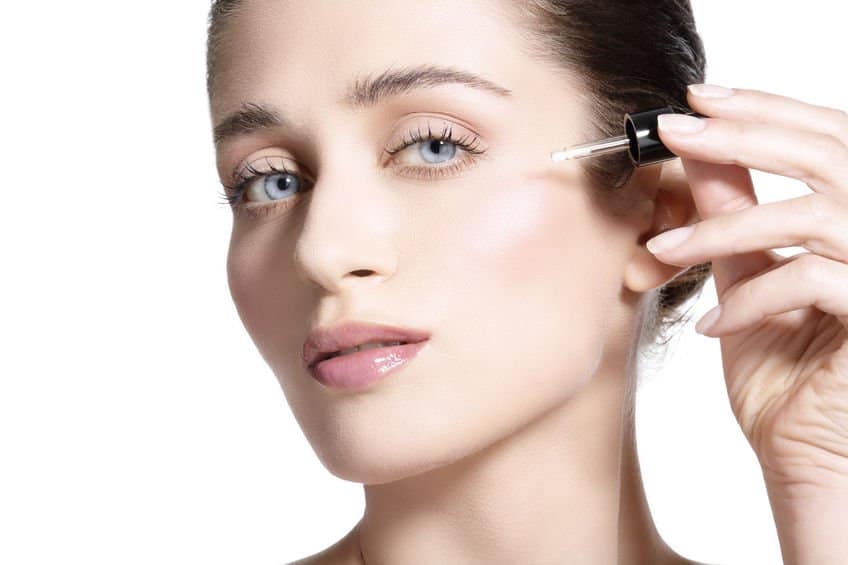 This anti-aging serum is especially developed for those who do not wish to spend a small fortune buying expensive essential oils but still want to remove their age spots. Here is how to prepare and use this blend.
Ingredients
6 drops Turmeric
10 drops Lemongrass
1 oz. Rosehip Seed oil
Directions For Use
Mix all the oils together and store in an amber bottle. Massage a small quantity of this blend over the cleansed neck, face and hand.
Recipe 4 – Intense Age Spot Serum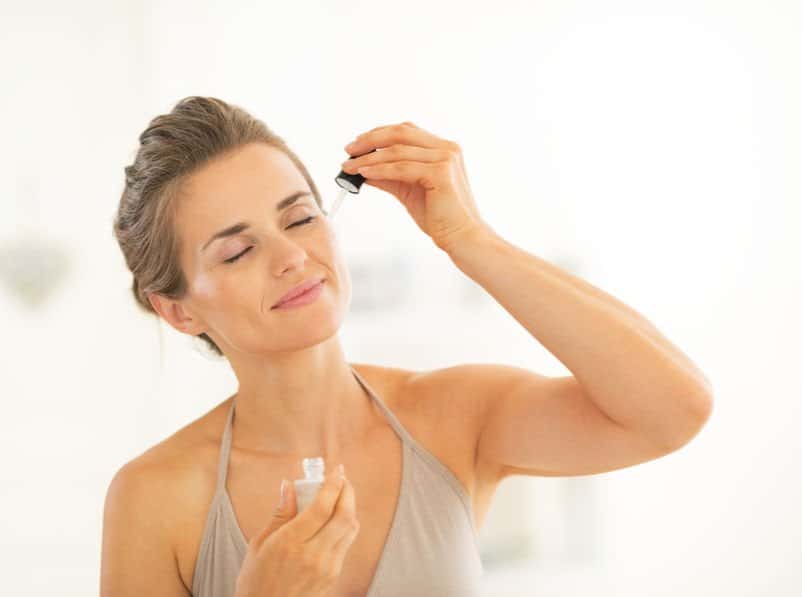 Ingredients
17 drops Coriander
13 drops Cinnamon
15 drops Clove
1.5 oz. Sweet Almond oil
1.5 oz. Seabuckthorn Berry oil
Directions For Use
Blend all the above ingredients and store in a 4-ounce glass bottle. This serum can be used both in the morning and night; however, I choose to apply it at bedtime. Like most serums, less is more, so it takes a very small quantity to cover your neck and face and if by chance you have used even a little more than required then you may feel quite greasy.
Use this short, sweet and age reversing serum recipe to be free of age spots as well as for a firm, toned and moisturized skin daily and enjoy a beautiful and healthy skin, which you have always wanted!
Recipe 5 – Blend for Direct Age Spot Treatment
Ingredients
1 drop Patchouli

1 drop Vetiver

1 drop Neroli
1 tsp Pomegranate Seed oil

Directions For Use
Mix one drop each of Frankincense essential oil and Carrot Seed essential oil to one tsp of Rosehip carrier oil. Use a cotton swab (Q-tip) to apply this blend straightaway to the age spots. Use this blend two times a day until you get desired results.
Recipe 6 – Night Time Age Spot Face Treatment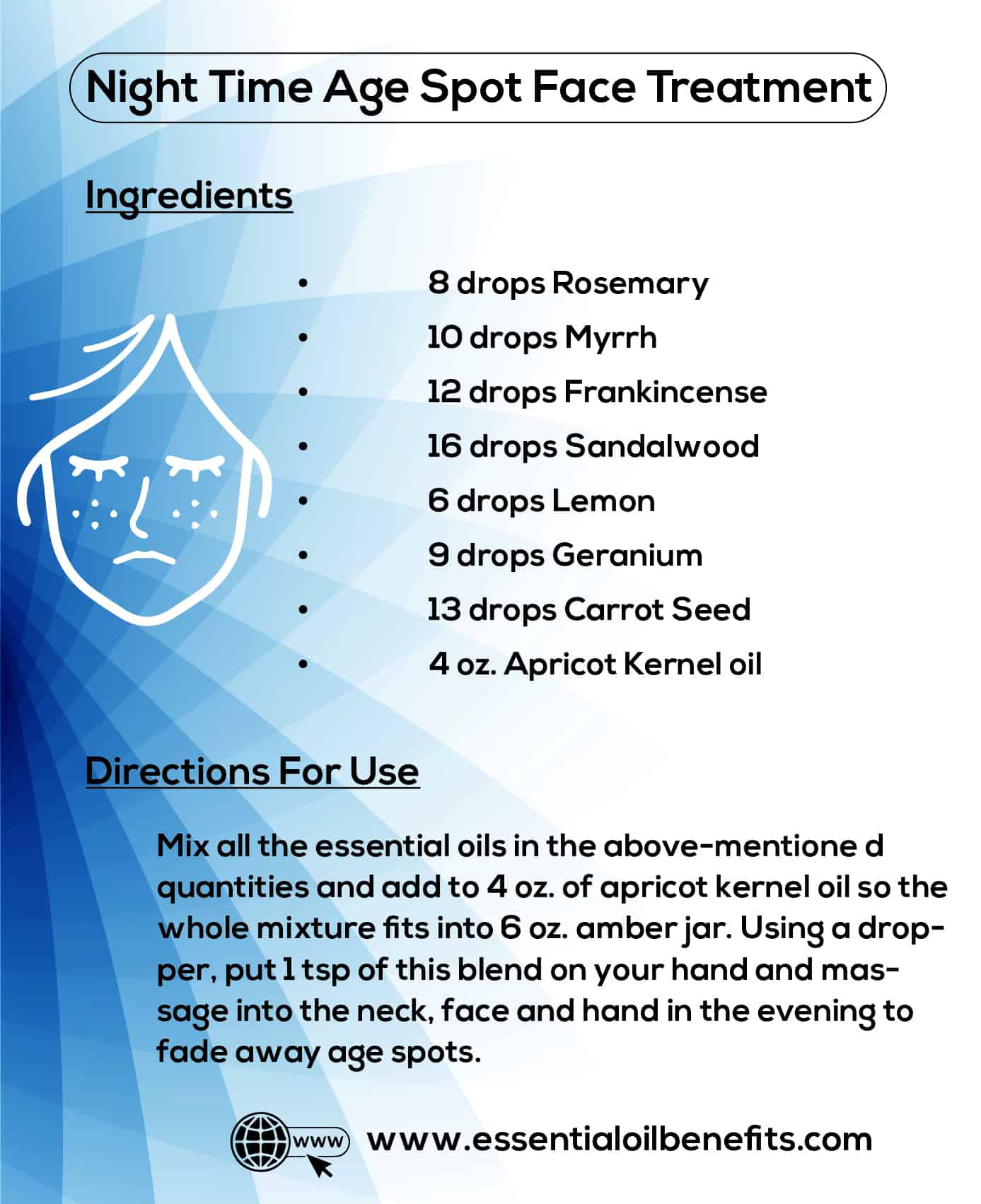 Ingredients
8 drops Rosemary (excellent for skin pores and preserving the effect of other oils)
10 drops Myrrh (excellent for preventing wrinkles and maintaining firmness of the skin)
12 drops Frankincense (excellent at minimizing wrinkles and fine lines)
16 drops Sandalwood (smoothes and soothes the skin)
6 drops Lemon (lightens skin and prevents sun spots and other signs of aging)
9 drops Geranium (balance sebum production and tightens the skin)
13 drops Carrot Seed (anti-aging master)
4 oz. Apricot Kernel oil (for healthy and moisturized skin)
Directions For Use
Mix all the essential oils in the above-mentioned quantities and add to 4 oz. of apricot kernel oil so the whole mixture fits into 6 oz. amber jar. Using a dropper, put 1 tsp of this blend on your hand and massage into the neck, face and hand in the evening.
Essential Oil For Dark Spots On Skin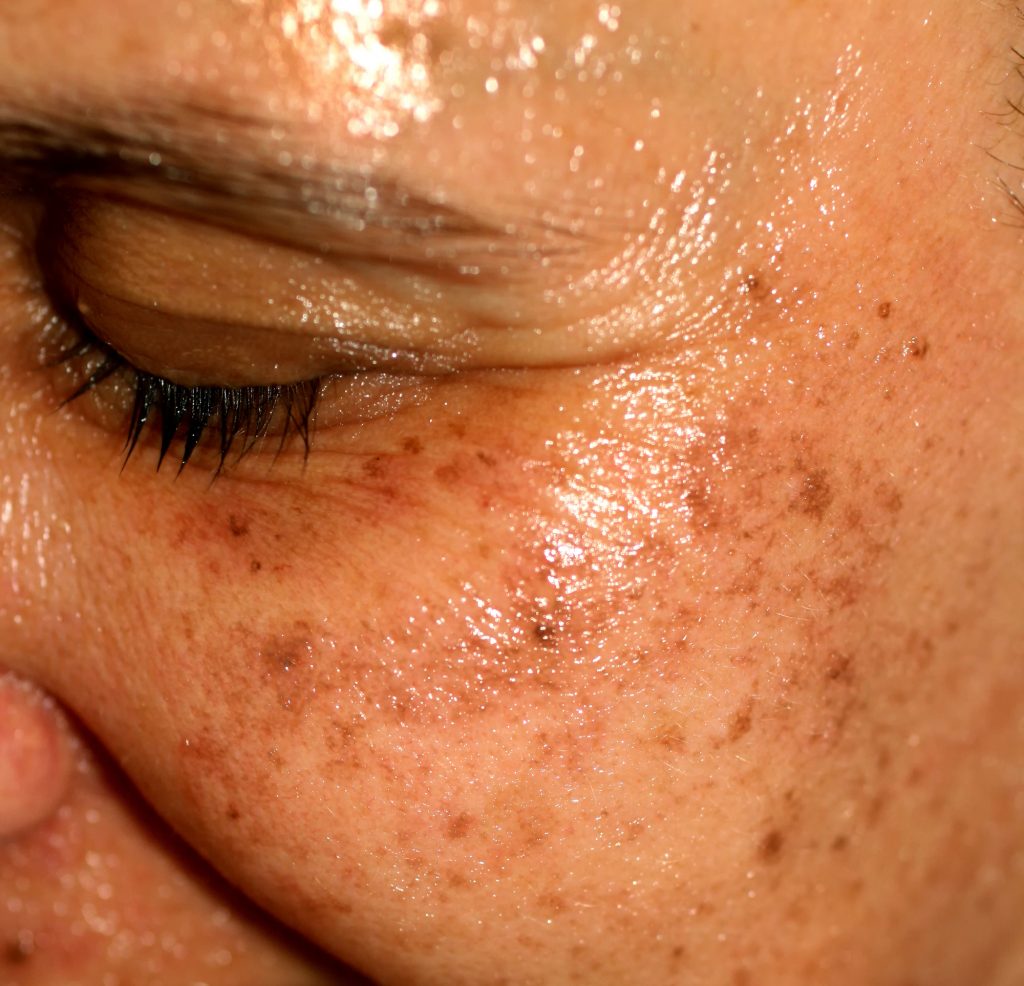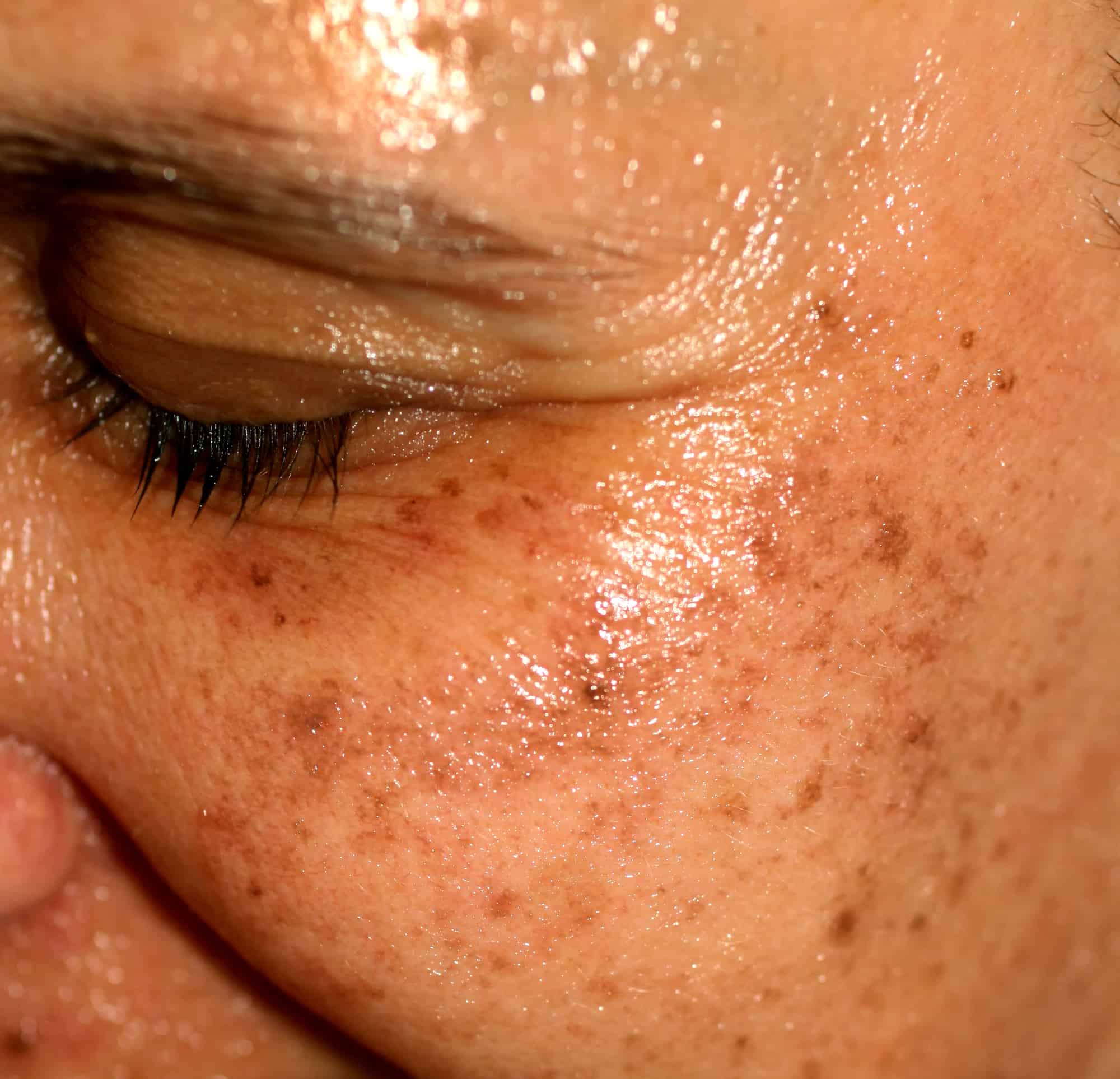 How To Prevent Dark Spots Using Essential Oils

Now that we have established the role of sun exposure in the appearance of age spots, let me tell you what happens when the environmental insults continue. The faulty melanin secretion not only goes into fourth gear but also spreads to the neighbouring cells, leading to an increase in both the size and the darkness of existing spots.
As oxidative stress and chronic inflammation join the fight against your skin, new spots get formed and faster too. Unfortunately, free radicals adversely impact your skin's ability to protect and heal itself, thus creating a pathway for further photo damage.
So, if you believe prevention is not needed once age spots have already arrived, think again.
Fortunately, there is a simple recipe that will stop inflammation in its tracks while neutralizing the free radicals. You will need:
30 ml Ashwagandha macerated oil prepared in sesame seed oil, and the following essential oils:
2 drops cinnamon leaf oil
3 drops holy basil oil
5 drops each of myrrh, neroli and rose oils
7 drops geranium oil
Method
Preparing the macerated oil: For the macerated oil use dried ashwagandha (Indian ginseng powder). This herb can easily be found online. It is a well-known adaptogen and anti-aging ingredient, when used externally and internally.
Put 100 ml sesame seed oil in a glass jar (200 ml capacity) along with 1 heaped tablespoon of ashwagandha powder. Mix with a clean and dry spoon and put the cap/lid back on. Fill a cooking pot with enough water to submerge the jar up to the level of the oil in it.
Put the jar in the pot and place the pot on the stove. Bring the water to a boil. Remove from heat and let stay for an hour. Repeat 4-5 times and then let the oil rest for 24 hours. By the time you revisit the jar, the herb will have settled to the bottom.
You can either use the oil on top by removing it in a separate jar or filter the entire content of the jar. Don't throw away the residue. Store it in a small glass container and add it to your face mask recipes. Sun infusion works even better than heat infusion but it is a time consuming process that can take 7-10 days.
Preparing the blend: Remove 30 ml of the infused oil into a small glass bowl and add the essential oils to it. Mix using a glass stirrer or a toothpick and store the blend in a dark glass bottle. Use both before and after sun exposure. Apply a few drops of this blend before slathering on your sunscreen. If you need to reapply your sunscreen, use the blend first and then apply the sunblock.
How To Lighten Dark Spots Using Essential Oils

Once the spots form, it's not just a matter of undoing the skin damage that led to the blemishes. You will have to aggressively deal with the hyper pigmentation. Now, I know that skin lightening and bleaching are terms that are perceived negatively.
But in this case, lightening the spots is truly the only way to get rid of them. So, you will have to use skin lightening or bleaching compounds and here is a recipe that combines some of the most potent natural ingredients.
If you are below the age of 40, use this exfoliating scrub every day. If you are over 40, use it every alternate day and on the in-between days, opt for oil cleansing. You can mix the dried ingredients beforehand and store them in a glass jar.
This scrub is easy to use yet offers fantastic results. In fact, tis blend can put most salon treatments to shame, even if I say so myself. You will need:
1 tbsp milk thistle herb powder (available online)
1 tbsp spirulina powder
2 tbsp licorice root powder
2 tbsp orange/lemon peel powder
For mixing, yoghurt as required.
3 tbsp castor oil
10 drops each of vetiver and palma rosa
8 drops Frankincense
12 drops lime
3 drops ylang ylang
Method
Start your morning with this quick and easy exfoliating cleanser that will undo all the damage sustained the day before and will limit the damage in the hours to come. Mix the powders and store in a glass jar in a dry and cool place. You don't want to introduce moisture in it or it will mold. So, use a dry spoon every time you want to use the mix. Similarly, blend all the oils together and store in a dark glass bottle.
Take about 2 teaspoons of the powder in a bowl and add ½ tsp. oil blend and enough yoghurt to make a smooth, lotion-like paste. Use it all over your face and neck as you would any exfoliating cleanser. Don't use too much downward pressure but do cover your entire face using circular strokes.
Pay special attention to the hyperpigmented areas by being extra generous with usage. You will only need to massage for 5-7 minutes. Layer on what remains of the mixture on the affected parts and let it remain on your skin for about 10 minutes and then wash off with warm water. You don't have to cleanse or tone your skin after this treatment.
How To Fade Dark Spots Using Essential Oils
This blend can be used with the exfoliating cleanser and the green tea "dark spot-fader" spray or even on its own. If using a vitamin C or retinol serum, use it before applying this blend.
Give your skin about 10 minutes of breathing space between applications of the two products. If you are not using a serum, use this blend before applying your foundation, BB/ CC cream or your sunscreen. For the blend you will need:
20 ml tea seed oil (not tea tree oil but the oil derived from the seeds of the tea plant or camellia sinensis)
20 ml safflower oil
5 drops each of turmeric and sandalwood
3 drops clove
4 drops myrrh
6 drops lemon
12 drops roman chamomile / rose geranium
Method
Mix the oils and store in a dark glass bottle and apply twice a day for best results. Use for 4 weeks and then take a break of one week.
Essential Oils For Brown Spots (Prevention)


Since you already know that age spots can be a stubborn lot, you will agree with me when I say that preventing them is better and easier than trying to treat/cure them. Start using this 2 step process to stop the sun damage and the oxidative stress that follows.
Step 1: Did you know that the tannins in green tea are the best defence against oxidative stress and sun damage? The easiest way to harness the healing power of tea is by cold infusing matcha or regular, organic green tea leaves in room temperature water.
You do everything just the way you would to prepare a cup of strong tea. But, there is no heating involved. You simply mix the tea leaves with water and let the infusion stand overnight and in the morning you will have your supercharged green tea ready.
Pour ½ the tea (assuming you have prepared 1 cup) into a spritzer bottle and add ¼ tsp calendula extract to it. Add the other half to your morning smoothie/green juice or tea to get the antioxidant benefits of the concoction from the inside as well.
Spray the soothing and protective tea-calendula potion all over your face and neck before applying any other product. It doubles up as an effective toner and astringent so use it before your serum or moisturizer. While your skin is still damp from the green tea spray, apply your next skincare product.
Store under refrigeration and use it through the day whenever you skin feels icky or weighed down or looks visibly tired. Above all, use it when you need to reapply your sunscreen. Spray it on and give it 1-2 minutes and then put on your sunscreen.
Step 2: Remember that the dark spots gracing your face today are actually a result of the skin burning, beach session that you indulged in years ago. Think of this blend as a way to prevent the visual manifestation of skin damage that occurred in the past. This blend also prevents further dermal insults, thus stopping the dark cycle in its tracks. It is both easy to use and make; you will need:
20 ml Rosehip seed oil ( if you have dry skin, make this a blend of 10 ml rosehip seed and 10 ml argan/sesame seed oil)
10 ml Evening primrose oil
3 drops Carrot seed and Lemongrass
7 drops Helichrysum
4 drops sea buckthorn and turmeric
2 gel caps Vitamin E (if you have oily skin, use just one gel cap)
Method
Remove the oils in a small glass bowl and mix with a glass stirrer or clean toothpick. Transfer into a dark colored glass bottle and use 3-5 drops of the blend before applying your sunscreen. For best results, use this blend twice a day for at least 8-10 weeks.
Precautions When Using Essential Oils For Age Spots
1. Never use undiluted essential oils on the skin.
2. Do not let essential oil blends get into the eyes.
3. Always do a patch test before using essential oil blends.
4. Opt for steam distilled lemon oil instead of the expressed version.
5. If you are allergic to the botanical material that a particular oil is derived from, there is a very good possibility that the essential oil will also cause an allergic reaction.
6. If you are pregnant or breast feeding use essential oils under the supervision of a certified aromatherapist.
7. Discard blends after 3-4 months.
8. Do not use any blend continuously for more than 2-3 months.
9. Keep your blends away from the reach of kids and pets.
10. Do not store essential oil blends in areas where they may get exposed to humidity and heat.
11. Always use sunscreen on top of any essential oil blend meant for skin brightening/lightening.
12. Avoid immediate sun exposure after using citrus essential oils.
8 Natural Remedies For Age Spots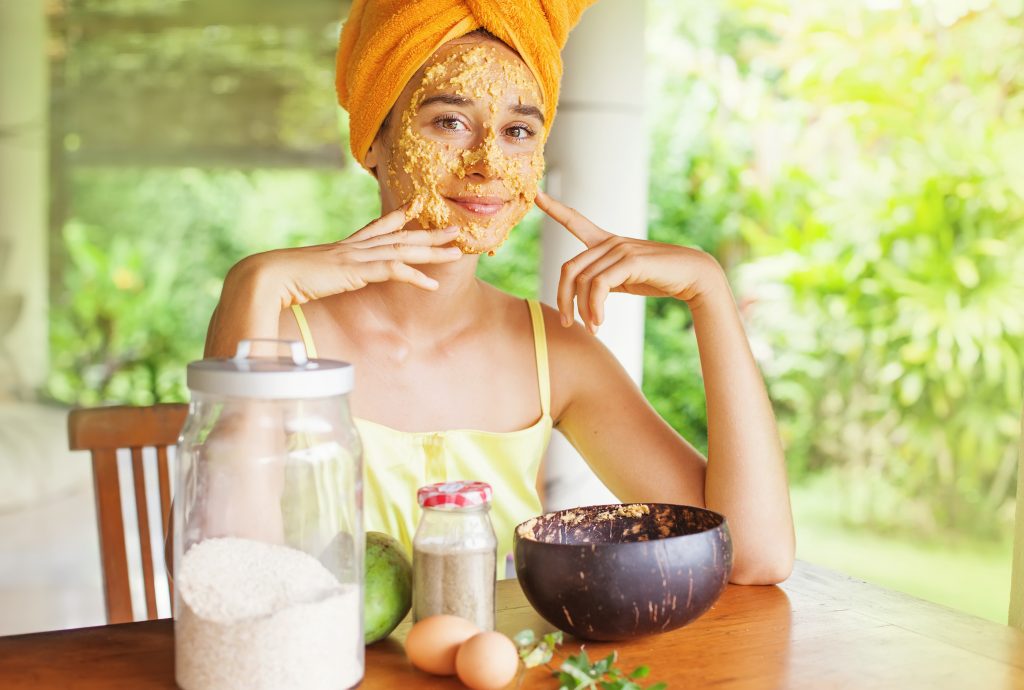 1. The goodness of tomatoes
Rich in lycopene, vitamin A, C, K and other nutrients, fresh tomato juice will not only help to fade away the dark spots but will also protect your skin from free radical damage.
Add a pinch of cinnamon and about 1 tsp. of rice flour to 2 tbsp. of tomato pulp. You are going for a mixture that has the consistency of cake batter. Apply only on the affected areas or use as you would a face mask. Keep on your skin for 15-20 minutes and wash off with room temperature water.
2. Turmeric, parsley and yoghurt
Alpha hydroxyl acids are frequently used to treat age spots and yoghurt contains plenty of lactic acid, which is a potent AHA. Parsley brings its own anti-inflammatory and skin lightening effects to the recipe while turmeric lends the antioxidant punch.
You will need 1 tbsp. parsley leaves paste, ½ tsp turmeric powder and 2 tbsp non-pasteurized yoghurt. Mix the ingredients together and apply on the hyperpigmented parts or all over your face. Keep the mask on for 30-40 minutes and then wash off with warm water.
3. Papaya and licorice root
This recipe is exceptionally potent against all types of hyperpigmentation because papaya offers the exfoliating effect while licorice extract completes the job with its skin bleaching properties.
You will need a slice of ripe papaya and 1 tsp licorice root powder. Mash the fruit into smooth pulp and add the licorice root powder to it. Mix well and apply on the affected parts. Wash off with regular, tap water after 20 minutes.
4. Pineapple juice and rose petal powder
This is another recipe that uses the active enzymes in fruits for their skin lightening effects. In this case, we are talking about bromelain, which is a powerful exfoliant.
Start with 1-2 tbsp of rose petal powder and add enough fresh, homemade pineapple juice to make a thick paste. Apply on the dark spots or all over your face and neck. Wash off after 15-20 minutes.
5. Cucumber, onion and ginger
This combination of natural ingredients works well to both treat and prevent age spots. The concoction is easy to make and use, and it's completely safe.
You will need ½ cucumber, ½ medium sized onion (peeled) and a ½ inch piece of ginger root. You want the juice of all these veggies, so a centrifugal juicer will work better than a blender. Soak cotton pads in the juice and place on the hyperpigmented areas. Keep them on your skin for 15-20 minutes and then wash the treated area with regular water.
6. Strawberry and coconut cream
This indulgent treatment works well when the spots have just raised their ugly head and when you need to generally even out your skin tone.
You will need 3 ripe strawberries and 2 tbsp of coconut cream. You can use a spoon to mash the strawberries, but I always recommend dunking the fruit and the cream in the blender and processing for a minute. Use this fruity mask all over your face. Keep it on for 20-30 minutes, applying a second layer if you feel the first has dried. Wash it off with warm water.
7. Nutmeg and aloe gel
This is a spot treatment that works well even on the darker spots. It has to be kept on overnight. Because it contains nutmeg that can cause serious and potentially damaging eye burning if the mixture gets into your peepers, be cautious when using this gel treatment.
You will need 2 pinches of nutmeg powder (a bit less than ¼ tsp) and 1 tsp aloe gel (homemade). Mix the two ingredients and apply with a Q tip directly on the dark spots. Reapply after 20 minutes and then leave it on all through the night. In the morning, remove by dabbing the treated area with cotton wool soaked in cold water or green tea.
8. Soy flour and green and black tea
This is an easy to make treatment that helps with sun spots as well as hyper pigmentation caused by hormonal imbalance.
Start with 2 tsp soy flour (non GMO) and 1 tsp matcha. Use black tea to make a thick paste (cake batter-like) and apply on the hyperpigmented parts. Keep the paste on your skin for 15-20 minutes and then wash off with cold water.
How To Prevent Age Spots
Basking in the sun is going to do you no good
Sure you need your daily dose of vitamin D, but you don't have to bake yourself to get it. About 15 minutes of early morning sun exposure is enough to meet your daily requirement of vitamin D.
No, I am not asking you to stay indoors. But, do seek shade whenever you can. If this means walking on the shaded side of the street or carrying an umbrella along or even getting that hat out of its box, why not?
Sunscreen is your most powerful and effective ally against all signs of aging
Unless you intend to be out and about in the PM hours, slather on that sunscreen like your life depends on it, regardless of the weather and the season. You need a product with SPF 30 at the least.
Apply it 30 minutes before sun exposure and reapply every 2-3 hours. One of the reasons sunscreens don't work as well as they should is because people use ½ or even 1/3rd of the required amount. So, be generous with your sunscreen.
Tanning beds are just as bad
Whether it's the flaming ball in the sky or a tanning bed that gives you that sun kissed look, rest assured that your skin is going to pay the price for your excesses. UV rays are extremely damaging regardless of their source.
Nutrients do make a difference
Although not the principle cause of age spots, nutritional factors can play an ancillary role.
For instance, polyunsaturated fats can lead to inflammation in the body and when coupled with iron will accelerate the rate at which those age spots form. Similarly, too much iron can put you at a greater risk of developing liver spots.
The Final Word
Essential oils should be weakened in carrier oil to a maximum of 3% and hence, the proportion will be 18 drops of essential oil in 1 ounce (30ml) of carrier oil. You can increase the quantity of your blend in the same proportion.
Remember to conduct a patch test to be assured that your skin does not have an unfavorable reaction to the oils. The inner forearm is the best place to conduct the test since the skin in this region is delicate and similar to the facial skin.
I have had great results with the use of these essential oils – my skin looks shiny and clearer than ever before, and my age spots and acne marks do not exist anymore.