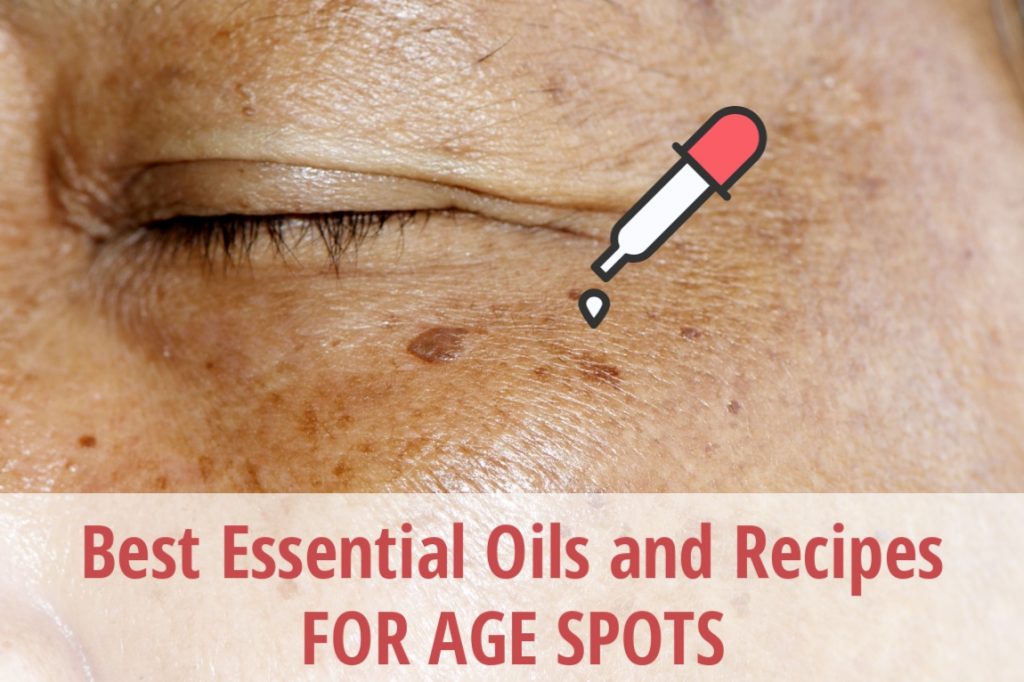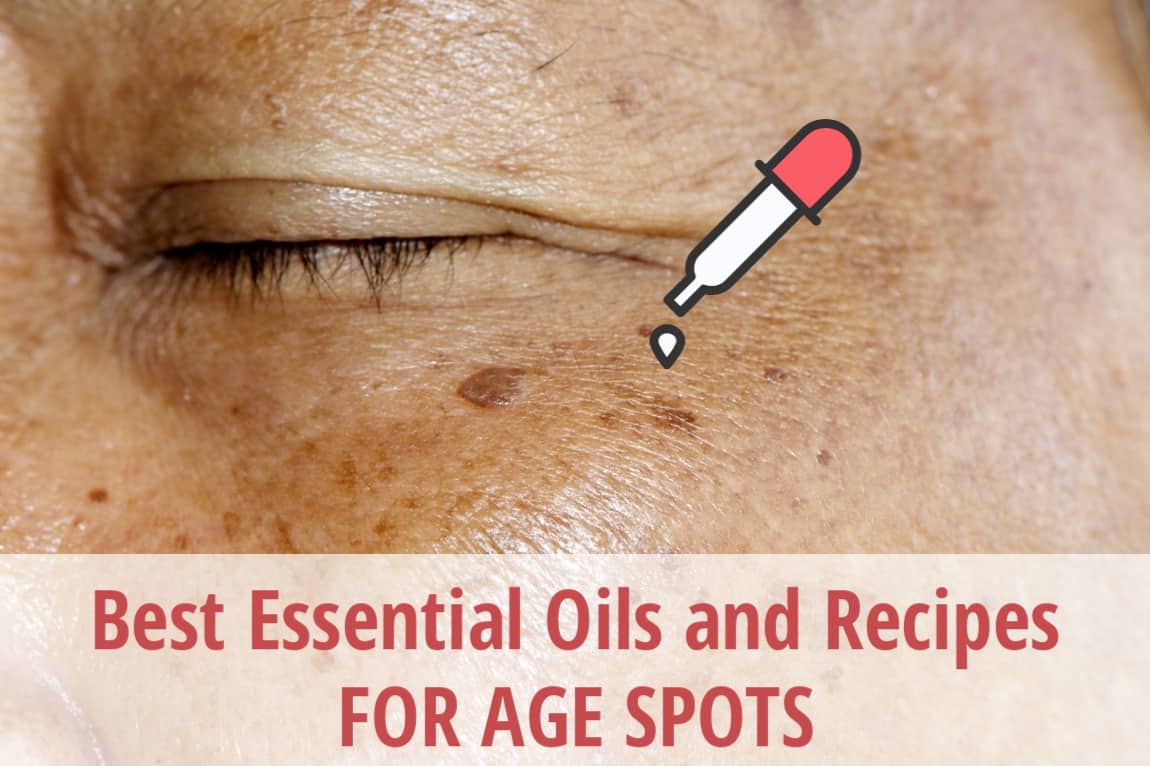 Age spots, also known as solar lentigines or liver spots, are generally spots appearing on the skin that are brown, grey or black in color and vary in size. Age spots are generally seen over the arms, shoulders, hands and face as these areas are more prone to sun exposure. Although, these spots are more common in individuals above the age of 40, they can affect any individual of any age group. While these spots may look like cancerous growths, they are harmless and do not require any treatment if you are ready to embrace the damage they cause to your looks.
What Causes Age Spots?
One of the major causes of age spots is the excess production of melanin. While the medical community is still not sure about the causes of age spots, various research suggest different reasons for such spots among which the major ones are exposure to ultraviolet light, excess exposure to the sun and the gradual aging of the skin. An individual is more prone to developing age spots over the areas where he/she receives the most sun exposure. If somebody is vulnerable to suffering from age spots, it is likely that he will have it on forearms, shoulders, back of the hands and the face.
Facts About Age Spots
The two images below show 16 facts about age spots.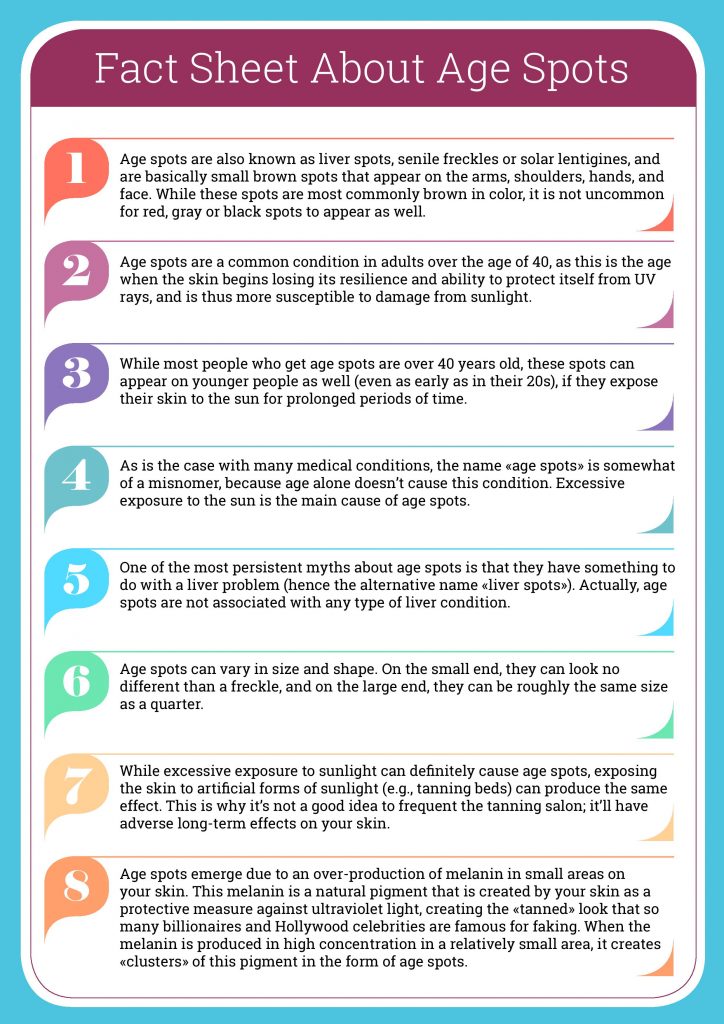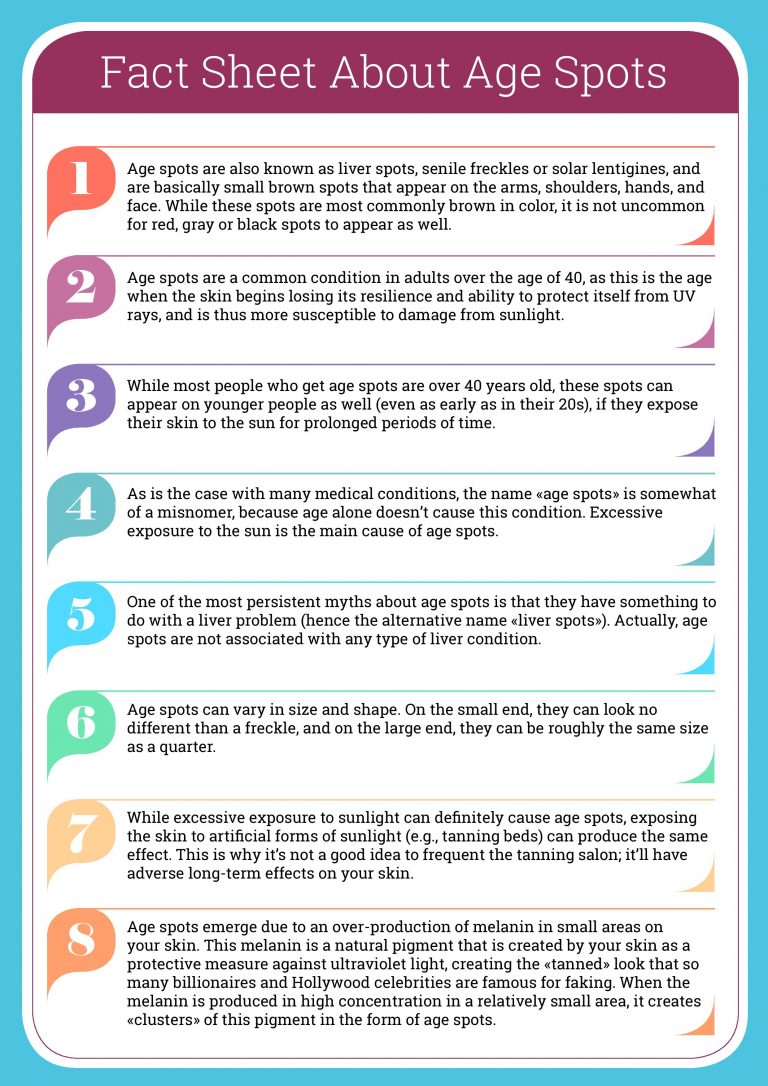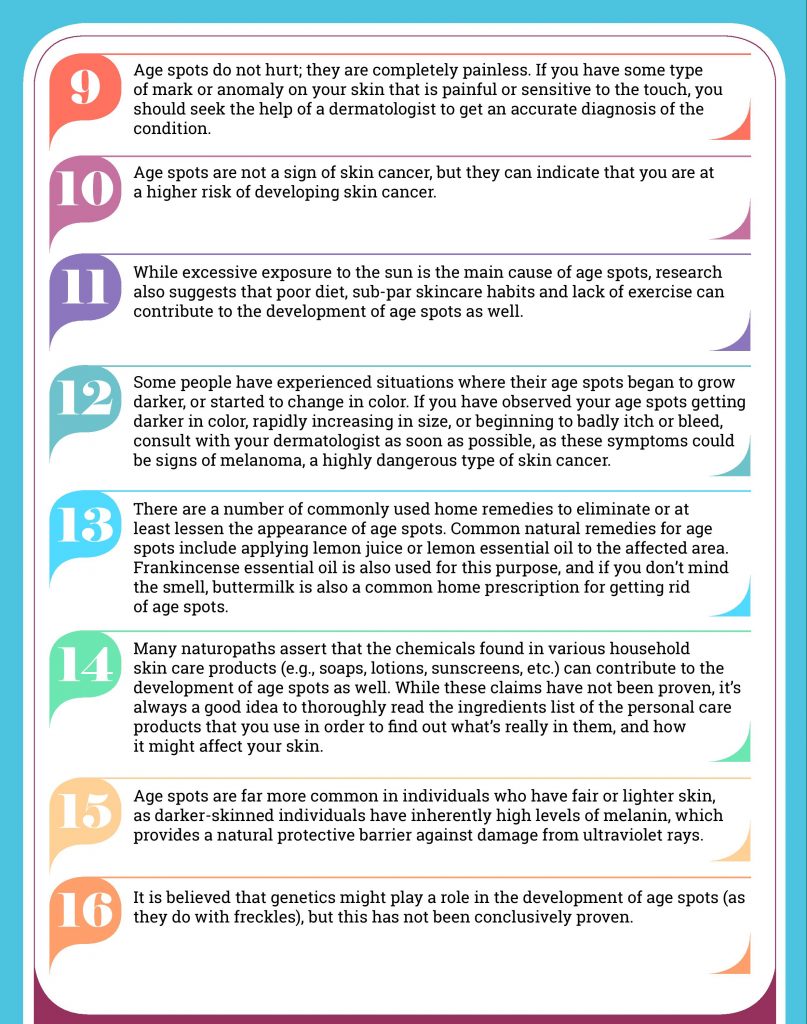 Why Use Essential Oils For Conditions Like Age Spots?
It is natural for our skin to undergo many changes throughout life, so it is important to take care of it against different skin conditions like wrinkles, age spots, elasticity, fine lines, etc. Use of essential oils for skin issues like age spots is not only safe and natural but is also more effective than several funky options out there in the market. Apart from making the age spots less significant, these oils can also help you deal with skin hydration issues, wrinkles and other skin conditions that might bother you at some point in life.
Here are some of the best essential oils you can bank upon for skin ailments like age spots:
17 Best Essential Oils for Age Spots
1. Frankincense Essential Oil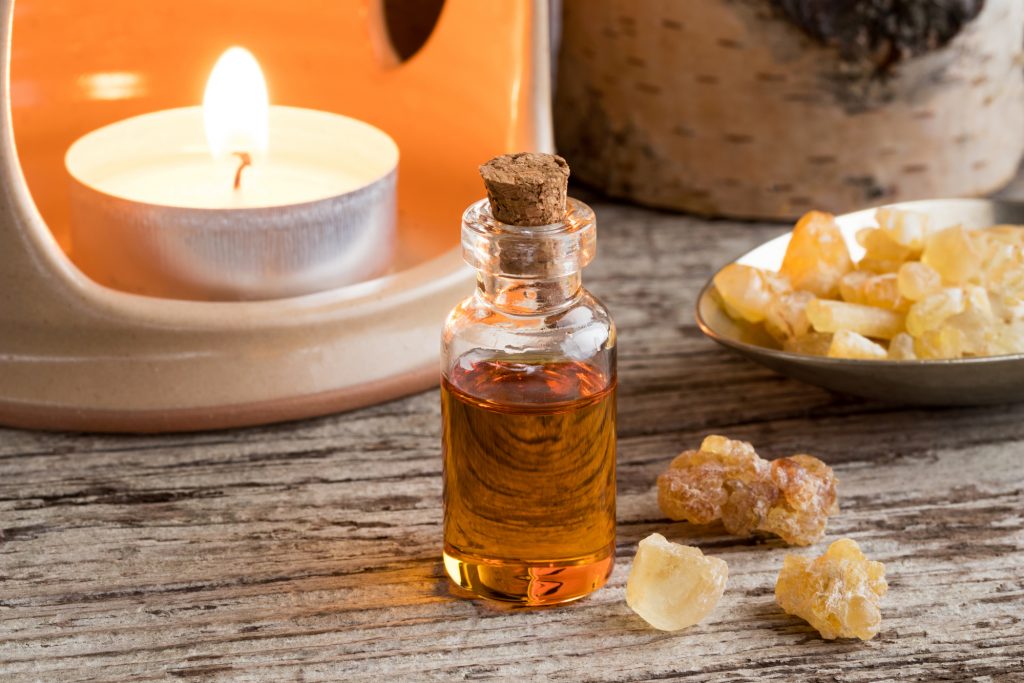 Frankincense is one of the best anti-infectious and anti-inflammatory oils whose healing effect goes deep down the skin. It relieves the nerves and protects the skin against microorganisms. Other than that, Frankincense has anti-tumor and anti-cancerous properties making it one of the best oils to use for conditions like age spots, moles, warts and many other skin problems. I would rather call this oil a woman's best friend, as it is excellent at treating one of the most dreadful of all skin conditions – wrinkles.
2. Sandalwood Essential Oil
This oil offers amazing therapeutic value. It not only acts as a skin regenerative but also as an astringent and a natural skin tonic.
3. Lavender Essential Oil
Lavender is one of the essential oils that I would recommend no person should go without – it not only smells amazing but also helps your body and mind relax. One of the reasons why I like this oil the most is its skin regenerating ability. As such, this oil is helpful in treating skin conditions like scarring and sunspots. In addition, it helps in reducing allergic reactions and inflammation; it is amazingly soothing to aggravated burns and dried out skin (including sunburns). Adding to the list of benefits, lavender oil is antimicrobial and anti-fungal.
4. Helichrysum Essential Oil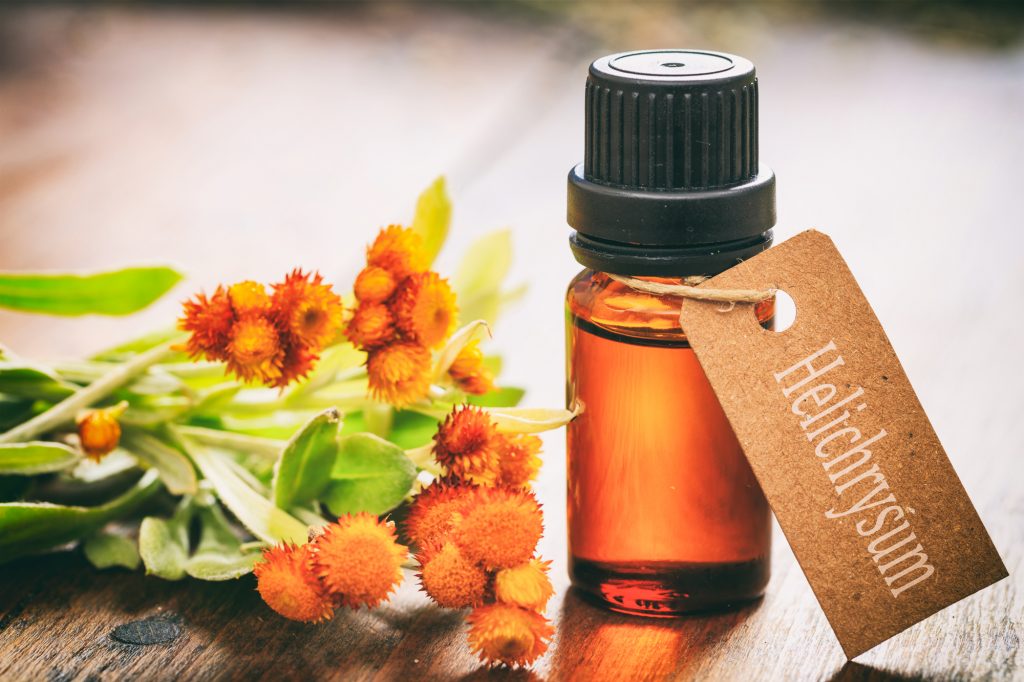 This amazing oil within the category of immortelle essential oil gives fantastic results when used for psoriasis and eczema. In addition, it helps in pain relief and tissue regeneration. You can also use this oil as a sun radiation protector.
5. Carrot Seed Oil
While being restorative for the skin, carrot seed essential oil helps in the regeneration of skin cells. While being effective at smoothing dry skin, it also helps in lightening skin marks and enhancing the tone of ageing skin.
6. Geranium Essential Oil
Geranium essential oil helps in normalizing the production of sebum in the skin and diminishes the age spots appearing on your face. This oil is also helpful in reducing wrinkles, tightening the skin and keeping the skin elastic. Other than that, geranium is known to improve the circulation of blood to the areas where it is applied.
7. Myrrh Essential Oil
Myrrh essential oil is beneficial for aging skins because of its strong anti-inflammatory qualities that help in reducing the fine lines and wrinkles and its ability to improve the skin elasticity, skin tone and skin firmness. This essential oil is also helpful in healing eczema, chapped skin, rashes and sun damage.
8. Neroli essential oil
Neroli essential oil is a fantastic essential oil to use for aging, sensitive and oily skin types. It helps to tone up my sagging skin and reduces fine lines. This restorative oil has a natural ingredient called citral, which makes cell regeneration easy for your skin. Its antibacterial quality shrinks the large skin pores without drying the skin and stabilizes the production of sebum.
9. Patchouli Essential Oil
Patchouli essential oil is perfect for aging skin. It helps to smooth wrinkles and fine lines and encourages new cell growth. The antibacterial and antifungal properties of this oil are beneficial in treating skin conditions like acne, psoriasis, dermatitis and eczema.
10. Rose Essential Oil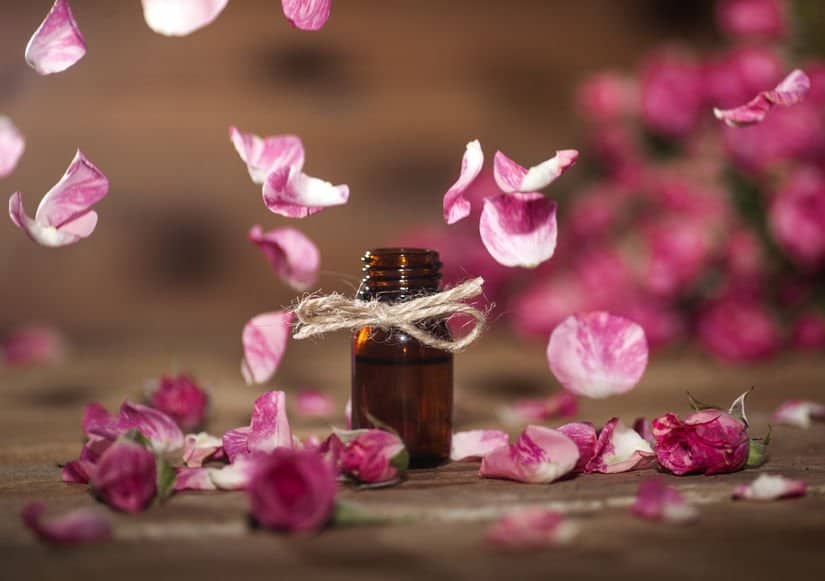 Rose is wonderful for aging and dry skin. Research has indicated that Rose contains many anti-inflammatory and antimicrobial compounds that speed up the healing. As a result, Rose cleanses the skin and tones its texture making it one of the best remedies for dermatitis and psoriasis. Interestingly, when inhaled, rose restrains the water loss in the skin and reduces the concentration of the stress hormone called cortisol. Remember, stress has a deep impact on your skin!
11. Tea Tree Essential Oil
The essential oil of tea tree is well known for its anti aging effects. The antibacterial properties of this oil help to fight off skin aging issues like age spots. As tea tree helps to regulate the production of sebum in the skin, you can expect this oil to diminish your age spots significantly.
12. Ylang Ylang Essential Oil
The floral fragrance of Ylang Ylang makes it one of my favorite essential oils. It is helpful in regulating the production of oil in the skin, which ultimately allows you to avoid conditions like age spots. It may also help in skin cell regeneration, improving skin elasticity and smoothing fine lines.
13. Sea Buckthorn Berry Oil
Sea Buckthorn Berry Oil is another vitamin-rich essential oil that is certainly the best choice for those that want to reverse the signs of aging. This oil will help to moisturize the dried-out skin, heal acne, and minimize the signs of other skin imperfections like eczema and hyperpigmentation.
14. Pomegranate Seed Oil
Pomegranate contains high concentrations of antioxidants that can help to avoid free radical damage and slow down the aging process. The presence of Ellagic and Punicic acids nourishes the skin, promotes cell regeneration and increases elasticity.
15. Cypress Oil
Cypress strengthens the skin, improves blood circulation and minimizes the signs of skin imperfections like age spots.
16. Lemon Oil
Lemon oil is quite helpful in lightening the age spots, as well as preventing the onset of wrinkles and fine lines.

Best 5 Carrier Oils For Age Spot Treatment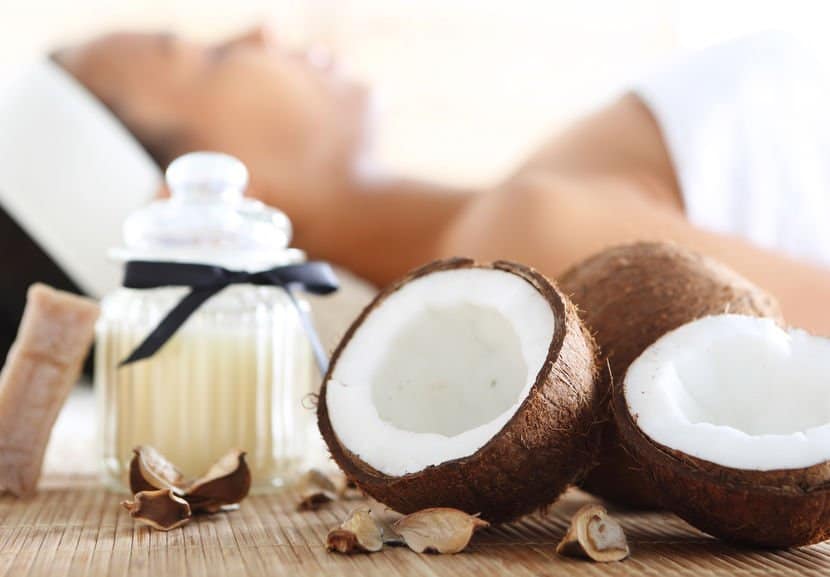 1. Sweet Almond Oil
Sweet Almond oil contains considerable amounts of vitamins K and E and therefore it not just helps skin to restore and retain elasticity but supports better blood circulation. Additionally, its natural UV blocker quality makes it ideal for individuals who spend most of their time in the sun. In addition, this oil offers an additional advantage of being odorless, making it the best option for those that don't like the fragrance of oils or those that have employers restricting them from using scented oils at work. This carrier oil is also light in composition like olive oil so it absorbs quite quickly in the skin.
2. Coconut Oil
Coconut is rich in anti-oxidant vitamin E, making it an excellent carrier oil for anti-aging skin-healing serums. In addition, coconut is rich in medium-chain triglyceride lauric acid, which makes it one of the healthiest oils for the skin. While helping to fade away age spots, coconut is also good at strengthening the skin against cellulite, eliminating keratosis pilaris and fading stretch marks. In addition, it is a natural sun blocker, so you can expect this oil to protect your skin against sun damage.
3. Avocado Oil
Avocado oil is a very thick oil and for that reason, most of us hesitate using it over areas such as the face. Just like coconut oil, avocado is also one of the healthiest carrier oils for the skin due to the presence of collagen-boosting plant sterolins and vitamin E. Because this oil is very dense, I would recommend using it only with serums and that too at night. If you still find that to be too sticky, try using avocado in combination with another carrier.
4. Argan Essential Oil
Almost 80 percent of the content in argan oil is fatty acids making this oil an excellent choice for those with dry skin. This oil can fade away fine lines and wrinkles and restore elasticity of the skin.
5. Apricot Kernel Oil
Apricot Kernel oil is one of the most important ingredients of any skin healing essential oil blend. While vitamins A and E included in the oil promote the production of collagen and regeneration of skin cells, the omega-6 gamma-linolenic acid helps to nourish and hydrate the skin. Apricot absorbs into the skin quite fast, making it good for healing and hydrating extremely dry skin.
How To Use These Essential Oils – Few Tried And Tested Recipes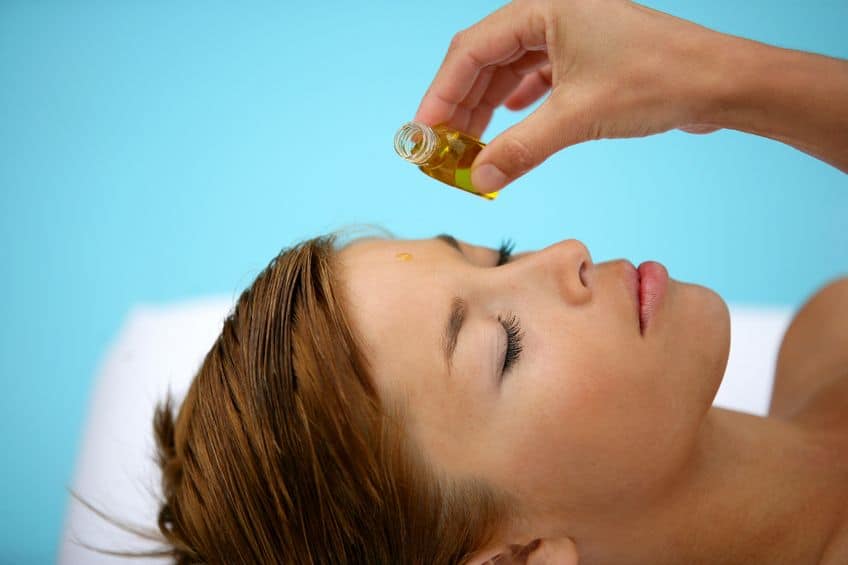 Recipe 1 – Rosehip & Sandalwood Blend for Spot Treatment
This harmonious blend of oils such as frankincense, carrot seed, rosehip seed, plus other anti-aging carrier and essential oils can do wonders for your skin. Here is how to prepare and use this blend:
Ingredients
Directions For Use
Mix all the ingredients thoroughly. Take 4-6 drops of this blend on your index finger and then massage the face thoroughly. Pat around wrinkled areas, age spots, mouth and eyes. Use it two times in a day on a daily basis for best results. This blend is very effective at minimizing age spots and wrinkles. When prepared with pure essential oils, there are no adverse effects on the skin
Recipe 2 – Simple Lavender Blend for Age Spot
Take one drop each of Myrrh, Frankincense and Lavender essential oil with 1 tsp. of fractionated coconut oil on your palm and then apply the blend to the affected areas.
Recipe 3 – Night Time Face Treatment Blend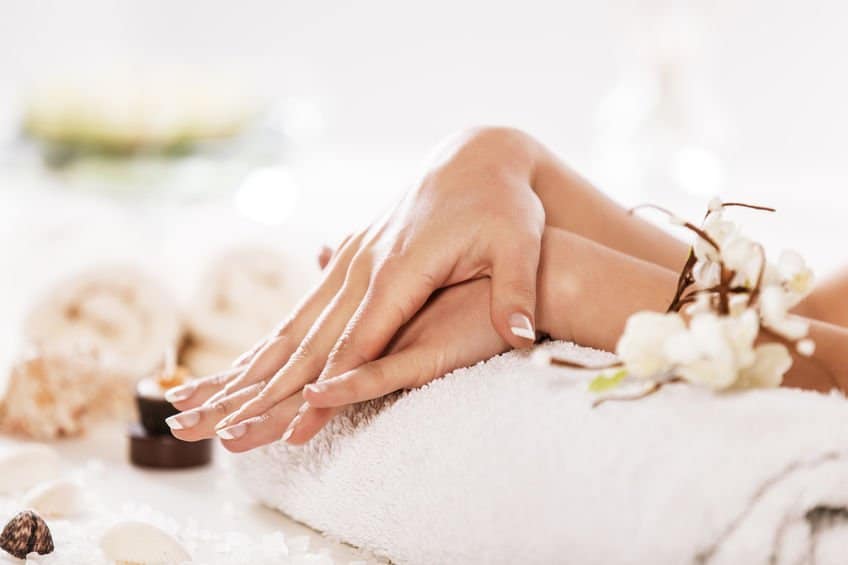 Ingredients
Instructions
Mix all the ingredients in above-mentioned amounts and add 1 cup of apricot kernel oil so the whole mixture fits into 10 oz amber jar.
Using a dropper, put 1 tsp of this blend on your hand and massage into the neck and face in the evening.
Recipe 4 – Rose Hip Anti Aging Blend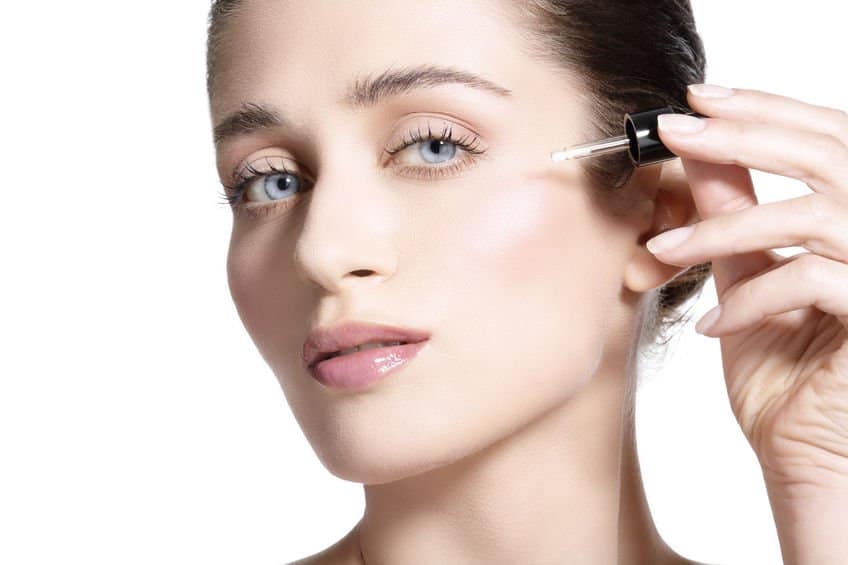 This Anti-Aging Serum is especially developed for those who cannot buy much expensive essential oils but still want to remove their age spots. Here is how to prepare and use this blend.
Ingredients
Instructions
Mix all the ingredients and store in an amber bottle. Massage a small quantity of this blend over the cleansed neck and face.
Recipe 5 – Deep Moisturizing Serum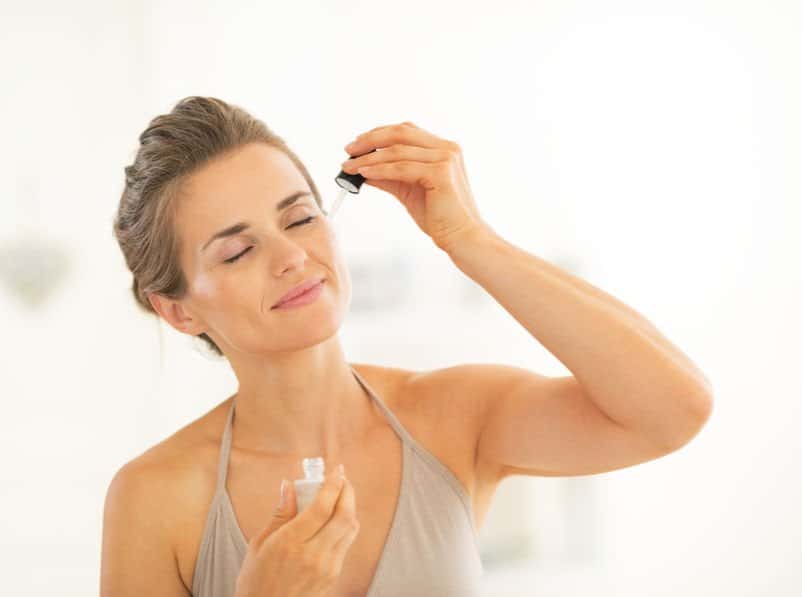 Ingredients
Instructions
Blend all the above ingredients and store in a 4-ounce glass bottle. This serum can be used in both the morning and night; however, I choose to apply it only at bedtime. Like most serums, less is more, so it takes a very small quantity to cover your neck and face and if by chance you have used even a little more than required then you may feel quite greasy.
Use this short, sweet and age reversing serum recipe for a firm, toned and moisturized skin daily and enjoy a beautiful and healthy skin, which you have always wanted!
Recipe 6 – Simple Rosehip Blend for Age Spot
Here is an amazing anti-aging recipe, which is easy to prepare and does not require many essential oils:
Ingredients
Instructions
While mixing oils, start by pouring about 50 % of the carrier oil in the storage jar combined with the listed quantities of essential oils and then finish by topping off your storage jar with the remaining carrier oil.
While pouring oils into storage jars, be sure you leave a bit of space at the top of the bottle. This will allow the oils to breathe.
Massage a small quantity of this blend over the cleansed neck and face.
Recipe 7 – EO Blend for Direct Age Spot Treatment
Ingredients
Directions
Mix one drop each of Frankincense essential oil and Carrot Seed essential oil to one tsp of Rosehip carrier oil. Use a cotton swab (Q-tip) to apply this blend straightaway to the age spots. Use this blend two times a day until you get desired results.
Recommended Product for Age Spots
Here is a product that you can consistently rely upon to help you get rid of those nasty age spots. Check here to read my detailed review on Amoils H-Age Spots.

Some Important Tips To Remember
Essential oils should be weakened in carrier oil to a maximum of 5% and hence, the proportion will be 1 ml (20 drops) of carrier oil and 1 drop of essential oil. You can increase the quantity of your blend in the same proportion. Remember to conduct a patch test to be assured that your skin does not have an unfavorable reaction to the oils. The inner forearm is the best place to conduct the test since the skin in this region is delicate and similar to the facial skin. Furthermore, some of the essential oils should not be used on kids, infants and expecting mothers, so make sure you do your research beforehand.
I have had great results with the use of these essential oils – my skin looks shiny and clearer than ever before, and my age spots and acne marks do not exist anymore.
(Visited 195,103 times, 28 visits today)