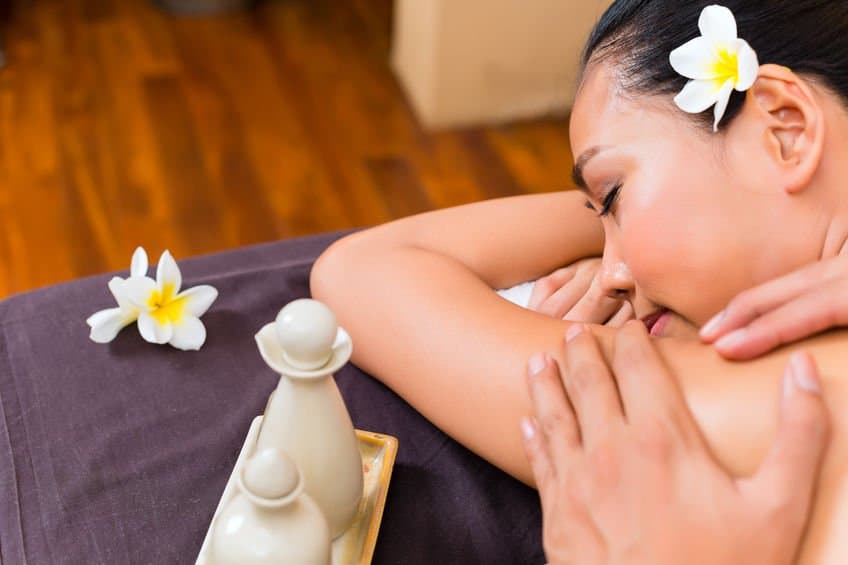 Cellulite is an age-old medical condition that has always bothered women around the world. We are always reading on the media or on social networks about celebrities giving away their secret recipes for cellulite removal. There are also many different cellulite natural remedies appearing on women's websites and magazines, but I feel the issue is still not resolved, as the root cause of the disease is often not addressed.
To date, the reasons for cellulite formation are not known, however factors such as hormones, genetics, diet, lifestyle and even clothing have been put forth as probable theories. While females who are obese tend to have a greater chance of getting cellulite, other women also complain about this issue.
Facts About Cellulite
The two images below show 12 facts about Cellulite.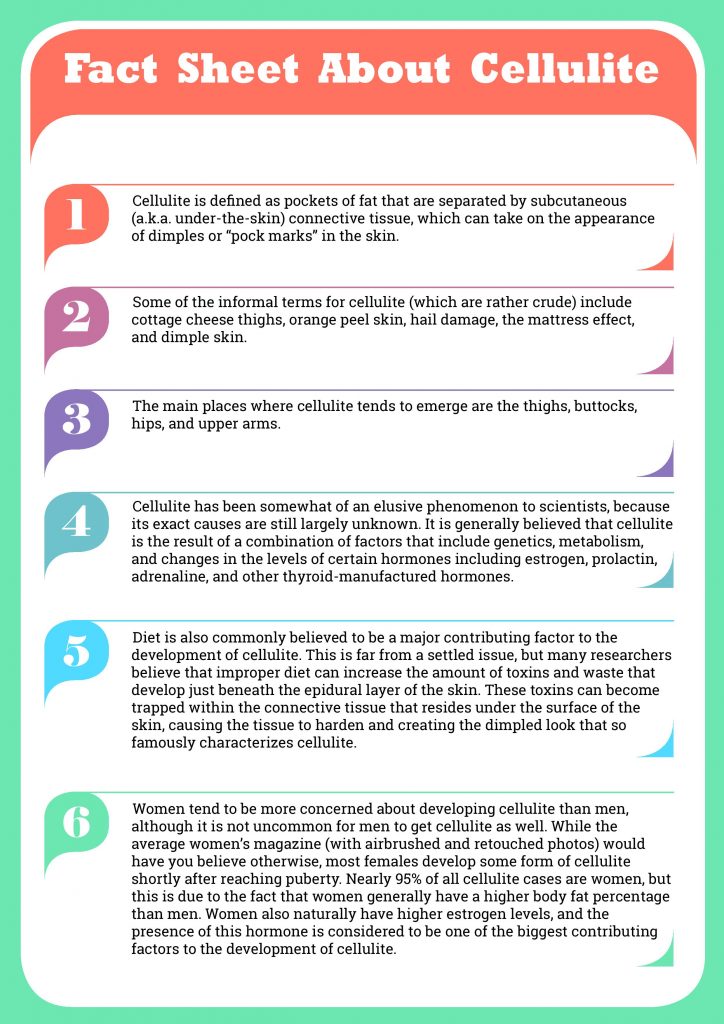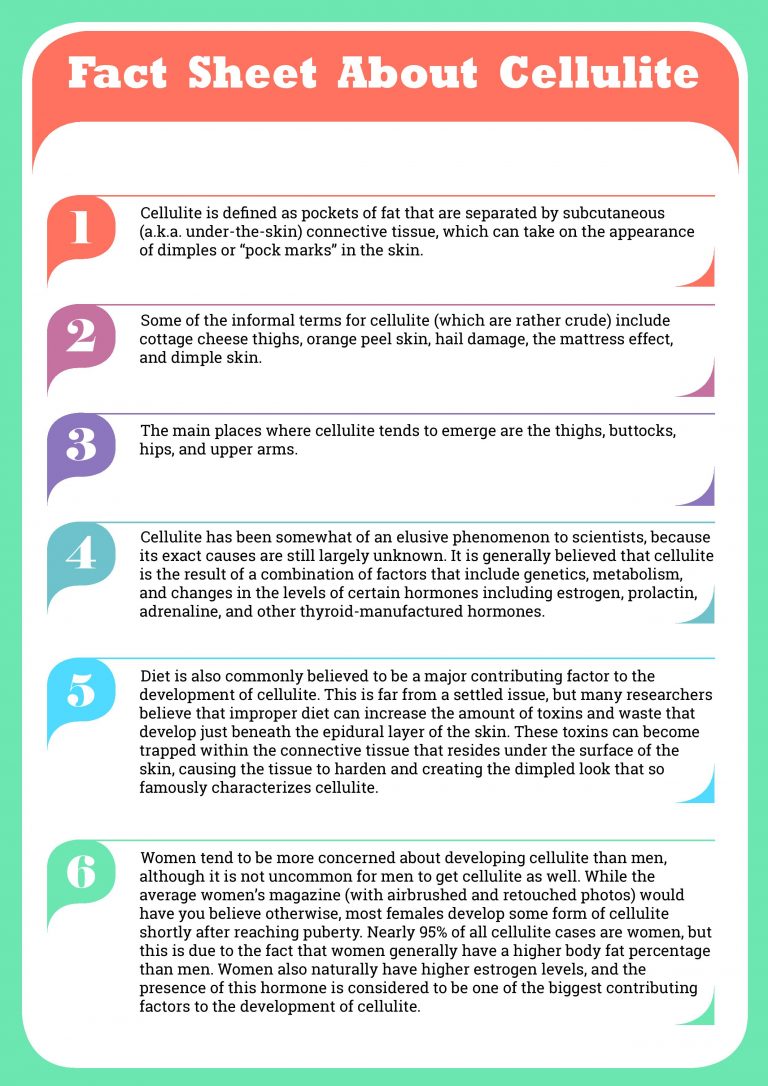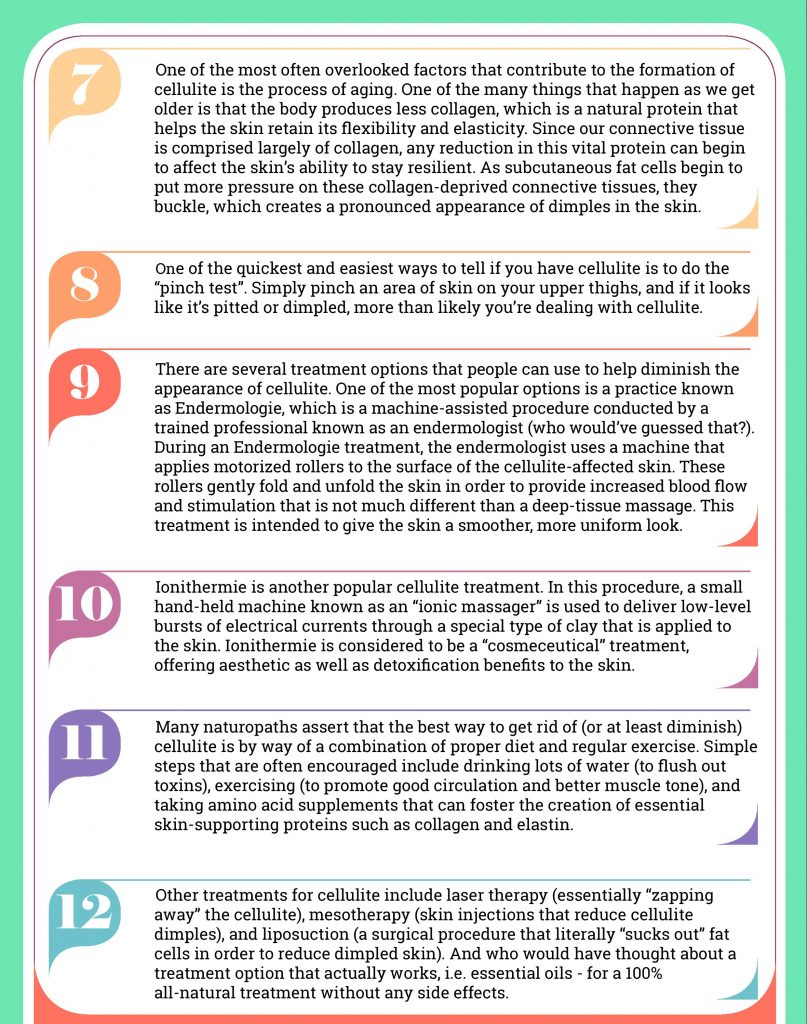 Why Use Essential Oils For Cellulite?
Essential oils can penetrate deep into the skin and solve a range of issues like stress, headaches, irregular menstrual periods, acne and sleeping disorders. Aromatherapy using essential oils can likewise be an excellent aid in the battle against cellulite.
Many essential oils have restorative abilities that fix the hormonal imbalance (oestrogen is the hormone contributing to both cellulite and obesity); others are good for the skin in general. In fact, some hormones have diuretic characteristics that help you beat water retention, which is the primary reason behind bulgy thighs. Whether you're happy putting your bottom in an aromatherapy professional's hands, or you like some do-it-yourself cellulite busting remedy, here's all you need to know about removing cellulite with the use of essential oils. Let's first understand: what is cellulite…
What Exactly Is Cellulite?
Cellulite is a state where the skin develops underlying fat deposits, giving it a dimpled and bumpy look. In most cases, cellulite is a condition that occurs after adolescence and is more commonly seen on the thighs and butts.
Having cellulite does not mean you are obese – even thin individuals can have it. If you are obese, however, reducing weight might reduce the cellulite. Cellulite is more common amongst females compared to males. There is a high probability that you will have cellulite if other females in your family have had this issue.
How Do Essential Oils Help In Getting Rid Of Cellulite?
It is necessary to save yourself from the various rip-off's prowling in the marketplace such as cellulite creams, vibration and laser treatments, cellulite removal drugs, and anti-cellulite clothes that can only make you more puzzled.
Healing grade essential oils address the root cause of the disease by helping the body get rid of toxins that accumulate in the fat cells. In addition, they enhance the blood circulation in the body and provide oxygen to the cells, thus helping the body get rid of the cellulite on its own. Keeping that in mind, here are some of the best essential oils that are proven to be beneficial for conditions like cellulite.
Best 13 Essential Oils For Cellulite Reduction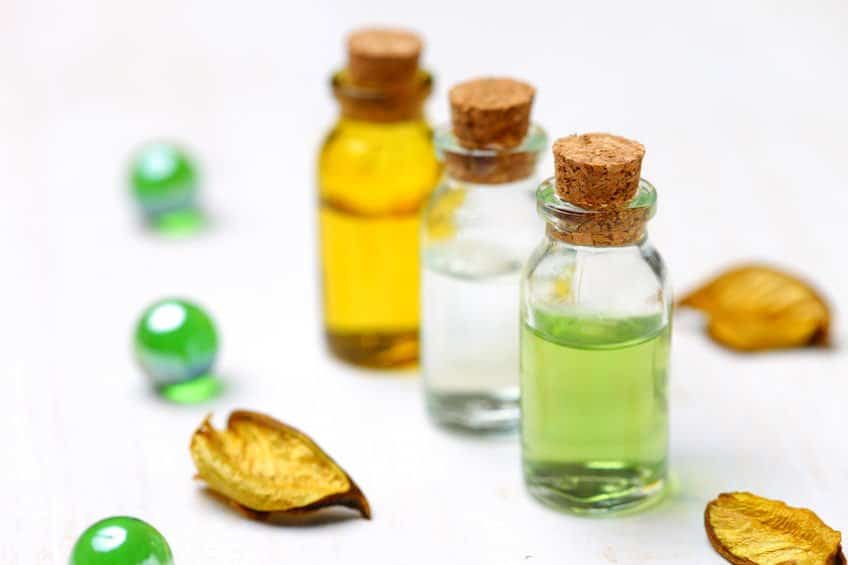 1. Grapefruit Essential Oil
Grapefruit is popular for its numerous health benefits. It removes toxins from the body and can be helpful to minimize cellulite effectively and stop further growth. In addition, due to the high vitamin C content, grapefruit helps you to fight obesity, which is the foremost reason for cellulite development. Just mix a small amount of Grapefruit essential oil with some good carrier oil and massage the affected areas every morning and night.
You can likewise eat grapefruit every day for improved results. However, make sure that you drink lots of water after consuming grapefruit, as it will have a diuretic effect on your system.
2. Cypress Essential Oil
Cypress is a strong astringent that improves blood circulation, prevents fluid retention and eliminates toxins present in the body. Being able to manage all such damaging conditions means, you will easily get rid of all the awful fats and cellulite. Weaken this oil with some carrier oil and massage onto the impacted locations aggressively two times a day for the best outcome.
3. Juniper Essential Oil
Juniper essential oil is known for its ability to reduce water retention in the body. Massage it on the influenced locations every day in order to get rid of the bad cholesterol, which is the primary cause of cellulite development in problem areas of your body.
4. Geranium Oil
While being effective in the removal of cellulite, Geranium has remarkable skin toning abilities. Rubbing it onto the impacted areas of your body every day will help you to get rid of cellulite in the quickest possible manner.
5. Rosemary Oil
For those that have problems with their blood circulation, Rosemary is one of the best essential oils to use. Its ability to combat lymphatic blockage makes it a helpful ally in the battle against cellulite. Massage a few drops of rosemary essential oil onto the impacted locations of your body daily to get a wonderful skin tone and minimize cellulite development. Cellulite takes time to liquefy, so do not lose hope so early.
6. Cinnamon Essential Oil
Cinnamon reinforces the connective tissues as well as helps to promote better blood circulation.
7. Neroli Essential Oil
Neroli softens the skin and regulates the production of sebum (sebum is responsible for keeping the skin hydrated).
8. Orange Essential Oil
Orange essential oil enhances blood circulation and helps to prevent lymph accumulation and water retention. At the same time, it tightens up the skin and strengthens the blood vessels.
9. Spearmint Essential Oil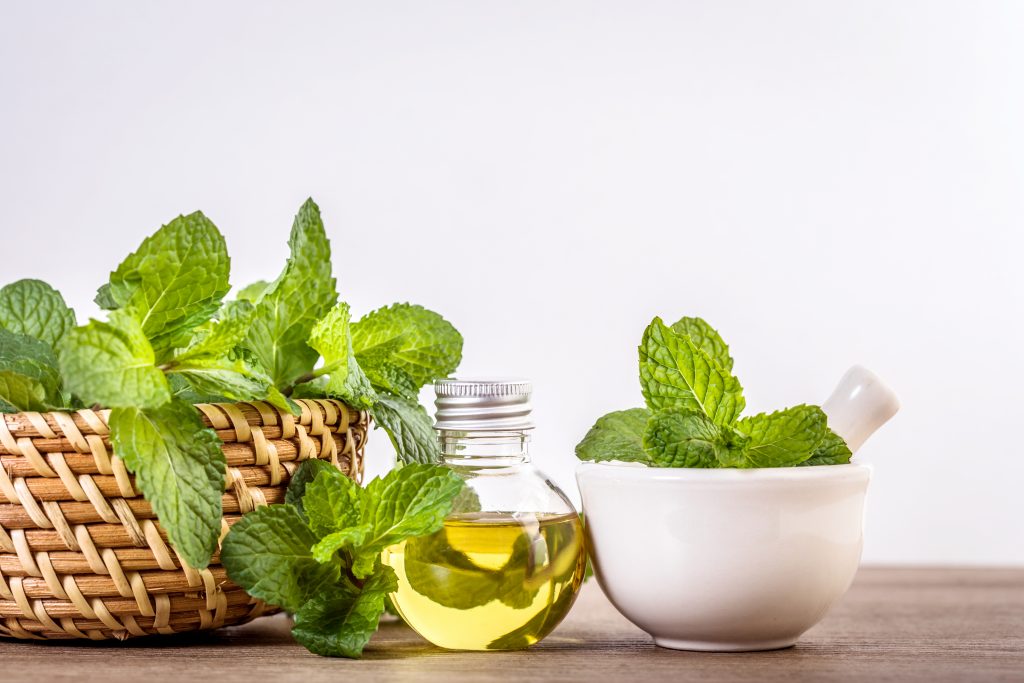 While being a potent antibacterial and anti-inflammatory, spearmint regulates the metabolism of fat in the body. When used in conjunction with grapefruit, its effect is largely amplified.
10. Tangerine Essential Oil
Tangerine is known for its ability to improve the blood circulation and digestion of food, which helps to drain toxins out of the body. Just add a drop of restorative and food-grade tangerine oil to a glass of filtered water to make it tasty enough to consume as much as 8+ glasses per day. The citrus smell of this oil will certainly boost your spirits and allow you to rest.
11. Lemongrass Essential Oil
This yellow-colored essential oil has an aroma that is similar to the lemon essential oil. Among the other benefits of using lemongrass essential oil, one of the most important is its ability to dissolve the cellulite deposits.
Furthermore, lemongrass is also useful for treating conditions like hyperhidrosis or extreme sweating. Two drops of lemongrass essential oil can be added to any other essential oil of your choice prior to rubbing it on the skin to eliminate the cellulite.
12. Sweet Fennel Essential Oil
Sweet fennel essential oil is obtained from the crushed seeds of the fennel plant. Those who are pregnant or have epilepsy should avoid using the essential oil of fennel.
13. Patchouli Essential Oil
Patchouli essential oil comes from the distillation of dried and fermented leaves of the plant named Patchouli. Apart from having a fantastic fragrance, the healing ability of this oil can help reduce cellulite and food cravings. In addition, the diuretic properties of this oil help in reducing the water retention.

How To Use Essential Oils For Best Possible Relief In Cellulite?
There are two easy ways to use essential oils for quick relief in conditions like cellulite; 1. Massage and, 2. Essential oil recipes.
1. Massage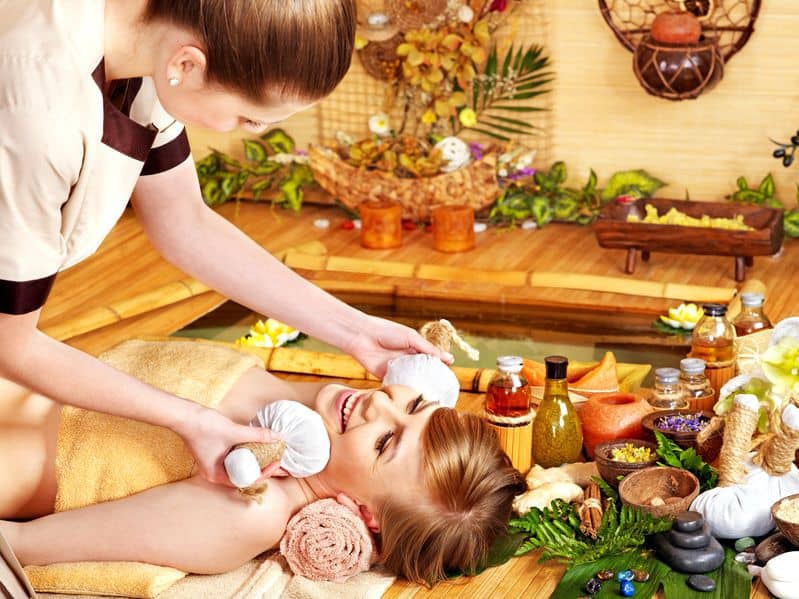 Add 3 to 4 drops of the essential oil of your choice to a tablespoon of almond oil and rub the blend straight onto your skin for a hydrated and firmer appearance. Do this every day for best outcomes.
The Amazing Brushing technique – what kind of brush to use
The bristles of the brush you intend to use must be natural, not artificial. Ideally, they should be made of a material that is derived from a natural source. However, the bristles need to be rather stiff, though not too rigid. Search for one that has an attachable grip for hard-to-reach areas, if required.
Make a Blend
Keep in mind that the essential oils you are using in this technique should be weakened in carrier oil such as apricot-kernel oil, avocado, lavender or jojoba. Use 2 ml of the carrier oil for every drop of essential oil you are using. For example, if you are using 15 drops of essential oils, then you will need 30 ml of the carrier oil.
How to do the brushing
Using a dry and soft-bristled body brush, brush the cellulite-influenced locations with your homemade oil making semi circular strokes directed towards the heart until the skin soaks up all of the oil or becomes red. After the massage, you need to take another hot shower and pat your skin dry prior to starting the day. Brush your skin every time before going for a shower. For best results, massage your skin a little using your hand before the brushing activity.
Caution
Do not brush on broken or irritated skin and do not brush wet skin.
Do not use any of the essential oils if you are pregnant.
Bathe: Just adding 5-10 drops of essential oil to a tubful of water is all you need to freshen up your skin and start the process of draining out cellulite.
Inhale: Simply inhaling the pure aroma of these essential oils can revitalize your body to do all the detoxification required.

2. Essential Oil Recipes For Quick Cellulite Removal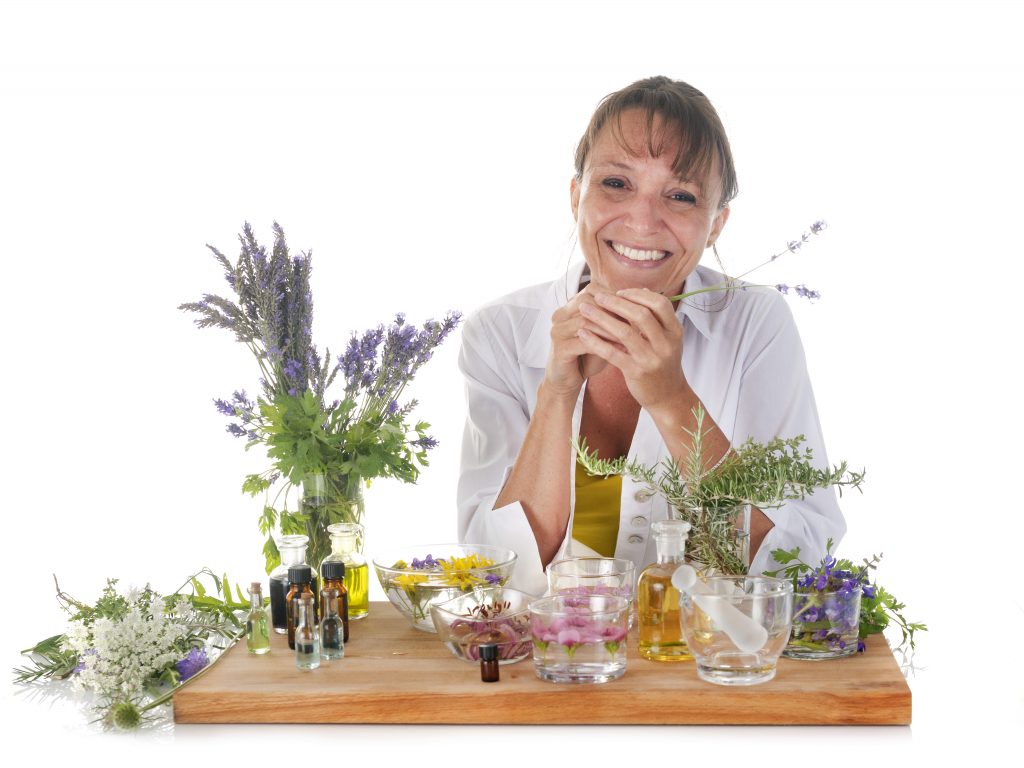 2a. Warming anti cellulite massage oil
You can expect to dissolve your ugly cellulite with the use of this massage oil in just 15 days. The two conditions you have to adhere to is you have to be consistent and the essential oils you use need to be the best quality. Be prepared for a little tingly and warm sensation when using this blend of essential oils.
Ingredients
10 drops of Orange essential oil
10 drops of Cypress essential oil
10 drops Juniper essential oil
10 drops of Cinnamon essential oil
1/4 cup Jojoba oil
1/4 cup Hazelnut oil
Direction
Put the directed quantity of each of the essential oils into a bottle with a cap. Massage the impacted areas using this blend every night before going to bed.
Caution
Keep the bottle closed and shake well before every use.
Massage oils need to be kept in a dark and cool location. You can store essential oils for as much as 6 months.
2b. Fruity anti-cellulite blend of oils
This citrus massage oil blend smells fantastic and helps to improve the blood circulation when used regularly.
Ingredients
5 Drops of

Lemon essential oil

5 Drops of Lime essential oil
5 Drops of Orange essential oil
7 Drops of Cedarwood essential oil
8 drops of Grapefruit essential oil
10 drops of Cypress essential oil
1/4 Cup Jojoba Oil
1/4 Cup Hazlenut Oil
Direction
Take the above ingredients and put the directed quantity of each into a bottle with a cap. Massage the impacted locations using this oil every night prior to going to bed. Shake well before every use and store the essential oils in a cool and dark location.
Recommended Essential Oil Product for Cellulite
If you want a quick and easy ready-made solution for your cellulite, then look no further, you will be able to use H-Cellulite from AMOILS in the comfort of your own home. It is safe and natural to use and you will start to see results within a week and significant improvement within a month of use. Just remember to apply it up to 3 times daily.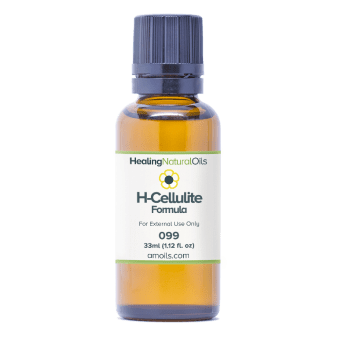 The Bottom Line
Cellulite can be tough to dissolve with just the use of essential oils, however when incorporated with an exercise routine and a healthy high fiber and low fat diet that also includes lots of fluid intake, cellulite has no chance! Be patient, regular and careful, and in a month, you will start to see the results.
The essential oil remedies discussed in this article are something I have either attempted myself or recommended by trusted sources of mine. They should all help you to regulate the fat in your body and address many possible causes of cellulite – they are worth giving a try!
(Visited 120,247 times, 76 visits today)