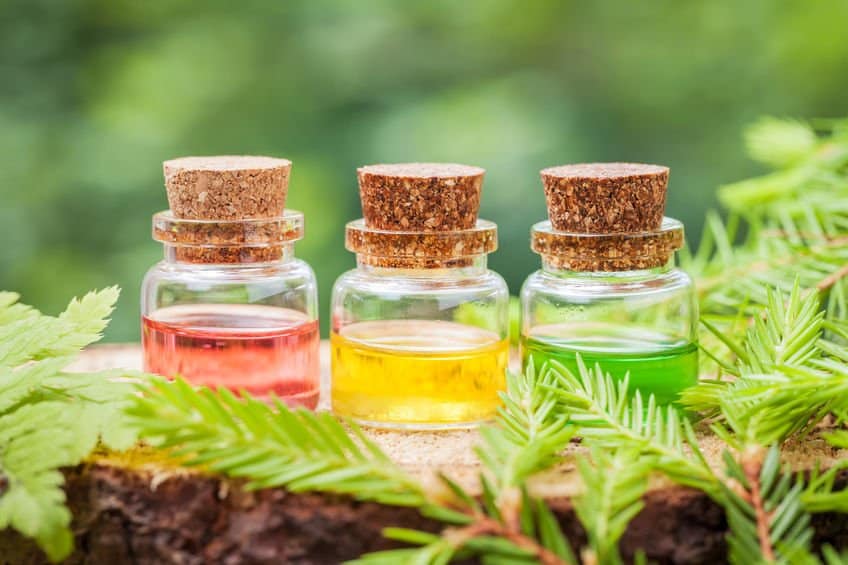 Varicose veins are the veins located under the skin of your legs that have become enlarged, bulging and are full of twists and turns. While varicose veins may affect your life in many ways, they do not cause any serious medical conditions in the majority of individuals. Family history as well as ageing may increase the risk of the condition.
Generally, women are more prone to suffering from varicose veins and around 50% of females may end up with varicose veins at some point in their lives. Hormonal factors like pregnancy, menopause, puberty, using birth control pills, and Hormone Replacement Therapy (HRT) all contribute to the worsening of the condition.
Facts About Varicose Veins
The two images below show 13 facts about Varicose Veins.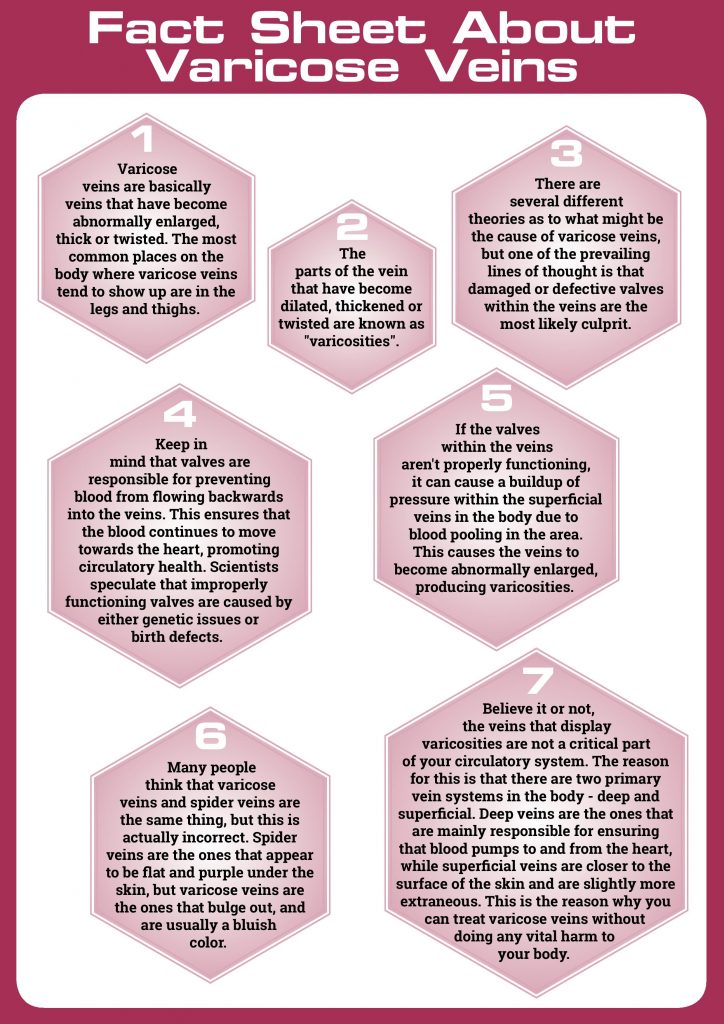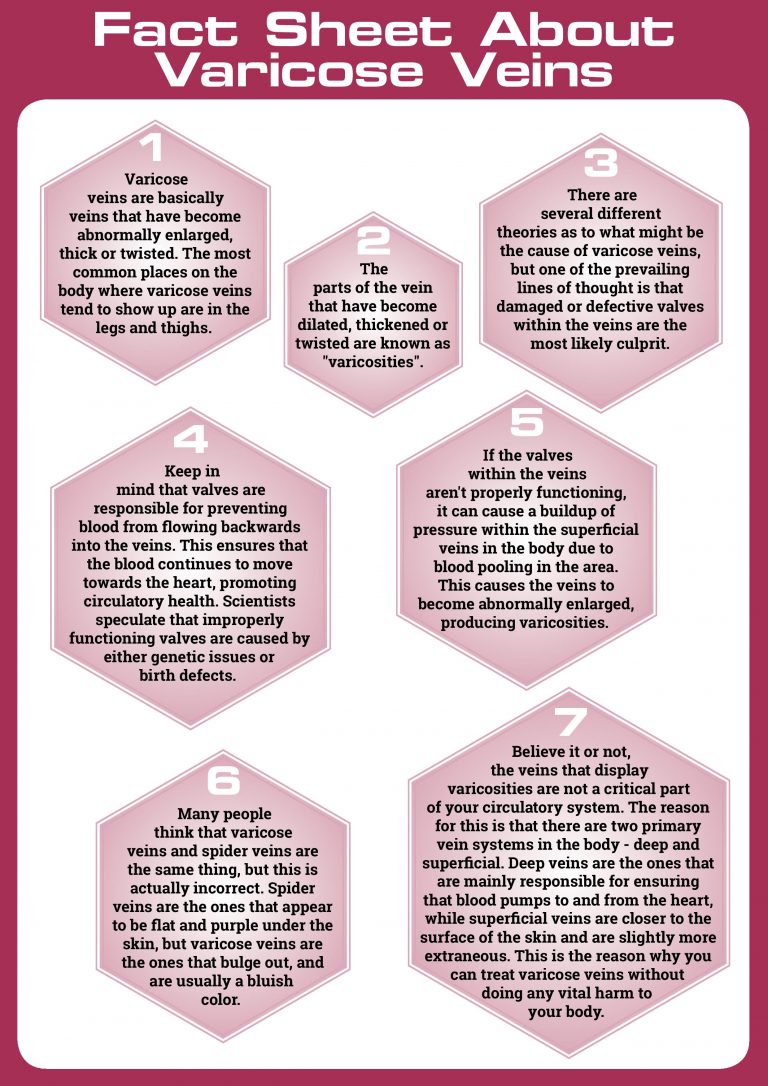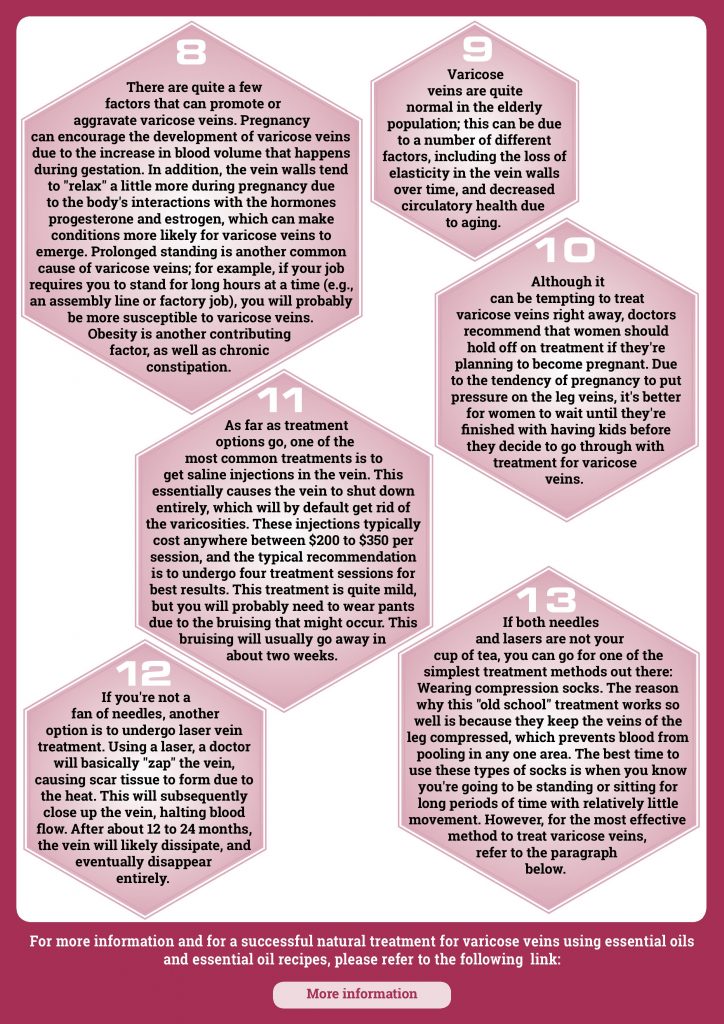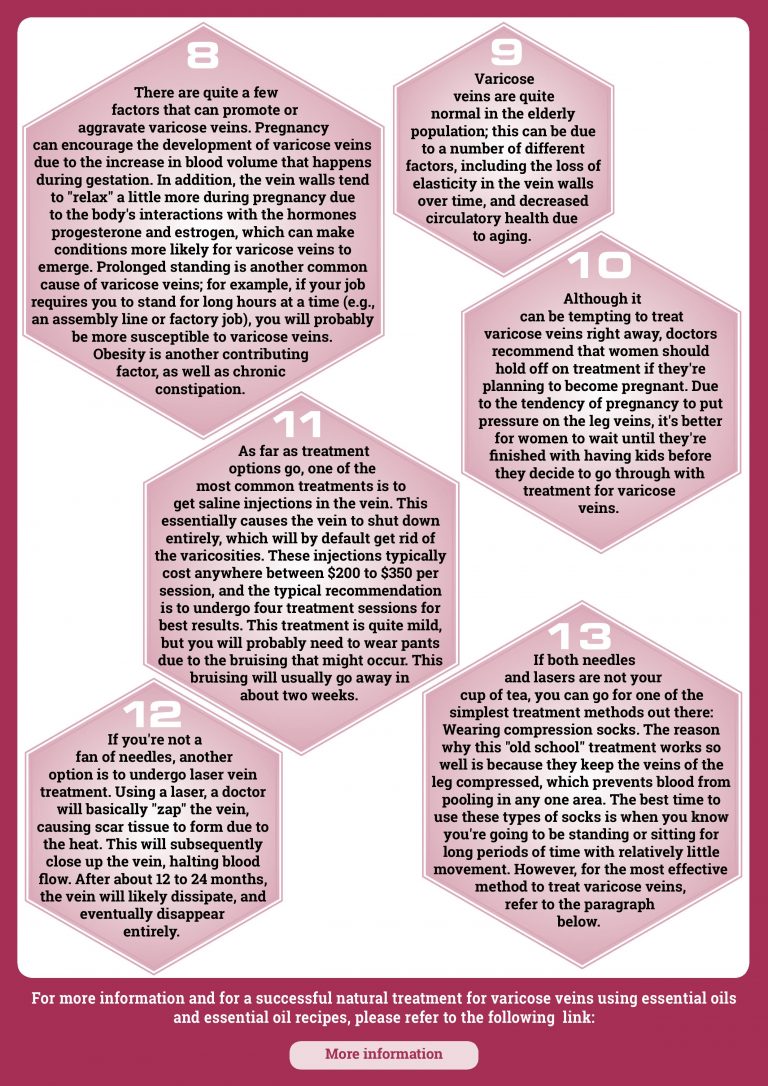 Why Varicose Veins Are Such A Major Issue During Pregnancy?
It is rather common for expectant women to develop varicose veins through the first trimester. Due to the enlarged size of uterus and hormonal imbalance during the pregnancy, there is increased pressure around the veins causing them to enlarge. Varicose veins occurring during pregnancy often correct themselves within about three months of the delivery; however, with successive pregnancies, these abnormal veins are likely to remain for a longer duration.
Why Essential Oils Are Useful For Conditions Like Varicose Veins?
Conventional treatments are generally conservative. Anyone affected with varicose veins will be asked to keep their legs elevated during sleep, avoid excessive standing, as well as wear elastic support hose.
Essential oils can be your best ally in the fight against varicose veins. They can be used both independently and along with other treatments. Essential oils like rosemary, rose, peppermint, neroli, myrrh, lemon, juniper, yarrow, ginger, geranium, frankincense, cypreus, cedarwood and clary sage are often very useful in restoring the normal blood circulation in areas affected with varicose veins. Having said that, here are some of the best essential oils I believe can play a supportive role in your struggle against the varicose veins.
Two Important Factors That Will Help In Getting Rid Of Varicose Veins
No. 1: Essential oils that promote good blood circulation
The essential oils mentioned below strengthen the capillary walls of your blood vessels (weak blood vessels cause varicose veins) and help in promoting better blood circulation.
Grapefruit
Geranium
Fennel
Cypress (extremely effective)
Basil
Helichrysum (This is among the more expensive essential oils that are available in the market. It helps you get rid of the coagulated blood within the veins when applied topically over the skin.)
Rosemary
Orange
Lime

Lemon

(very efficient)
Juniper Berry
No. 2: Essential oils that reduce inflammation
It is highly likely for people suffering from varicose veins to have inflammation. Just add 1 or 2 of the following essential oils to the blend you are using to get rid of the disease:
Peppermint
Marjoram

Lavender

Eucalyptus
Chamomile
While using these essential oils, make sure that you add the essential oils in the right quantity. Only when mixed in right quantities will these essential oils help you get rid of this troublesome condition.
Do not forget to add a carrier oil
Although some essential oils, like lavender, may be applied over the skin without diluting them in a carrier oil, it is better to use the oils in diluted forms. I prefer using olive and coconut oil as carrier oil to deal with varicose veins; however, you can also go for almond and jojoba oils, as they are perfect for almost any type of skin.
Almond penetrates deep into the skin, carrying the essential oils along with it. Additionally, it stimulates the collagen production and so speeds up the healing process.
Because of its anti-inflammatory properties, jojoba is wonderful when it comes to healing the wounded veins and stimulating the production of collagen. This is the best carrier oil you can use for inflamed and often painful varicose veins.
Essential Oil Recipes For Varicose Veins Treatment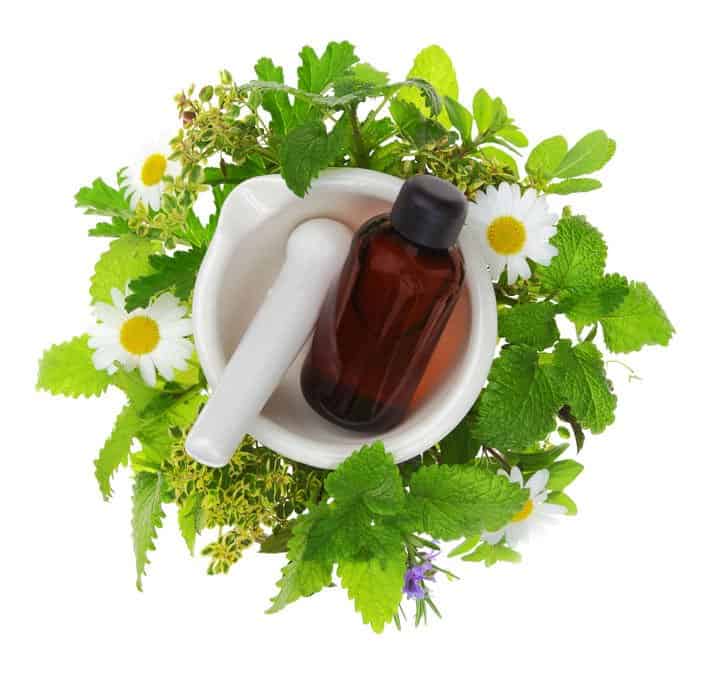 Here I am sharing few recipes to help you get back your gorgeous legs. Try all of them to figure out the one that works best for you. In case you are an expectant mother, use only the oil that you are accustomed to and that you are sure will not cause any negative effect. Here you will find a list of essential oils not recommended to be used during pregnancy.
Top 7 Essential Oil Recipes For Varicose Veins
Blend 1 – Blend for your Gorgeous Legs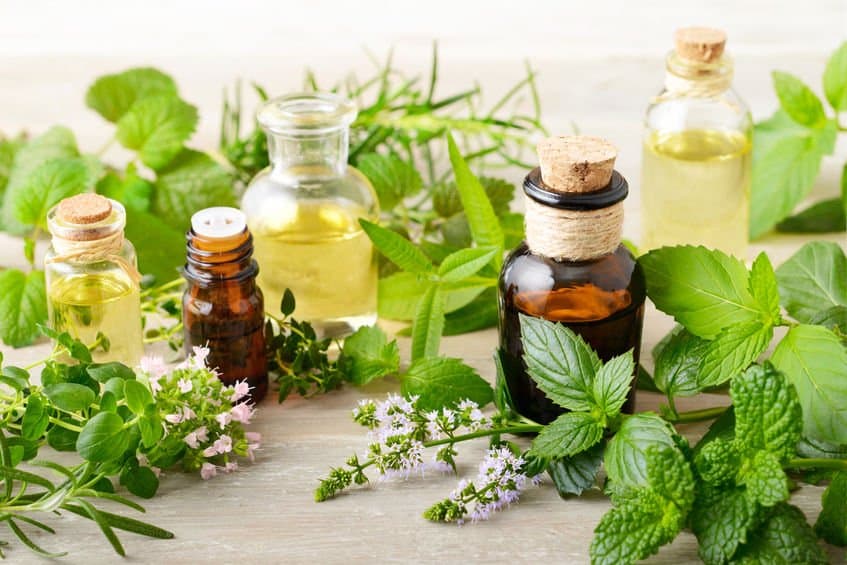 Ingredients
2 ounce avocado oil
20 drops lemongrass
6 drops rosemary
6 drops frankincense
6 drops chamomile
2 ounce jojoba oil
1 tsp gmo free vitamin E oil
10 drops cypress
10 drops of helichrysum
Directions
Mix all the active ingredients in a dark, glass bottle. I use a spray bottle; however, a dropper bottle would do the job too.
Shake carefully to mix and keep it away from heat.
Massage using this blend over the affected areas 2-3 times in a day.
Blend 2 – Body butter for varicose veins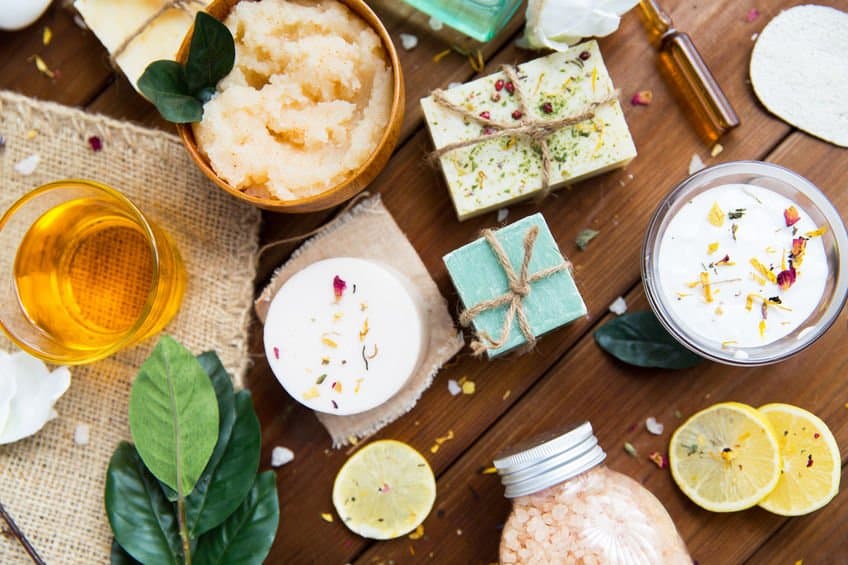 Ingredients
1/4 cup coconut oil (raw and organic)
1 tablespoon vitamin E liquid (raw and organic)
1/4 cup

jojoba oil

(raw and organic)
1/2 cup shea butter (raw and organic)
30 drops of the essential oils of your choice. My personal favorite combo is 5 drops fennel, 5 drops of helichrysum, 10 drops of cypress and 10 drops of lemon
Directions
Heat the shea butter and coconut oil in a double boiler on medium to low heat. Stir up until the oils melt, only a few minutes.
Remove from heat.
Add

jojoba oil

, vitamin E liquid, and the essential oils of your choice.
Refrigerate this blend for about an hour or so until it is chilled. You will get off-white and almost solid (not completely solid) blend.
Mix by using a hand blender for about 15 minutes until you see white peaks appearing.
Store the resulting mix in a glass container. These jars are great.
Massage using this blend making round circles directed towards the heart to promote better blood circulation (i.e. start from your ankles and proceed towards the legs).
This body butter can be preserved for about six months. Store this at room temperature. During warm weather, the body butter may slightly melt. You may keep this in the fridge if this happens (or if perhaps you like cold body butter).
Note: I do not recommend using this body butter during the night. These circulation-boosting essential oils raise your blood circulation and they are also very stimulating! So, this could disrupt your restful sleep.
Blend 3 – Blend for quick relief from itching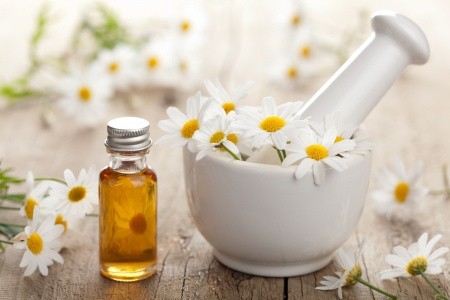 Ingredients
St. John's wort tincture – 2 tsp
Carrot seed oil – 6 drops
Lavender oil – 6 drops
Chamomile oil – 6 drops
A soft cloth
Water – 2 cups
Directions
Mix all the ingredients – essential oils, tincture and water.
Soak the cloth in this blend. Squeeze it to drain the extra solution.
Put this compress on areas afflicted with varicose veins.
You can use this blend on a daily basis in order to get quick relief from itching varicose veins.
Blend 4 – Helichrysum essential oil for varicose veins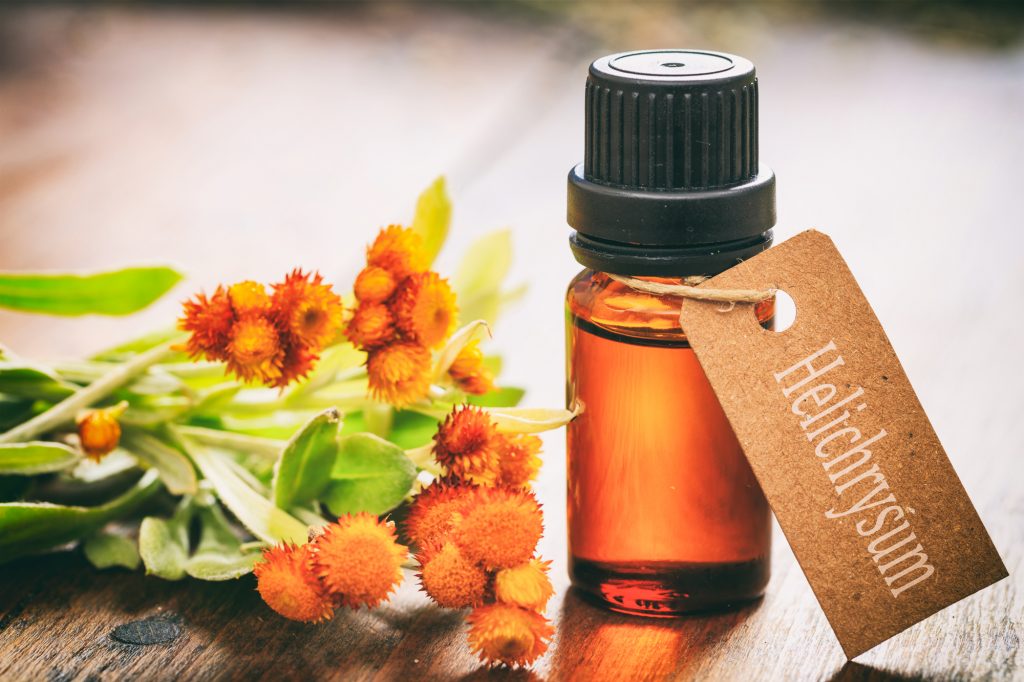 Helichrysum is among the essential oils I prefer the most for treating conditions like varicose veins. While this oil is comparatively costly, it is quite useful for conditions like varicose veins due to its anesthetic, antispasmodic and anticoagulant properties. Helichrysum oil helps in regenerating the nerves and reduces the pain. It clears the blood that has coagulated within the veins to ease you from discomfort and helps to regenerate the nerves. The regular application of this essential oil causes the varicose veins to disappear gradually. Apply 2-4 drops of this oil (diluted in 1 tsp almond oil) directly onto the skin where varicose veins have appeared and massage it in the direction of the heart. Here is an essential oil recipe using helichrysum as its active ingredient. I have personally tried this recipe and it achieves quick results.
Ingredients
Helichrysum oil – 1 drop
Basil oil – 3 to 4 drops
Cypress oil – 1 drop
Wintergreen oil – 1 drop
Directions
Mix all the essential oils and dilute in 1 tsp of sweet almond oil.
Apply this blend on your varicose veins.
Massage gently towards your heart.
Massage up until the oil is entirely absorbed by the skin.
Apply it on a daily basis.
Blend 5 – Gentle massage around veins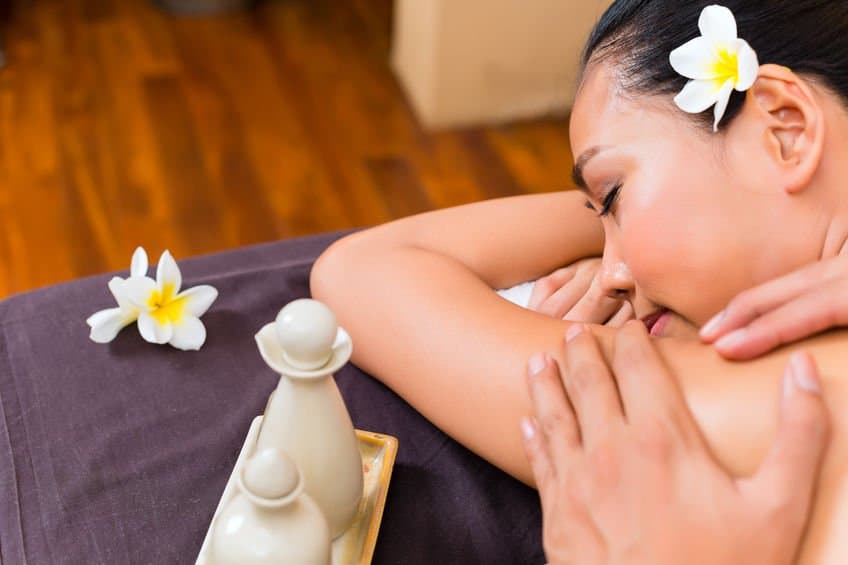 The two main ingredients used in this recipe are geranium and cypress. Geranium enhances blood circulation and Cypress has an astringent impact on the venous system.
Ingredients
15 drops of Geranium essential oil
10 drops Basil essential oil
15 drops of Cypress essential oil
40ml carrier oil
Directions
Mix all of the ingredients gently and massage around your inflamed veins.
Remember to massage very gently and make sure that you massage towards the heart. In addition, avoid massaging right over the veins – just massage around them.
Blend 6 – Use in the bath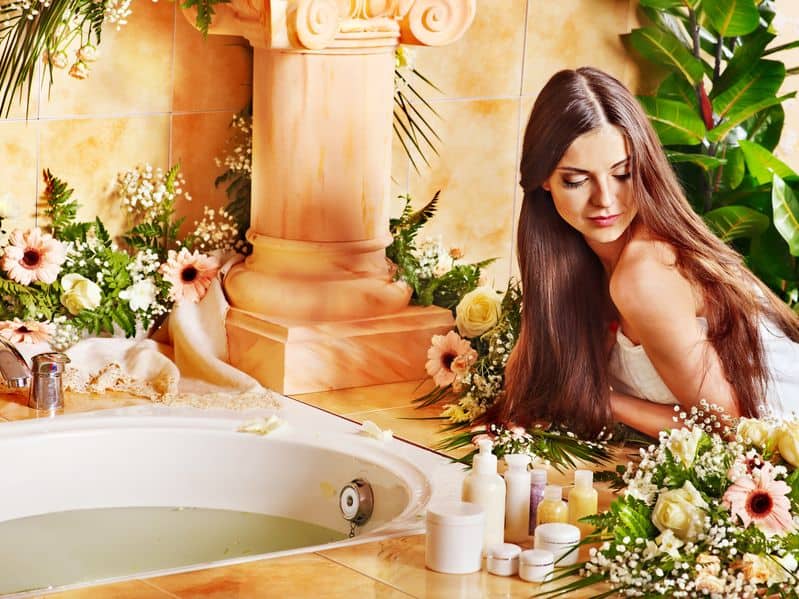 Ingredients
5 drops Cypress essential oil
5 drops of Geranium essential oil
Directions
Blend both these oils and take 5 drops of the resulting blend. Add this mix to a warm bath and tenderly massage your legs. Other oils you can add to this recipe include lavender, juniper and rosemary. Make sure that you do not use more than five drops total in the bath in one go.
Blend 7 – Massage Oil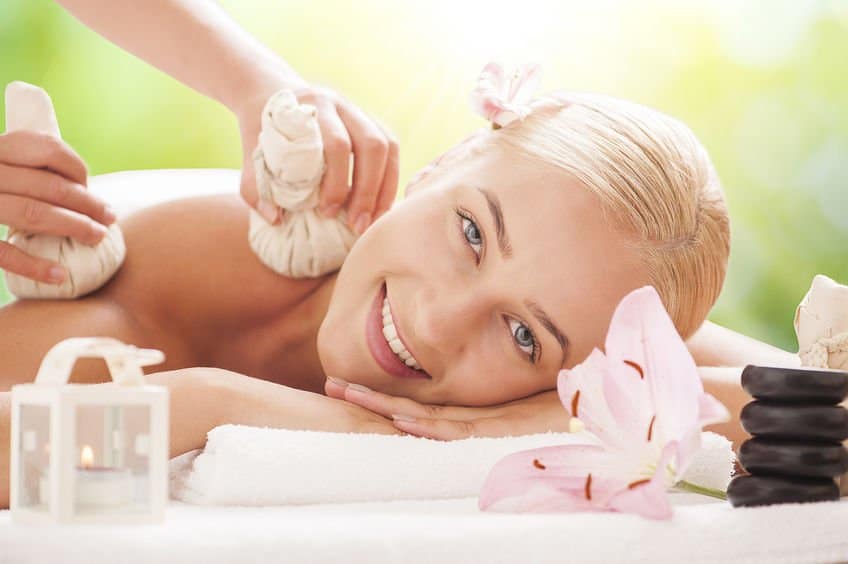 Ingredients
Directions
Mix all of the above ingredients and leave the blend for about four days as it is. Thereafter, massage very gently over the varicose veins two to three times a day.
The Simple Ready-Made Solution for Varicose Veins
What if you don't have time to make any of the above blends or they simply do not work for you for whatever reason – don't despair as there is a gentle, natural product that will get rid of those spider, varicose veins, H-Varicose Veins Formula. You only require a few drops of this unique formula for the swelling to start disappearing. My mum used it successfully. The only other tip I will give you is to be consistent and patient in its use and you will see the excellent results.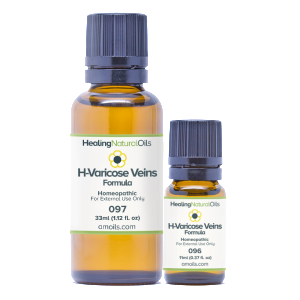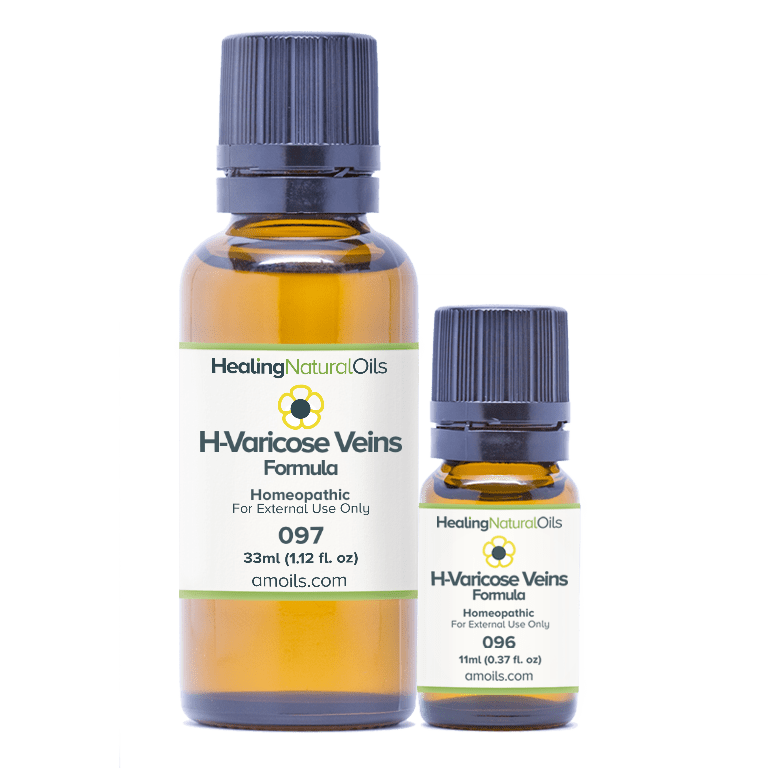 Click Here To Read My Review on Amoils H-Varicose Veins Now!
What Is The Best Way To Use The Essential Oil Recipes Mentioned Above?
I would recommend that you can apply these essential oil blends once daily. This will give you smooth and moisturized legs! From what I have learnt, these recipes generally take about a month to show visible results. One needs to be regular in their usage for at least a couple of months. In order to avoid sensitization, use these essential oils for a period of 2 weeks, and then stop for a week before starting to use them again.
Apply the blend liberally since you need to cover the entire leg. Make sure to rub towards the heart. As you know that the valves within the veins aren't holding the blood like they should, you don't want to make the issue worse by rubbing hard.
While these essential oils are available in different price ranges, it is best not go for the cheapest oil that you find! They are cheap for a reason. They may be contaminated with chemicals or diluted with cheap carrier oil.
Few Lifestyle Changes I Would Personally Recommend For Long Lasting Relief From Varicose Veins
Although using essential oils is enough to offer you with quick relief, it is necessary to make some lifestyle modifications to make this relief permanent.
Avoid sitting or standing for longer durations at a stretch. Take breaks after every thirty minutes. You can walk a bit, stretch, stand for sometime or change your sitting position. Just don't remain in a same position for a long period of time.
In the event you sit for extended durations, keep your legs elevated using a stool or a chair. In fact, try keeping your legs in an elevated position even during your sleep.
Don't sit with crossed legs or crossed ankles.
Avoid wearing skin tight clothing, especially those that could hamper the blood circulation around the legs, waist and the groin area.
Avoid wearing high heel shoes.
Obesity is probably the significant reason for the onset of varicose veins. So, I would recommend losing weight. You can read more here.
Include exercise in your daily regime. Cardiovascular strength training is good for you. Even walking improves your blood circulation.
Avoid alcohol because it dilates blood vessels, making your condition worse.
Follow a balanced diet. Add fibrous foods to your meals. Fruits and veggies that are rich in antioxidants are perfect for you.
The Final Word
The use of essential oils when complemented with certain lifestyle changes will certainly make your varicose veins disappear in a short period of time. However, make sure that you follow caution with some of the essential oils. Individuals with hypertension should stay away from using Lemon and Rosemary as these oils may cause skin irritation. For those that have a pre-existing medical condition, it is always a good idea to consult a healthcare professional before going ahead on an essential oil regimen to make sure that you will not have any side effects due to the oils reacting with your regular medication.
(Visited 39,011 times, 4 visits today)