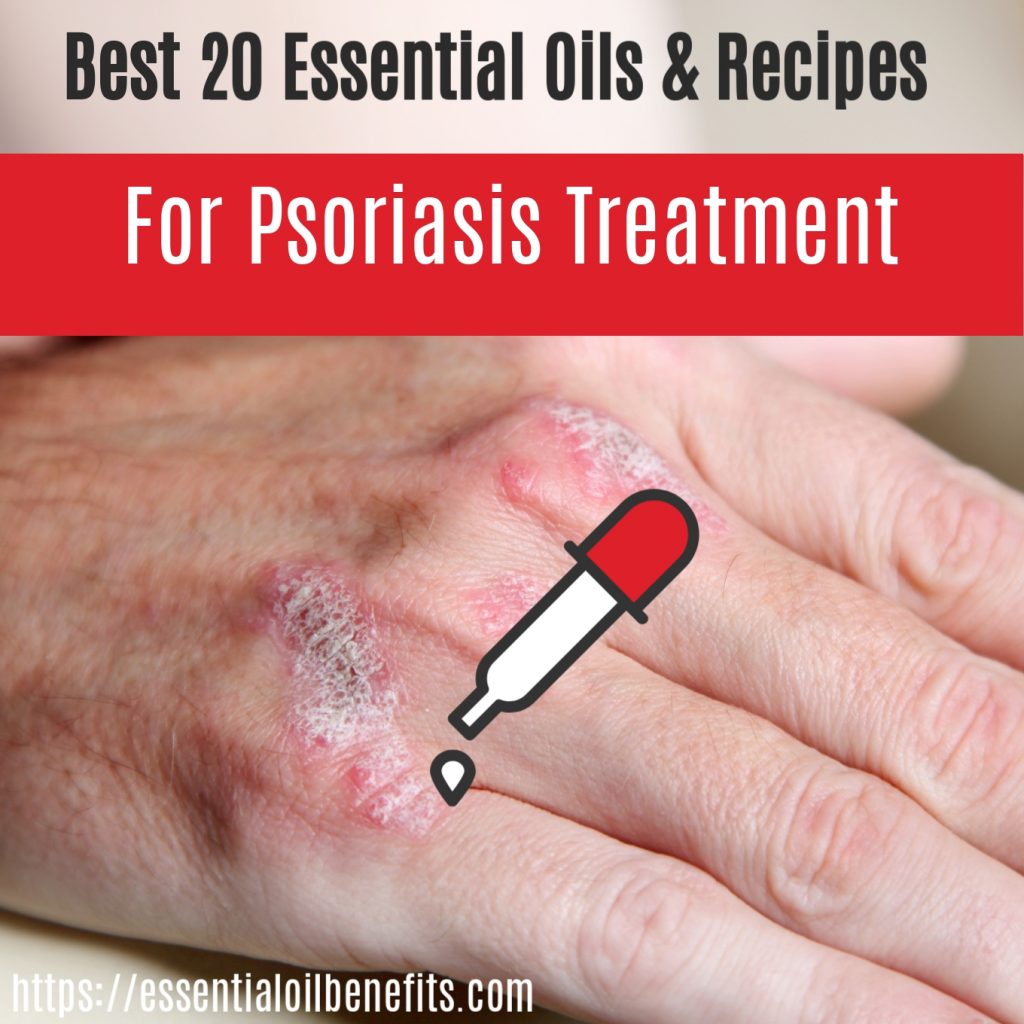 Essential Oils –  Psoriasis Natural Remedies
Psoriasis is a type of auto-immune disease with inflammatory symptoms resulting in skin disorders that some believe is hereditary. The outcome is raised patches of pink dead skin, which can be extremely painful, though the disease is not at all infectious. The symptoms go downhill with infections, emotional imbalances, stress, or other non-related illnesses. Psoriasis is commonly seen in body parts like chest, elbows, the scalp, and knees. The rash may get worse if it is directly exposed to sunlight for a long period of time and it may also reoccur repeatedly and unexpectedly.
Topical treatments can offer instant relief; however, the most effective method of tackling this skin disorder is by adopting an all-natural approach of treatment and treating emotions that may trigger the symptoms. Several Essential Oils could be useful when it comes to the treatment of Psoriasis. Some are known for their detoxifying effects, while there are others that are known for their moisturizing ability. In addition, these Oils have the remarkable ability of minimizing stress, and their antibacterial qualities support the liver function and defense mechanisms of the body.
Facts About Psoriasis
The two images below show 15 facts about psoriasis.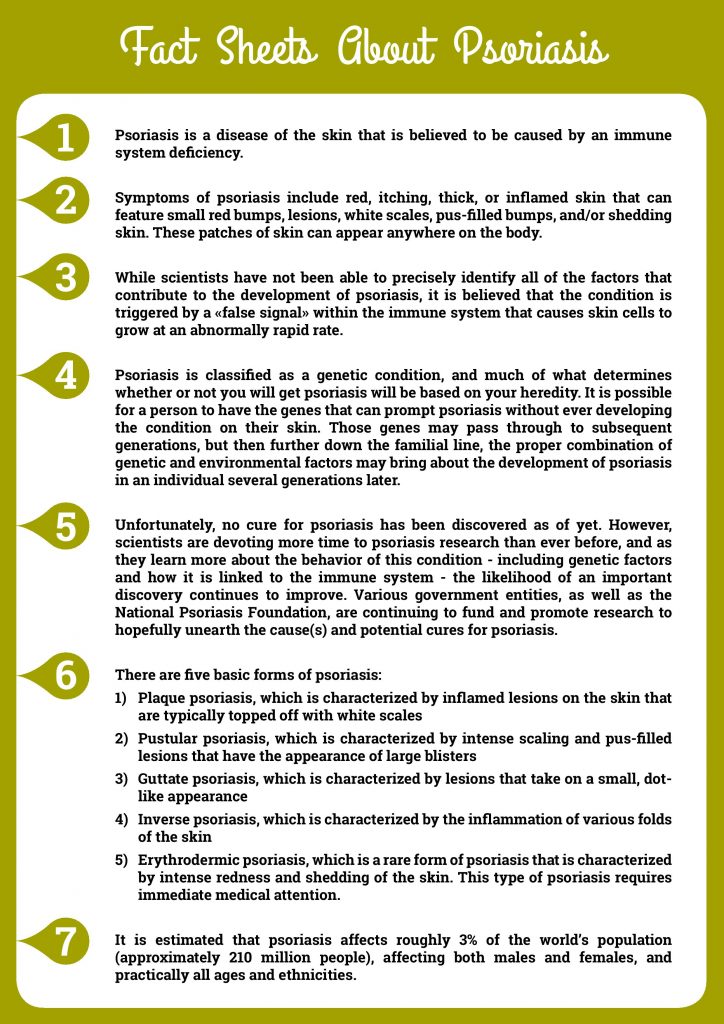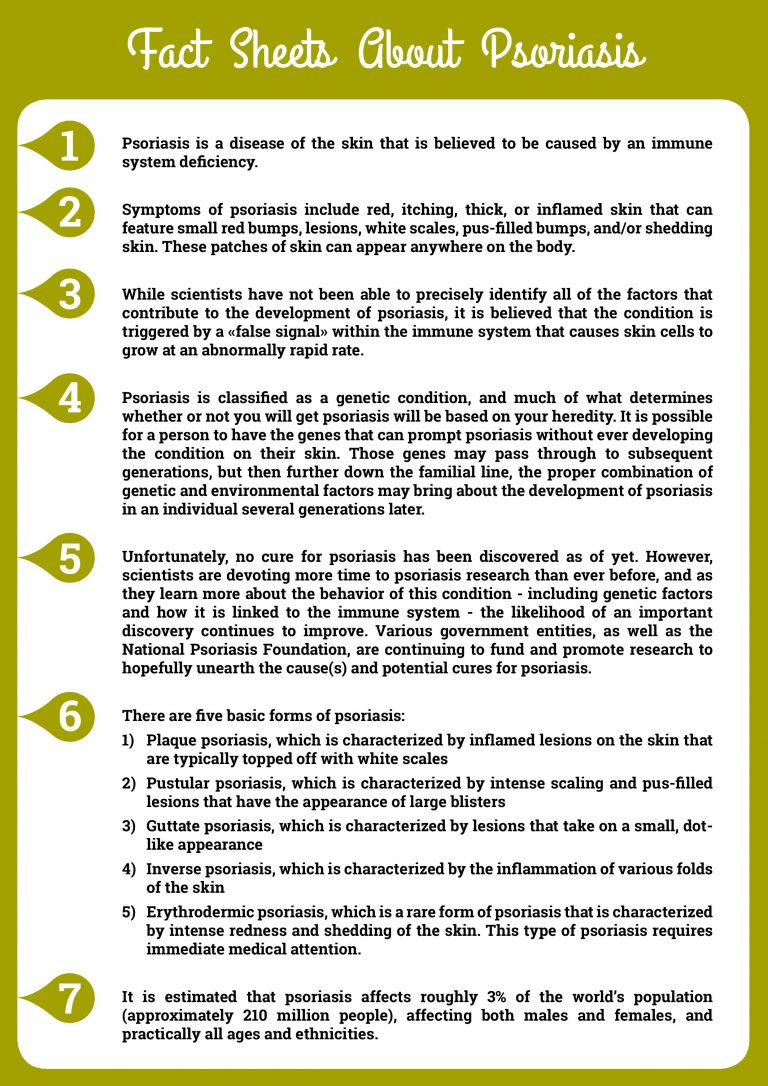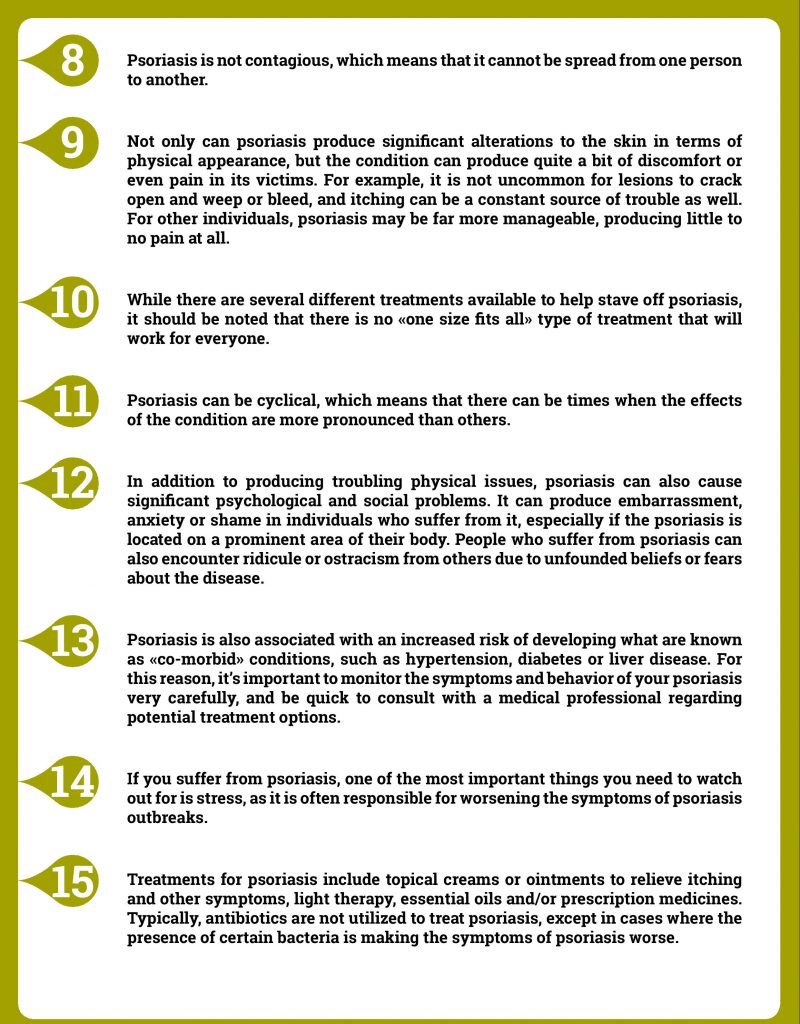 Best Essential Oils For Psoriasis And Their Possible Side Effects
Generally, the most popular Essential Oils employed to treat the signs and symptoms of Psoriasis include Thyme, Geranium, Helichrysum, Rose and Lavender. Research indicates that these specific Essential Oils can significantly suppress the signs of painful Psoriasis. With that said, here are some of the best Essential Oils to Heal Psoriasis:
1. Thyme Oil
While being highly toxic, Thmol present in thyme is a potent antiseptic, making thyme especially useful for problems like Psoriasis. Blend thyme with a carrier Oil and apply over impacted areas for significant relief.
Those with high blood pressure levels should be cautious when working with thyme and pregnant girls should not use it. It is also a skin irritant.
2. Geranium Oil
Geranium Essential Oil renders wonderful effects when used on skin. Geranium is known to revitalize the body tissues. I personally think that this is the single most important Oil for the treatment of skin conditions like Psoriasis.
Possible adverse reactions include the formation of rashes. If the Oil gets into the eye, it might cause a burning sensation. Geranium Oil is generally applied externally or taken internally in food dose amounts.
3. Rose Oil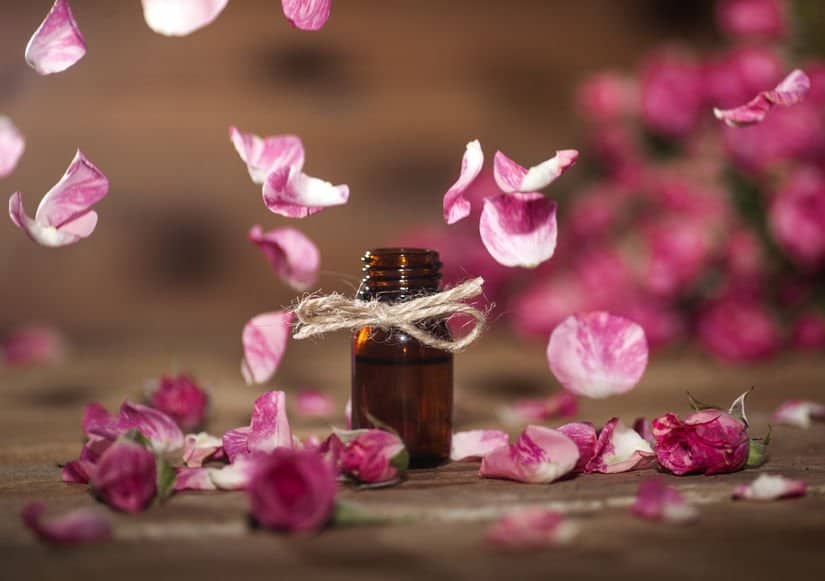 Rose Essential Oil is frequently used in the treatment of Psoriasis due to its calming properties. While smelling beautifully, this Oil has antiseptic and anti-bacterial properties.
Rose Essential Oil is also known to energize the mind. If you are planning to use this Oil topically, you require merely a slight dab. Rose Oil should always be used in a blend, rather than being used all alone.
4. Juniper Oil
Juniper stimulates the blood circulation and helps in blood purification, making it highly useful for the treatment of Psoriasis. While this Oil can be applied topically, diffused or inhaled, it is often used in condiments as a food grade additive. Juniper might cause irritation in skin for many users. In addition, it is not advisable to be used by expecting mothers, as it might cause birth defects. Children also shouldn't use Juniper Oil.
5. Lavender Oil
Lavender is also one of the traditional treatments of Psoriasis. It is known to reduce itching and eases anxiety and stress. It can also help you avoid secondary infections.
Possible hazards of not using Lavender properly include irritation of the skin, allergy symptoms, nausea, chills, headache or vomiting. You can use this Oil topically or by diffusing it in the room.
If you want to buy Lavender Oil, try my certified organic Lavender Oil now!
6. Helichrysum Oil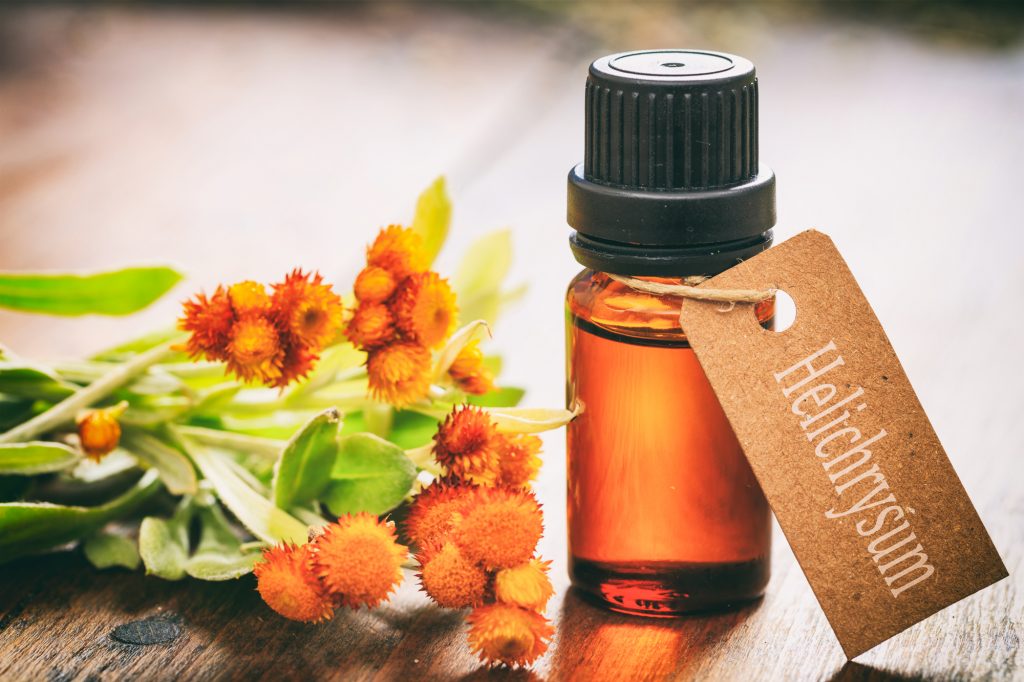 Helichrysum (often known as "immortelle") is wonderful for reducing the symptoms of Psoriasis. It can also ease the inflammation and headaches while promoting the healing of wounds and curing of fungal infections.
Using this Oil internally could be toxic, though there are actually no known adverse reactions seen when this Oil is used topically or in a diffuser.
7. Sandalwood Oil
Sandalwood Essential Oil works to balance both emotions and the immunity processes of the body. The high percentage of Santalol present in Sandalwood makes it useful in relieving inflammation, which is a common characteristic of Psoriasis.
Possible unwanted effects might include hypersensitive reactions. This Oil is also not suggested for expecting mothers. The Oil can be used topically or by diffusing it in the air.
8. Tea Tree Oil
Tea Tree Essential Oil is wonderful for skin problems like Psoriasis. Using Tea Tree Oil can regenerate the cells of the body to reduce the inflammation and swelling. There are very few adverse reactions linked to the use of tea tree Oil, however, children younger than 6 should exercise caution. Additionally, it may create contact sensitization on repeated use. You can use it topically or perhaps in a diffuser.
I recently found a useful video showing how to use Tea Tree Oil to treat Psoriasis.

9. Eucalyptus Oil
Eucalyptus Essential Oil (Eucalyptus fructicetorum) is wonderful for Psoriasis and stuffy acne. Eucalyptus Oil is unsafe when taken orally or applied directly to the facial skin without diluting it first. It can be safe when consumed in food dose amounts.
10. Peppermint Oil
Peppermint Essential Oil is wonderful for problems like Psoriasis due to the healing properties associated with this Oil. Mild skin irritation may well be a factor, though there are no known unwanted effects to using peppermint Oil. It may be taken internally or used topically.
11. Rosemary Oil
Rosemary Essential Oil (Rosmarinus officinalis) may be a good choice for problems like Psoriasis. The antioxidants present in this Oil prevent skin damage and render support to the structure of the skin. It could be used topically or taken orally.
It is recommended to not use this Oil while pregnant. Alternatively, do not use it if you have epilepsy.
12. Patchouli Oil
Patchouli Essential Oil (Agastach Pogostemi) is wonderful for skin conditions like Psoriasis. This Oil is safe when taken in food amounts. Patchouli might be applied externally, taken internally, or used in blends of fragrances and perfumes.
13. Chamomile Oil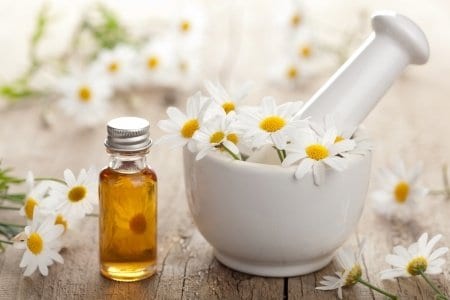 Chamomile Essential Oil is helpful in problems like Psoriasis and Dermatitis, as well as other severe hypersensitivity reactions. You can diffuse it or rub two to three drops on your forehead just before going to bed or when facing a Psoriasis breakout.
14. Bergamot Oil
Bergamot Essential Oil has calming effects. You can apply this Oil topically or diffuse it in the air. This Oil can also be used as a deodorant or a food supplement. This Oil is not safe for children.
15. Andiroba Oil
The myristic acid in Andiroba checks the overgrowth of skin cells. The linoleic acid present in the Oil restores the regular life cycle and stops uncontrolled expansion of skin cells.
16. Borage Seed Oil
Borage Seed Oil contains considerable amounts of Gamma Linoleic Acid. It can rejeuvenate the facial skin, and help to control Psoriasis.
17. Cajeput Oil
Cajeput Oil energizes the cells of the skin and acts as a light counter-irritant, which helps to ease the irritation caused by Psoriasis.
18. Copaiba Oil
This is an anti-inflammatory Oil that prevents infections that might be caused due to Psoriasis.
19. Evening primrose Oil
This Oil also includes a lot of Gamma Linoleic Acid(GLA), and works similar to Borage Oil.
20. Tamanu Oil
This healing tropical Oil is useful in treating Psoriasis along with other skin problems. It is also a rich and soothing moisturizer.
What Are The Best Essential Oil Recipes For Psoriasis?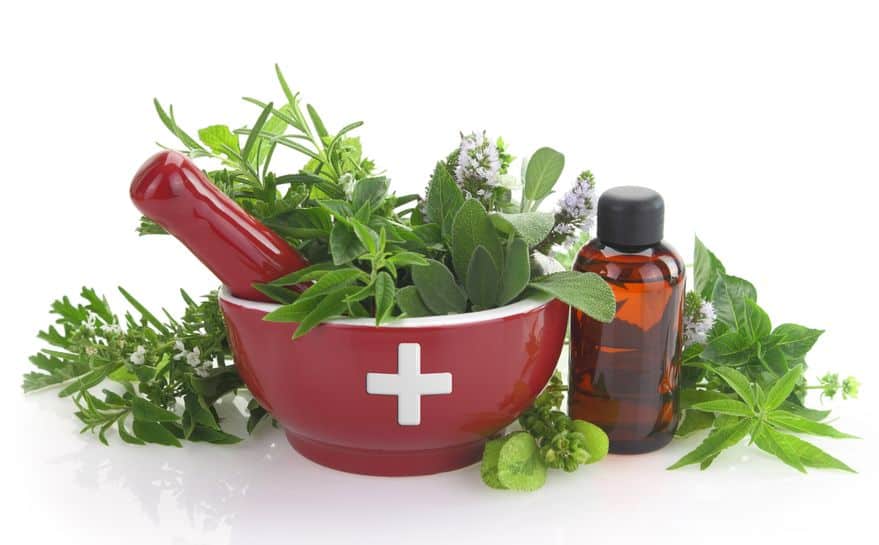 Psoriasis Essential Oil Recipe 1 – Alkalizing hydrotherapy bath:
For those that are seeking relief from itching and burning of Psoriasis flare-ups, you need to try this alkalizing bath. This bath can make your skin condition a little worse before it starts to improve – but this is often a good indication showing that the detoxification process of the body is now being stimulated.
Place 1 cup oats, 1 cup baking soda and 1 cup cornflour within a pop sock and tie properly. Have a warm (not hot) water and add this pop sock along with 1 cup of apple cider vinegar- squeezing the sock well! Use this bath 5 times in a week to help your body soothe and heal itself.
Psoriasis Essential Oil Recipe 2 – Moisturizing bath:
Mix 4 drops of Lavender, 4 drops of Bergamot, 2 drops German Chamomile, 1 teaspoon Virgin Cold Pressed Olive Oil, 1 teaspoon Jojoba Oil, 1 cup oats and 1/2 cup Dead Sea Salt. Place the mix in a pop sock and tie properly. Add the sock to the warm bath water and squeeze regularly to ensure that the salts dissolve and the Oat milk is released. Use this bath blend one or two times in a week to help moisturize and soothe your skin. Oils and salt present in the bath will likely prevent infection from happening if the skin is cracked.
Psoriasis Essential Oil Recipe 3 – Moisturizing Aloe Gel/Cream:
Use this gel after having a bath or shower on the lesions – or on places where lesions are likely to appear – always execute a skin patch test first to ensure the suitability of the Oil you are using. Take 100ml Seaweed and Aloe Vera Gel or a moisturizing cream base and add 10ml Jojoba Oil, 10ml Vitamin E Oil, 10ml Avocado Oil, 4 ml Tea Tree, 4 ml Patchouli, 10 ml Lavender, 10 ml Bergamot and 3 drops of German Chamomile. Stir well and keep inside an airtight jar.
Psoriasis Essential Oil Recipe 4 – A famous Essential Oil recipe for Psoriasis: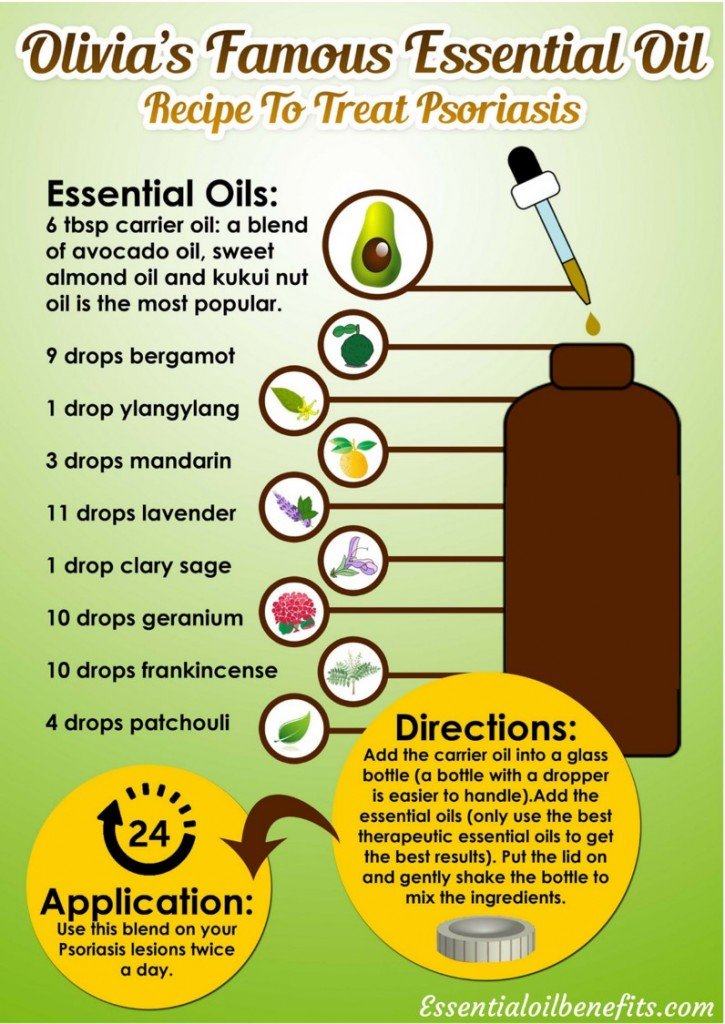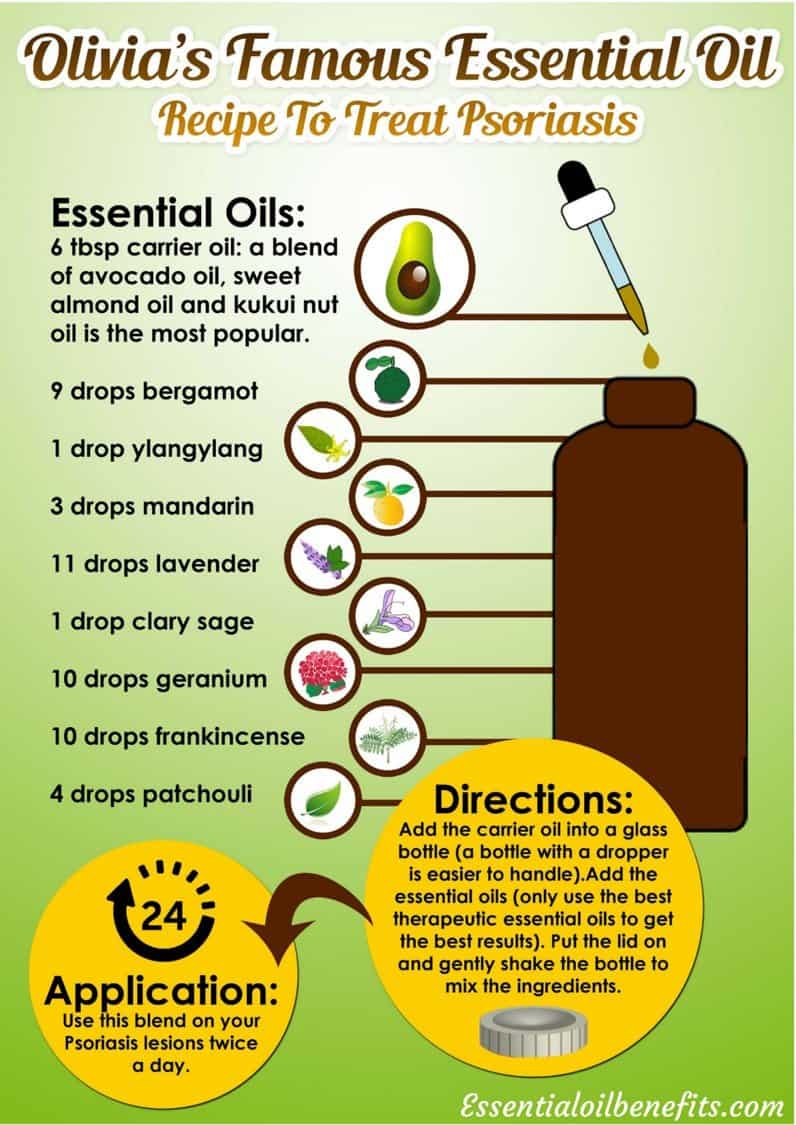 You will need:
– 6 tbsp carrier Oil (like Avocado Oil, Sweet Almond Oil, Pumpkin Seed Oil, Coconut Oil, Kukui Nut Oil, Rosehip Seed Oil etc.) I have found that a blend of Kukui, Avocado, and Almond is the most popular.
– 9 drops Bergamot Oil
– 1 drop Ylang Ylang Oil
– 3 drops Mandarin Oil
– 11 drops Lavender Oil
– 1 drop Clary Sage Oil
– 10 drops Geranium Oil
– 10 drops Frankincense Oil
– 4 drops Patchouli Oil
Directions:
Add the carrier Oil into a glass bottle (a bottle with a dropper is easier to handle).
Add the Essential Oils. Take note, the grade of Essential Oil you use will greatly affect the strength of the therapy. Use the best kind of Oils available.
Put the lid on and gently shake the bottle to mix the ingredients.
Use this blend on your Psoriasis lesions twice in a day.
Psoriasis Essential Oil Recipe 5 – Magnesium Baths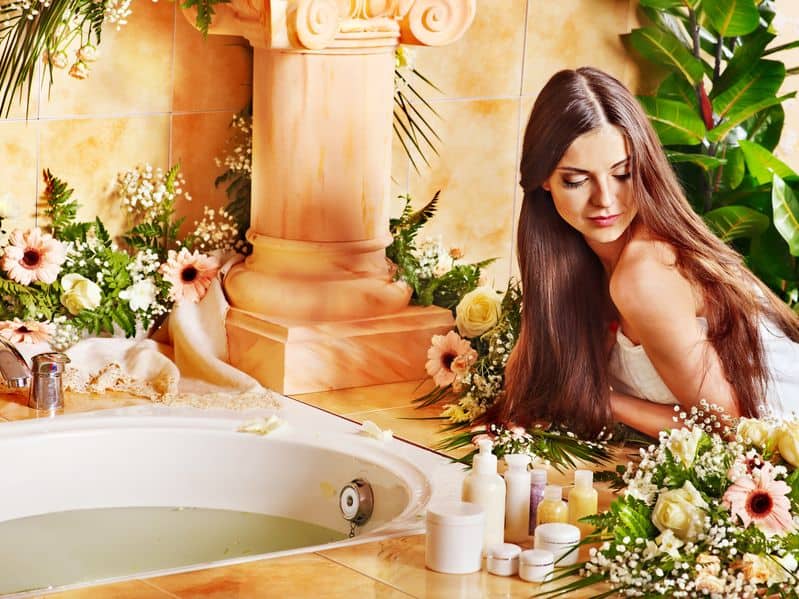 If you are suffering from Psoriasis, soaking in water can make it worse. In such cases, Magnesium baths and other kinds of detoxification baths will be helpful in healing the skin.
I generally add a cupful of magnesium flakes or epsom salts along with a little Himalayan salt to the baths of my children. Whenever I find time, I never tend to lose the opportunity to take a relaxing bath in this mix. When I am not able to spend time in bath, topical application of magnesium Oil helps. Amazingly, I am able to notice the results from trans-dermal magnesium baths far more quickly compared to taking magnesium internally.
My personal favorite recipe for magnesium bath is:
1 cup Himalayan Salt
1-3 cup of magnesium flakes and epsom salts
10-25 drops of Essential Oil of preference (I like Lavender and Mint)
1 tsp of vanilla extract
The effect of this recipe is heightened when used with warm water.
Things To Consider When Choosing Essential Oils For Psoriasis Treatment
Value for money
If the cheaper alternative offers the same efficiency and effects, why buy the pricey Essential Oils.
Essential Oil versatility
The Oil used must be able to address the needs of different kinds of skins.
Essential Oil properties 
Essential Oils with larger range of properties work best for all kinds of bodies and environments.
Ease of access and application 
Some Oils are readily available while some are not. The Essential Oil you are using must be easily available in the market so you don't have to search for it and delay your treatment. Essential Oils that are easy to apply are more practical for everyday use.
My Favorite Essential Oils Products for Psoriasis
1. Amoil's H-Psoriasis
Personally, I like to use Amoil's H-Psoriasis Formula if I don't have time to make my own blend of essential oil. Click Here To Read My Review On Amoils H-Psoriasis!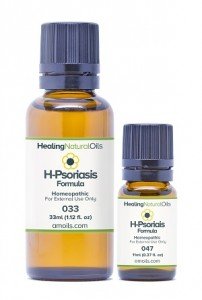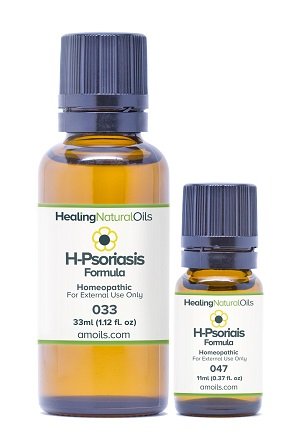 2. L'orpur Problem Skin Relief Cream
The L'orpur Problem Skin Relief Natural Cream is designed to treat and prevent recurrence of difficult skin conditions including psoriasis. It has unmatched anti-bacterial and healing properties and provides instant and long-lasting relief for severely dry, cracked, itchy and irritated skin.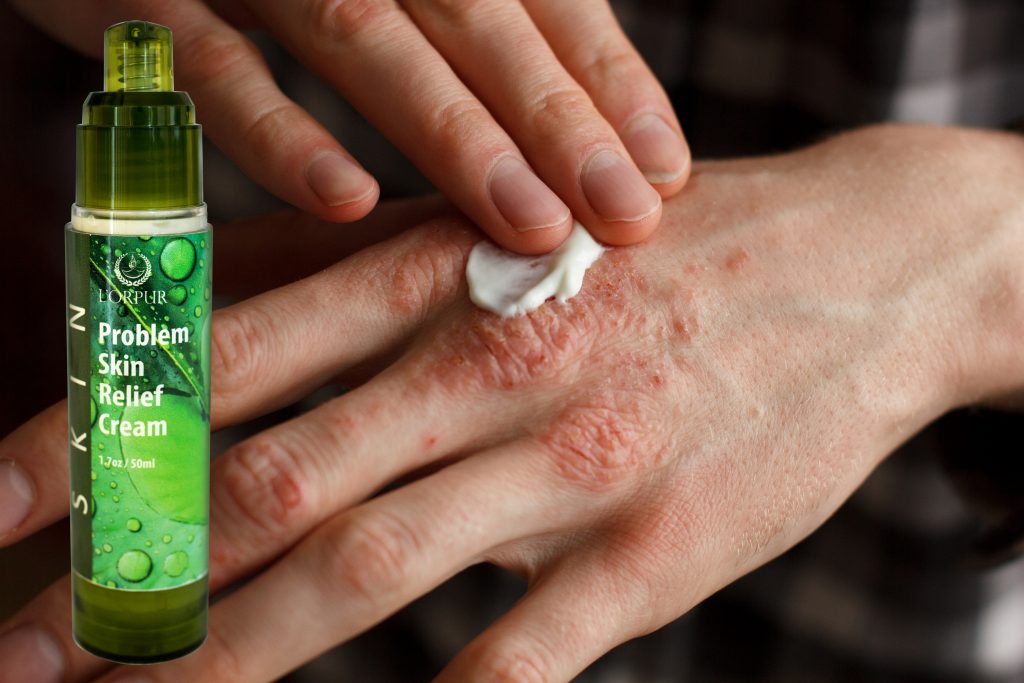 Some Pros And Cons Of Using Essential Oils For Psoriasis Treatment
Pros
The treatment approach is all natural with no side effects, unlike using medicines prescribed by doctors.
Most of the Essential Oils are meant for every kind of skin. Therefore, you can easily find an Essential Oil that fits your skin type.
Cons:
Some Essential Oils can be dangerous if applied in undiluted forms. You also need to exercise caution if you have some pre-existing disease.
The Oil can easily be oxidized and rendered ineffective if it is exposed to open air for a long duration.
After I started making my own Essential Oil blends, I noticed that my skin loved these blends and it looked so much better. If you find that the blend you have prepared is too strong for your skin, add a little more base Oil to reduce the strength. This information is most useful for the teenagers that are known for their heavy handedness. Their skin is extra sensitive due to hormonal changes happening in their bodies.
One of the benefits of making your own Essential Oil blends is definitely the cost effectiveness that comes along. However, the most important benefit is the speedy improvement in your condition. Use Essential Oils according to your moods and preferences and let your troubles float away.
(Visited 260,706 times, 150 visits today)