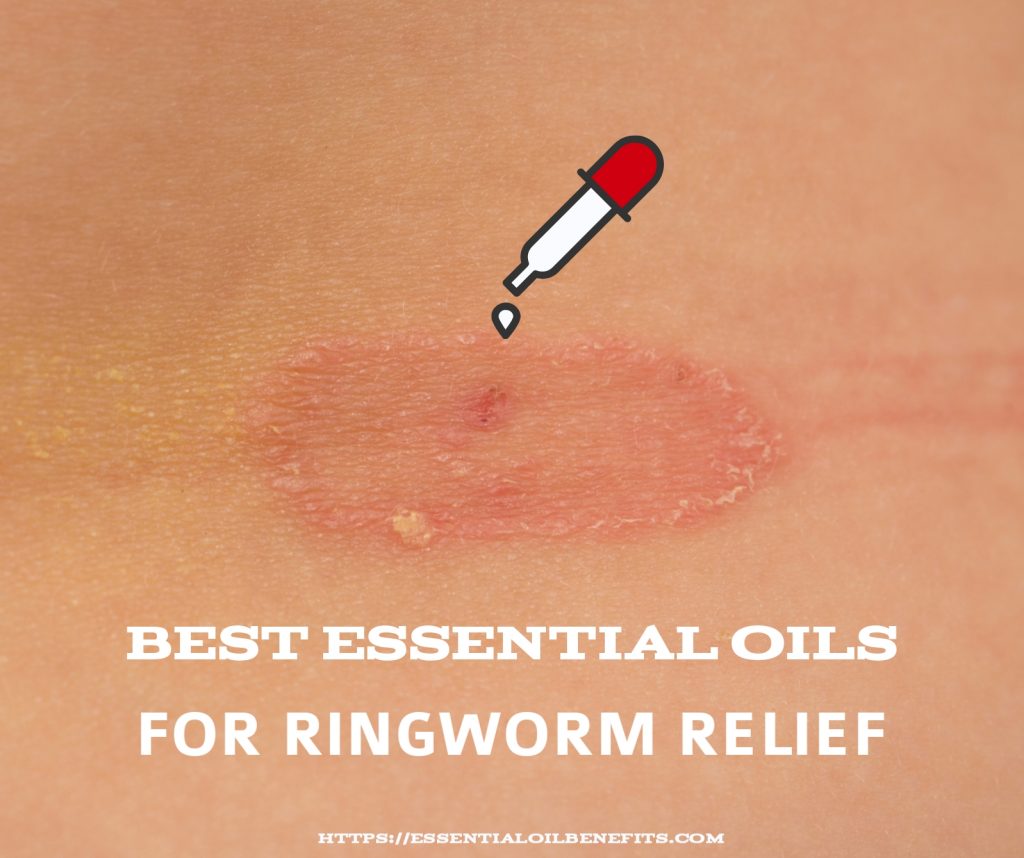 Home Remedies For Treatment Of Ringworm
Ringworm is a kind of fungal infection of the skin, which is generally treated by the over-the-counter creams. However, this infection is infamously resistant to all kinds of treatments and is known to come back repeatedly over the life of the affected individual. There are numerous natural home remedies for ringworm, with research showing Essential Oils to be more effective than over the counter treatments commonly used. Keeping that in mind, here is what you should know about the effects of Essential Oils on one of the most frightful skin ailments called ringworm.
Facts About Ringworm
The two images below show 13 facts about ringworm.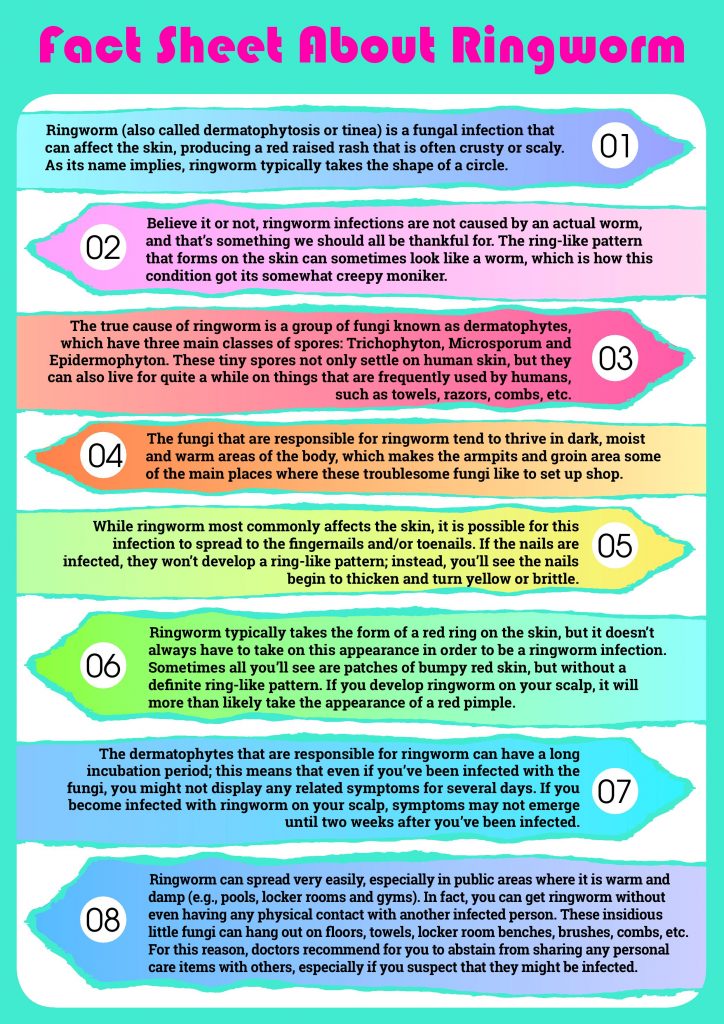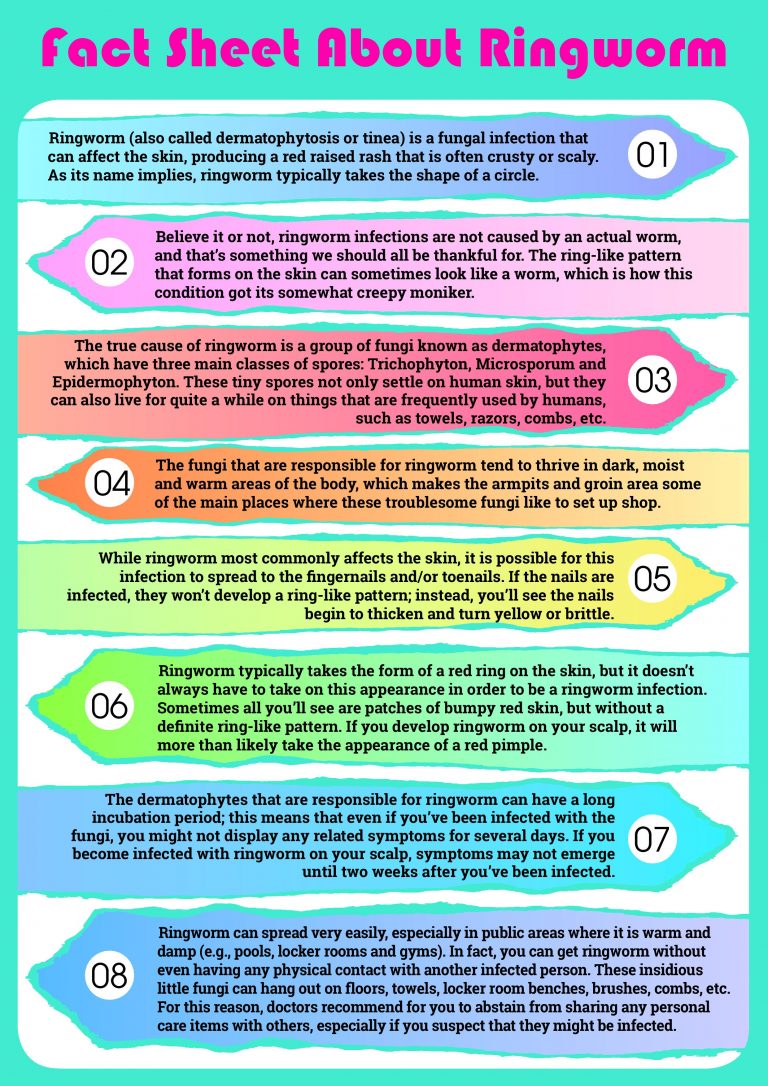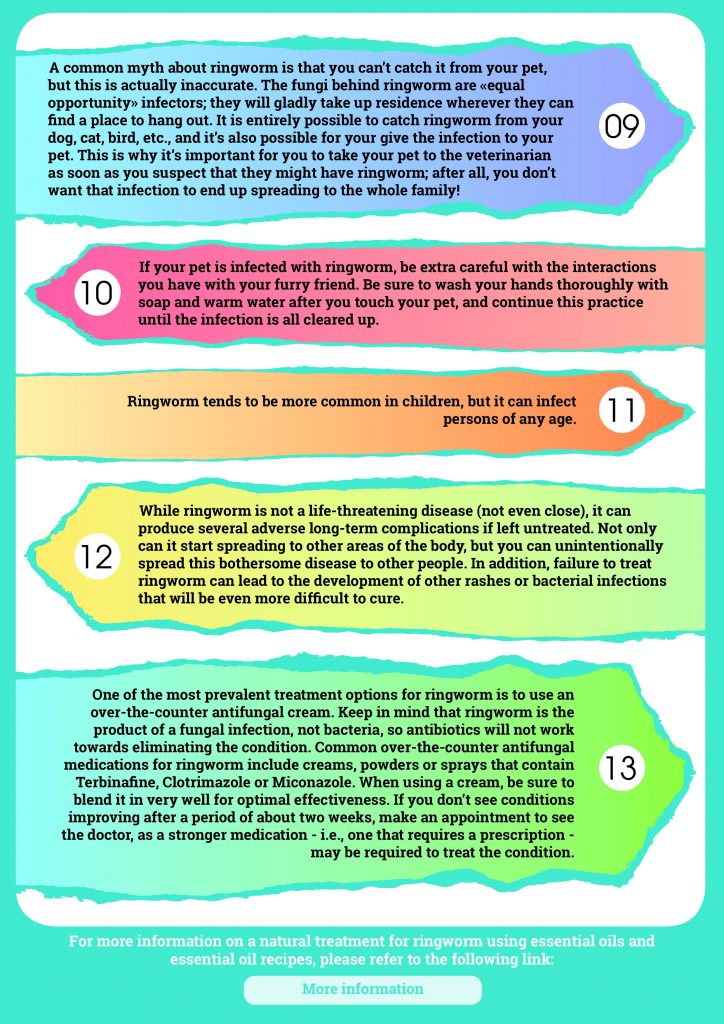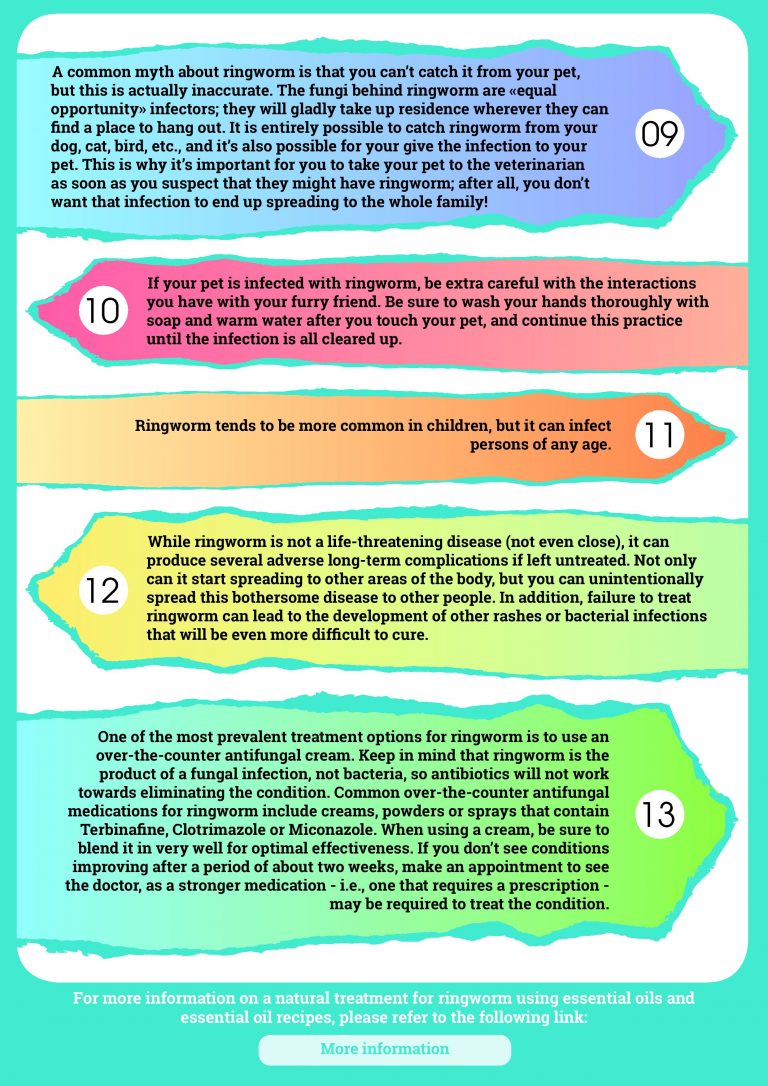 Why Anti-Fungal Creams Have Failed To Treat Ringworm?
While mainstream anti-fungal treatments are generally recommended by doctors for Ringworm, you should know that such treatment procedures include systemic drugs and creams that can result in unwanted side effects. Further, these treatment options do not guarantee 100% elimination of ringworm. Advocates of holistic treatment approaches consider Essential Oils as an effective tool in combating Ringworm. Essential Oils have strong anti-fungal qualities and they are good at stimulating the natural healing process of the skin. Other than that, they help in the overall recovery process of the body and restore higher health by making it easier for the body to release sufficient amount of nutrients and oxygen for the cells.
Which Essential Oils Are Most Effective In Treating Ringworm?
1. Tea Tree Oil for Ringworm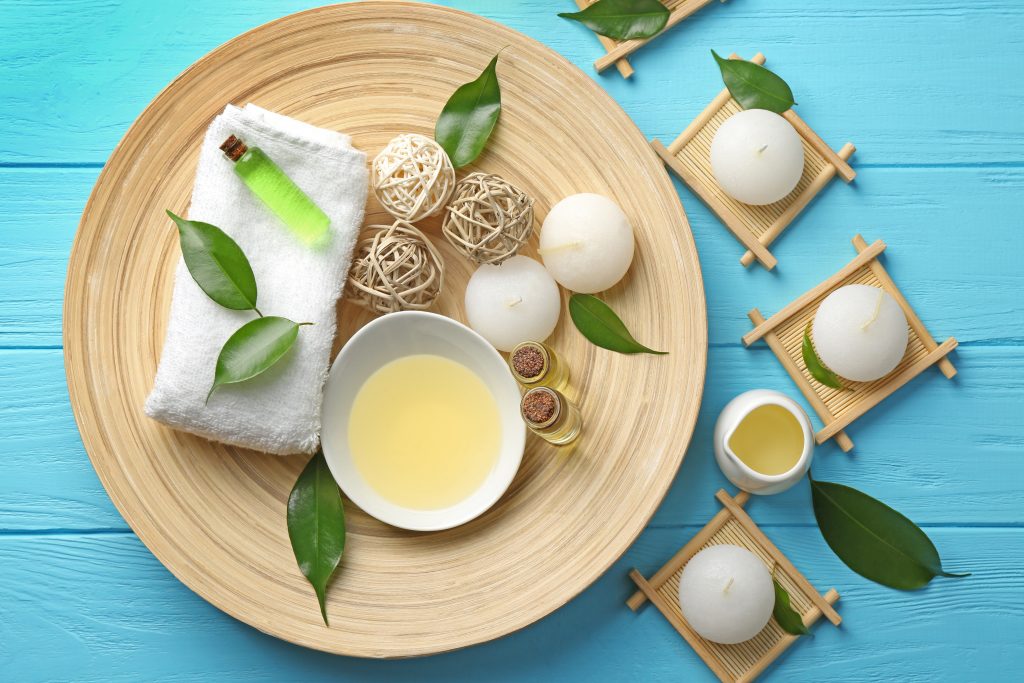 Tea Tree Oil is a widely used Essential Oil due to its efficiency in treating Ringworm. Terpenoid, which is a powerful antifungal present in Tea Tree Oil, can help destroy the fungi causing ringworm. Apply a little amount of Tea Tree Oil mixed in olive Oil to the ringworm patches three times daily to be able to obtain the best results.
It will take around ten days of regular application to eliminate the ringworm completely. Even after the treatment is over, keep using this combination of Tea Tree Oil and the olive Oil regularly over the impacted areas. Tea Tree Oil is quite strong, so never use this Oil internally as this might irritate your stomach lining.
2. Neem Oil for Ringworm
Neem is a well-known Essential Oil since ancient times due to its healing abilities. Neem Oil contains various compounds that have strong insecticidal and medicinal qualities. Additionally, this Oil functions as a good fungicide, making it useful for the treatment of Ringworm. Apply a small amount of Neem Essential Oil throughout the impacted area three times a day. Do this for a period of 10 days to eradicate the infection completely. Additionally, Neem has wonderful antioxidant qualities. Application of Neem will also limit the itching and dryness caused due to ringworm.
3. Lavender Oil for Ringworm

Lavender is mildly aromatic and soothing to the skin. Due to its ability to permeate deep into the skin, it can fight ringworm effectively helping the skin to heal fast. The ringworm causes inflamed, scratchy, dry and scaly skin. Lavender Oil reduces the itching and inflammation caused due to ringworm.
There are two ways you can use Lavender Oil to treat ringworm:
Add a couple of drops of Lavender Oil to your bath water and soak your body in it for at least thirty minutes. This can help soothe the skin.
Dilute ten drops of Lavender Essential Oil with a teaspoon of Olive Oil and apply the mix directly on the impacted areas. Continue doing this three times in a day to be able to eradicate the ringworm infection completely.
4. Oregano Oil for Ringworm
Oregano Essential Oil has strong antifungal qualities, making it highly effective in dealing with the ringworm infection. Slowly massage the infected area with few drops of Oregano Oil. Do this at the least three times in a day and you will observe a noticeable difference in the condition within two or three days. With regular use, it takes nearly 1 week to eliminate the infection.
5. Lemongrass Oil for Ringworm
Lemongrass Oil has natural antiseptic qualities. While it can help heal the wounds faster, its antibacterial qualities prevent the ringworm infection from spreading to other areas of your skin. Mix three drops of Lemongrass Oil to Almond Oil and apply this mix over impacted areas 3 times daily. Follow this regimen until the infection is eradicated completely.
Application Of Essential Oils For Ringworm
There is a range of Essential Oils available for ringworm treatment. The most convenient way of using Essential Oils is as simple as mixing equal parts of Essential Oil and the base Oil such as Jojoba Oil or Olive Oil and applying the solution to the impacted region of the skin. Apply this solution twice in day for a period of one month. You can use both 25% and 50% Tea Tree Oil solution for the treatment of ringworm.
Essential Oil Recipes For Ringworm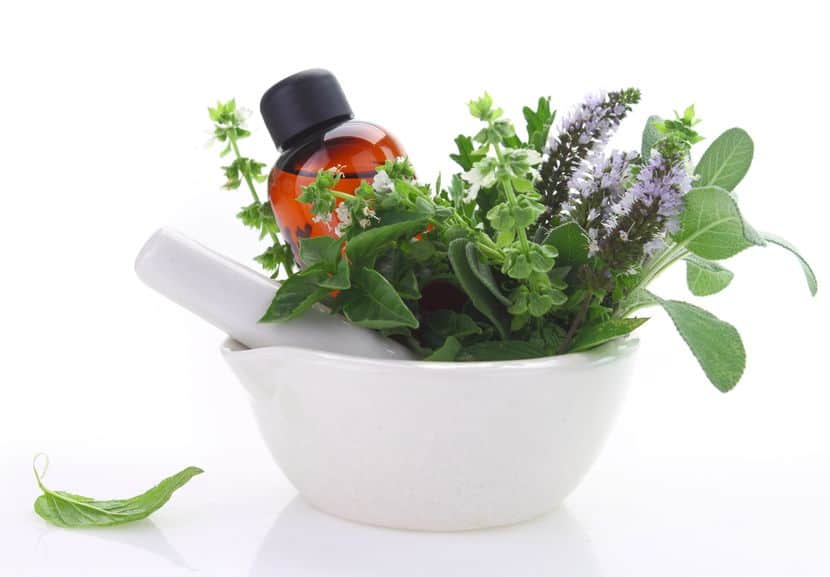 Here are two of the best recipe I always recommend for Ringworm relief:
1. An easy Essential Oil recipe for ringworm you can use anytime
Mix 2% Essential Oil of Wild Thyme, 5% Essential Oil of Rosemary and 5% Essential Oil of Oregano to the base Oil of sweet almond. Apply this blend on the impacted regions two times in a day.
2. An effective recipe for ringworm relief
Ingredients needed:
Mix all the ingredients in amounts mentioned above to the base Oil such as sweet Almond or Jojoba. Apply the blend to the inflamed areas three times in a day. Doing this will surely soothe the scratchy, dry and inflamed skin.
Some Important Recommendations To Bear In Mind
Essential Oils need to be diluted with base Oil to no more than 5%. Perform a patch test to make sure that your skin isn't responding badly to the Oil you are going to use. The inside of the forearm is the best spot to carry out this test since the skin in this region is delicate, just like the skin of the face. Furthermore, women that are pregnant should avoid using the Essential Oils. Additionally, these Oils should only be used on infants and children under doctor's advice.
To be able to prevent ringworm, it is recommended that you keep your environment hygienic. You will need to keep your skin dry and clean, and shampoo the hair regularly. Avoid sharing personal-care products with others. Wear sandals or footwear at pool areas and gyms. Also, avoid touching pets that have bald patches on their skin.
It is always recommended that you use unadulterated, pure and therapeutic grade Essential Oils and adhere to the safety directions given by the manufacturer. Seek medical advice before using Essential Oils if you are already suffering from a health condition, or immediately if any unfavorable symptoms are seen following the use of Essential Oils.
If you want to find out how to use essential oils to treat other skin problems, please read my article on Best Essential Oils Recipes for Skin.
(Visited 61,963 times, 2 visits today)