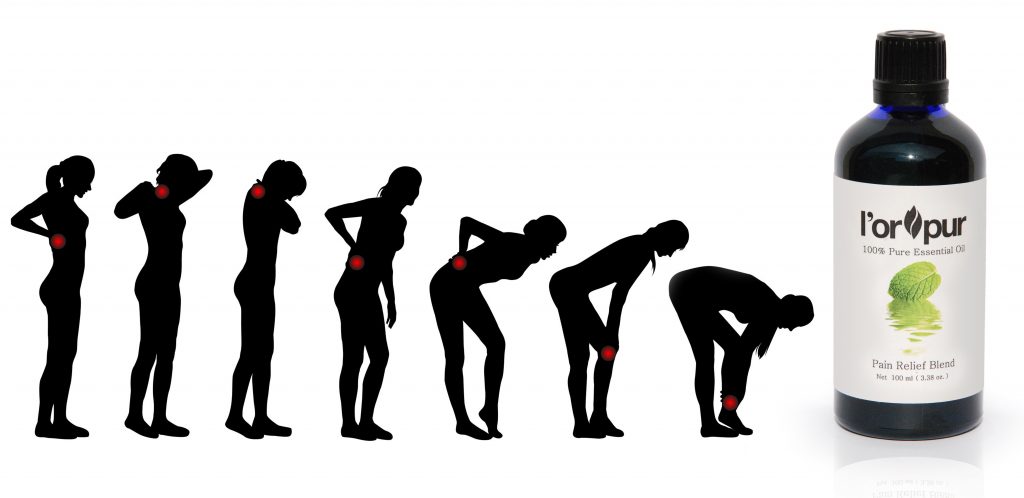 Pain is a part of everyone's life experience!
Pain is one of the most common reasons people seek medical attention. According to the U.S Pain Foundation, more than 100 million Americans experience chronic pain with muscle pain and joint pain being the most common.
Pain can generally be caused by multiple factors and in most cases, they tend to disappear after a few days, except in cases of certain diseases like arthritis where a more conventional form of treatment may be required. Acute and chronic pain can make your everyday life uncomfortable or even debilitating.
Essential oils have been used for pain relief for ages and people using them seem to recover promptly and without any side effects. While helping to improve your emotional and mental state, these natural oils can offer substantial relief in cases of aches and pains.
From the start of my journey with essential oils, I have been driven by a simple truth: every person deserves the most authentic essential oil experience at an affordable price. My dream is to bring the life-changing benefits of essential oils to every home by delivering nature's most potent and pure essential oils from the farms to your family.
Read on as you will discover "l'orpur" in the next section.
Best 8 Essential Oils for Pain Relief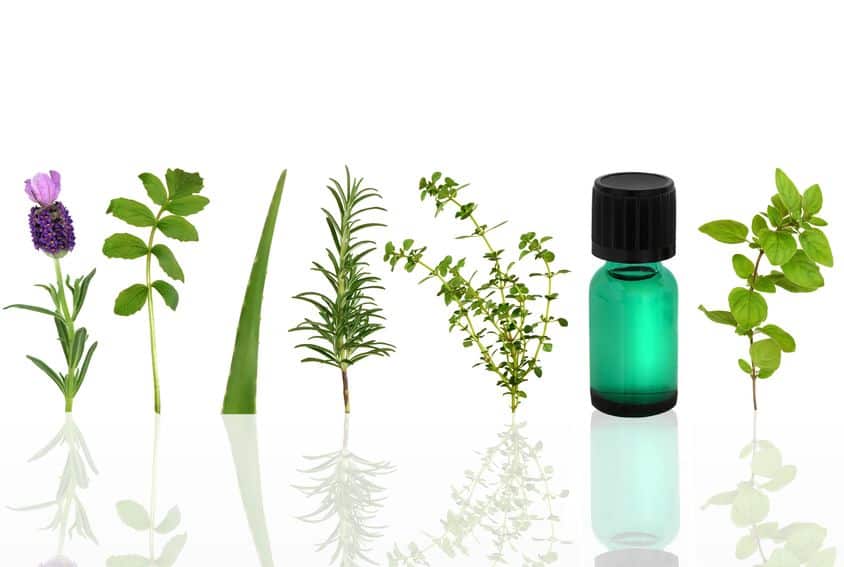 Having said that, here are some of the best essential oils that I have personally tried and tested for their effectiveness at reducing the impact of all kinds of pains and aches:
1. Lavender Essential Oil
Lavender essential oil is useful for various types of pains, from a common headache to cases where a user is suffering from migraine. Lavender alleviates the pain of menstrual cramps, stomach cramps and colitis. This same oil is recommended for conditions like sciatica, neuralgia, rheumatism and muscle pain. Because of its effectiveness in treating any kind of pain, and due to its versatility as it can be used by people of all ages, Lavender is one of the basic oils that should be available in every first aid kit.
2. Tea Tree Essential Oil
The essential oil of Tea Tree is very useful in the treatment of pains caused by superficial wounds and blows of any kind. Tea tree is especially effective at treating pain in the ears due to its ability to act as a germicide that eliminates the virus or bacteria causing pain. Apart from that, Tea Tree oil is a potent disinfectant, analgesic, anti-inflammatory and an anesthetic. You can use tea tree on the gums after tooth extraction and in conditions like gingivitis and periodontitis because it is very effective at removing bacteria. This oil can also be used for pains caused by herpes for its ability to combat the causative germ and its antiviral action.
3. Chamomile Essential Oil
Chamomile oil is excellent for arthritis, at soothing the nerves, curing sciatica and relaxing joint and muscle pain. It is very useful in combating the digestive problems mainly of emotional origin such as colitis, ulcers and indigestion.
4. Rosemary Essential Oil
The essential oil of Rosemary is known for its anti-inflammatory and analgesic action making it one of the most recommended oils for conditions like gout, rheumatism, joint pains, sprains, fatigue after strenuous exercise, menstrual cramps, headaches and pains in the intestines caused by constipation. However, people with hypertension or epilepsy must not use this oil.
5. Wintergreen for pain
The essential oil of Wintergreen acts as a natural analgesic, making it highly useful when it comes to quick relief in pain and related issues. Methyl Salicylate, which is the active ingredient in Wintergreen, is one of the best inflammation fighting compounds. While acting as a natural numbing agent, Wintergreen is known to cool down the irritation and promote blood circulation, which is highly comforting.
6. Juniper Essential Oil
Juniper essential oil is particularly effective in treating arthritis and rheumatism. This essential oil should not be used during pregnancy.
7. Peppermint Essential Oil
It is recommended to use the essential oil of Peppermint to alleviate the pain caused by headaches, migraines, neuralgia, muscle aches and tired feet. However, avoid using this oil in large quantities. Peppermint oil is composed of 28 to 48 percent menthol, which means it has a strong, pungent odor. It is invigorating, clears the head and is a stimulant, while at the same time it is cooling, soothing and refreshing.
Using Peppermint Oil in Massage
Massage is the most effective way to use peppermint oil for relieving muscle pain caused by excess intense activity. Massage warms the skin and the underlying muscles, dispersing the accumulated lactic acid that causes the pain. The aroma of peppermint oil enters the brain through the nose and into the body via the skin, so you can use this oil in a diffuser or apply it topically. Just add 4 drops of sweet marjoram, 2 drops of peppermint oil and 2 drops of sandalwood to 15 ml of base oil of sweet almond and your massage blend will be ready.
Using Peppermint Oil in Cold Compresses
A cold compress is highly effective at relieving swelling and inflammation at the point of injury. Cold compresses is very useful in cases of sprains or strains.
Directions to Use
Add 2 drops of peppermint in 500 ml of cold water. Dissolve six ice cubes into the blend.
Soak a towel in water and then put it directly on the area affected.
The cooling effect of peppermint and ice, along with the analgesic properties of mint, help reduce swelling and discomfort.
Using Peppermint Essential Oil in Bath
A relaxing hot bath with peppermint essential oil helps to relieve pain. Add 4 drops of lavender, 4 drops of geranium and 2 drops of peppermint in a hot bath, rest and relax. This is also a great way to relieve muscle stiffness and pain. The effect of essential oils heats up the muscles allowing them to release the stress and the aroma helps in muscle relaxation.
Peppermint oil should never be taken internally or used undiluted. If your skin is sensitive, you should avoid using this oil. Babies and children under twelve years of age should avoid using this oil.
8. Eucalyptus Essential Oil
Eucalyptus oil, besides its effectiveness in the treatment of respiratory and infectious diseases, is also recommended for the treatment of arthritis and rheumatism and in other conditions of joint stiffness and restricted joint mobility.

I've had a love affair with Essential Oils for quite a while now. I've mentioned and featured them on my website, but I thought I'd take the time to really put it all in one product, L'orpur Pain Relief Blend.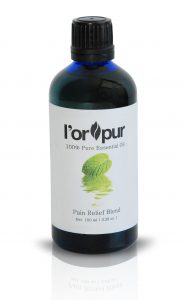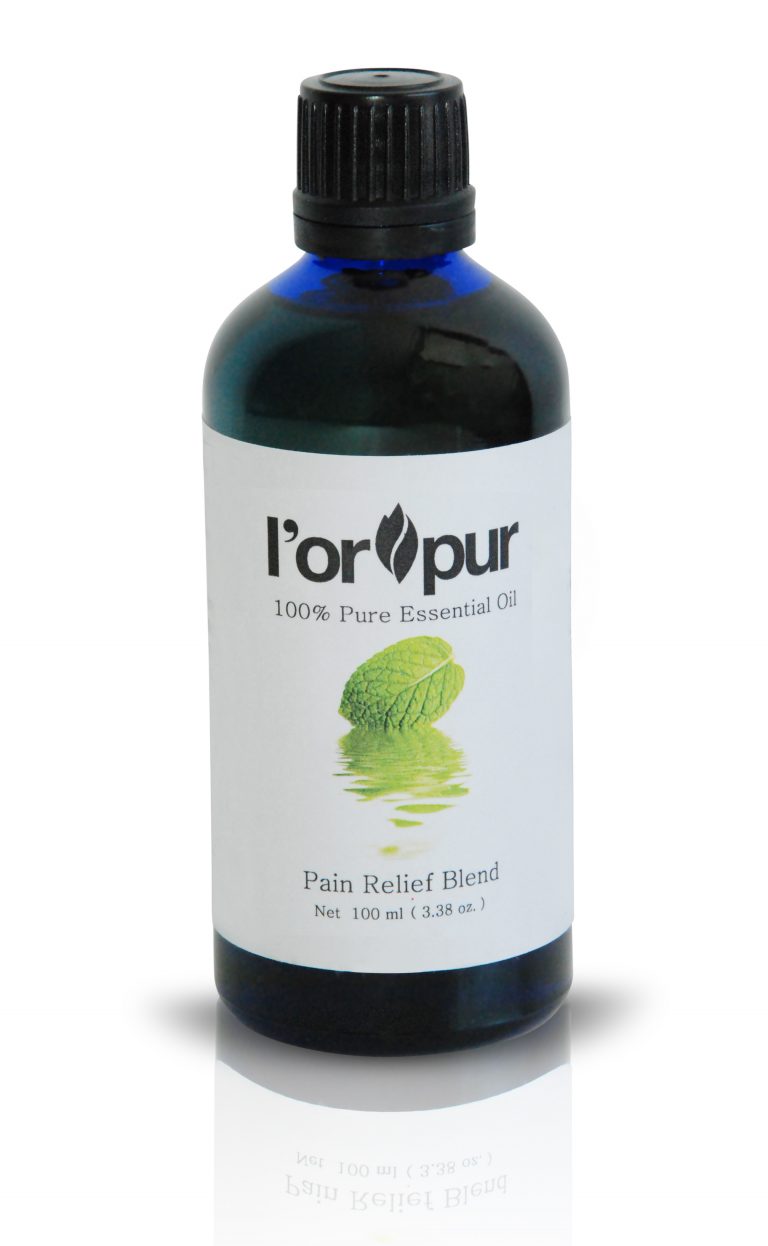 I can't thank my esteemed customers enough for believing in my brand and for being part of this wonderful story.
How To Use Essential Oils For Different Kinds Of Pains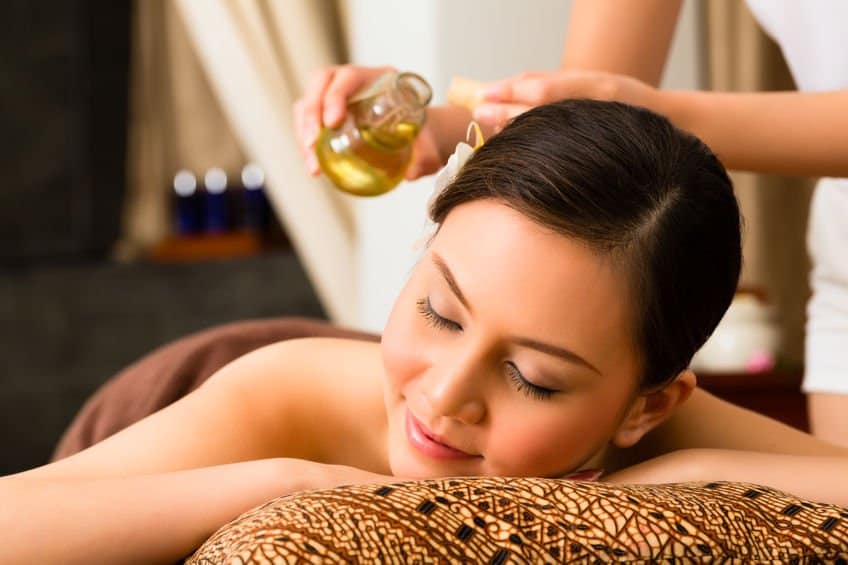 1. Essential Oil Recipe for Headaches And Muscle Pains
For Relief in Muscle Discomfort and Inflammation
Muscle pain is usually caused by overwork, or due to some kind of sprain injury. When muscles are overworked, there is a build up of lactic acid in the muscles, making them sticky and difficult to move. This is what causes the pain.
In order to treat muscle pain, follow the below mentioned essential oil recipe:
Combine two drops of

Lavender essential oil

with two drops of Rosemary essential oil.
Add 4 teaspoons of massage oil, such as

Sweet Almond

and mix.
Gently massage on the area affected by pain.
For relief in headache:
Combine two drops of

Lavender essential oil

with ½ teaspoon of massage oil such as Sweet Almond.
Massage the blend gently on the temples.
2. Essential Oil Recipe For Premenstrual Pains And Menstrual Pains
Personally, I have tried many essential oils to relieve my painful menses. Here is an easy to use essential oil recipe that can relieve menstrual pains to a significant extent.
Directions to Use
Mix in a container the following ingredients:
A carrier oil of your choice
15 drops of

Peppermint essential oil

5 drops of Lavender essential oil
10 drops of Cypress essential oil
Rub a little of this mixture of oils using a cotton pad or fingers over your abdomen. Gently massage in circular motions, over the area you are experiencing pain.
3. Essential Oil Recipe For Muscle Aches
The blend of essential oils to relieve stress and muscle ailments is prepared with a mixture of salts of Epsom, 45 drops of Grapeseed essential oil, 15 drops of Jasmine essential oil and few drops of Ylang Ylang essential oils. Mix all the ingredients well. Use this blend in your immersion bath. Rest in this water for at least 15 minutes, to relieve the body and relax.
4. Essential Oil Recipe For Sore Muscle Pain Relief
Not only can joint pain be relieved with essential oils, you may also expect substantial relief in conditions like sore muscles. Sore muscles generally happen when a person overdoes a particular exercise. For such muscle pains, you can combine two drops of Rosemary essential oil with two drops Lavender essential oil before adding 4 teaspoons of Almond oil. Gently massage the affected area using the fingers.
If you are active in sports, muscle soreness can be avoided by using this blend of oils. Simply massage the muscle areas before exercise:
Combine a drop of

Lavender essential oil

with Eucalyptus essential oil.
Add 4 tablespoons of any base massage oil, such as sweet almond.
Rub this blend on muscles and joints before exercise.
To relieve pain after sport or exercise combine two drops of Lavender essential oil, 2 drops of Juniper essential oil and 3 drops of Rosemary essential oil. Mix well and then add four teaspoons of any base oil of your choice. Stir well and then massage on muscles and sore joints.
5. Essential Oil Recipe for General Aches And Pains
For aches and pains in general
Combine 4 drops of Peppermint essential oil, 3 drops of Oregano essential oil, 2 drops of Cedarwood essential oil and finally 2 drops of Lavender essential oil. Add to this mix one tablespoon of almond oil and mix well. Now gently massage on the skin or affected area to get the pain relieved.
With the blend of these essential oils for joint pains, you can also derive an anti-inflammatory blend, for which you should combine three drops of German Chamomile essential oil, three drops of Lavender essential oil and five drops of Frankincense essential oil. In the mixture of the above essential oils, add a tablespoon of Sweet Almond oil. Apply this blend on the inflamed area with gentle massage several times a day.
6. Essential Oil Recipe For Joint Pains
Some of the best essential oil combinations for muscle and joint pains include Camphor, Bergamot and Coriander, Juniper and Lavender, Ginger and Marjoram, Lavender and Lemon Grass, Nutmeg, Black Pepper and Grapefruit and Rosemary, Sage and Thyme Essential oils. Just choose any one of the combinations mentioned above and then you can use them in the following two ways:
You can use the blend as massage oil and apply to the painful area. Just take few drops of the essential oils and mix with the few drops of carrier oil such as Almond oil, Olive oil, etc.
In aromatic baths, add 5-10 drops of the blend and repeat the bath several times in a week. In your bath, you can also use diluted honey, milk or apple cider vinegar.
7. Essential Oil Blend For Nerve Pain Relief
When it comes to nerve pain relief, I have had best experiences with the following recipe.
9 drops –

Lavender Essential Oil

11 drops – Helichrysum Essential Oil
11 drops – Marjoram Essential Oil
15 drops – Chamomile Essential Oil
Combine the essential oil mix with 100 ml of carrier oil and wait for 24 hours giving them time to settle. Thereafter, use this blend as massage oil throughout the day. Keep out of direct sun light.
8. Essential Oil Recipe For Feet Pain
Essential oils are an important ingredient in foot care; however, they are not meant to replace other conventional therapies. Here are some of the essential oils I have tried on myself for their effectiveness in relieving feet pain.
Arnica – The essential oil of Arnica stimulates the blood circulation. Massage the affected area with 2-4 drops of Arnica for quick relief. Do not use on open wounds.
Chamomile – Chamomile is a natural anti-inflammatory that gives quick relief in all kinds of feet pains.
Rosemary – Rosemary is a potent anti-inflammatory giving quick relief in feet pain.
Yarrow – Yarrow is a natural pain reliever and an anti-inflammatory used since centuries.
9. Essential Oil Recipe For Immediate Back Pain Relief
In my experience, the best essential oils you can use for back pain relief are Birch, Sage and Wintergreen. Apply 2-3 drops of either of these oils to the area where pain is manifested for quick relief. It is important to note that the essential oil of Wintergreen may need to be diluted with carrier oil. You can also consider getting a back massage with these oils, which must be followed by hot compress to drive the oils deeper.
10. Essential Oil Recipe For Knee Pain Relief
One of the best essential oils to use for knee pain relief is Eucalyptus. Eucalyptus, a natural pain reliever, works by opening the blood vessels and increasing the blood circulation. In order to boost its effect consider mixing this oil with the essential oils of tea tree and peppermint.
Conclusion
Essential oils are especially useful when the reason behind the pain is bacterial or fungal infection. Note that all pain and inflammation is caused by infections due to bacteria, fungi or viruses. Aromatherapy proves to be an excellent tool in such cases as most of the essential oils are antibacterial, antiviral and antifungal in nature helping to kill the germs and pathogens causing these diseases.
It is important to note that essential oils can only improve the quality of life of a person suffering from serious illnesses like osteoporosis, fibromyalgia, arthritis, gout, diabetes, hypertension, cancer and HIV among others. They can in no way be considered full treatment options for such diseases. You may need to consult your medical practitioner for further treatment advice to complement the use of essential oils.