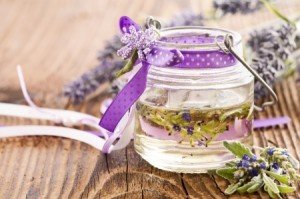 Here are some of my best essential oil recipes and remedies for headache relief:
Recipe for base or carrier ingredient
Essential Oils are volatile and highly concentrated liquids that are extracted from several different types of plants and trees. They should be combined with a Base Oil or lotion before rubbing them on the skin. You may use any Vegetable or Nut Oil, unscented lotion or cream as a base.
The general rule of thumb I follow when combining essential oils with a base oil/lotion for massage and baths is 2-3% essential oil for adults. When I am down with severe headache, I often increase the concentration of essential oils up to 5 percent. Do not use on babies without professional medical advice.
In 1 oz (30 ml) of Base Oil, add 30 drops of Essential Oil for 5% dilution.
Recipe for the palm blend:
Use the following blend for massaging the temples and back of the neck. You use this palm blend during the bath, or after a shower. Pour 8-12 drops of Base Oil like Jojoba Oil in your palm and add 1-2 drops of pure Essential Oils.
Some good combinations for Palm Blends:
Lavender/Peppermint Oil
Lavender/Lemon Oil
Lavender/Geranium Oil
Lavender/ Peppermint/Eucalyptus Oil
In 1 oz of base Oil, like Organic Golden Jojoba Oil, add 10 drops of pure Essential Oil for 5% strength. If this is too strong, cut it back a bit. This blend is for spot work. It may be too strong for overall massage.
Use Lavender-Peppermint Oil Mist as often as you want on your head, face, and closely mist the back of your neck at the hairline. Mist your pillow too.
Carry around a little bottle each of pure Lavender and pure Peppermint Essential Oil. Use these as inhalers, and take 5-7 deep breaths as needed.
Make a Palm Blend with 10-12 drops of Jojoba Oil or another Base Oil, add 1-2 total drops of Lavender or Peppermint Oil, or 1 drop of each. Apply to nose, temples, back of neck, and possibly belly.
Safety Precautions With Essential Oils
Essential Oils are highly volatile and concentrated liquids. They do not mix with water. They are lipid (fat) soluble, which makes them excellent for mixing in bases of Oils, creams, and lotions for safe skin applications. With the exception of spot work, like 1 drop of Lavender Oil used on a cut, they are not meant to be used straight on the skin in their undiluted form.
Many of the Essential Oils can cause irritations to the skin, especially the Mint, Citrus, and Spice Oils when used undiluted. Once they are on the body, they are in the system. Since they are lipid soluble, the attraction to the sebum in our skin takes them directly into the blood stream.
Essential Oils are not for internal use without professional medical advice. They can burn the internal tissue of the mouth, throat, and body. Children, pregnant mothers, and people with sensitive skins should use lighter dilutions for massage blends. Consult a professional for proper recommendations.
Keep Essential Oils away from children, pets, and open flames. Essential Oils can often be poisonous; the right dosage differentiates a poison from a remedy.
(Visited 3,772 times, 1 visits today)