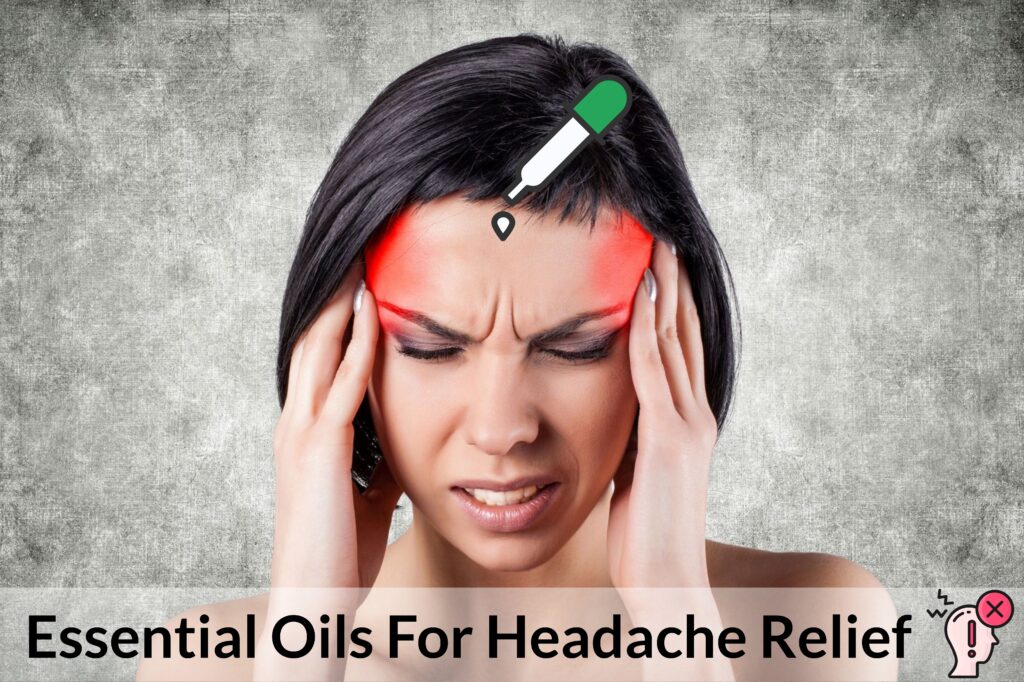 For those of us blessed with not having raging headaches, hmm…For the rest of us, headaches are not cute.
While an over-the-counter medication might relieve the discomfort temporarily, the natural healing of essential oils can offer long-term relief without unwanted side effects or without submitting the body to chemical agents.
If you suffer from headaches, you're not the only one. Around 15 % of the population of this world experiences regular headaches and migraines. Unlike a migraine, headaches aren't a neurological condition. It's a sign of stress, illness, or perhaps a poor lifestyle.
Using essential oils for headache relief offers the feeling of being in control as you take part in finding your own solution.
You don't have to wait weeks for an appointment to see the doctor. You can start right away and get the required relief.
There are no negative side effects of essential oils (when used correctly) and they can be used in conjunction with other medicines. However, it is important to use them in the proper strength and in the right manner and for the correct length of time. With essential oils, less is often more.
With the correct education, essential oils are easy and cost effective to use. Some essential oils contain phytohormones (plant hormones) to help our endocrine system. Headaches are often caused due to hormone imbalances.
What Are The Best Essential Oils That You Can Use For Headaches?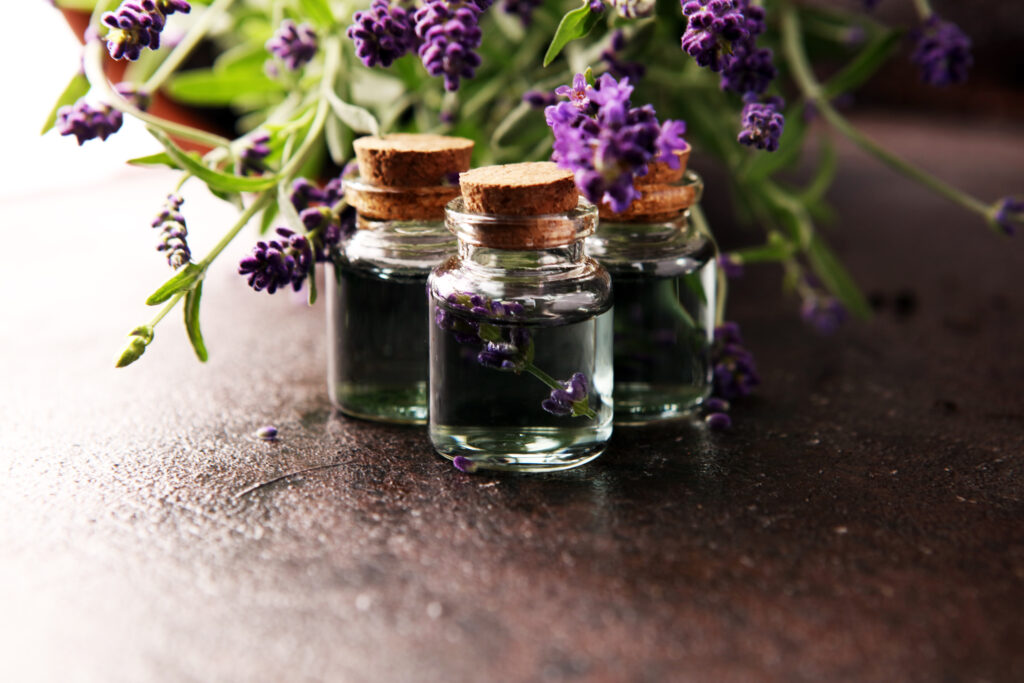 Choose from the following list of essential oils and see which one or ones give you the best relief. Based on how the aroma makes you feel, your nose will tell you the most appropriate essential oil.
1. Lavender
Lavender oil is one of the best pain relievers. It is also the best essential oil to use for stress and anxiety. Due to its anti-inflammatory, analgesic, and anti-bacterial properties, it also known to be a balancer for the central nervous system. I often refer to lavender as the oil of homeostasis.
It assists us through this process by calming the central nervous system, relaxing the tight tissue, and calming our emotional state.
2. Peppermint
The second best essential oil for headache is peppermint, especially when digestive and sinus issues are involved, or if you just love peppermint. This essential oil has excellent analgesic effects. The menthol component helps stimulate the circulation of blood to the brain with its warming and cooling properties.
Peppermint brings a cooling menthol effect to a headache caused due to a hot disposition. Peppermint is also notably good for migraine relief.
3. Lemon
Lemon oil is stimulating and uplifting. It helps to fortify the nervous system. The clean refreshing aroma is helpful if fatigue and/or depression are involved. Its high antibacterial properties are also helpful if congestion and sinuses are part of the headache issues.
4. Eucalyptus
Eucalyptus oil is warming and stimulating. Just like peppermint, eucalyptus oil can help improve circulation, and is good for general fatigue. It is also the best respiratory oil with decongestant and expectorant properties. It helps clear the head and relieve pain.
Eucalyptus oil is a good choice if congestion and sinus pressure is part of the cause for the headache.
5. Geranium
Geranium oil has a tonic effect on the system of the body. It can be uplifting, comforting, and nurturing, while at the same time improve circulation and soothe the nerves. It is also known to help balance the hormonal system.
If your headaches are hormonal in nature, then using geranium oil with lavender oil is definitely the right choice. Another reason to choose geranium essential oil is its rosy aroma that helps adrenal exhaustion, general fatigue and depression.
Recommended Natural Product For Headache Relief
Do you commonly experience tension or cluster headaches or migraines…fret not! Try my favorite essential oil product for headaches Amoils H-Headaches! You can read my review on this product for more details.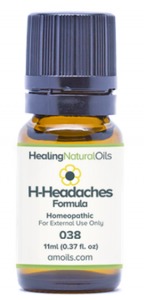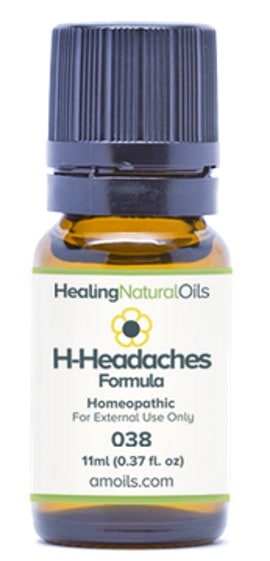 What Are The Best Ways To Use Essential Oils To Alleviate Headaches?
My top 8 Suggestions for Headache Relief with Essential Oils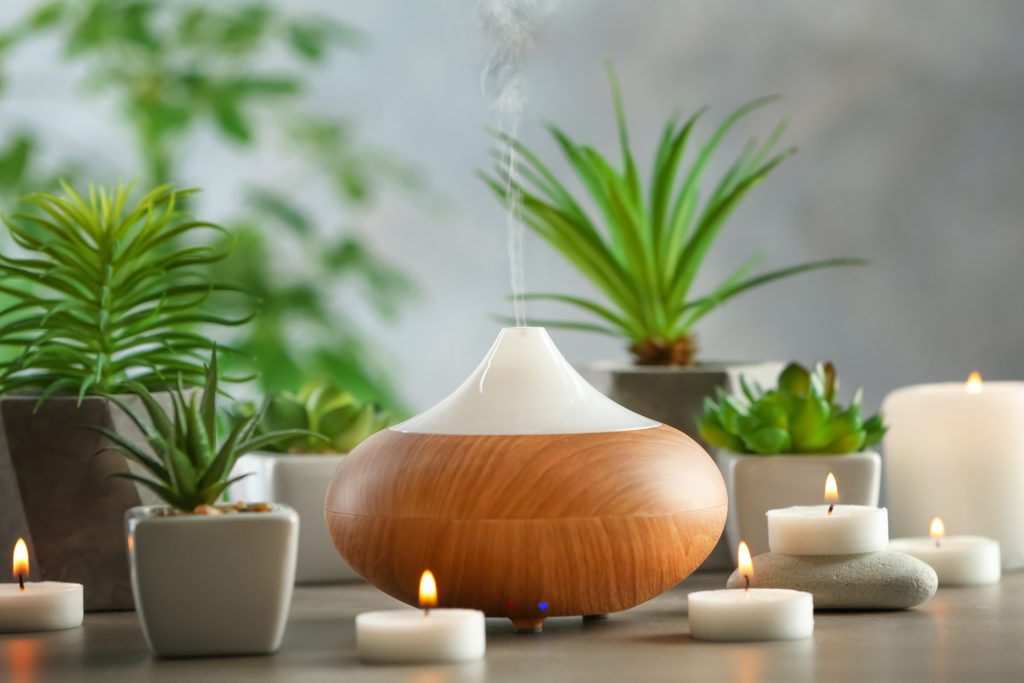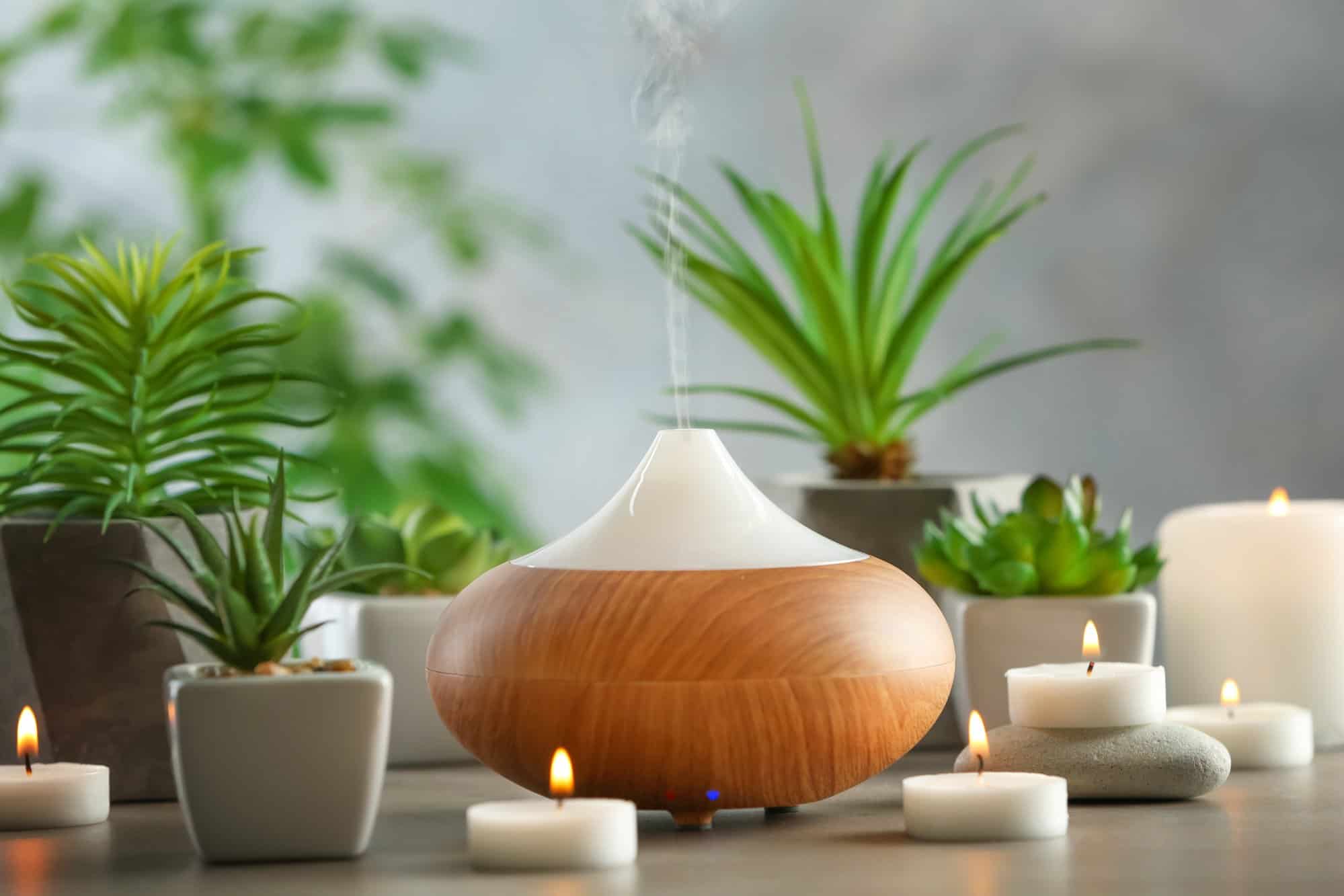 It is empowering to select and create your own ritual / routine for headache relief. You can use any of the above listed essential oils with these ideas to create your own healthy habits.
1. Misting
I use misting to clear, wash, and refresh my skin. While promoting an overall sense of well-being, it helps me remove the mental stagnation. While it is easy to do misting just about anywhere, the effects are profound.
A lavender – peppermint essential oil mist is a good choice for clearing the head and lifting the spirit!
2. Inhalation
Inhalation is the easiest way to use essential oils. Simply keep a bottle of pure essential oil like lavender / geranium oil with you for quick, strong, powerful shifts. Close your eyes, if appropriate, and take 5-7 deep breaths and pause.
A couple of drops of pure essential oil on a cotton ball or hanky can help. Put one drop in your palm, rub together, cup nose and breathe deeply. Pause and rest to receive the full benefits. Be mindful of the effects and the way you feel.
3. Diffusers
Using essential oil diffusers for your bedroom, office and home is a great way to soothe your soul. You can also use them in hotel rooms when traveling. The aromatic air can help relieve many causes of headaches … such as tension, stress, fatigue, exhaustion, bad air, allergies and more.
Create a special spot as a sanctuary for your quiet time and stress-relieving techniques. The L'orpur 5 blends kit is a good choice for use in diffusers.
4. Baths
Baths are an ancient healing art. With the right combination of essential oils, baths are one of the best headache pain-relievers. The analgesic properties of essential oils relieve the body of all pain, aromas soothe the mind and warm water relaxes the tissues.
You get all this while also getting a quiet time to stop and rest. Take at least three baths a week as a preventive measure for many of the reasons we get headaches.
5. Massage
Use a blend to gently massage your temples, neck, shoulders, chest and belly while you are in the bath. You can also add 2-3 drops of lavender oil to the water. Do not add peppermint or lemon essential oils to the water. Undiluted mints and citrus essential oils can cause your skin to burn / irritate.
Close your eyes and relax with a warm wet washcloth over your forehead and face, or a cold compress if you prefer. Enjoy this quiet rest amidst the chaos of life for at least 20 minutes.
A palm blend you can use for massage
Self-massage with a blend of 2-3 drops of essential oil in 8-12 drops of carrier oil like jojoba or sweet almond oil. Apply this blend to your nose to make the nose – brain connection. Then massage the temples, back of neck along the hairline at the occipital ridge, and rub into the neck and shoulders to relieve tense muscles.
Set aside a time for a professional massage, whether this is weekly or fortnightly, and bring your own oil blend that works best for you. The effects of massage have proven to last longer when done with Aromatherapy. This can help break the stress-cycle of some headaches.
Massage is holistic, working mainly the nervous system as a whole and including, as part of the same treatment, the head and body. However, in some cases massage can aggravate a headache. At these times, choose the compress, simple inhalations, soothing baths or comforting mists.
6. Cold compress
Place cold compress with lavender oil on the forehead and back of neck to relieve headache pain with the vasoconstriction that cold water creates.
Steps
Dip a washcloth in a cup of cold water and add 3-4 drops o

f lavender oil t

o the water.
Dip the compress cloth into the water. Keep one in a baggie in the refrigerator.
Add 1-2 of drops of lavender oil each time you use it. Be very careful to not get the essential oil in the eyes.
Please Note: If essential oils get in your eyes, it will sting. It is best to wash it out with milk or cream. Do not rinse the eyes with water.
7. Warm compress
Use a warm compress or a steam tent for headaches caused due to sinus or congestion. Peppermint and eucalyptus oil in addition to lavender are good choices for warm compress.
Steps
Add only 2-3 total drops of essential oil at a time to the hot water.
Close your eyes as you lean over the water. The vapors are very strong.
Wrap a big towel around the bowl and you head, shoulder and hands. Apply pressure to the pressure points of the sinus area and the back of the neck at the base of the cranium.
One drop of lavender oil in your palm with a couple of drops of a base oil like olive or argan oil can be applied to the temples and back of neck at hairline (up under the occipital ridge) to relieve headache. Massaging the trapezius muscles helps release the tension that is often created by headaches.
8. Belly rubs
Belly rubs can melt down and relieve headaches. After 10 to 15 minutes of a soothing belly rub, I have actually felt the pain of a headache melt away.
Steps
Make a blend with 15-20 drops of Jojoba oil. Then add 1 drop each of pure lavender, peppermint and lemon essential oils.
Apply the blend to your nose, temples, back of neck and shoulders with a slow and gentle touch.
Rub the whole abdominal area with a slow clockwise circular motion.
Optimum time for the belly rub to be effective is 20 minutes.
Few Pros And Cons Of Using Essential Oils For Headache Pain
Pros
Using essential oils is a natural way of dealing with your headache situation where you have full control over the treatment
There is no need to wait for a doctor's appointment and pay him for the treatment that is often not effective in treating many of the headaches.
Essential oils can be used in variety of ways. You choose the way you want your condition to be addressed.
Cons
Some essential oils are known to cause irritation when used in undiluted forms.
Pregnant women and those that are nursing should not start using essential oils without consulting a doctor.
If you are pregnant and want to use essential oils to alleviate your headaches, you will definitely enjoy my article Essential oils for headache relief in pregnancy.
The best essential oils and recipes for Tension and Migraine Headaches can be found via the link.
The Final Word
Each of us has different tolerance levels for smells. Our olfactory nerves are unique to each of us. Respect this fact to avoid the uncomfortable effects of using essential oils in strong dosages.
Headaches happen to be one of the situations in which essential oils prove to be most helpful, because of their strong analgesic and anti-inflammatory properties. Using essential oils as part of your daily routine can help shift the headache pattern over time. Keep them with you also for immediate use when the headache starts to kick in.