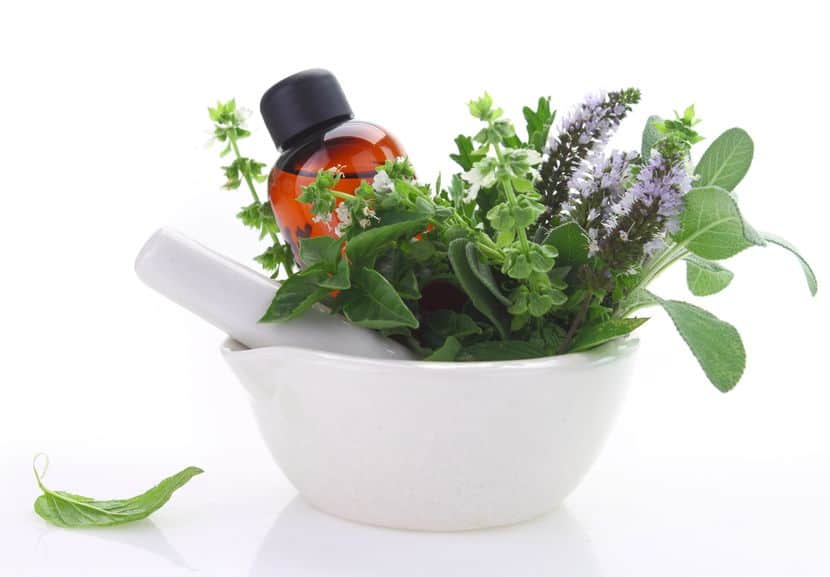 Fibromyalgia is one of the more common conditions of the musculoskeletal system, which is often misdiagnosed and misunderstood. The syndrome of fibromyalgia is generally a cluster of symptoms. When these symptoms come together, they take the form of a more serious condition requiring medical intervention. There is also an increased risk of the disease becoming incurable.
What Are The Common Symptoms Of Fibromyalgia?
Anxiety or depression
Reduced pain threshold
Disabling tiredness and widespread pain
Sleeping and memory problems
The condition is often associated with tender points, which are also called trigger points. Trigger points are the places in the body where even a slight pressure causes pain. According to the American College of Rheumatology, a person is diagnosed with fibromyalgia if he is having pain in at least 11 of the 18 known trigger points. Some of the common trigger points include elbows, knees, hips, upper chest, shoulder tapas, back of the head.
Constant pain and tenderness in the whole body is also common with the patients suffering from fibromyalgia. The person with this disorder may also have anxiety, depression, sleep disorders, fatigue and memory and concentration issues.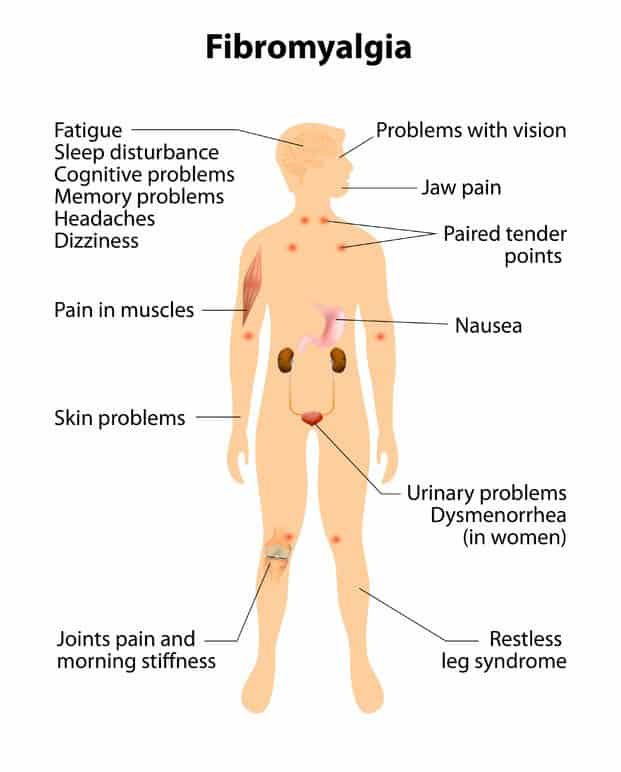 Best Essential Oils For Fibromyalgia
One of the alternative therapies I have found to be most effective against fibromyalgia is Aromatherapy. Modern medicine only suppress the disease leaving you vulnerable to relapse. With the use of essential oils, you can easily expect sustainable results. With that said, here are some of the best essential oils recommended for fibromyalgia.
17 Best Essential Oils For Fibromyalgia
1. Lemongrass
The essential oil of lemongrass is distilled from a plant native to tropical Asia. It has a powerful, lemon aroma, making it good for use as insecticides, air fresheners, soaps and detergents. For fibromyalgia patients, this oil is extremely vitalizing and cleansing.
2. Frankincense
Several species of frankincense trees grow across western India, North Africa and southern Saudi Arabia. The oil is spicy, balsamic and peppery. This oil is highly calming and meditative for the patients of fibromyalgia.
3. Ylang Ylang
Ylang ylang oil is distilled in the morning from fresh flowers of the tree named Cananga. The distillation process is interrupted at various times and the accumulating oil is removed. The first oil to be removed is the best quality called 'extra'. The 'extra' Ylang ylang has an intense and sweet floral scent like jasmine. The pain relieving and analgesic properties of Ylang Ylang make is highly useful for patients suffering from fibromyalgia pain.
4. Rosemary
Rosemary, which is often known as the herb of remembrance produces almost colorless essential oil with a strong camphor scent. Rosemary is clear and refreshing with pain relieving abilities that are quite useful for the patients of fibromyalgia.
5. Lemon
The essential oil of lemon smells similar to the fresh peels of lemon. This oil is highly refreshing, stimulating and pain relieving.
Caution
Lemon oil must always be used in diluted forms; otherwise, it can cause skin irritation. Avoid the use of lemon when you are out in the sun, as it may cause redness and burning of the skin.
6. Orange
The essential oil of orange is an antidepressant, anti-inflammatory, antispasmodic, aphrodisiac, antiseptic, carminative, diuretic, sedative and cholagogue. This oil is traditionally used to relieve inflammation, fight against depression and mood swings, increase the libido and as a treatment for sexual dysfunction. In addition, it assists the release of gases, increases urination, eliminates toxins and strengthens the overall health of the immune system. The positive effect of this oil on the immune system of the body is something useful for patients with fibromyalgia.
7. Peppermint
Peppermint oil is used as an analgesic, anesthetic, antiseptic and astringent. The anti-inflammatory and anti-spasmodic qualities of this oil are also well known. This oil is commonly used in the treatment of pain as a means to induce dormancy and release spasms. This oil also induces muscle strength, stops bleeding, releases gas, is good for nervous health and memory, promotes the secretion of bile, cleans congestion and facilitates breathing. In addition, the essential oil of peppermint expels phlegm, reduces fever, is good for the liver, nerves and stomach, and promotes perspiration and a slight contraction of blood vessels.
8. Patchouli
Patchouli oil is used as an antidepressant, antiseptic, astringent and aphrodisiac. You can also use this oil to fight depression and relieve the inflammation caused due to conditions like fibromyalgia. In addition, this oil helps to strengthen the muscles. Finally, the oil is well known for its ability to treat fever and control emotional and nervous disorders.
9. Clary Sage
Clary sage is a potent antidepressant, anticonvulsant, antispasmodic, antiseptic, aphrodisiac and astringent, making it beneficial for conditions like fibromyalgia. The essential oil of sage subdues growing depression, sedates nervous disorders and relaxes spasms. It also lowers blood pressure and improves the integrity of the nervous system. Finally, sage essential oil assuages various extreme emotions and anxiety, which is common in patients suffering from fibromyalgia.
10. Melissa
Melissa is generally used to reduce the feeling of depression, cure nervous system disorders, calm inflammation and reduce spasms. It also inhibits bacteria, eliminates gas, increases sweating to help eliminate toxins and reduce fever, reduces the blood pressure and improves the health of the immune system.
11. Bergamot
Bergamot essential oil is extracted from the plant named citrus aurantium var of the rutaceae family, which is also known as bergamot. The oil has a citrus scent, but also a floral fruity and sweet quality, which often reminds me of neroli and lavender. Bergamot oil can easily be used in the treatment of depression, stress, tension and nerve pain in general, making it highly useful in the treatment of fibromyalgia.
12. Black Pepper
This hot and spicy essential oil helps to increase body heat, relieves pain in muscles and joints, stimulates the immune and digestive system, stimulates the kidneys and disperses bruising by increasing blood circulation to the skin. The strong pungent smell of this oil is vaguely reminiscent of clove oil, although more refined. Black pepper oil can be used to help in the treatment of pain and rheumatism. Apart from that, I have found this oil to be highly efficient at relieving fatigue and muscle pain.
13. Ginger root
The essential oil of ginger is known to heal pain and release spasms. In addition, it can break fevers, improve the health of the stomach and promote perspiration, which helps to eliminate toxins from the body.
14. Sandalwood
The oil has a woody, exotic, subtle and lingering odor, and the color is pale yellow to golden. This relaxing oil is harmonizing and soothing, reducing tension and confusion, and is ideal for use in depression, everyday hectic life and the state of fear, stress and nervous exhaustion.
15. Palmarosa
Palmarosa essential oil is used as an antiseptic, antiviral, antibacterial, cytophylactic, digestive, antipyretic and moisturizing conditioner. This oil inhibits bacterial and viral growth, promotes cell regeneration, helps digestion and reduces fever.
16. Tea Tree
Tea tree has a very pungent and spicy smell, and it is very light in color with aqueous viscosity. Tea tree oil acts as a stimulant of the immune system and increases the body's ability to fight infections; moreover, it can also be used to revitalize the body and mind. Overall, this oil actively participates in inhibition of all three varieties of infectious organisms – bacteria, fungi and viruses.
17. Lavender
Lavender oil has a soft and light texture, is light in color and watery in viscosity. This oil has a calming and relaxing effect on the nerves, relieving stress, depression, panic, hysteria and nervous exhaustion in general. It is also effective for headaches, migraines and insomnia. In addition, it helps to relieve the cramps, flatulence, nausea and vomiting. Furthermore, the essential oil of Lavender relieves pain when used for arthritis, rheumatism, muscle pain and back pain and musculoskeletal conditions like fibromyalgia. Did you know that Lavender is the best and most popular essential oil for the treatment of burns.
Best Essential Oil Recipes To Counter The Effects Of Fibromyalgia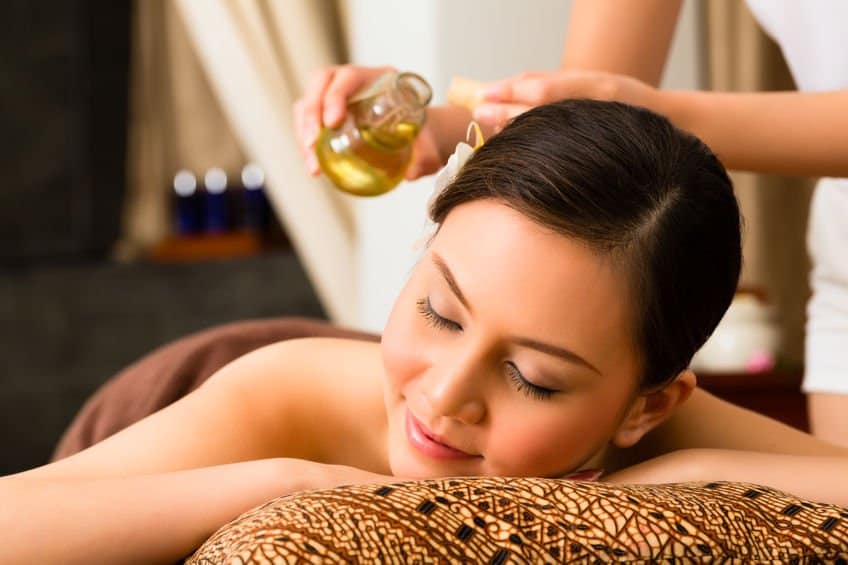 Recipe 1 – Balm for pain
Ingredients
6 drops of essential oil of ginger
10 drops of essential oil of cloves
15 drops of

eucalyptus essential oil

15 drops of essential oil of peppermint
2 tablespoon essential avocado oil
2 teaspoon of vitamin E oil
6 ounces of virgin coconut oil
2 oz Beeswax
Instruction
Gently heat coconut oil and beeswax together in a double boiler
Remove from heat and add avocado oil and vitamin E
Then add all the essential oils in mentioned amounts and mix well
Pour into a bowl and cool completely before closing the lid.
Label properly and use for joint pain as required.
Recipe 2 – Sleep time balm
Ingredients
1 cup of lemon balm leaves
1 cup of chamomile flowers
1 cup lavender buds
5 cups

almond oil

or fractionated coconut oil
Oil 2000 IU of vitamin E
1/2 teaspoon of evening primrose essential oil
5-6 tablespoons beeswax
45 drops of

lavender essential oil

8 drops of essential oil of valerian root
25 drops of essential oil of bergamot
25 drops of essential oils of rosemary
Preparation for infused oil
Place base oil in a water bath
Crush dried herbs or break into small pieces and add oil
Mix well
Bring the mixture almost to a boil (120-135 degrees)
Do not place the lid on the pot
Simmer for 4 hours
Check the temperature and stir every 30 minutes
After four hours, remove from heat and let cool for 15 minutes
Sieve through a fine mesh lined with a coffee filter
Extract all herbal oil and discard the herbs. Add vitamin E oil and mix well
Add to a bottle, label, cover when completely cool and store in a dark closet
Makes 3½ cups
Use within 1 year
Preparation of balm
Mix 1 cup of tea and wax in a double boiler
Heat over low heat until wax melts
Remove from heat and let cool for 5 minutes, stirring several times
Add the essential oils and mix well
Pour into a container, label, and let stand for 30 minutes to thicken
Makes about 1 ¼ cups
Use within 1 year
Application
Gently massage a small amount into the chest, back, temples, ears and under the nose and throat.
Few other essential oil mixtures that can be used for Fibromyalgia:
A mix of essential oil of peppermint and

essential oil of lavender

creates anti-inflammatory synergies.
The essential oil of thyme diluted with

sweet almond oil

is an analgesic anti-inflammatory blend.

Using Essential Oils In Massages For Fibromyalgia Pain Relief
Essential oil massages are one of the most effective remedies for fibromyalgia. Here are some of the best massage recipes that you can use for quick relief in fibromyalgia:
Fibromyalgia Massage 1
Ingredients
6 drops of essential oil of bergamot
9 drops of essential oil of palmarosa
4 drops of

essential oil of tea tree

5 drops of essential oil of ravintsara
1 oz of carrier oil
Mix all the essential oils in a spray bottle or a dispenser. Gently massage the affected areas daily.
Fibromyalgia Massage 2
Ingredients
3 drops of essential oil of citronella
3 drop of essential oil of german chamomile
4 drops of

lavender essential oil

3 drops of rosemary essential oil
1 tablespoon carrier oil
Mix all the essential oils in a spray bottle or a dispenser. Gently massage the affected areas daily.
Essential oil bath recipe for sustainable relief in fibromyalgia pain
Ingredients
5 drops of essential oil of black pepper
15 drops of rosemary essential oil
6 drops of essential oil of marjoram
Mix all the essential oils in above-mentioned amounts in an amber bottle and add only 4 drops of the blend in a hot bath. Soak in this water for 15-20 minutes.
The Bottom Line
Whenever using essential oils in bath or massage, always test them on a small part of your skin before using them liberally. Make sure that your skin can handle the mixture in order to be treated successfully.
I do not suggest the prolonged use of massage oils for fibromyalgia, especially the oils such as wintergreen and sweet birch. Both these oils are high in methyl salicylate, which is a constituent that is very difficult for the liver to eliminate. As you may already be taking pain killers and analgesics, there is no point in overloading your liver with methyl salicylate overdoses.
In addition, make sure that your general physician knows about your use of essential oils. Some medicines should not be stopped without consultation with a physician.
(Visited 35,500 times, 4 visits today)