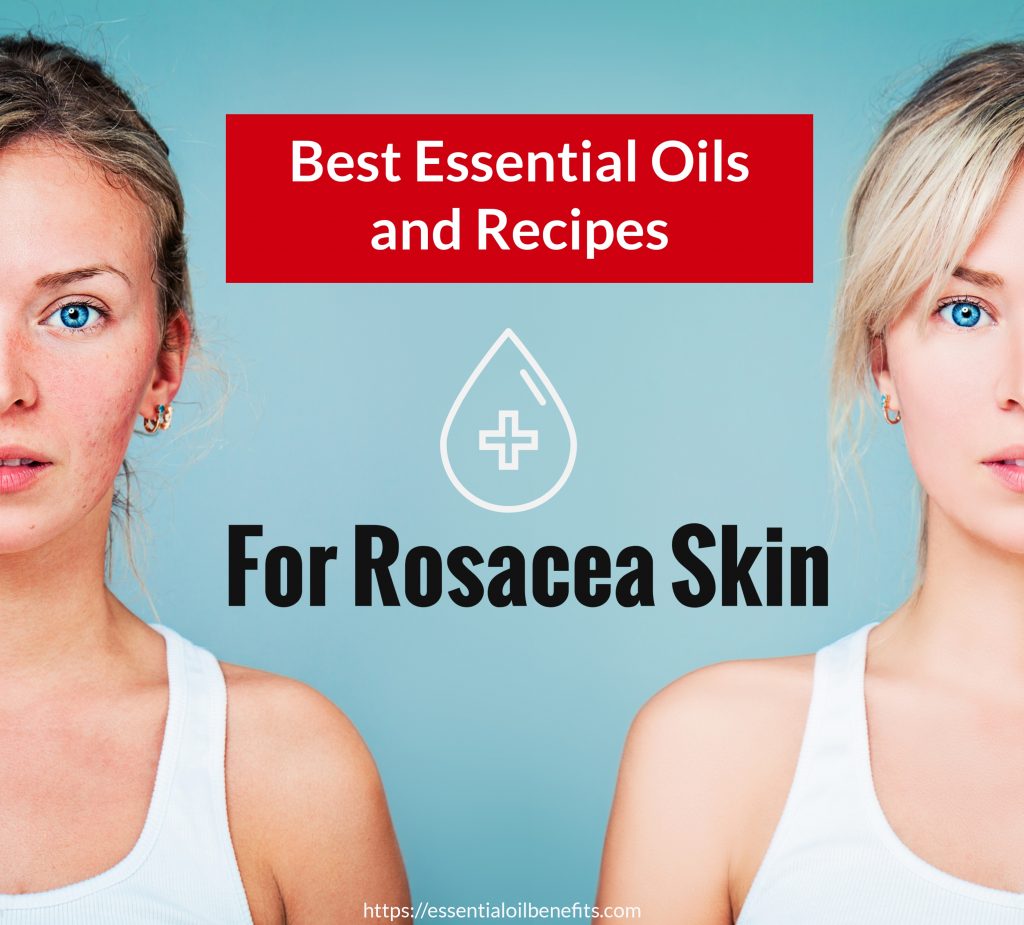 Rosacea is a persistent and often complicated disorder of the skin that is becoming more common as more and more people are getting into the most vulnerable age range. Rosacea is usually indicated by flare-ups and remissions. Often known as adult acne, Rosacea generally appears after the age of 30 as inflammation around the cheeks, nose, face or brow that could appear and vanish. In some instances, Rosacea might also happen around the chest, neck, ears or scalp. With time, the redness becomes ruddier and much more persistent, with blood vessels becoming noticeable. Left without treatment, Rosacea might give rise to humps and acne, as well as in serious cases the nose might grow inflamed and bumpy due to the extra tissue present. In a few cases, your vision will also be affected. In addition, you might feel annoyed and irritated.
The goal of any kind of Rosacea treatment is to reduce the presence of unsightly flare-ups. Although there's no medically recognized cure for Rosacea, the triggers that aggravate conditions like Rosacea could easily be avoided with few lifestyle changes and the adoption of the right skincare program.
Generally addressed with the use of antibiotics, symptoms of Rosacea may also be eased with the help of natural treatments. Using Essential Oils can reduce the signs and symptoms of Rosacea. Essential Oils with anti-inflammatory and cooling effects can reduce the symptoms like swelling, inflammation, and itching.
Facts About Rosacea
The two images below show 12 facts about rosacea.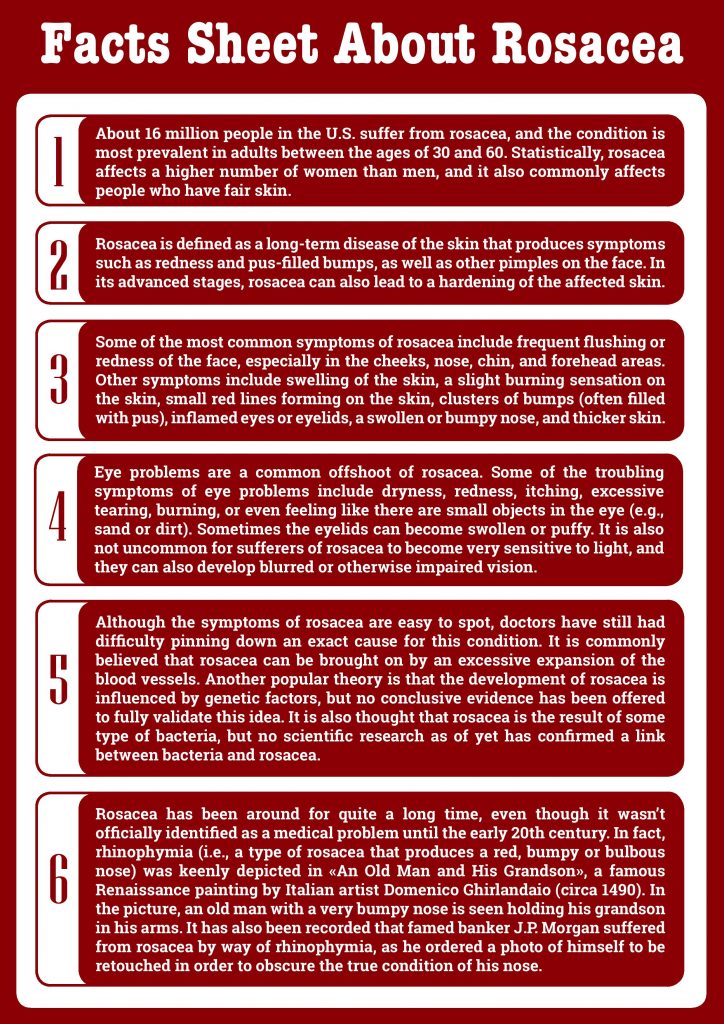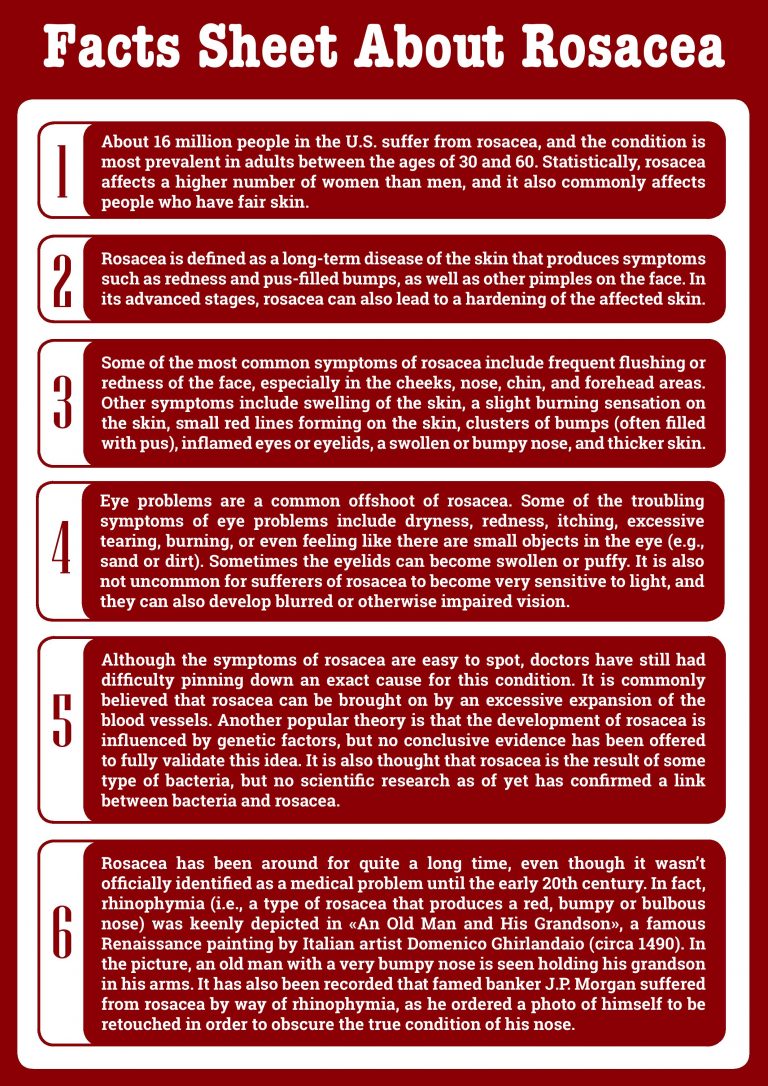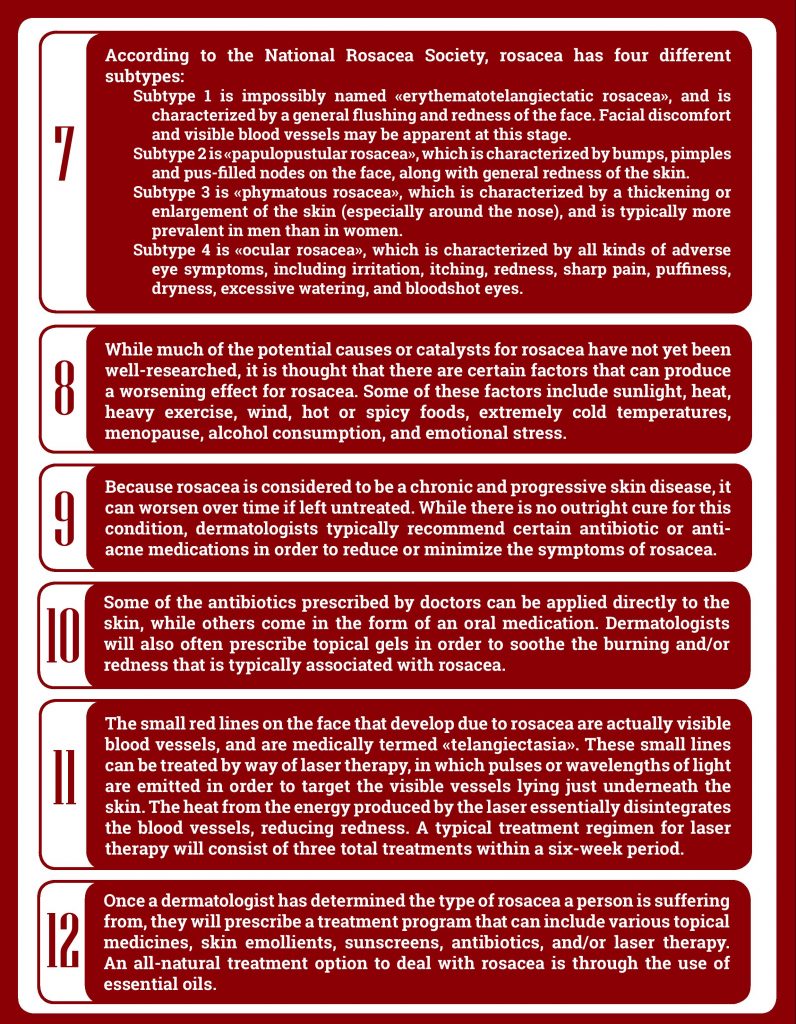 What Are The Best Essential Oils To Use For Rosacea Treatment?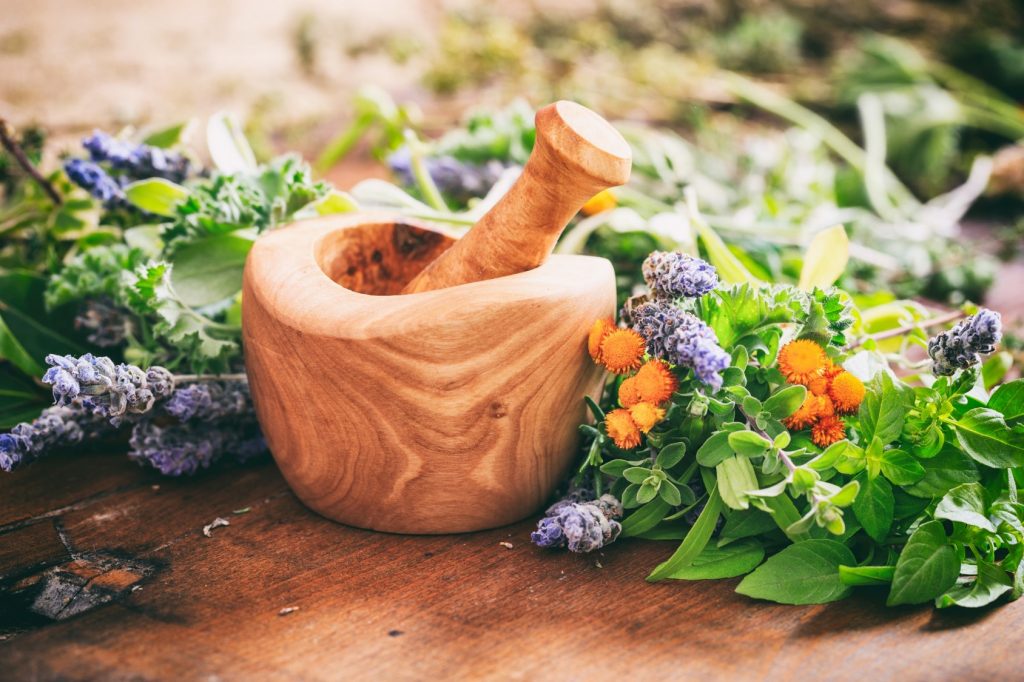 When choosing products for Rosacea, look for ones that contain the following Essential Oils for skin:
1. Borage Essential Oil
Borage Oil is acquired from the seeds of the plant named Borago officinalis. This Oil is rich in gamma-linolenic acid (GLA), which is an essential fatty acid. Your body won't naturally create essential fatty acids and is dependent on foods to bring them along. Borage Essential Oil can be used as a natural supplement to fulfill such needs of the body or it can be applied topically on the epidermis. The anti-inflammatory effects of Borage are helpful in the treatment of Rosacea. Use of this Oil can also reduce the reddening of the skin. Furthermore, it's an effective emollient and promotes healthy skin.
2. German Chamomile Essential Oil
Chamomile Essential Oil is acquired from the flowers of the plant by the process of steam distillation. This Oil is beneficial for the treatment of Rosacea because it soothes and calms the skin, helps cells regrowth and heals the damaged parts of the skin. It is used in aromatherapy for its analgesic, anti-inflammatory, anti-allergenic and fungicidal properties.
3. Lavender Essential Oil
Lavender Oil is acquired from the flowers of the plant through the process of steam distillation. While being a favorite Essential Oil for all types of skin, Lavender is especially beneficial for those that have Rosacea skin. It has calming and anti-inflammatory effects on the skin. Lavender Essential Oil is also widely used for its anti-viral, anti-yeast and anti-microbial qualities.
4. Rosehip Essential Oil
Like Borage Oil, Rosehip Oil features a high concentration of essential fatty acid called GLA. Essential fatty acids like GLA are necessary for the formation and upkeep of healthy cellular membranes, through which nutrition passes into the cells. Rosehip Oil can be used on Rosacea skin as an antiseptic as well as an agent to regulate the sebum production.
5. Primrose Essential Oil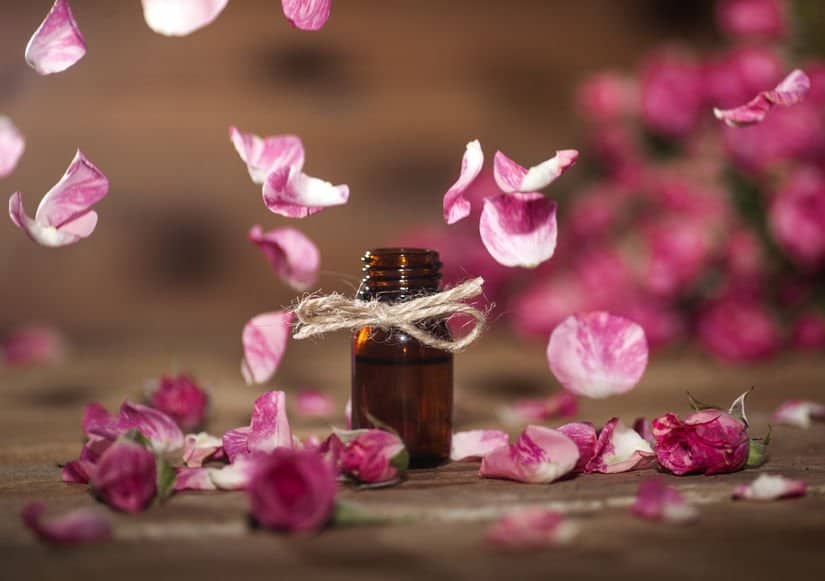 Evening Primrose Oil is derived from the seeds of the plant, which are high in GLA. Primrose Oil can be used both as a herbal supplement taken orally and as an Oil for topical application. Evening primrose allows the body to normalize the barrier functions of the skin and keep its cells properly hydrated while offering both astringent and soothing effects.
6. Neroli Essential Oil
Neroli features a sebum balancing effect to balance the Oily and dried-out skin. Neroli is often combined with other Essential Oils for stopping Rosacea. I've found the aroma to be very soothing.
7. Rosewood Essential Oil
Rosewood Essential Oil is famous for its ability of keeping the skin elastic, so is an ideal accessory for any mix when you have mature skin along with Rosacea.
8. Sea Buckthorn Essential Oil
Sea Buckthorn Essential Oil is beneficial for many different skin related issues including Rosacea because of its anti-inflammatory qualities and the support it offers to cellular re-growth.
9. Tamanu Essential Oil
Tamanu is used extensively in hospitals of Europe, Asia as well as the Pacific islands, because it is known for having the ability to reduce inflammation, fight infection, heal wounds and promote the formation of healthy tissue.
How To Use Essential Oils For Maximum Relief From Rosacea?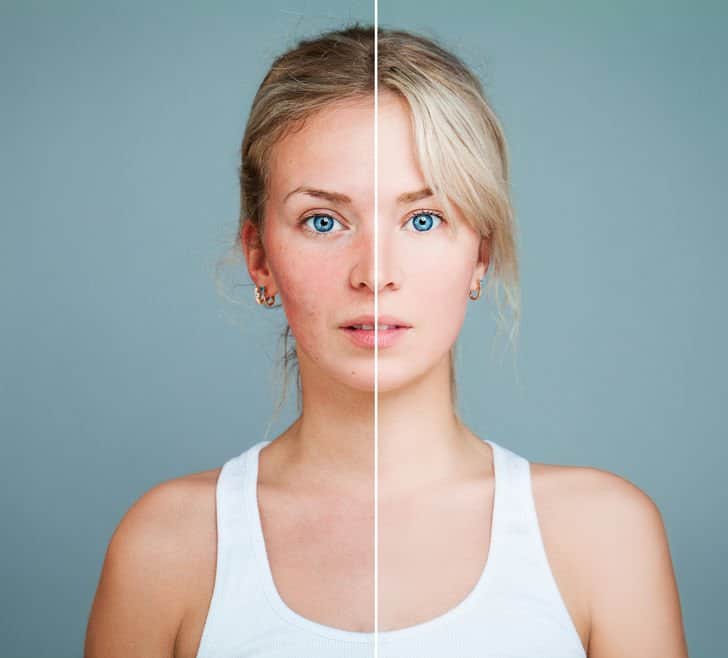 1. Inhalation
Put 2-4 drops of the Oil blend on a cotton swab and inhale. Make sure that your nose doesn't touch the cotton tissue you are using. Tuck the cotton swab within the pocket of your shirt or undergarment for the long lasting aroma.
2. Massage
Full body massage with stress reducing Essential Oils is an easy way to ease the tension, help the body with detoxification while increasing an over-all sense of wellness. Mix 6-12 drops of Essential Oil to 1 ounce of carrier Oil or natural, scent free lotion and have your body massaged with this blend.
3. Body Product
Add 3-6 drops of Essential Oil blend to 1 oz of natural, scent free moisturizing product. Use this moisturizer on the skin, especially after the shower.
4. Room Spritzer
Mix 20-25 drops of the Essential Oil with distilled water in a spritzer bottle. Shake the mixture well before every use. Make sure that the mixture doesn't get into your eyes.

What Are The Best Essential Oil Recipes For Rosacea?
Recipe 1: A basic recipe using Tamanu, Chamomile and Helichrysum Essential Oils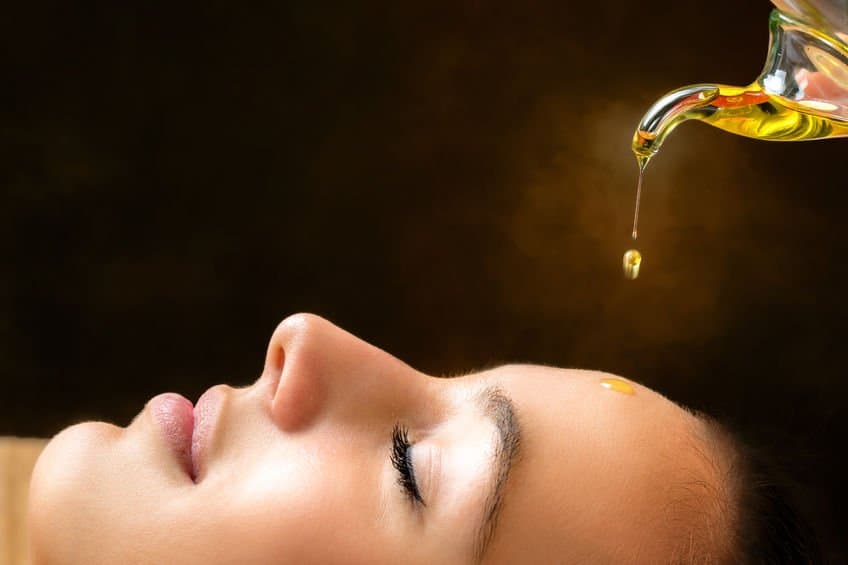 Ingredients:
1 teaspoon Tamanu carrier Oil
1 drop German Chamomile
1 drop Helichrysum
Directions:
Mix the ingredients together well and store in small glass bottle.
Application:
Apply this blend gently- don't rub. Apply 3 times in a day for a week's time, and then reduce the frequency to two times per day for a week then once every day for a week. This blend allows you to calm your skin and minimize the soreness and redness. It's up to you how you apply the blend. Many people use it under their moisturizer, some use it over it, and there are others who mix it with the moisturizer. You can add 1/4 teaspoon of Natural Aloe-Vera to the blend. Rosehip Oil or Jojoba Oil can be used instead of Tamanu.
Recipe 2- A stronger recipe that is more effective
Ingredients:
1 teaspoon Tamanu
3 drops German Chamomile
1 drop

Lavender

2 drops Helichrysum
This is often a stronger formula than the previous one. When your skin is highly sensitive, it may be too strong for you. Mix all the ingredients together well and store in small glass bottle. Use same application as described above.
Recipe 3: Essential Oil face care cream for Rosacea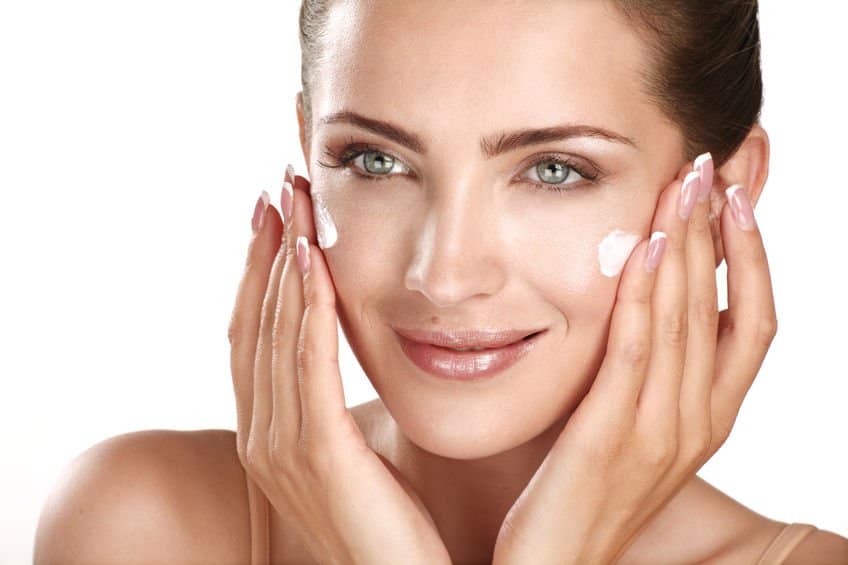 Ingredients:
Emulsifying wax – 1 Tablespoon
Calendula Hydrosol – 1/3 cup
Vegetable Glycerin – 1 Tablespoon
Apricot or Kernel Oil – 1/3 cup
Vitamin E Oil – 1 Teaspoon
Helichrysum Essential Oil – 2 drops
Chamomile Essential Oil – 1 drop

Lavender Essential Oil

-7 drops
Grapefruit seed extract – 10 drops
Method of Preparation:
Stir the glycerin, the emulsifying wax, and the Apricot or Kernel Oil together in a double boiler. Ensure the heat is low and wait until the wax completely melts. Remove the heat source before adding the Vitamin E Oil. Gently warm the hydrosol separately until it's lukewarm. This is important if the hydrosol you have is frozen, otherwise it won't mix well. Add hydrosol gradually into the Oil mixture while stirring the combination continuously until it's thick and smooth.
Now, add the Grapefruit seed extract and the Essential Oils. Your face cream is ready. Now, make sure that the cream is kept in a neat and sanitized plastic bottle. Give it time to cool down and set up the lid on. Store in a dark place and stir every once in a while.
Recipe 4: A cooling Toner to calm the redness and rash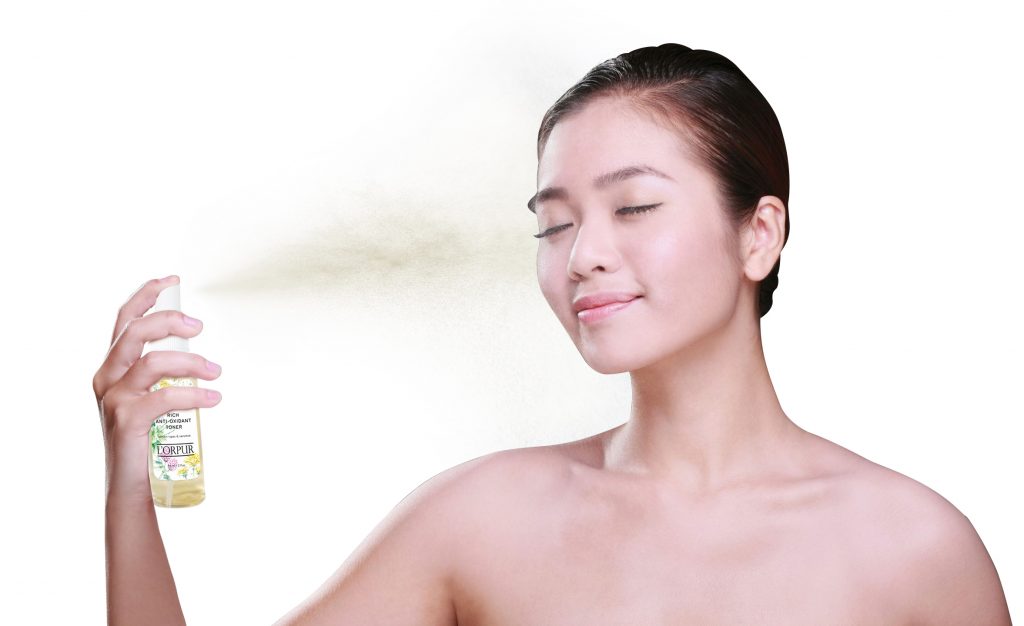 Ingredients:
Lavender Essential Oil – 5 drops

Tea tree Oil

– 5 drops
Oregano Essential Oil – 8 drops
Apple Cider Vinegar – 1 ounce
Natural aloe vera gel – 1 ounce
Directions:
Mix the Aloe gel and Apple Cider Vinegar Oil. Add the Essential Oils and shake. Always shake before use making sure that the Oil doesn't get into your eyes. Put the mixture in a spray bottle and use directly on your face.
Keep an anti-inflammatory, cooling spritzer available while you are out in the sun. This could be helpful in reducing the flair ups and redness associated with Rosacea. This recipe will make use of Oregano Oil, which is an effective anti-parasitic and antibiotic. The recipe can also be used to create an astringent you can use after cleansing. Apple Cider Vinegar acts as a toner that reinstates the skin's natural acid layer. The acid layer helps to keep the skin's flora in balance. Natural Aloe-Vera gel has firming and cooling effects, with wound healing and antibacterial qualities.
Recommended Products for Rosacea Skin
1. Amoils H-Rosacea 
With H-Rosacea, you will be able to achieve a blemish free skin in the most natural way possible. I did it, and so can you! It is gentle on the skin and neither irritates nor scars. Click here to read my detailed review on Amoils H-Rosacea.


2. L'orpur Problem Skin Natural Cream
The L'orpur Problem Skin Relief Natural Cream is designed to treat and prevent recurrence of difficult skin conditions including rosacea. It has unmatched anti-bacterial and healing properties and provides instant and long-lasting relief for redness, dry / oily / itchy / scaling skin, rashes, swollen blood vessels, and acne-like breakouts.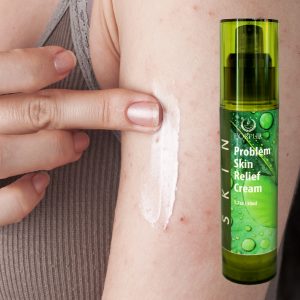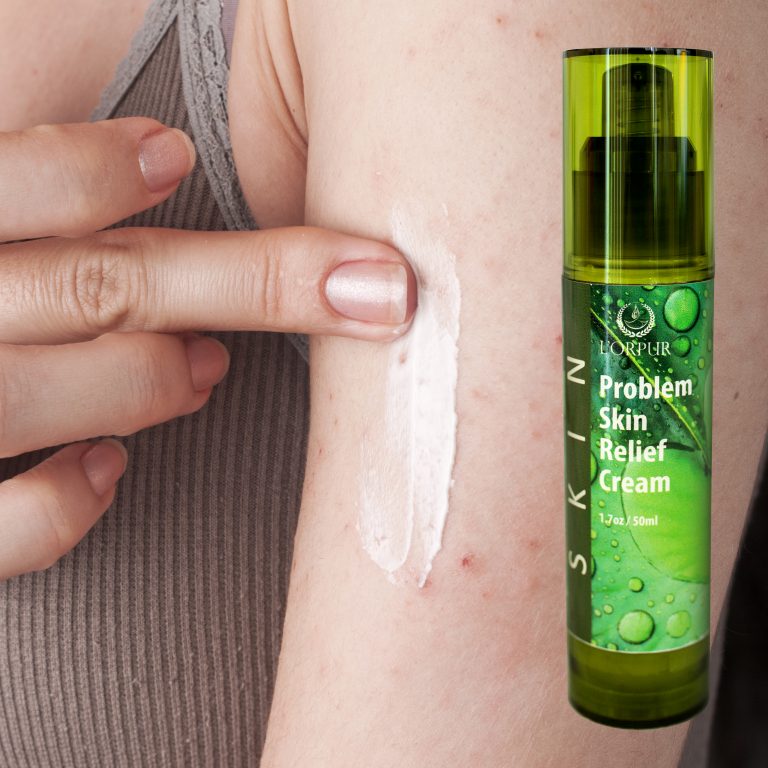 Daily Cleansing Routine – A 28-day plan
Do not use any harsh products on the face. To clean up the face, use only a pure cleaning soap. Rinse no less than twenty five times, with the running water. Use tepid water, neither cold nor hot. In the final rinse, put two tbsps of Apple Cider Vinegar, and then pat skin dry. Throughout the day, wear the following Oil formulas. Don't wear any makeup whatsoever, nor any special coverups. Just use the Oil.
Following is a 28 day treatment plan to follow. The plan is divided into two stages with each stage taking fourteen days to complete.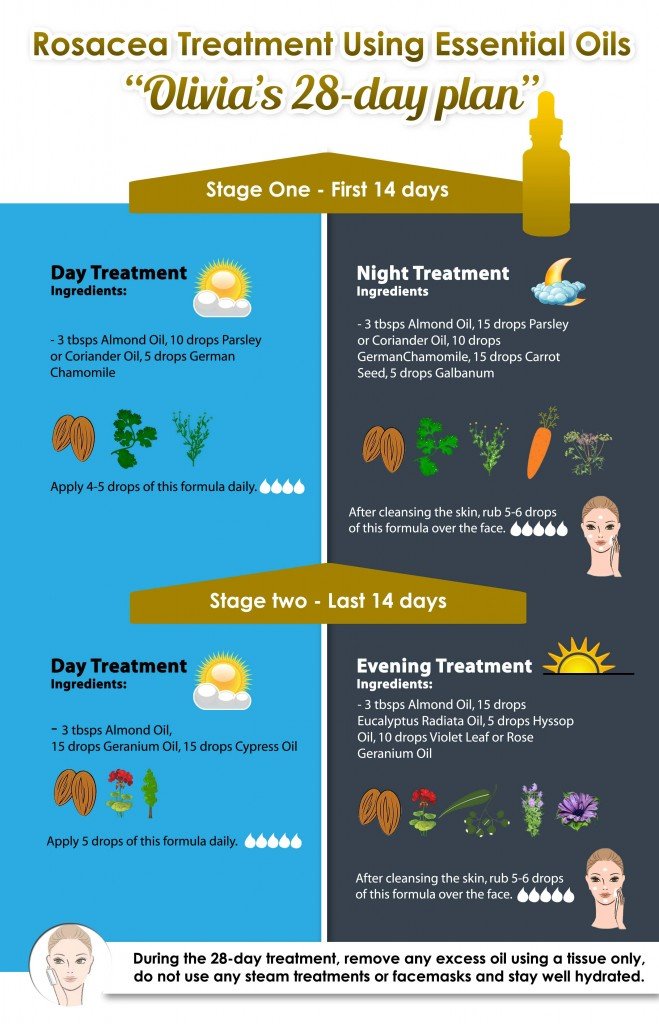 Stage One – First 14 days
Day Treatment
3 tbsps Almond Oil
10 drops Parsley (can use Coriander instead of Parsley)
15 drops German Chamomile
Apply 4-5 drops from this formula daily. Wait for a few minutes and allow the Oil to soak into the skin, and then remove the excess Oil using a tissue.
Night Treatment
3 tbsps Almond Oil
15 drops Coriander
10 drops German Chamomile
15 drops Carrot Seed
5 drops Galbanum
In the night, after cleansing the skin, rub 5-6 drops of this formula over the face. Wait a couple of minutes then remove the excess Oil using a tissue. Avoid using any other cream, lotion, or product.
Stage two – Last 14 days
Day Treatment
3 tbsps Almond Oil
15 drops Geranium
15 drops Cypress
Blend all the ingredients together and apply 5 drops of this formula daily. Wait for few minutes to allow the Oil to soak into the skin and then remove the excess Oil using a tissue.
Evening Treatment
3 tbsps Almond Oil
15 drops Eucalyptus Radiata
5 drops Hyssop
10 drops Violet Leaf (can use Rose Geranium instead of Violet leaf)
In the night, after cleansing the skin, rub 5-6 drops of this formula over the face. Wait for a couple of minutes and then remove the excess Oil using a tissue. Like before, do not use any other cream, lotion or product.
Throughout these 28 days, get outdoors and enjoy the fresh air whenever you can. Increase your intake of fruits, vegetables, grains and fish. All chemicals and chemical preservatives need to be avoided. Avoid any white or red meat that includes traces of antibiotics or the hormones. Use supplements to fulfill your body's demands of Zinc and Vitamin B. Do not use any steam treatments or facemasks during this time. Stay well hydrated.
Some Pros And Cons Of Using Essential Oils For Rosacea Treatment
Pros:
Unlike the medicinal approach, use of Essential Oils doesn't have any side effects. A healthy individual can easily use any of the above mentioned Oils without being bothered about any unwanted effects.
Apart from being beneficial for Rosacea, these Oils positively affect your overall health and keep you fresh throughout the day.
Cons:
Some Essential Oil blends may not be suitable for those that have sensitive skin. Always make sure that you do a skin test patch before applying any essential oils to your skin.
If you are already suffering from a medical condition like epilepsy or asthma, some Oils may aggravate the disease and make it more prevalent.
The Rosacea patients need not worry about the signs and symptoms of this unsightly skin disease as the techniques mentioned above can offer relief in shortest possible time. The major benefit of using Essential Oils is that the treatment approach is all natural. Unlike regular medicines meant for Rosacea, the use of Essential Oils has no side effects, offering patients an easy approach to overcoming the disease and a disease free life.
(Visited 119,606 times, 1 visits today)