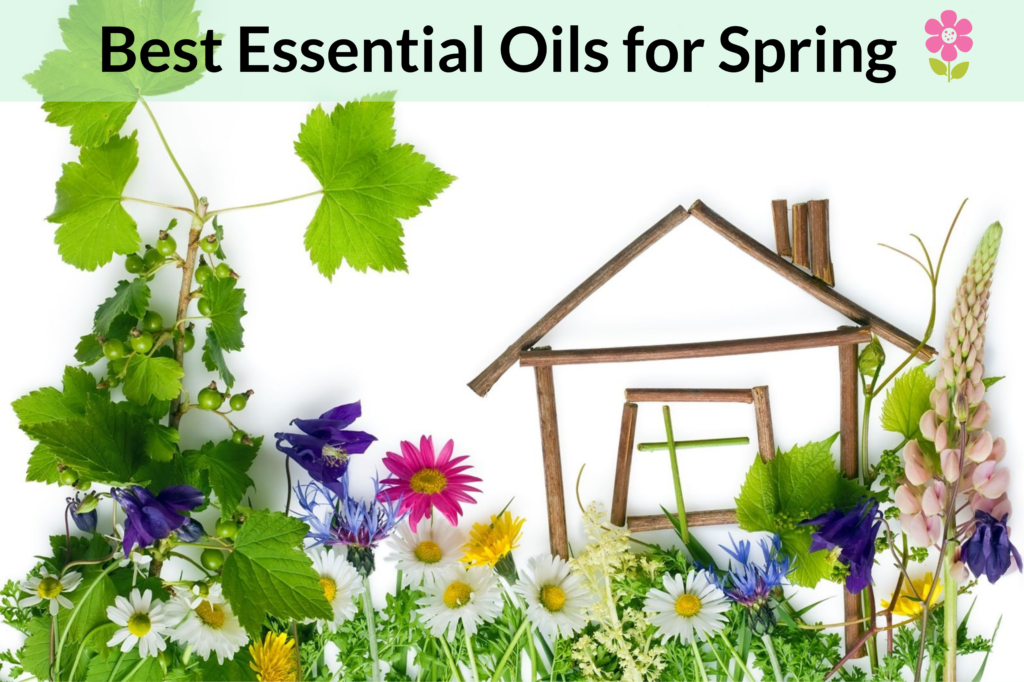 There is just something about spring that infuses your very being with a sense of joy and renewal. Pin it on Mother Nature trying out her most sensuous and eye-catching garbs, the gentle but all pervading warmth that you know will build slowly but steadily to a crescendo in summer, the delicate but unmistakable aroma of flowers and new foliage and of course that golden sunshine after the dank dullness of winter. All of them contribute to a soothing sense of happiness.
But, humans aren't the only ones who enjoy the exuberance of spring; critters find it just as enticing. And if those dastardly bugs aren't enough to make it rain on your parade you can always count on the pollen in the air to finish the job for them.
Yes folks, I am talking about those dreaded seasonal allergies and the sudden bouts of cold, cough and flu.
And whoever wants to spend time indoors, cooped up under a blanket with a glowing red nose and the mother of all sniffles for company, in spring of all seasons?
Fret not folks that's not how things are going to be this spring! Why you wonder?
Simply because this time you have Olivia's Ultimate Guide to using Essential Oils for All Things Spring! So continue reading to find a solution to every problem that spring can spring your way…
The Best Essential Oils For Spring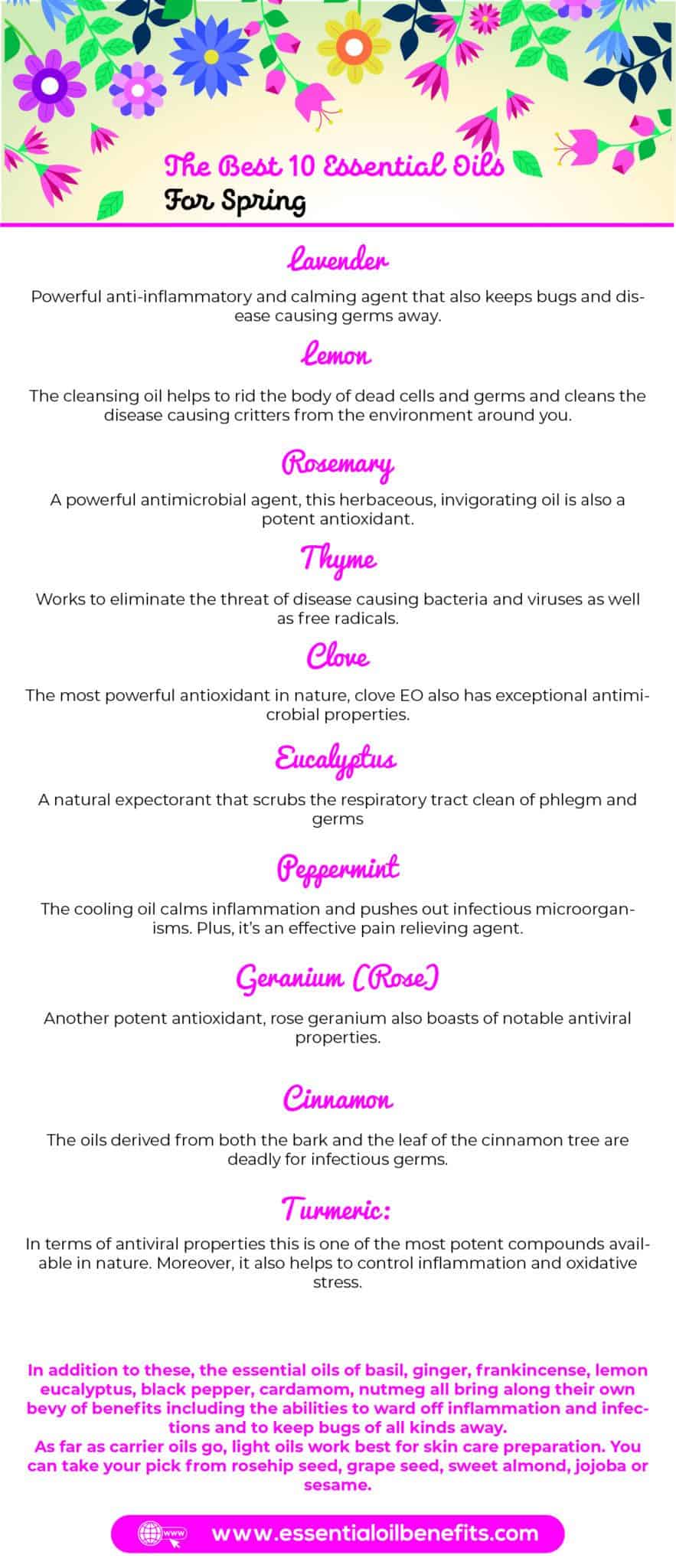 Lavender: Powerful anti-inflammatory and calming agent that also keeps bugs and disease causing germs away.
Lemon: The cleansing oil helps to rid the body of dead cells and germs and cleans the disease causing critters from the environment around you.
Rosemary: A powerful antimicrobial agent, this herbaceous, invigorating oil is also a potent antioxidant.
Thyme: Works to eliminate the threat of disease causing bacteria and viruses as well as free radicals.
Clove: The most powerful antioxidant in nature, clove oil also has exceptional antimicrobial properties.
Eucalyptus: A natural expectorant that scrubs the respiratory tract clean of phlegm and germs
Peppermint: The cooling oil calms inflammation and pushes out infectious microorganisms. Plus, it's an effective pain relieving agent.
Geranium (Rose): Another potent antioxidant, rose geranium also boasts of notable antiviral properties.
Cinnamon: The oils derived from both the bark and the leaf of the cinnamon tree are deadly for infectious germs.
Turmeric: In terms of antiviral properties this is one of the most potent compounds available in nature. Moreover, it also helps to control inflammation and oxidative stress.
In addition to these, the essential oils of basil, ginger, frankincense, lemon eucalyptus, black pepper, cardamom, nutmeg all bring along their own bevy of benefits including the abilities to ward off inflammation and infections and to keep bugs of all kinds away.
As far as carriers go, light oils work best for skin care preparation. You can take your pick from rosehip seed, grape seed, sweet almond, jojoba or sesame.
The Best Essential Oil Diffuser Blends For Spring
1. The citrus burst blend
3 drops wild orange
2 drops grapefruit
1 drop lemon
2 drops petitgrain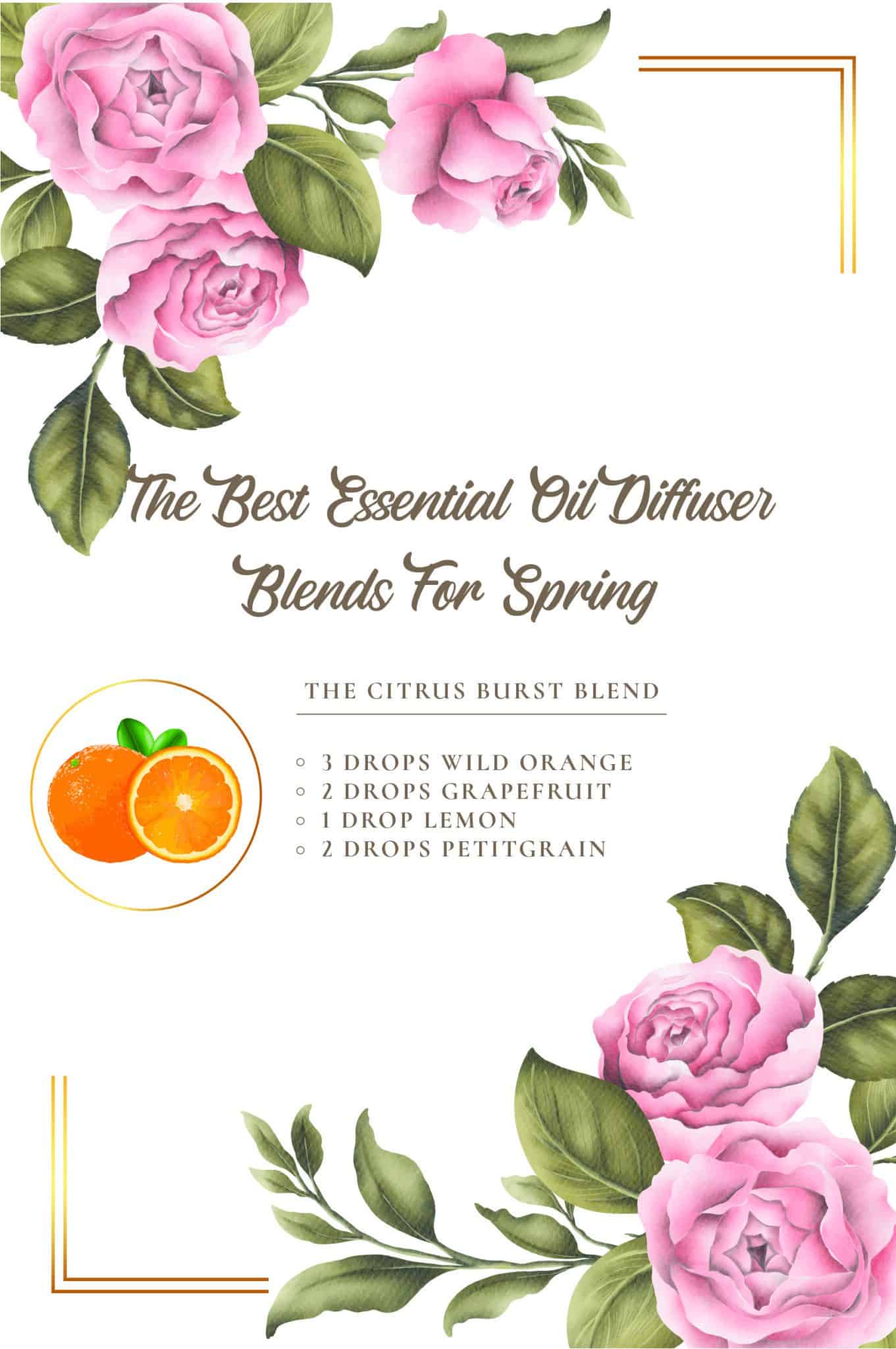 2. The floral fantasy
5 drops geranium
3 drops lavender
2 drops ylang ylang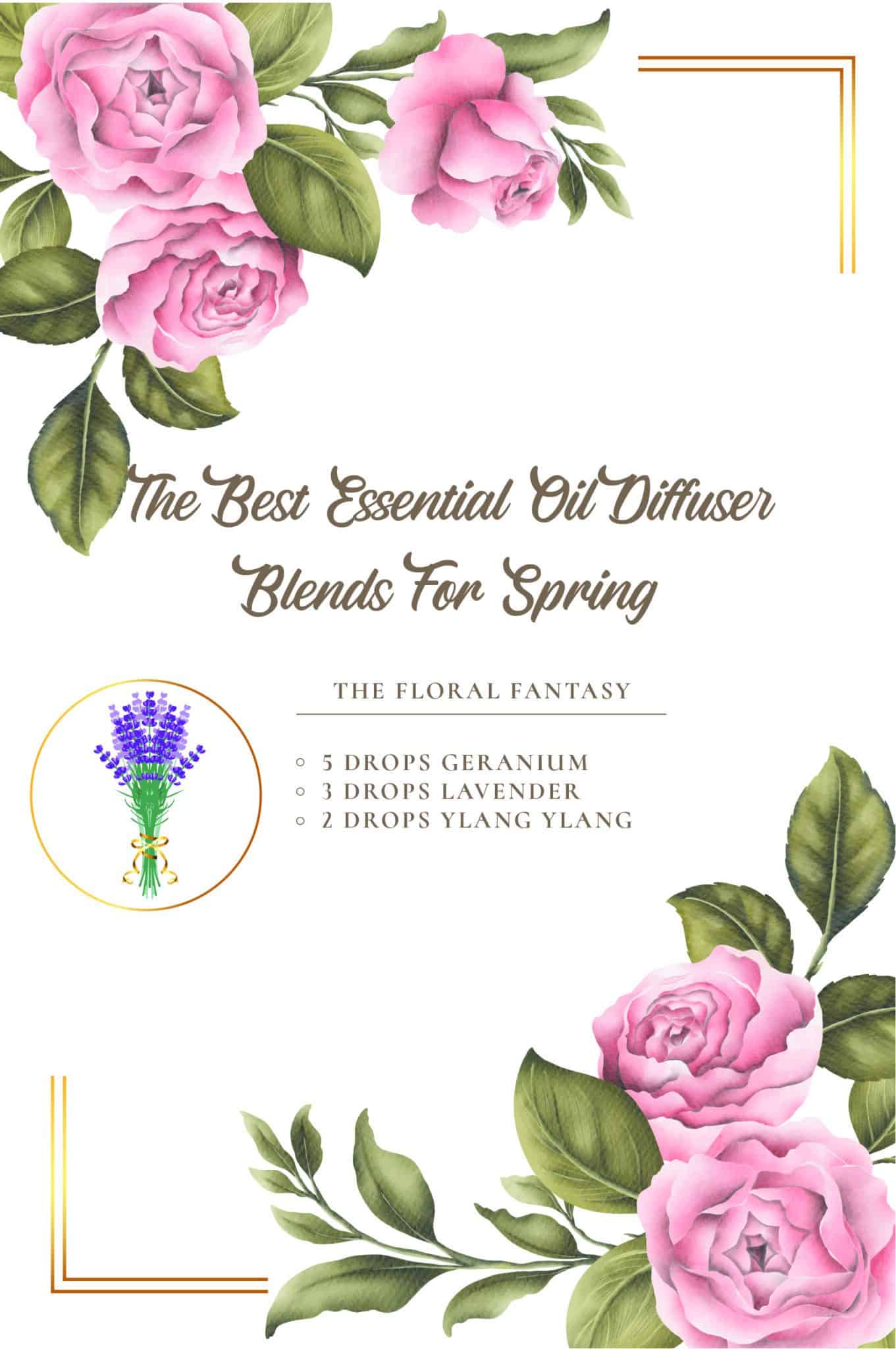 3. The spicy warmth
2 drops clove
2 drops cinnamon
3 drops cardamom/vetiver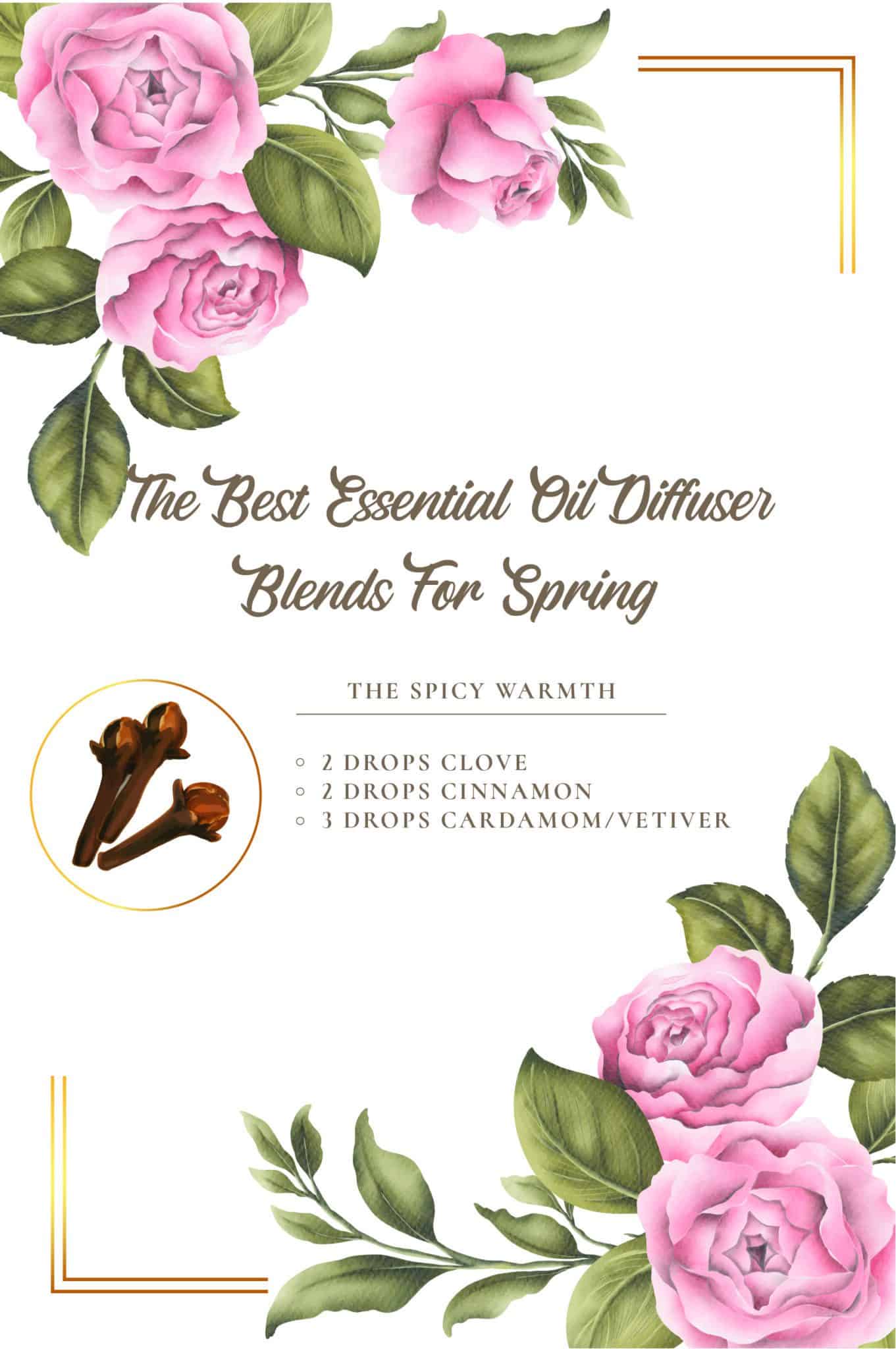 4. The crisp freshness
3 drops juniper berry
3 drops peppermint
1 drop lemon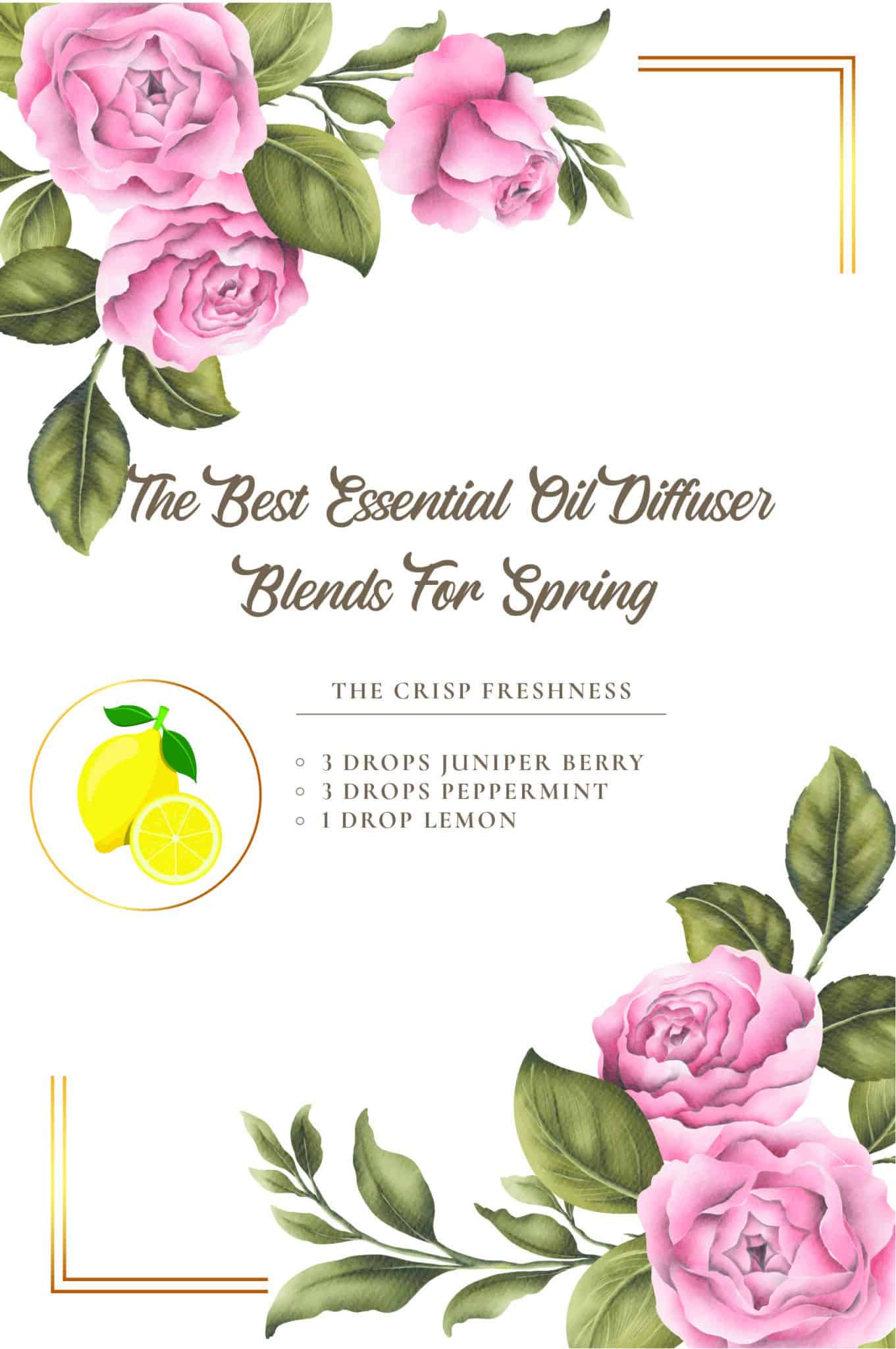 5. The herby homestead
4 drops roman chamomile
3 drops each rosemary and basil
2 drops lavender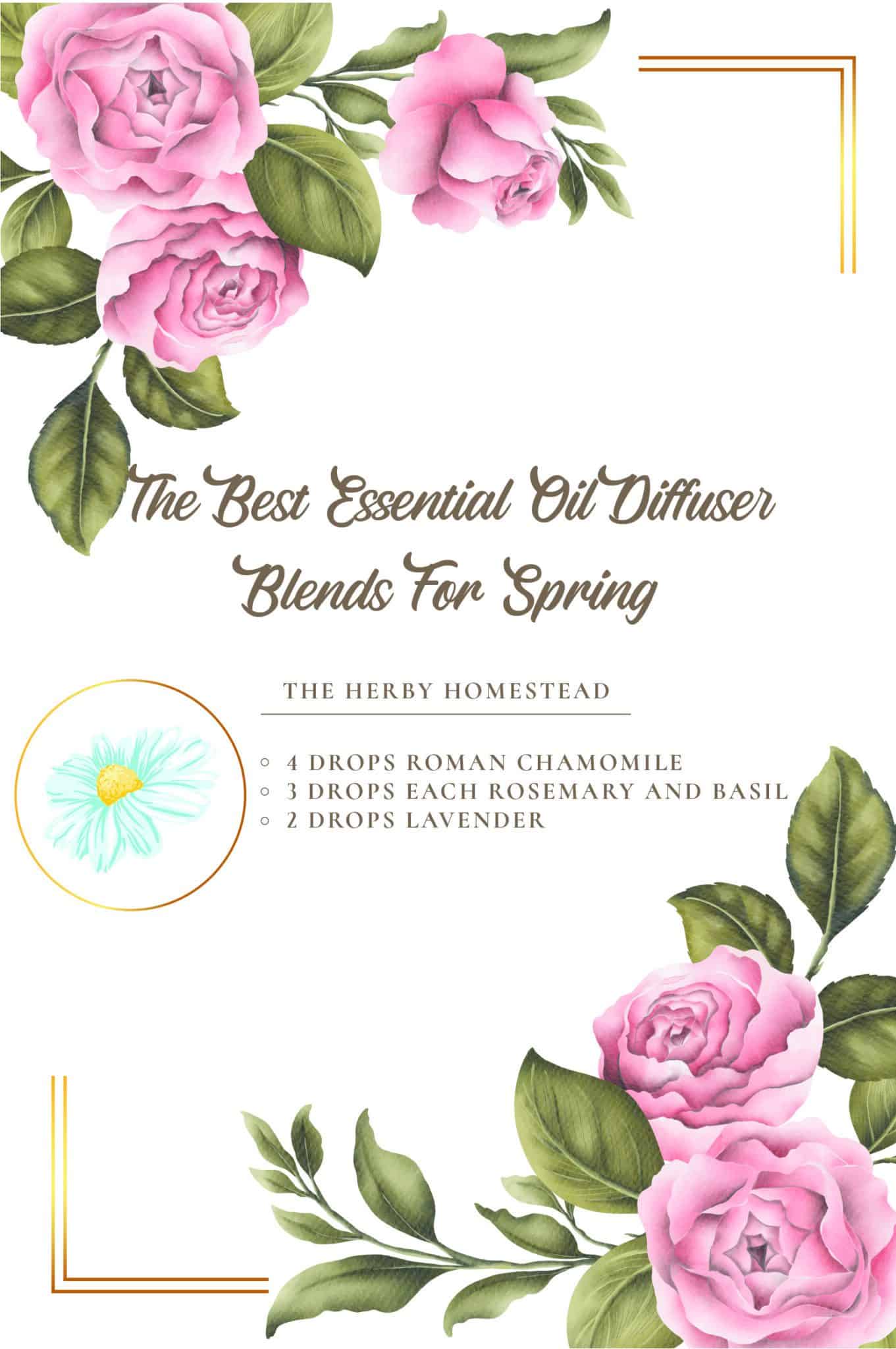 6. The exotica
3 drops neroli
2 drops ylang ylang
1 drop lime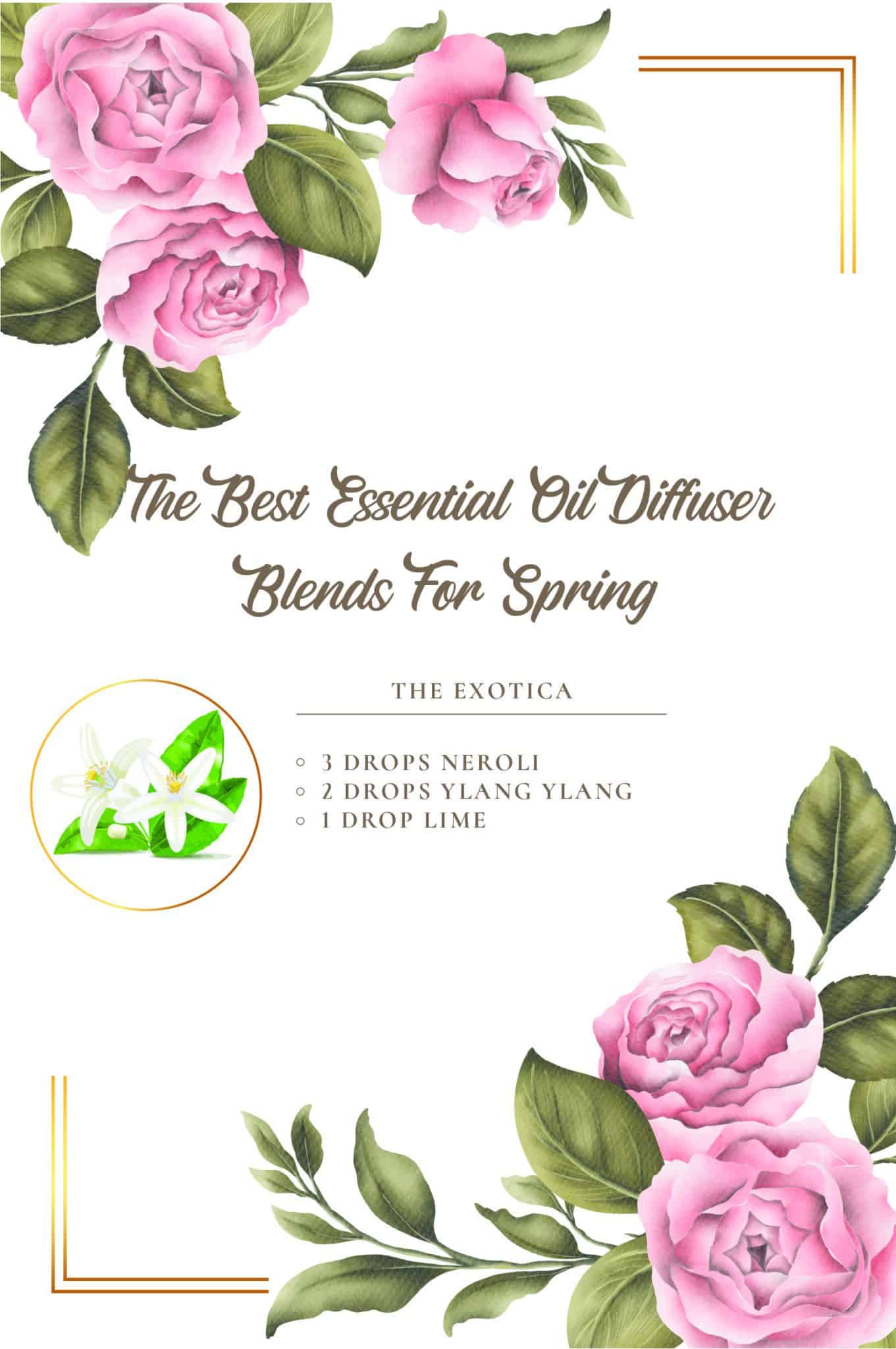 7. The calmer
4 drops roman chamomile
3 drops each lavender and geranium
1 drop vetiver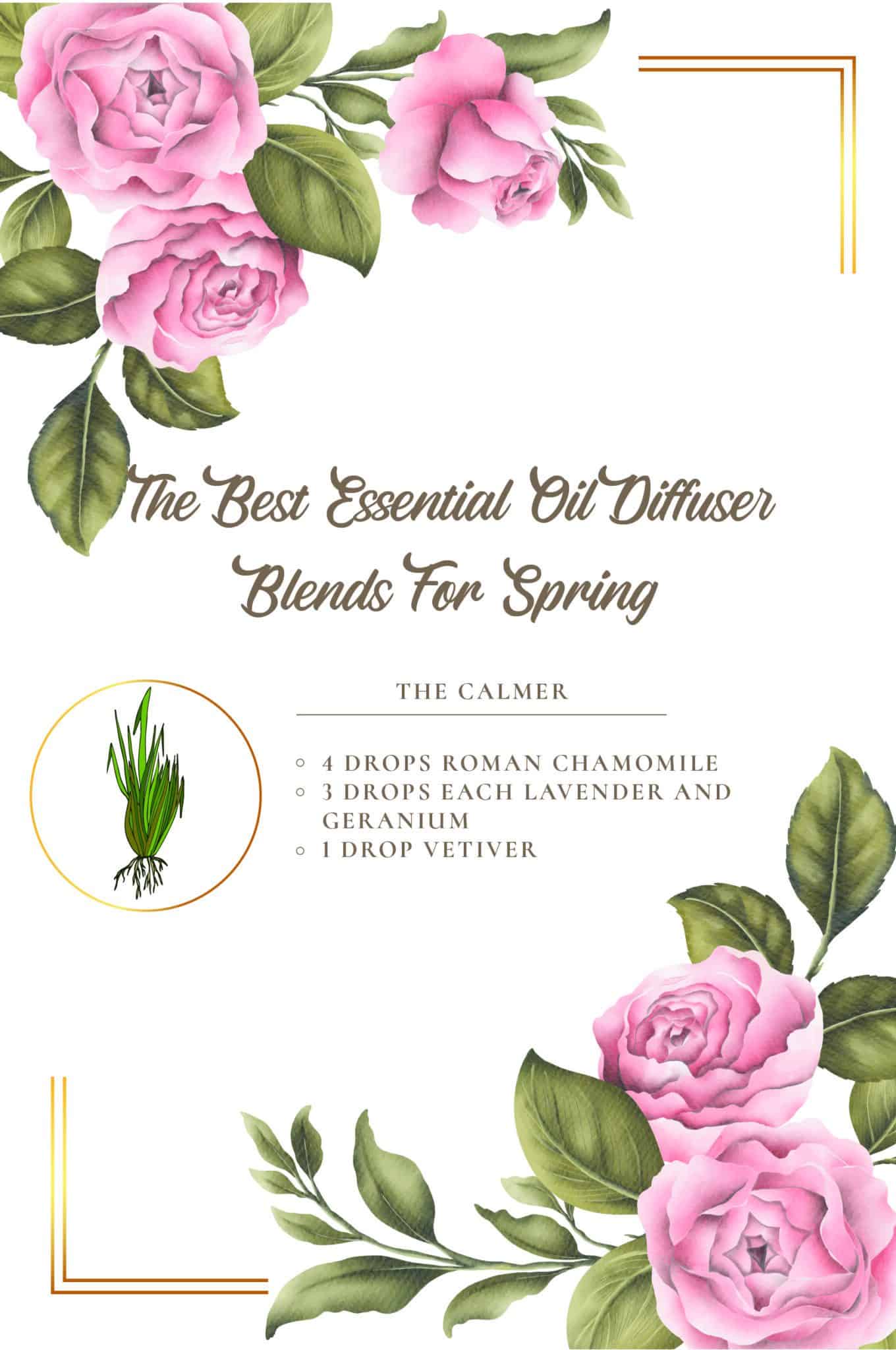 8. The sprightly bright blend
3 drops tangerine
2 drops lime
1 drop peppermint
9. A glass of positivity
3 drops wild orange
3 drops grapefruit
1 drop each bergamot and frankincense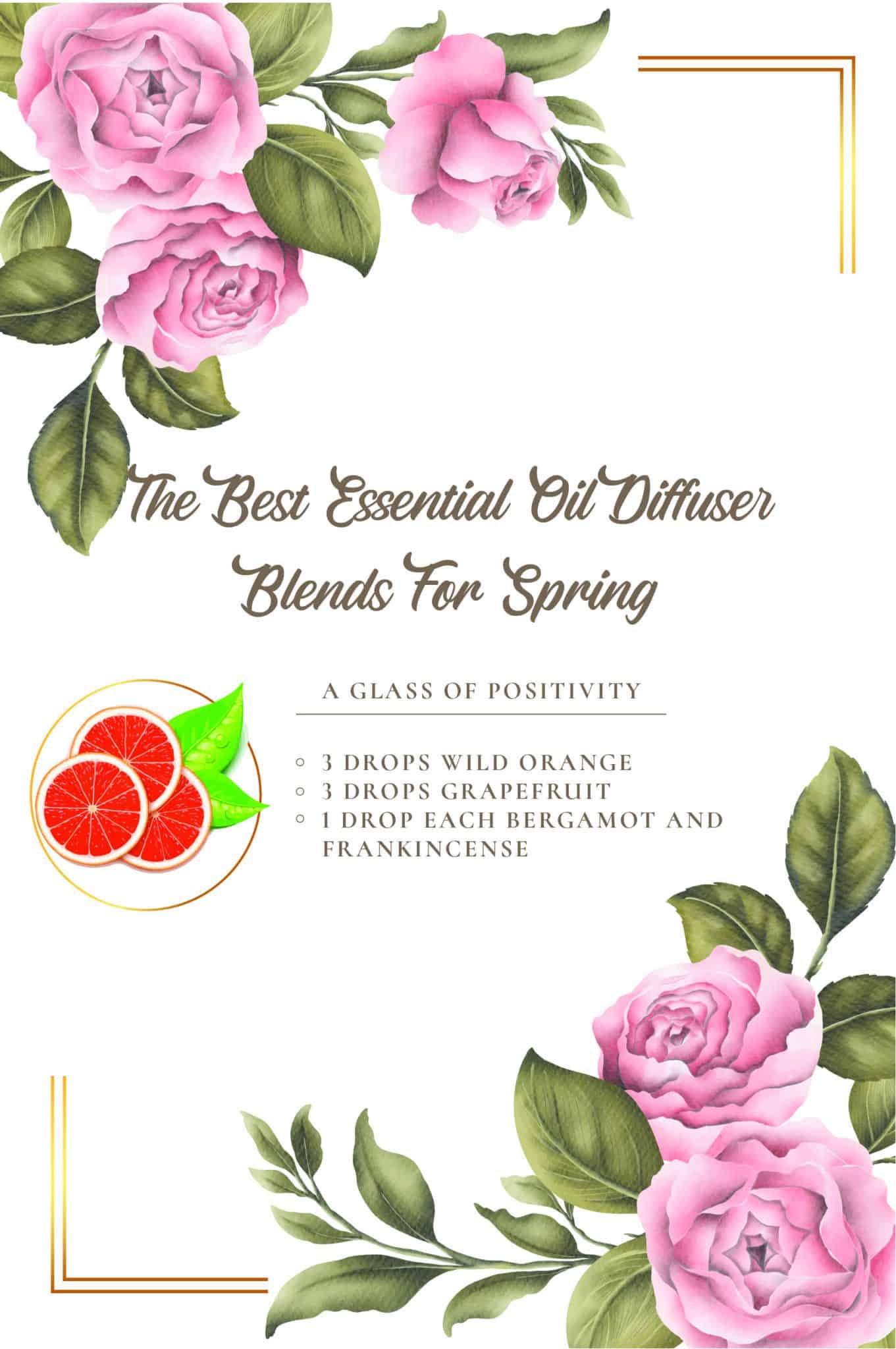 10. No more allergies
4 drops clary sage
3 drops peppermint
2 drops each turmeric and lavender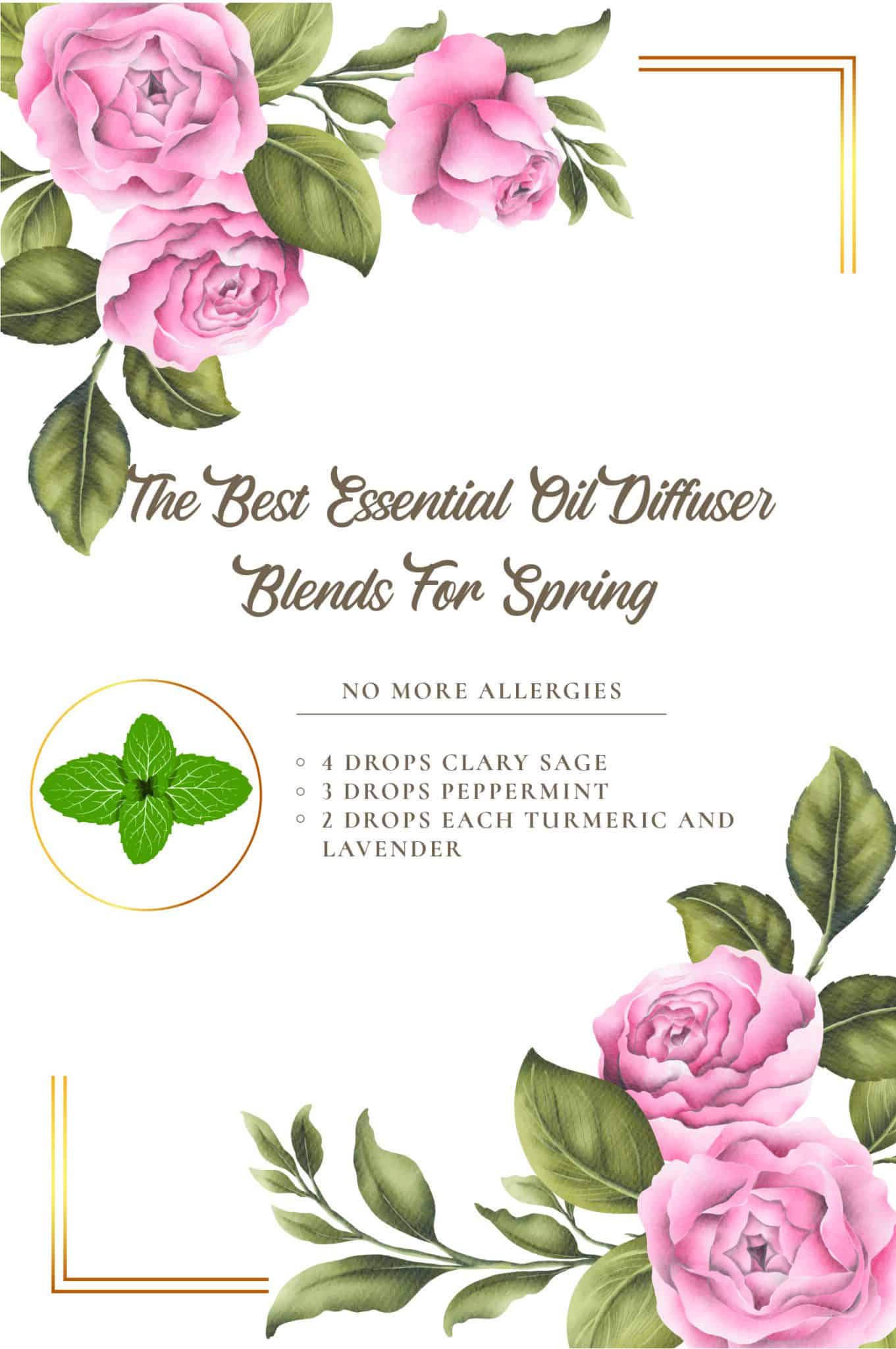 11. Bugs go away
3 drops each basil, rosemary, turmeric
2 drops each palma rosa and lavender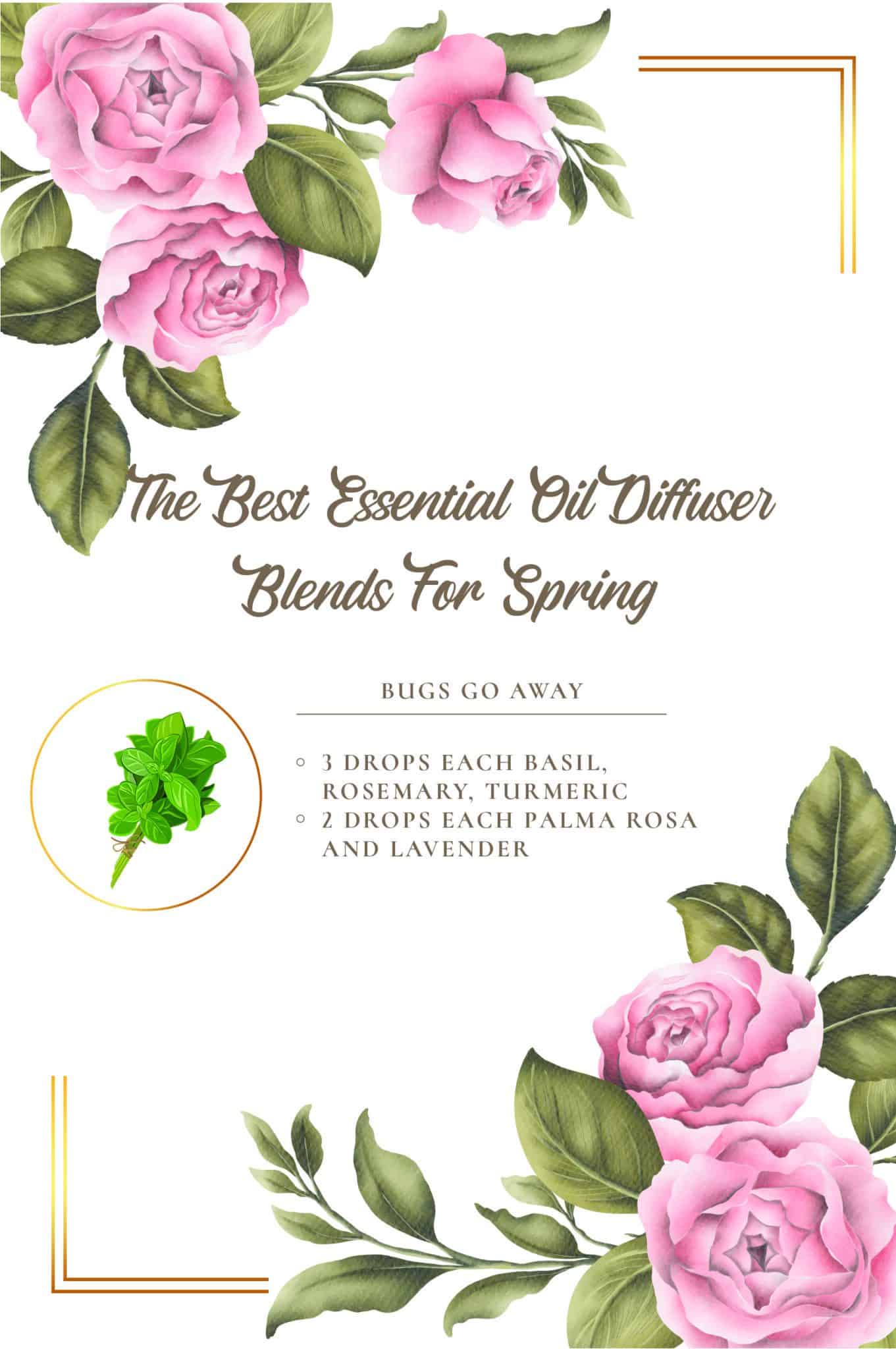 12. Breathe away, Breathe away
3 drops each eucalyptus and peppermint
2 drops each lemon, clary sage, basil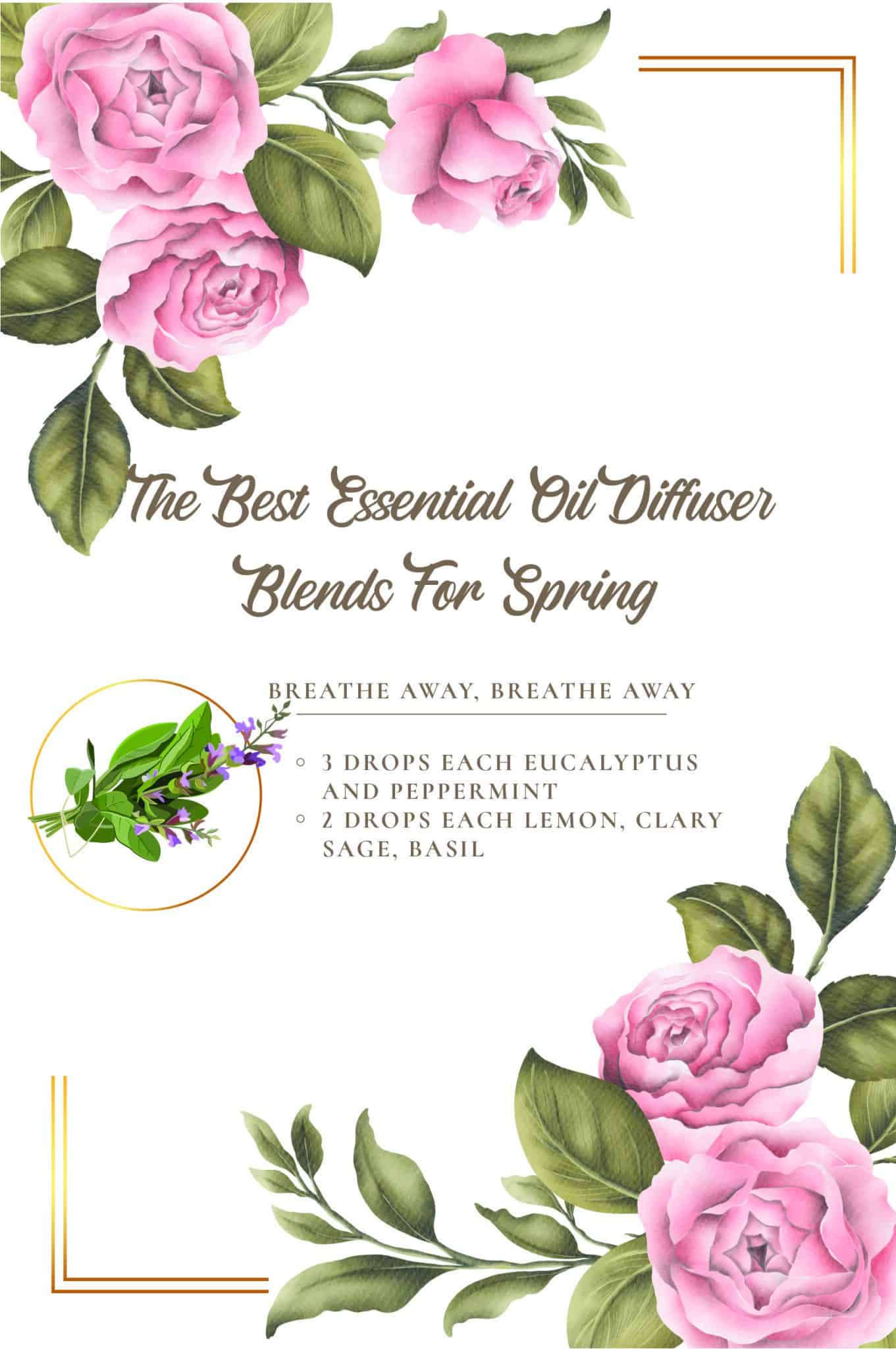 13. A shot of energy
3 drops rosemary
1 drop black pepper
2 drops lime/grapefruit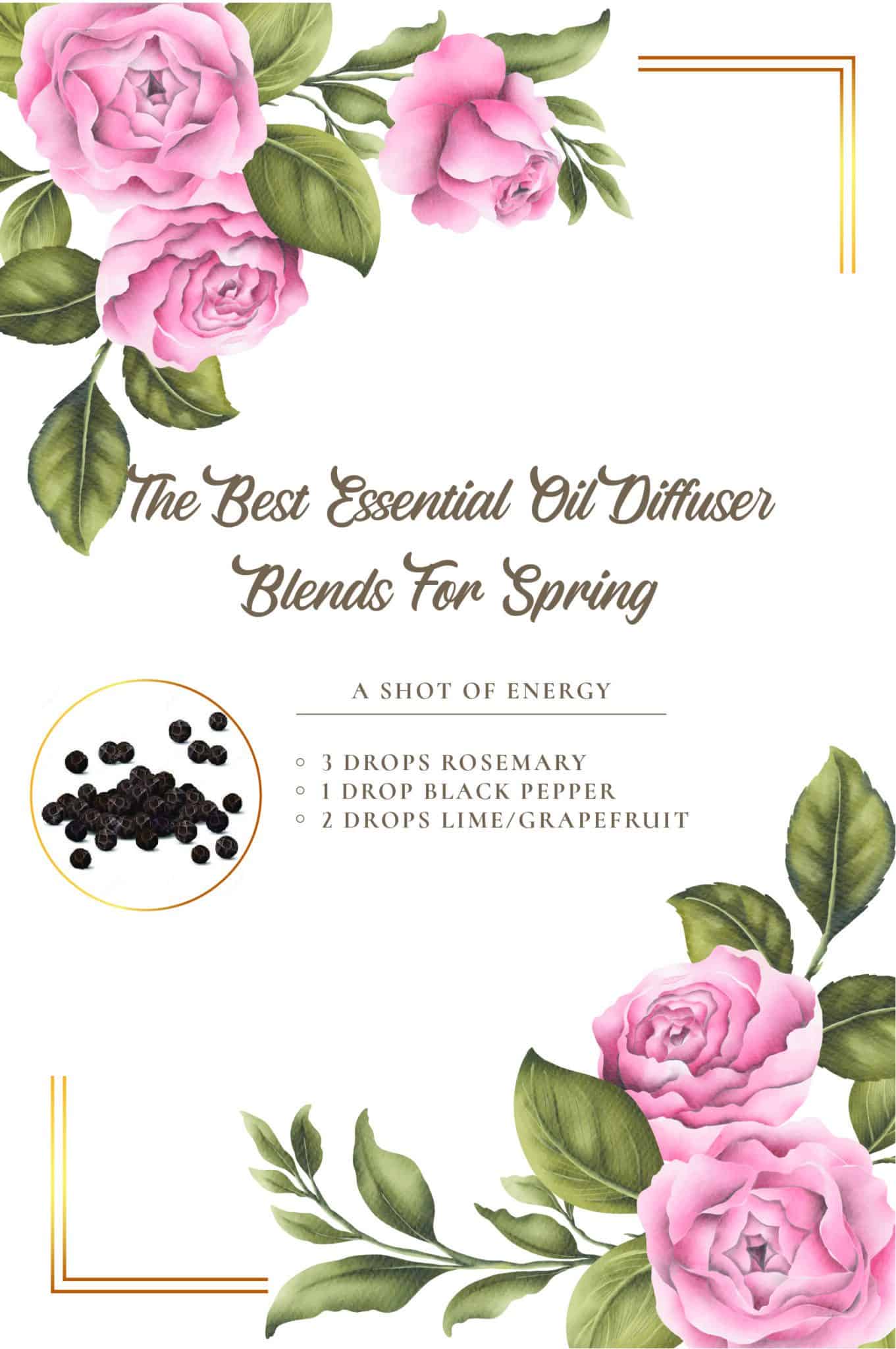 14. Sleep easy
5 drops lavender
3 drops sandalwood
2 drops ylang ylang
15. The ray of sunshine and happiness
2 drops each jasmine and rose
4 drops lavender
3 drops lime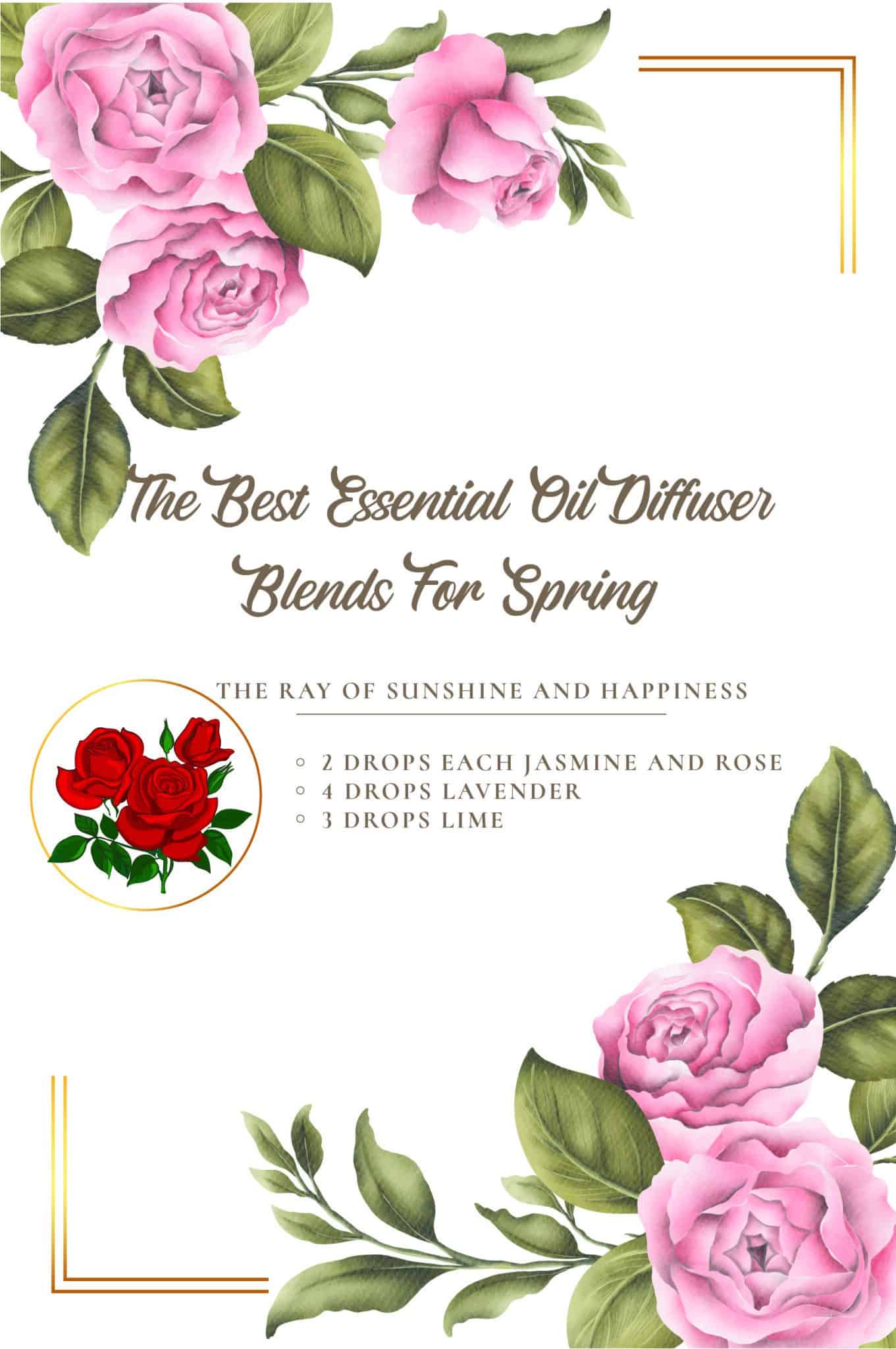 Method
Mix the oils and store in a dark glass bottle if a particular blend proves to be exceptionally pleasing to your senses. Alternatively, you could simply mix as much as you'd need for one session.
Use no more than 3-5 drops in a small ultrasonic diffuser (100 ml water capacity) and about 15-18 drops in a larger unit (500 ml capacity).
Diffuse for 10 minutes at first and see if you like the aroma. If you do, you can run the diffuser for another 10 minutes.
On the whole, don't run the diffuser for more than 20-30 minutes in each session. Air the room if the aroma does not sit well with you or if it seems too strong.
Do not diffuse with pets and kids in the room or at least air the room after diffusion before you let the little ones in.
A spring-ready home!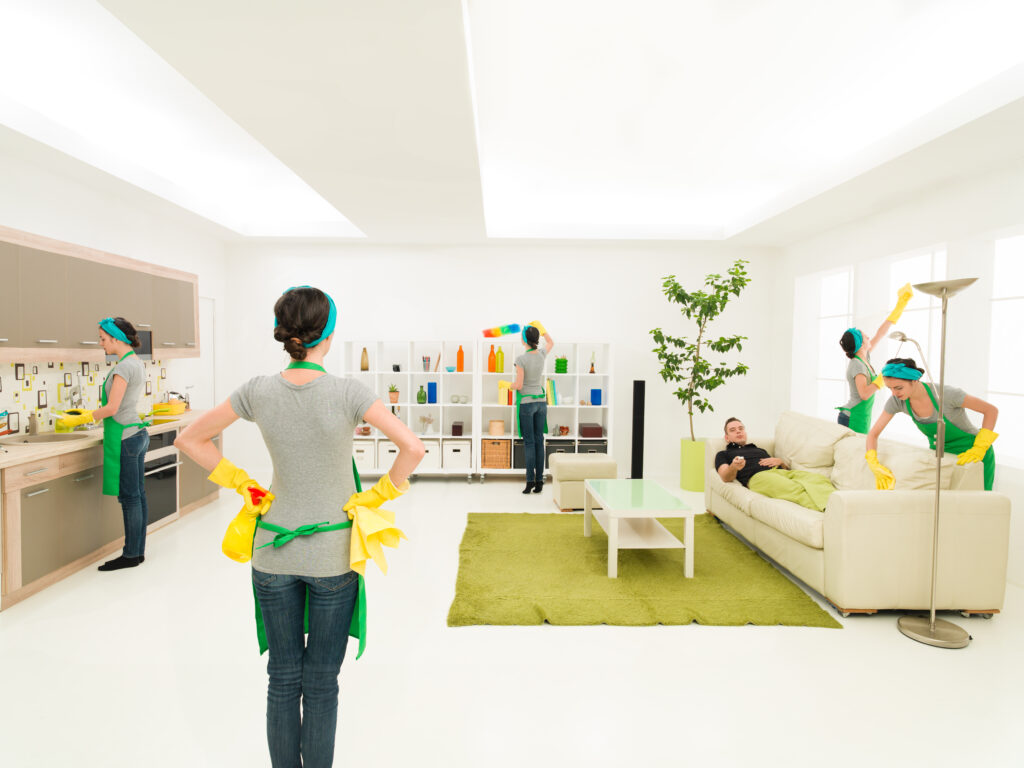 1. Keeping those bugs out with the spring fresh insect repellant spray
5 drops each lavender and basil essential oils (holy basil if available)
2 drops vetiver
3 drops thyme
8 drops geranium
OR
8 drops citronella
10 drops peppermint
6 drops eucalyptus
4 drops each lemon and rosemary
AND
½ cup witch hazel
½ cup water
Method
Mix the oils with witch hazel and pour into a spritzer bottle. Top the mixture with ½ cup of water (regular tap water). Put the spritzer cap on the bottle and give it a good shake to mix the oil laced witch hazel with the water.
Spray immediately around the room/house, paying special attention to areas where bugs can hide and the space around open windows.
Discard what remains of the solution in the sink and make a fresh batch when you need it again. Don't use this bug spray on the skin or around pets. In fact, send the pooches and the kitties out before treating the room with this spray, or to that manner any insect repellant spray, whether homemade or store bought.
2. A few drops of the happy and healthy tummy blend
Norovirus raises its ugly head as temperatures begin their slow rise in spring. Although the tummy troubles caused by these critters seldom last for more than a few days, why go through a health problem that can easily be avoided. Here is a recipe that will kill the critters before they cause a problem.
10 drops lemongrass
4 drops clove
5 drops oregano
Method
Blend the oils and save in a dark glass bottle. You can increase the quantity of the oils but keep the ratio constant. Add 5-7 drops of the blend to your dishwasher soap for each load. If you are doing the dishes by hand, add 2 drops of the blend to a tablespoon of liquid dish soap.
Remember to wear gloves because both lemongrass and clove essential oils can cause skin sensitivity and we are using them neat in this blend. Also, wash the dishes with warm water instead of regular water.
3. Wipe away the grime and the germs blend
½ cup vodka
10 drops lemongrass
5 drops bergamot
8 drops each rosemary and thyme

essential oils

4 drops each clove and cinnamon (bark)

essential oils
Method
Mix the ingredients with 1/2 cup of water in a spritzer head bottle. Use as you would any surface/counter cleaning fluid. Spray on the surface and allow it to work for a few seconds before wiping it out with paper towels. You can reduce the quantity of the ingredients to one half or one quarter as required.
But, do discard what remains of the liquid at the end of the day and make a fresh batch the next day. The oils can be mixed beforehand and stored in a dark glass bottle.
Depending on how much you make, you can store the blend (witch hazel and water not included) for up to 4-6 months based on storage conditions.
Dealing with spring time health woes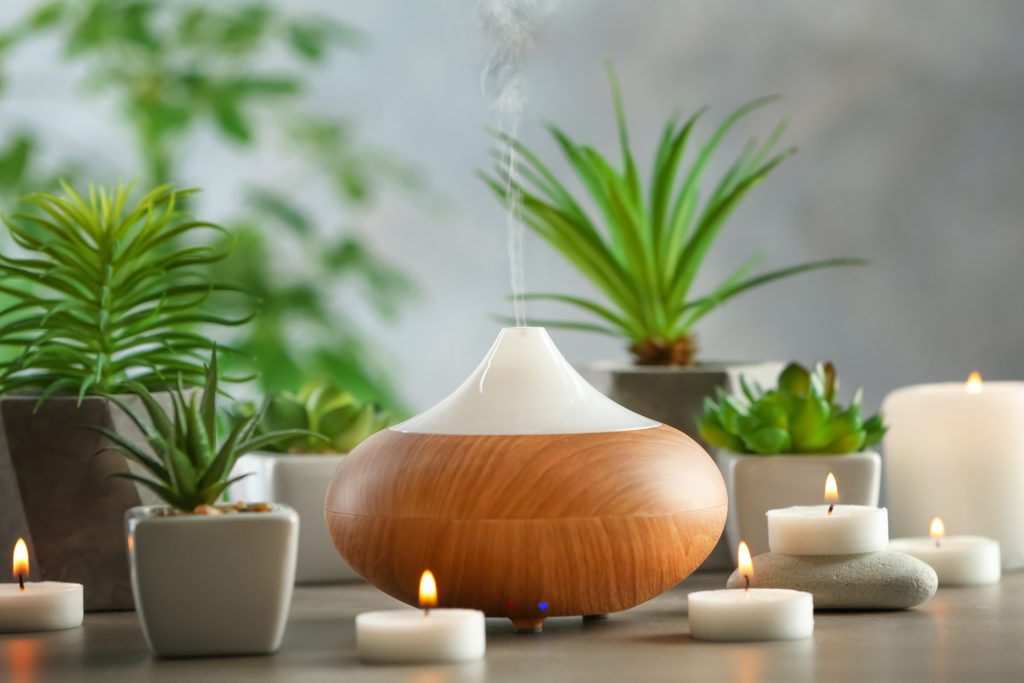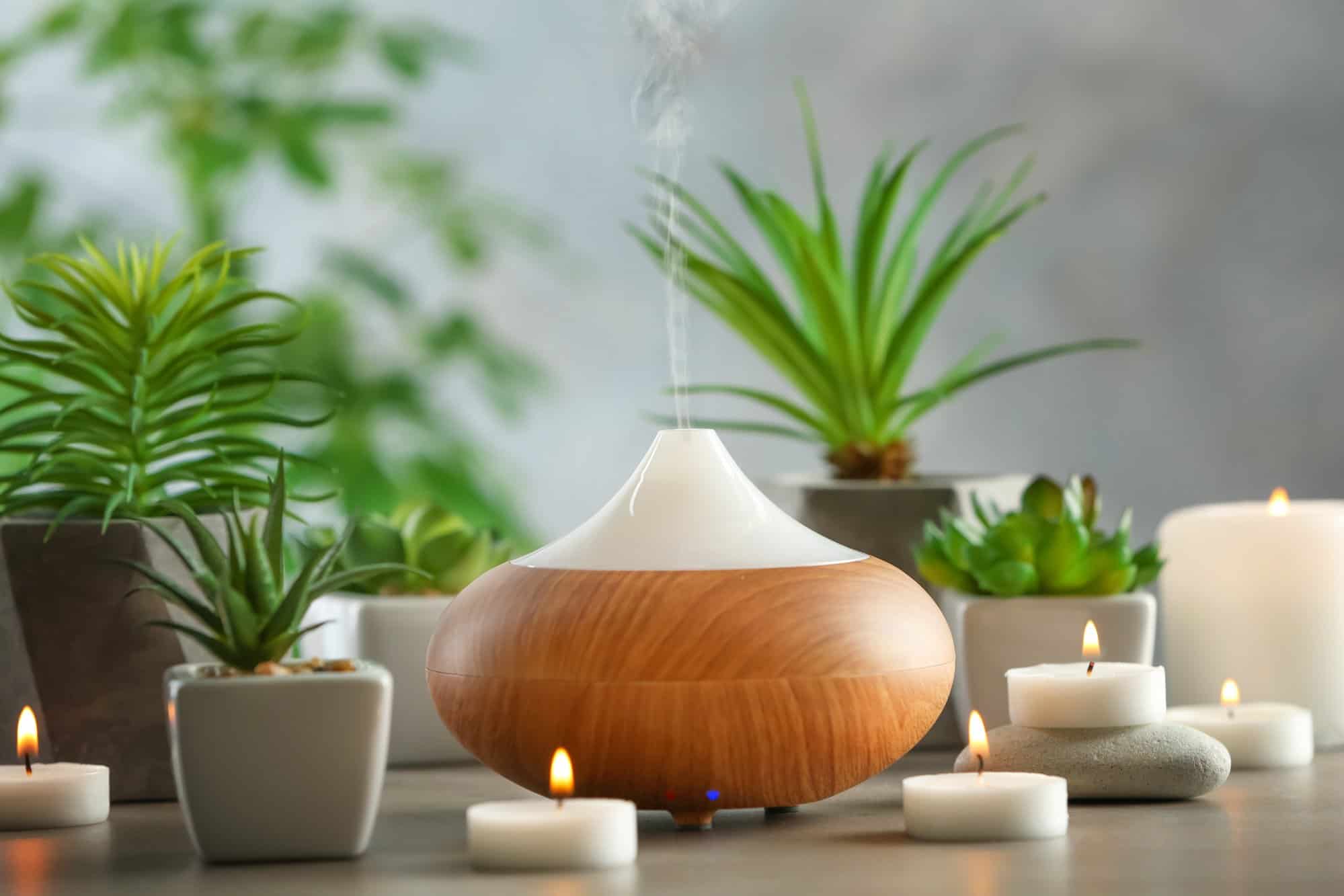 1. The immune boosting chai and salad blends
For chai
5 drops ginger
2 drops each cinnamon bark, clove, black pepper and cardamom

essential oils

2 drops turmeric
For salad
5 drops turmeric
2 drops each clove and cardamom
5 drops each rosemary and thyme
Method
Pick one of the two blends (not both) depending on what you'd like to have once or at the most twice a week. Mix the oils of the blend of your choice and store in a dark glass bottle.
Now, before you start using the one of the two blends, let me clarify that this is not a cure but a preventative measure. It's more a way to keep the body's defense system in top shape and offer just a wee bit of help from the outside in anticipation of a possible attack.
So, once you have the blend ready, dip a toothpick in it (use a fresh one for each administration), about an inch of the wooden stick in the oils. Then, swirl your chai or soup with the toothpick for a minute.
I would strongly recommend that you enjoy these blends with a lipid based brew/soup. So, anything that has dairy/plant milk or cream will work well. Once you have the blend in the chai/soup, enjoy it as you would normally.
2. Rhinovirus no more inhaler blend
This is both a preventative measure that works well on its own as well as with any other medication that you may be using.
7 drops eucalyptus
4 drops each basil and rosemary
10 drops geranium
5 drops each patchouli and sandalwood
3 drops cinnamon leaf and tea tree
Method
Mix the oils and soak the absorbent wick of an essential oil inhaler in the blend. Insert the wick into the inhaler compartment and screw on the cover. Put the cap on the inhaler and carry it around with you if you are prone to rhinitis, sinusitis and nasal and chest congestion.
Inhale the aromatic vapors deeply with one nostril first and then the other, while closing the nostril not in use with your finger. Continue to inhale deeply for about a minute. Use the inhaler at the first sign of a clogged nose and continue to use for 5-7 days up to 3-4 times a day.
These oils are known tone down the virulence of the germs that cause a range of respiratory ailments as well as prevent secondary bacterial infections.
3. Keeping the respiratory system healthy with a preventative bath blend
This blend works for both allergies and sinus problems as well as regular bouts of cold and cough. The anti-inflammatory and anti-microbial nature of these oils stops the critters from causing trouble.
10 drops rose geranium
4 drops lemongrass (only for steam inhalation)
7 drops lavender
6 drops each palma rosa and frankincense
Method
Blend the oils and store in a dark glass bottle. If using as a bath blend, run a hot shower and add a cup of sea salt to the bath water. Then, mix 5-8 drops of the blend with a teaspoon of milk and add the mixture to the tub. Agitate the water to disperse the milk-oil mixture and then soak yourself in the medicated water for 20 minutes.
If using for steam inhalation, fill a bowl with boiling water and add ½ cup sea salt/Himalayan pink salt to it. Then, add 3-4 drops of the blend and inhale the medicated steam.
Don't forget to cover your head with a towel, making a small tent with it on your form. This will trap the steam inside and give you greater exposure to the therapeutic elements of the oils. Inhale for 10-15 minutes and do this one to two times a day till you experience relief from the symptoms.
4. Allergy defeating salve
2 heaped tbsp/30 ml hard plant butter (kokum/cocoa works well)
10 ml jojoba oil
10 drops peppermint
7 drops eucalyptus
5 drops each basil and ginger

essential oils

7 drops turmeric
7 drops lavender
Method
Mix the plant butter and the jojoba oil in a double boiler and place it on low heat. Wait for the lipids to melt completely before whisking gently with a spoon. The idea is to melt the chunks of plant butter not to boil the oil mixture. So, gentle heating and a slight rise in temperature is all that's needed.
Once you get a homogenous lipid mixture, take the carrier oils off the heat and let them stand for about 2 minutes. Then, mix the essential oils in small glass bowl and add this mixture to the carrier oil base. Whisk well and let the mixture stand till it turns hazy. Give it another round of mixing and then pour into a small glass jar.
If you have one that is amber, wonderful. If not, simply cover the outside of the jar with some crafts tape and it will get the job done. Use on the chest, neck (front and back) and the temples as you would any soothing chest rub/salve.
You can also use this blend for inhalation. Simply mix the essential oils together (leave out the carrier oils) and pour 2-3 drops into a bowl filled with steaming hot water and inhale.
5. No pain, only fun muscle rub
30 ml shea butter
10 drops each eucalyptus and peppermint
5 drops each frankincense and roman chamomile
7 drops wintergreen
Method
Use instructions above for melting shea butter and mixing the ingredients together. Store in an amber glass jar and use as you would any muscle rub on sore and tired limbs. Massage briefly to increase circulation and enhance the penetrability of the active ingredients in the blend.
For faster results, you can couple the rub with a hot compress; i.e. use the rub twice a day and the compress once in between or right before using the muscle rub.
6. The headache tamer balm
20 ml shea butter
4 drops each ginger and black pepper
12 drops peppermint
3 drops each lavender and frankincense
2 drops nutmeg
Method
Preparation and storage as above. Use a small amount on the side of the head, just above the point where the hairline meets the ears, on the forehead and in between the eyebrows.
It's important to not slather this balm on because the heat of your skin will make the shea butter melt and then it may flow into your eyes.
In fact, if you are applying this just before bed time, wait for ten minutes before you hit the sacks after applying the balm. Then, right before your head is ready to hit the pillow, dab the treated area with some tissue. This way you remove the excess oils while retaining the therapeutic benefits of the ingredients.
You can use the above recipe for both tension and sinus headaches. You can find more headache recipes here.
Keeping yourself healthy and happy this spring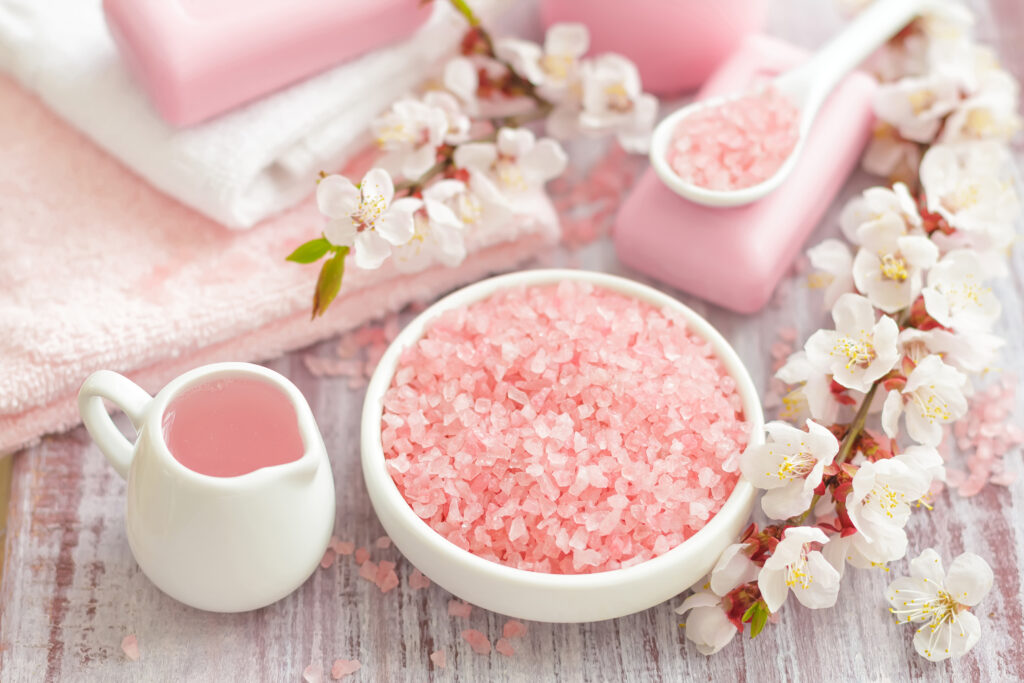 1. Spring skin care – Pampering the skin as the sun beats down on it
The day blend
10 ml grapeseed oil
20 ml pomegranate oil (this is the best choice given its ability to defend your skin against sun damage but if you cannot find it, go ahead and use any other light carrier oil)
8 drops geranium
5 drops turmeric
7 drops palmarosa
6 drops sandalwood (if not available use a mix of cypress/cedarwood and lavender)
Method
Mix the oils and store in a dark glass bottle. Use 3-4 drops all over your face and neck after any serum that you may be using. Don't forget to apply sunscreen on top when heading out.
The night blend
10 ml sweet almond oil
20 ml rosehip seed oil
4 drops rosemary
8 drops roman chamomile
5 drops frankincense
3 drops each clary sage and neroli
1 drop clove (omit if you are prone to dermatitis or have particularly sensitive skin, although at this dilution it should pose no problems)
Method
Preparation and storage as above. Apply after cleansing your skin of the day's grime and stale makeup. You can use this blend on its own or with a serum. Always use the lighter product first and then layer the denser (more viscous/oily) product.
2. Spring hair care – The weekly hair mask
1 to ½ ripe avocado depending on the size of the fruit and the length of your hair.
Coconut cream/ thick coconut milk (this is the best choice but if not available use almond milk but not dairy milk. If you can extract the milk at home, all the better)
4 drops rosemary
3 drops each peppermint and lemon
2 drops cedarwood
Method
Mash the avocado to a pulp and add enough coconut cream to make a lotion-like mixture. Add the essential oils to the blend and whisk well. Then, massage generously on the scalp and apply the rest along the length of your hair, from the roots to the tips. If you have long hair, use a clip to tie them into a bun.
No need to cover your scalp after this treatment unless there are too many runaway droplets, in which case, use some cling film. Keep the mask on your hair for 1 hour and then wash off with warm water. Shampoo and condition as you normally do.
3. Taking care of the ol' bod
Method
Blend the oils and store in a glass bottle (amber or blue). Use as you would any body lotion.
A useful note: If you cannot use essential oils because you have very sensitive skin or want something that is gentle enough for pets and kids, hydrosols offer an effective and wonderful substitute. Simply mix the hydrosols of lemon eucalyptus, citronella and lavender to make a potent anti-bug spray that can be used on all little ones and of course on yourself.
In conclusion
And with that we are at the end of this guide and you have all the information you need to keep the maladies and creepy crawlies that spring brings along at bay. The last thing you ought to be doing in spring is spending your time worrying about sniffles and snot.
Instead, get out there and enjoy the youthful exuberance of nature, the soothing warmth of the sun and the enticing burst of colors and aromas all over, because essential oils have got your back this year. And on that note, I wish you all a happy, joyous and healthy spring this year and for years to come.