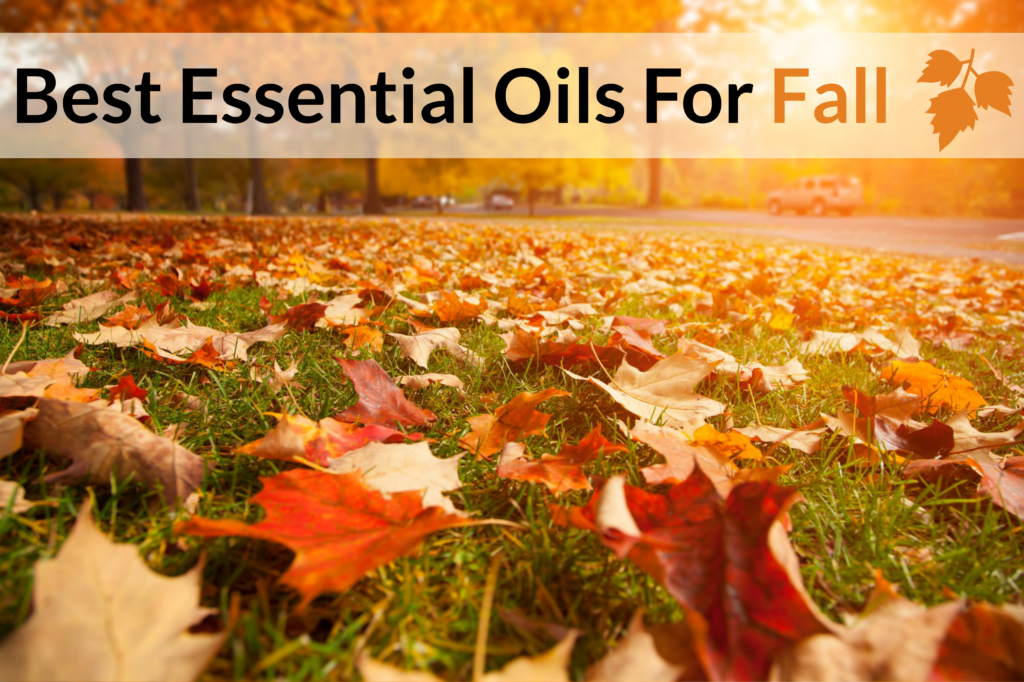 With Thanksgiving just two short months away, the leaves, with their vibrant color change, have started reminding us of the festivities that await us in the months to come. As we make our way through autumn and towards winter, most of us are besieged by a sense of urgency and planning.
There is so much to do and so much to look forward to that it is easy to forget our basic needs in the frenzy. Fortunately, essential oils offer a simple yet effective way to tend to our mind and our body, which will no doubt be burdened by our over compensating ways.
So, why let the chill in the weather dampen your spirits, when these aromatic extracts can provide everything that you need to get through the season at your healthiest and happiest?
To get you started, here is a list of the best fall-appropriate oils and some tried and tested recipes.
Get Autumn-Ready With These Essential Oils
Since fall is all about transformation, the best oils for this season are those that bring you closer to the soothing and unchanging aspects of nature. And what represents the strength and warmth of nature better than woods and spices?
So, undoubtedly these aromas are very popular for autumn. But you can also add a hint of citrus and even subtle florals to remind yourself that Mother Nature will be back to donning her green ensemble, adorned with colorful blooms, in a few months' time.
Take a look at some of the best essential oils for the season:
The spices:
Cardamom: This is an invigorating oil that chases away the blues and tackles anxiety and tension. The extract also

boosts immune functions

and regulates

digestion

. So, it is just right for a season that is full of festive fun.
Clove: An energizing oil that doubles up as an effective antibacterial agent, the soothing warmth of this extract is effective against all types of aches and

pains

.
Cinnamon: This stimulating oil not only helps to keep your

skin healthy

as the temperature goes into a tailspin, but also keeps your mood bright. Plus, no other spice has as

festive an aroma

as cinnamon.
Nutmeg: This spicy oil is at once invigorating and relaxing. It offers a sense of warmth to the heart and the body, dulls pain and stokes your innate energy. The aroma enhances focus and motivates you to accept and get through any challenge that awaits you.
Black pepper: Another warming oil, this one is exceptionally effective against fatigue and

muscle soreness

. Also, it is a digestive and

circulatory stimulant

that will keep the detrimental effects of the festive excesses in check.
Ginger: A powerful detox agent, this spicy oil will stop lethargy and

fatigue

from taking hold of you. Moreover, the extract has impressive anti-inflammatory and antiviral properties that can keep all autumn-related health woes at bay.
Turmeric: What it lacks in terms of a spicy aroma and warming effect, turmeric oil makes up for with its antimicrobial and anti-inflammatory properties. Whether it is muscle soreness and swelling or a sallow complexion or even a

cold

, this oil can help to tackle all of them and more.
The woods:
While woods and spices go exceptionally well with each other, they can both be heavy and overpowering. To lighten and brighten their effect, combine them with other aromatic classes
To access the fruity sweetness of citrus, consider the use of sweet orange for its skin and mind stimulating properties; grapefruit for its freshness and energy and tangerine for its invigorating tanginess and lightheartedness.
As far as resins are concerned, opt for the healing goodness of frankincense and myrrh. Both of these can be blended with woody and spicy aromas.
If you want the base notes of your blend to provide a grounding effect, add patchouli or vetiver essential oils to your recipes. In addition to their ability to quiet the mind, these oils are also exceptionally effective against the effects of autumn on the skin.
When you want just a touch of floral in your blend, instead of going for overpowering aromas like rose or jasmine, choose something lighter like lavender or geranium. Both these oils offer an unmistakable sense of peace and happiness. Plus, they have the ability to calm inflammatory responses that ail the body and the mind.
Finally, for a fresh, herbaceous and green touch, you may want to use rosemary and eucalyptus essential oils. Apart from bringing their own unique touch to the blend, these oils also offer unparalleled antimicrobial effects. Plus, they are clarity and focus boosters that will keep your noggin working as optimally as it should.
Top 20 Fall Essential Oil Blends For Diffusing
Mix the blends and store in a dark glass bottle. Add to your diffuser. If using at night, diffuse about 30-45 minutes before bed time.
1. Nothing like some chai!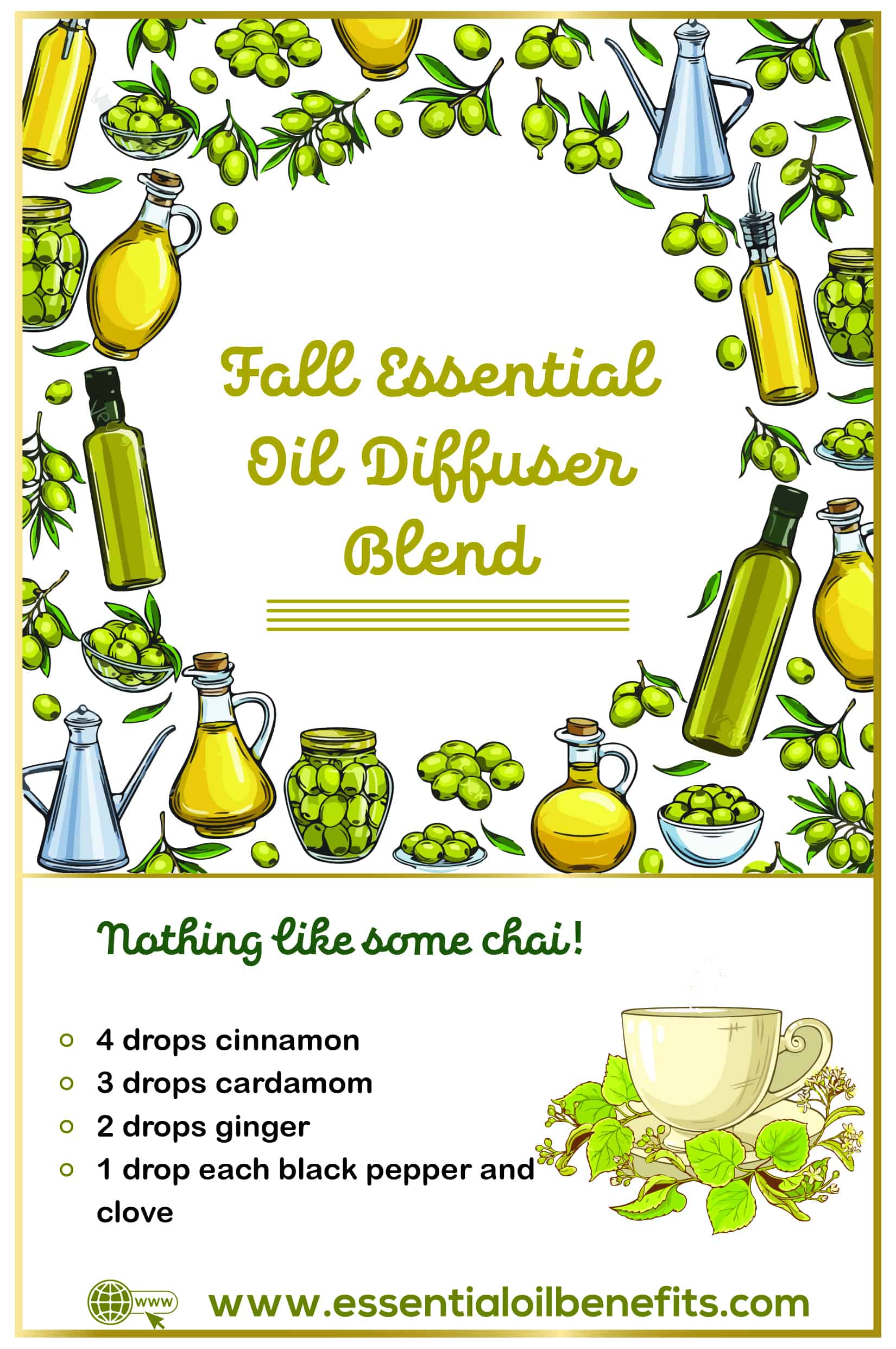 4 drops cinnamon
3 drops cardamom
2 drops ginger
1 drop each black pepper and clove
2. Sugar and spice and all things nice!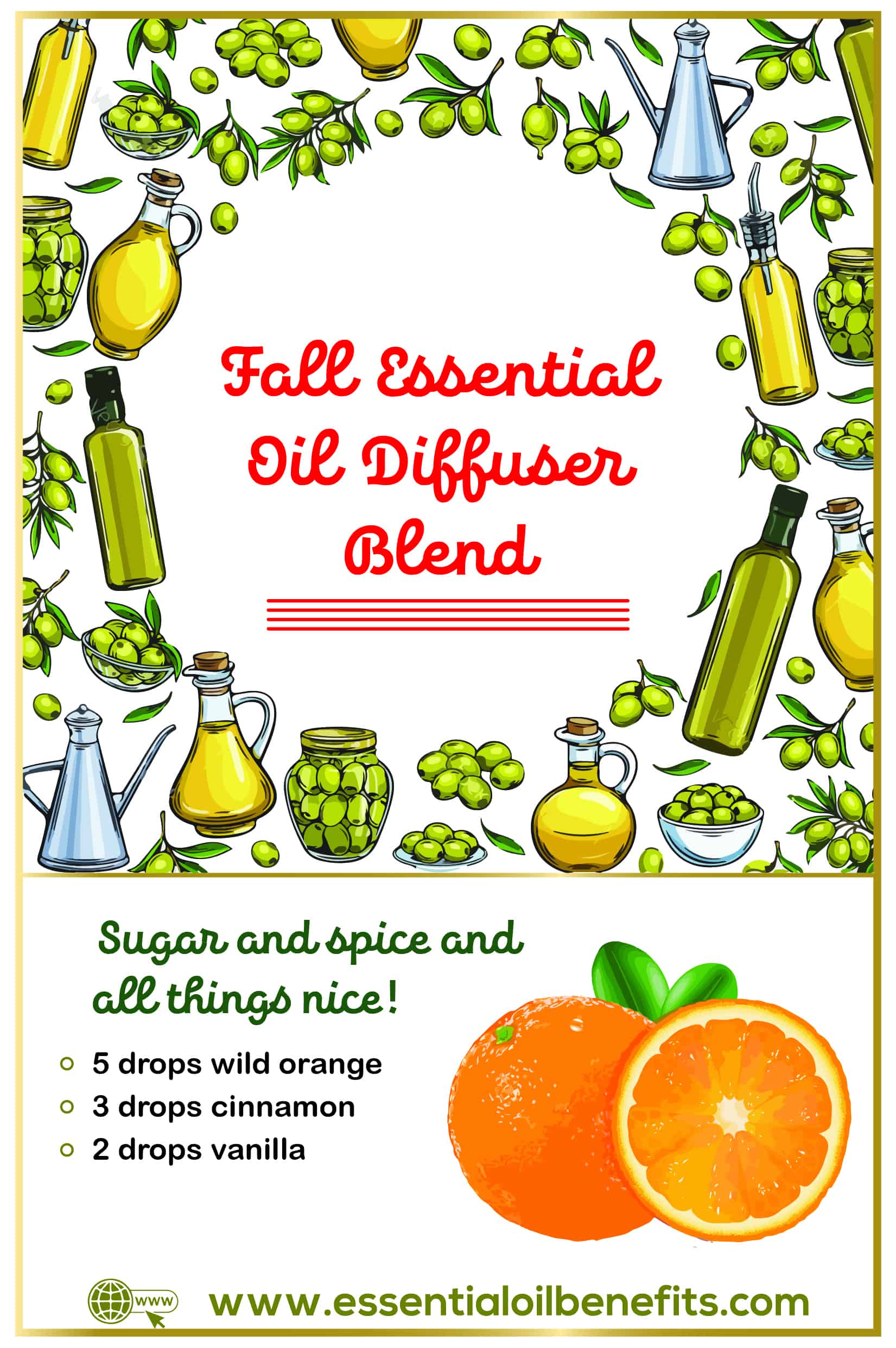 5 drops wild orange
3 drops cinnamon
2 drops vanilla
3. A whiff of summer!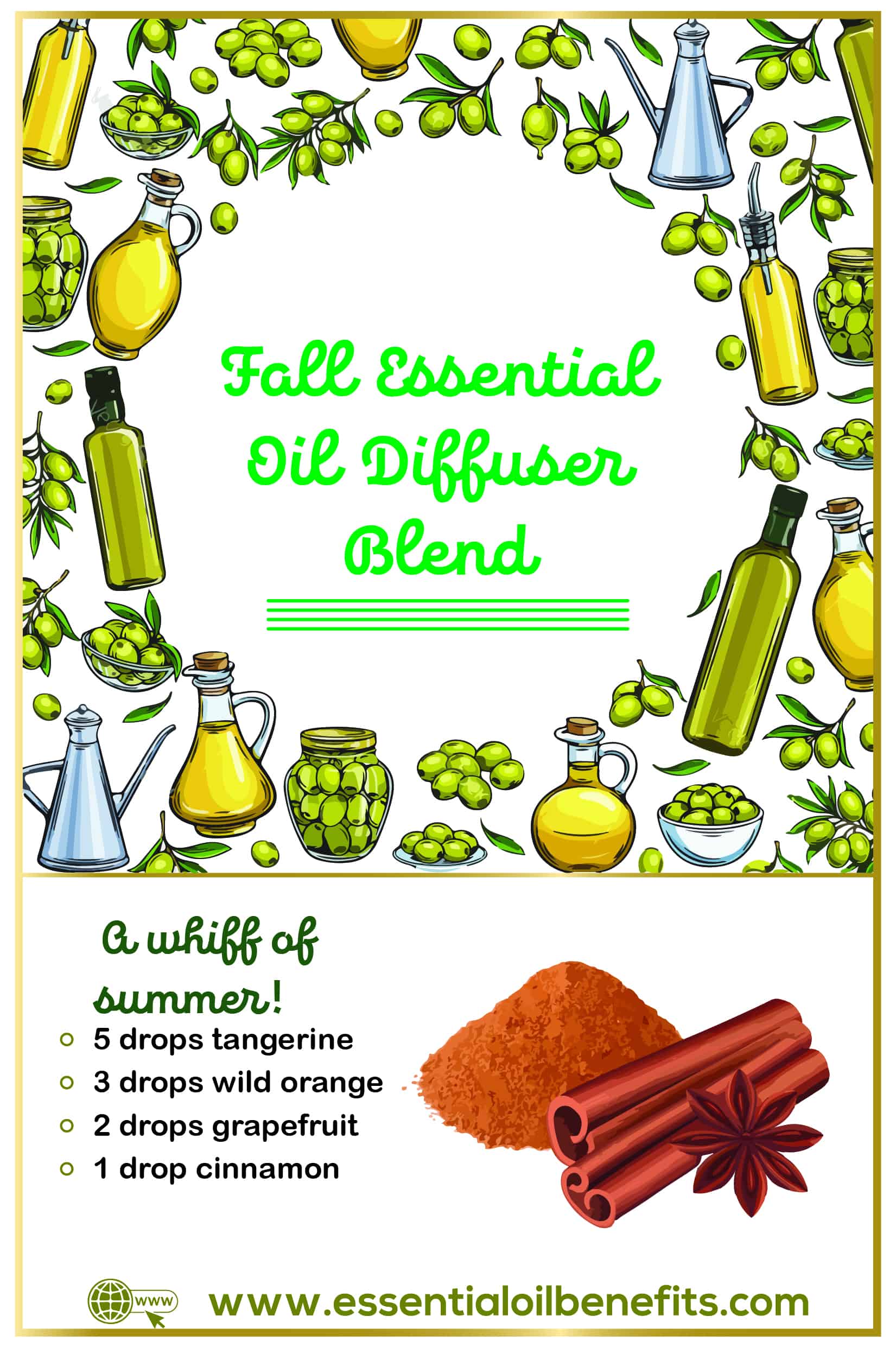 5 drops tangerine
3 drops wild orange
2 drops grapefruit
1 drop cinnamon
4. All's well in fall!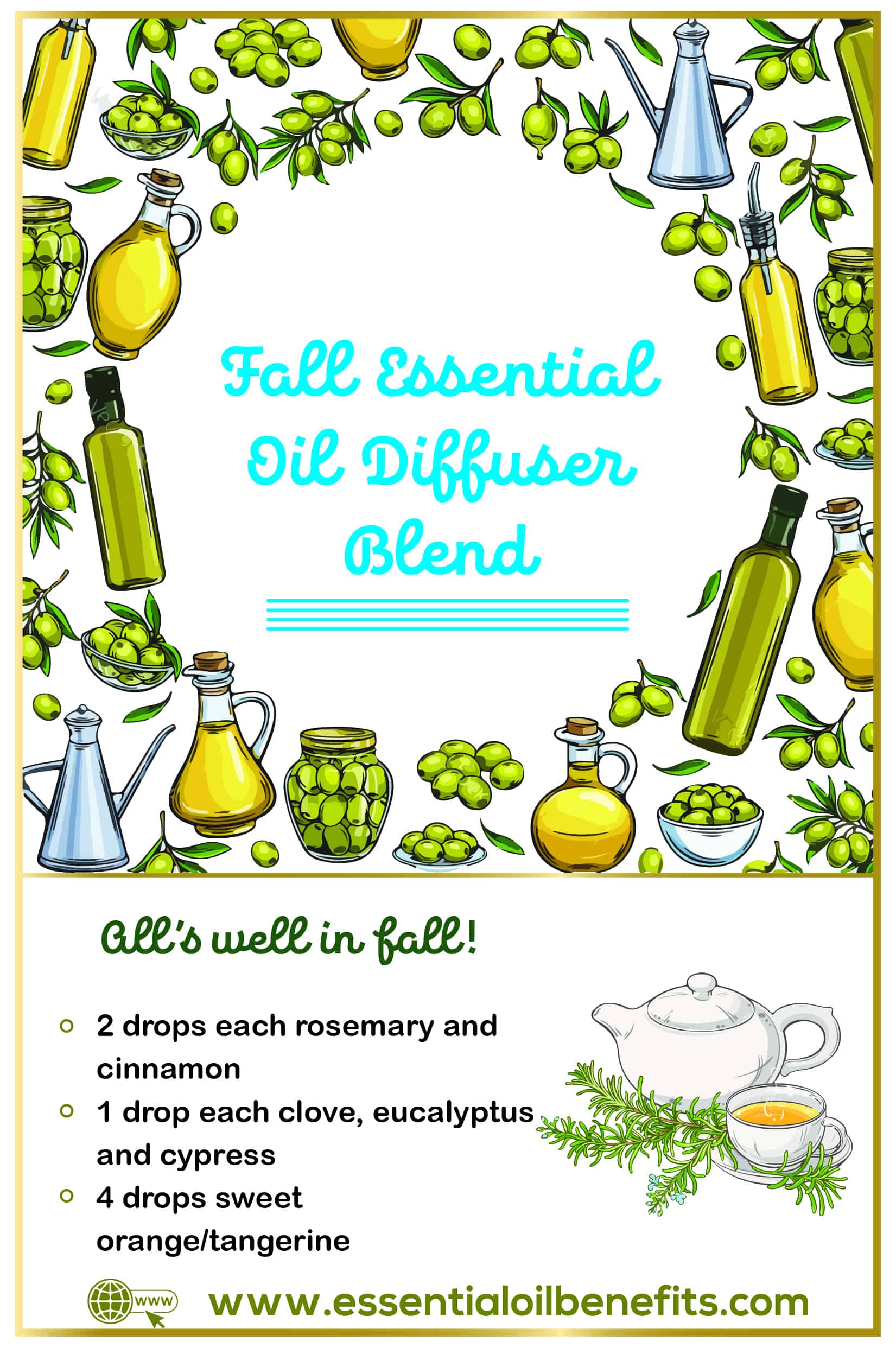 2 drops each rosemary and cinnamon
1 drop each clove, eucalyptus and cypress
4 drops sweet orange/tangerine
5. What's fall without pumpkin pie?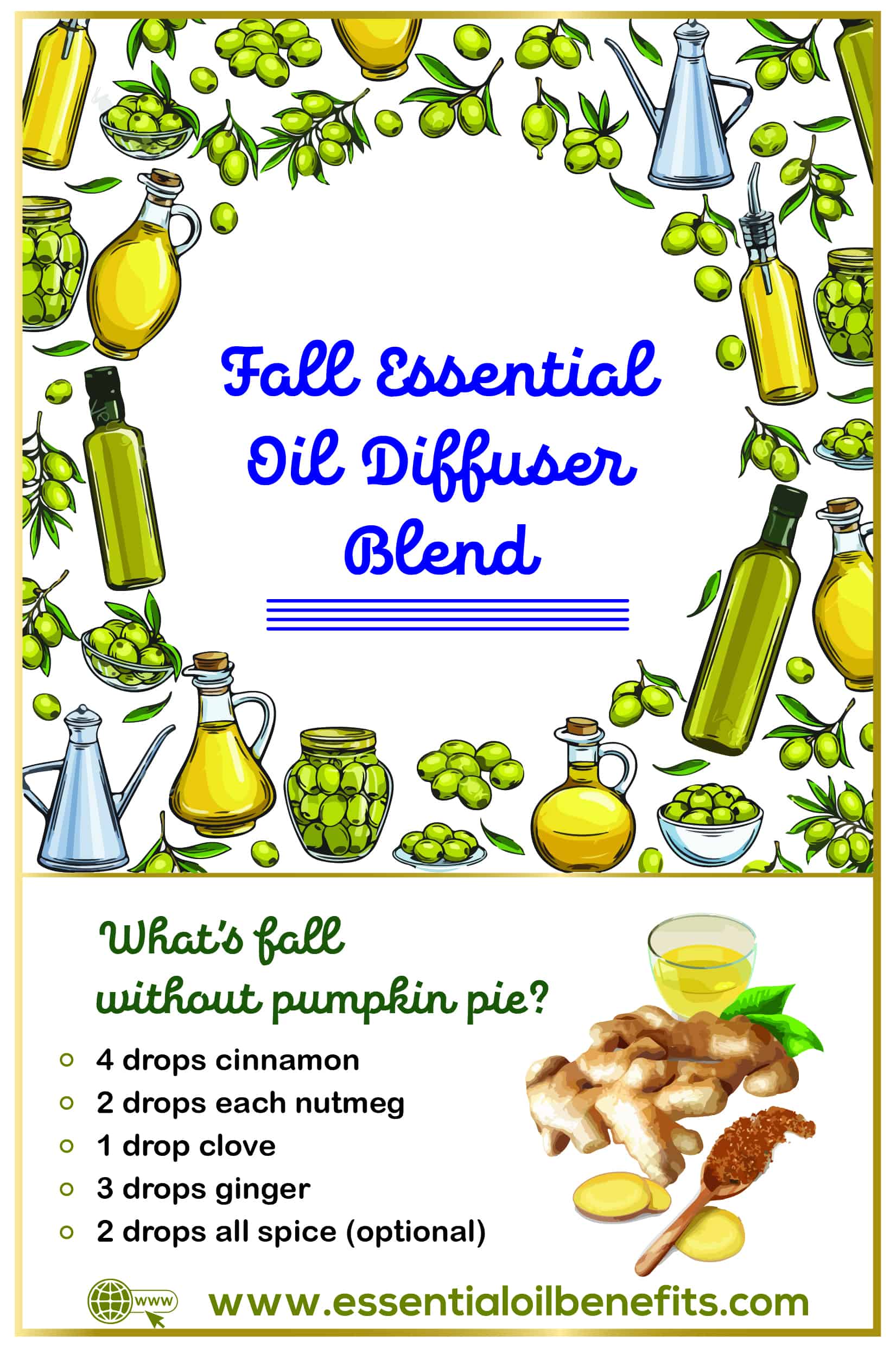 4 drops cinnamon
2 drops each nutmeg
1 drop clove
3 drops ginger
2 drops allspice (optional)
6. A walk through the woods!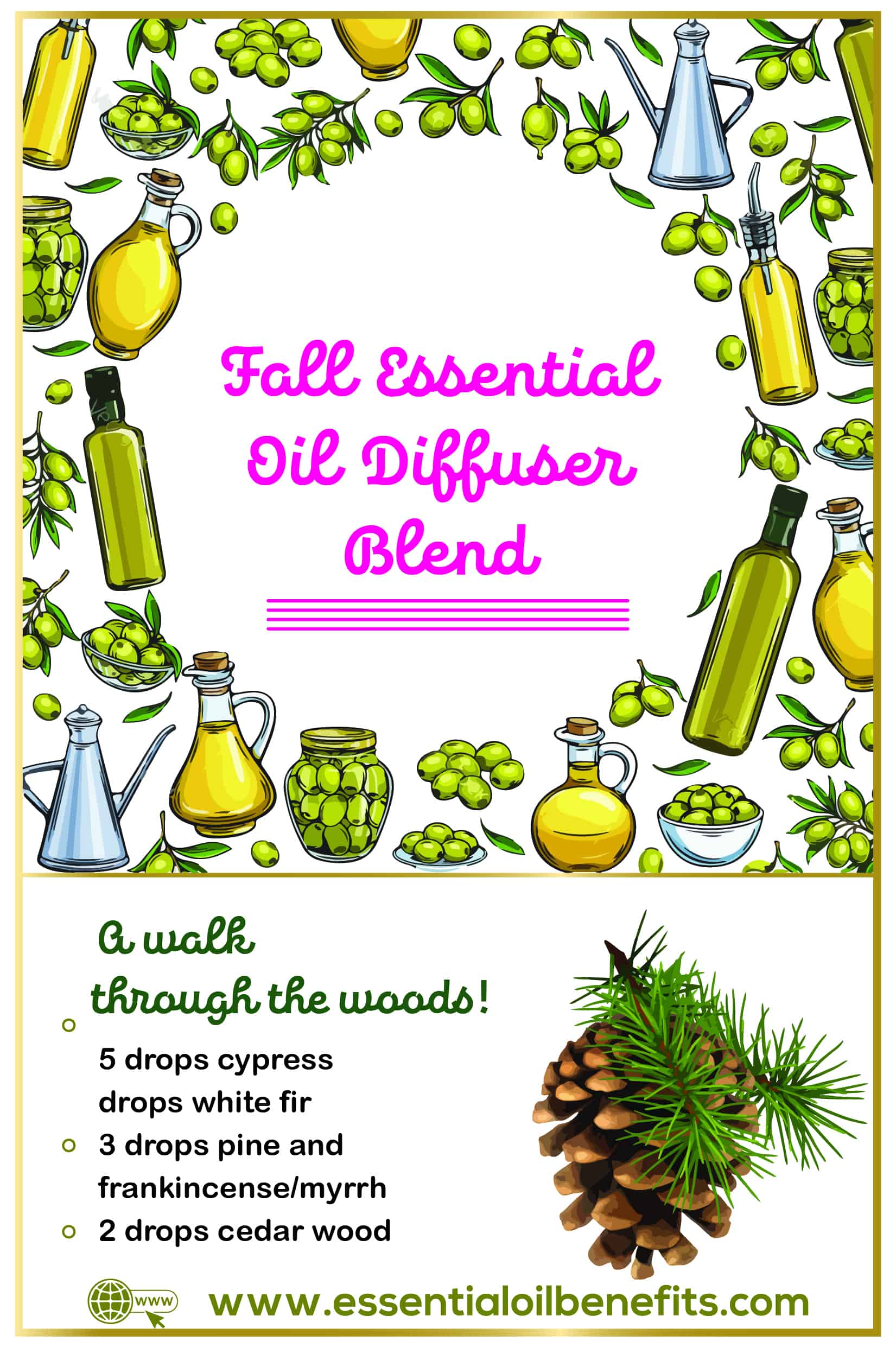 5 drops cypress
4 drops white fir
3 drops pine and frankincense/myrrh
2 drops cedar wood
7. Let calmness descend!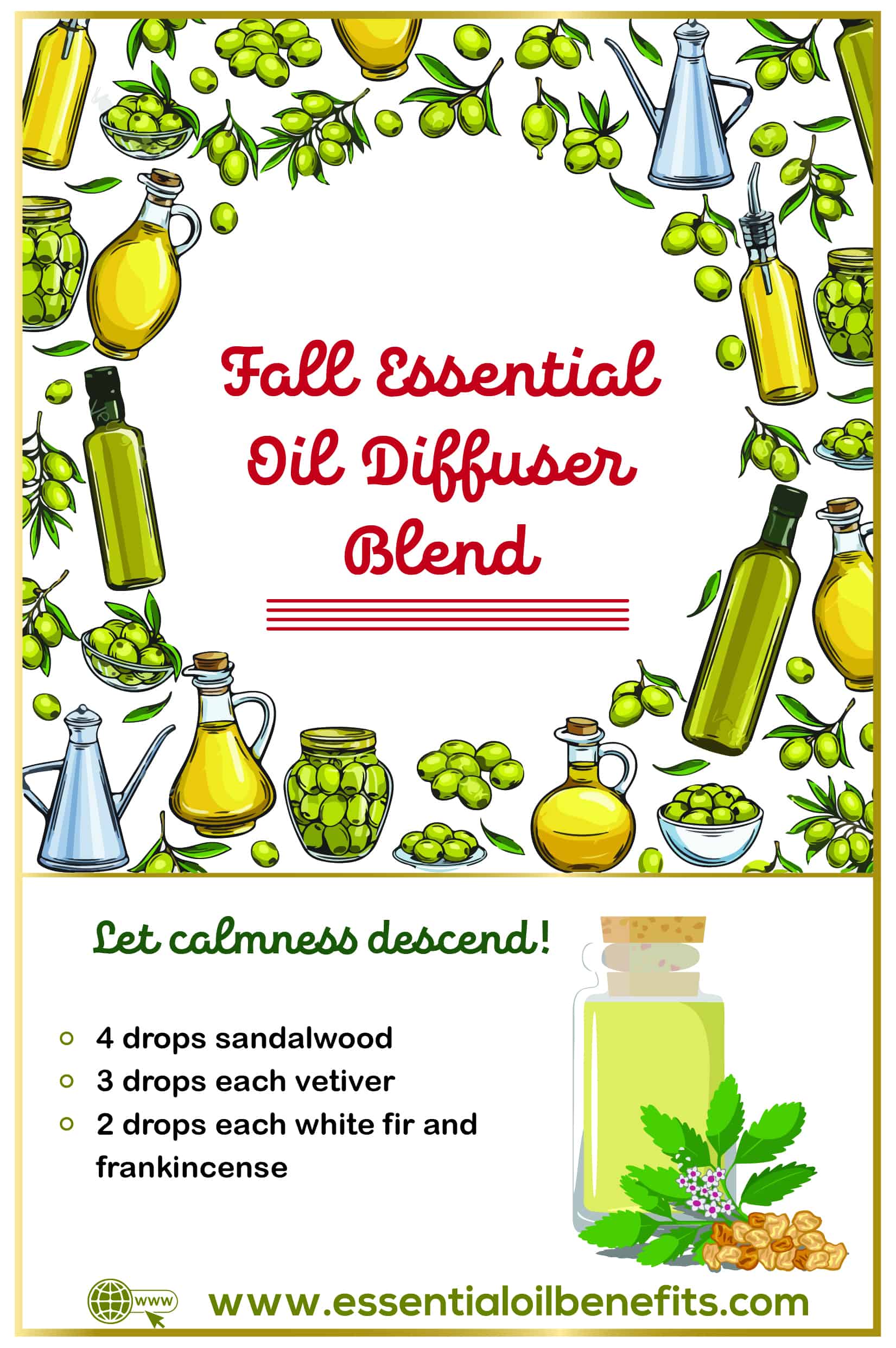 4 drops sandalwood
3 drops each vetiver
2 drops each white fir and frankincense
8. Wake me up before you go go!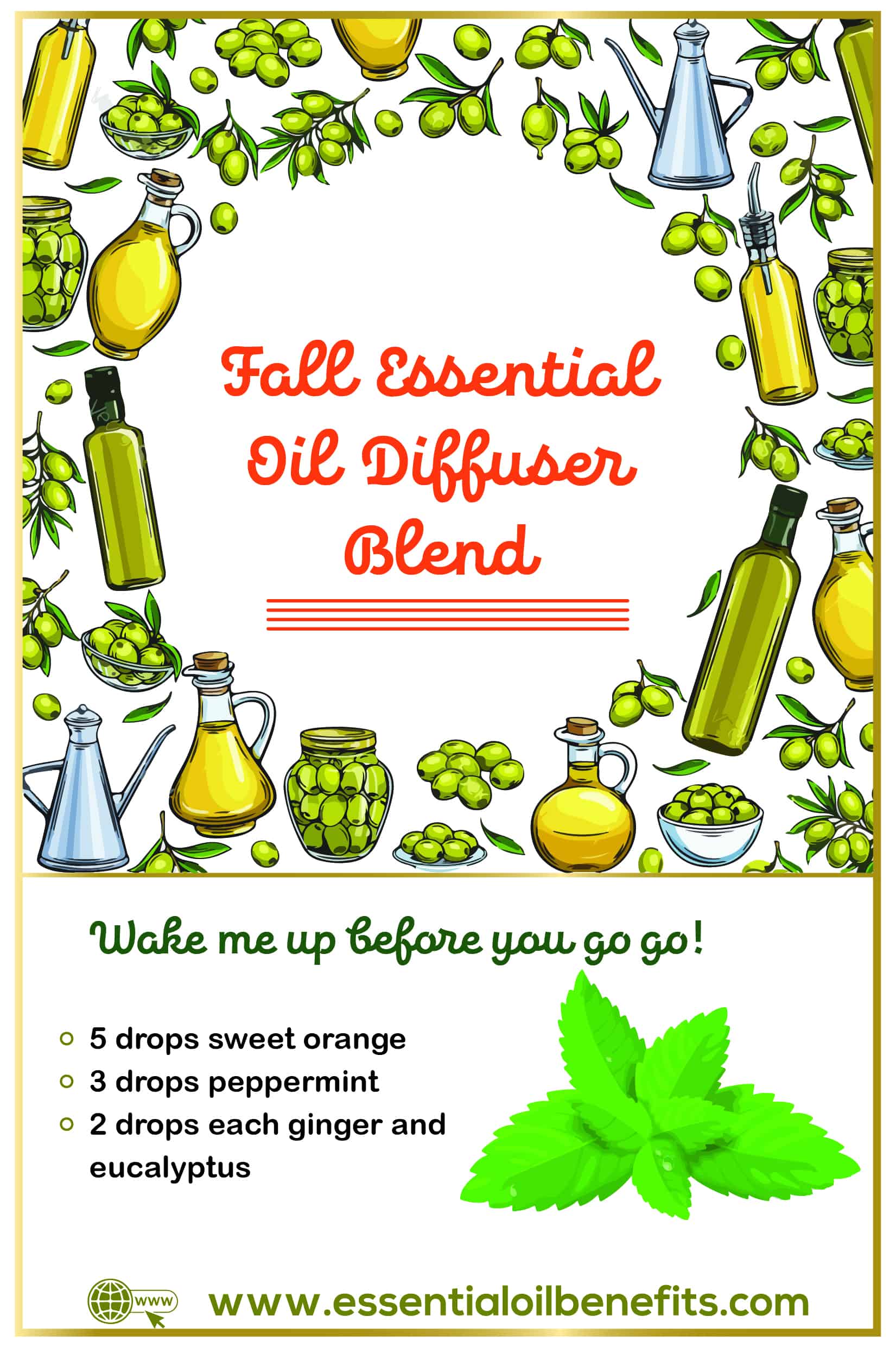 5 drops sweet orange
3 drops peppermint
2 drops each ginger and eucalyptus
9. Fall fresh forever!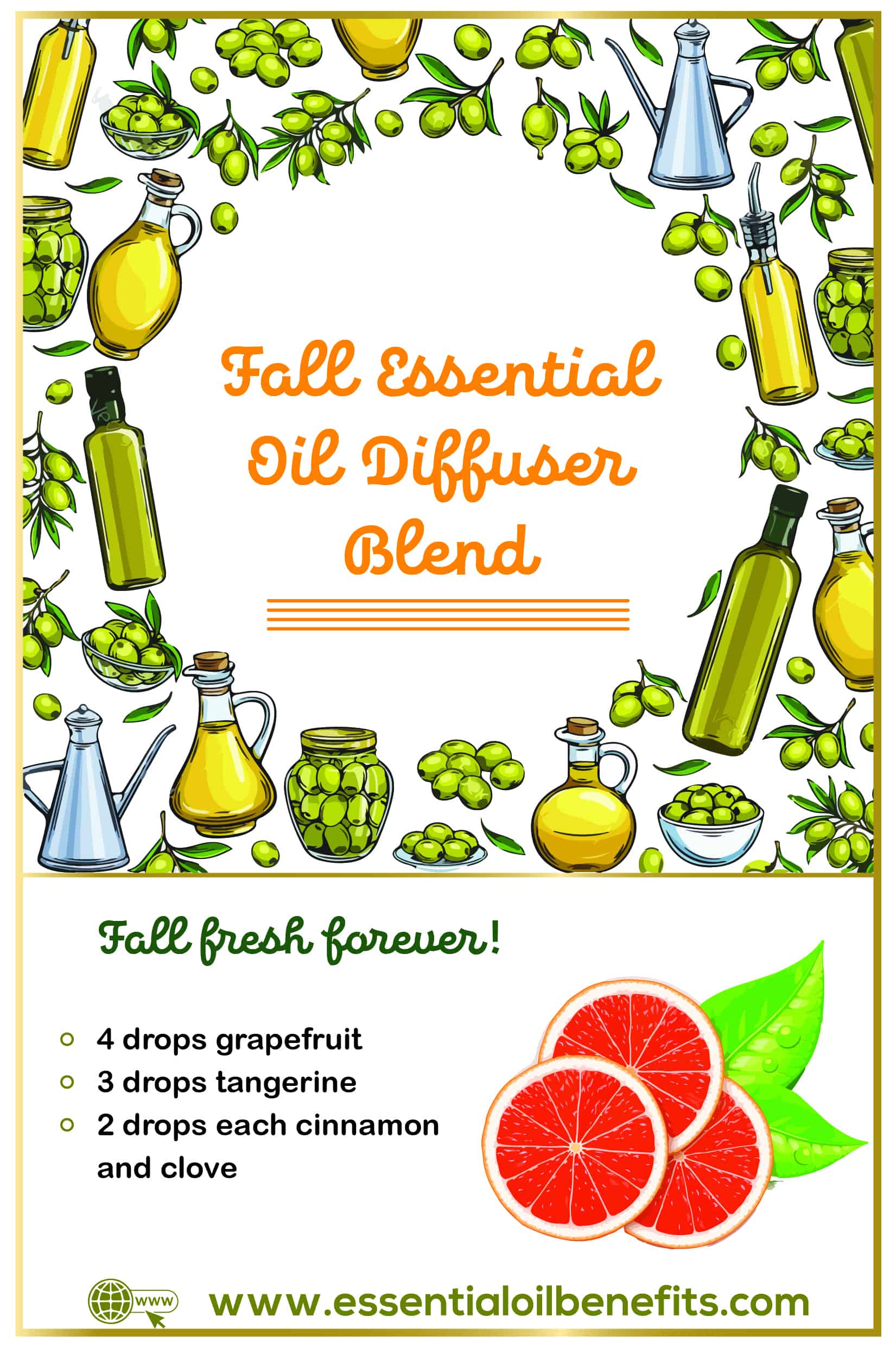 4 drops grapefruit
3 drops tangerine
2 drops each cinnamon and clove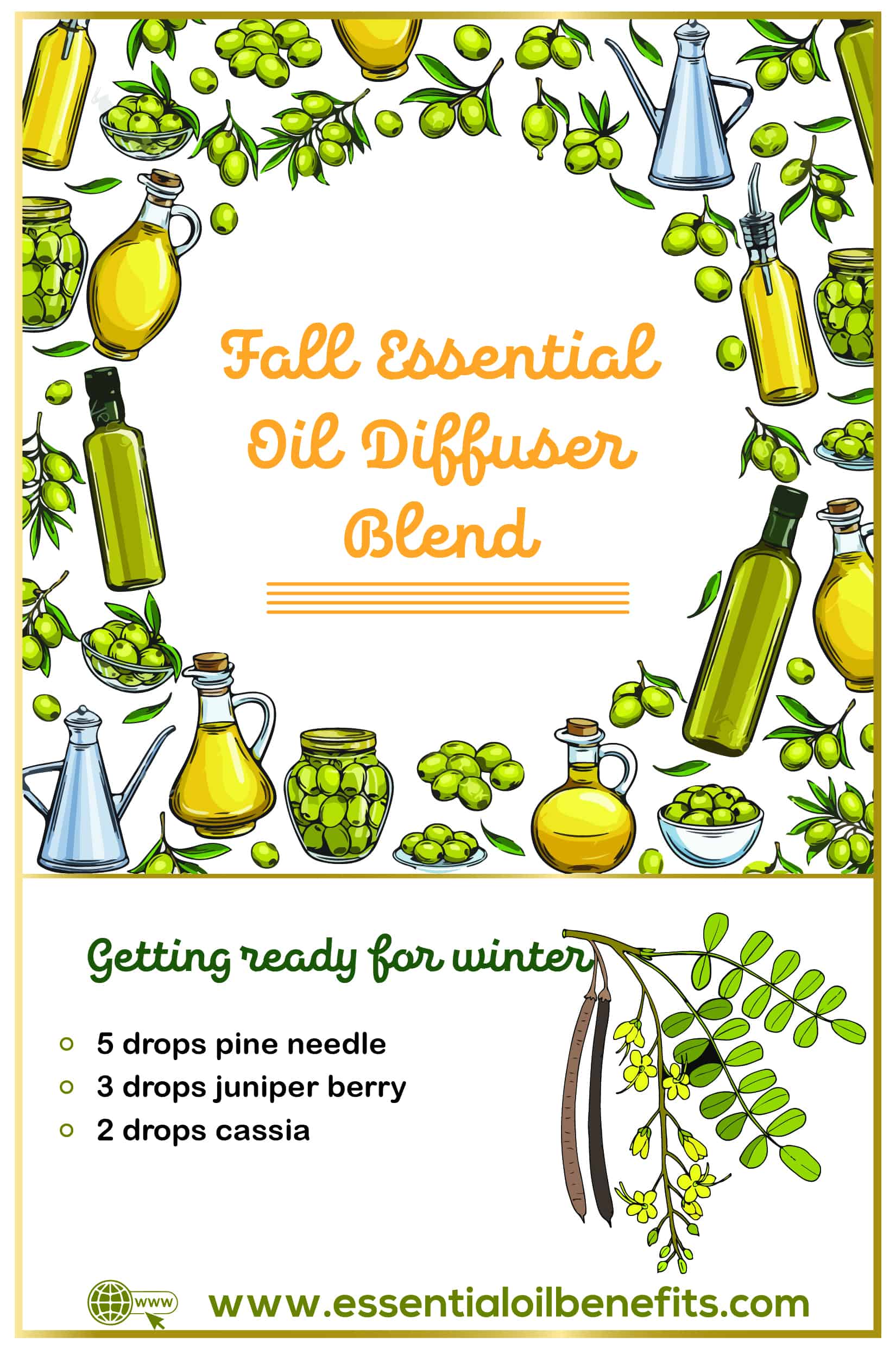 5 drops pine needle
3 drops juniper berry
2 drops cassia
11. Cider for all!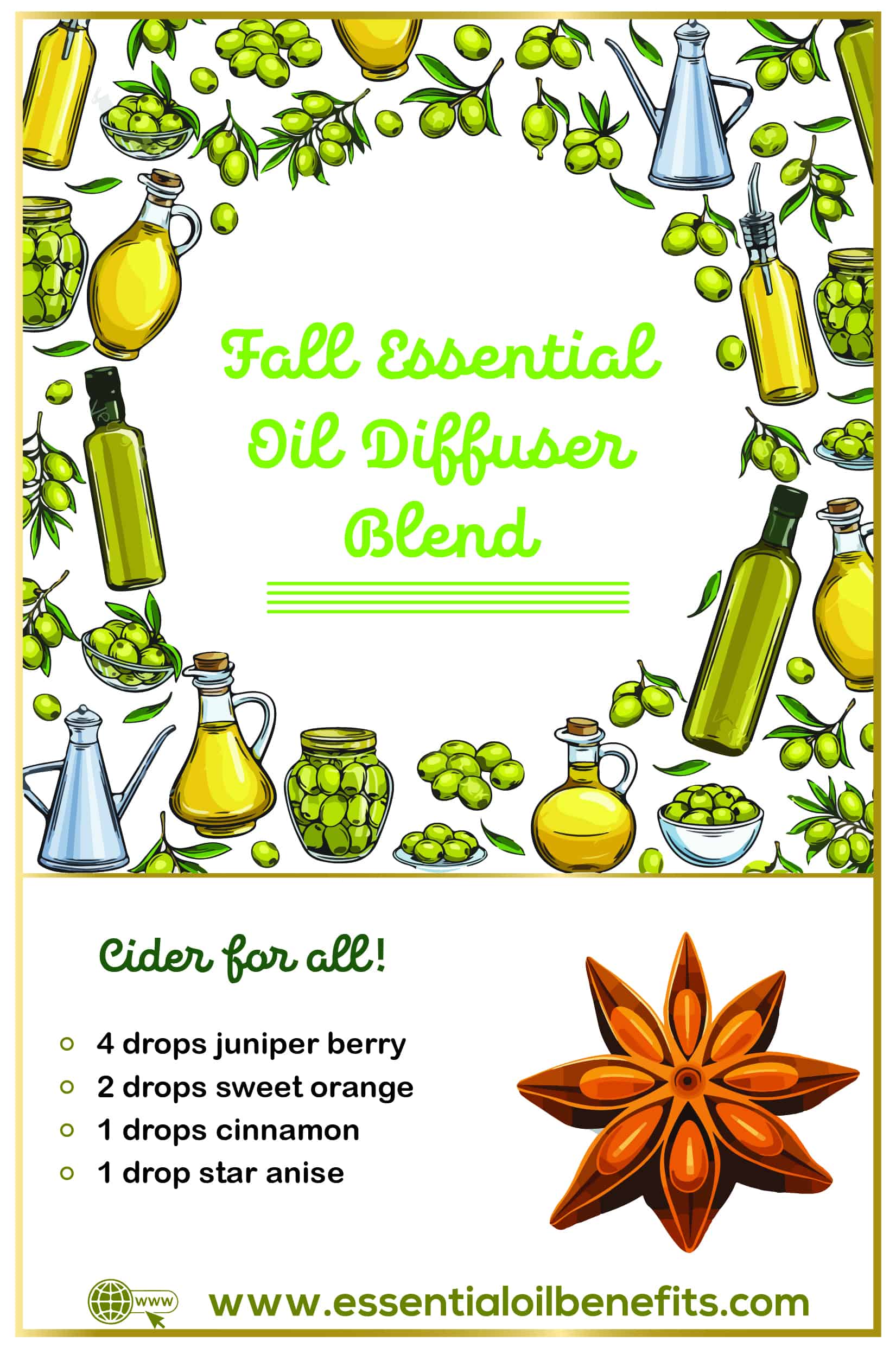 4 drops juniper berry
2 drops sweet orange
1 drops cinnamon
1 drop star anise
12. The gingerbread house!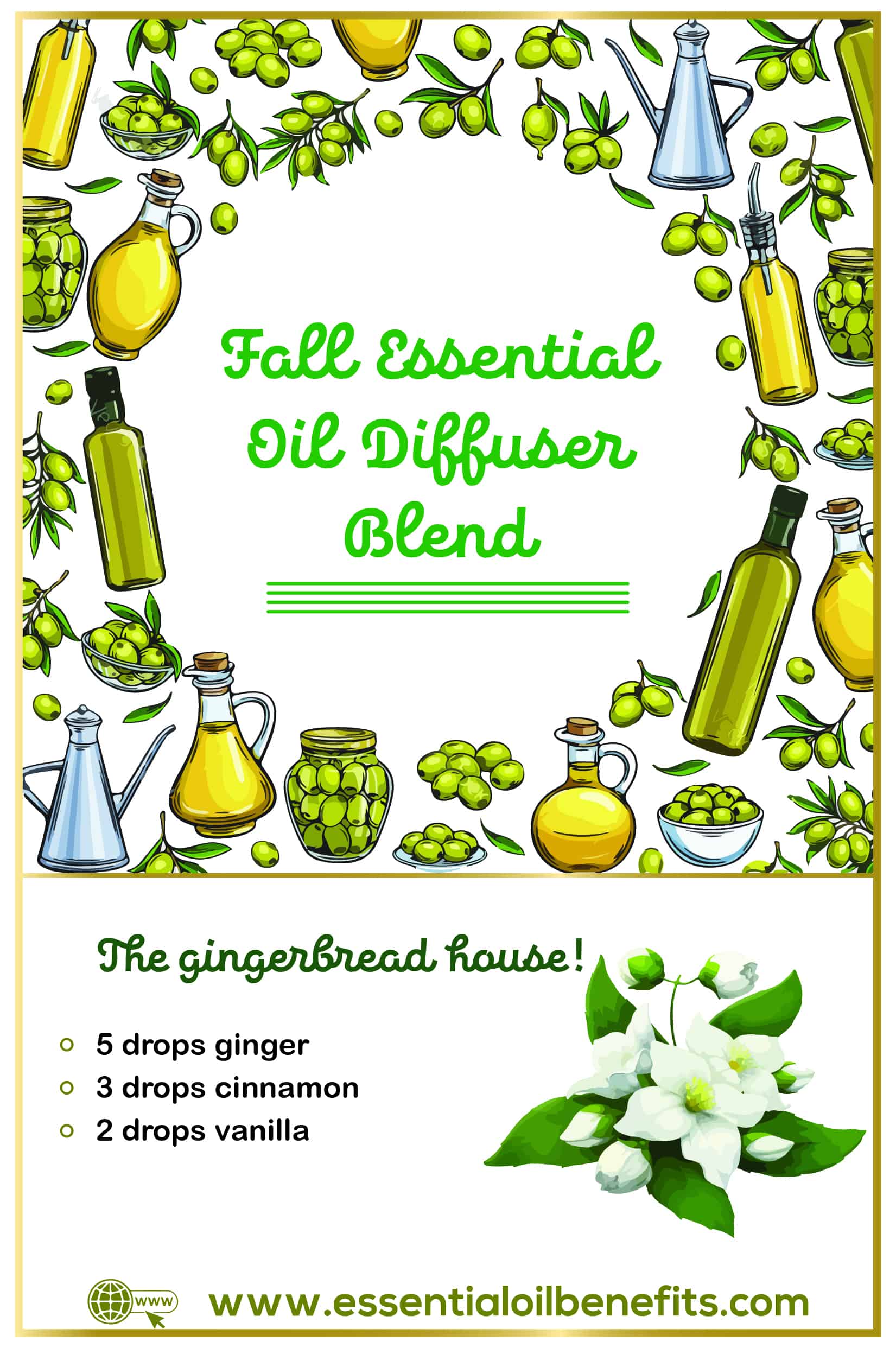 5 drops ginger
3 drops cinnamon
2 drops vanilla
13. Welcome autumn!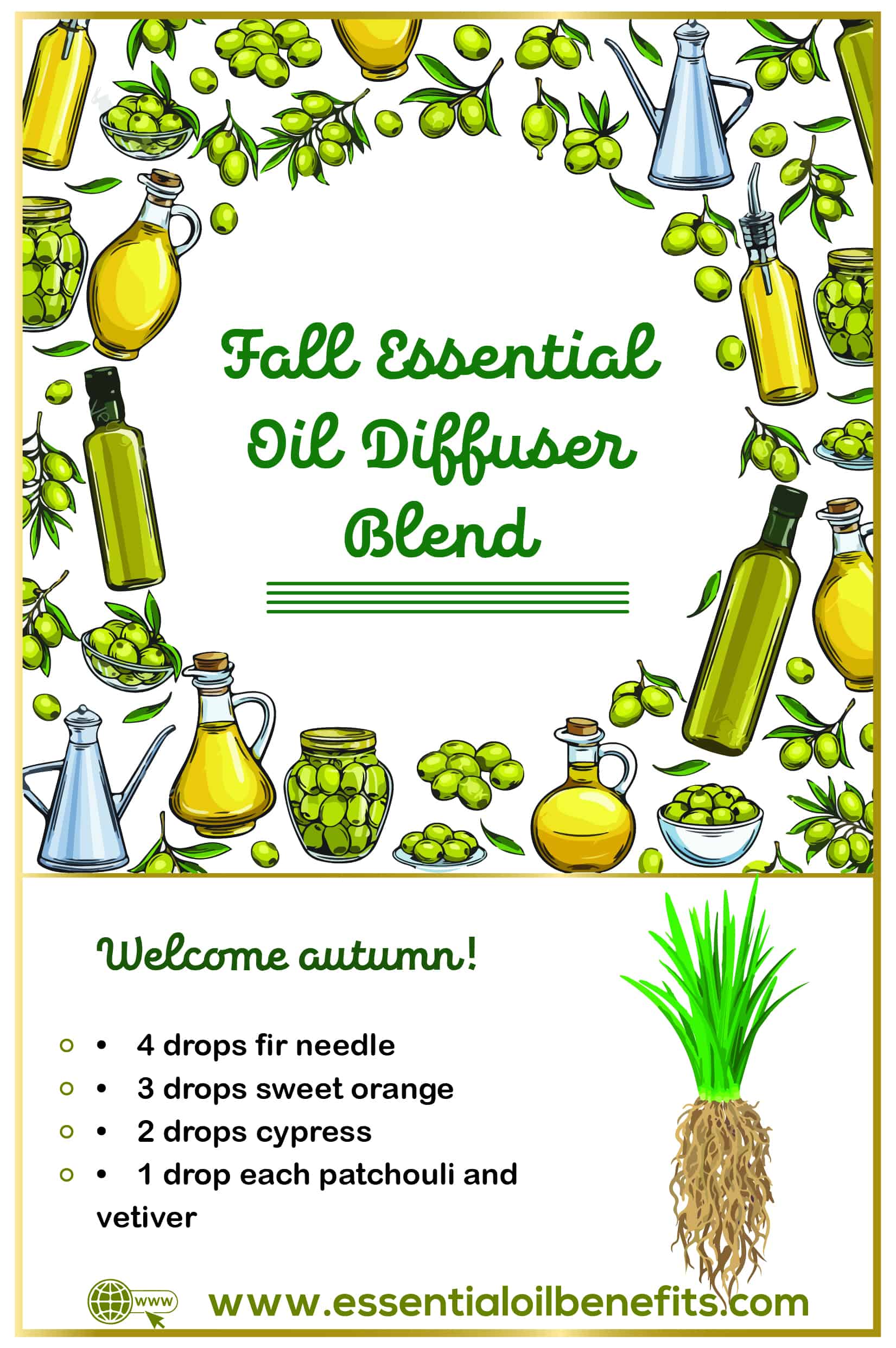 4 drops fir needle
3 drops sweet orange
2 drops cypress
1 drop each patchouli and vetiver
14. The autumn wreath!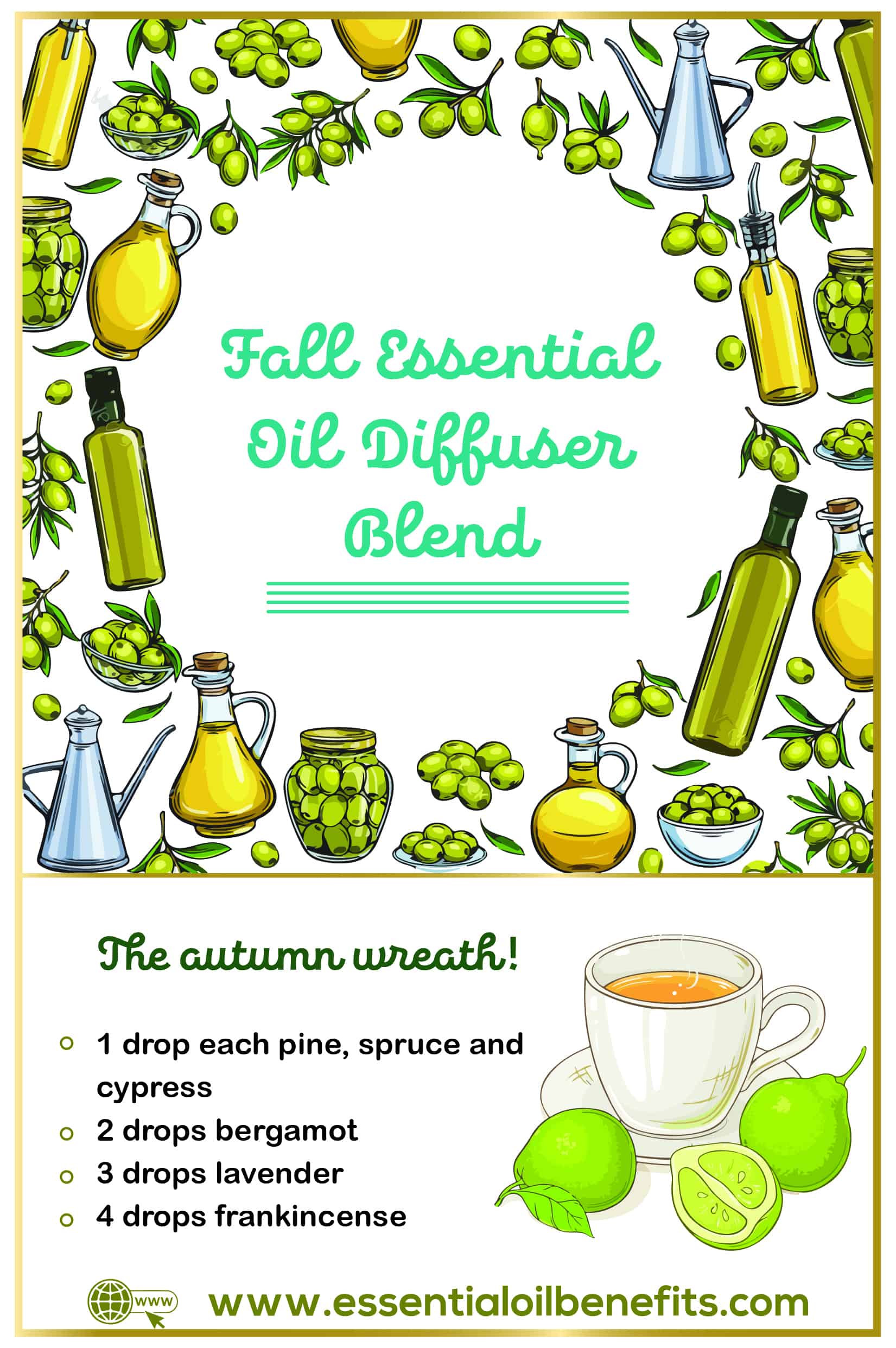 1 drop each pine, spruce and cypress
2 drops bergamot
3 drops lavender
4 drops frankincense
15. Woody all the way!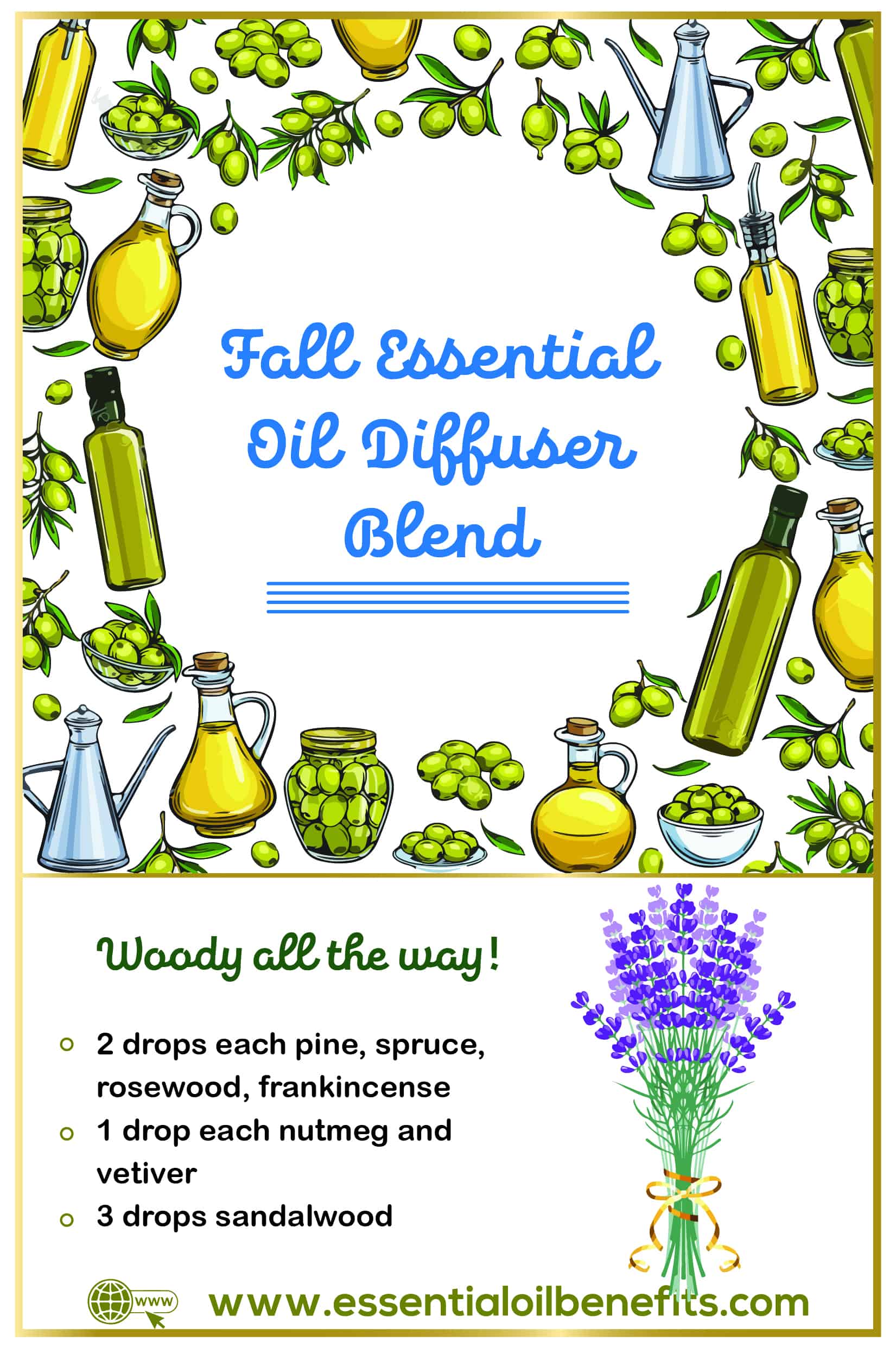 2 drops each pine, spruce, rosewood, frankincense
1 drop each nutmeg and vetiver
3 drops sandalwood
16. The leaves of autumn!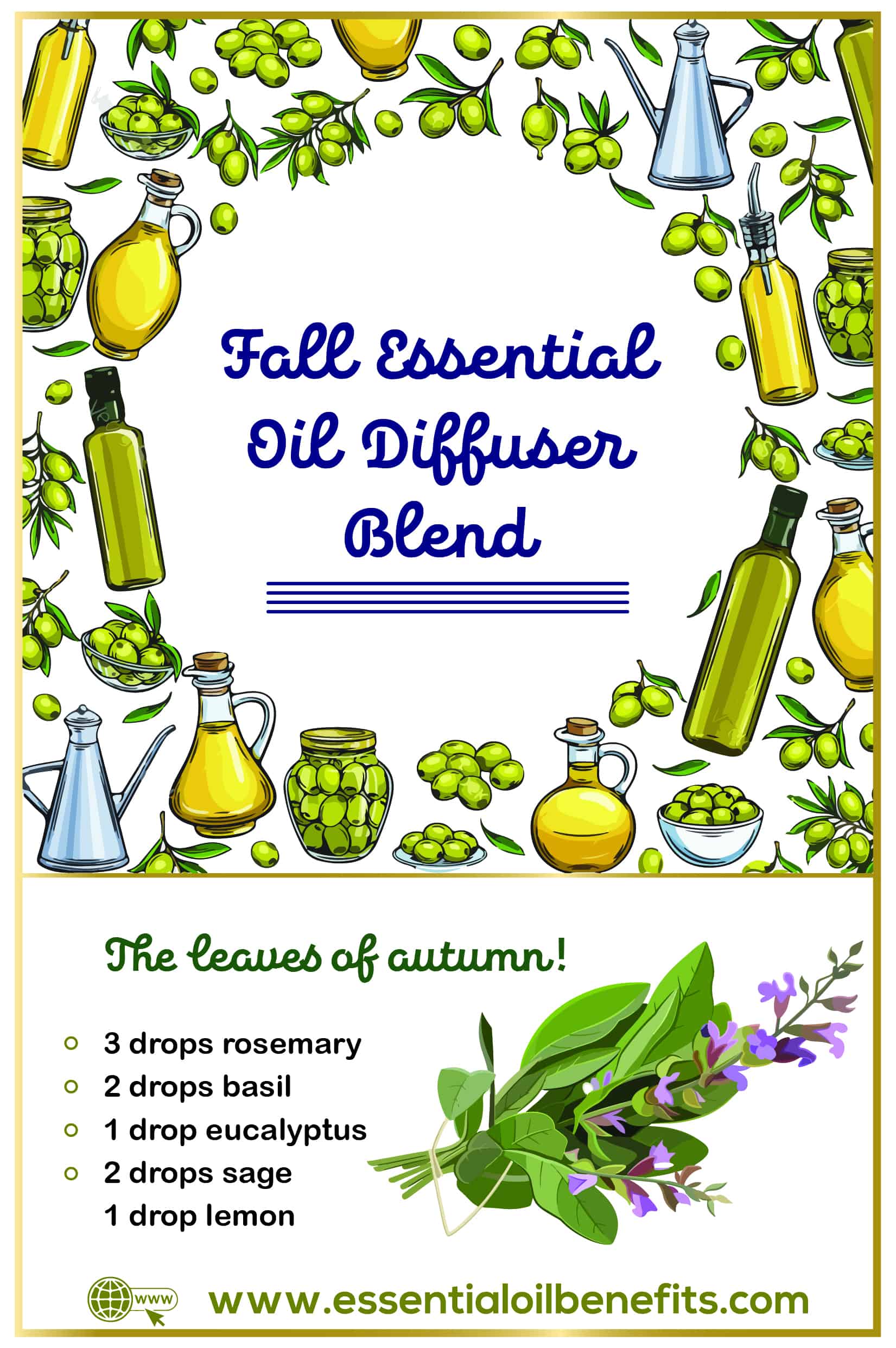 3 drops rosemary
2 drops basil
1 drop eucalyptus
2 drops sage
1 drop lemon
17. Florally yours!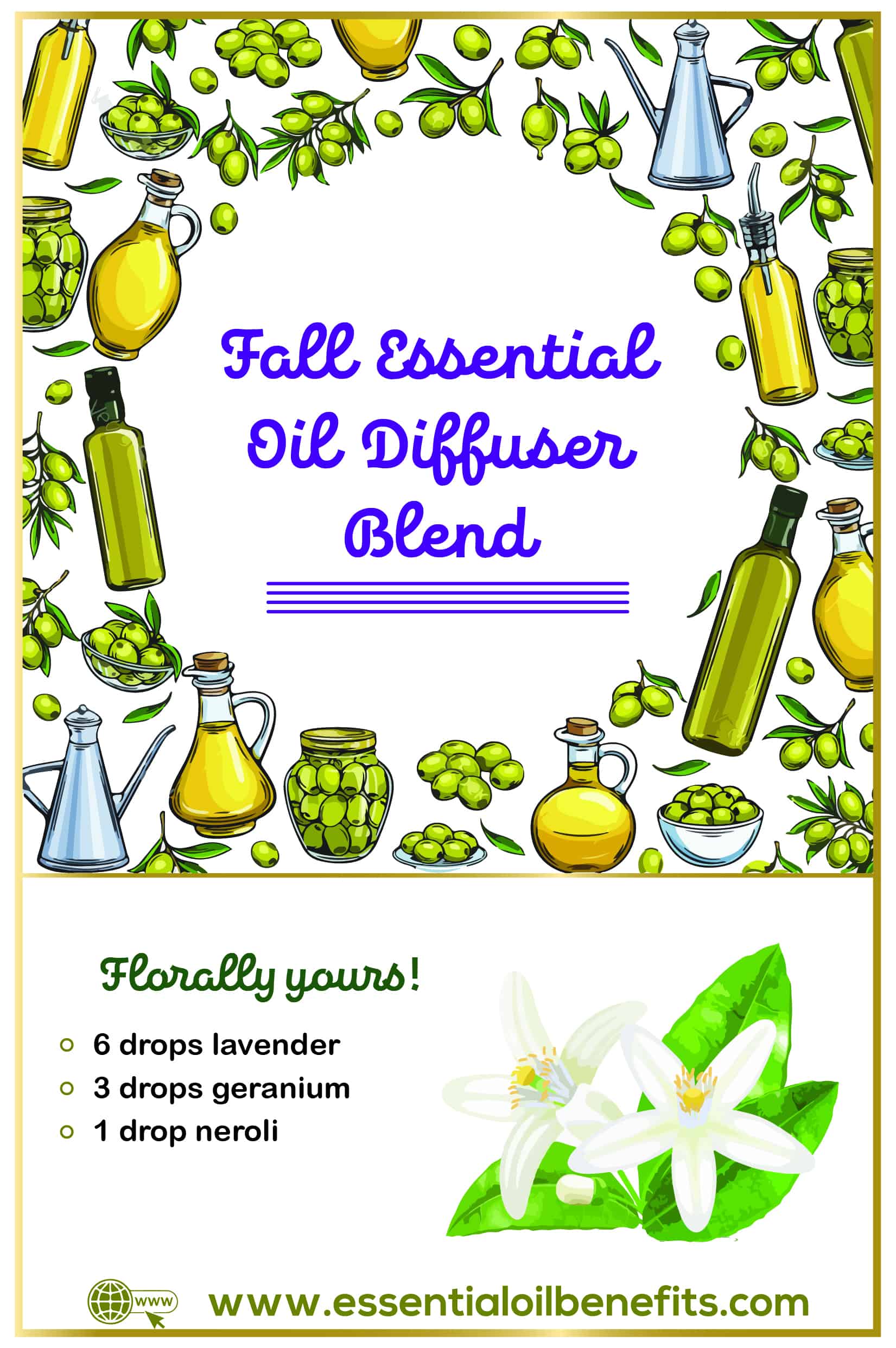 6 drops lavender
3 drops geranium
1 drop neroli
18. Refreshing autumn!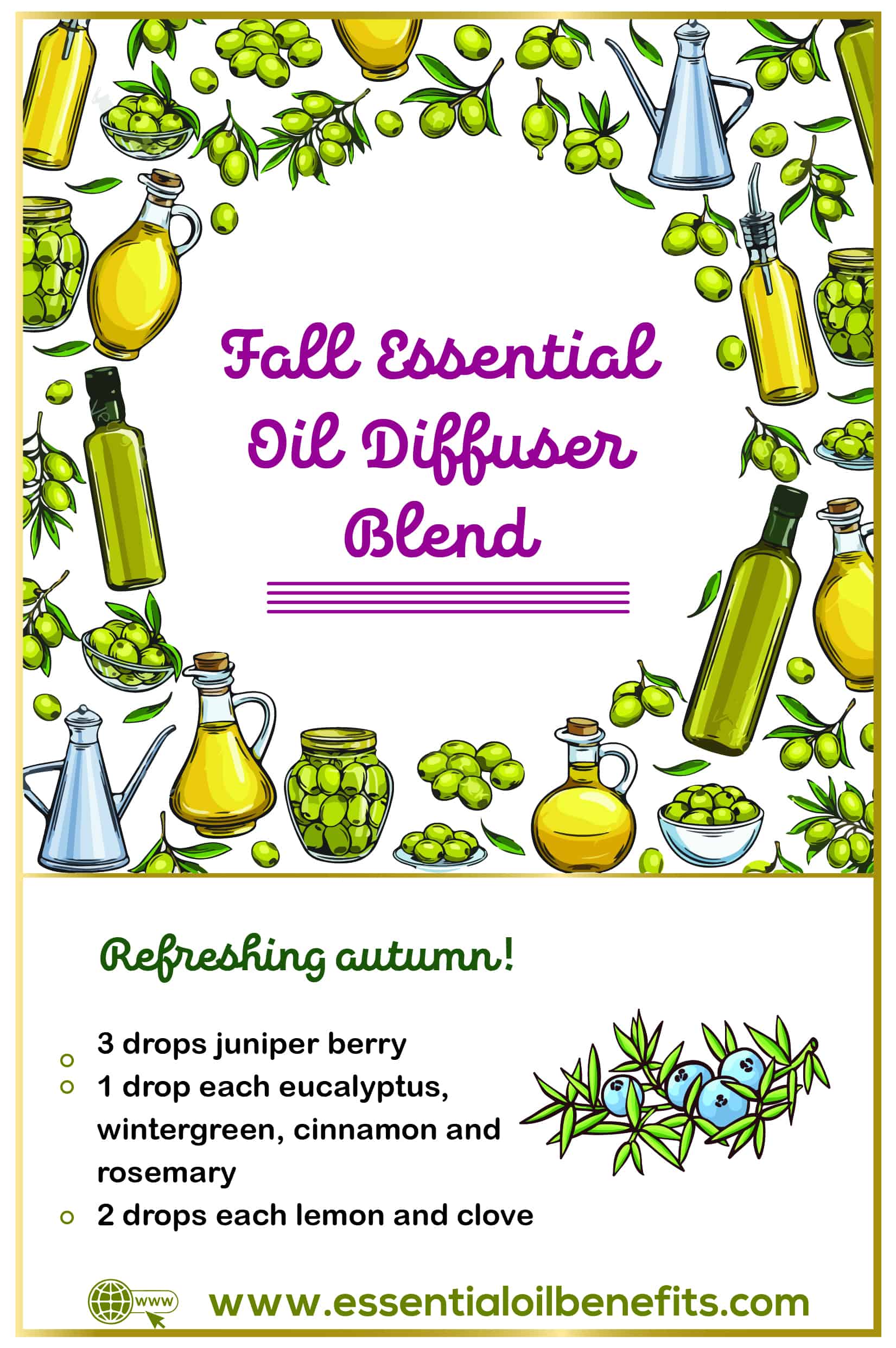 3 drops juniper berry
1 drop each eucalyptus, wintergreen, cinnamon and rosemary
2 drops each lemon and clove
19. A crispy autumn morning!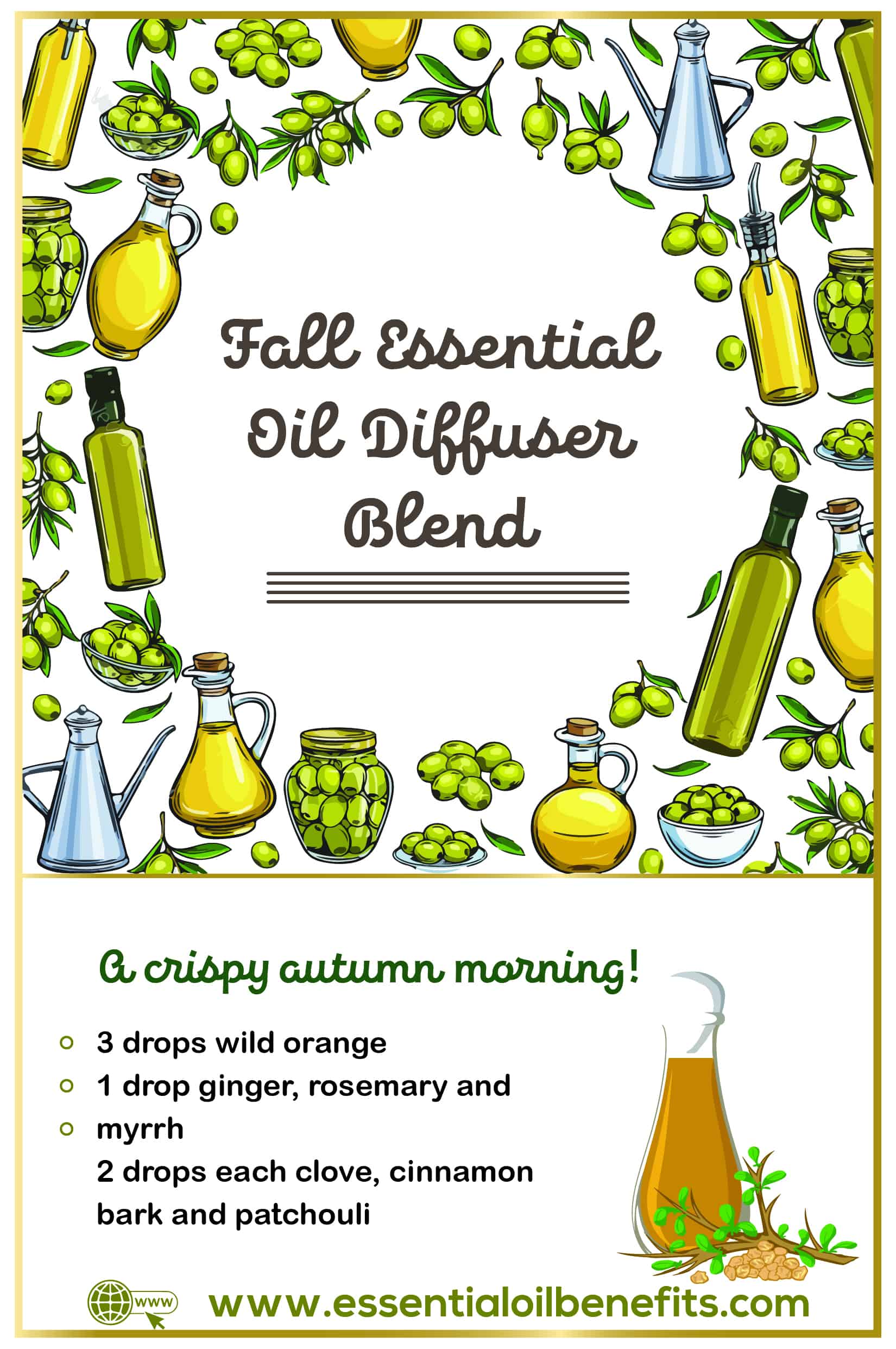 3 drops wild orange
1 drop ginger, rosemary and myrrh
2 drops each clove, cinnamon bark and patchouli
20. Don't let the critters get to you!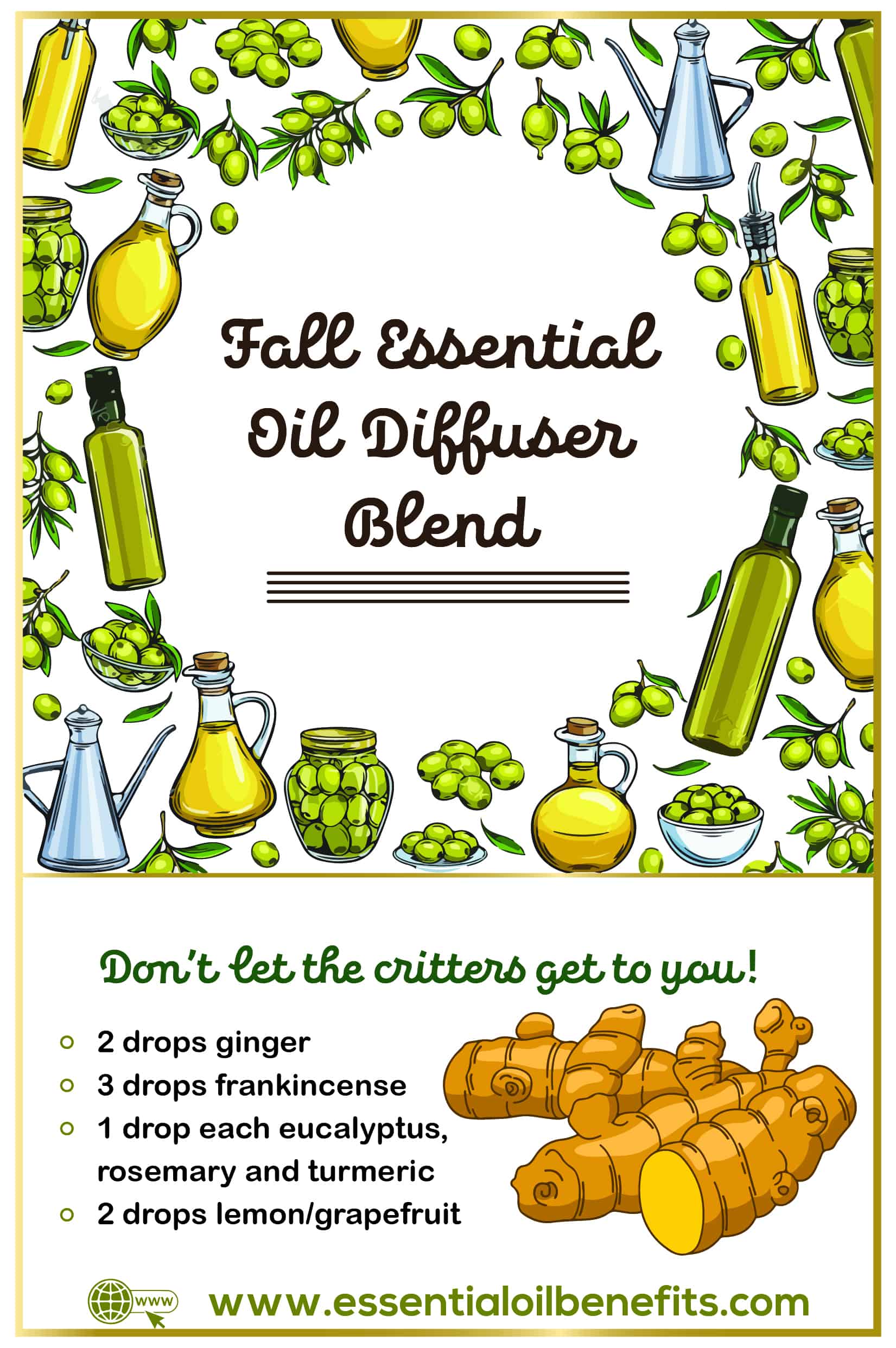 2 drops ginger
3 drops frankincense
1 drop each eucalyptus, rosemary and turmeric
2 drops lemon/grapefruit
Top 5 Essential Oil Blends For Fall Skin And Hair Care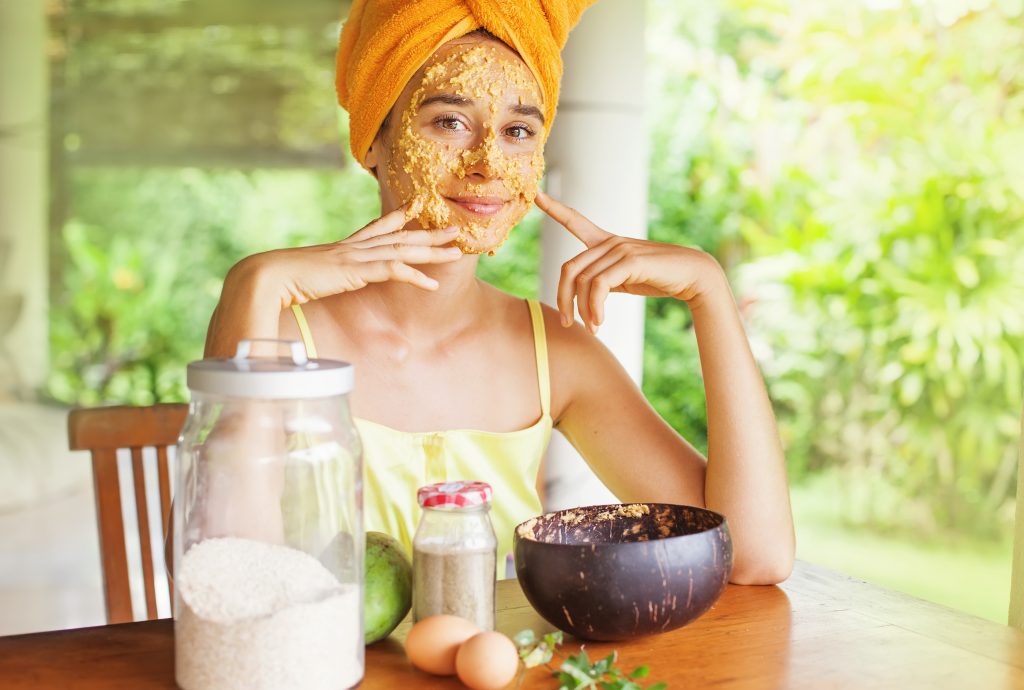 1. Scrub the fatigue away
As the mercury starts plunging, you can expect skin dryness to raise its ugly head. If you want to combat the flakiness and keep cellular turnover at an optimal rate, you have to give your skin a good scrub at least once a week.
Here is a super effective oil based exfoliator that will slough off the dead cells and pamper your skin, while at it. You will need:
1 cup orange peel powder
¼ tsp cinnamon powder
1 ½ cup sesame seed oil or extra virgin olive oil
2 drops ginger
10 drops frankincense
5 drops vetiver
Method
Mix the ingredients and store in a glass bottle. Do not introduce water/moisture into the mixture. So, use clean and dry spoons to make the exfoliator and even when you subsequently use it. You should not need more than a teaspoon of the mixture for each use.
Apply on your face like any lotion or cream but massage it gently, with very little downward pressure, for about 5 minutes. Use upwards strokes and do not use on the skin around the eyes but do apply it on the neck and the décolleté.
Wash your face with warm water (not hot, just tepid); don't use soap. Pat your skin dry and follow with a moisturizer if you have dry skin.
2. Prepare your skin for the fall festivities with this moisturizer
This is a particularly soothing and nourishing moisturizer that can stop the dry and chilly autumn winds from taking a toll on your skin. You can use this one on its own or layer it on top of your skin serum. You will need:
15 ml sesame seed oil
15 ml pomegranate/pumpkin seed oil (these oils can do wonders for your skin in autumn and winter but if you can't find them substitute with jojoba/coconut)
2 caps vitamin E
5 drops each cypress and sandalwood
8 drops frankincense
2 drops ginger
6 drops lavender/geranium
Method
Mix the oils together in a glass bowl. Puncture/cut the vitamin E caps and pour their contents into the oil mixture. Whisk gently and transfer the contents into a dark colored glass bottle. Apply 2-4 drops all over the face and neck as you would any day time moisturizer. You can use it in combination with the exfoliator given above or with any other cleanser/serum.
3. Night wear oil for glowing autumn skin
Worried about the chilly weather leaving your skin dry and sallow? Well, this night-time skin pampering oil will make sure that your skin gets all the TLC and the nourishment it needs to look its best. You will need:
15 ml rosehip seed oil
15 ml argan oil
8 drops vetiver
5 drops orange
3 drops each fennel and rosemary
Method
Mix the oils together and store in an amber glass bottle. Use after cleansing and toning (if done). Massage a few drops of this decadent oil with upward strokes. Wipe off excess from the skin around the eyes by using some damp cotton wool.
4. Body butter for autumn-proof skin
1 cup kokum butter (shredded and packed tight into the cup)
½ cup sesame seed/pumpkin seed/macadamia nut oil
10 drops cinnamon leaf
4 drops each ginger and clove
5 drops frankincense and cardamom
Method
Melt the butter using a double boiler and when it is in a liquid state, pour the carrier oil in it and whisk well. Take the oil mixture off the stove and quickly stir in the essential oils. Mix well using a spoon or a glass stirrer. Allow the mixture to cool till hazy, then use a hand held or a counter top mixer to whisk the mixture for about 2-3 minutes.
Then, place the blend in the refrigerator till it is almost hard (about 20 minutes should get you there). Whisk again using the blender till you get a smooth, light and fluffy butter. Remove into a glass jar and use as you would any other body butter/cream.
5. Lip balm for fall
½ cup cocoa butter
2 tbsp sesame seed or sweet almond oil
5 drops orange
1 drop each clove and cinnamon leaf
5 drops peppermint (optional)
½ tsp beetroot powder (optional)
Method
Preparation and storage as above. If you like, you can pour the mixture into silicone lipstick molds or store it in refillable lip gloss tubes. The consistency of this mixture, once it cools to room temperature, will be just like that of a regular lipstick or petroleum jelly based chapstick/lipbalm.
If, you'd want it to be a bit softer, increase the amount of sesame/sweet almond oil in the formula to ¼ cup and bring down the quantity of cocoa butter to ¼ cup. The beetroot powder is only used for color and can be left out if you are not looking for a tinted balm.
Top 5 Essential Oil Recipes For Autumn Health Care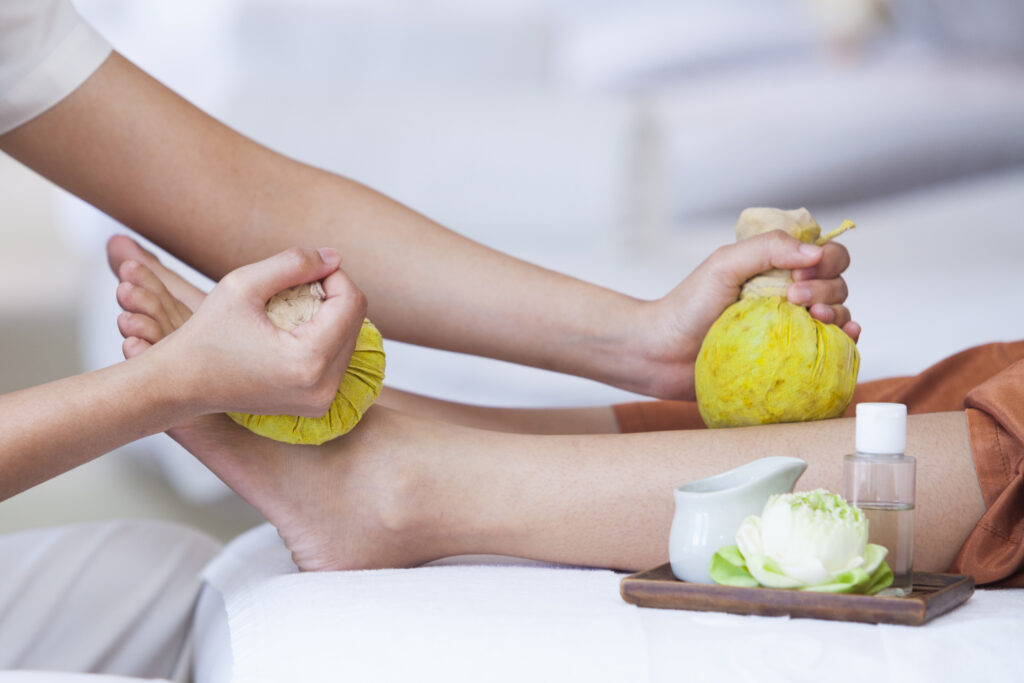 1. A pain relieving bath for those weary muscles
If all that cooking and partying has left you with sore muscles, here is a warming bath recipe that will wash the soreness right off. You will need:
1 cup Epsom salt
½ cup sea salt/ Himalayan pink salt
25 drops frankincense
5 drops cinnamon
3 drops each clove and nutmeg
1 tbsp light carrier oil (to be used when drawing the bath)
Method
Mix the essential oils and store in a dark glass bottle, away from direct exposure to heat and moisture. To use, start by pouring the salts into a half-filled bath tub. This way, by the time you have just the right level of water going, the salts will have melted, instead of lingering at the bottom of the tub.
Then, mix 4 drops of the essential oil mixture with a teaspoon of carrier oil and add this to the bathtub filled with hot water. Agitate the surface of the water till the oil blend disperses into tiny bubbles. Soak yourself in the bath for a good 15- 20 minutes, and feel the fatigue and the soreness being washed away from those weary muscles.
2. Keep sniffles away inhaler recipe
As temperatures start their free fall in preparation for winter, sniffles start walking into our lives uninvited and unhindered. So, before a choked up nose threatens your Thanksgiving, send the sniffles packing with this recipe. You will need:
5 drops rosemary
5 drops turmeric
2 drops clove
7 drops eucalyptus
Method
Mix the oils and pour into a glass plate. Remove the wick from an essential oil inhaler and soak it with the oil blend. Then, insert it into the inhaler casing and close the casing with the lid and the cover. Use at the first sign of a stuffy nose or sniffles or even after that one ominous sneeze.
Personally, I like to keep this inhaler with me to stop a sniffles-attack in its tracks. But, this blend also works well for steam inhalations. Simply add a few drops of the oil mixture to a bowl filled with near-boiling water. For best results, dissolve some salt into the hot water first.
3. Headache go away roll-on
Fall stands for both a lot of fun and a lot of hard work. After all, it can be quite stressful to host that perfect party and it sure does take a lot of work to entertain a house full of guests. If all that running around leaves you with a pounding headache, this blend will come to your rescue. This is what you will need:
2 tbsp light carrier oil
2 drops each nutmeg and clove
5 drops eucalyptus
3 drops Wintergreen
Method
Mix the oils together and transfer the blend into a small roll-on bottle. Use on the temples and the forehead to stop a nasty headache from bringing you down.
4. Warming foot rub cream
Whether you are cooking, cleaning, decking up the homestead for autumn or getting a head start on festive shopping, your feet are bound to bear the brunt of all that excitement. So, at the end of the day, give them some much-needed and well-earned pampering with this foot rub cream. You will need:
2 heaped tbsp virgin coconut oil (should get you about 15-20 ml when melted)
3 drops black pepper
4 drops Frankincense
2 drops white fir
1 drop nutmeg
Method
Remove coconut oil into a bowl and place it into a hot water bath. Simply placing the bowl in a larger bowl that contains an inch of boiling hot water should do. Whisk the oil gently and it will melt. Once it is in a liquid state, remove the bowl from the hot water.
Add the essential oils to the liquefied coconut oil. Mix well and remove into a jar while it is still in a liquid state. Keep the jar open so that the oil mixture cools to room temperature.
To use, massage your feet for a few minutes with the cream and then put on a pair of socks for extra warmth and to trap the soothing heat inside. The combination of these oils helps with the pain and soreness and also boosts circulation.
5. Soothing vapor rub- a must-have fall special
Undoubtedly, autumn brings along the prospect of a lot of fun and positivity. But, it's also the season for cough, sore throat, chest congestion and other such trivial ailments.
These can not only be spoil-sports but also carry the risk of turning into something more severe like a respiratory infection, if not controlled in time. Fortunately, with this simple vapor rub, you can stop such trivial health issues from taking a turn for the worst. This is what you will need:
3 tbsp virgin coconut oil or shea butter
3 drops each rosemary and lavender
4 drops each eucalyptus and peppermint
2 drops clove
Method
Once again, I am using a soft butter/oil that is in a solid state at room temperature but quickly melts when applied on the skin. Preparation and storage as above. Use this vapor rub as you would any store-bought product. Apply, a small amount on the chest, the neck and the back for quick relief from soreness and irritation and the sleepless nights they cause.