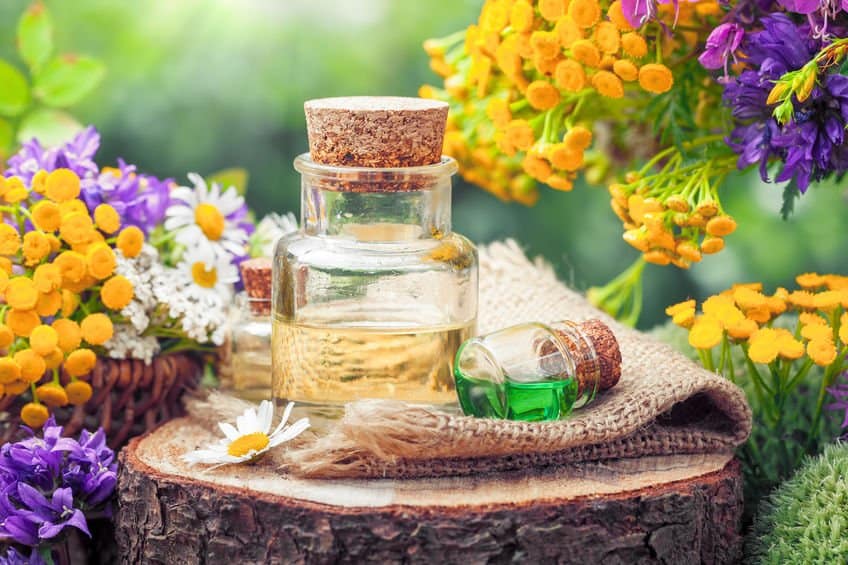 At this point, nearly 10% of Americans suffer from sciatica pain, but researchers estimate that in the near future more than 40% of the adult population of the country will be afflicted by this condition. A leading cause of lower back pain, sciatica is more prevalent in the age group of 30 to 50 years and hits around middle age.
Even though the pain may have a sudden onset, the condition itself is not always a result of an injury or a specific event. In fact, sciatica usually develops over time and is often the result of another health issue. Sciatica pain can vary from constant, dull and irritating to shooting, sharp and debilitating. However, regardless of the intensity of the pain, in the majority of cases, sciatica responds well to non-surgical treatments.
What Is Sciatica?
Sciatica pain is a result of the irritation of the sciatic nerve, which is the largest and one of the thickest single nerves in the human body. It extends from the lumbar spine all the way down to your feet. So, if this nerve gets inflamed or irritated for some reason, the pain is not just restricted to the lower back, but can also cause pain in the feet.
In fact, this is one of the hallmarks of sciatica pain. It starts as an ache in the lower back but radiates down to the buttocks and into one or both legs. Most people who suffer from sciatica claim that the leg pain is worse and often more intense and debilitating than the back pain.
Sciatica is not an ailment in itself, but rather a symptom of an underlying problem. The sciatic nerve can get inflamed when stressed or pinched. This can happen if you have a desk job that entails long hours of sitting in your chair, because of obesity or due to a sedentary lifestyle.
An injury or fall that impacts the lumbar spine can also be the cause of sciatica. But, sciatic pain is usually a result of a herniated lumbar disc, spinal stenosis, a degenerative disease of the disc or spondylolisthesis. Although it is rare for the condition to cause permanent damage to the sciatic nerve or the spinal cord, at its worse, the pain can be debilitating.
Is That Back Ache Sciatica Pain?
The symptoms of sciatica pain include:
Dull pain in the lower back that radiates to the buttocks and legs.
Persistent pain in one buttock and leg.
Throbbing pain in one leg that travels down the buttock into the thigh and reaches down to the knee or the feet.
Leg pain often felt as a burning sensation.
Cramps and numbing in one leg.
Weakness and mobility issues in the affected leg.
Pain intensifies when seated.
Pain is felt along the entire length of one leg, including in the foot and the toes (does not occur only in the foot).
Difficulty in standing up and walking.
Changes in the gait due to mobility problems caused by the pain.
If you have more than one of these symptoms, you are in all likelihood suffering from sciatica.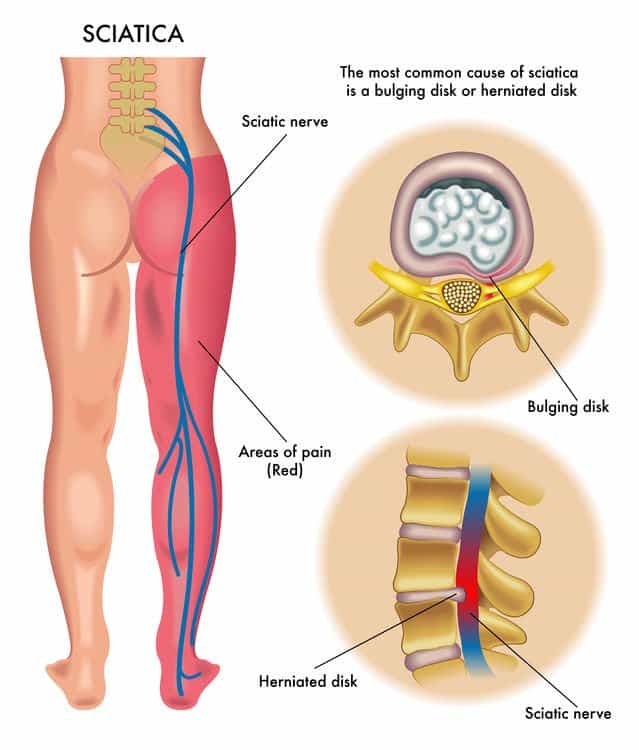 What You Absolutely Must Know About Sciatica Pain?
In most cases, sciatica pain gets resolved in a few weeks or months with conservative treatment initiatives such as physiotherapy, massage and exercise. However, if you are experiencing other symptoms along with the lower back and leg pain, you need to see a doctor at once. Particularly if the other symptoms include:
Fever and chills
Numbness in the genital area
Loss of appetite
Bladder or bowel dysfunction
How Can Essential Oils Help You Fight The Pain?
Since sciatica involves nerve inflammation and constant pain, essential oils are often more effective against the condition than even OTC painkillers, which only offer short term reprieve. Essential oils not only soothe the affected area but also help to bring down muscle pain and inflammation and numb the irritated nerves. In addition, these aromatic compounds help in controlling the anxiety and depression that often result from chronic pain.
What Are The 7 Best Essential Oils For Sciatica Nerve Pain?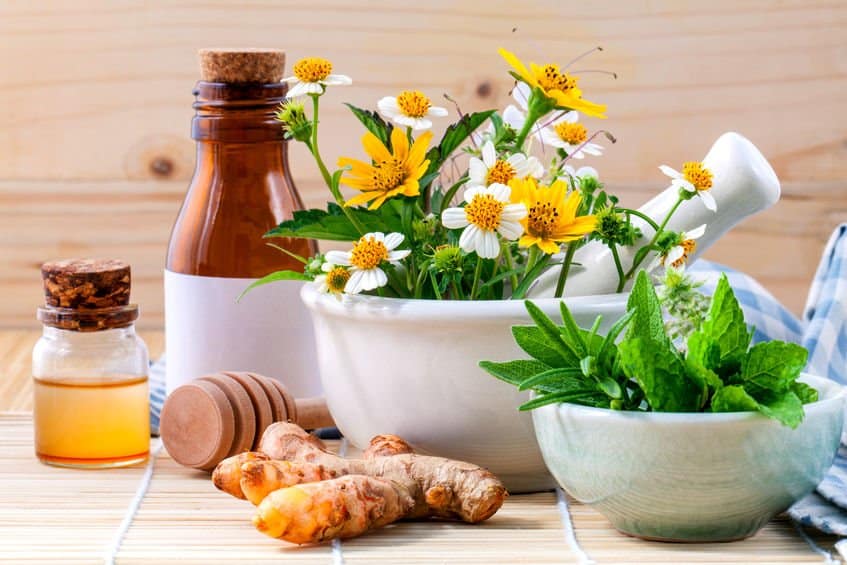 1. Ginger
Although it is frequently used as a digestive aid, few know that the soothing, warming properties of ginger essential oil can also be leveraged to treat sciatica pain. The oil extracted from fresh ginger rhizomes is a rich source of a phytocompound called Zingibain, which is an extremely potent anti-inflammatory agent. Moreover, ginger essential oil is also a mild analgesic that soothes muscle, joint and nerve pain.
2. Peppermint
This cooling oil is well known for its anaesthetic and anti-inflammatory properties and is often used in pain relief blends. When used to treat sciatica, the cooling effect of peppermint not only helps to calm the irritated nerve but also prevents painful muscle spasms that may further pinch the nerve.
3. Wintergreen
An extremely strong natural pain killer, wintergreen essential oil with its antispasmodic, analgesic and anti-arthritic properties acts as a counter irritant when used topically. It over stimulates the nerves, making them run out of pain transmitting neurochemicals. Additionally, wintergreen oil also has notable anti-inflammatory effects on nerves, muscles and joints. Moreover, the oil works as a mild sedative, so it helps to calm both the body and the mind.
4. Marjoram
This aromatic smelling oil rarely figures in pain blends, although it certainly should owing to its killer anti-inflammatory properties. Because sciatica pain persists till the nerves remain inflamed, marjoram yields unexpectedly positive and rapid results against the condition since it quickly brings the inflammation under control.
5. Birch (white or silver birch)
This detoxifying oil contains a significant amount of methyl salicylate and salicylic acid of which the latter is a known NSAID. Methyl salicylate or menthol has significant pain relieving properties; plus, the cooling effect of white birch oil helps to lower the release of pro inflammatory chemicals in the body.
6. Clove
This antispasmodic, anti-inflammatory and antiseptic oil not only decreases the intensity of muscle cramps and pain but also help to increase blood circulation to the sore area. In turn, this aids in the faster removal of toxins and greater oxygenation of the affected tissue. Clove oil is one of the best and most effective essential oil used in tooth pain related issues.
7. Eucalyptus
Another essential oil that is valued for its anti-inflammatory and soothing effects, eucalyptus has long been used in Ayurveda as a treatment for all nerve related pain.
Is your sciatica pain driving you crazy? Wish you could save time and money and not have to do all the hard work of purchasing each and every one of the above-mentioned essential oils and mixing them up with carrier oils (in the correct ratios) and not sure whether you have a winning formula against sciatica pain?
Well, I have developed my own blend which contains 100% pure essential and carrier oils (no fillers, no additives, none of the bad stuff!). L'orpur pain relief blend has 2 carrier oils, 8 essential oils (loaded with all the goodies!) blended in the right ratio and is extremely effective against pain related issues including sciatica pain.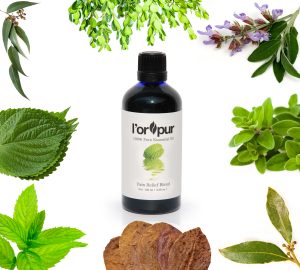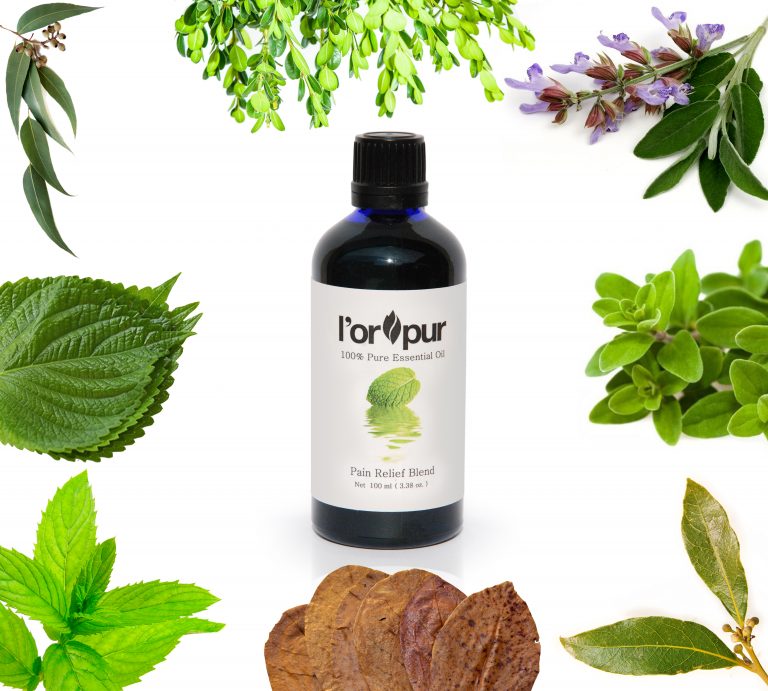 Click Here To Read More About L'orpur Pain Relief Blend
Best Carrier Oils For Sciatica Pain
Use a mixture of moringa, indian ginseng (ashwagandha), calendula and St John's Wort infused oils. All of these herbs act as nerviness (compounds that dull the response of the nerves) when used externally and offer significant relief from any kind of discomfort that is nerve related. Plus, their anti-inflammatory and warming properties help to rein in the pain. These oils can be bought online or you can use dry herbs to make your own blend. Just remember to use 50% castor oil and 50% evening primrose oil as the base to infuse the herbs.
Alternatively, you can use any of the following carrier oils for sciatica pain; sweet almond oil, sesame oil, coconut oil, jojoba oil and hemp seed oil.
7 Best Therapies And Recipes With Essential Oils For Sciatica Pain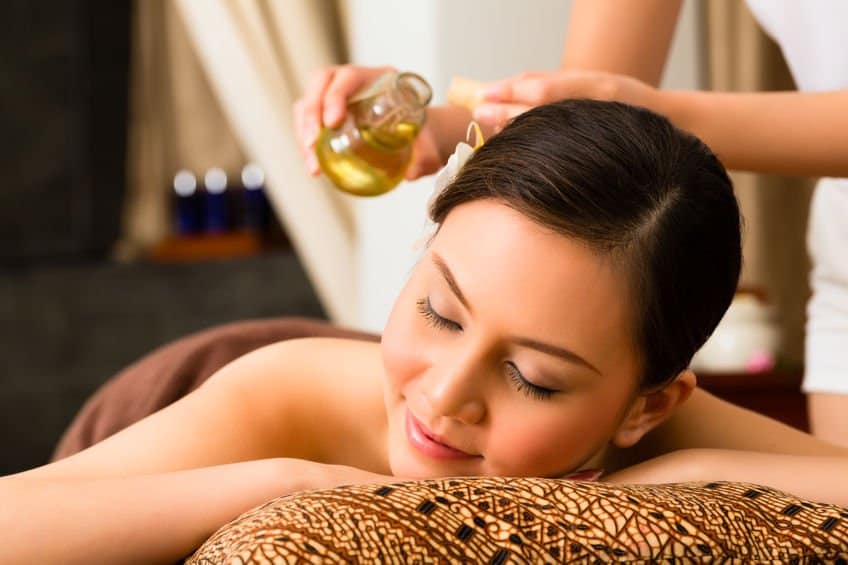 Recipe 1: Soothing massage oil
Ingredients:
Directions:
Mix the oils and store in a roller ball bottle. To use, apply on the back as well as on the sore leg and massage with firm but slow strokes. This blend works well against chronic, sub-acute pain
Recipe 2: Pain relief oil for throbbing and burning pain
Ingredients:
30ml sesame carrier oil
5 drops ginger
5 drops wintergreen
10 drops

peppermint

5 drops lemongrass
Application:
Mix all the ingredients and store in a dark, glass bottle. Apply on affected area, preferably right above the parts of your back, hips and legs through which the sciatic nerve runs. Don't massage vigorously, instead apply the mixture with a gentle hand and let your skin absorb the ingredients. This blend is best used at night as it is very relaxing and may induce drowsiness.
Recipe 3: Cold compress
Ingredients:
Directions:
Mix the oils together and then add them to a large bowl of water filled half way through with ice cubes. Use a hand towel for the therapy. Give the mixture a good whisk; you don't want large droplets of the oil floating on top. Dip the cloth into the bowl of water, squeeze out the excess fluids and then place on the affected areas.
Keep the towel on your skin till it does not feel cold anymore and then repeat the process. Continue cooling the sore area for about 15-20 minutes. This treatment can be used every 4-5 hours if the pain and tenderness is intense. Also, exclusively use a cold compress for 2-3 days (instead of both cold and hot compress) if you have just started experiencing sciatica pain. This will help to rapidly bring down the inflammation.
Recipe 4: Hot compress
Ingredients:
Application:
Mix the oils and add them to a large bowl of hot water. The water should be hot enough for you to feel the heat but it should not burn your skin, so test it on the inside of your wrist first. Dip a hand towel in the oil-water mixture, wring and place on the sore areas of your back and legs. Repeat when the cloth no longer feels hot to touch. A hot compress can be used as a standalone treatment up to 3-4 times a day, but it is best to alternate it with a cold compress.
Recipe 5: Pain buster poultice
Ingredients:
2 tbsp black gram
2 horseradish
5 drops lemongrass
5 drops frankincense
8 drops ginger
Soak the black gram (available at most Asian food stores and a tried and tested ayurvedic treatment for muscle inflammation and nerve pain) in warm water for 2 hour. Then, grind the black gram and horseradish to get a thick paste. Add 2 tbsp of boiling water to this paste and then mix in the essential oils (only add 5 drops of ginger essential oil).
Directions:
Let the mixture stand for a minute and then apply it on a strip of cloth, natural fabrics like cotton will work best for this. Place the paste covered strip/strips on the sore areas of the body, preferably starting at the back and moving down the buttocks and leg.
Alternatively, the paste can also be applied directly on the skin. Before the application of the paste, fill another large bowl with hot water and add 3 drops of ginger essential oil to it. Like you did for the hot compress, dip a hand towel in this water, wring it out tight and place it on top of the paste or strip covered area. Finally, cover with a dry woollen cloth to prevent the soothing warmth from escaping.
You can also use a heating pad on top of hand towel soaked in the ginger oil and water solution. The aim is to heat the poultice covered area for 15- 20 minutes. Once you are done, wash or wipe the paste from your skin using the leftover ginger oil mixed water. This should be done once a day or once in two days. The blend of essential oils and the other ingredients often provides immediate relief, even from severe sciatica pain.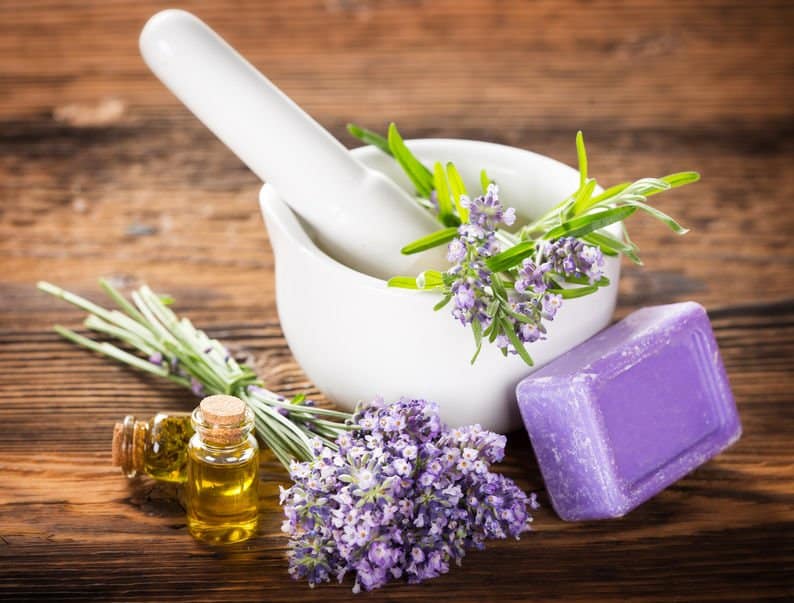 Recipe 6: Relaxing, anti-inflammatory bath soak
Ingredients:
1 tsp carrier oil
4 drops wintergreen oil
8 drops

lavender oil

5 drops marjoram oil
1 cup sea salt or Himalayan pink salt
½ cup Epsom salt
A handful or coriander leaves
Application:
Add the salt and the coriander to a bathtub filled with hot water. Mix the essential oils with the carrier oil and then add this mixture to the bath water; agitate the water vigorously to disperse the oil. Sit back and enjoy the relaxing soak for about 30 minutes. Before you leave the tub, rub any large oil droplets that you see on the surface of the water into the skin on your lower back and thighs.
Recipe 7: Blend to get more from your brace
Using a lumbar sacro brace and a thigh brace can help immensely if you suffer from sciatica. The brace holds the muscles tightly together, preventing movement that may further irritate the nerves. Here is the recipe of a blend that will further enhance the efficacy of your brace. For this, you will need:
Ingredients:
Directions:
Mix the oils and dip some gauze into the mixture and squeeze out the excess oil. Place the gauze strip on the painful area of the back, thigh or knee that you intend to use the brace on. Cover the gauze strip completely with cotton and then wear your brace. Let the gauze stay on your skin for as long as you keep the brace on. Also, use this blend with a band or a brace when doing stretches for sciatica pain.
The Bottom Line
Why choose essential oils over pills? Pills and essential oils work in an entirely different manner. While pills are meant to toxify the body for temporary relief, essential oils work towards detoxifying it so that relief can be obtained naturally. Pills work by confusing the receptor sites while on the other hand essential oils deal with the receptor sites. Essential oils feed the body with what it needs without tricking it into doing something that is undesirable in the long term. With the excessive use of pills, it does not take much time before the side effects start to show up.
(Visited 52,762 times, 116 visits today)