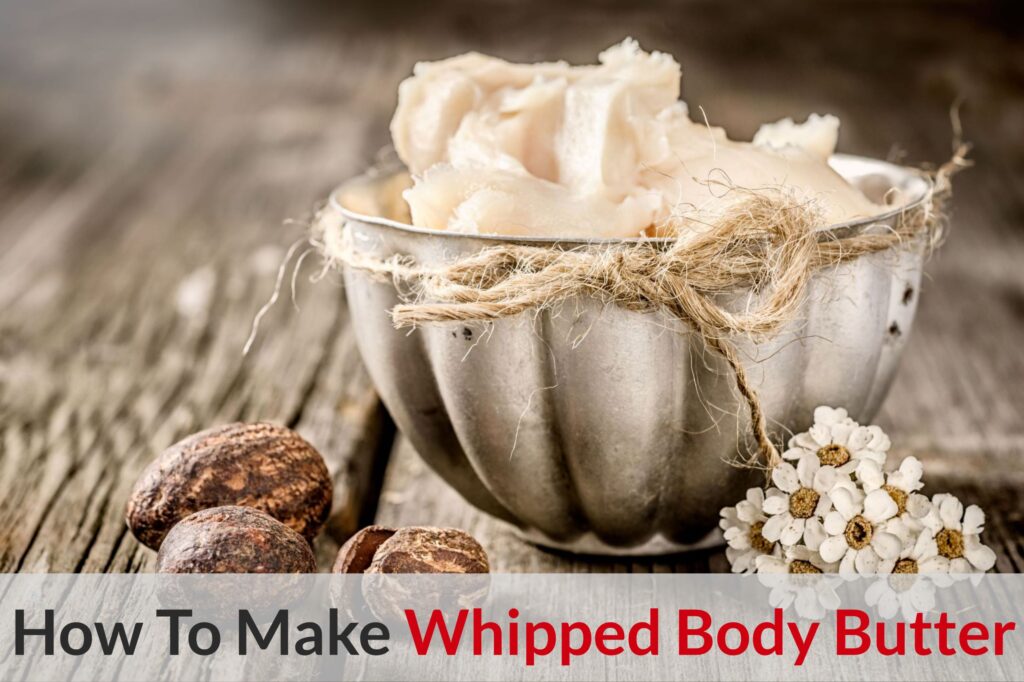 Although body butters do a fantastic job of hydrating, nourishing and moisturizing the skin, their all lipid content means that they do leave behind an oily film.
This may not sit well with everybody. Particularly in summer, when people are seeking reprieve from the heat and humidity, the idea of applying anything oily and sticky does not go down well with anybody.
Also, oiliness on the skin can quickly trap the salts purged through perspiration and hold on to the dirt and grime, creating a layer of filth on the skin, which will only make you feel hotter and ickier. Does this mean you should simply stop using body butters?
But then, what about your skin?
Seasons change but your skin remains the same!
If winter temperatures freeze the fluids in your skin cells, thus speeding them to their destruction, the summer heat dries up the fluids held within the cells and in between them leading to the same result.
In summer, you need all the protection you can get from the scorching sun, but a compromised skin lipid barrier will not be able to offer that. So, skincare through spring and summer is just as essential as it is in fall and winter.
In fact, more so, because all the hard work you put into your beach bod will be in vain if you have dry and flaky skin. Simply put, come sunshine or snow, your skin needs care all the time!
Did I hear you say, "But, I can't stand the sticky oiliness"? If so, say hello to whipped body butters! They offer everything that you have come to expect from body butters but in a lighter and airier package.
In other words, your skin will feel soft. It will be hydrated and healthy. Yet, once you put the whipped butter on, it will be gone in 60 seconds, leaving soft, feathery, silky smoothness in its wake. You up for that feel?
If yes, read on!
So, How Exactly Do You Make Body Butter Light?
Simple, change the quantity and type of lipids used in the recipe. All you have to do is ditch the thick oils, rich plant butters and the super emollient waxes in favor of dry oils, hard butters and floral waxes.
Another way is to increase the quantity of water based ingredients in the recipe and use a binder that will keep the ingredients together while giving the final product a silky yet non-greasy feel.
Sounds easy enough!
Remember, what we are going for here is light, superficial coverage that is not oily at all, greater absorption, increased protection against antioxidants and enhanced nutritive value. So when picking your ingredients, make sure you choose them on the basis of these attributes.
The best part about whipped body butters is that you can find most of the ingredients needed in your pantry and those that you don't, can easily be bought online or in most health food stores. Plus, you can customize your blend not just to suit your skin and the weather outdoors, but also to address any dermal concerns that you may have.
But won't the inclusion of water based ingredients take away the therapeutic value of essential oils?
No, it won't. If anything, these ingredients will offer greater humectant effect and keep your skin softer and suppler. But, you do compromise on the usable life when you prepare an emulsion. Although you will be using natural antimicrobial and anti-oxidative agents, an emulsion is best stored under refrigeration.
Yet, while your "lipid heavy", winter body butters will easily give you 6-9 months of usable life, with whipped body butters meant for spring and summer, you can get about 3-4 months if water based ingredients have been used in the recipe.
The upside is that the cold butter feels heavenly against your skin when it is scorching outside and your skin feels oh so good throughout the day. So, they are totally worth the effort that you put into preparation and application!
Get those tools ready!
Like for other body butter recipes, you will need a large bowl, a double boiler, a spatula and a hand mixer.
A nifty trick to cut down on the work afterwards is to blend the ingredients directly in a mason jar instead of in a bowl. This way, you only have to clean the hand held blender and the whipped body cream does not have to be transferred from the bowl to the jar. Pint sized jars are well suited for the purpose.
The Popular Ingredients And What They Will Do For Your Skin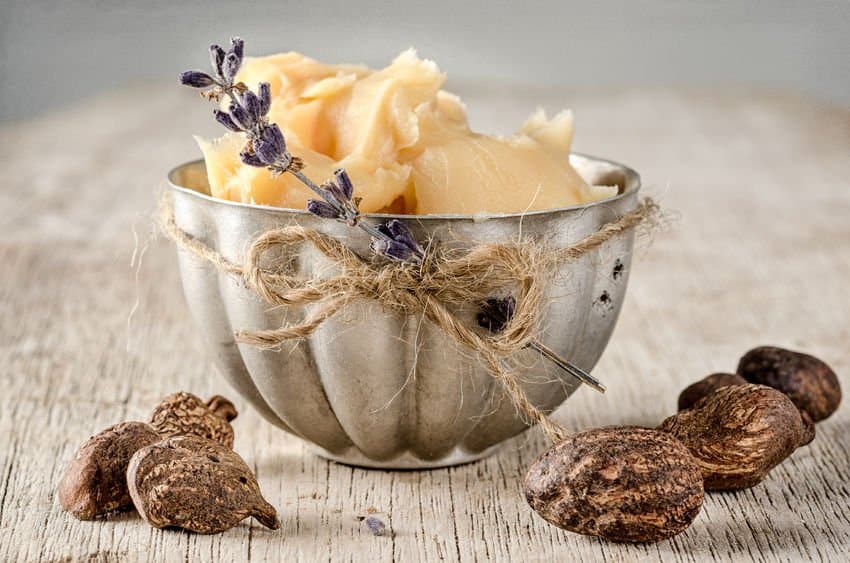 1. Butters
Although you will find an array of vegetable butters that can be used in skin care recipes, for whipped body butter, the most appropriate picks are hard butters like kokum and cocoa and nut butters which leave little or no trace of oiliness after application. The added advantage is that hard butters have a greater tendency to retain their fluffy whipped state than the soft and oily butters.
2. Oils
Once again, no dearth of options but ideal choices would be thin/dry oils with notable nutritive value such as rosehip seed, raspberry seed, macadamia nut, water melon seed, pumpkin seed, rice bran, grape seed and blue berry seed etc.
3. Waxes
Floral waxes are exceptionally well suited for whipped body butters. They offer a silky texture, superlative protection and a mild yet enthralling fragrance. Personal favorites include tuberose, jasmine and lotus (pink/white) but you can always use the more exotic varieties if you want.
Water based ingredients
1. Hydrosols
Rose water is the easiest to find and will work in any recipe. Alternatively, you can also try chamomile, geranium, helichrysum or hibiscus.
2. Aloe Vera gel
The gel offers relief from summer rash, sun burn and works as a humectant, so what's not to like?
3. Extracts
Grapefruit seed extract has to be used to extend the life of water based ingredients while green tea and gotu kola extracts offer anti-oxidant and anti-ageing benefits.
Dry ingredients and emulsifying agents: Binders
These are powder ingredients that impart therapeutic value and offer a base to mix oils and liquids and keep them together. Also, they will give your whipped body butters a smooth, silky feel while reducing the oiliness of the lipids.
You can use silk peptide powder, oat starch, arrowroot powder or just simple corn starch as a binder. To get more from the binders, you can add other dry ingredients such as matcha, rose petal powder, citrus peel powder, cocoa, coffee, fruit extracts/powders and herb powders.
Liquid sunflower lecithin: You will only be using this in recipes that have hydrosols.
8 Easy Whipped Body Butter Recipes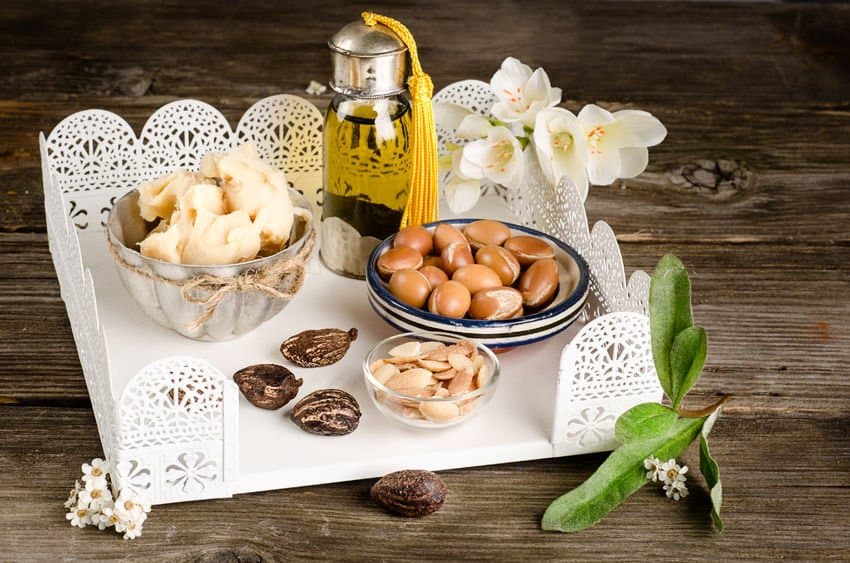 1. Edible body butter recipes
Yes, you heard it right this is a butter that works just as well on the outside as it does on the inside. This recipe has to be tweaked based on how you intend to use this whipped body butter. So, without further preamble, let us launch into 3 recipes that will suit 3 exclusive purposes.
1A
There are those of us who have complete faith in this bit of granny wisdom – anything that is good to be eaten is good to go on the skin. So, if using a completely natural product that is so safe that it can actually be eaten, should be your impetus for whipping up this batch of whipped body butter recipe below.
Ingredients:
50 g pistachio butter
50 ml pumpkin seed oil
50 ml grape seed oil
50 g cocoa butter (food grade)
1 tsp oat starch (heaped)
10 drops sweet orange essential oil
2 capsules of vitamin E
Instruction:
There are two ways to make this whipped body butter, you can take the easy route or one that will call for a bit of effort; but of course the therapeutic benefits you get will be commensurate with the efforts you put it. Hence, I will leave the choice in your hands.
Pistachio butter is not all that hard to find. Yet, it is not one of my favorite options because it is simply pistachio oil hydrogenated with a vegetable oil. In other words, it lacks purity plus there is a lot of processing involved, which is bound to leach away most of its nutritive value.
The second and better option is to pick up some pistachio oil. But, if you want the best, you will need to make pistachio butter/oil at home. This is a time intensive process but it is still my favorite because the recipe involves the use of raw pistachio nuts as opposed to roasted kernels.
That said, if you are going for pistachio butter, follow the recipe as is. With pistachio oil, you will have to increase the amount of cocoa butter to 75 g. And for the third option this is what you need to do:
Put ½ cup raw pistachios in the food processor and run the machine for about 3 minutes. Stop and scrape the sides and process again for 5 minutes. Repeat 3 times till you get a relatively smooth mixture. Add ½ cup of grapeseed or rice bran oil to the pistachio paste and process for a good 5 minutes.
At this point, you will have a runny, oily mixture on your hands. Use a fine sieve to remove large particles or you could use a cheese cloth. Even after filtering, the oil will be thick and will retain the rich green color of the nuts. Use this pistachio and oil mixture as you would use pistachio oil in the recipe.
Preparing the body butter
Add the oils and the butter to a double boiler and heat them till the butters melt. Take off from heat and add the oat starch. Use a spoon to mix the powder well and make sure there are no lumps.
By this time, the mixture should be at room temperature. Put it in the refrigerator for about 15 minutes. Take out the solidified lipids and use your hand blender to whip the ingredients.
Continue blending till you get a smooth and creamy butter that should feel as smooth and soft as cotton on your skin. Finally, add the vitamin E and the essential oil and give it one last whisk for about a minute and it is ready for storage. This body butter will easily last for 4-6 months and it is equally safe for your skin and tummy.
1B
This second recipe is for all you women out there who do not want to compromise on skin care but also want to keep things safe for their partners. After all, the last thing you need is your partner suffering from food poisoning or an allergic reaction all thanks to your body lotion.
OK, perhaps food poisoning may seem like a bit of an exaggeration. But let us face it; if you are buying a commercial product, they do include parabens, which are known carcinogenics and sustained ingestion of these substances can't possibly be good.
Even if you make your own night time body butter, the use of certain fragrance and essential oils may create disruption right in the middle of play time. So, here is a quick recipe that is safe and also has a slight aphrodisiac edge to it.
Ingredients:
50 g cocoa butter
50 ml rice bran oil
50 ml coconut oil (virgin)
25 ml avocado oil
2 tsp tapioca powder
1 tsp watermelon extract/powder
A pinch of cinnamon
5 drops of ginger essential oil
10 drops lavender oil
2 capsules vitamin E oil
Preparation:
As for the other recipe, mix the oils and butters and heat till you get a homogenous mixture of lipids. Add all the powders to the oil blend and mix well before refrigerating. Remove after 15 minutes and whisk. Repeat the process till you get a smooth and light body butter. Finally, add vitamin E and the essential oils to the mixture, whisk and store in a glass jar.
1C
This one is a Valentine's Day favorite or when you want to spice things up in the bedroom. This whipped butter is not just edible and fantastic for your skin but also tastes amazing. Talk about covering all bases.
Just remember that this recipe contains sugar/honey powder/sweetener. So, you should not use it around the vagina because anything that is sweet will increase the risk of yeast infection.
Ingredients:
1 cup virgin coconut oil
½ cup grated cocoa butter (yes you can actually grate it like hard cheese)
2 tsp organic brown sugar powder/honey powder/agave powder
1 tsp organic cocoa powder
Preparation:
Use a hand blender to whip the coconut oil and cocoa butter till you get a soft mixture. Mix the powdered sugar with the cocoa powder and add this to the butter as you continue whisking till you get a light, fluffy mixture. This whipped body butter will have to be stored under refrigeration because of its sugar content.
2. Mango Body Butter Recipe
As the name suggest, this recipe involves the use of mango butter and if you can get your hands on it, you could also add in a teaspoon of mango powder or extract. To make this whipped body butter that has a distinctly summery and delicious fragrance, you will need:
50 gm mango butter
50 gm kokum butter
50 ml sea buckthorn berry oil
50 ml macadamia nut oil
50 gm floral wax
100 ml rose hydrosol
1 tsp vegetable glycerin
1 tsp mango powder
¼ tsp turmeric
10 drops rosemary essential oil
1 tsp grapefruit seed extract
2 tsp arrowroot powder
1 tsp vitamin E
1/2 tsp sunflower lecithin (to be mixed with the water based ingredients)
Preparation:
Heat the oils, butters and waxes till all the lipids are in a liquid state. Remove from heat and set this mixture aside. Mix the arrowroot powder, mango powder, turmeric and grapefruit seed extract along with the glycerin and roes hydrosol. Adjust the amount of arrowroot powder to make a smooth but runny paste.
Once the lipid mixture is at room temperature, it will start to solidify and will take on a cloudy look. This is the time you put it into the refrigerator for 15 minutes. Remove and start whisking the mixture using a table top or hand held blender. Blend the lipids till you get a smooth, white cream. Continue whisking and begin to add the powder and hydrosol slurry, a tablespoon at a time, till you have worked it all in. Continue to whisk for about 5 more minutes till you get a homogenous mixture.
Put this back in the refrigerator for 15-20 minutes or till it solidifies. Remove and whisk again for about 10 minutes. Repeat this process 1-2 times more before adding rosemary essential oil and vitamin E to the butter. Give it one last whisk and store, if possible, under refrigeration.
3. Almond Body Butter Recipe
This body butter is well suited for dry and mature skin since it includes sweet almond oil as one of the bases. This carrier oil is an extremely rich source of vitamin E, so it can also be used to deal with stretch marks. To make this body butter, you will need
50 ml sweet almond oil
50 ml rosehip seed oil
50 ml sesame seed oil
100 g kokum butter
50 g floral wax
1 tsp green tea extract/1 tsp matcha
1 tsp rose petal powder/rose hip powder
1 tsp grapefruit seed extract
1 tsp vitamin E
10 drops rosemary essential oil
50 g aloe vera gel
Preparation:
Mix the oils, butter and wax and heat till the butter and wax melts. Let the mixture cool to room temperature then refrigerate for 15-20 minutes.
In a bowl, mix the aloe vera gel, green tea extract or matcha, rose petal powder and grapefruit seed extract. To blend the ingredients together, start by whisking the lipids with a hand held blender till you get a fluffy butter that feels and looks like whipped cream.
To this, add the aloe vera gel mixture as you continue to whisk. Once all the ingredients have been mixed well, refrigerate the mixture for another 20 minutes. Remove and put it through another round of whisking at high speed for about 10 minutes. When the butters starts to look like whipped cream again, add the vitamin E and the essential oil, whisk for another 2 minutes and transfer to a container.
4. Chocolate Body Butter Recipe
The exceptional thing about this body butter is that it offers a slight bronzing effect. So, you get that sun kissed glow while your skin gets oodles of nutrients and antioxidants.
100 gm cocoa butter
50 g macadamia nut oil
50 g virgin coconut oil
50 ml helichrysum hydrosol
1 tsp jojoba ester (not oil although jojoba oil is technically a plant wax)
20 ml cucumber extract (glycerol extract is better than glycerin and water based extract)
1 tsp cocoa powder
1 tsp corn starch
½ tsp coffee powder
1 tsp grapefruit seed extract
10 drops rosemary oil
1 tsp vitamin E
5 drops cocoa essential oil (optional)
1/2 tsp sunflower lecithin (to be mixed with the water based ingredients)
Preparation:
The method used is the same as for the other recipes. You will need to mix and heat the butter and wax with the oil till they melt. Remember to stir the mixture continuously as the wax and the butter melts.
Next, mix the powders with the hydrosol and extracts. Set this mixture aside. Allow the oil mixture to cool and when it gets cloudy place it in the refrigerator. You want to start with the lipid blend in a semi- solid state.
Whisk the fats till fluffy and then add the slurry of hydrosol and powder as you continue blending at high speed. After thoroughly blending the fats and the water based ingredients together, refrigerate the mixture till it solidifies. Whisk once again till soft and fluffy again. All in all, you will need to repeat the "refrigerate and blend" process 3 to 4 times to get a stable emulsion. In the final stage, add the essential oils and vitamin E and blend one last time for a minute before storing.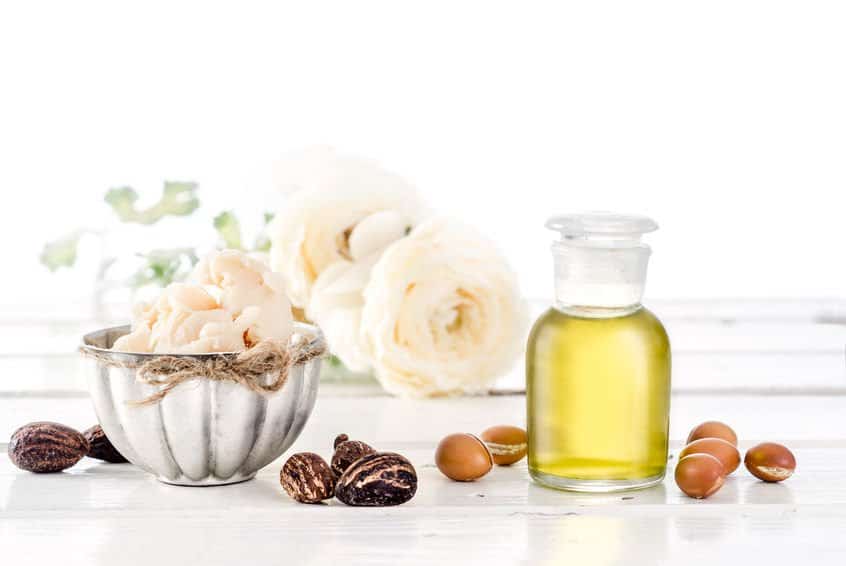 5. Vanilla Body Butter Recipe
Apart from its enticing fragrance, this body butter also offers intense hydration and remarkable protection against free radicals and the summer heat. It is also one of my favorite recipes because it is really simple to make. You will need:
100 ml virgin coconut oil
50 ml watermelon seed oil
½ tsp vanilla extract
½ tsp calendula extract
1 tsp aloe vera gel
1 tsp silk peptide powder
½ tsp grapefruit seed extract
1 tsp vitamin E
Preparation:
This is a no heat recipe, so you can start by putting the coconut oil and the watermelon seed oil in a mason jar as long as it is big enough to accommodate the blender head or you could simply use a bowl. Also add the vitamin E to the oils.
Mix the silk peptide powder with the aloe vera gel. Whisk the oils till you get a fluffy mixture, add the extracts to the lipids and whisk for about 2 minutes at medium speed. Now, turn the blender on at full speed and work in the aloe gel mixture. After about 5-10 minutes of blending, you will have a divine smelling and fluffy whipped body butter that will last you all through summer.
6. Lavender Body Butter Recipe
This body butter will not only heal your skin but also soothe your mind and chase away the blues. Plus, the inclusion of peppermint oil in the recipe will leave you feeling cool and refreshed. To make lavender whipped body butter, you will need:
50 gm kokum butter
50 ml hemp seed oil
1 tsp lavender flower powder
1 tsp oat protein
1 tsp vitamin E
10 drops lavender essential oil
10 drops peppermint essential oil
Preparation:
Mix the hempseed oil and the kokum butter and heat till the butter melts. Let the mixture cool to room temperature. Then, add vitamin E and the powders to the oil. Mix thoroughly with a spatula careful not to form leave back any lumps.
Refrigerate for 20 minutes, remove and whisk at high speed for 15 minutes till the butter is nice and fluffy. Add the essential oils to the butter and whisk for about a minute more and you the butter will be ready for use.
7. Strawberry Body Butter Recipe
This summery strawberry whipped body butter is a true heavyweight when it comes to antioxidant benefits because we will be using both strawberry extract as well as summer berry oils in this formulation. The ingredients are:
50 ml raspberry seed oil
50 ml strawberry seed oil
50 gm kokum butter
1 tsp vegetable glycerin
1 tsp strawberry extract or powder
1 tsp grapefruit seed extract
½ tsp beetroot powder
1 tsp vitamin E
Melt the kokum butter in the oils by using a double boiler. Stir continuously so that the lipids are mixed well. Set the blend aside. Once it is at room temperature, add vitamin E to the oils and refrigerate.
Next, mix the powders with the glycerin to form a smooth paste. Add the grapefruit seed extract to this mix. Remove the lipid mixture and start whisking it at high speed using a mechanical blender. Slowly add the glycerin mixture to the lipids while continuing to blend. Refrigerate the butter till it gets hard and then whisk again for another 10 minutes and that is all there is to it.
8. Argan Body Butter Recipe
This whipped body butter is particularly meant for people with very dry and sensitive skin. So, if the rise in mercury does little to cure the flakiness and dryness of your skin, get these ingredients together and whip up some soothing and moisturizing body butter.
50 ml argan oil
50 gm cocoa butter
50 ml virgin coconut oil
25 gm lotus floral wax
1 tsp castor oil
50 ml chamomile hydrosol
1 tsp rose petal powder
2 tsp tapioca powder
¼ tsp turmeric
1 tsp grapefruit seed extract
1 tsp gotu kola extract
6 drops sandalwood oil
1 tsp vitamin E
1/2 tsp sunflower lecithin (to be mixed with the water based ingredients)
Preparation:
The method of preparation is the same as that for the other body butters we have discussed so far. As always, you will need to mix all the lipids together and heat them till the butters and wax melt.
Next, you will have to blend the powders, extracts and hydrosol to form a slurry. Add vitamin E to the lipid mixture and refrigerate till it takes on a semi-solid form. Remove and start whisking at high speed.
Add the water based ingredients only after the lipids are blended well enough to resemble whipped cream. Work the hydrosol mixture in slowly while whisking at top speed to form a stable emulsion. Refrigerate the mixture, remove and blend again for about 15 minutes. Repeat this process for a total of three times before adding the essential oil. Remove and store, preferably under refrigeration.
Voila! That was easy-peasy, isn't it…Enjoy and don't shy away from showing off some skin this summer!