InstaNatural Essential Oil Diffuser
$39.97
Pros
Automatic shut off for both the diffuser and the LED light.
Quiet motor and ultrasonic technology make for a relaxingly silent operation.
Cons
It has been designed for small to medium sized spaces. May not work very effectively in large rooms and will be even less potent outdoors.
Aromatherapy goes full luxury with the InstaNatural Essential Oil Diffuser. A soft blue LED and a curved cone shape gives the diffuser an unmistakably elegant look. Without even considering its essential function, that of making any space smell heavenly, it's good enough as a chic décor addition. You can use it in your office, bedroom, living room, office reception or anywhere else you want.
Main Features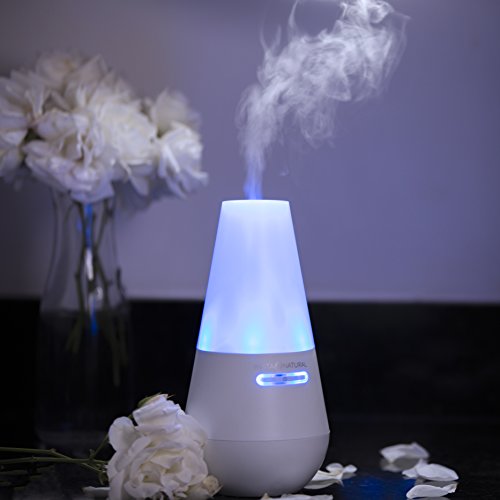 1. Aesthetic Design With Soothing Blue Lighting
This is perhaps the most noticeable, and stylish aspect of the InstaNatural diffuser. At the touch of a button, the top half comes alight with a soft blue glow. This creates a relaxing atmosphere especially if you are engaging in aromatherapy. Since it is LED, you do not have to worry about the lights using too much power. You can turn the lights off using a button or simply wait for it to turn off automatically when the reservoir runs out.
But the lighting is not the only captivating part of the diffuser. The entire gadget is designed with a focus on detail. Its modern chic look makes it perfect for just about any space. The diffuser itself is quite compact, taking very little space on your desk. It measures 8.7 inches (21cm) tall and weighs just 1.2 pounds.
2. Ultrasonic Technology
Ultrasonic technology makes use of ultrasonic vibrations to break up water into really tiny particles that exit the diffuser as a cool fog or fine mist. Ultrasonic technology not only helps spread the essential oil aroma around the room, it also diffuses water in form of vapor. This means that the InstaNatural diffuser is also a mini-humidifier. The humidifying effects can be especially beneficial in a small space such as an office.
One advantage of ultrasonic technology is its silent operation. The InstaNatural diffuser is so quiet that you would not even notice its presence if it were not for the comforting aroma emanating from it and of course the blue lighting.
3. Compatible With All Essential Oils
This diffuser works with just about any kind of essential oil. This includes lemon, peppermint, chamomile, rosemary and lavender among many others. The directions on how to use the diffuser with any oil are pretty straightforward.
Once you fill the reservoir with water, pour out a few drops of your favorite essential oil into the water. Five to six drops or less when you need a milder aroma, should be enough. Make sure the diffuser is connected to a power outlet and you are good to go.
A cool vapor coming out of the diffuser will tell you it is working perfectly. Though the vapor may look hot, it is not. So you do not have to worry about the diffuser being a safety hazard to your kids.
4. Lasts 4-5 hours At Full Capacity (With Automatic Turn Off)
The reservoir inside the diffuser has a 100ml capacity. When full, it will run for a maximum of 4 to 5 hours before the water dries out. At this point, the diffuser automatically switches off the motor and the LED light as well.
This makes it ideal for use when you are going to sleep. You can let it soothe you to dreamland without worrying about having to wake up and turn it off.
5. Easy Operation
The InstaNatural diffuser is not a headache to figure out. Once it arrives, just open it and fill it with water then add a few drops of essential oil. Because condensation will accumulate on the inside the cover, you have to clean it regularly. The manufacturer recommends wiping the inside with diluted vinegar or alcohol soaked in a cotton ball.
One thing to note, the cover is not spill proof; the water inside can spill if the diffuser is knocked over. Keep it where dogs, cats and kids cannot reach it easily.
The Final Verdict
For its price (ranges between $30 and $40) and size, the InstaNatural essential oil diffuser packs a powerful punch. It will make your office look good, it will leave your living room smelling like a flower field and you can even use it to treat respiratory problems, like asthma.
Click Here To Buy InstaNatural Essential Oil Diffuser