Smiley Daisy Essential Oil Diffuser
$19.97
Pros
Quiet operation, perfect for relaxing when you want to unwind or focusing when you are meditating or working.
A powerful mist that spreads wide within a room and overpowers any unpleasant smells lurking around.
Automatic shut off safety feature that kicks in when the water level goes too low. This prevents damage to the unit.
Portable. Carry the unit around in your bag and plug it in wherever you go to get a dose of heavenly aroma.
Cons
No timer. You cannot set the diffuser to run for less than three hours. This is a basic feature that the company should have added, especially for people who tend to get overwhelmed after too much exposure to essential oils.
The Smiley Daisy Aromatherapy Essential Oil Diffuser is as fun and relaxing as it sounds. A beautiful design, warm vibrant LED colors and an amazing aroma make this a must-have for your home, office, hotel or gym. The diffuser is cheap enough such that you can buy several to put in different places.
The Smiley Daisy is for anyone looking for an affordable and effective diffuser to make their home smell nice, for aromatherapy or to mask any unwanted odors. Here is a look at what the Smiley Daisy can do and its best features.
What Can It Do?
Relax your mind. Essential oils have been proven to have therapeutic benefits on the mind. They cause an

elevated mood and reduced stress

. The diffuser can help you relax especially after a long day or on those days you are feeling particularly anxious.
Humidify the air. The diffuser releases a mist of water as well as oil. The water moisturizes the air, helping create a healthier and more refreshing environment. If your lips, nostrils or

skin tends to dry

, the Smile Daisy can be of great help.
The diffuser also releases negative ions which have been associated with numerous health benefits including less stress and better overall health.
Mood lighting. The diffuser comes with a range of mood lighting colors to help you create the perfect relaxing environment.
Improve your health. Essential oils are associated with a range of health benefits including

pain relief

, nasal decongestion and

management of sinuses

.
Top Features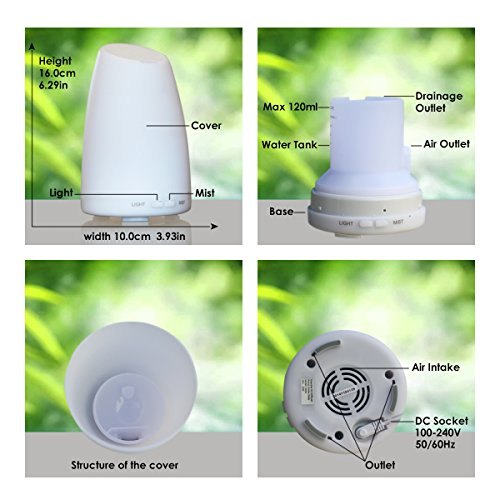 1. 120ml capacity with 5-6 hour run time
The reservoir in the diffuser has a capacity of 120ml, slightly bigger compared to other diffusers. With the water filled to capacity, the diffuser can run for 5 to 6 hours. While there are plenty other diffusers that can run for an impressive 10 hours or even more, this is more than enough for most users.
2. Color options
The diffuser comes with an interesting array of LED color options, allowing you to set the mood you desire. Press the light button to get the strobe light effect. The colors will rotate from one to another, changing color every few seconds. Press the light button again to settle on a specific color. This is helpful when you want a specific mood color to help you sleep, relax or focus.
There are 7 different colors to choose from and each color has two brightness options. So you can set them to dim when you want to sleep. But if you do not want any light at all, you can switch it off and just leave the diffuser running. However, note that the indicator light will still be showing.
3. Mist settings
The mist button, which is indicated on the unit, allows you to control several mist settings. To start off, press the button to get the mist working. The mist will run continuously for around three hours. When the water runs out, the diffuser will automatically switch off.
Press the mist button again to change to intermittent mode. In this mode, the mist runs for 30 seconds then goes silent for 30 more. The intermittent cycle helps lengthen the run time to around 6 hours. It is also great when you want just a mild aroma.
4. Whisper quiet ultrasonic technology
The unit runs on super quiet ultrasonic technology. Not only does this ensure a silent distraction-free operation, it also preserves the integrity of the essential oils. Diffusers that depend on heat tend to degrade the oils.
The Final Verdict
If you are looking around for a compact, efficient and affordable essential oil diffuser, the Smiley Daisy is exactly what you need. Cool design, ease of use and great operation.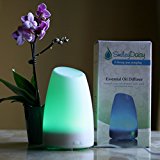 Click Here to Buy Smiley Daisy Essential Oil Diffuser