The Radha Beauty 120ml essential oil diffuser is hugely popular, with over four thousand reviews on Amazon and a stellar rating. In addition to its low price, the many great features make it a favorite among customers. The design is stylishly modern, the settings are easy enough to figure out and the 120ml capacity means a longer run time than usual.
Whether you want something to make your office smell nice, a diffuser for your meditation sessions or an aroma to clear up your sinuses and help you relax, this is a great choice.
Features You Will Love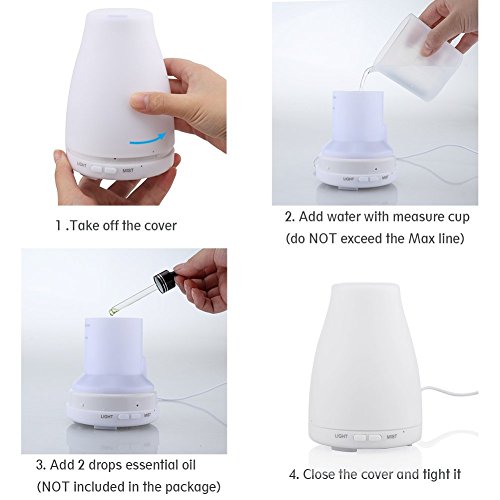 1. 120ml Capacity And 5-6 Hours Runtime With Auto Shut Off
Most compact essential oil diffusers come with a 100ml capacity. An additional 20ml may not sound like much but it adds an extra hour or so to the run time of the diffuser, bringing the total duration to around 5-6 hours. This is extra time when you do not need to stand up and add more water and essential oils to the reservoir. If you are using the diffuser in the bedroom, the additional time is almost enough to last through the night.
If you are looking for something that runs for much longer, a good recommendation is Radha Beauty's 500ml capacity diffuser. It can last up to 17 hours. But the 120ml variant is still good enough for ordinary home and office use.
Both diffusers come with an auto shut off feature. This means that the diffuser will shut down automatically when the water runs out.
2. Two Mist Settings
What if you want a longer run time without having to resort to the more expensive 500ml diffuser? Just change the mist settings to intermittent. Normally, the diffuser releases the essential oil + water mist continuously. When you change to intermittent, it is released at intervals of 30 seconds. This allows the water to last much longer while still filling up the space with a relaxing aroma. For a stronger and more consistent aroma, simply switch it back to continuous mode.
3. 7 LED Color Options
Apart from the narrow base at the bottom, the entire diffuser acts as one light bulb, producing a vibrant set of colors. The colors help you relax and establish the right mood.
There are two important settings that make this feature even better. First, you can set the diffuser to show only one type of mood lighting. You can stop it at red or blue or whichever other color you prefer instead of letting it cycle through all colors. Second, you can switch off the light but leave the diffuser on. This is great when you want to sleep or relax with no light to distract you.
4. Works For Small And Medium Size Rooms
You can use this diffuser just about anywhere as long as it's not a large hall or the outdoors. It should work well in most bedrooms, living rooms and medium size offices. If the aroma feels weak, check the placement of the diffuser or consider using two diffusers to cover a bigger range.
5. Safe And Great For your Health
The diffuser has nothing that poses a safety risk to you or the kids. The mist produced is cool to the touch, not hot like in some diffusers, and the vapor itself hold numerous health benefits. It relaxes the mind, relieves sinuses and nasal clogging, can be used to treat headaches and results in higher quality air.
Remember that this is not just a diffuser for essential oils, it is also a mini-humidifier perfect for a medium sized room.
Issues To Note
The Radha Beauty essential oil diffuser is great and has plenty of wonderful features. This is not to mean that it is perfect. For one, the light never goes completely off. Even if you switch off the LED mood lighting, the indicator light remains on and is bright enough to become a distraction. Secondly, there is no timer. You cannot set the diffuser to shut off an hour or two after you have gone to bed. All the water has to be used up before it goes off.
But these are mostly minor issues that should not affect your experience. So if you are looking for a compact, affordable and powerful diffuser, pick up the Radha Beauty aromatherapy diffuser. You will not be disappointed.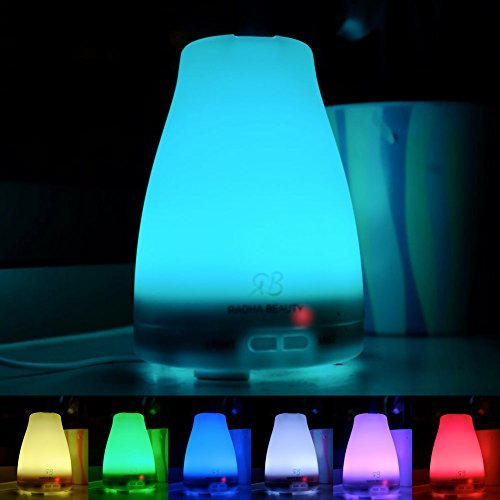 Click Here To Buy Radha Beauty Aromatherapy Essential Oil Diffuser