At first sight, the QUOOZ Lull looks more like a decorative centerpiece than an essential oil diffuser. A graceful flower-like shape of glass-like material rises out of the chic white base. Two large buttons grace the relatively small base while the long top casing ends up in a narrow neck with an opening where the mist comes out.
The QUOOZ Lull diffuser is a great way to relax, treat a flu and other nasal symptoms or focus on your work. Because it is a completely safe gadget, you can use it wherever you like whether it is your home, the office, spa or hotel room.
Best Features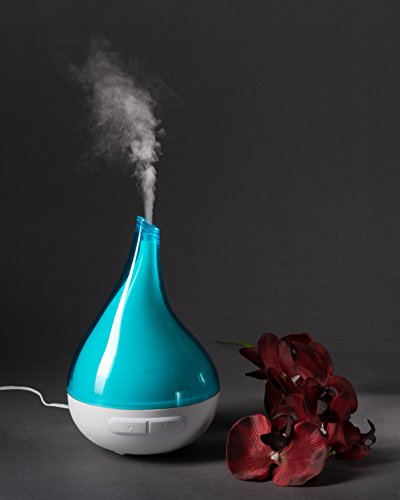 1. 200ml Capacity With 8-10 Hours Runtime
The diffuser comes with a modest 200ml capacity. But the size is not a big deal for many users. The diffuser is able to keep running continuously for around 8 hours and up to 10 hours when on an intermittent mode. For many people, this is more than enough.
With a single refill, the mist will keep going all night. If you use it in your office or place of business, it is enough to last through the workday.
2. Auto Switch Off
One worry you may have is that of leaving the diffuser unattended. Do I have to wake up in the middle of the night to switch it off? What if I forget to turn it off when going out?
You do not have to worry about any of this. The diffuser comes with a built-in safety mechanism. When the water level gets to a certain point, the diffuser automatically switches off. This prevents any damage to the unit. So you can go to sleep in peace and without worrying about having to switch it off.
3. Humidifier
The QUOOZ Lull produces quite a powerful mist, spreading the aroma of the essential oil across the room. But it is not just the aroma that is contained in the mist, there is water too. As the mist spreads, it moisturizes the air around. It essentially acts as a humidifier.
This is very beneficial if the AC or hot temperatures outside cause the air inside to become dry. The diffuser helps prevent dry skin and chapped lips. By making their fresher and healthier it can also help with dry coughs and nasal problems.
4. Light And Mist Control
As mentioned, the unit contains two large buttons located on the base. You can use these buttons to control the light and mist.
The mist button allows you to switch the diffuser on and off. You can also use it to change the mist mode. You can set the mist to be produced continuously, which will go on for about 8 hours. You can also set the mist on an intermittent mode, which gives you 1 to 2 extra hours of mist.
The top clear casing emits a relaxing light, though it does not change color as in other diffusers. Using the light button, you can set the light to shine steadily and even change the brightness level to your preference. Alternatively, set the light on a breathing mode. This causes the light to light up and fade with a gentle breathing rhythm. It is perfect for meditation and relaxing.
5. Ultrasonic Whisper-Quiet Technology
The QUOOZ Lull diffuser uses ultrasonic technology to break up the water and oil into an extremely fine mist. One advantage of this technology is the whisper quiet operation. There is no bubbling or whirring sound, making it perfect for relaxing, sleeping or working.
The Downsides
There is no timer. For a diffuser that lasts up to 10 hours, omitting a timer is a mistake. Unless you manually switch it off or you put less water than the full capacity, there is no way to set a shorter runtime.
No color-changing lights. It would have been nice to include various mood lights to allow users to set the color that matches their mood and environment. This is a common feature in other essential oil diffusers.
The Final Verdict
The QUOOZ essential oil diffuser is not just about the looks, it also works amazing. It will help you relax, enjoy better sleep, stay healthy and focus better when you are working. Cleaning and maintenance is a breeze and there is a manual to help you do everything.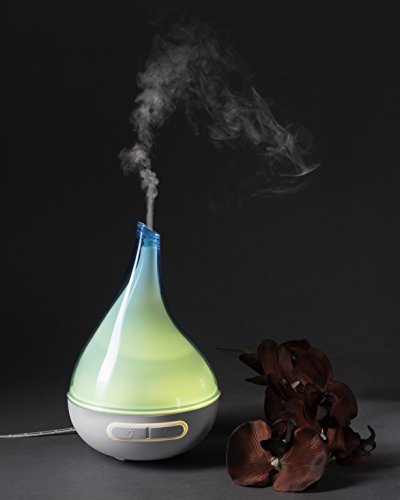 Click Here To Buy QUOOZ Lull Ultrasonic Essential Oil Diffuser