The slim and slender PureSpa Essential Oil Diffuser is relaxing enough before you even turn it on. The conic shape and white exterior make for a beautiful yet calming look. It goes super minimalist with only a single button to control everything.
Despite its relatively small size and seemingly simple design, the PureSpa Essential Oil Diffuser accomplishes three things. First, it diffuses a relaxing aroma around a space. You can place it in the bedroom, living room or office to get its aromatherapy benefits. Second, it acts as a mini moisturizer for small spaces. As it sends out water vapor, it creates a cooler and more relaxing environment. Third, it functions as an ionizer, producing negative charges, which are associated with sleep and relaxation, better air quality and improved overall health.
Top Features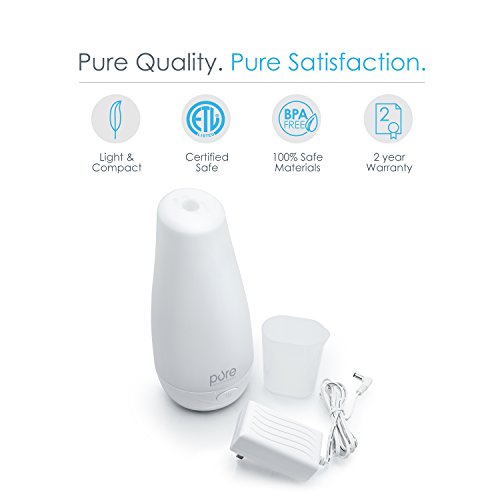 1. Ultrasonic Technology
You may have heard a lot of talk surrounding ultrasonic technology in essential oil diffusers. But what exactly is it and does it make any difference?
Diffusers use various methods to evaporate the liquid and oil solution into a vapor. Some use heat but this comes with various downsides. For instance, heat can damage the quality of the essential oil. Ultrasonic diffusers use a rapidly vibrating disc to break up the water and oil solution into really tiny particles which are produced in form of a mist. The mist produced is cool and there is no degradation to the oil.
Another advantage of ultrasonic technology is the quiet operation. Unless you are very keen, you cannot hear the PureSpa diffuser working. This is great when you just want to sleep, relax or meditate without any distracting noises.
2. 250 Square Feet Coverage With 7 hours Approximate Run Time
The diffuser covers an approximate area of 250 square feet. This makes it adequate for most spaces including offices, the bedroom or a small waiting area. It can be used for a slightly larger space but the aroma will be weaker.
Once you turn it on, it will run on average for 7 hours before the essential oil blend runs out and it automatically turns off. So you do not have to worry about forgetting to turn it off when you leave the house. You can even use it to lull you to sleep since it will switch off by itself.
3. Relaxing LED lights
LED lighting has become standard for most diffusers so it is nice to see it included in the PureSpa Essential Oil Diffuser. You can choose the lighting color you want depending on your mood and preference or let it rotate between different hues. You can even switch off the light but leave the diffuser on. Thanks to the LED lighting, the diffuser also works as a nightlight and can be especially great for kids.
4. Easy To Use
The diffuser is not hard to figure out; it comes ready to use out of the box. Just pour in the water (there is a measuring cup included), add 3-5 essential oil drops or more if you want a stronger aroma and put the lid on. Connect the diffuser to a standard power outlet and you are good to go.
Using the single button on the diffuser, you can turn on the diffuser without the lights, turn on the color-changing lights or turn both the diffuser and lights off. You should be able to do everything blindly in no time.
5. How To Clean
As for cleaning, rinsing out the reservoir with warm water should be enough to get rid of any residue oils or particles. You can also use mild soap or weak vinegar mixed with water. Wash it once or twice a week.
6. Safety
This is something you can feel comfortable leaving around kids. The aroma from the essential oils is not harmful and can in fact carry various health benefits. Additionally, the vapor emitted is cool, meaning no risk of burns. So feel free to leave it in your kids' rooms; they will appreciate the relaxing aroma.
Two Issues To Note
There is no timer. You cannot set the unit to switch off after a specific amount of time. You either switch it off manually or wait until the water runs out and it goes off automatically.
There is no option to set the unit on a single light color. The button can only switch the light on or off but not stop it from rotating through different colors. It would be nice to be able to choose one specific mood color.
The Final Verdict
Whether you want to relieve a sinus congestion, leave your bedroom smelling heavenly or engage in basic aromatherapy, the PureSpa Essential Oil Diffuser is a great buy.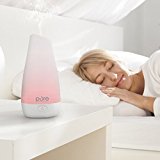 Click Here To Buy PureSpa Essential Oil Diffuser