The Innoo Tech Essential Oil Diffuser is the companion that remains on your side wherever you are and whatever you are doing. Whether you are working in your office, sleeping at home or getting fit at the gym, the Innoo Tech diffuser is always with you.
While it contains many of the standard features found in other diffusers, it has several additions that make for a great aromatic experience. It is quieter, more powerful and covers a larger area than most compact diffusers.
Main Features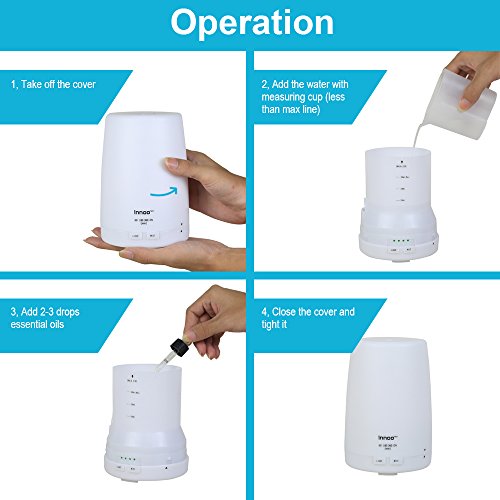 1. 300ml Capacity
Most compact diffusers have a capacity of 100ml. If you are looking for something a bit bigger and more powerful, the Innoo Tech diffuser is a great buy. At 300ml, it is big enough to provide more than six hours of a continuous mist but still small enough to be carried around wherever you are going. You can use it in the living room, bedroom, office, gym or spa.
2. Over 300 Square Feet Coverage
The standard coverage for compact diffusers is 250 square feet. The Innoo Tech Essential Oil Diffuser provides a bigger coverage of up to 30 square meters. This comes to around 322 square feet. You should have no problem at all using this in most spaces. The increased coverage is thanks to a new fan technology. An inbuilt fan ensures that the mist extends to a wider range than other diffusers.
3. Quiet Operation
One of the features that make the diffuser so relaxing is the whisper quiet operation. The company uses fan technology that keeps noise to a minimum. Only when you get really close will you detect the whirring sounds of the internal mechanism.
The use of ultrasonic vibrations also keeps the noise extremely low. The entire unit produces less than 35DB of sound. This is similar to a soft whisper.
4. 7 LED Colors
The diffuser comes decked in 7 different mood LED lights. You can set the lights to keep changing from one color to another. If the rainbow effect is not for you, just press the button to set only one color. You can also switch off the lights but keep the mist on.
The lights help you set the perfect kind of atmosphere for work or relaxation. They are also soft enough for use as a night light.
5. Smart Timer / Auto Shut Off
As mentioned, the diffuser can run for 6 hours or more on a single fill. When the water runs out, a safety feature automatically switches off the diffuser, ensuring that no damage is done. But you do not have to let the diffuser run the full six hours.
A built in timer allows you to set the exact duration you prefer. You can set it to 1 hour, 3 hours or 6 hours. When the timer runs down, the diffuser will shut off. The timer comes in handy when you need to run the diffuser for just a couple of hours or so such as when you are going to sleep or after work.
It is also beneficial for people who are sensitive to essential oils. You do not have to keep switching it off when the aroma gets too overwhelming; you can set it to run for just an hour.
6. Humidifier
The diffuser also functions as a mini-humidifier for small to mid–sized spaces. It helps counter dry air that causes chapped lips, dry nostrils and dry skin. It also gets rid of allergens and bacteria in the atmosphere, resulting in higher quality air.
The Final Verdict
This is a great diffuser for those who want something that will last longer than the standard 3 hours of other diffusers. The 300ml capacity delivers a longer duration, lasting up to 6 hours. The unit also produces more mist with an inbuilt fan helping with coverage.
These two reasons are good enough to spend money on the Innoo Tech Essential Oil Diffuser. Other features such as the 7-color LED lineup, the smart built in timer and the nightlight are additional bonuses to improve your aromatherapy experience.
The Innoo Tech diffuser is perfect for relaxing, clearing up nasal congestions and turning just about any space into a heavenly smelling spa. Just remember to use pure essential oils and clean it often, at least once a week or even daily, to keep it running smoothly.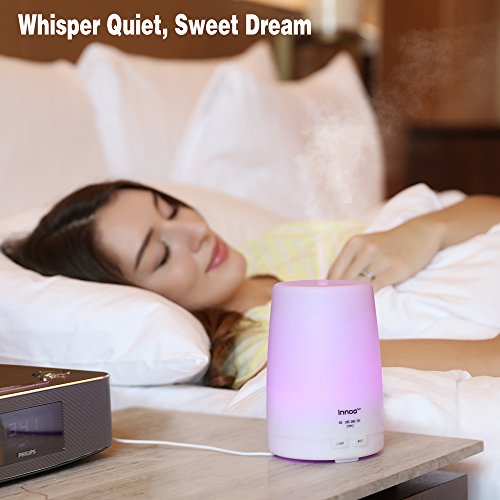 Click Here To Buy Innoo Tech Essential Oil Diffuser