With almost 3,000 reviews on Amazon, the Deneve diffuser is one of the highest rated. A combination of affordable pricing, a unique design and effectiveness in its function has made it quite popular. At first sight, it does not even resemble a diffuser. It looks like an egg or a smooth rock, hence the name Riverock.
The stylish and minimalist design works for any space whether it is your office desk, yoga studio or bedroom. You can get the Deneve essential oil diffuser in pearly white or luxury black.
Main Features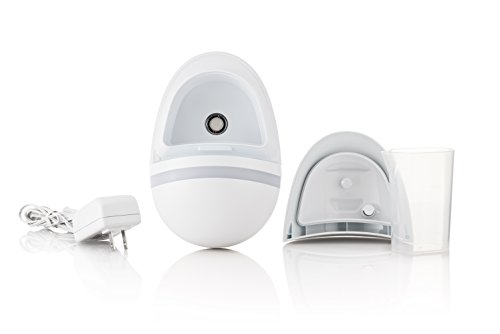 1. Easy To Use
The simple design comes with an easy-to-understand interface. You may get confused at first since the diffuser is smooth all over with no protruding button. The egg is made of two separate halves. One half acts as the reservoir for your oil and water and the other half is a controlling button. The genius design actually makes it easier to use since you do not even have to look to change a setting. As for power, the diffuser comes with a 100-240V AC adapter. You can therefore use it with a standard power outlet.
2. How To Use
Once you fill the 100ml reservoir with water, add around 5 drops of oil and close it. Pressing on the indicated part of the diffuser brings the light on and it begins to rotate through a number of colors. Press down again to stop at a certain color, press again to shut the light off (without shutting down the diffuser) and press again to shut the entire unit down.
These settings give you the option to enjoy different light colors or just breathe in the relaxing aroma without having the lights on.
3. How To Clean

The manufacturer recommends cleaning the unit at least once a week. They recommend water and soap or dilute vinegar and water solution. This helps remove any accumulated oils. Note that if you are going to use citrus oils, the unit needs to be cleaned within 24 hours. Citrus oils are quite concentrated and could corrode the diffuser. Use mild soap and water to get any residue oils out. If you are going to use citrus oils regularly, it is highly recommended you mix them with other oils to increase the longevity of your diffuser.
4. Run Time
The reservoir can hold 100ml of liquid. This translates to a run time of 4 to 5 hours. This is long enough for a deep aromatherapy session, your morning yoga routine or to put you to sleep. Once the water runs out, you do not have to worry about switching off the unit; it does so automatically.
5. Medium Coverage Area
Given its size, the Deneve diffuser does not cover a very large area. The manufacturer recommends a maximum area of 250 square feet. In certain cases, the diffuser can work to a range of 350 square feet but with less impressive results. This is good enough for most medium size offices and rooms in a home. For larger spaces such as a yoga studio, you may need to use more than one diffuser.
6. So Many Ways To Use It
The Deneve diffuser is not just for making your bedroom smell nice. It is a great device for aromatherapy enthusiasts who like to play around with different essential oils. For those with respiratory issues like a cold or sinuses, the essential oil vapor can provide some relief. It is also a great treatment for headaches, anxiety and low energy. The best thing about it is that it can be used by anyone including kids. It uses ultrasonic technology meaning there is no heat used to produce the vapor. This makes it safe for everyone.
A Few Improvements I Would Love To See
A bigger reservoir. 100ml feels to small, though for the price of the diffuser (below $40), it is a great deal. But some users may feel the 4-5 hour run time is too limited. If you are looking for a diffuser that will run for much longer (ideal for an office, spa or yoga studio), you may want to find a higher-capacity diffuser.
The unit has no timer. If you want to stop it midway before the water runs out, you have to manually press the button. This is really not a big deal for most people but could be a nice feature to have.
A stronger build. The plastic exterior feels a bit fragile. It would probably not last long if your kids kept dropping it.
The Final Verdict
Other than the above, the Deneve diffuser is one of the best you will spend your money on. It is stylish, affordable and works like a charm.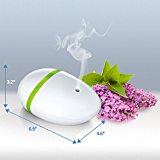 Click Here To Buy Deneve Essential Oil Diffuser Riverock