For a price roughly similar to smaller diffusers, the 500ml URPOWER essential oil diffuser is a sweet deal. The huge capacity is not the only good thing about it. It comes with plenty of bonus features, a dizzying selection of mood colors to choose from, a breathtakingly beautiful design as well as an array of functions, 5 to be more precise, i.e. aromatherapy diffuser, humidifier, air purifier, ionizer, night light.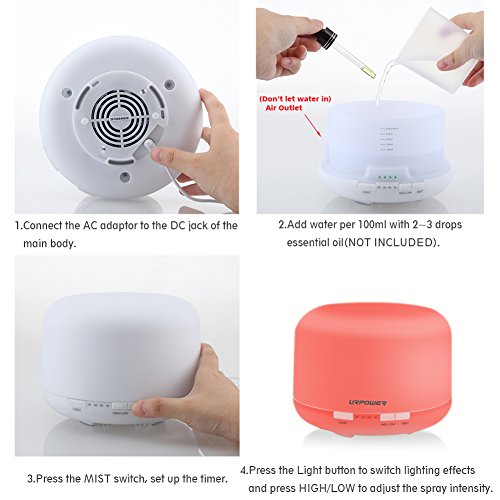 1. Huge Capacity, Strong Mist
One customer referred to the diffuser as a beast. Not only does it hold more water than most other diffusers, it produces an exceptionally strong stream of humidifying and aromatic mist. This gives it the ability to cover a wide range of space. It also allows it to run for more hours than many other essential oil diffusers.
2. The Basics: Design And Setting Up
The unit has a particularly minimalist design, especially given its capacity. It takes on an unassuming curved design, perfect for a modern home or office. If not for the aroma, use it as an accent piece for your office desk or bedside cabinet. But that would be a waste.
Setting up is a breeze. There is an outer lid and inner lid you have to open. Inside, you will find a clearly indicated waterline and drain area. The package comes with a measuring cup to help you dole out the correct amounts of water into the reservoir. Do not forget to add 2-3 drops of your desired essential oil (even an additional drop or two will not cause any harm!) per 100ml of water. Putting everything back together is equally easy. The top cover allows you to place the mist output in any direction.
One important tip; plug in the power adaptor before you add the water. Since the adaptor goes to the bottom of the unit, it can be a bit hard to plug it in once you have already filled it up.
3. Mist Settings
You will find all the buttons you need near the bottom of the unit. Press the mist button to get the diffuser started. By default, the unit is set to run continuously until the water runs out, after which it turns off automatically. But you can set the diffuser to run for 1 hour, 2 hours or 3 hours by pressing the mist button. This timer function is really helpful when you do not want to leave the diffuser running all day/night long.
Next to the mist button, you will see another button with high-low markings. Use this button to change the output strength of the mist. On the default high mode, the output is quite strong. The mist will easily spread through more than one room. Leave it in this mode when using it in a sizable area such as a large office, gym or living area.
To dial down the output, press the high-low button to change mist output to low intensity. This feels more like the normal output seen in other diffusers. It will still cover a small to medium sized space adequately.
4. Light Settings
The light button allows you to control the light settings independent of the mist mechanism. The URPOWER 500ml diffuser comes with 7 different LED mood lights. You can set the lights to keep changing, fix them on a single color or turn them off (but leave diffuser on). The light is soft enough for use as a nightlight.
5. Bonus
Two extra features that I like about this unit is the fact that the air quality is improved significantly as it also acts as an ionizer, releasing negative ions into the air, in doing so, provides health benefits such as helps with better breathing and helps to relieve stress.
The URPOWER 500ml unit may also be used as a non-aromatherapy humidifier by providing moisture for dry cough, sinus congestion and equally good for dry skin.
Cleaning
The seller advises users to clean the diffuser at least once a week to keep it running smoothly. Considering the large capacity of the unit, I would advise an even more frequent clean, perhaps every second time you use it. Just rinse out the reservoir with warm water and then dry wipe it. You can carry out a deeper clean once a week using a mild detergent and warm water.
Two Downsides To Note
With the benefit of a bigger reservoir comes the need for increased maintenance. Oils tend to cling to the inside of the unit, making frequent cleaning necessary. If you use tap water, minerals will also buildup on the inside of the diffuser. As you enjoy the massive capacity and longer runtime, expect to spend more time and effort maintaining the unit.
There is also the issue of sound. Normally, the diffuser will operate very quietly thanks to the ultrasonic technology used. But as the water level goes down, you can hear a bubbling sound. This can be a bit distracting when you are trying to relax, sleep or work.
But these are just minor issues and they should not affect your experience in any significant way. When you consider that this diffuser is just a tiny bit more expensive than other smaller ones, it is a pretty great deal.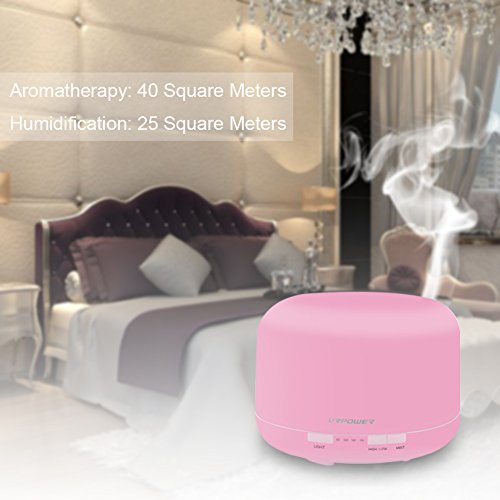 Click Here To Buy URPOWER Ultrasonic 500ml Essential Oil Diffuser