This compact and stylishly designed essential oil diffuser has attracted just under 6000 ratings (approx. 75% being 5* rating). It is affordable, works perfectly without a hitch and has the power to turn any space into a luxury spa. The URPOWER 2nd Version Essential Oil is an improvement on their original release, incorporating a better design and increasing the amount of mist produced.
The diffuser is small enough to be placed anywhere whether it is on your office desk, bedside cabinet or yoga studio. You can even carry it around to use in your hotel room. If you are looking for an affordable way to make your space smell better, deal with skin issues and nasal dryness or relax after a hectic day, the URPOWER essential oil diffuser comes highly recommended.
Top Features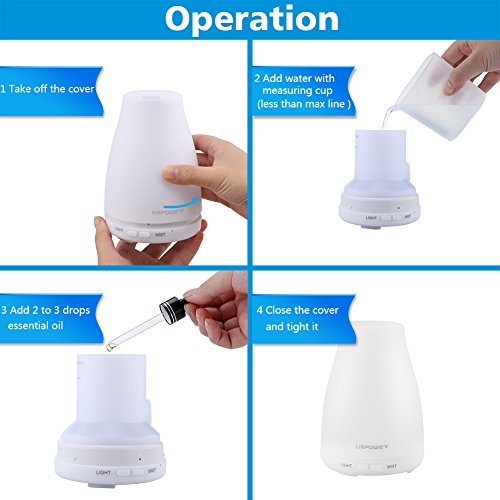 1. 100ml Capacity & 6-hour Maximum Run Time
The diffuser keeps capacity fairly low at 100ml. This is enough to produce a continuous mist for three hours. While there are other diffusers that can run for as long as 10 hours, the URPOWER is good enough for most users. You can use it to lull you to sleep or for your morning yoga session.
If you want more time out of the diffuser, you are in luck. It comes with two mist modes; continuous and intermittent. In the continuous mode, mist is produced throughout while in the intermittent mode, mist is produced every thirty seconds. The default 3-hour mode is continuous. Once you switch to intermittent (there is a labeled button at the bottom), this duration doubles to 6 hours. This is enough to last almost through the night or through most of your workday.
2. Easy Setup
It wouldn't be this popular if it were a headache to operate. You will be able to figure out and set up the diffuser in minutes. The lid comes of fairly easily, though it requires some twisting. A handy measuring cup is included to help you dole out the right amount of water. The reservoir itself has a maximum waterline mark, which you should not go beyond. Add a few drops, around 5 to 6, of your preferred essential oil and plug it in.
Near the base, you will see two clearly labeled buttons, directing you how to go about manipulating the unit. Getting a handle on them can be a bit confusing early on but you should soon be on your merry way.
3. Light Settings
Using the power buttons, there are several ways you can control the light. There are 7 color options to choose from. By default, the lights go on a rainbow cycle, changing from one color to another when you switch on the unit. You can press the light button to pause at a certain color or switch off the lights and leave only the mist running. The light settings allow you to set the kind of mood you prefer.
4. Cleaning and Maintenance
You should clean the diffuser at least once a week. This helps get rid of any oil residues and lengthens the life of the unit. Once you have taken the lid off, the manufacturer recommends using a rug soaked in a solution of dilute detergent and warm water to clean the inside.
Extra Specs
The unit has an auto shut off feature. When the water level runs low (you will hear a beeping sound), the unit automatically shuts down to avoid damage.
Dimensions are 7.7 x 4.4 x 4.4 inches.
Can be plugged into any standard socket.
Works both as an essential oil diffuser and a humidifier for small to mid-sized spaces.
Issues To Note
One thing that many users forget is that the quality of essential oil you use matters in how well the diffuser works and how long it lasts. Stick to pure essential oils for the best experience. Cheap alternatives may smell good but are filled with impurities, bases and fillers. In addition to risking your health, they tend to clog up the diffuser's ultrasonic mechanism and reduce its lifespan.
The Final Verdict
The URPOWER essential oil diffuser is a best seller on Amazon and it is easy to see why. It is simple yet beautiful, small yet effective in what it does. The price is also very affordable. While it does not come with any groundbreaking technology, it works well enough.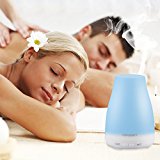 Click Here To Buy URPOWER 2nd Version Essential Oil Diffuser