The essential oil industry which Le Web is now part of has been experiencing rapid growth. Although these intriguing plant-derived substances have been in use since ancient times, there has been a significant surge in their popularity over the past few years. This is the result of a convergence of trends in consumer behavior that is literally changing the health and wellness space as we know it.
People are beginning to wake up to the many health risks that can come with eating foods that are laden with preservatives and artificial ingredients, and they are increasingly seeking out ways to incorporate natural, organic foods and products into their daily lives. This is where essential oils have really come to the forefront – they are 100% natural and highly potent, and have been shown to have powerful therapeutic and medicinal benefits.
As can be expected, all of the attention that has been given to essential oils in recent years has led to a proliferation of new essential oil companies popping up all over the place. While many of these businesses offer essential oils and other wellness products that are of a decent quality, there are only a handful of firms that are consider to be leaders within the space, and Le Web, the architect/maker of L'orpur products is definitely one of them.
If you prefer to do business with a small company that has a family feel, read on about Le Web!
Le Web Company History
They Do Small Things With Great LOVE!❤ If you want to read more about this pledge, please click here .
Founded in 2014, Le Web was formed in response to what the founders (Olivia et al.) considered to be a lack of quality and fair pricing in the essential oil arena. Prior to this, the founders had been in the holistic space for well over a decade before launching out in the essential oil industry.
Instead of trying to grow their fledgling business into a corporate behemoth in order to compete with the "big guys", the founders decided to focus on creating a company that would offer the most attentive, personalized service possible to their customers.
This includes sourcing only the purest and highest quality essential oils on the market, and then offering those oils to their customers at a very reasonable price. This core philosophy was one of the reasons why Le Web was totally against offering their products through a Multi-Level Marketing (MLM) distribution model.
They were tired of the outlandish price markups and questionable marketing practices that seemed to plague MLM-based (Young Living, doTERRA, etc.) essential oil companies, and instead they chose to offer their products on a direct-to-consumer basis in order to keep the focus where it rightfully belonged: Making sure that their customers were happy and satisfied with every transaction.
In short, Le Web wanted to create a business in which they could market essential oils directly to consumers via the Internet, and cut out the middleman. No physical stores either which means that they do not have the added burden of rental space, company overheads, etc.
Le Web Product Quality
As mentioned earlier, one of the core reasons why Le Web was established was to offer the highest quality essential oils to their customers. Their unrelenting focus on this core activity is one of the reasons why Le Web shines in the area of product quality.
They go to great lengths to ensure that every batch of essential oil they offer has been rigorously tested for quality and purity. This includes submitting their oils to third-party laboratories for Gas Chromatography, Mass Spectrometry and Infrared Spectrometry (GC/MS/IS) testing, all of which are designed to detect contaminants, diluting agents, synthetics, adulterants, and other materials that could possibly taint or diminish the purity of their essential oils. Le Web's products are 100% vegan, which means that no animal testing is done and no animal-based ingredients are used to make any of their products.
They work hands-on with various suppliers and growers to ensure that the plant materials that are being used are grown and harvested in a sustainable, eco-friendly manner. This is evidenced by the fact that Le Web has earned the highly coveted USDA Organic certification (Oregon Tilth) for their single essential oils (bulgarian lavender, eucalyptus, lemon, peppermint).
What this certification means is that the oils come from plants that were grown without the use of synthetic fertilizers, pesticides, sewage sludge, herbicides or GMO seeds. You can safely conclude that their essential oils are 100% pure, premium quality through the use of careful steam distillation, and they are not diluted with any other fillers.
And this is not a situation where the farmers are cobbling together some ad-hoc growing scheme that barely makes the cut; in fact, the plants from which Le Web extracts their oils have been grown using these all-organic farming practices for a minimum of 3 consecutive years.
This emphasis on providing only the purest essential oils available is part of what makes Le Web stand out from the crowd.
Le Web Product Range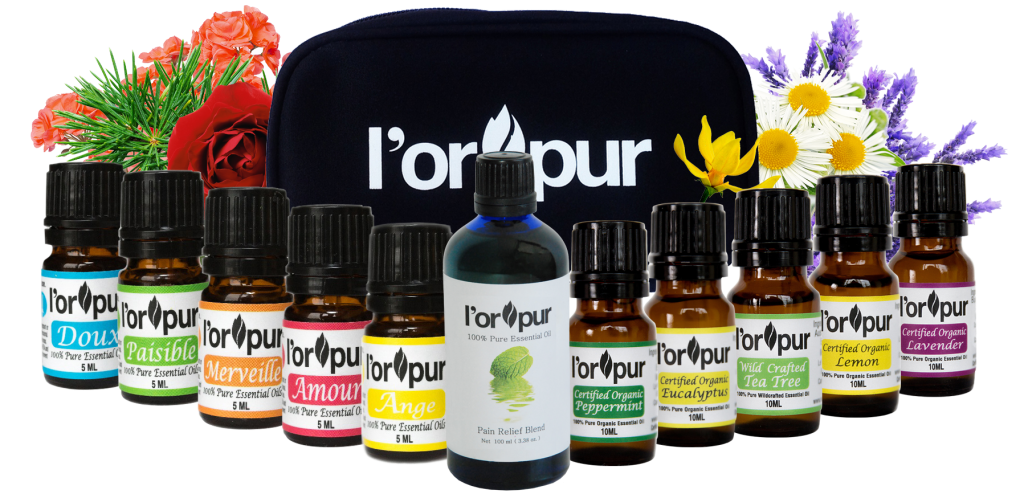 Keeping in line with their philosophy of "power in simplicity", Le Web focuses on providing pure essential oils and essential oils based products to their customers.
Some of their most popular product offerings are of course their best-seller l'orpur pain relief blend, their ever-popular 5 Blends Kit and their premium US Certified Organic Kit consisting of bulgarian lavender, eucalyptus, lemon, peppermint essential oils (all of which are organic) plus their wildcrafted Australian tea tree essential oil.
Interestingly enough, they decided against US organic tea tree essential oil in favour of their own Australian tea tree as this was simply a much superior product. Didn't I mention that they care about product quality and their customers!
Back to the main topic, their product range also include essential oil bar soaps, health products, perfume oils and, last but not least all-natural skincare products. By focusing on a small range of products, this not only keeps operational costs low, but in line with the company's philosophy, it enables Le Web "To Do Small Things With Great Love", which in my mind is a much better approach than adopting the "scattershot" mentality.
With a streamlined product range and a strong emphasis on quality, Le Web is uncompromising in terms of providing premium quality products, no quality compromise ever! The very first time you use L'orpur products you will know that offerings from Le Web are a class apart! So, when you buy from Le Web, you get:
The purest essential oils and blends you'll come across (made in USA)
Pure perfume oils free from artificial additives (made in USA)
Organic lip balms and jumbo tubes (made in USA)
Natural skincare for every skin type (made in Canada)
All blended to perfection
Sourced from 100% organic manufacturing plants
Derived from organically harvested raw material
Procured from geographic locations famed for a particular plant or raw material
High quality information backed by years of research
With no adulteration whatsoever
A diverse range of products to suit your busy lifestyles
Le Web Price Range Of Products
This is another area where Le Web really sets itself apart from the competition. As mentioned before, one of the biggest pitfalls of going with a MLM-based essential oil company is that you're going to have to pony up more cash to buy their products.
The higher prices that are often charged on their products are basically a "premium" that's being added to cover the commission payouts for the company's distributors. Like it or lump it, that's the way things go for the larger essential oil companies that operate based on an MLM business structure.
The beauty of a company such as Le Web is that they have essentially eliminated this issue altogether by making their products directly available to the consumer through their website. No fuss, no hassle, and no multi-tiered hoops you have to jump through just to get their products in your hands. And did I mention that every single product is shipped FREE of charge, no matter its price.
Le Web Company Website
Le Web's company website which also happens to be their blog is one of the things that is really fascinating.
Le Web started out to be an information based website and only branched out into the products side of things when more and more customers requested that they start their own line of essential oils due to customers' frustration with low-grade essential oils coupled with exorbitant prices.
You will find ALL of their products under the "SHOP" menu, which is at the top right hand side of the menu bar. Once you click in, you'll see their product range (which includes eBooks too) and you can get to the product description with only one click of the mouse.
In addition, their entire website is designed in a no-muss, no-fuss style, with only the essential menu items listed at the top and if you hover over it, a drop-down menu will appear that has a list of all their essential oil articles and recipes in a sensible, easy-to-read format, i.e. nothing's hidden from you.
This is one of the most impressive aspects of Le Web's website: Their website is simply well-designed, has a fresh look and super-easy to navigate. It has lively colors and a cheerful look, and it portrays the very attitude or "spirit" that represents healthy, holistic living.
They also offer you the opportunity to receive their weekly info newsletter as well as special savings and flash deals, and professional tips for using their products.
Le Web Customer Service
Of all the different strong points of Le Web, I would have to say that their customer service stands out the most to me.
Perhaps more than any other essential oil company I have encountered, they really take the time to listen and answer your every question, and they truly treat their customers like royalty. Believe me when I say that they answer to each and every question that their customers have on a daily basis, whether it is via their blog or personal email, Facebook or Instagram.
Whether you contact them through Email, Facebook or their website, they are extremely prompt to respond, and you will hear back from them within a day of submitting your inquiry. I want to highlight that you will typically get a response within 12 hours (and definitely within 24 hours), yes that's also part of their promise!
Once again, the founders of Le Web guarantee that you will get genuine, personalized customer service, and you can tell that they're actually interested in addressing your needs, and not just trying to sell a product, which is a BIG plus for me in this arena of essential oils.
Summary
Wrapping everything up, I just want to emphasize that Le Web is the real deal. They mean business about sourcing and selling only the highest quality essential oils and essential oil based products available at a very affordable price, and they offer top-notch customer service, whether you're simply inquiring about a product or you're ready to buy.
Their customer-oriented approach is like a breath of fresh air in an industry that is cluttered with companies that seem to favor the "churn and burn" approach.
If you're looking for a solid, legit company that can offer superior, premium quality products at affordable prices (lower than MLM companies or their competitors), with excellent customer service and outstanding reputation, look no further than Le Web.
They Do Small Things With great LOVE!❤