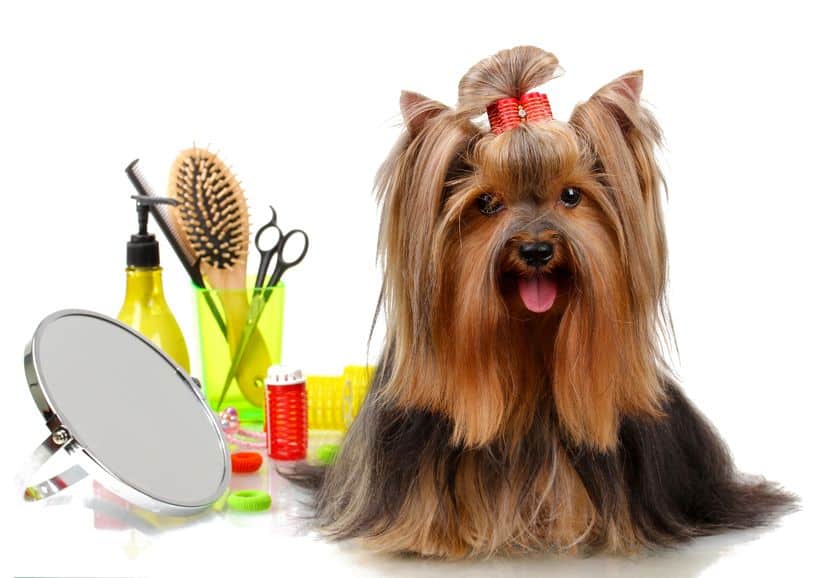 Why Do You Need This DIY Grooming Guide?
A quality DIY Grooming Guide, an easy-to-read resource for dog owners by my friend Kat who is a friendly dog groomer and consults on dog grooming issues in Australia. She will show you how to take the best care of your dog. Practical step-by-step guide will take you through everything you need to know to bathe and trim your dog, plus care for his/her nails, ears, teeth, and more. Learn how to train your dog to relax and enjoy grooming.
The eBook has 50+ pages (15,000 words) divided into 12 easy-to-read chapters. Inside the eBook, you'll find simple, step-by-step instructions for everything from bathing to brushing.
One of the easiest ways to tell whether your dog is healthy or not is by coat appearance. Regularly grooming your dog offers the following benefits:
Provides clues about his/her health
Allows you to potentially identify health problems such as ticks, allergies, fleas, or other diseases
Stops the spread of fleas, ticks and germs
Makes you and your dog comfortable socializing
And most importantly, the No. 1 benefit of grooming your dog yourself is reinforcing your bond with him/her
To claim your FREE pet grooming / deshedding brush (including with a storage pouch) which will dramatically reduce shedding for small, medium and large dogs, click on the image below. You will also receive a BONUS 50+ page ebook for everything you need to know on get grooming (*conditions apply).
PS: Please note that this eBook has no essential oils and/or essential oil recipes for pets.
While the occasional bath and brushing is enough to keep short haired pets happy and healthy, when it comes to long haired breeds, the story is quite different. Despite regular wash downs and daily combing, fast growing fur turns into an issue for pets and pet owners alike.
As a loving pet parent, you may learn to accept the generous coating of hair on your couch, rugs and upholstery, but your four legged friend will not be happy with the tangles, the mats and the parasites and skin issues they harbor. To put it simply, there is simply no escaping the need for coat grooming with a long haired pet, be it a cat, dog, rabbit or any other animal.
Professional grooming is an option but it can set you back by $60 to $100, every 8 weeks, which works out to an average of $360 to $600 each year. While home grooming is a viable solution to the problem, misconceptions abound when it comes to pet haircuts and these often prevent pet owners from taking matters into their own hands. So, here are the answers to pet grooming questions that will make things simpler for you.
Does Your Dog Or Cat Really Need A Groom?
Most people tend to think that their pets won't make it through the sweltering heat of summer without a haircut while others feel that trimming the fur will limit hair fall. The reality is that the coat provides insulation against heat and sunburn. Also, trimming just reduces the length of the hair but it does nothing to arrest hair fall.
So, as far as pet haircuts go, your aim should be to ensure that your pet's long locks do not impede movement or affect vision. Your pet's temperament also matters. While some animals display visible signs of relief once you chop off their hair, others, particularly collies, are like the Samson of the animal kingdom. They often act like they have lost their super powers with their locks.
Is It Really Possible To Groom Your Pet At Home?
As long as you have the right tools, grooming your pet at home will be easy on your pocket and more comfortable for the animal, as your pet will be accustomed to your touch and will even enjoy the extra attention. Also, you don't have to spend a bundle on pet grooming tools.
For instance, a lot of people feel the need to invest in an electric trimmer. Although this is a necessity when you are working with large, long haired breeds like huskies, golden retrievers, double coated Alsatians, etc, as far as small to medium sized dogs go, two pairs of scissors are all you need to keep your dog's coat well groomed.
Why Don't Pet Owners Consider DIY / Home Grooming?
Grooming does not have to be a chore; it can be a fun time to share, and it helps build trust. It also goes without saying that your pooch or kitten will simply love the extra time he/she gets to spend with you. So, why don't more pet owners consider home grooming? Three reasons:
No time
No tools
No experience / knowhow
Time
The time constraint can easily be remedied. You don't have to set aside a fixed time each day for pet grooming. Instead, simply include a few minutes of grooming in your daily interactions with your pet and you will have less workload at the end of the week or month.
Tools
As far as the tools go, there are a mind boggling number of options available and not all of these are suited for every type and breed of animal. Actually, a lot of pet owners harbor the misconception that buying grooming tools would cost them a small fortune. Yes, it would if you intend to start your very own pet grooming business.
However, if you are dealing with 1, 2 or 3 of your own animals, you only need the basics, which can be bought for less than what you would spend on professional grooming for a month; not to mention that quality tools will be yours to use and keep for years.
Experience / Knowhow
Finally, let us talk about the knowhow. Will it take patience and effort? Yes, but apart from the savings, you will also have one happy pet on your hands if you choose home pet grooming. So, without further ado, let us embark on this exciting and fulfilling journey of learning how to home groom your pets!
Here is wishing you and your pet babies: Happy Paws and Wagging Tails all along the way!
So, Why Spend More Money On Professional Grooming?
Simply head to our secure checkout page, where you are going to fill in your information to claim your copy of the easy-to-read eBook. Once you check out, you'll see the instant access download page.
The eBook will be emailed in a PDF version, so you can read it on your computer, tablet, or smartphone, or print it out and read it anywhere.