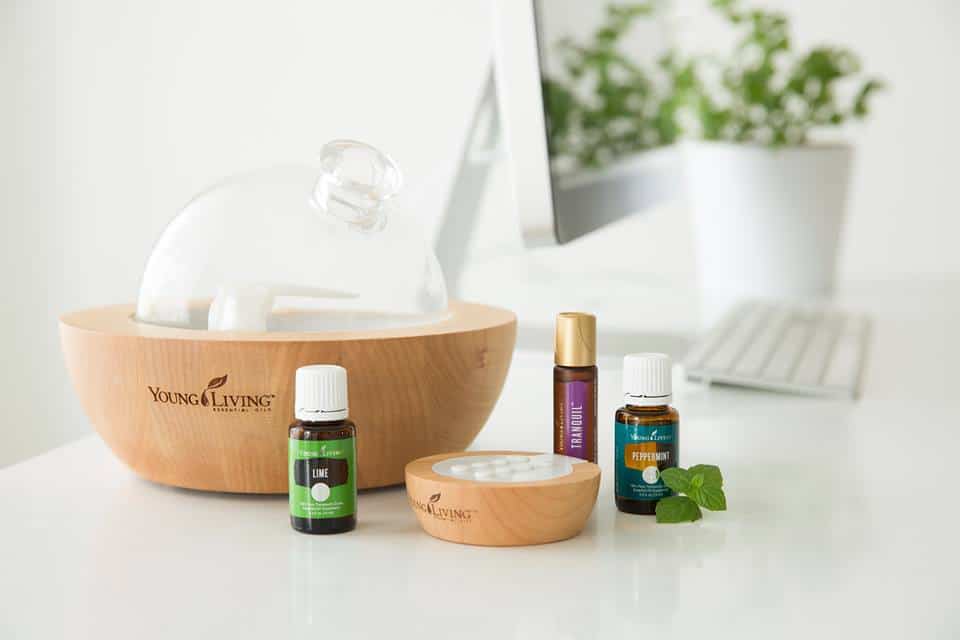 (image sourced from Young Living Essential Oils)
If you've been around longer than 10 minutes, you've probably heard about essential oils, as well as the many Multi Level Marketing (MLM) companies that promote them.
While I don't consider this a good or bad thing, I do think it's important to research whatever company you're thinking about buying products from (or joining to become a distributor), so that you can have a good idea of not only the quality of their products, but the ethos of their brand.
It is with due diligence in mind that I have decided to do this review about Young Living, a Utah-based company that manufactures a wide range of health and nutrition products containing natural essential oils.
Basic History Of The Company, Young Living
Founded in 1994 by D. Gary Young and Mary Young, Young Living is a company that basically developed out of the founders' passion for organic herb farming and distillation. The company now cultivates farmland in Utah and Idaho for growing the herbs from which essential oils are made, and since its inception over two decades ago, Young Living has grown to a point where it now houses the largest essential oil distillery in North America.
They employ a proprietary development process known as "Seed to Seal", for which they claim that the potency and integrity of the essential oils is carefully maintained throughout the production process.
Young Living is headquartered in the relatively small city of in Lehi, Utah (which, interestingly enough, was one of the filming locations for the iconic 80's movie "footloose"), but the company also has offices in Canada, Europe, Australia, Singapore, and Japan, as well as several farming locations around the world.
Product Quality Of Young Living
Young Living definitely prides themselves on their rigorous production process, which includes steam distillation, cold pressing and resin tapping for optimal purity.
They grow their own herbs (e.g., peppermint, lavender, clary sage, jasmine, melissa, etc.) on their company-owned farmland, which allows them to maintain a much stricter degree of control over the entire manufacturing process. This is why their "Seed to Seal" philosophy has become somewhat of a mantra by which the organization functions; they believe in keeping the entire process as "untainted" as possible to ensure that the essential oils they produce are as potent and as pure as possible. That's what they say anyhow.
So What Exactly Is This "Seed to Seal" Process, How Does It Work?
Here's a summary of what it's all about:
1. Seed
The plants used to produce the Young Living essential oil products have to be verified for quality before they are selected for use. Not only that, but Young Living also partners with university researchers in order to evaluate and ascertain the potential potency of the seeds in terms of their ability to produce quality essential oils. This is determined by the level of bioactive compounds found in the seeds.
2. Cultivation
Young Living employs a specific cultivation process on their farms, so that their seeds are grown and harvested using sustainable and environmentally responsible methods. The various co-op farms operated by Young Living around the world are regularly visited by company experts to ensure that the growing and harvesting processes continue to match the quality standards outlined by the corporation.
3. Distillation
Young Living has long been recognized as an industry leader in the art of essential oil distillation. They employ various techniques that are a combination of both ancient and modern methods, with steam extraction being one of the key processes that preserves the constitution of the essential oils they use. For certain select oils within their supply chain, Young Living employs the use of resin tapping and cold pressing as well.
4. Testing
Of course, who would bring a product to the market without testing it first? Young Living employs several rigorous testing methods in both internal and third-party laboratories to ensure that their oils are not cut, diluted or adulterated.
5. Seal
This final phase of the process is completed within the company's massive production facility (107,000 square feet!) located in Spanish Fork, Utah. The bottling process is executed using strict quality controls as well as state-of-the-art equipment. Once the products are bottled and labeled, they are ready to be shipped far and wide.
Price Range Of Young Living Products
The price range of Young Living products is what I would consider to be high to very high for the quality they offer, i.e. don't expect to pay the same thing for their products that you would for a comparable product at your local drugstore or supermarket. For example, a 15ml bottle of Lavender essential oil will cost you about $31 retail, which is very pricey.
Many people join Young Living just to get the wholesale discount on the products, so if you really like what you've experienced with Young Living once you try one of their essential oils, it might be worth it to sign up as a member just for the wholesale pricing, in which case the above bottle of Lavender oil will set you back at $24.
Range Of Young Living Products
Young Living offers a diverse product line that includes:
Essential Oils and Essential Oil Blends – Essential oils are famous for their complex and unique scents, which are believed to trigger certain emotions within the brain that bring about a sense of relaxation and well-being. The various oils and blends offered by Young Living can be utilized for diffusion, massage, soothing baths, topical application, or inhalation. Popular choices include their collections, such as the Feelings Kit, Everyday Oils and Golden Touch Collection.
Diet and Physical Wellness Products – One of the main selling points for essential oil products is their emphasis on restoring balance back to your physical health. Young Living offers several different weight management products and associated dietary supplements that feature pure essential oils as well as powerful antioxidants and whole-food nutrients. Popular products in this category include their True Source and Core Supplements, Slique weight management products and Balance Complete liquid nutritional supplements.
Home and Personal Care Products – One of the key tenets of the Young Living corporate philosophy is that their products should be all-natural and non-toxic. For example, their Thieves AromaBright Toothpaste is an all-natural blend of essential oils that support dental health without the potentially harmful effects of various chemicals found in the average store-bought toothpaste. This all-natural philosophy extends to their other personal care and home cleaning products as well, such as the Thieves Household Cleaner, Air Freshener, Waterless Hand Purifier, Lavender Foaming Hand Soap, and Fresh Essence Mouthwash.
Diffusers and Accessories – If you want to take advantage of the aromatic power of essential oils, you will definitely need a diffuser to do the job. For the uninitiated, a diffuser is basically any type of appliance or instrument you can use to turn liquid essential oils into a fine mist or vapor that can be circulated in the air around the house. This can include lamps, tabletop appliances, USB drives (yes, you read that right), resin burners, and much more.
Energy Drinks – One of the most popular products on Young Living's roster is their NingXia Red Energy Drink, which is basically the Red Bull of the Young Living product line. The main difference between NingXia and other energy drinks like Red Bull is that while the latter are typically loaded with sugar and artificial colors and flavoring agents whereas NingXia contains a list of whole nutrients that actually help promote proper cellular function and energy production.
Beauty Products – This is perhaps one of the most popular aspects of Young Living's product line. Their beauty products are comprised of all-natural ingredients – including essential oils, of course – that are designed to promote a healthy, vibrant and youthful look. With products such as the Satin Facial Scrub, Sheerlume Brightening Cream and Rose Ointment skin cream, Young Living offers a variety of beauty products that are free from harsh additives and chemicals.
Multi-Level Marketing Opportunity
I briefly mentioned it earlier, but I wanted to point out that Young Living has an arm of their business structure that offers a multi-level marketing opportunity to people who would like to become independent distributors of their products.
These people basically act as brand evangelists for Young Living by not only using the products themselves (which they can get at a wholesale discount once they sign up to be distributors), but also by educating others about the products and encouraging them to sign up as distributors as well.
The compensation plan rewards distributors who personally enroll other distributors, paying out both percentage-based and flat-rate bonuses for confirmed sign-ups. While there are some who criticize multi-level marketing businesses as being focused more on recruiting distributors than selling products, others view it as a legitimate opportunity to own your own business with a relatively low barrier to entry.
Company Website
One of my pet peeves is when a company touts how great its products are, but its website is a convoluted, non-navigable pile of garbage. Thankfully, the Young Living website is nothing like that.
In fact, in the realm of nutritional supplement websites, this is one of the best I've seen. It's very easy to navigate, and it has a clean, bright look and easy-to-figure-out menu options.
One of the hallmarks of a well-designed site is the ability to make things as intuitive as possible for the user, and I have to say that Young Living's website fits the bill in this regard. In addition, their blog stays up-to-date with helpful information that pertains to health, nutrition and wellness.
Customer Service
Thanks to their easy-to-navigate website, it was no problem for me to find the contact information for the Young Living corporate offices. They offer phone numbers and email addresses for taking product orders via phone, fax and even Will Call, and they offer chat support, phone support and email support for members as well.
WARNING!
I have read about Young Living MLM representatives make false claims about what the YL brand of essential oils can do. For this, Young Living has received a warning from the FDA on September 22nd 2014. You can access the details here.
More recently, the company pleaded guilty and was fined $760,000 by the Justice Department for its illegal trafficking of rosewood oil and spikenard oil in violation of the Lacey Act and the Endangered Species Act. You can read the full story here.
Please note that the above is not my opinion, I am simply stating the relevant facts, but it's definitely something to take into consideration when choosing a company to work with or represent.
Parting Shot
All in all, it seems like Young Living is a company that offers good-quality essential oil products, as well as a legitimate business opportunity to those who are into the MLM aspect of the company.
They have proven themselves to be an industry leader in the growing and harvesting of essential oils, and their product line seems to be a reflection of the integrity of the production process.