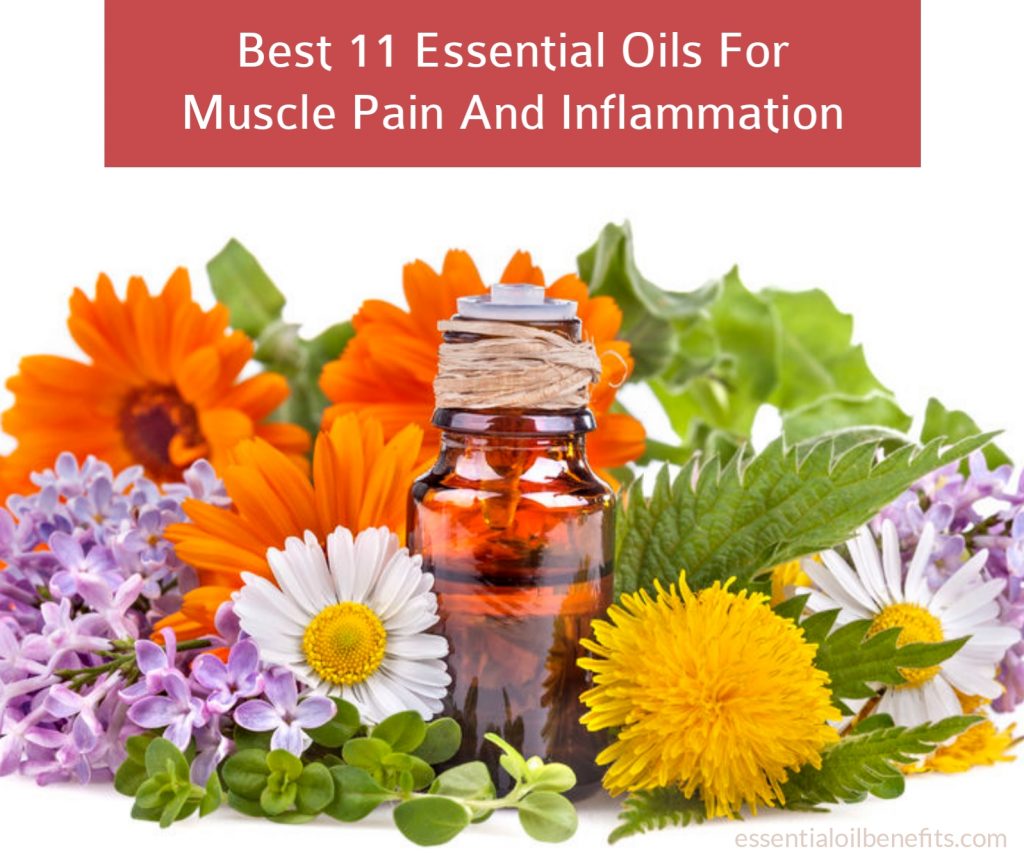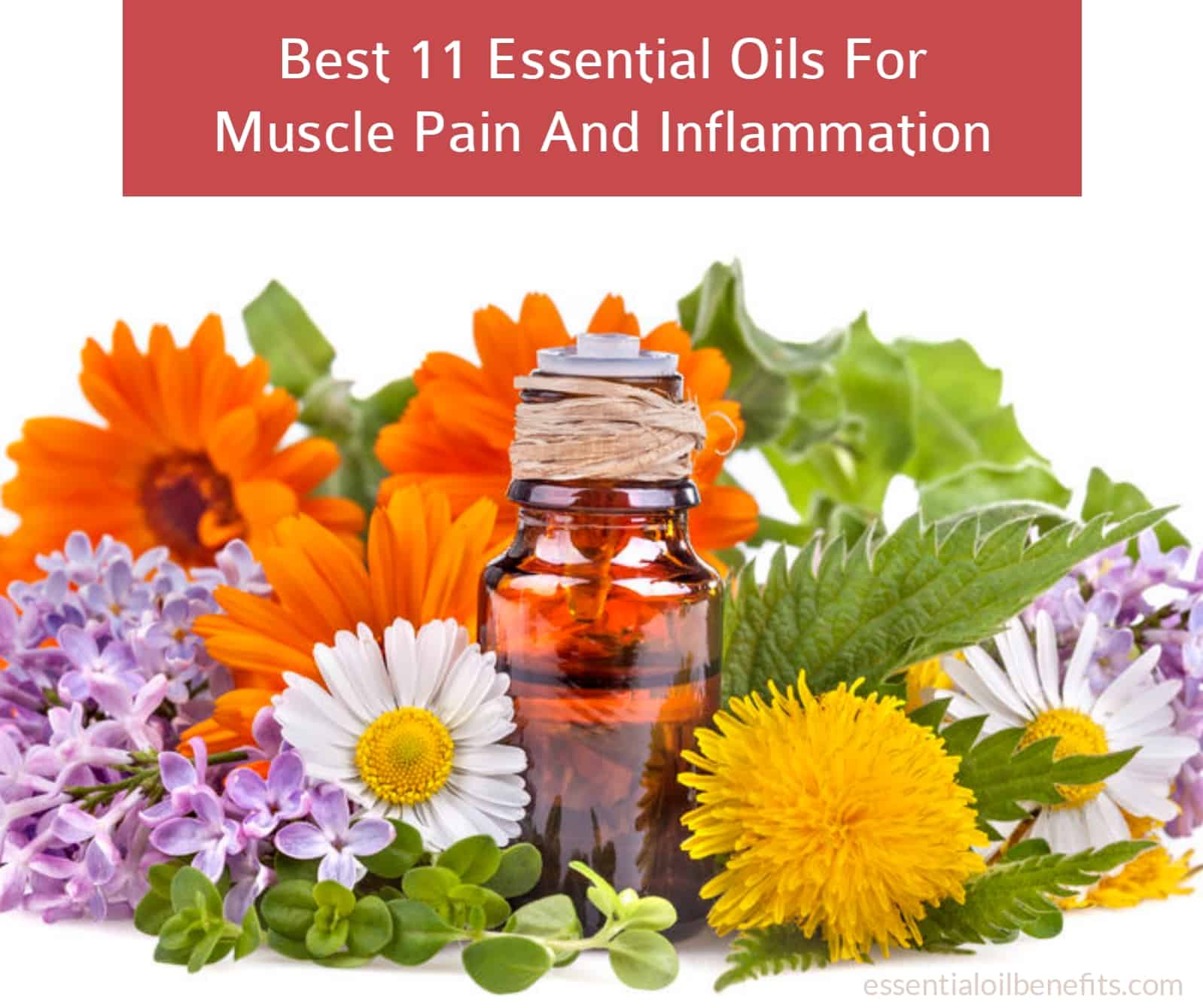 One condition that affects millions of people worldwide is muscle pain and inflammation. Whether from overwork or under use, many of us have had to deal with it at one point or another!
It does not matter whether you are an athlete, a gym junkie, simply like to go for walks or your work requires you to lift weights, chances are you have experienced sore muscles and body aches, stiffness, muscle pain and spasms.
These symptoms are all too often ignored and we simply hope that the pain goes away over time. Unfortunately, hoping for the best won't cut it as it won't address the root of the issue.
Over the counter creams work to some extent, however they are not a long term option. And, given they contain lots of chemicals, they are potentially unsafe to your health and well-being. The other issue with OTC medication is that you could easily become dependent on them.
While there are several remedies available to relieve muscle and joint pain, essential oils have been used since time immemorial due to their healing properties. With that said, here are some of the best essential oils you can use for muscle pain relief…
Best 11 Essential Oils For Muscle Pain And Inflammation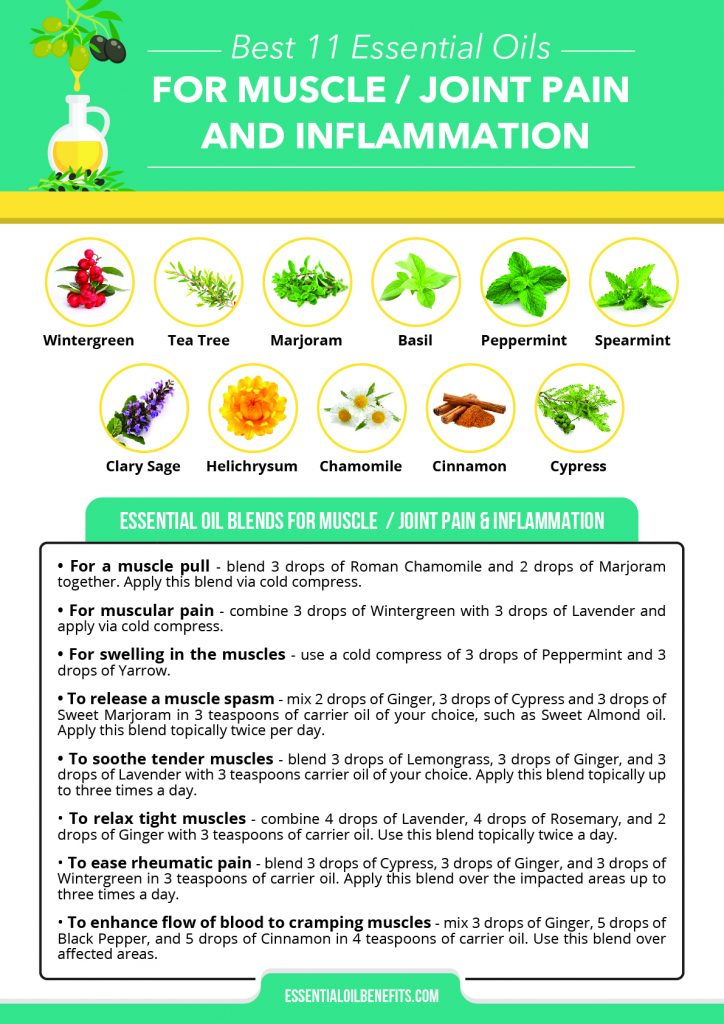 1. Wintergreen
Wintergreen essential oil can be beneficial for muscle aches and pains, issues of the kidney, nerve pain, arthritis, throbbing joints and menstrual pain. It can be applied topically to the skin or used in a diffuser. Do not ingest as it is poisonous and can trigger symptoms of dizziness, tinnitus, hyperventilation, vomiting and nausea. Wintergreen is not recommended for small children or if you are pregnant or for nursing mums.
2. Tea Tree
There are limited side effects involved with the use of tea tree oil; however, a little caution must be followed when using it on children under the age of 6. In addition, I have found people using tea tree oil to have a higher vulnerability to contact sensitization.
3. Marjoram
Marjoram essential oil can be beneficial for bronchitis, headaches, asthma, whooping cough or any muscle pain. Marjoram can be safely used topically with no known side effects.
4. Basil
Basil has anti-inflammatory, anti-bacterial and antispasmodic properties. When diluted in a carrier oil, it can be applied as a massage oil to reduce swelling in the muscles. Individuals with epilepsy, kids and pregnant women should avoid using this oil. It may also irritate your skin.
5. Peppermint
Peppermint is highly effective for those suffering from muscle spasms and joint pain. While there are no known negative side effects to using peppermint oil, I have seen some people reporting problems like mild skin irritation. So just remember to do a skin test patch before using it. It can be applied topically or used in a diffuser.
6. Spearmint
Spearmint can work wonders for those suffering from muscle pain and inflammation. It can be used externally or in a diffuser. There are no known adverse effects to using this oil; however, skin irritation is one of the negatives when this oil is used for a prolonged period of time.
7. Clary Sage
Clary Sage has proven to be helpful for inflammation of the muscles when diluted in a carrier oil and applied topically. It can also be taken orally (acts as a flavor for food), however please ensure you are using edible grade essential oil and talk to your doctor prior to ingesting any essential oils.
8. Helichrysum
Helichrysum is one of the best oils for reducing inflammation of the muscles and for joint pain. In addition, this oil promotes the healing of injuries or burns, detoxifies the body and boosts the immune system, reverses signs of aging, and fights fungal infections. Helichrysum can be used both topically and in a diffuser.
9. Chamomile
Chamomile has soothing and relaxing properties that help to lower stress and anxiety as well as promote sleep. Possible adverse effects can include contact dermatitis, anaphylaxis and other hypersensitivity reactions. You can diffuse it or dilute 3-4 drops in a tablespoon of carrier oil and apply on the temples and back of the neck, either prior to going to bed or when dealing with a difficult situation.
10. Cinnamon
Cinnamon has the ability to stabilize blood sugar, reduce inflammation, and battle infections. There are no known side results to using cinnamon; however, it may be a skin irritant and irritate the nasal passage if not diluted.
11. Cypress
Cypress relieves pain in the muscles including muscle fatigue, spasms and aching muscles after a strenuous exercise session. When used topically, it penetrates the skin easily for immediate relaxation and pain relief benefits.
How To Use Essential Oils To Treat Common Muscle And Joint Pain Issues?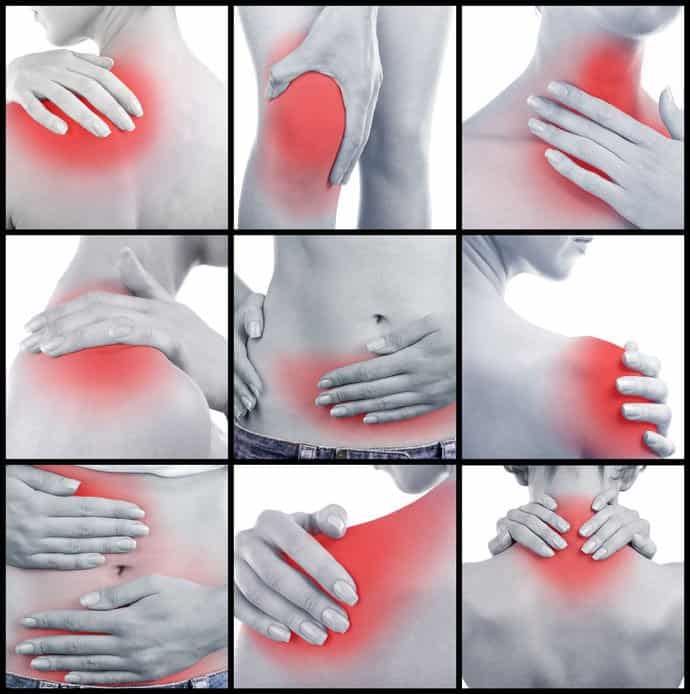 1.General Muscle Discomfort
The best essential oils to use for general muscle discomfort are Wintergreen, Marjoram and Peppermint followed by Clove, White Fir, Vetiver, Sage, Silver Fir, Rosemary, Lemongrass, Ginger, Cypress, Birch, Basil and Balsam Fir.
2. Muscle Aches
If you are experiencing muscle pain or connective tissue discomfort or have fibromyalgia, the following essential oils are most helpful: Peppermint, Oregano, Marjoram, Clove and Birch. Other than these essential oils, I have found Wintergreen, White Fir, Thyme, Rosemary, Chamomile, Lavender and Helichrysum to be very effective.
3. Cardiac Muscle Pain
Yes, your heart is a muscle. Marjoram and Lavender work best for the cardiac muscle, followed by Peppermint, Rosemary and Cinnamon. You can use these oils topically or in a diffuser.
4. Cartilage Injury
Birch, Marjoram and Wintergreen are best for cartilage injury. Lemongrass and Peppermint are also good options.
5. Lack of energy in muscles
To energize the muscles prior to a workout, use Rosemary. It warms the muscles and helps them stretch for optimal efficiency.
 6. Muscle Cramps
Often prompted by pressure or lack of blood circulation, leg and foot cramps can often be prevented by remaining hydrated. Lemongrass, Marjoram and Peppermint are the best oils for muscle cramp relief, followed by Vetiver, Rosemary, Chamomile, Lavender, Grapefruit, Cypress, Clary Sage and Basil.
7. Muscle Fatigue
The list of essential oils that I can confidently recommend for muscle fatigue includes Eucalyptus, White Fir, Peppermint, Marjoram and Cypress. Other than that, Thyme, Rosemary, Grapefruit are known to produce good results.
8. Muscle Spasms
While spasms are not usually agonizing, they can be eased with the use of Basil, Chamomile, Marjoram, Peppermint, Lavender, Cypress and Clary Sage.
9. Muscle Sprains
Stress in the ligament can be treated with Eucalyptus, Clove, White Fir, Marjoram and Lemongrass. Other essential oils that might be helpful are Vetiver, Thyme, Rosemary, Lavender, Helichrysum and Ginger.
10. Tendinitis
Marjoram and Lavender are the best essential oils you can use for swelling of the tendon.
11. Muscle stress
Whether caused due to physical stress or emotional anxiety, Marjoram is your best choice for muscle stress. Helichrysum, Lavender, Peppermint, and Roman Chamomile are also effective.
How To Make Your Own Essential Oil Blends For Muscle Pain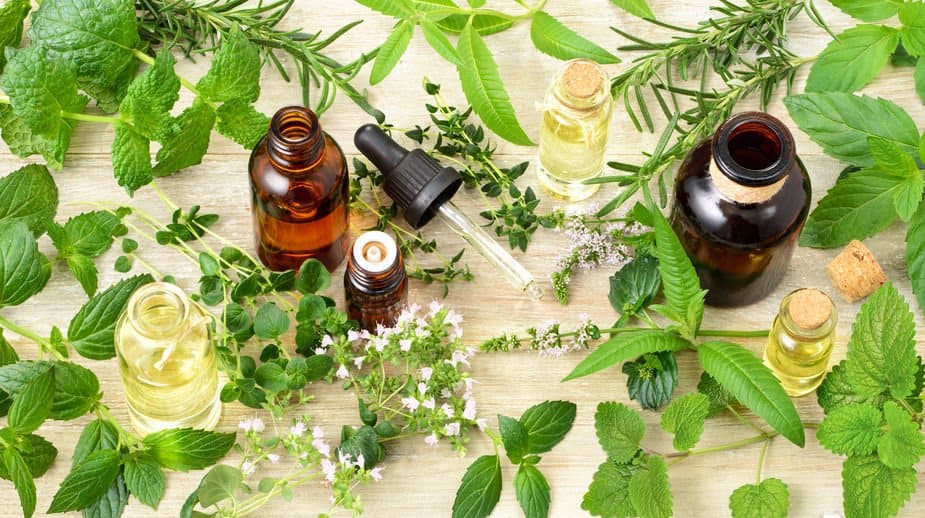 For a muscle pull, blend 3 drops of Roman Chamomile and 2 drops of Marjoram together. Apply this blend via cold compress.
For muscular pain, combine 3 drops of Wintergreen with 3 drops of Lavender. Apply this blend using cold compress.
For swelling in the muscles, use a cold compress of 3 drops of Peppermint and 3 drops of Yarrow.
To release a muscle spasm, mix 2 drops of Ginger, 3 drops of Cypress and 3 drops of Sweet Marjoram in 3 teaspoons of carrier oil of your choice, such as Sweet Almond oil. Apply this blend topically twice per day.
To soothe tender muscles, blend 3 drops of Lemongrass, 3 drops of Ginger, and 3 drops of Lavender with 3 teaspoons carrier oil of your choice. Apply this blend topically three times a day.
To relax tight muscles, blend 4 drops of Lavender, 4 drops of Rosemary, and 2 drops of Ginger with 3 teaspoons of carrier oil. Use this blend topically twice a day.
In order to ease rheumatic pain, blend 3 drops of Cypress, 3 drops of Ginger, and 3 drops of Wintergreen in 3 teaspoons of carrier oil. Apply this blend over the impacted areas up to three times a day.
In order to enhance flow of blood to the cramping muscles of the leg combine 3 drops of Ginger, 5 drops of Black Pepper, and 5 drops of Cinnamon in 4 teaspoons of carrier oil. Use this blend over affected areas once a day.
Recommended Product
If you are not ready to concoct your own essential oil blend for muscle and joint pain, you could always give L'orpur a go. It contains a blend of 8 essential and 2 carrier oils in a proprietary mix and you can use it straight from the bottle. Read more about its pain relieving properties here.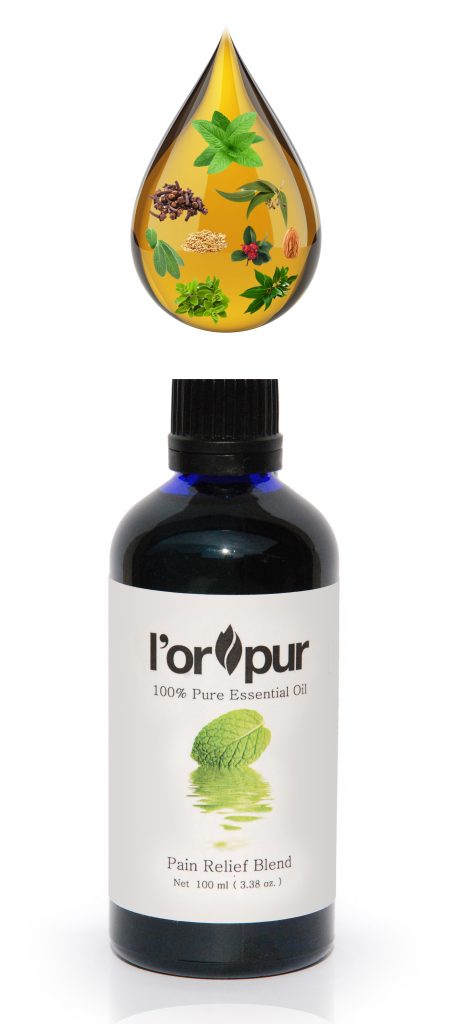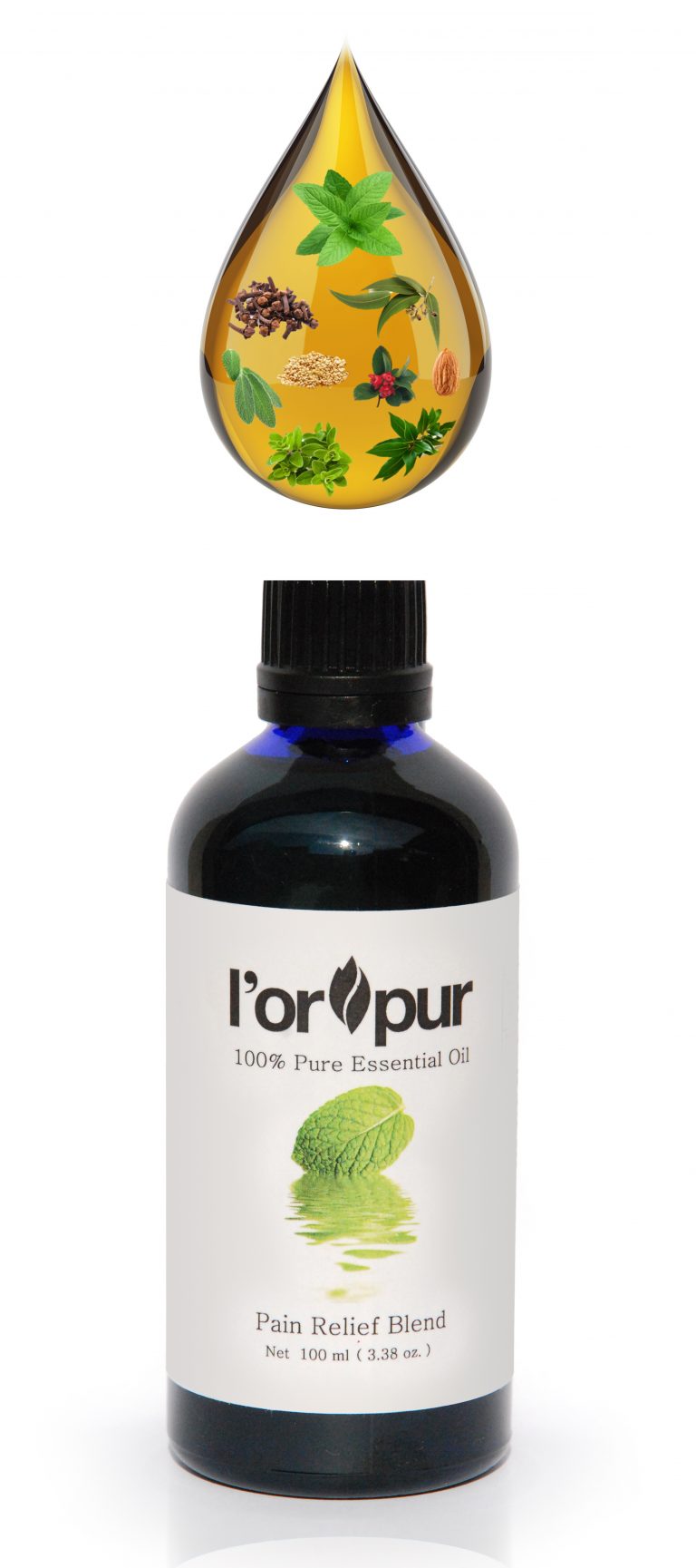 The Final Word
For centuries, essential oils have been recognized for their therapeutic properties. Ancient cultures exercised the art of making essential oils for relieving muscle pain by first soaking the leaves, branches, bark and flowers of plants in oil for a period of time and then using linen to cleanse, separate and filter the oils in a concentrated form.
In today's world, most of us prefer to use over the counter or prescription medication instead of looking for healthier alternatives. Rightly formulated, high quality essential oils can provide pain relieving benefits similar to pharmaceuticals but without any of the nasty side effects.
So, next time you are in pain and need relief, reach out for the healing powers of essential oils.
(Visited 20,181 times, 4 visits today)