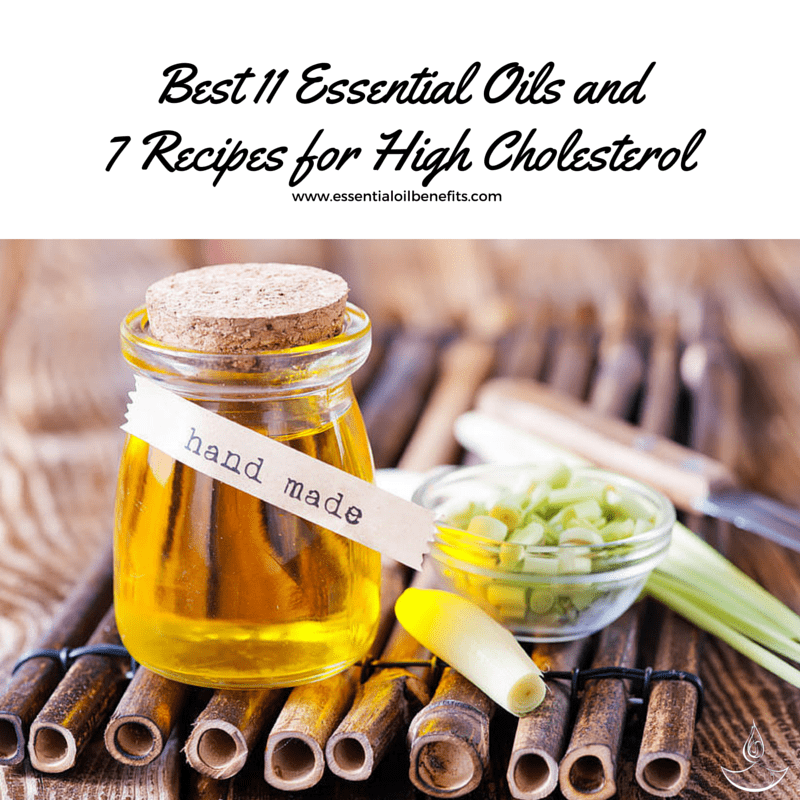 Cholesterol is a natural substance produced by the liver that the body needs for the proper function of hormones, nerves and cells. Cholesterol that circulates as lipids (fats) in the blood, also called plaque, has a tendency to deposit itself on the walls of arteries reducing the blood flow to the vital areas of the body.
If such deposits continue to build up in the long term, that heightens the risk of a heart attack or stroke. Generally, our body tends to keep the cholesterol levels balanced but due to the presence of large amount of hydrogenated fats and refined carbohydrates in our diet, the balance of High (raised) LDL (bad) cholesterol and low (reduced) HDL (good) cholesterol gets disturbed. This imbalance is one of the major causes of a heart attack or stroke, among others such as hypothyroidism, stress, diabetes, high blood pressure and inactivity.
Facts About Cholesterol
The two images below show 13 facts about Cholesterol.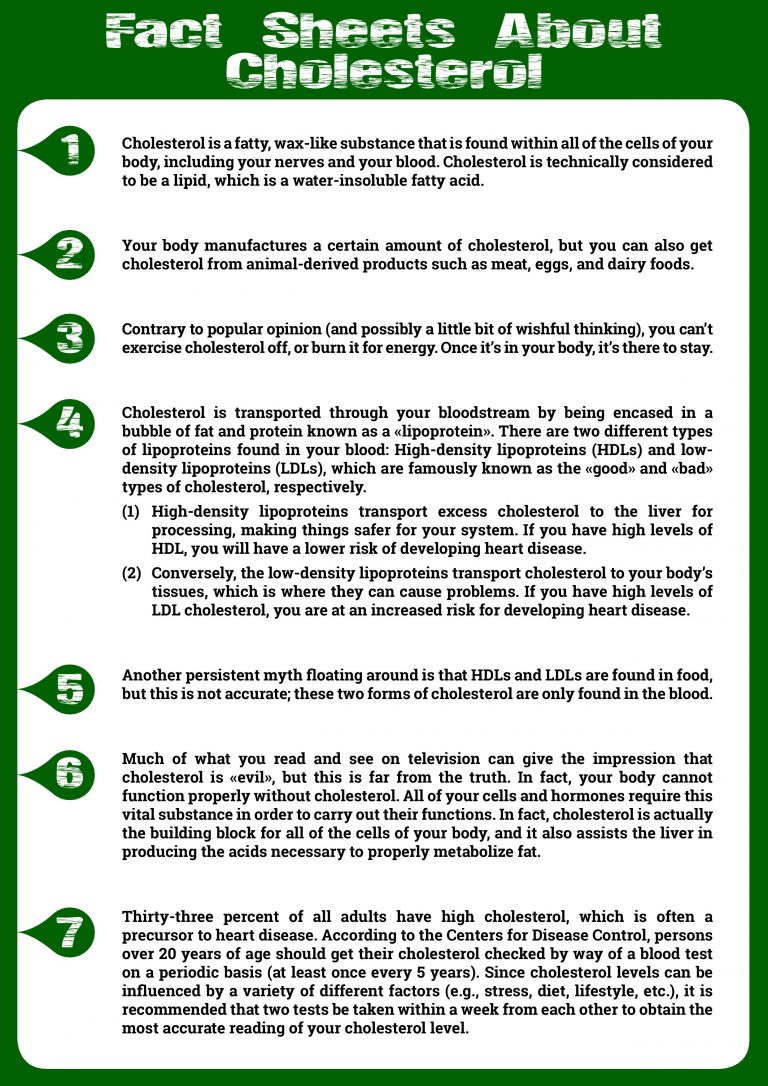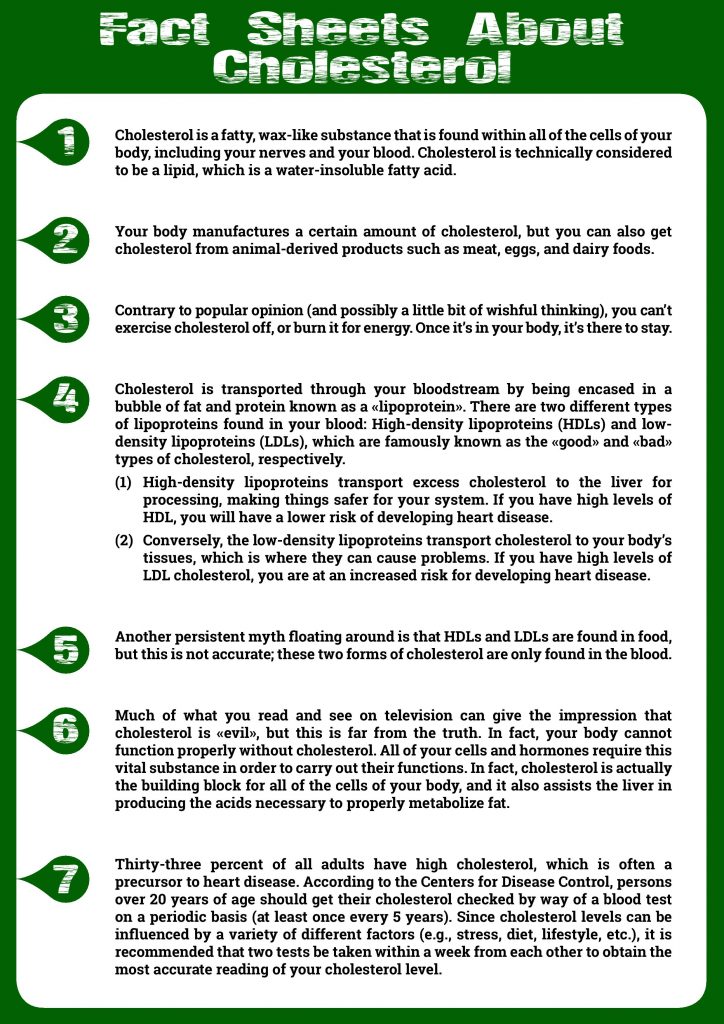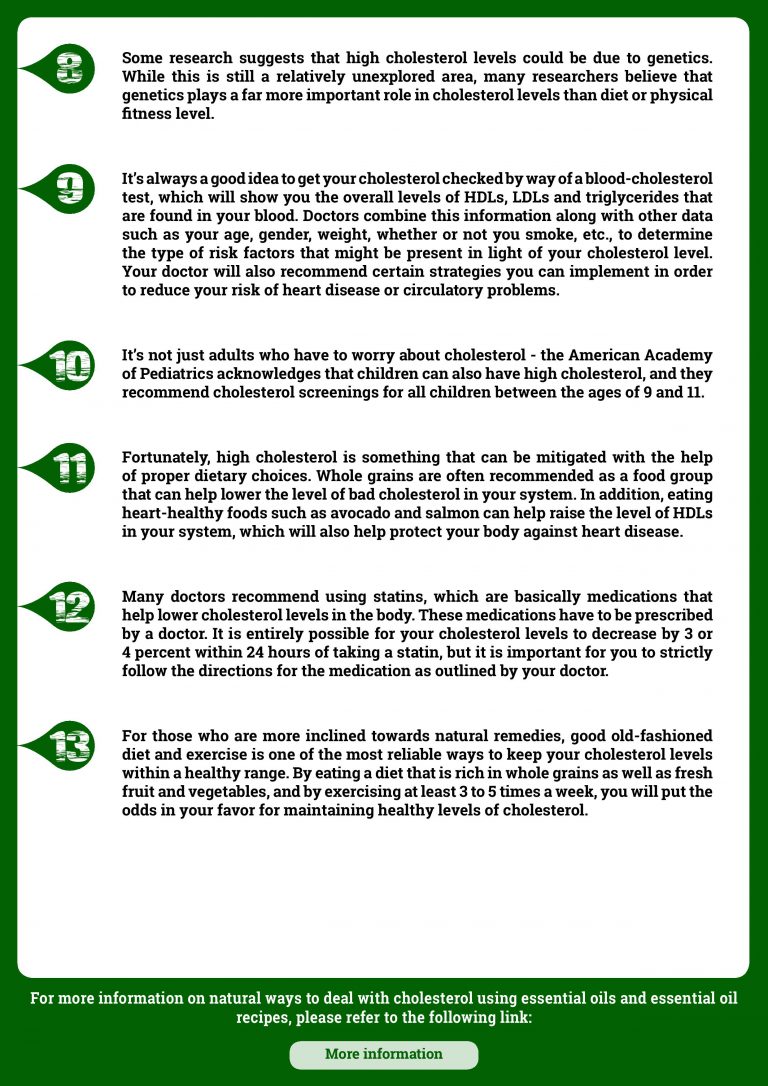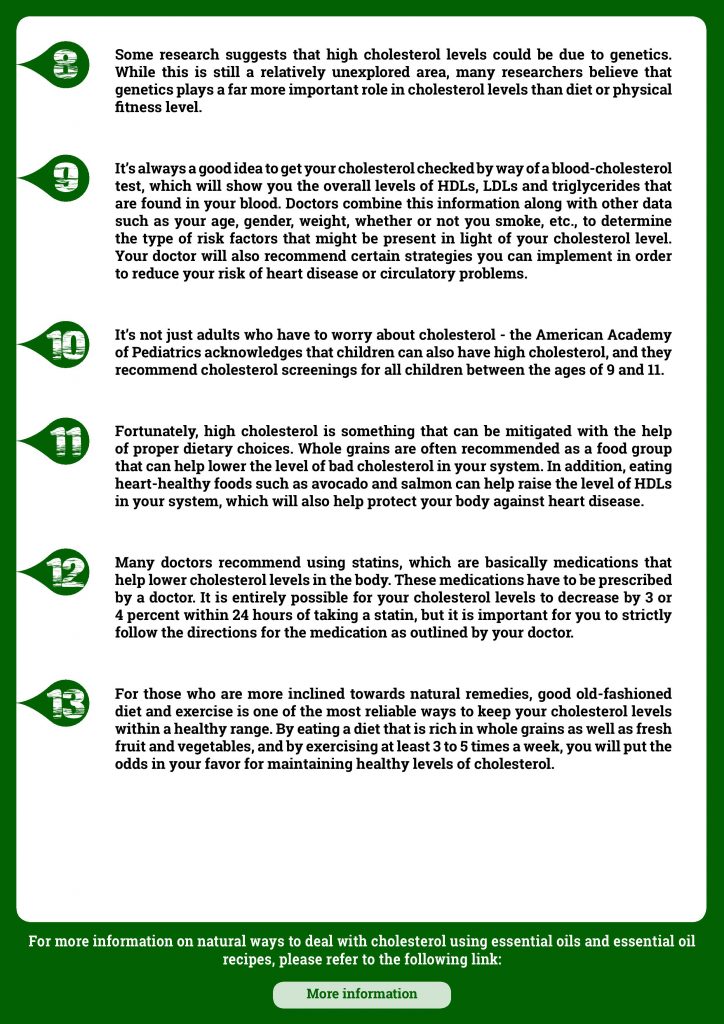 5 Foods (Not Essential Oils) To Reduce High Cholesterol Naturally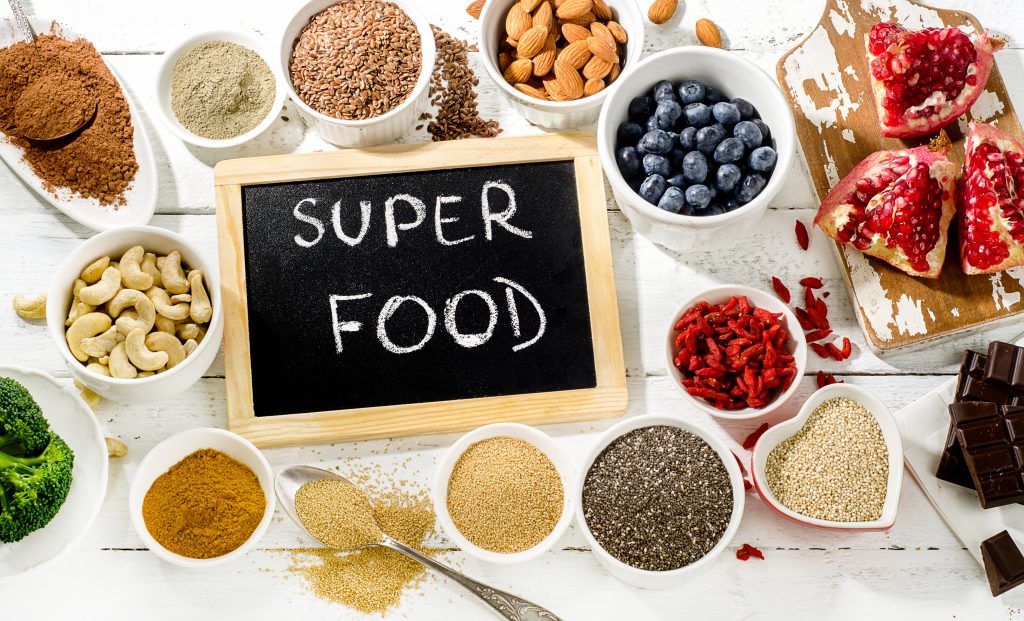 1. Blueberries
Blueberries are known to help keep arteries clear reducing the LDL levels in the blood that cause blockage of arteries. Blueberries have very high levels of antioxidants, which is the best thing I believe you can get for your cardiovascular system. In addition, they contain pterostilbene, which is an agent well known for cholesterol reduction.
2. Coconut Oil
The latest study conducted in Malaysia showed that coconut oil potentially reduces pain and inflammation. Coconut oil contains lauric acid, which is a potent anti-inflammatory known to boost the levels of good cholesterol (HDL) in the blood, thus contributing towards maintaining the ratio of LDL / HDL. Coconut oil reduces cholesterol by promoting its conversion into pregnenolone, a molecule that is a precursor to many hormones in our body.
3. Cod Liver Oil
Cod liver oil is rich in omega-3 fatty acids that reduce inflammation and coagulation. It is important that you use high quality cod liver oil.
4. Olive Oil
Olive oil is full of health benefits and it is very good for your heart. While being a rich source of monounsaturated fatty acids that help the body to reduce LDL cholesterol, olive oil makes a delicious and healthy salad. Instead of using regular cooking oil or butter, oil, consider roasting the vegetables and marinate meat and fish in olive oil. Get at least two tablespoons of olive oil a day to get the most out of it.
5. Grapefruit
Presence of d-limonene in grapefruit makes it one of the best foods for weight loss. It contributes to the release of fatty acids in the blood, which the body breaks down to produce energy. D-limonene helps to reduce weight by lowering lipid peroxidation and the cholesterol levels in the body. Try a glass of grapefruit juice before meals to help fill you up, so you'll eat fewer calories during meals.
Best 11 Essential Oils To Lower Cholesterol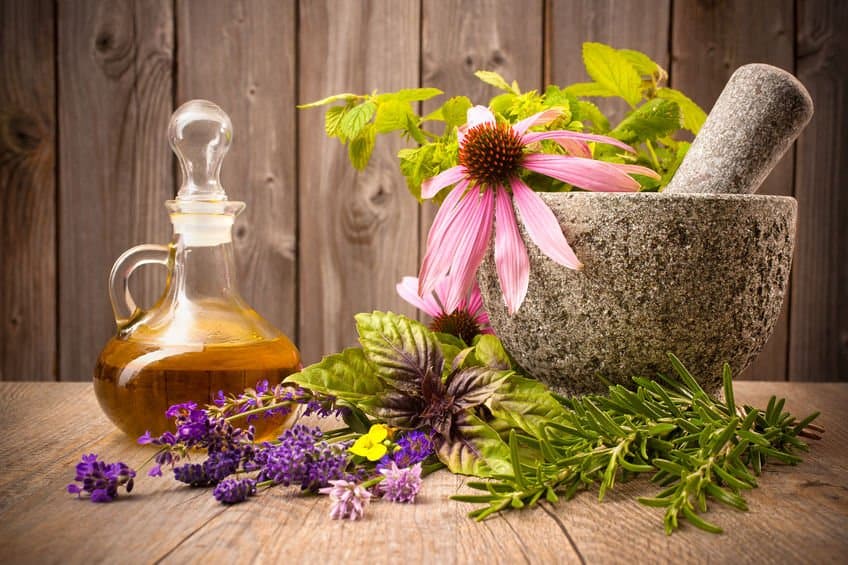 Among the many natural ways to lower the cholesterol level in the body, one of the most effective is the use of essential oils. Essential oils can affect your body in two main ways. When applied on skin, these oils penetrate into the cells of hair follicles and sweat glands, and get absorbed in body fluids. When these essential oils are inside your body, they affect your body in several surprising ways. Although essential oils are proven to have many benefits for the body, not all essential oils can be used to help with high cholesterol levels.
Keeping that in mind, here are some of the best and most effective essential oils for high cholesterol. Make sure you purchase therapeutic grade edible essential oils that can be taken internally and make sure to always consult with your doctor prior to ingesting any essential oils in case of other underlying health conditions.
1. Lemongrass Essential Oil
The essential oil of lemongrass has been clinically proven to lower the level of cholesterol in the body. While being one of the best oils you can use to support the immune system, Lemongrass also acts as a potent analgesic and anti-inflammatory. You can use this oil both internally and topically.
Here is how I use Lemongrass oil to balance the cholesterol levels in my body: Take 1 drop of the essential oil of clove and 2 drops of lemongrass twice daily for 30 days and your LDL (bad cholesterol) will drop. Later, you can add 2 drops of grapefruit essential oil to the blend of clove and lemongrass you are using.
2. Clove Essential Oil
Clove is known for its anti-inflammatory, analgesic and anti-inflammatory affects. Clove is also one of the most known antioxidant essential oils. Eugenol, which is an active ingredient in clove is an effective platelet inhibitor known to prevent the formation of blood clots.
3. Lavender Essential oil
Lavender has been shown to reduce cholesterol levels significantly, as it reduces the emotional stress in the body.
4. Cypress and Rosemary oils
The essential oil of Cypress improves blood circulation and reduces the cholesterol levels in the body. Similarly, Rosemary oil with its antioxidant properties is a big cardiovascular support.
5. Cinnamon Essential Oil
The major components of the essential oil of cinnamon include coumarins, mannitol, tannin, gum and cinnamaldehyde and the essential oils such as pinene, eugenol and aldehydes. Recent studies have shown that eating half-teaspoon cinnamon per day can lower sugar levels in the blood, and reduce cholesterol and triglycerides by up to 20%. As my personal recommendation, consider adding cinnamon oil to oatmeal to better its flavor or just add a few drops of this oil to 8 oz of hot water and 1 tablespoon of honey for an excellent spice tea.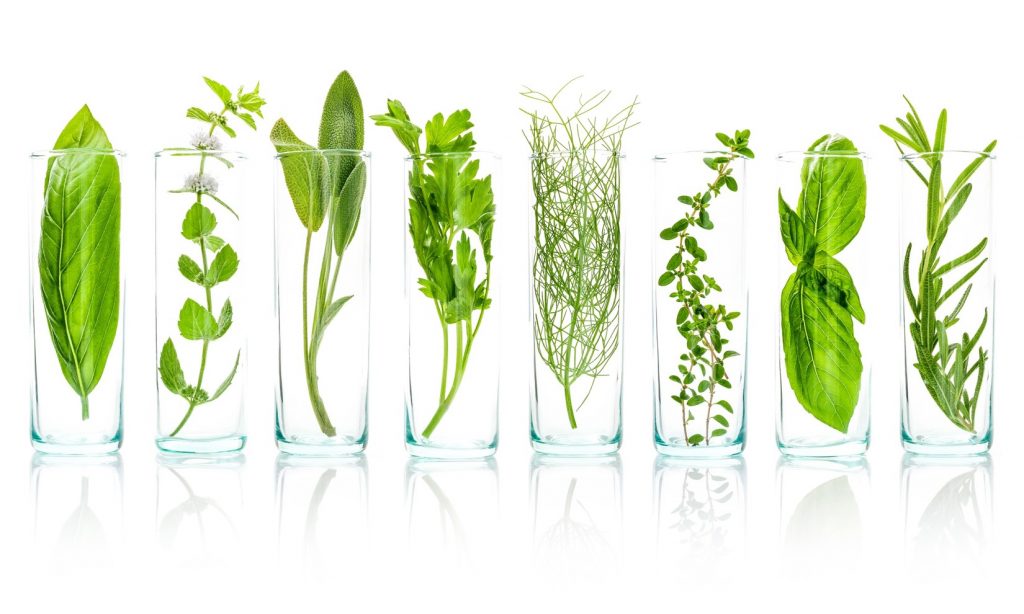 6. Rosemary Essential Oil
British doctors recommend the essential oil of Rosemary to patients with high cholesterol levels and remove the cardiovascular weakness present in the body. Take 2-3 drops of rosemary oil in a capsule full of olive oil once daily.
7. Myrrh Essential Oil
The essential oil of Myrrh helps to reduce the cholesterol and blood pressure levels in the body. It is also a natural anti-inflammatory. Take 2-3 drops of oil of myrrh in a capsule filled with carrier oil of your choice, 2 times a day.
8. Basil Essential Oil
Basil oil is a very effective tool when it comes to reducing the cholesterol levels in the body. Derived from the plant ocimum basilicum, basil has antioxidant, anti-inflammatory, antibacterial and cholesterol-lowering properties. A study published in the journal of phytotherapy research, showed that the extract of basil helps reduce the cholesterol levels in rats that had artificially induced high levels of cholesterol. In addition, the LDL reduction was accompanied by an increase in HDL cholesterol.
9. Bergamot Essential Oil
Bergamot is a potent antidepressant that helps to control bad cholesterol and binge eating. This oil is perfect for those who tend to eat more when under stress. Sedative properties of essential oil of bergamot make it perfect to fight against weight gain associated with stress and stress eating. I have found this oil to be more effective when combined with the essential oil of lavender.
Bergamot is also very effective in weight control because it contains large amounts of polyphenols (also found in green tea). Polyphenol is ideal for fat oxidation (stops production of fat in the blood), which regulates your metabolism and prevents the absorption of cholesterol.
10. Oregano Essential Oil
The essential oil of Oregano is beneficial for heart health as Oregano is a natural cholesterol reducing agent. Thanks to its nutrient content that includes omega-3 fatty acids, arginine, fiber and semi-essential amino acid, oregano is a true super food when it comes to heart health. In addition, research shows that consumption of antioxidant vitamins and minerals in oregano can help reduce cholesterol and triglycerides levels in the blood. In addition, the oil of oregano has been shown to help normalize blood pressure levels. Due to its antibacterial properties, oregano oil can also help prevent heart disease associated with infection. Take one to two oregano oil drops in a capsule filled with carrier oil daily.
11. Ginger Essential Oil
The essential oil of ginger is known to promote feeling of fullness after meals. It works by increasing the effect of all other essential oils meant for weight loss and cholesterol reduction. Moreover, this oil facilitates the breakdown of sugar and its absorption in the body in the form of energy. This ensures that the body will store only minimum amount of fatty acids.
7 Essential Oil Recipes To Help You Reduce Cholesterol Levels
With all the recipes below, please consult your medical practitioner before ingesting any essential oils.
Recipe 1 – For oral consumption in the form of capsules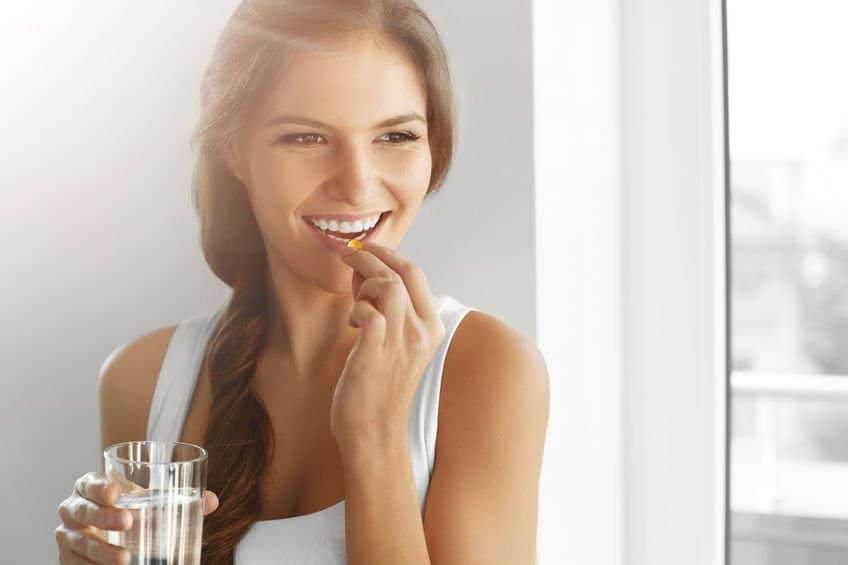 Choose any one of the following combinations of essential oils in capsule for oral consumption:
Rosemary oil is one of the favored recommendations of British doctors to patients that have high cholesterol and weak cardiovascular systems. You may take 1-2 drops of rosemary oil in a capsule full of carrier oil and consume daily.
Oregano oil is quite useful in conditions of high cholesterol. Take 1-2 oregano oil drops in a capsule filled with carrier oil once per day.
Myrrh oil helps reduce cholesterol and high blood pressure. It is also a natural anti-inflammatory. Take 1-2 drops of oil of myrrh in a capsule filled with carrier oil, once daily.
Recipe 2 – Cholesterol balancing blend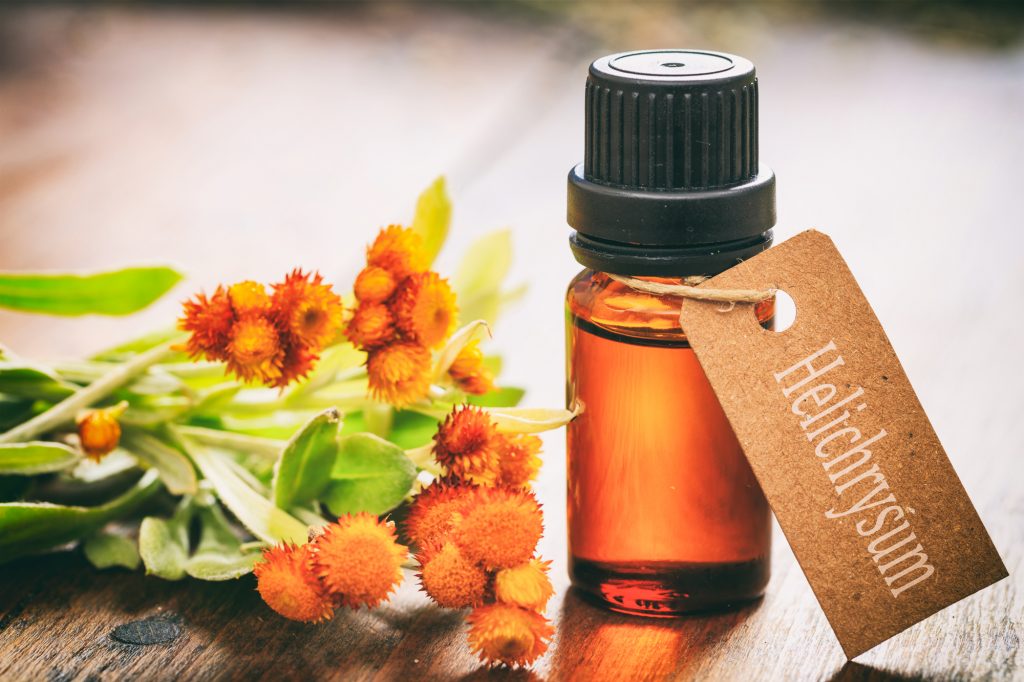 Ingredients
3 parts of Rosemary (contains camphene which can balance cholesterol)
2 parts of Roman Chamomile (blood and liver cleansing, stress reducer)
1 part of Helichrysum (helps in chelation of plaque in blood vessels)
1 part of Ginger (contains curcumene that can help balance triglycerides)
Directions For Use
Dilute in 10ml carrier oil and ingest this blend, 2 drops, twice a day. Yes, it is terrible in taste, but it is worth the pain. Along with consuming this blend, take 1 drop each of essential oil of clove and lemon twice daily.
Recipe 3 – Blend of clove and lemongrass
Use in one capsule twice daily, 2 drops of lemongrass and 1 drop of clove oil in 5ml carrier oil. Using this recipe, my total cholesterol level dropped by 10% in a month. I also added 2 drops of grapefruit oil to the blend I was using in the capsule and this helped with my cholesterol levels further.
Recipe 4 – Bergamot, Ylang Ylang and Rose Oil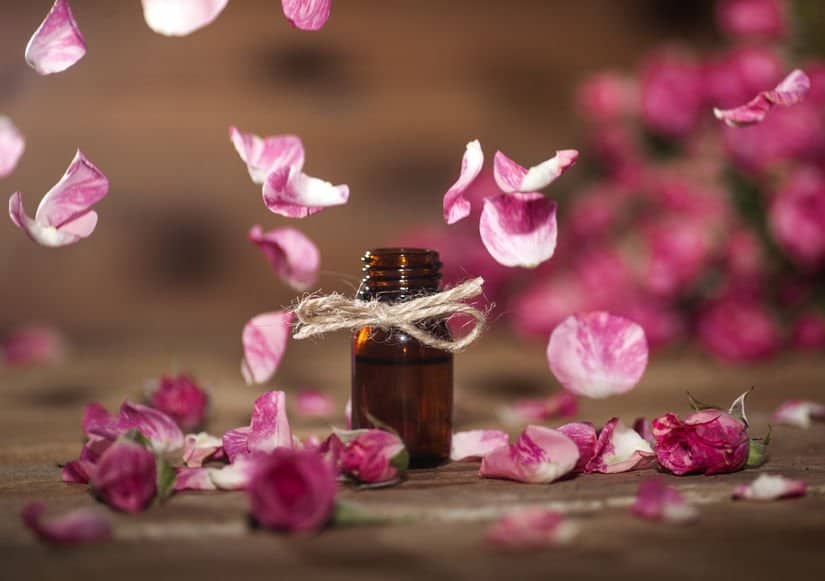 1 drop of essential oil Bergamot
1 drop of essential oil of Ylang Ylang
1 drop of essential oil of Rose
5 ml of carrier oil
Blend all the essential oils with the said amount of base oil and ingest using a capsule.
Recipe 5 – Black Pepper, Peppermint, Rosemary Oil and Ginger Oil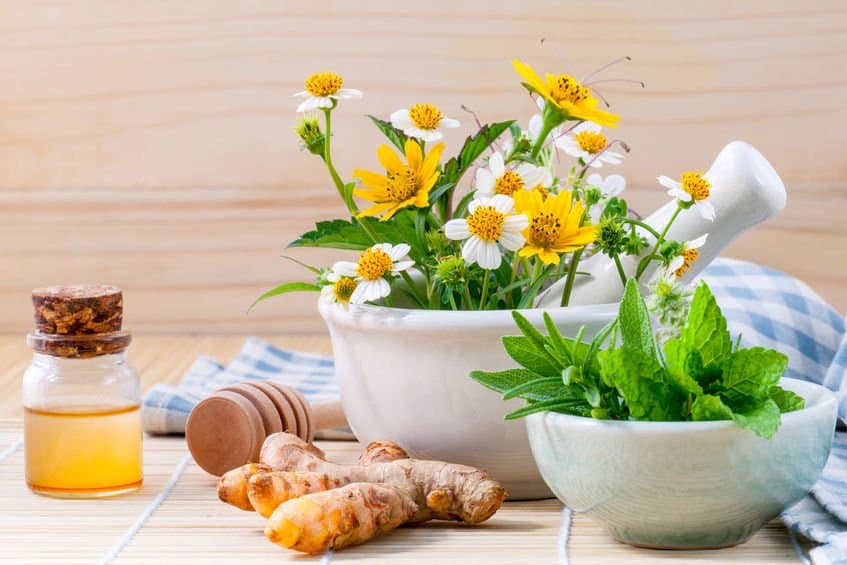 10 ml of carrier oil
1 drops of essential oil of black pepper
1 drops of

essential oil of peppermint

1 drops of rosemary essential oil
1 drops of essential oil of ginger
Blend all the essential oils with the said amount of base oil and ingest using a capsule.
Recipe 6 – Using the essential oil of Grapefruit
This is how I use grapefruit essential oil in order to make the most of it:
Add 1-2 drops of essential oil of grapefruit in a glass of drinking water and consume every day before breakfast to flush toxins and boost the metabolism.
Massage the skin for at least 30 minutes in areas where fat accumulates adding 1-2 ounces of carrier oil such as olive oil or coconut oil. Do not wash for several hours.
Bathing: Add 5 drops of essential oil of grapefruit to your bath water. Relax in this water for at least 30 minutes.
Recipe 7 – Using the essential oil of Bergamot
Inhale the vapors to soothe and relax when you are stressed and hungry
Put a drop of essential oil of Bergamot into a teaspoon of honey and consume or just drink it in 4 oz of coconut milk.
Use this oil for topical application or foot and neck massage along with appropriate carrier oil such as coconut oil or olive oil.
Bath: Add a few drops of this oil to hot bath water to feel fresh and energetic
Precautions / Recommendations On Using Essential Oils For Best Possible Results For Cholesterol Reduction
Do not ingest essential oils in undiluted form.
Do not let children ingest essential oils.
Do not use neat / undiluted essential oils because they are highly concentrated. Neat or undiluted essential oil may cause chemical burn to the skin.
For a cholesterol-lowering effect, buy only oils that are available in capsules and labeled "standardized extracts." Standardized extracts are diluted and safer for consumption. Follow the dosage instructions on the manufacturer's label. After two or three months, get your cholesterol level checked and monitor your progress.
Rotation of essential oils is more effective, i.e. swap essential oil after every two to three weeks of use.
If you are on prescription drugs for issues related to heart disease or high blood pressure, do not use essential oils before consulting your physician or holistic doctor.
The Final Word
Essential oils can be effective for a variety of diseases, but they should always be used with caution. If you are epileptic, pregnant, are breast-feeding, have cancer, have kidney/liver damage, diabetes, etc. consult a trained aromatherapist before using essential oils.
(Visited 92,701 times, 8 visits today)