Essential Oils for Tension Headaches
Headaches, including those that are caused due to stress and tension, are quite common. For the reason that the underlying cause for the headaches can vary, some headache sufferers keep on seeking treatment round the year. Fortunately, there are several home remedies using Essential Oils available to help you get rid of the discomfort caused by tension headaches. Read on to know how and why Essential Oils help in getting rid of most common forms of headaches.
A Speedy Natural Remedy For Tension Headaches
Here on the list is the simplest of all headache remedies that can help you get substantial relief in shortest possible time span. Put 2 drops of Peppermint and 3 drops of Lavender Essential Oils onto a flattened cotton tissue and inhale with slow, deep breaths. Have a short break and repeat the process again. Do this at least three times in a day.
Keep the tissue nearby to make sure that any moving breeze passes through it before it reaches your nose. This is also a great remedy for the emergencies as it is easy for you to always carry a small bottle of undiluted Essential Oil blend or keep it on your desk. Even if the recipe doesn't work for you, your living space will certainly smell good.
I like to use Amoils H-Headaches to treat my tension headaches. Read my review on this product for more information.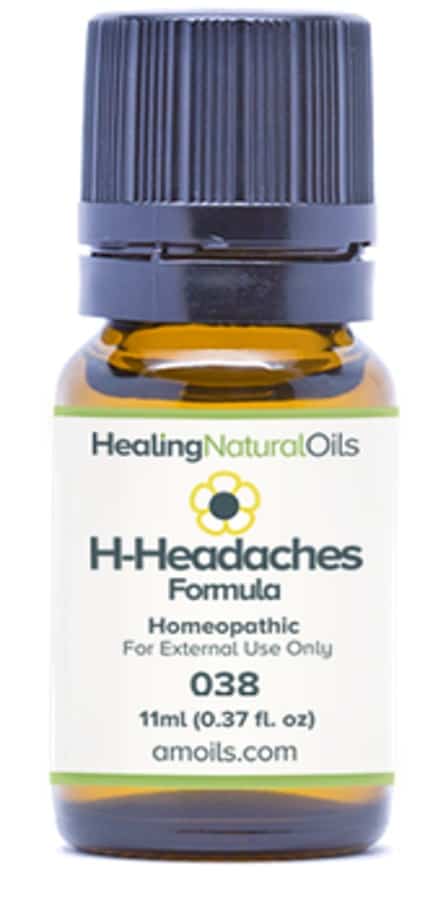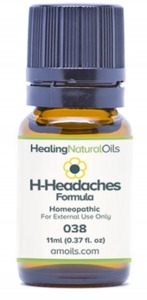 Essential Oil Recipes For Tension Headaches 1 – Balm Recipe

Consider rubbing this natural headache blend on your temples and the back of the neck to assuage tension and ease the pain.
Ingredients
2 drops of Eucalyptus Oil
4 drops of Rosemary Oil
8 drops of peppermint Oil
2 drop of Lavender Oil
2 drops of Jasmine Oil
1/2 teaspoon (or 1 capsule) Vitamin E
2 tablespoons of Grapeseed Oil
2 tablespoon Beeswax, grated
1/2 cup Shea Butter
Instructions
Put the Beeswax, Shea Butter and Grapeseed Oil over the upper part of the double boiler, warming gradually in the low heat until all of the ingredients are dissolved. Remove the heat and add Vitamin E Oil. Pour the blend directly into a dark glass bottle and store in a dark place.
Essential Oil Recipes For Tension Headaches 2 – Have A Warm Footbath
Most of the tension headaches are caused due to abnormal blood flow in the brain. Dilating the blood vessels of the brain regulates the blood circulation, while also minimizing the congestion in other parts of the body. Here is how to have a pain relieving footbath:
Boil water in a kettle to refill the bath if it cools down.
Boil a kettle full of water to fill your bath.
Fill nearly 60 percent of your basin with tepid water.
Add 1 drop Lavender and 1 drop of Rosemary Essential Oil, as well as something like Peppermint or Ginger Essential Oils. Make sure that the Oils you are added are well dispersed in water.
Sit on a chair and set your feet in the basin, ensuring that the water covers the ankles. Have some hot water handy so as to maintain the temperature of the water.
One important hint: Add a little amount of sand in the footbath and rub your feet on them when you soak to offer yourself a gentle feet massage and a soothing effect.
Essential Oil Recipes For Tension Headaches 3 – Use Epsom Salt

Scientific studies have found that magnesium deficiency may be one of the causes for stress and tension headaches. A lot of people recommend ingesting a tablespoon of Epsom salt; however, I would personally want to absorb my Epsom salt through the bath. Doing so gets me multiple benefits. While getting the warmth of the bath water that in itself is rich in magnesium and sodium, I get the opportunity to add Essential Oils of my choice to the bath water. Keeping that in mind, here is an Essential Oil bath recipe that can help in relieving tension headaches:
Ingredients
3 cups Epsom Salt
1/2 cup baking soda
Use any one of the following Essential Oils:
1 drop of Jasmine Oil
2 drops of Rosemary Oil
2 drops of Eucalyptus Oil
6 drops of Peppermint Oil
1 drop of Tulsi Oil
1 drop of Jasmine Oil
4 drops Lemon Balm Oil
8 drops Lavender Oil
Directions
Mix baking soda and Epsom salt together in a bowl using a metal spoon.
Add the Essential Oils and stir until they are completely blended.
Store mixture in a dark glass bottle and use just one cup of the blend per bath.
Have A Time-Out!
Self-care is essential for battling tension and the headaches associated with it. Many of us believe that it is impossible to find enough time to care for ourselves. Remember, the cost of not caring for yourself is way too much. When you are stressed, you are of no use to anyone. Use the Essential Oil recipes mentioned above and break the habit of doing too much. Take 2-5 minute breaks to calm and center yourself. This really works!
Let me know how you feel after trying the above Essential Oil Recipes for Tension Headaches!
(Visited 14,163 times, 3 visits today)